Color is amazing. Color is organic and wonderful. If you settle for sterile gray beading wire, your jewelry will be calculated, but boring. Breathe some life into your jewelry making supplies. Enrich your palette with radiant color. Our Trios Beading Wire Packs are a living spectrum of gorgeous color. Your jewelry will be animated and dynamic. Check out these 12 stunning Trios choices!
We initially envisioned Trios as a great way to create jewelry with a theme or complementary colors. We originally launched our 'mood' Trios. These were based on how the colors made us feel - Mystical, Vitality, Serenity - etc. We then explored the traditional colors of the holidays. These 12 Trios are our newest. We are inspired by our design kits and more. There is so many wonderful color options to choose from!

Today, we are looking at the newest 12 Trios Beading Wire Packs. Trios are comprised of three ten foot spools of color beading wire in our medium diameter. We created our Trios to evoke a mood, celebrate a holiday, or as a color extension to a Design Kit we loved. If you love color, you are going to love the videos and selections in this blog. Show your colors!
12 colorful Trios Beading Wire Packs that will make your jewelry come alive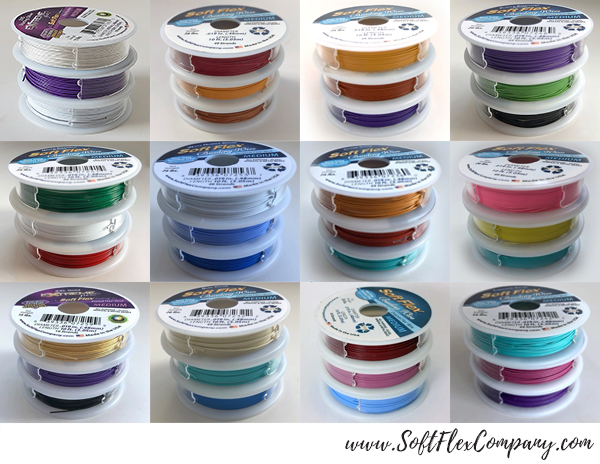 Trios Beading Wire Packs let you apply color theory to your next design.
Trios Color Wire is a lead-free beading wire for designers that want to create jewelry with color mixing in mind. Trios Color Wire Packs encapsulate the vivid palette of nature and the glamour of the fashion world. Trios Color Wire Packs are comprised of three 10 foot spools of Soft Flex .019 (Medium), the wire is constructed of 49 micro woven stainless steel wires. We recommend Trios Color Wire Packs for designers that want to design with a motif or gemstone in mind.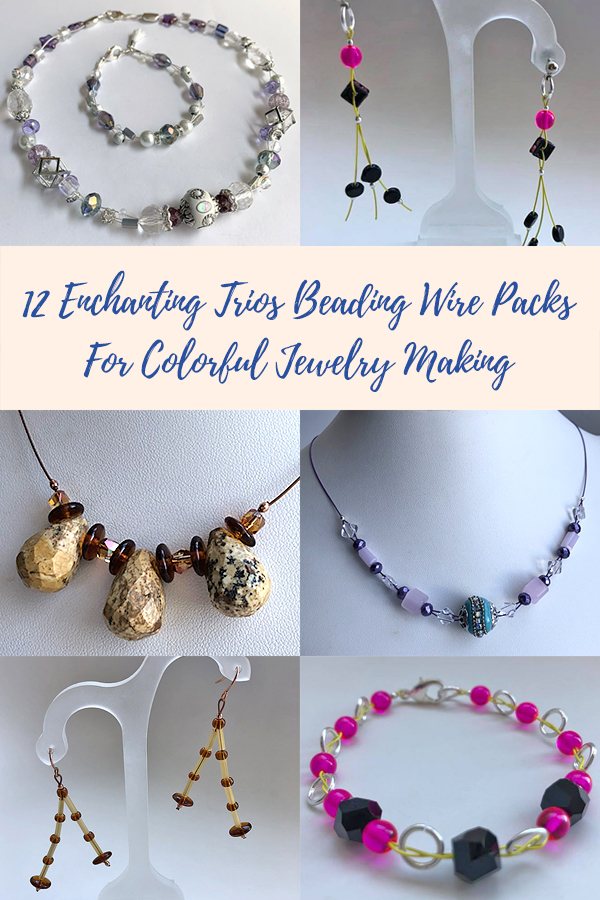 Unicorn Sparkles Trios
(925 Sterling Silver Plated, Purple Amethyst and White Quartz)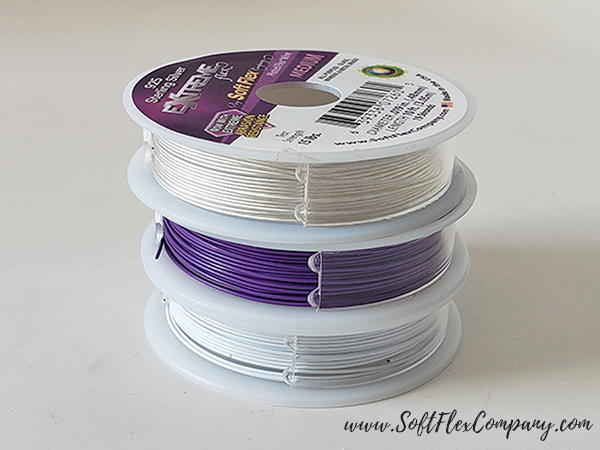 Unicorn Sparkles Trios is a fanciful celebration of whimsy. Magical vibes are found in abundance in this Trios Beading Wire Pack full of mythical colors – sparkling silver, prismatic rainbows, mystical purple, and more! Create your own fairy-tale jewelry with this legendary mix of beautiful beading wire colors!
The Unicorn Sparkles Design Kit (Sold Out) was based on the colors we envision when we imagine unicorns. We opted to put together a sophisticated look at these colors. We have all seen the bubble gum colors that are associated with children's unicorn. This kit was a classy mix for the grown-ups.
We followed this kit up with our Unicorn Sparkles Trios Beading Wire Pack. This stunning mix of beading wire is perfect for seasonal jewelry or your high end necklaces. This wire is meant to be shown with the finest gemstones. Let your inner mythical beast shine!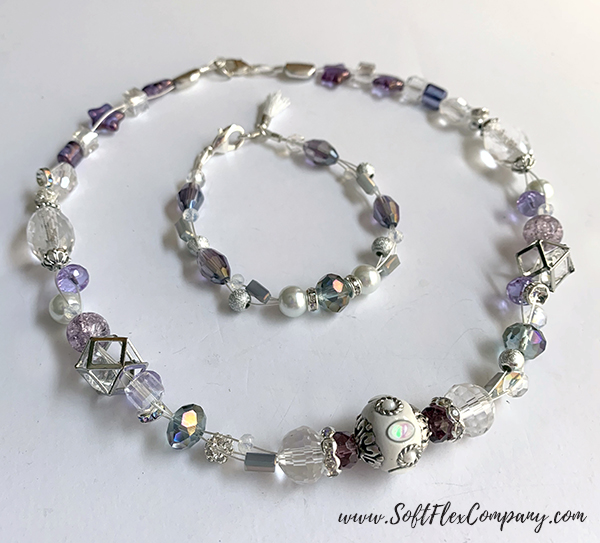 This stunning jewelry set is perfect for every occasion. Soft, ethereal - amazing. Expose the wire from this wonderful Trios Beading Wire Pack or use it in the channels of translucent beads - the colors will come through and make your beads even lovelier.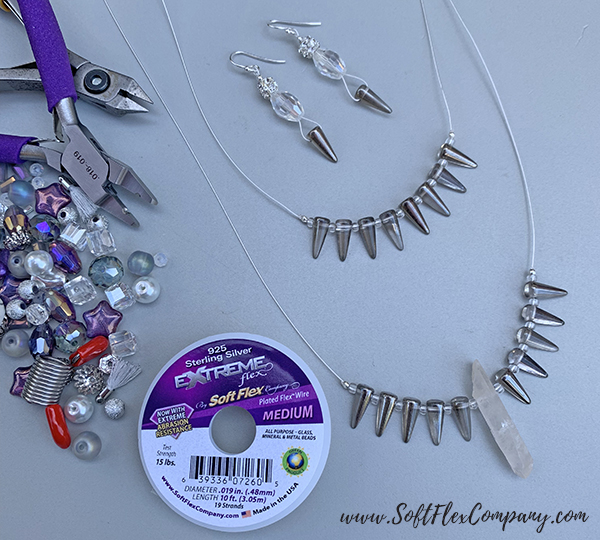 This magical Trios Beading Wire Pack makes your fantasy jewelry look delicious!
Harvest Moon Trios
(Garnet, Copper Color and Citrine)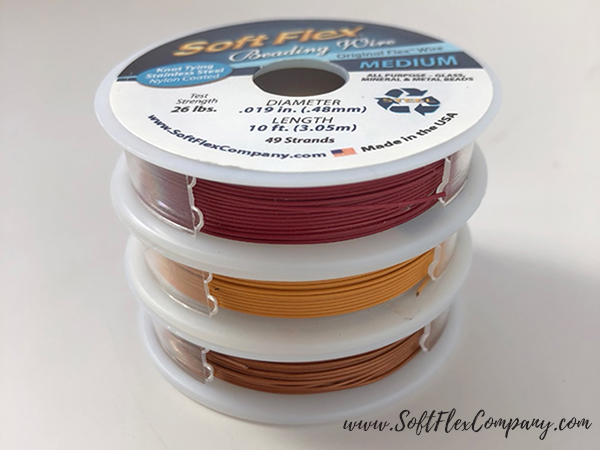 Harvest Moon is a bountiful Trios Beading Wire Pack brimming with the colors of fall. Harvest Moon marks the summer's end. The vibrant splash of summer fades into weathered beauty. This Trios Beading Wire Pack is a palette of muted and earthy tones. The warm browns and reds are perfect for sophisticated jewelry design and fantastic for heirloom and keepsake jewelry. Harvest Moon is cornucopia of autumn color. Celebrate the season of fruitful gathering with Harvest Moon.
Kristen created a stunning pair of tassel earrings and an accompanying necklace. She used Hammered Cones from TierraCast. Some lovely beads and a Harvest Moon Trios Beading Wire Pack from Soft Flex Company. Watch this fun video if you would like to create these earrings - or get creative and design your own tassel earrings!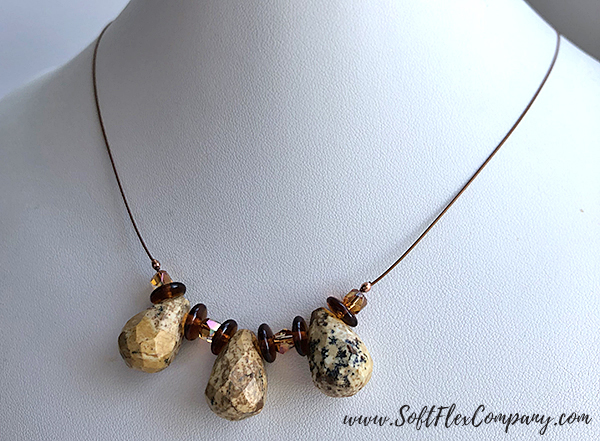 These earrings look amazing with different colors of Soft Flex Beading Wire and you can mix up the beads. Any Trios selection would look wonderful. If you make a pair, make sure you post them on our Facebook group – VIB. We would love to see your work!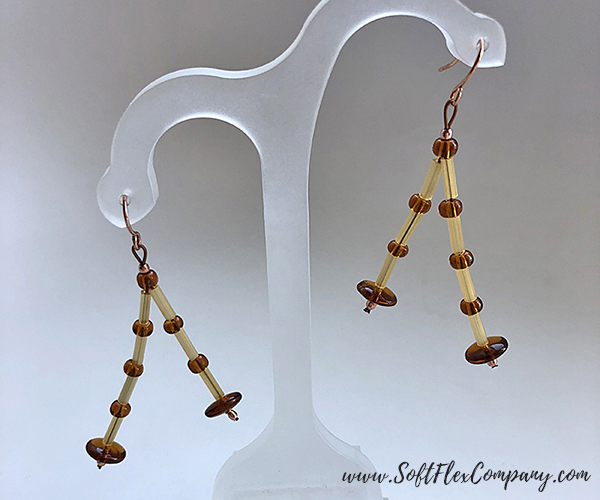 Autumn Spice Trios
(Citrine, Red Jasper and Purple Amethyst)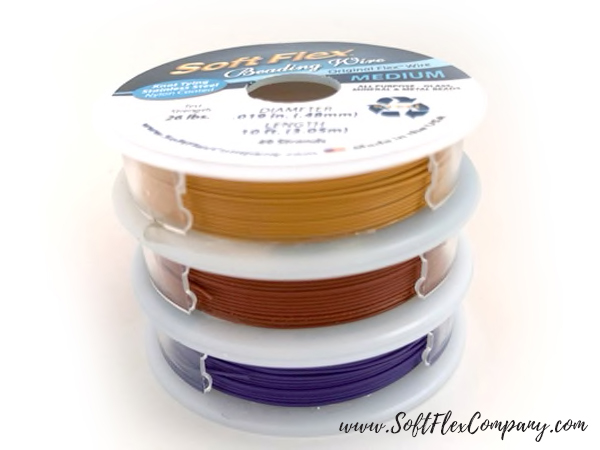 Autumn Spice is a reverent look at the classic fall colors, mixed with a little punk rock Halloween spice. This playful Trios Beading Wire Pack is an eye catching cauldron's blend. The beauty of fallen leaves dance with a spooky splash of warlock purple. Add a bit of Autumn Spice to your jewelry collection!
How fun are these earrings? Sara knocked it out of the park with the Autumn Spice Trios Beading Wire Pack. These stunning beauties are absolutely timeless. The concentric circles are high fashion and gorgeous. There is a slight twitch of nostalgia here, too. Are they atomic age or Judy Jetson style? You will look lovely in your earrings when you follow along on the video.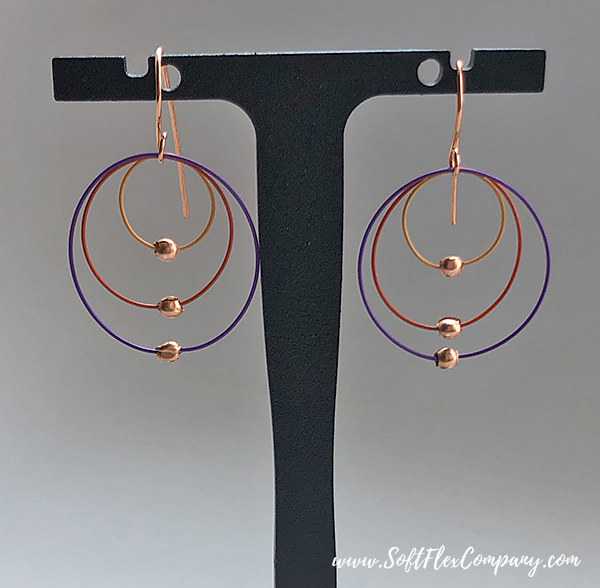 Trios are perfect for earrings. Earrings are so simple to make and you can create unique styles. Ear wires, Soft Flex Beading Wire and a crimp is all you need - just add your favorite beads. You can have new earrings for every night of the week and complete them in minutes.
Black Magic Trios
(Black Onyx, Peridot, and Purple Amethyst)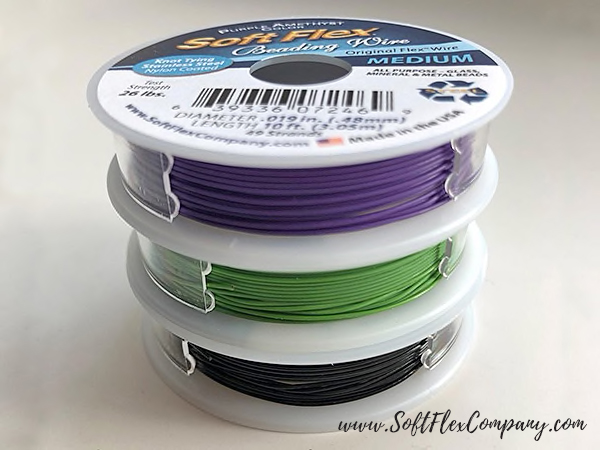 Black Magic Trios Beading Wire Packs are full of spectral colors. This pack of treats has all of the colors of spooky season. We scared up a color collection that could design a necklace that evoked a crisp autumn breeze or thunderclaps on the stormiest night. Are you going to use your Black Magic Trios for something sweet or sinister?
Black Magic Trios Beading Wire Packs make for ghoulish holiday jewelry. This witches brew of macabre colors will look great for your ghostliest necklace. Get some ideas from Sara in this twisted and clever jewelry making video.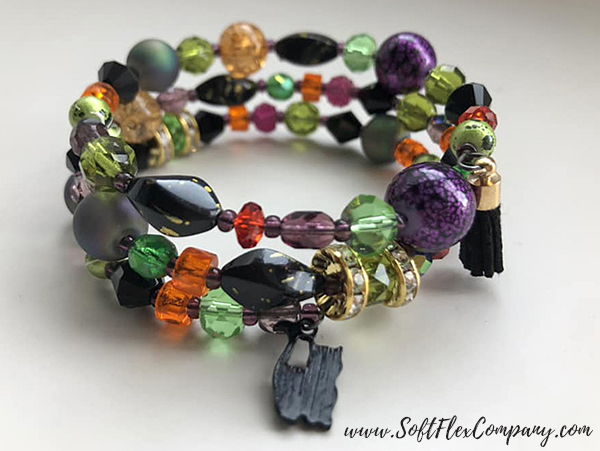 How fun are these colors? Halloween is such a fun time. We laugh at the macabre. We will not let fear overtake us. We revel in the spooky season. Ghosts may walk and skeletons talk - but we are headstrong and lionhearted. Embrace the gothic colors of the haunted world. Your jewelry will be gloriously dark!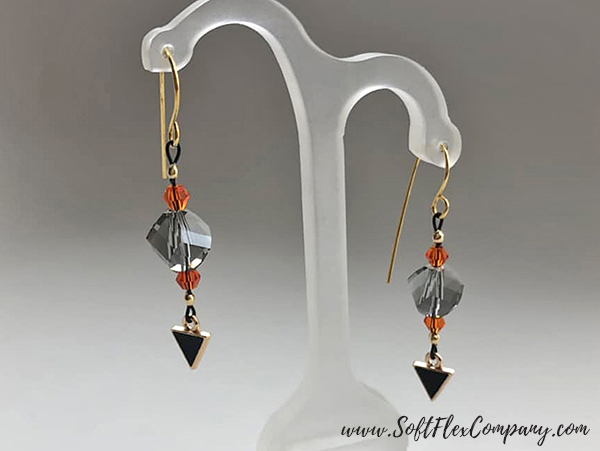 Holly Jolly Trios
(Green Emerald, Red Coral and White Quartz)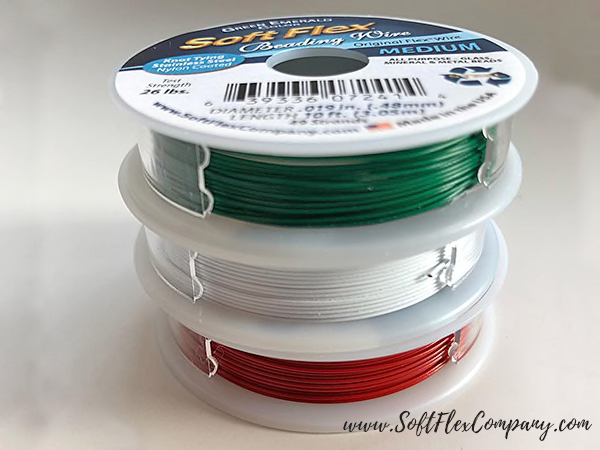 Holly Jolly Trios is enchanted with the warmth of the Holidays! Holly Jolly celebrates the most magical time of the year. This Trios Beading Wire Pack is a collection of the comfy cozy colors of winter. The red, green, and gold delights in this Trios Beading Wire Pack will evoke the memories of a roaring hearth and gleaming tree. The design possibilities can be playful or sophisticated. Celebrate the Holiday Season with Holly Jolly Trios!
Holly Jolly Trios bring back that warm nostalgic glow of Christmas mornings in pajamas and surrounded by loving family. This Fun collection of wire will stir your fondest emotions. Fill your Christmas Season will lively and stunning jewelry. Get some tips from Kristen in this video as she designs some seasonal earrings and ornaments.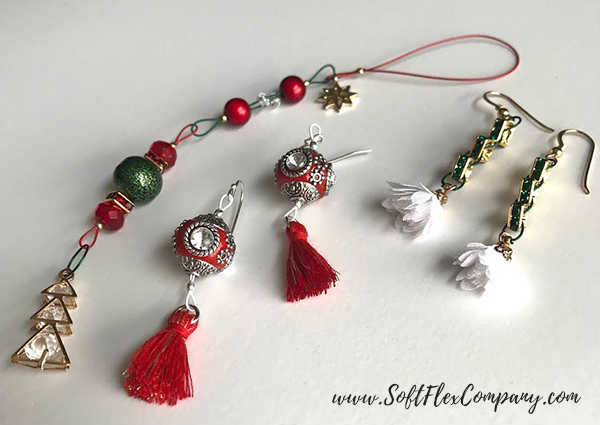 Make your own Christmas magic. Be it jewelry or festive holiday decor. The Holly Jolly Trios Beading Wire Kit is perfect for the season. Make your own merry jewelry. You do not need to shop at the mall when you can make your personalized and professional gifts at home!
Winter Wonderland Trios
(Tanzanite, White Quartz, and Blue Topaz)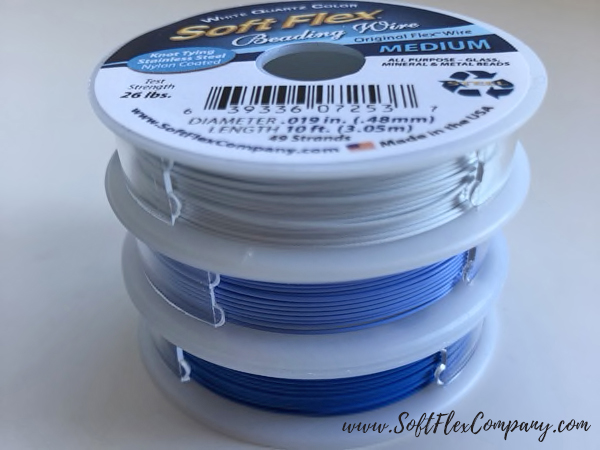 Winter Wonderland Trios Beading Wire Packs are perfect for designers creating jewelry for Hanukkah and Christmas. These Trios have the sophisticated colors of the cold season. It has rich blues and stunning white and silver. This color assortment allows for seasonal jewelry but is great for elegant designs for any time of the year.
These colors just glow. Light lands on this radiant collection of beading wire like the chilly sun on a December morning. Your jewelry is going to be frosty and beautiful. Make your season even merrier with Winter Wonderland Trios Beading Wire Packs. Whether you celebrate the miracle of oil, enjoy tradition, or cherish the birth of a messiah - these colors can represent your love for the winter months.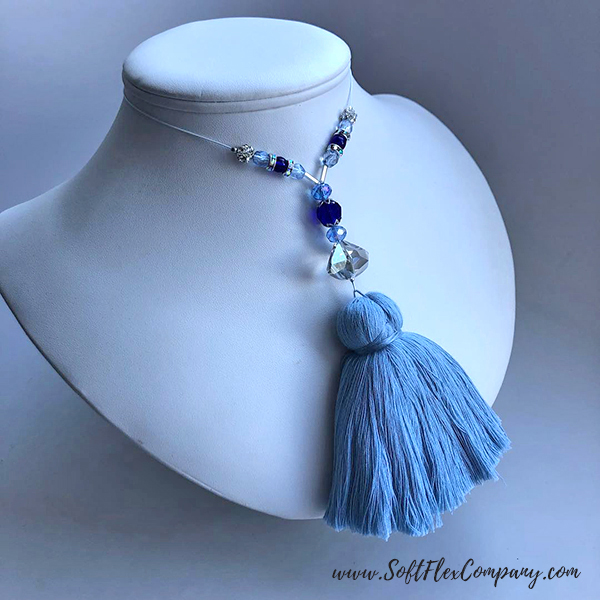 Amazing homemade jewelry makes for a great gift. These earrings are perfect for a fabulous season. So festive and elegant. Perfect for the office party or opening gifts with the grandkids. Grab your jewelry making supplies and get crafty!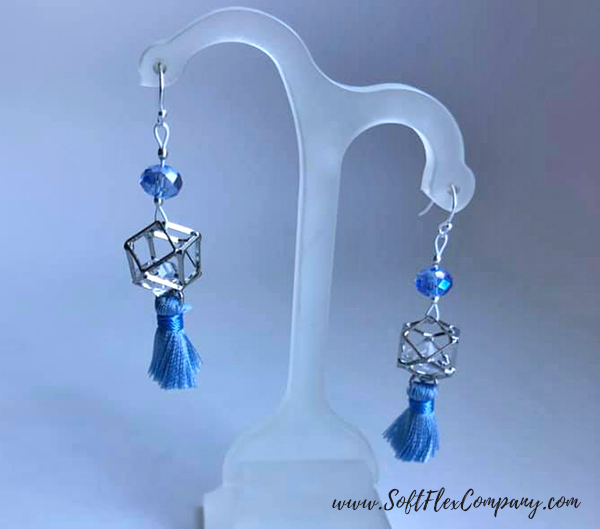 Southwest Trios
(Turquoise, Red Jasper, and Citrine)

The Southwest Trios Beading Wire Packs came about when Sara filmed her episodes of Beads Baubles And Jewels. She had recently moved to the Bay Area from the Sonoran Desert. For her episodes, she chose a color scheme she thought encapsulated the mystery and haunting beauty of the desert. These colors really evoke the spirit of the Southwest!
Sara took all three colors from The Southwest Trios Beading Wire Pack and knitted them together on a 4 pin knitting spool. These colors really evoke the spirit of the Southwest! Soft Flex crimp tubes (key for a good hold) were used on both ends to string and attach findings from Saki Silver. The fiery star decoration on the toggle clasp is so appropriate for a piece inspired by the sunny Southwest.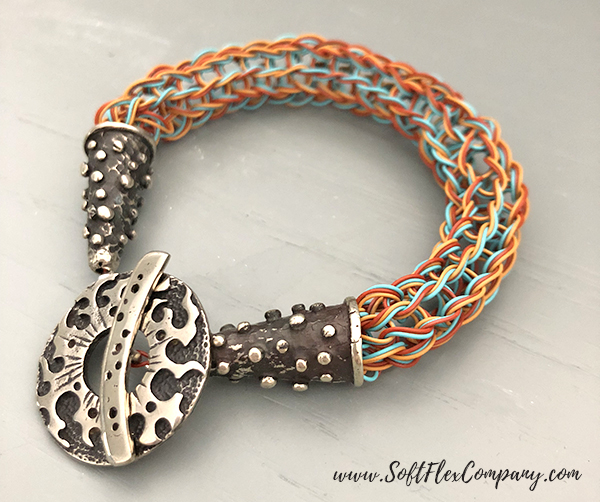 Neon Nights Trios
(Pink Rhodochrosite, Yellow Quartz and Turquoise)

Neon Nights Trios is a celebration of pastel punk and flash. Neon Nights was designed as a loving tribute to the electricity of the 80s. Vibrant popping colors were the order of the day. Youthful pinks and lush glowing tones. This Trios Beading Wire Pack is a wonderful throwback to a time when optimism was soaring and the future was as bright as a television supernova. This is the perfect Trios Beading Wire Pack if you love your jewelry to demand attention. You won't be a wallflower with your Neon design!
This Trios Beading Wire Pack is so splashy and electric. It was inspired by one of our most challenging Design Kits. The colors are very vibrant, especially if you are accustomed to using a more muted palate. Part of the fun of stringing your jewelry is challenging yourself. You never know where your creative impulses might take you when you are working outside your comfort zone.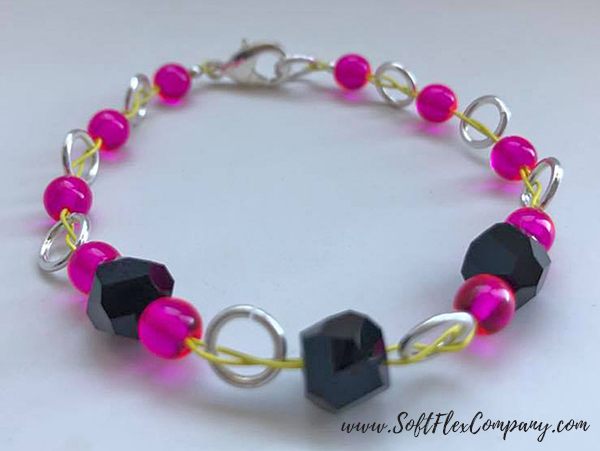 I think the jewelry that was inspired by this kit was just amazing. We had a huge response from our friends on our VIB Facebook group. We had fellow designers show off some amazing work too. Shake things up and go with colors that break barriers!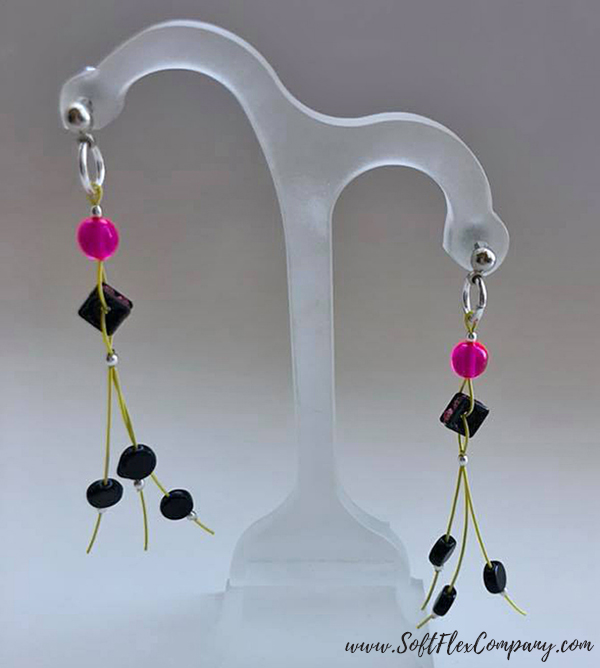 Purple Rain Trios
(Purple Amethyst, 24K Gold Plated, and Black Onyx)

Purple Rain is an homage to the otherworldly shade that we love. This Trios Beading Wire Pack is loaded with mystical tones of purple and salted with colors that pair well with it. This Trios Beading Wire Pack will give you dreams of wizard's towers and bards that travel with electric guitars. Cast a spell with every piece of jewelry you design!
Is there any another color that is so breathtakingly mystical than purple? This shade demands your attention. Purple Rain Trios are going to take you on an astral journey. Go out of body with this regal color collection. Design jewelry fit jabberwocks and soothsayers. Go big and make your presence felt.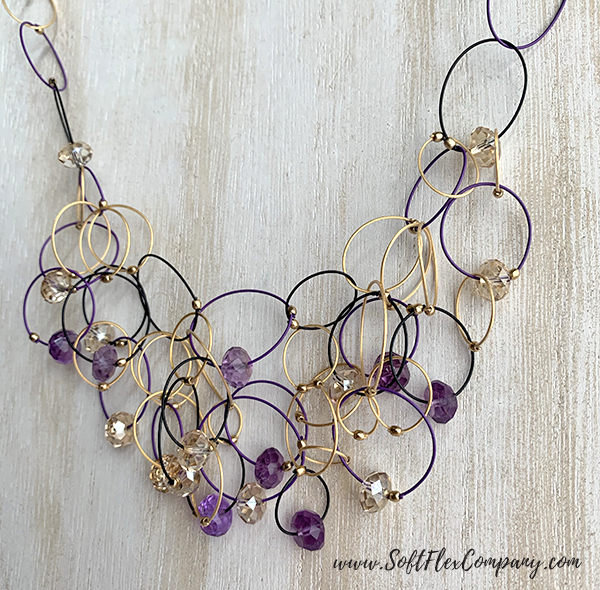 Purple Rain Trios Beading Wire Packs make delicious necklaces. Fabulous and colorful jewelry is so easy with this mystical collection of beading wire. Explore the magic and mysterious world of Purple Rain!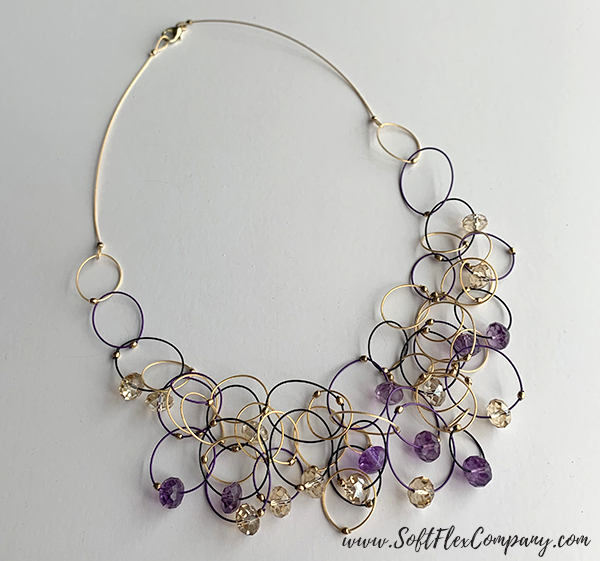 Mermaid's Lagoon Trios
(Bone, Blue Topaz and Turquoise)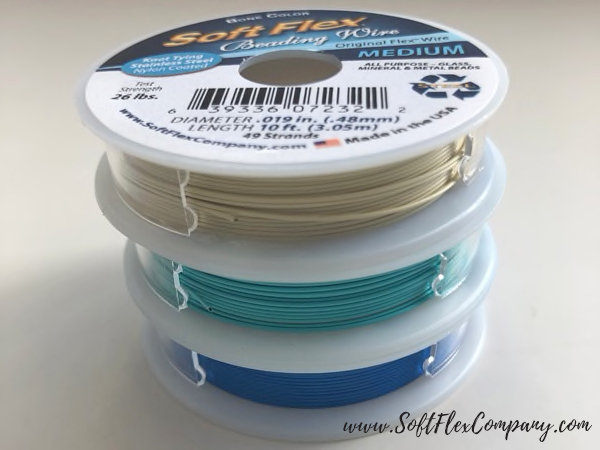 Mermaid's Lagoon Trios celebrates the oceanic blue and timeworn green of the underwater realm. Grottos and coves with shimmering crystal aquamarine water. Majestic, undiscovered, and laden with sunken riches. Jewelry designed from this Trios Beading Wire Pack will be summer worthy and elegant. Embrace the mystery of the ocean with Mermaid's Lagoon Trios!
The vast kingdom of the ocean is Earth's final frontier. We imagine beautiful sirens charming sailors and barnacled cities of ancient creatures The mysterious depths hide an empire of fauna that is alien and enchanting. Dragons may not walk among us, but we know they swim our seas. Explore the depths or take to the boardwalk. Show off your summer side with this beach ready collection.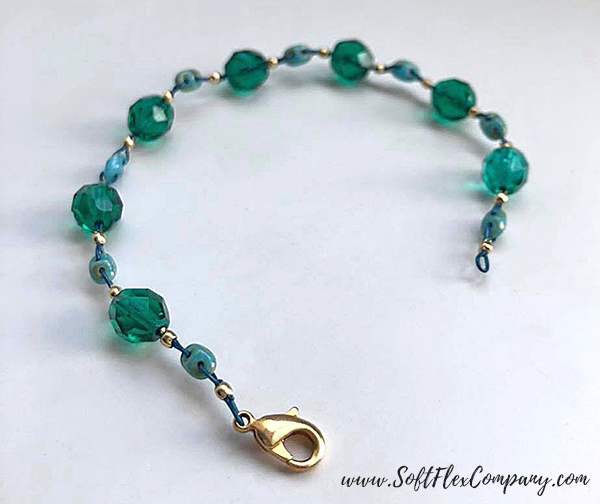 This bracelet was created with our Mermaid's Lagoon Design Kit. Use your Mermaid's Lagoon Trios to replicate this kind of color design. Wouldn't this look lovely for an upscale pool party or a day at the beach? Or get creative and make some jewelry for the men in your life. This Trios Beading Wire Pack would be perfect for a beach necklace with wood, bone, or other earthy stones.
Bloom Trios
(Garnet, Pink Tourmaline and Tanzanite)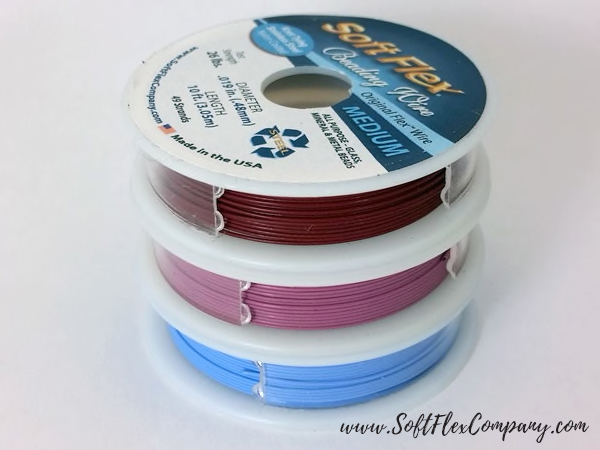 Is there anything more lovely than the gossamer spectrum of blossoming flowers? Soft pinks, mystical garnet and baby blue petals opening against a backdrop of verdant green plains. This floral awakening is a hopeful symbol of a beautiful future. Bloom Trios Beading Wire Packs celebrate the lush wonder of vibrant flowers. Enchant your next jewelry design with this rich Trios Beading Wire Pack.
Watch this fun video. Sara unboxed a mystery kit from Eclectica Beads. The contents paired so well with our Bloom Trios. Flower shapes and stunning colors look amazing on this Trios Beading Wire Pack. Sara designed some lovely jewelry during her live show. Lots of interesting design tips and tricks.
Flowers never go out of style. Whether it is demure and elegant, loud and groovy, or Sunday beach tourist style - flowers are luscious and full of life. Design with the bloom of your favorite flower.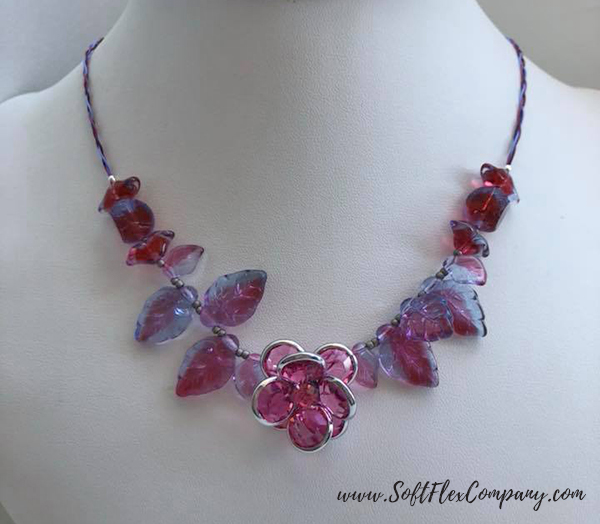 Don't be afraid to get creative. Color beading wire is meant to be shown! Macrame or braid your wires for a unique look. Show your single strand or multi strand wires on your next illusion design. Let the seeds of creativity germinate!
Mom Rocks Trios
(Pink Tourmaline, Turquoise, and Purple Amethyst)

Mom, grandmom, fur mom or future mom – Mom Rocks Trios Beading Wire Packs celebrate all the mothers in their many forms. Whether you are pretending to be a space princess, a wicked robot dinosaur, or making your fifth batch of "special juice" (water with 4 ice cubes and a splash of cranberry juice)- You are awesome! You manage school, life, children, and fun. Moms Rock!
Take some 'Me' time and make some lovely jewelry. Everybody needs a moment to indulge themselves. Mom Rocks is a lovely foundation for whatever design you want. Punk rock mom or classy business formal. This Trios pack is great for every personality.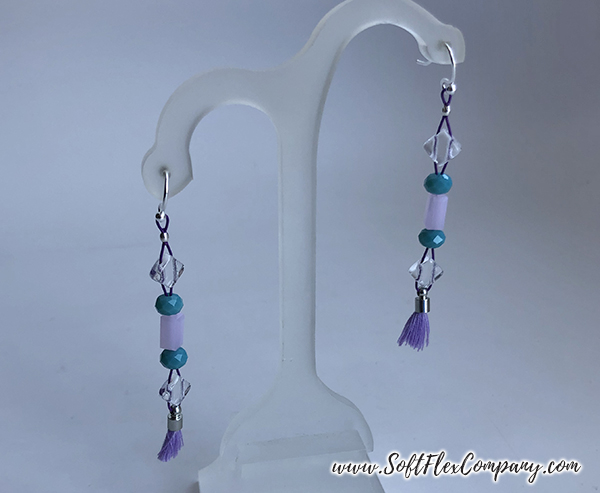 Earrings are so easy to make with Trios Beading Wire Packs. A small length of beading wire, some beads and an ear wire - and you have yourself a lovely new piece of jewelry. The limited amount of material and tools needed means you can create a new set of earrings for every night of the week. Show your colors, Moms!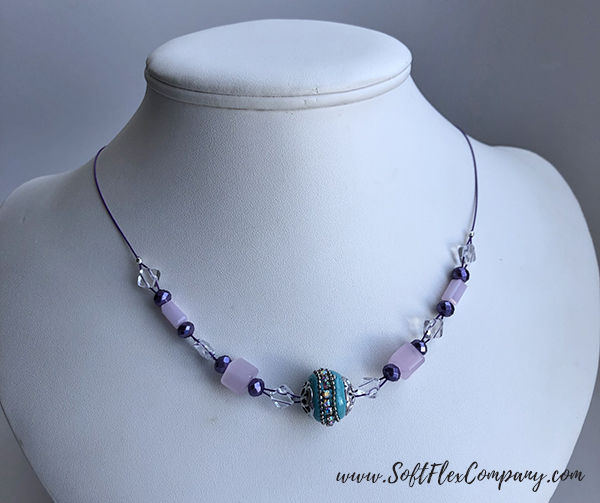 Join our Facebook group – VIB. Stay in the know. Stay up to date. From our bead shows to our video shows and sales, you can stay in touch with us. The community is full of artistic and helpful beaders and crafty people. Inspire and be inspired. Share your pictures and get the beading bug from others!

Visit the Soft Flex Company YouTube Channel!
---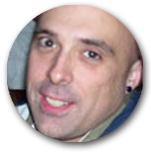 Blog contributor Thomas Soles loves Jazz Age writers and crunchy french fries. His favorite gemstones are Lapis and Pietersite. His favorite hobby is day dreaming. And his favorite mustache is Freddie Mercury's. As you can see, he has a healthy (or possibly unhealthy) sense of humor. You can write to him at Thomas@SoftFlexCompany.com