Today, we have four fun jewelry project ideas for your WigJig Delphi. We are loving this wire jig! The Delphi is strong. The board is made of the same hard acrylic plastic that is used in passenger airplane windows. You will never have to worry about pegs damaging your board. It is designed to withstand the abuse of wire wrapping. The Delphi is also transparent, which is ideal for working with a pattern. Patterns make it easy to follow a project idea or create your own. With a pattern, your designs will always be consistent, this makes it easy to make uniform pieces of jewelry – perfect for earrings or linked chain pieces. Let's make some jewelry!

The WigJig Delphi makes it easy to make amazing jewelry. It is also perfect for creating components. If you like to design earrings, this jig board is your best friend. You can create ear wires in seconds using a simple pattern. This means you will never have to buy ear wire again. It also means that you can truly design your earrings from top to bottom. Don't settle for a simple store bought ear wire when you can create your own signature ear wire.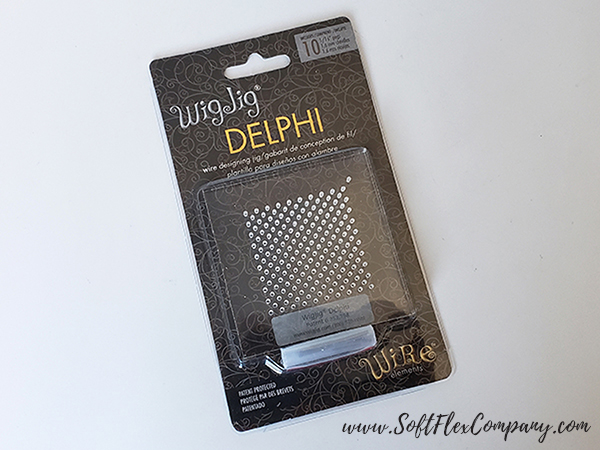 You are going to love the WigJig Delphi Acrylic Wire Jig!
The transparent Delphi has smaller pegs and closer holes than other WigJig boards. Accordingly, designs made on the Delphi are smaller and more delicate. Smaller earring components can be made on the Delphi to match larger necklace/ bracelet links made on other WigJig boards. It works very well for paper arts designs. Includes jig with 181 holes, 20 metal pegs (1/16" diameter), and wire designing tips.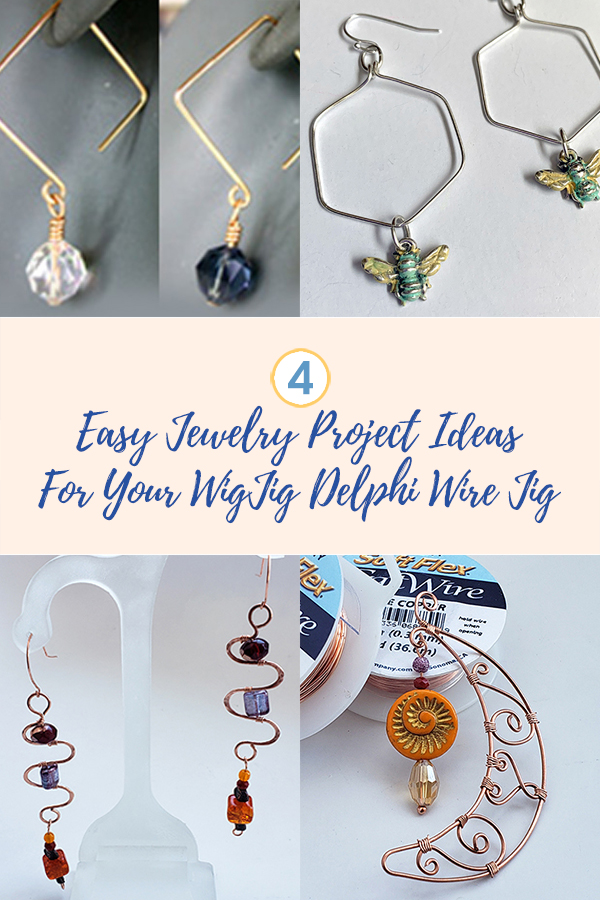 Square Ear Wire Earrings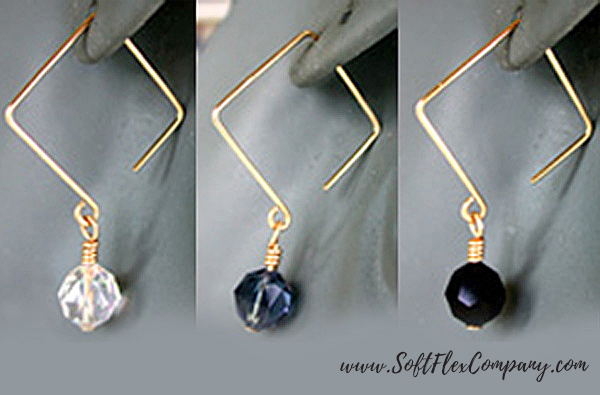 Designer WigJig
Skill Level Beginner

Materials
Soft Flex Craft Wire - 20ga
Soft Flex Craft Wire - Silver Plated 20ga
1 1/2" Head Pins - 2 pcs
8mm Round Beads - 2 pcs

Tools
Cutters
Round Nose Pliers
Bent Chain Nose Pliers
Any WigJig
Nylon Jaw Pliers
Wire Whacker


Instructions

Finished Size: 1 1/2"

Step 1: Cut two 3 1/2" pieces of 20-gauge Craft Wire, making sure there is one flush cut on each wire.

Step 2: Use the flush-cut end of 1 wire to make a loop.

Step 3: Use chain nose pliers to securely hole the loop-end of the wire in your non-dominant hand and use nylon jaw pliers in your dominant hand to pull the wire through the nylon jaws to straighten the wire.

Step 4: Position five metal pegs in your jig as shown. Place the loop you made in one end of the wire over peg 1 and wrap the wire around the pegs in the order shown.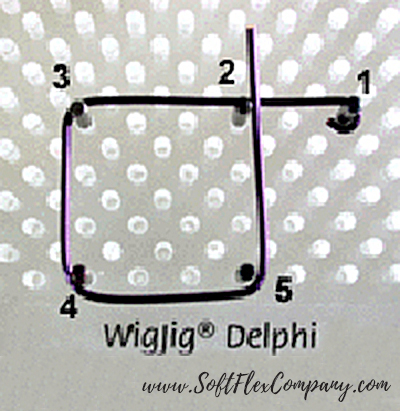 Step 5: When you have completed wrapping the wire around the pegs, remove the wire from the jig. Now cut the wire at the end about 3/16" from the point where the wire touched peg 2. See the figure below for how the wire should look at this point.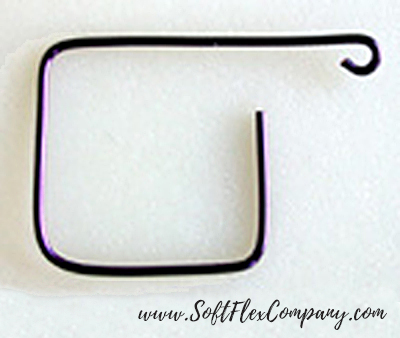 Step 6: Cut off the initial loop. The wire should appear as shown below.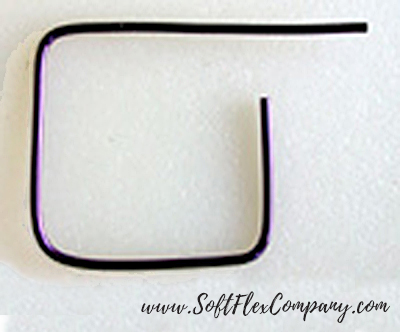 Step 7: Use round nose pliers to make a loop in the beginning of the wire, where you just cut off the beginning loop. The size of your loop will determine whether you have any excess wire. With the loop shown below, there was a small amount of excess wire. When completed the loop should appear as shown at right.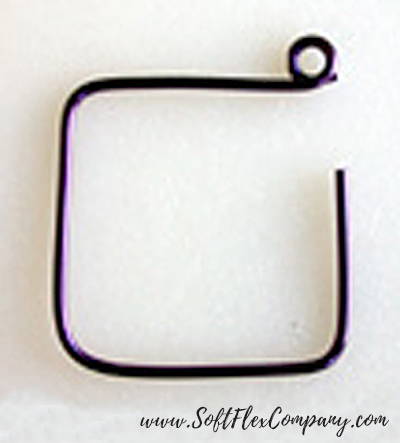 Step 8: Cut the excess wire. Be sure to position the flat side of your flush cutters toward the finished piece so that the flat side of the cut wire remains on the finished piece.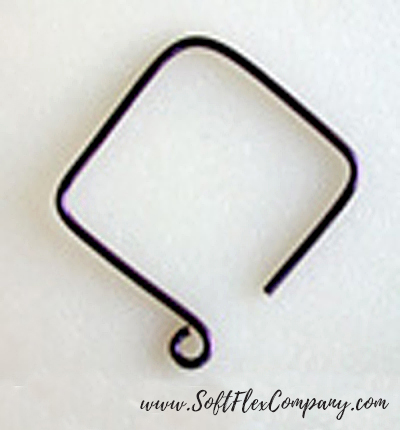 Step 9: Place the ear wire on the Wire Whacker. Strike the ear wire several times. Striking or hammering Soft Flex Craft Wire makes the design stiffer and the shape more permanent.

Step 10: Use 1 head pin to string one 8mm bead. Form a wire-wrapped loop that attaches to the loop made in Step 7.

Step 11: Repeat Steps 1-10 to make a second earring.
Bee-utiful Honeycomb Earrings Made On The WigJig Delphi Jig
Join Kristen on Mondays at 12:00pm PST for her live YouTube series, Free Spirit Beading. Kristen is a talented jewelry designer/ artist/ graphic designer. She wears many hats and her work is always lovely. Her show is a laid back look at jewelry design. Her videos are fun to watch and so instructive. She is a great source for inspiration if you are looking for a muse. This week, she showed us how to make honeycomb earrings with her WigJig Delphi Wire Jig.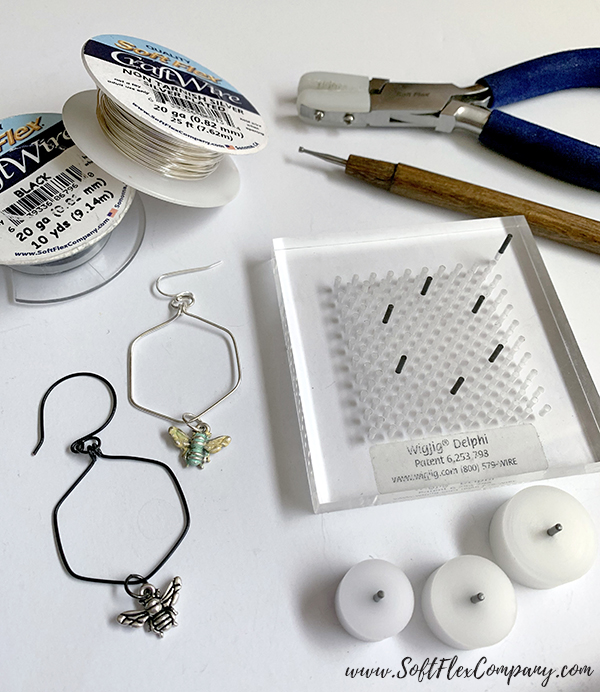 These beautiful wire honeycomb and bee charm earrings will create quite a buzz! Use the WigJig Delphi Wire Jig to create honeycomb shapes and add a bee charm dangle. You can buy these sweet little honey bee charms from TierraCast. If you want them to really stand out, you can purchase some Patina Paints from Vintaj and add a splash of color. Kristen did a fantastic job at giving these lovely charms some color. If you would like to see her in action, check out her video here - Make Bead Jewelry With Vintaj Patina Paint & Beading Wire.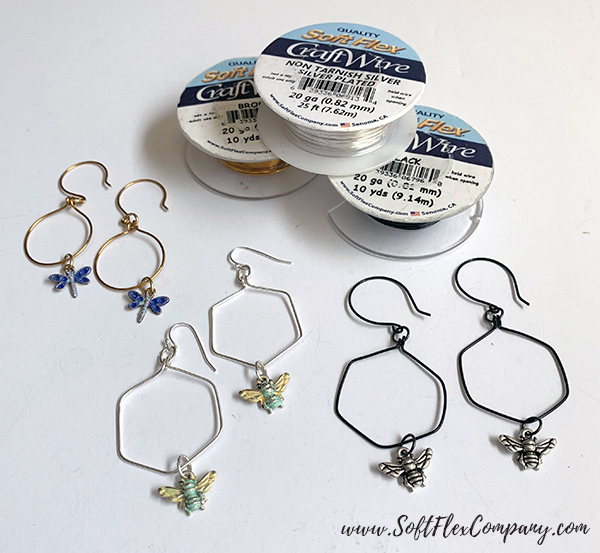 Supplies:
Soft Flex Craft Wire - 20ga
Soft Flex Craft Wire - Silver Plated 20ga
WigJig Delphi Acrylic Wire Jig
Large Super Pegs for Delphi
TierraCast Honey Bee Charms
Vintaj Patina Paint
Jump Rings
Ear Wires
Wire Whacker
Burr Cup
Cutters
Chain Nose Pliers
Round Nose Pliers
Nylon Jaw Pliers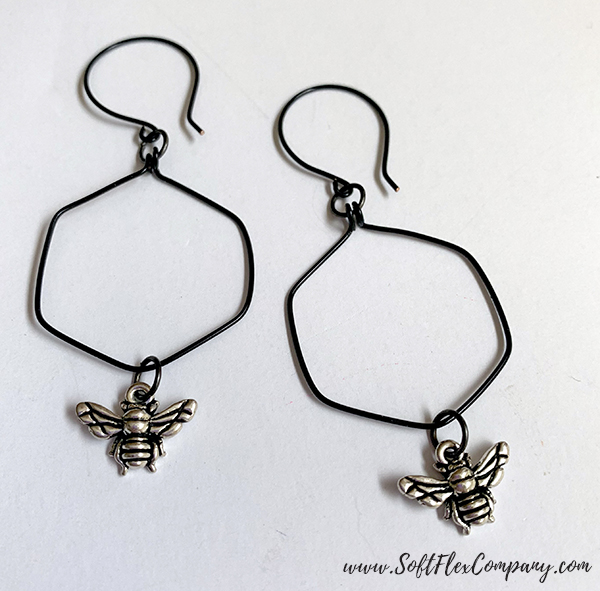 These adorable bees make such fun earrings. If you are not a fan of bees, there is no limit to how far you can customize your earrings. Change the shape of the ear wire with your WigJig board, change the honeycomb pattern to another unique shape, change the color and beads - your earrings will fit your personality!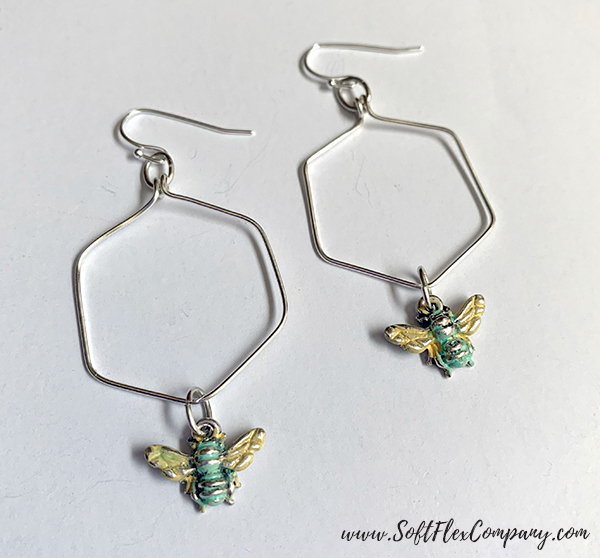 Vintaj Patina Paints make these finished pieces come alive with color. Vintaj Patinas are also wonderful for antiquing metals. If you are looking for a weathered metal for your next Steampunk bracelet, these patinas will give your jewelry a gorgeous aged look. Simply paint the metal, wipe off the excess, and then buff the surface as you see fit.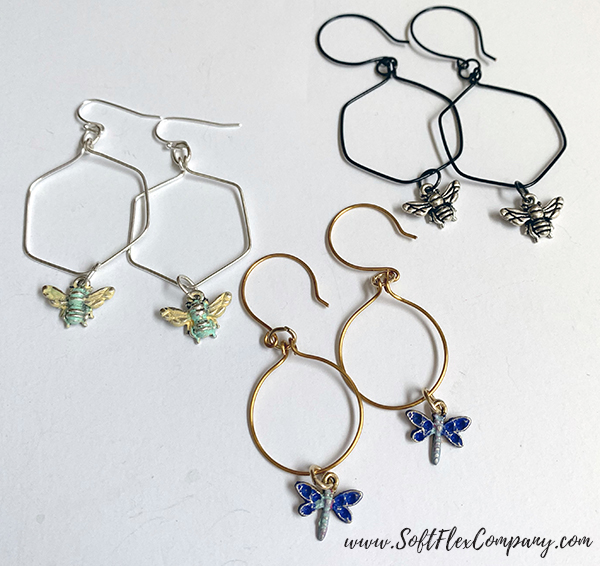 Make a cute set of earrings for yourself. WigJig boards make it so simple. We would love to see your work. Make sure you join our Facebook group – VIB. Post your photos and let us see what kind of spin you put on this design. VIB is an active community full of jewelry designers and hobbyists. You do not have to be a pro to join and it is a great place to learn some tips and tricks.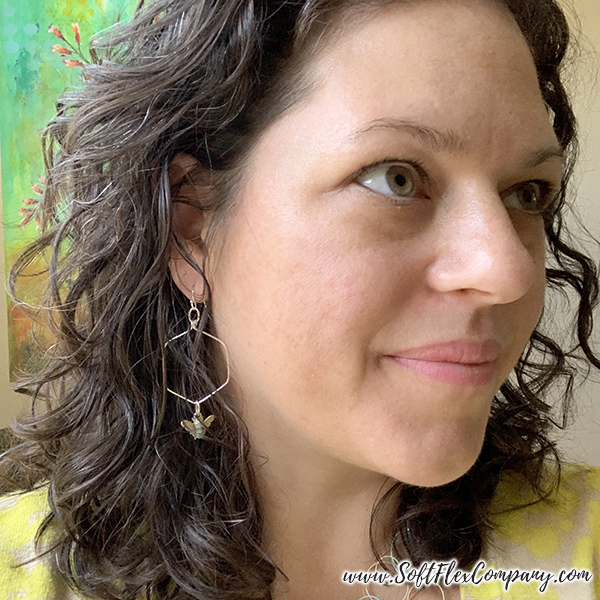 Live demonstration with James Browning using the new WigJig Delphi Wire Jig
James filmed a quick episode of Conversations in Wire on Wednesday. He normally uploads his series to our YouTube channel, it was fun watching a live episode on our Facebook page. He wanted to show off the latest tool on our shelves. James made an easy pair of earrings with the WigJig Delphi, Soft Flex Craft Wire and beads. The WigJig Delphi is a great tool for earrings. The jig board makes it easy to replicate a pattern or design. The board and peg placement ensure that you will always get a consistent look if you make earrings.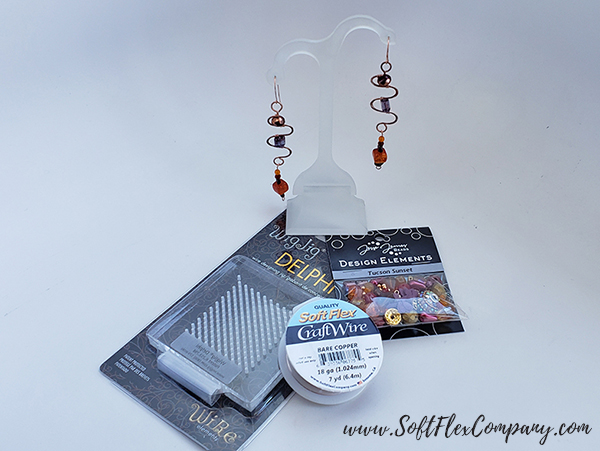 Supplies:
Soft Flex Craft Wire - Bare Copper 18ga
WigJig Delphi Acrylic Wire Jig
WigJig Small Round Super Pegs For Delphi
LoopRite Looping Pliers
Nylon Jaw Pliers
Bead Nipper (Cutters)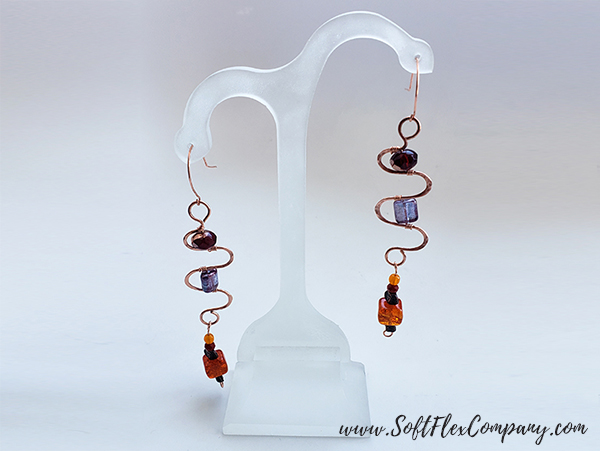 Make A Crescent Moon Pendant Using A WigJig and Soft Flex Craft Wire
James is back for another YouTube episode of Conversations in Wire. James loves Soft Flex Craft Wire. He designs all sorts of jewelry with it. He loves to wrap beads, create focal beads, and create fun new designs. He loves to explore new uses of the wire. His series follows his passion. You can find new episodes of his series on our YouTube channel every other Thursday.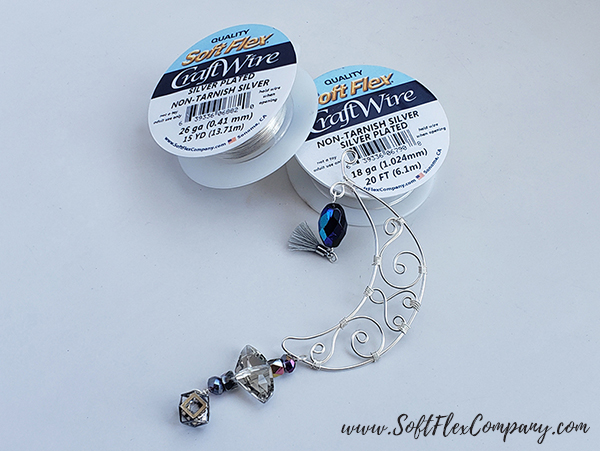 Who doesn't love a fun crescent moon design? Lovely Luna has been inspiring artists since man first walked the Earth. James opted to create a fun crescent. A little boho chic, a little mystery - there are no ends to the possibilities with a moon pattern.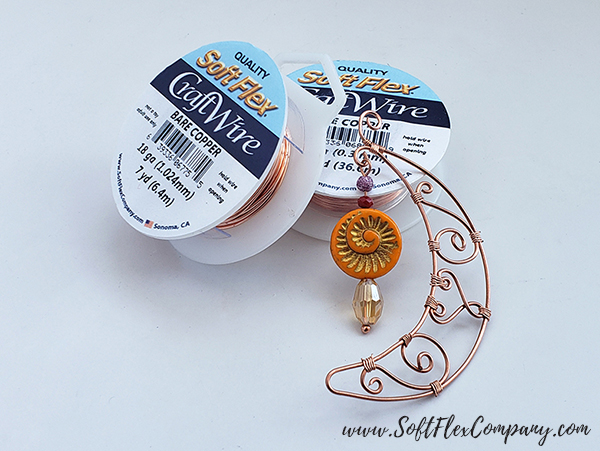 Supplies:
Soft Flex Craft Wire - 18ga
Soft Flex Craft Wire - Silver Plated 18ga
Soft Flex Craft Wire - 26ga
Soft Flex Craft Wire - Silver Plated 26ga
WigJig Delphi Acrylic Wire Jig
WigJig Super Pegs
Round Nose Pliers
Chain Nose Pliers
Nylon Jaw Pliers
Bead Nipper (Cutters)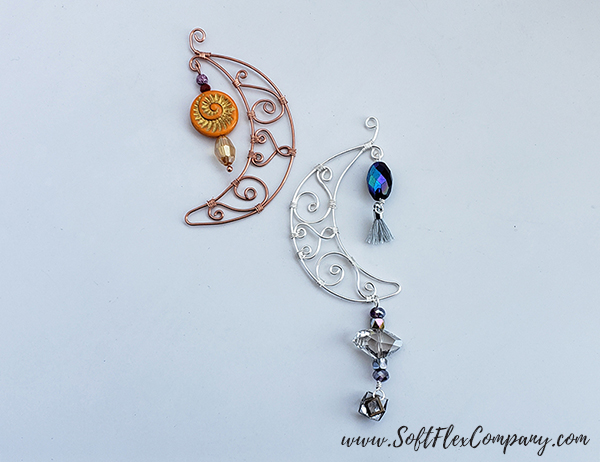 This look is incredibly versatile. You can wrap the moon with wire. you can add as many or as few beads as you wish. You can add a dangle or just create the crescent itself. If you do not have a mandrel or surface to work the wire around for the shape, get creative - James used an ibuprofen bottle to guide his wire into a moon shape. Fun!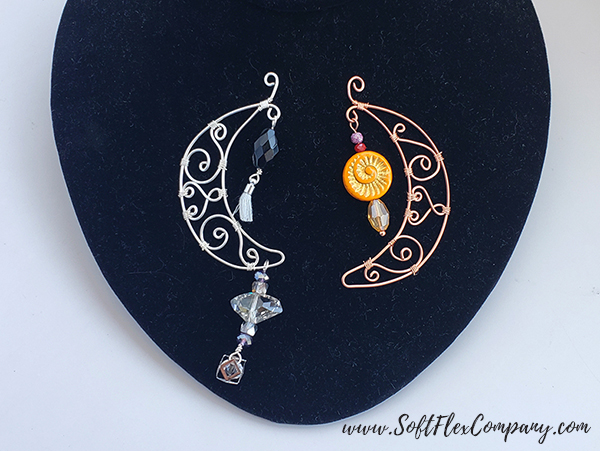 Projects not intended for children under the age of 13. The information on this instruction sheet is presented in good faith, but no warranty is given, nor results guaranteed. Soft Flex® Company disclaims all liability from any injury to anyone undertaking the construction of this project as a result of improper safety precautions.
Join our Facebook group – VIB. Stay in the know. Stay up to date. From our bead shows to our video shows and sales, you can stay in touch with us. The community is full of artistic and helpful beaders and crafty people. Inspire and be inspired. Share your pictures and get the beading bug from others!
Visit the Soft Flex Company YouTube Channel!
---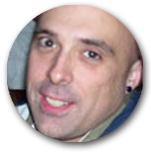 Blog contributor Thomas Soles loves Jazz Age writers and crunchy french fries. His favorite gemstones are Lapis and Pietersite. His favorite hobby is day dreaming. And his favorite mustache is Freddie Mercury's. As you can see, he has a healthy (or possibly unhealthy) sense of humor. You can write to him at Thomas@SoftFlexCompany.com