Beads Baubles and Jewels is a show dedicated to jewelry making and beading tutorials that airs weekly on many local Public Broadcasting Stations. This season started running on Thursday, January 24th (check your local listings for start date and times in your area).

Episode 2713 is jam packed and features two fantastic designers using Soft Flex Company Beading Wire - Kate Richbourg of BeadShop.com using Soft Flex .014 Fine Beading Wire and Jill Wiseman of JillWisemanDesigns.com using Soft Touch .010 Very Fine Beading Wire! This week and next, we will explore Kate's design in detail. Then, we will turn to Jill's design and take a closer look there too.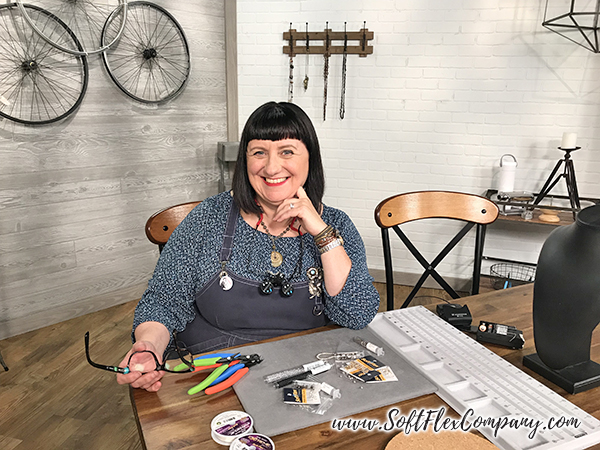 Kate Richbourg is a well-known author, teacher and jewelry designer. Her website states, "Simply put, Kate Richbourg loves jewelry. She loves to teach it. She loves to make it. She loves to wear it." She brings that love of her craft to every jewelry project and that was certainly no different with this episode of Beads, Baubles and Jewels. We at Soft Flex Company have a special place in our hearts for Kate as she has been using our wire since around 1996, the first time that owners Mike Sherman and Scott Clark stepped into The Bead Shop in Palo Alto, CA. As a fellow local bay area resident, we've watched Kate's talent explode over the years and marveled at her creativity and ingenuity.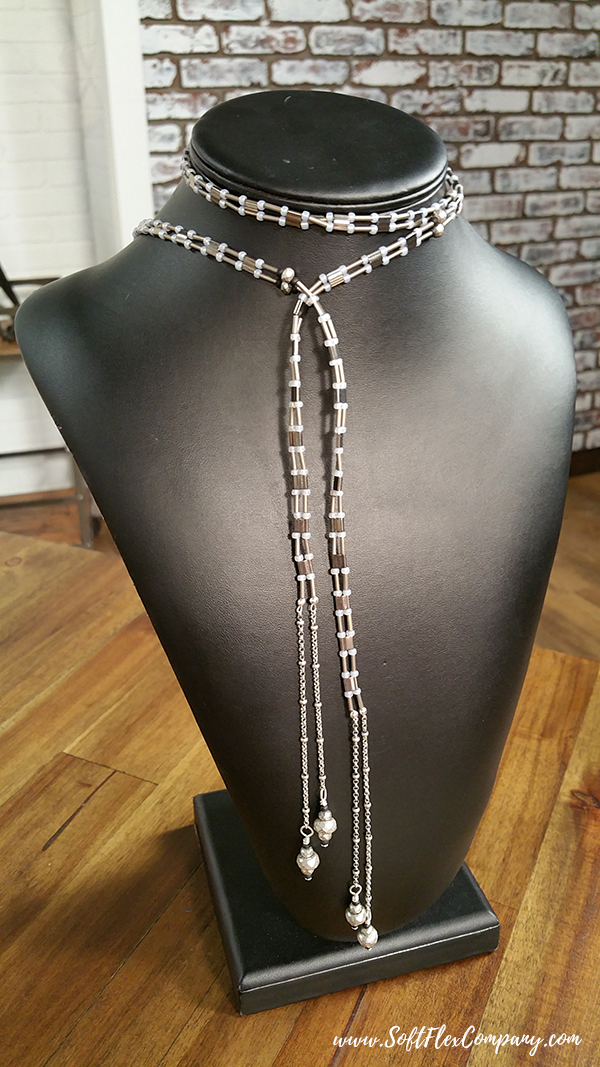 In Episode 2713, A Peaceful Pursuit, Kate shows us how to use Soft Flex Beading Wire to string a beautiful, swingy lariat. This timeless piece is perfect for anyone's jewelry wardrobe. This type of design really shows off the flexibility of Soft Flex Beading Wire and is fairly easy to pull together as Kate will show you.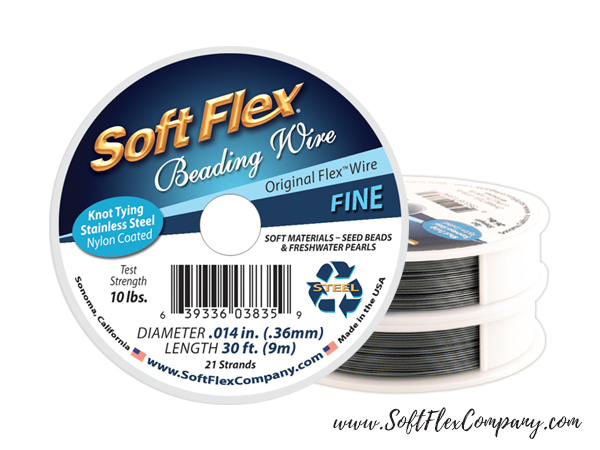 Soft Flex Beading Wire is a lead-free beading wire for designers that demand strength and durability, created by beaders for beaders. .014 Fine Soft Flex Wire is constructed of 21 micro woven stainless steel wires coated in nylon. It is supple enough that it can be knotted and comes in a wide variety of colors. We recommend Soft Flex Wire for designers that want their pieces to last and eliminate the frustration of restringing. .014 Fine is deal for light weaving, soft materials, seed beads and fresh water pearls. We suggest finishing with Soft Flex 2x2mm-crimp tubes.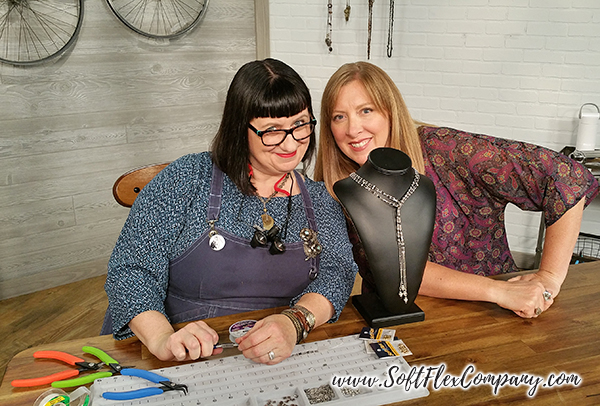 Everything in this design, including the Soft Flex Beading Wire, can be found from our friends at BeadShop.com. And this is where you can find Kate most days too. Be sure to stop by their website and peruse the wonderful selection of beading items that they offer. If you love live videos, the crew at BeadShop.com puts together a stellar show twice a week on their Facebook page. The detail that they put into every episode is amazing for such a small but mighty team!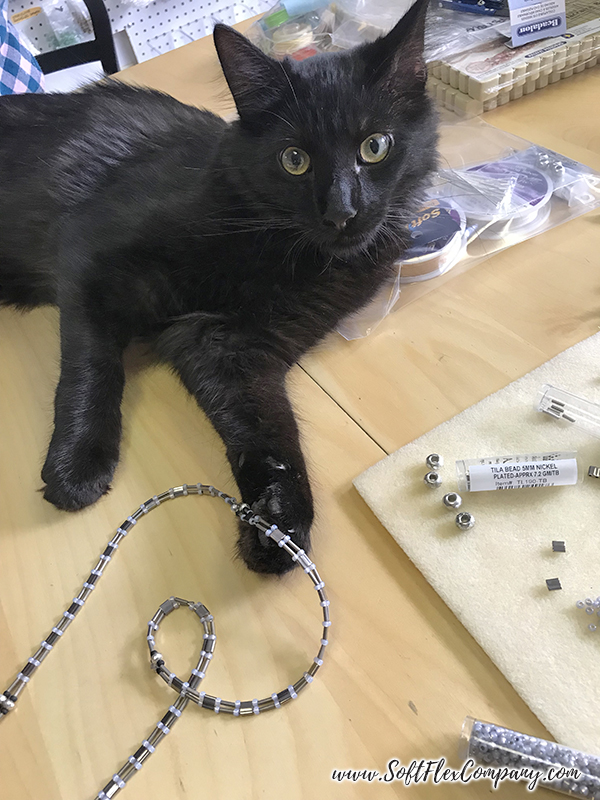 Over at BeadShop.com, they have a very important staff member - Alfie. He is their office cat and Kate's beading sidekick. He even chipped in to do his part to create this beautiful lariat sample leading up to the show. Thanks Alfie!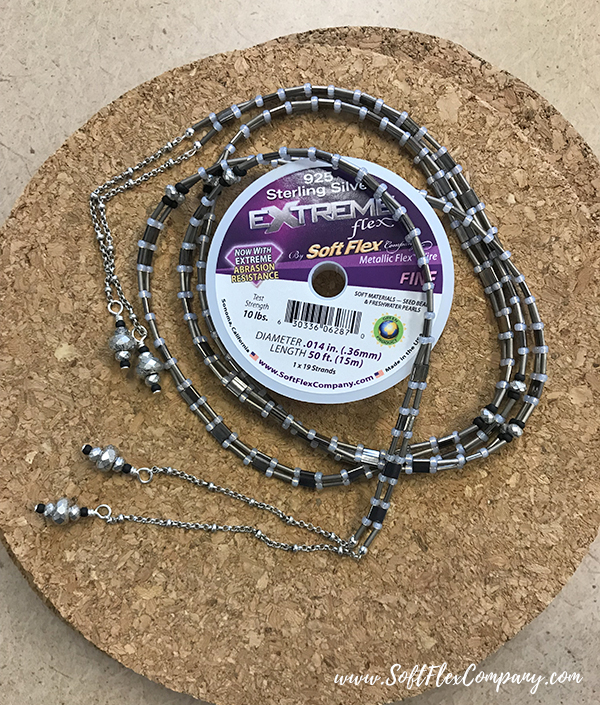 All in all, there is no bigger compliment than having a fellow jewelry making lover use our beading wire year after year. Kate has always been a huge supporter of our business and we are grateful each and every time she uses our wire - just like we are grateful each and every time you use our wire too. It really is personal and not just business for us because we put our heart and soul into making and selling the very best beading wire. Support from the community around us in that endeavor is priceless.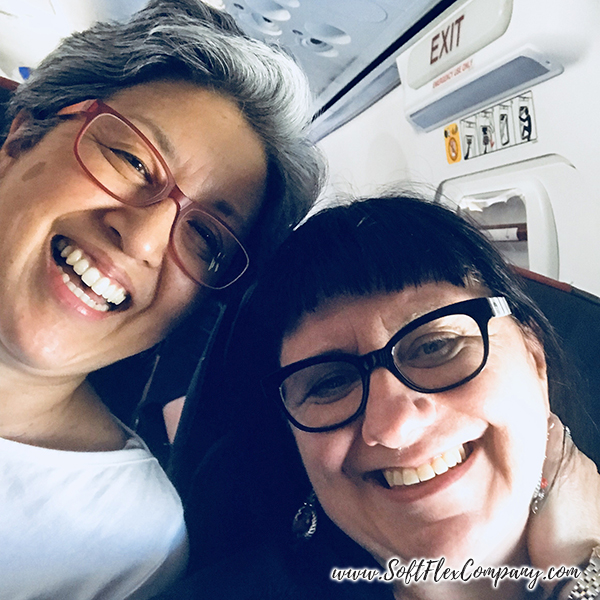 I would fall short of my duty if I didn't always point out that there is a team behind most designers that you see on a show like Beads, Baubles and Jewels. For me, I am supported by Thomas (thanks for editing this buddy), Damien (thanks for updating the pictures) and Kristen (thanks for making sure everyone sees this post). Kate has a similar team working behind her and got the opportunity to take one of our team members with her to film BBJ in Ohio - Cara. We all need a little help from our friends!
Join our Facebook group – VIB. Stay in the know. Stay up to date. From our bead shows to our video shows and sales, you can stay in touch with us. The community is full of artistic and helpful beaders and crafty people. Inspire and be inspired. Share your pictures and get the beading bug from others!

Visit the Soft Flex Company YouTube Channel!

---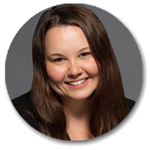 Sara Oehler (pronounced Ay-ler) is a well-known jewelry designer living in the Bay Area. Sara is the author of several beading books, including her latest title, written with Kristen Fagan, Seed Bead Revolution. She has designed and written for numerous publications including: BeadStyle, Bead&Button, Bead Trends, Stringing, Jewelry in Fashion Trends, Simply Beads, The Flow and Today's Creative Home Arts. Currently, Sara is the Sales and Marketing Manager for Soft Flex Company.
Ask Sara Bead Expert
Blog: softflexcompany.com/beading-blog
Email: Sara@SoftFlexCompany.com