Beads Baubles and Jewels has been amazing this season. We love to watch designers create beautiful jewelry. It is such a neat process and getting inside their head for a bit is so much fun. Kate Richbourg was on episode 2713 - "Peaceful Pursuit". She was inspired by the Eiffel Tower and wanted to design a lariat that honored it. Her work is stunning and it really captures the essence of the iconic French landmark.

If you have not been keeping up, Beads Baubles and Jewels is a series that airs on Public Broadcast Television. You can find more information about the show here. Beads Baubles and Jewels is hosted by Katie Hacker. Katie is a prolific jewelry designer and author. You have likely come across her work if you love beads and jewelry. Her series showcases wonderfully talented artisans. It is a great place to find inspiration.

Eiffel Tower Lariat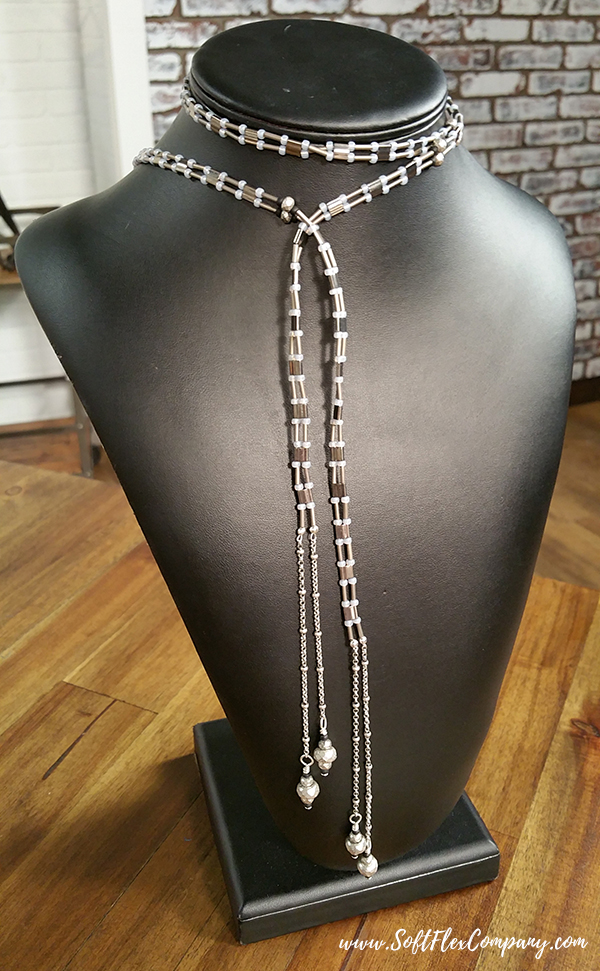 Design by Kate Richbourg

Materials
Soft Flex Extreme Beading Wire, .014 Diameter, 925 Sterling Silver Plated - 8 ft
Tila TL194, Palladium Plated Beads - 1 tube
8-576 Dyed Smoky Opal S/L Alabaster Beads - 1 tube
BGL2-190F Matte Nickel Plate Beads - 1 tube
8-401F- Matte Black 8/0 Seed Beads - 1 tube
5mm Antique Silver Rondelles - 1 strand
8mm Antique Silver Rondelles - 1 strand
Teeny Satellite Chain, Antique Silver - 1 ft
22ga 2" Antique Silver Headpin - 4 pcs
2x2mm Soft Flex Silver Crimp Tube - 2 pcs
3mm Soft Flex Silver Crimp Cover - 2 pcs

Tools
Flush Cutters
Crimpers

Instructions

Step 1: Cut two 48" lengths of Soft Flex Extreme Beading Wire. Place tape on the ends. Lay out your beads and string. In this design, Kate uses a mix of Tila beads, bugle beads and 8/0 seed beads. It's easiest to string both strands at the same time. In this design there are 10 tiles interspersed with 11 seed bead and bugle stations. The pattern is repeated seven times with six of the "opening" sections alternating in between. The pattern for the alternating sections is: bugle, black 8/0, 5mm rondelle, black 8/0, bugle.

Step 2: The alternating rondelle section creates an ample opening for the tails of the necklace to pass through at any of these spaces in the necklace. After the stringing is completed, cut four sections of chain, two pieces at 2 1/2" each and two pieces at 3". Wire wrap dangles on the ends of each chain. Attach one long and one short dangle to each strand of the necklace on both ends by crimping securely with 2x2mm crimp tubes.

Step 3: Cover the crimp tubes with crimp covers. The dangles will act as weights to keep the necklace in place. Wrap the necklace in a variety of ways to wear.

Click here to download a PDF of the instructions for the Eiffel Tower Lariat.

Projects not intended for children under the age of 13. The information on this instruction sheet is presented in good faith, but no warranty is given, nor results guaranteed. BeadShop.com and Soft Flex® Company disclaims all liability from any injury to anyone undertaking the construction of this project as a result of improper safety precautions.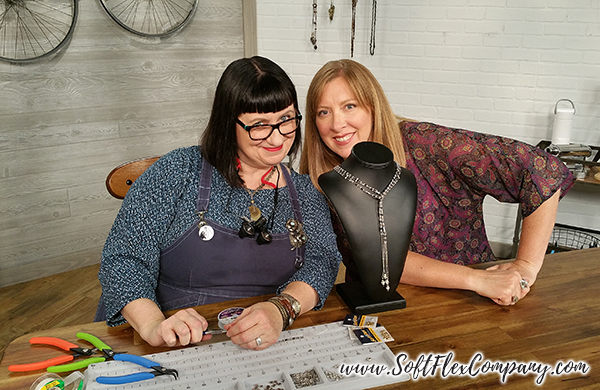 As Seen On Beads Baubles And Jewels: "Peaceful Pursuit", Episode 2713
"As seen on Beads Baubles and Jewels"

(This is a segment from the "Peaceful Pursuit" episode on Beads Baubles and Jewels.)

In this episode we investigate peaceful pursuits – when the actual making along with the finished product give us a sense of peace and a calm. Kim O'Neill demonstrates a piece entitled "breathe deep for calming" and adding scents to a lava rock bracelet. Then meet Jill Wiseman for bead weaving - the back and forth repetition can give that sense of peace. Finally Kate Richbourg creates bead lariats in intricate patterns but simply constructed.

You can watch the entire episode of "Peaceful Pursuit" on your local public television station This season started on January 24, 2019. Check your local listings for air times.

Join our Facebook group – VIB. Stay in the know. Stay up to date. From our bead shows to our video shows and sales, you can stay in touch with us. The community is full of artistic and helpful beaders and crafty people. Inspire and be inspired. Share your pictures and get the beading bug from others!

Visit the Soft Flex Company YouTube Channel!

---
Blog contributor Thomas Soles loves Jazz Age writers and crunchy french fries. His favorite gemstones are Lapis and Pietersite. His favorite hobby is day dreaming. And his favorite mustache is Freddie Mercury's. As you can see, he has a healthy (or possibly unhealthy) sense of humor. You can write to him at Thomas@SoftFlexCompany.com