Black Magic Trios are cursed with creative energy. This bedeviled pack of beading wire will cause your artistic side to stir. You will devise splendid and sinister jewelry. Every eye that fancies your finished jewelry will follow you. Heads will turn as you walk by with your haunting Halloween jewelry. Be bold. Unleash your innovative jewelry making ideas. Black Magic Trios will summon the most spirited designs.

Do you have a jewelry making project that demands a mixture of colors that evoke the spirit of Halloween? Our Trios Beading Wire Packs make it easy to stock up on color wire without committing to a thirty foot spool. Trios are packs of three 10 foot spools. Now you can make a magnificent necklace with Citrine color beading wire and not feel locked into a big spool that you might never use again. Get playful with color and experiment!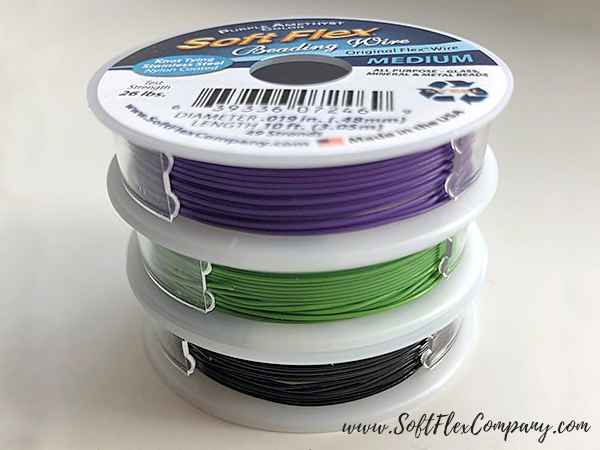 Our Black Magic Trios are a collection of three delicious Halloween colors. Purple Amethyst, Black Onyx, and Peridot comprise this tasty treat. This selection truly embodies the spirit of this ghoulish holiday. Design a necklace for your favorite zombie this year! Make your little Barney a beautiful set of purple earrings. Give your favorite goth the gift of darkness with a Black Onyx bracelet!
Black Magic Design Kit Project

Sara unboxed our Black Magic Design Kit last Halloween. She gave our friends a tour of what was inside this kit. Each of our kits are contained 'jewelry studios' - inside is everything you need to make a lot of jewelry. You will find crimps, components, beading wire, and a special mix of themed beads. You just need to supply the tools. For the most part, a pair of cutters and crimping pliers is all you need.
Once Sara opened the Black Magic Design Kit, she designed some stunning jewelry. Our kits are themed, but we load them with beads and wire that can be used year round. Black Magic designs could be made spooky or elegant. You could create jewelry with just the elements inside the kit or add the kit to your beading toolbox.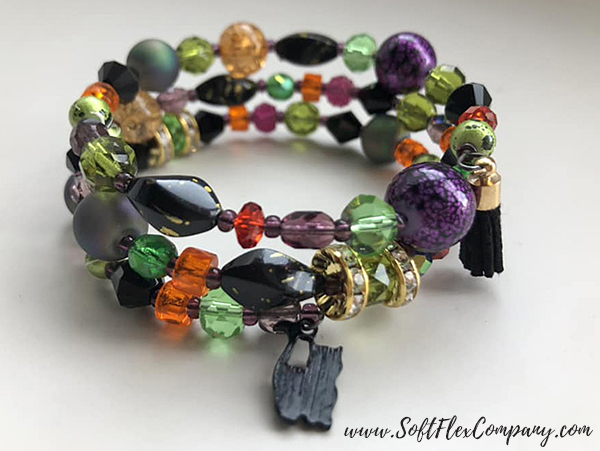 Black Magic Design Kits were eerie and full of spectral treasures.
Black Magic Kits were full of shiny grumkins and snarks. This box of treats had all of the colors of spooky season. Our dancing zombies collected only the finest trinkets and baubles. We scared up a kit that could design a necklace that evoked a crisp autumn breeze or thunderclaps on the stormiest night. We hope you managed to grab one before they sold out!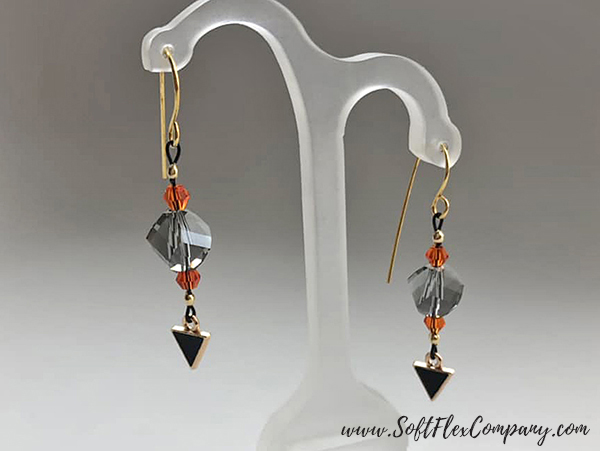 Jesse James Design Challenge
We love Jesse James Beads. They have such thoughtful mixes of beads and jewelry items. Sara was anxious to get a hold of a Magical Mystery Bead Box from Jesse James Beads. She wanted to see what was inside and make something magnificent.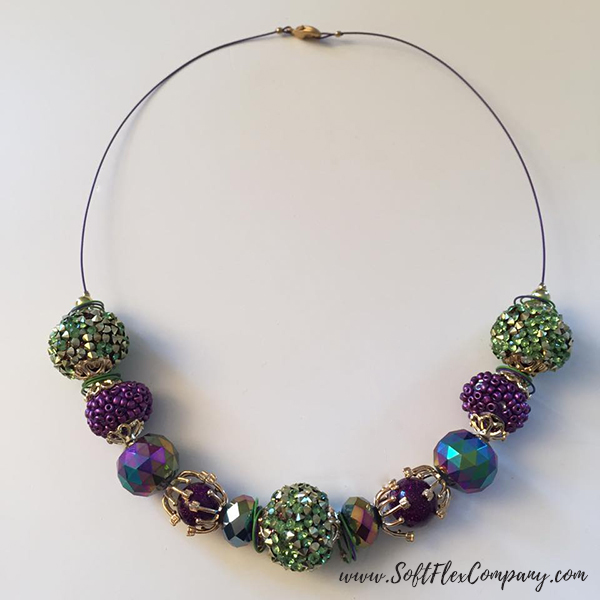 Sara loves to unbox jewelry items. We contact our favorite bead stores and manufacturers and request samples and packages of the products they feel best represent them. Sara gives reviews of the boxes as she opens them. And then she designs some jewelry. She does this live on Facebook. It is fun to watch her thought process. From opening and sorting to making something incredible. It is always a journey. Since it is live - she does not always hit it out of the park. This is fun too. Learn how a seasoned designing professional copes with a mistake and redirects their disappointment into something unique!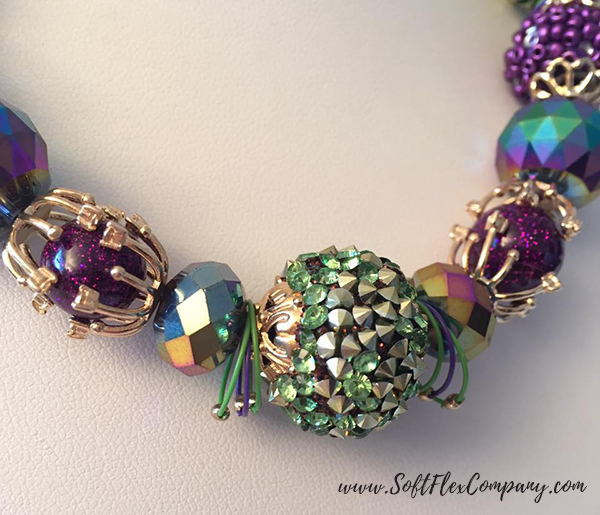 This was such a fun mystery box. There were so many sparkling and lovely beads. The shiny stuff in this box was paired with spooky smiling skulls and plump pumpkins. It was quite a fun little mix. The skulls were pretty pointedly themed to darker jewelry, but the beads left so many design options, other than just Halloween jewelry.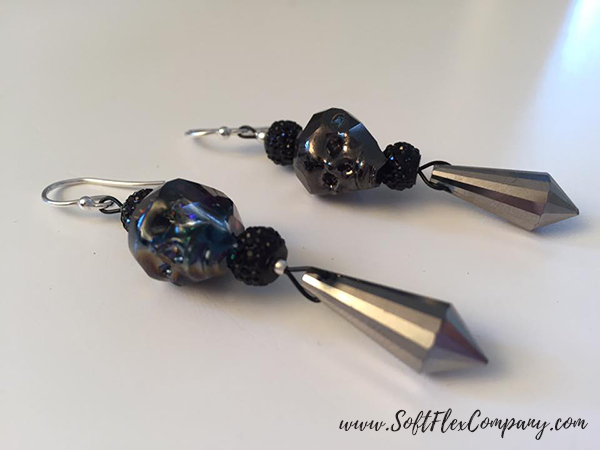 Make sure you visit one of our favorite bead stores. Jesse James Beads has a fantastic catalog. You are sure to find something spooky for Halloween. Something festive for Thanksgiving. And something decadent and glowing for the new year!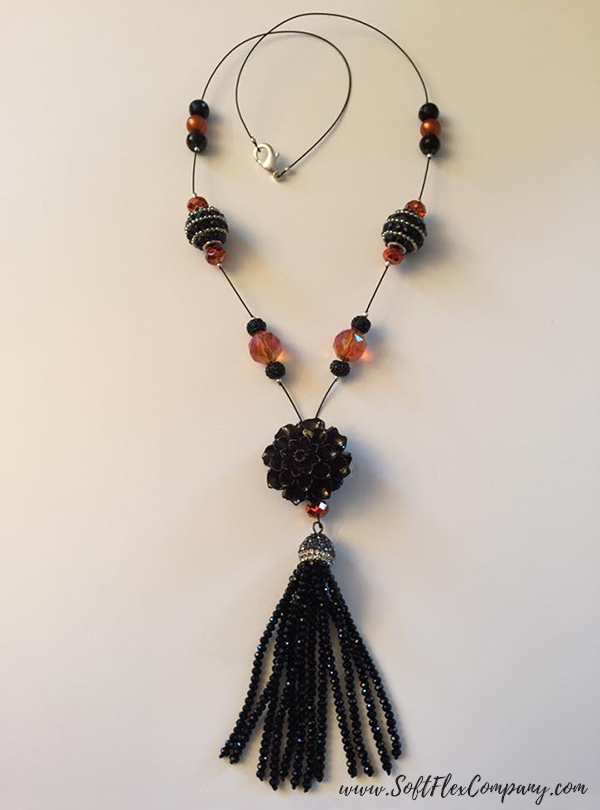 Sara James and the Magical Mystery Box
Magical Mystery Bead Boxes are a subscription based box service from Jesse James Beads. The boxes are absolutely loaded with goodies. The contents of the box are exclusive. You will not find them on the Jesse James Beads website. You are getting incredible beads for an incredible value.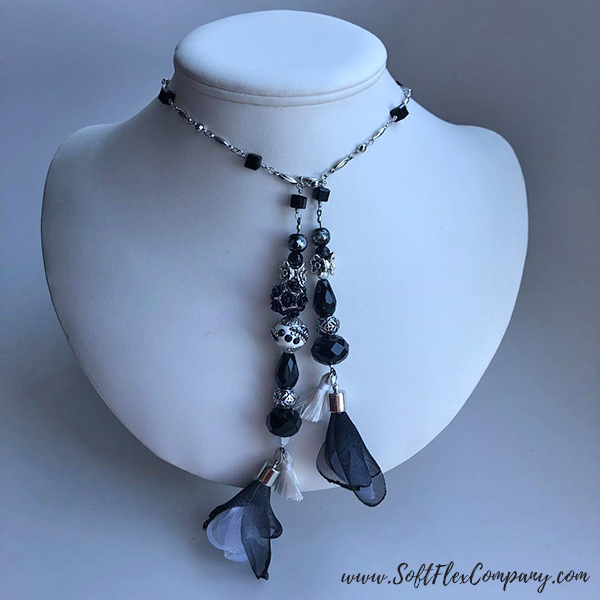 If you would like to subscribe and get a mystery box, follow these links:
Magical Mystery Bead Box - 3 Month Subscription.
Magical Mystery Bead Box - 6 Month Subscription.
Magical Mystery Bead Box - 12 Month Subscription.

This Magical Mystery Bead Box was a delectable mix of goodies based on the Nightmare Before Christmas. Jesse James Beads has a Disney license. There are elements from the movie in the box. The box had Skellington skulls, fiber cord, tassels, and oh so many beads. Sally, Jack Skellington's love interest in the movie is even in the box. Sally is hand-dyed and so beautiful. If you love Halloween Town, you will adore this collection. If you lean more toward Christmas Town – this box has some beads from there too!
Inspiration for Halloween and beyond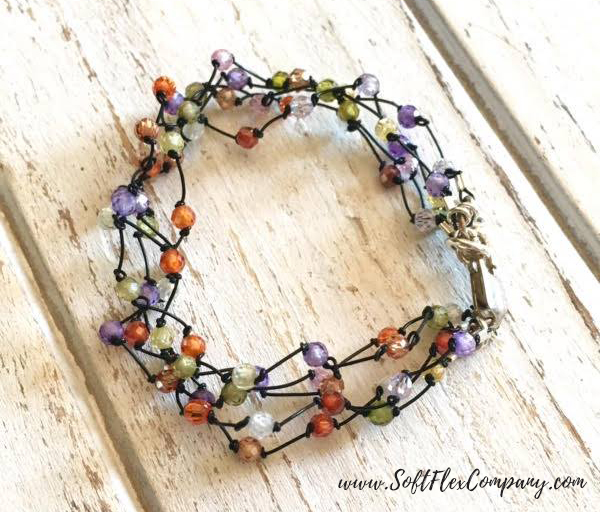 Reenie of Easy Knotter created this fun five strand cubic zirconia bracelet using black Soft Flex Beading Wire in our fine diameter. So simple and so alluring. Soft Flex Beading Wire is a great cord for knotted designs. We have a page in our Tips and Tricks section if you would like to learn how we suggest knotting our wire.
Check out Jewel School featuring Easy Knotter with Sheree and Michelle for the episode featuring this design.
Tune in online at JTV.com or check your local TV listings for other instructive episodes.
Faux Barb Wire Bracelet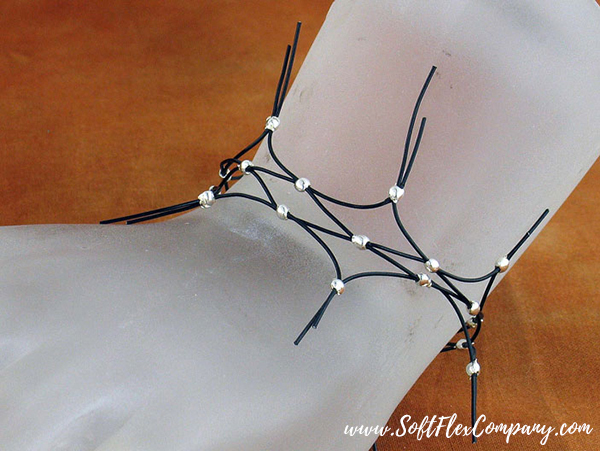 Designer Sara Oehler
Skill Level Easy
Barb wire is for the adventurous that want to make a statement. If you see this razorpunk decorative accent in the movies, you can be sure that the bearer is a beast. Barb wire is authoritative and powerful. And now, with a little Soft Flex Company jewelry engineering, it is elegantly dangerous.

Some color options: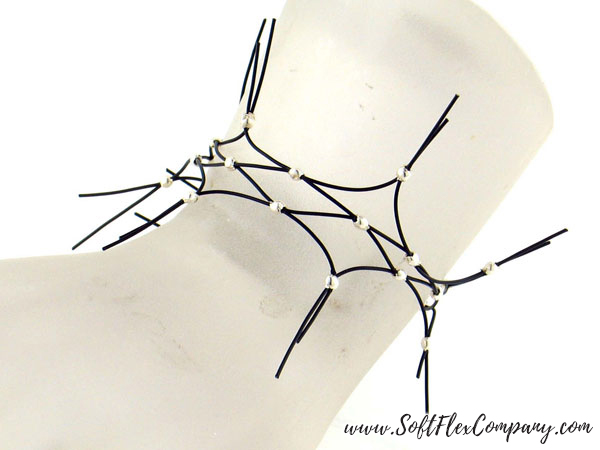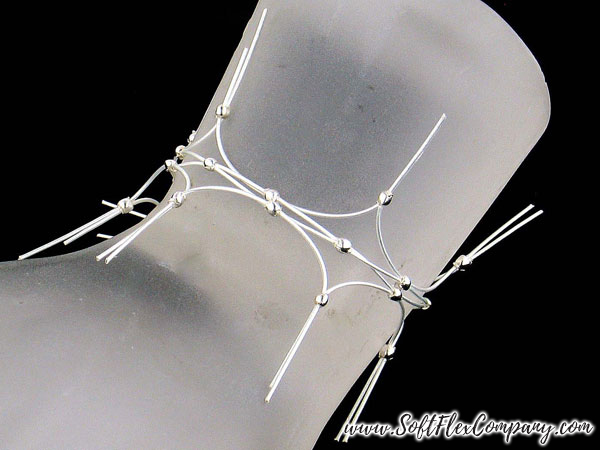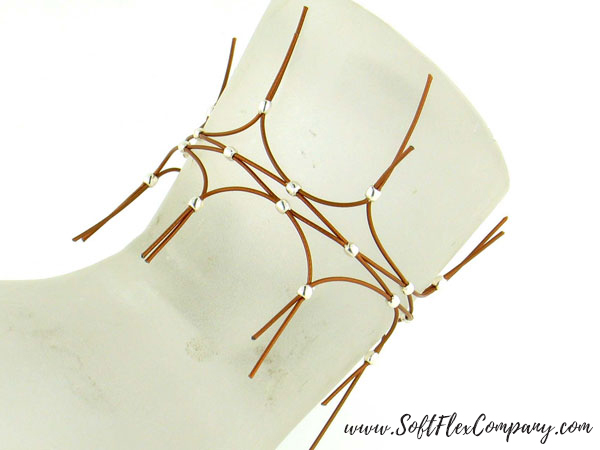 Materials
Soft Flex Beading Wire .024 diameter (total 40") - two 8" strands and twelve 2" strands
2x2mm Sterling Silver Crimp Tube - 31 pcs
3mm Crimp Covers - 2 pcs
Clasp - 1 set

Tools
Regular Crimpers
Cutters
Magical Crimping Pliers
Chain Nose Pliers


Instructions

Step 1: Cut two 8 inch strands of wire as well as twelve 2 inch strands of wire.

Step 2: Use two 8 inch strands (the base wires) to string 1 crimp tube, move to the center and crimp. Except to attach the clasp in Step 7, all crimps are crimped using the Magical Crimping Pliers.

Step 3: String 1 crimp tube on 2 strands coming out of the center crimp tube. Then, String 1 crimp tube onto both wires, stopping about an inch from the middle and crimp. Repeat two more times and three times on the opposite side of the middle crimp tube.
Step 4: There are 12 open crimps sliding back and forth on the base wires. Thread a 2 inch strand through an open crimp tube and crimp in the middle of the 2 inch strand. Repeat for the other 11 sliding crimps.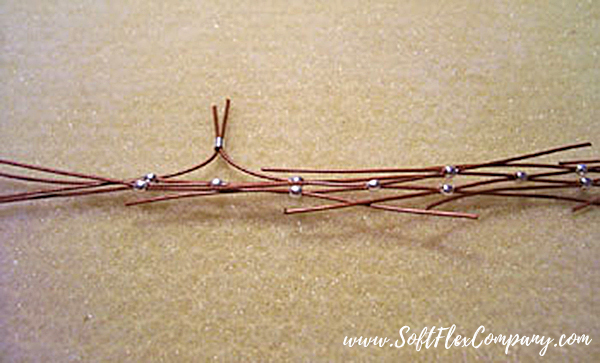 Step 5: Now, you will see the 2 inch strands are overlapping in 10 spots. Use the two overlapping wires to string 1 crimp tube and crimp. Repeat in all 10 spots. The wires that stick out should not match each other in length. They can all be different.
Step 6: Cut off one base wire on both sides of the design, leaving 1 base wire tail on both sides to attach to a clasp.

Step 7: And finally, use the tail to string 1 crimp tube and the loop of the clasp. Pass back through the tube and crimp using Regular Crimping Pliers. Trim the excess wire. Cover with a crimp cover. Repeat on the other side.
Attach a skull charm to your next jewelry design
What this video lacks in jump scares, it makes up for in pure beading education. Sara discusses how to add charms to your favorite jewelry. She advises that you could even cycle your favorite charms for every holiday. Would you like to learn how to add an accent to your latest jewelry design? Give this quick video a watch!
This video is great for beginners. Sara discusses Magical Crimping Pliers - what they are and how they work. She discusses how to make sure your crimped beads are finished with style and security. She provides images on how your crimp beads should look during the process. If you need crimping pointers. You need to check out this wonderful video.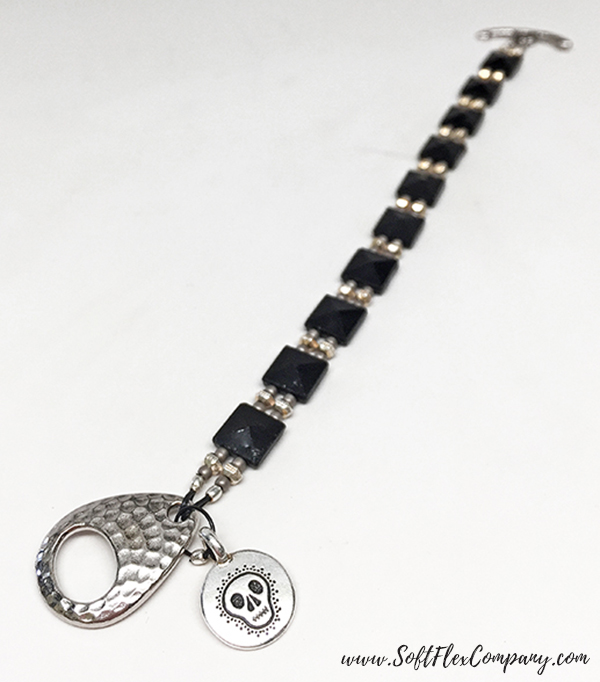 Projects not intended for children under the age of 13. The information on this instruction sheet is presented in good faith, but no warranty is given, nor results guaranteed. Soft Flex® Company disclaims all liability from any injury to anyone undertaking the construction of this project as a result of improper safety precautions.
Join our Facebook group – VIB. Stay in the know. Stay up to date. From our bead shows to our video shows and sales, you can stay in touch with us. The community is full of artistic and helpful beaders and crafty people. Inspire and be inspired. Share your pictures and get the beading bug from others!
Visit the Soft Flex Company YouTube Channel!
---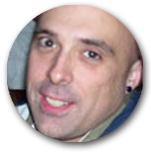 Blog contributor Thomas Soles loves Jazz Age writers and crunchy french fries. His favorite gemstones are Lapis and Pietersite. His favorite hobby is day dreaming. And his favorite mustache is Freddie Mercury's. As you can see, he has a healthy (or possibly unhealthy) sense of humor. You can write to him at [email protected]