Well, the world continues to get more interesting or maybe less interesting as each day goes by as we are all having to put things on hold to stay safe for ourselves, our loved ones and our communities. I know that being home for so long can feel strange, but I'm grateful for more time with my family, watching movies, playing board games and of course getting creative time in my art & beading studio! It is my happy place after-all.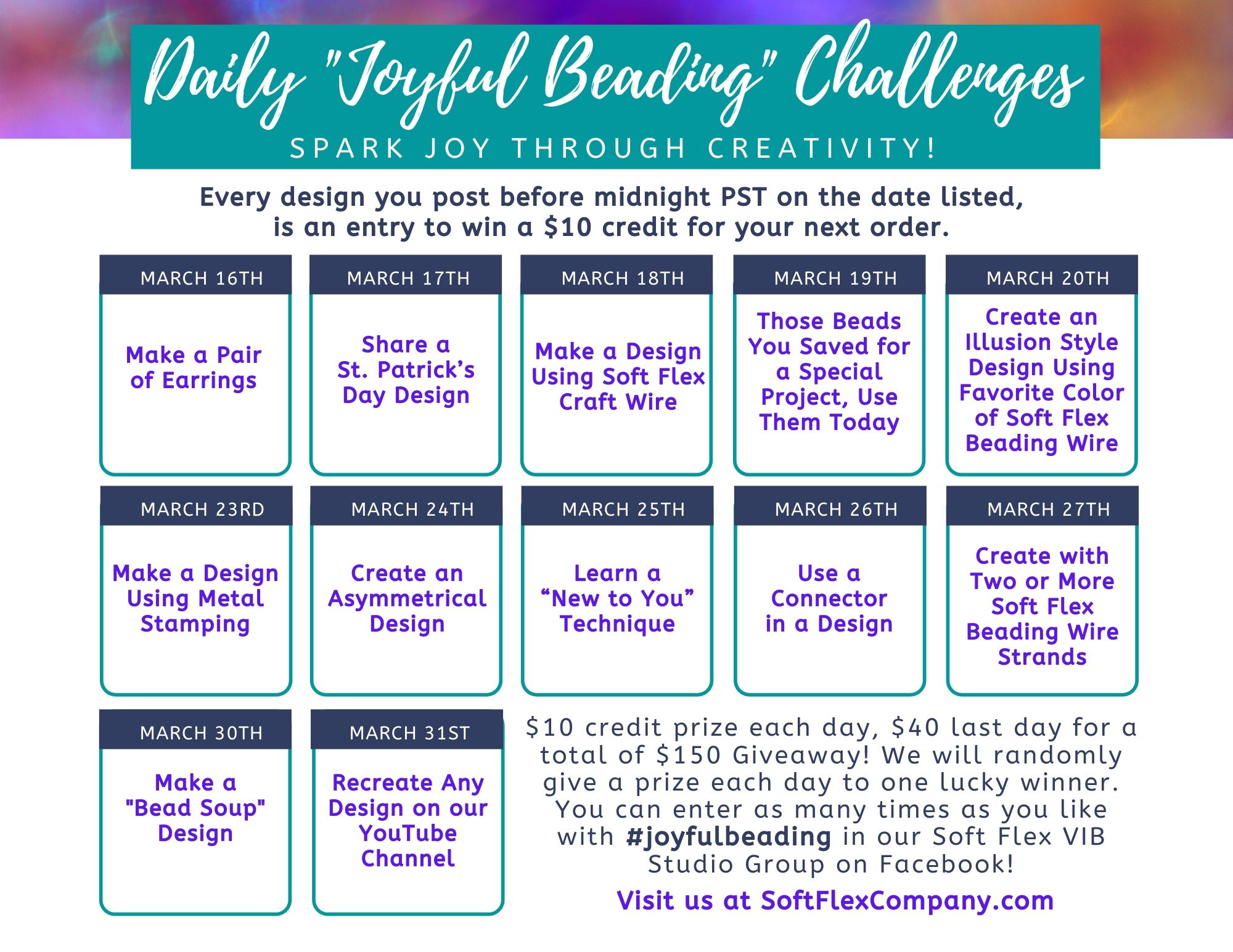 Join the Fun in our Facebook Group Today!
Daily "Beading Joy" Challenges to Spark Joy through Creativity continues in our Soft Flex VIB Studio Facebook Group. Share your designs with the hashtag #joyfulbeading in our Facebook group to be entered to win $10 off your next order. We will randomly choose one lucky winner. You can enter as many times as you like. Want to Download and Print this Calendar? Click here.

Create Texture on Metal and Make a Beaded Necklace
This week on Free Spirit Beading with Kristen Fagan, I shared how our metal stamping multi-function hammer, stamping tools and metal blanks work to create texture for metal stamped diy custom jewelry!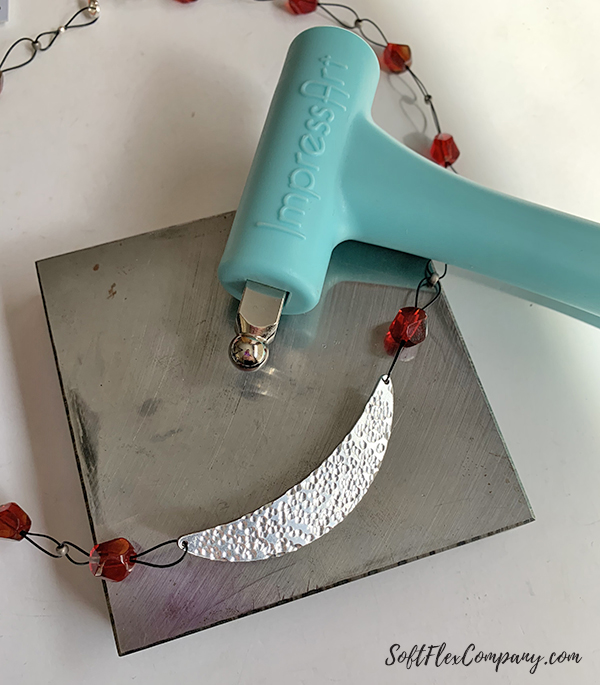 Supplies:
Soft Flex .019/Medium Diameter Beading Wire in Black
Size 8 Matte Silver Seed Beads
2x2mm Crimp Tubes in Sterling Silver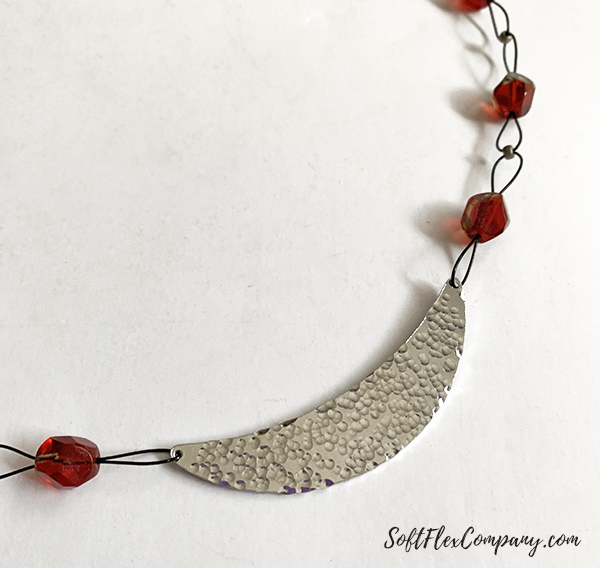 Metal stamping is a fun and easy way to personalize jewelry and crafts. I used the ball peen attachment hammer head to create this textured metal necklace plate.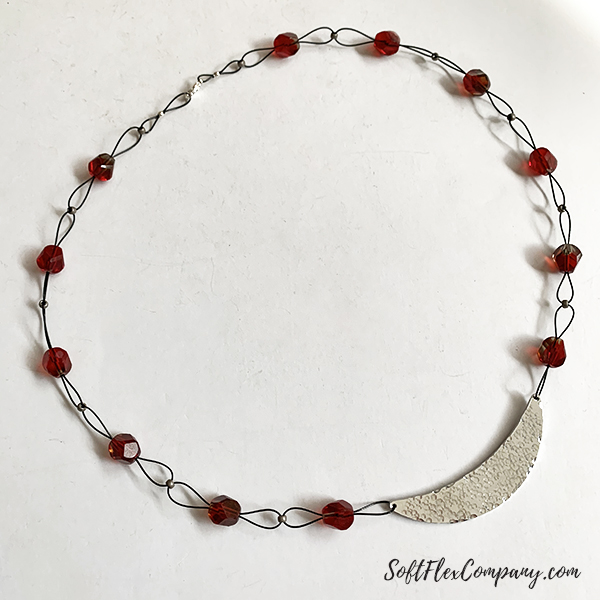 Use interchangeable heads to add texture with this Multi-Function Hammer. To use, simply insert an attachment or 6mm stamp into the head, tighten the handle, and stamp repeatedly until desired effect is achieved. The four attachments that come with the hammer are:
Texture Stamp – Add sprinkle pattern texture design
Ball Peen Head – Create artisan hammered textures
Chasing Head – Texture, planish, and shape metal
Nylon Head – Flatten metal without marring
Brass Head attachment add-on is specifically for using letter and shape stamps.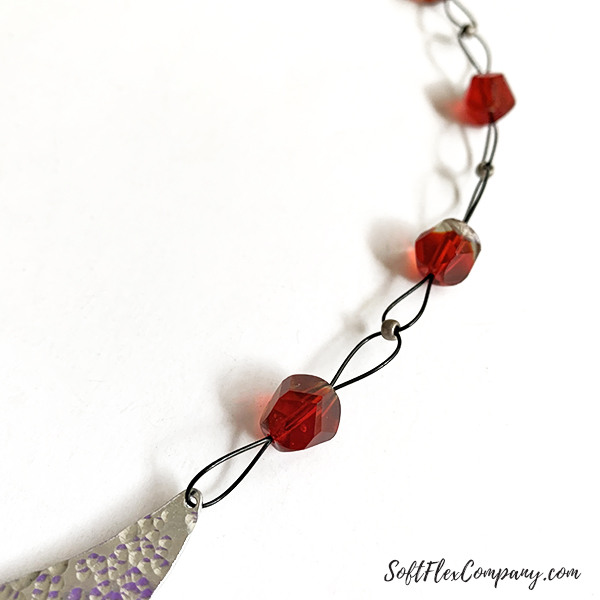 Then, I strung it on Soft Flex beading wire using a loose beading wire link technique. I use twelve 10mm Czech Glass red beads, twelve size 8 seed beads and two strands of 24" Soft Flex beading wire in black to create the links.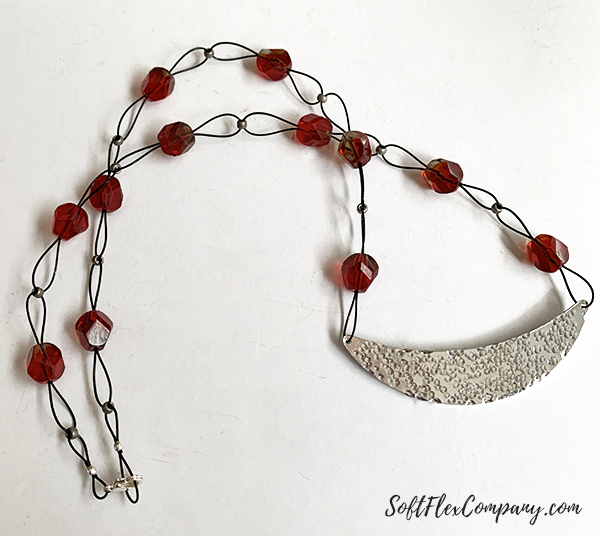 Once finished, attach a crimp and lobster claw clasp on one end and a crimp and loop on the other. Crimp with Magical Crimping Pliers.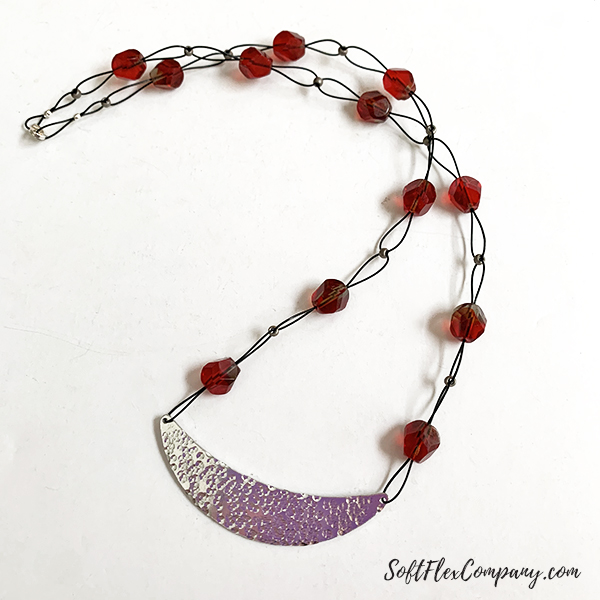 If you like this idea, you may like these other project ideas that use metal stamping tools:
Metal Stamp Texture Earrings with Soft Flex Wire
Metal Stamping for Beginners
Metal Stamped Love XO Bracelet and Earrings with Moonstone
Join our Facebook group – VIB. Stay in the know. Stay up to date. From our bead shows to our video shows and sales, you can stay in touch with us. The community is full of artistic and helpful beaders and crafty people. Inspire and be inspired. Share your pictures and get the beading bug from others!
Visit the Soft Flex Company YouTube Channel!

---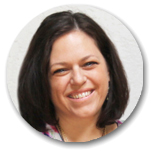 Kristen Fagan is the Website Graphic Designer and a Jewelry Making Educator for Soft Flex® Company. She is the co-author of Seed Bead Revolution, an artist and creativity guide. She currently lives in Arizona with her husband, their two sons and two dogs. When she's not painting, drawing or beading, she enjoys reading, yoga, exploring the outdoors and traveling. Her favorite stones are Opal, Turquoise, and Quartz and she can't bead without Bead Stoppers. You can email her at Kristen@softflexcompany.com or visit her Website | Facebook | Instagram