It's Kit Day! We had a blast making jewelry with our previous kit - the Resort Chic Design Kit (Sold Out). The sunny colors in the kit were an homage to fashion designer and socialite Lilly Pulitzer. This kit was elegant and fun. Today we are going to look at finished designs from our employees, our VIB community, and YouTube designers. We are also announcing our newest kit - Bee Kind. Bees deserve our love and respect. We want to design jewelry with these little wonders in mind. Join Sara on Facebook when she unboxes last month's kit - Renewal. Kit Day is a day for exuberant creativity and joyful beading! Let's celebrate Kit Day!

Visit us live on Facebook, today. We are going to open our Renewal Design Kit. This kit is the kiss of spring. The soft palette is perfect for blue skies and big smiles. Share your delight with others, make jewelry that is uplifting and warm. Sara will show you how much fun our beading kits are and she will show you how to make some artistic jewelry. Our Facebook videos are almost like a free jewelry making class online. Get a crash course on how to design and finish your favorite new necklace.
We are looking at Resort Chic designs from Soft Flex jewelry designers Sara Oehler and Kristen Fagan. We have a beautiful gallery of talented makers from our VIB community. We also have some videos from some exciting YouTube jewelry designers - Wendy Whitman, Aleshia Beadifulnights, Deb Houck, and Tracy Alden. The real fun of our design kits is that each kit has the same supplies. This blog will show you how unique each creator is, since everybody has the same palette to work with. It is a fun journey seeing how one person can express themselves so differently than others with the same beading supplies. Joyous creativity and inspiration abounds on Kit Day! Thank you for joining us!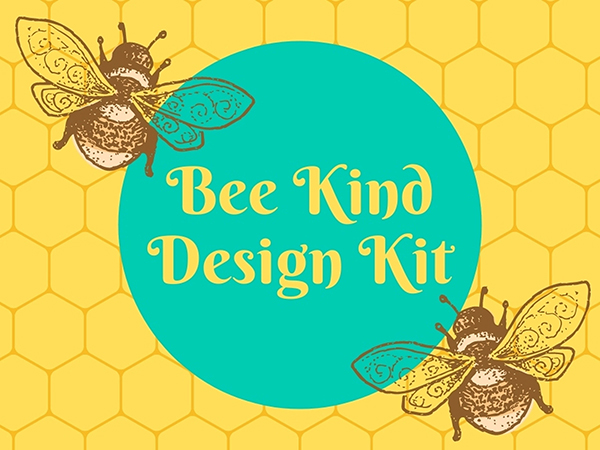 Let's celebrate a marvel of nature. We are abuzz about bees! Bees have graced cultures and mythology. They are a powerful symbol of good luck, mindful living, and industry. Bees rally around their royalty to protect and shield them. Bees are critical cross-pollinators, we owe much of our food production and plant growth to their vital roles. Bees have graced us with mead - the drink of the gods. Bees have sweetened our lives with a natural miracle food that never expires - honey! Let's bee kind and pay tribute to this gentle harvester.
Sara will be doing a live broadcast on the Soft Flex Facebook page and YouTube Page, with the Bee Kind Design Kit, on Wednesday, June 30th at 3pm (PT).
If you'd like to join us in the design challenge next month, buy this kit and challenge yourself to try something new and unexpected. If you are new to beading, this kit comes with findings, beads, wire, and surprises.
Our kits are great for skill building. We want our kits to feel challenging. We want them to be accessible for beginners and advanced designers alike, but we love to throw in elements that may seem difficult to test our beaders skills and make them think out of the box. We think jewelry is great when it is easy. But when you really have to engage your mind and process your materials and tools, we think that your jewelry has the potential to be life changing.
Our kits may be inspired by a colorway or theme, but they are meant to be creative interpretations. Imagination and innovation do not follow the rules. Expect the unexpected.
Supplies are very limited. Don't miss out!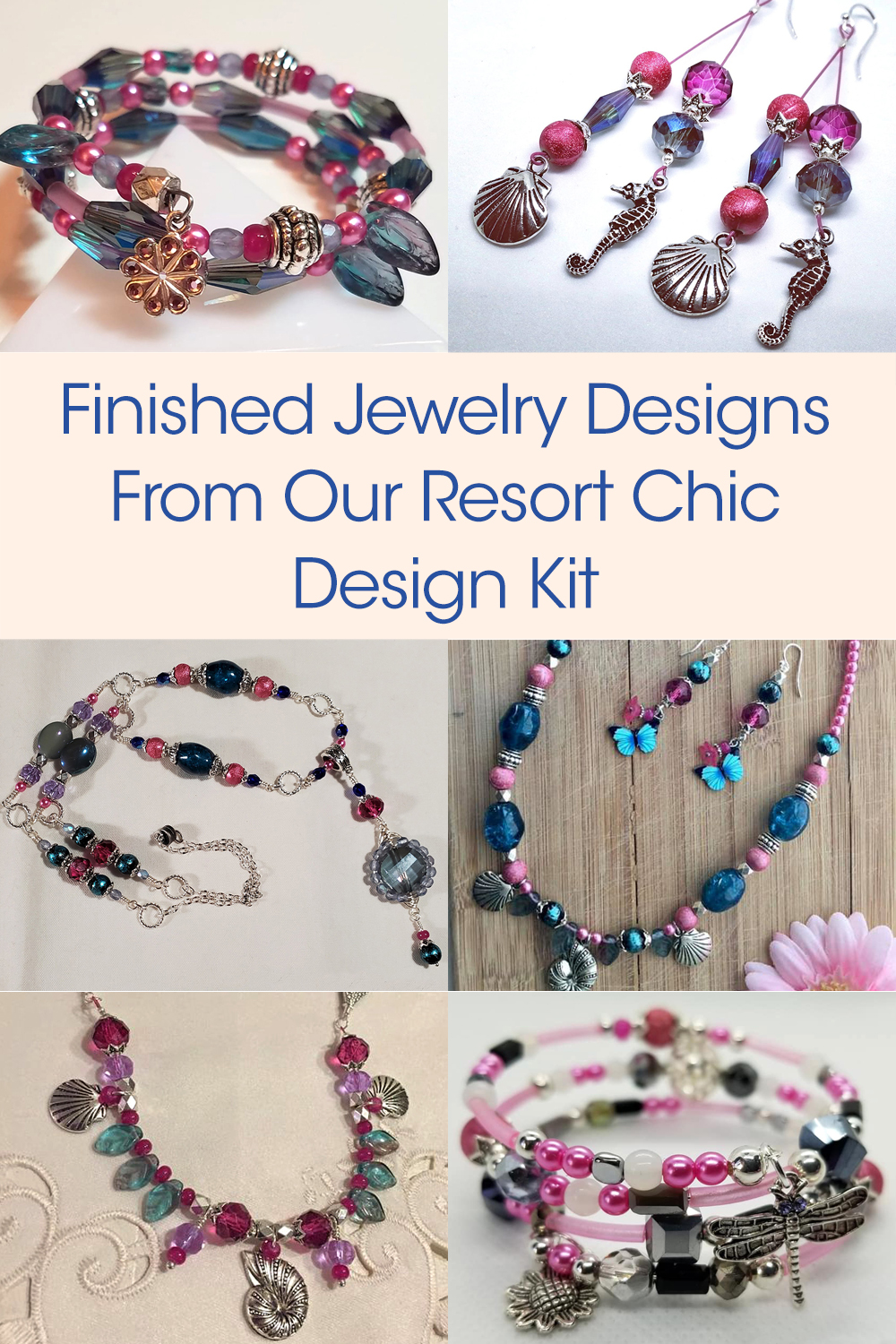 Sara Oehler Designs
This kit was an homage to Lilly Pulitzer. She was a fashion designer and socialite. Her style was a little punk rock, a little grace, and a little Sex and the City. Lilly always looked at the bright side of things, she believed that color affects mood and you should be optimistic and hopeful. Life is a party, dress like you are the most anticipated guest! We celebrate her memory with summer style. Elegance can be casual and fun. Pink makes the boys wink. We added a splash of beads in tones of blue and purple. We sprinkled in some Palm Beach fun with sand dollars and seahorses. Being happy never goes out of style!
Kristen Fagan Designs
If you have purchased our design kits, you might have found this hollow rubber tubing in one of your favorite themes. We have had it in these exciting kits: Cupids Kiss, Dark Heart, Santorini Dreams, and our recent Resort Chic Design Kit. These kits are all sold out. But you can be sure we will feature it again, at some point. We think this tubing adds such a fun texture and look. Soft Flex Craft Wire and Beading Wire can be snaked down the middle of the tube. You can also place the tubing over Memory Wire and other cords and strings. Make something different!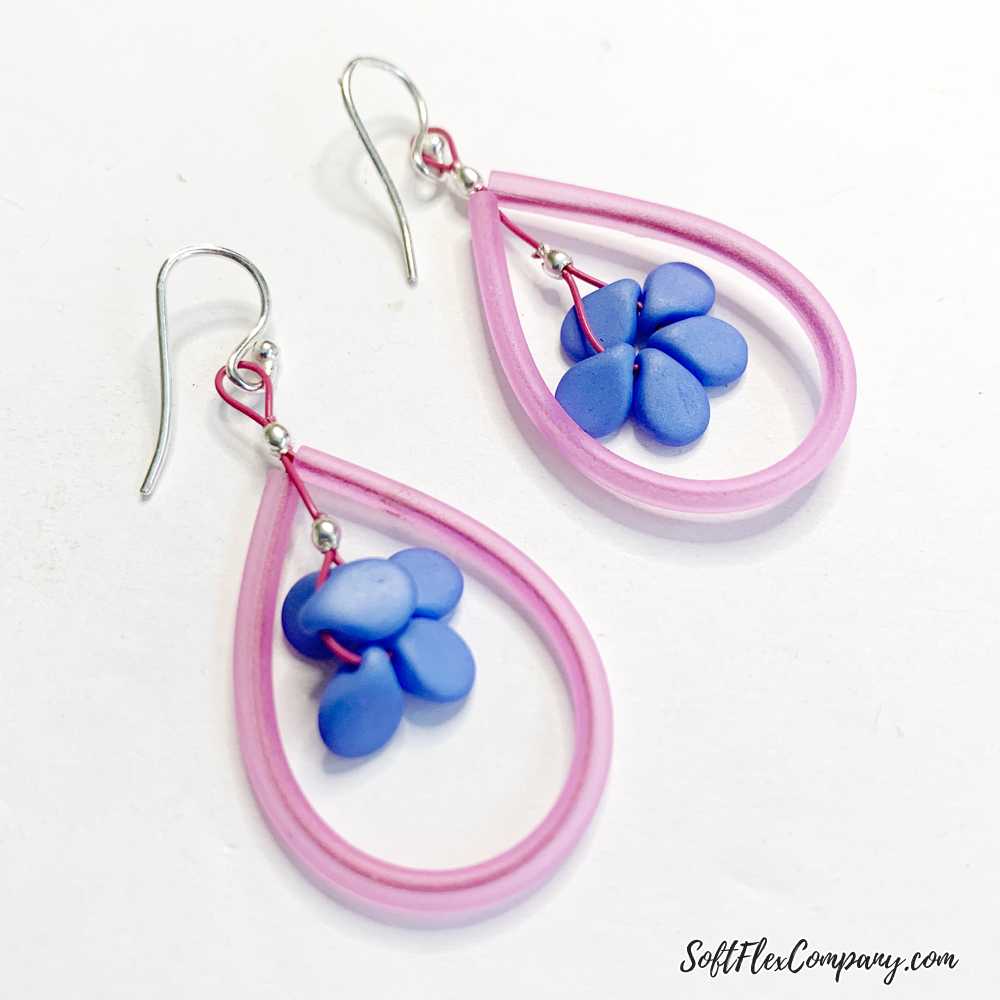 Kristen loved this colorful kit. It has such a wonderful breezy summer look to it. Did you buy a Resort Chic Design Kit? We would love to see your work in our VIB group on Facebook!
Kristen loves these colors so much she wanted to create a design that incorporates all 3 strands of the Soft Flex Resort Chic Trios beading wire pack with the bead mix from the Resort Chic Design Kit (Sold Out). This jewelry design set evokes the bright colors of the tropics with some pretty seashell and ammonite charms!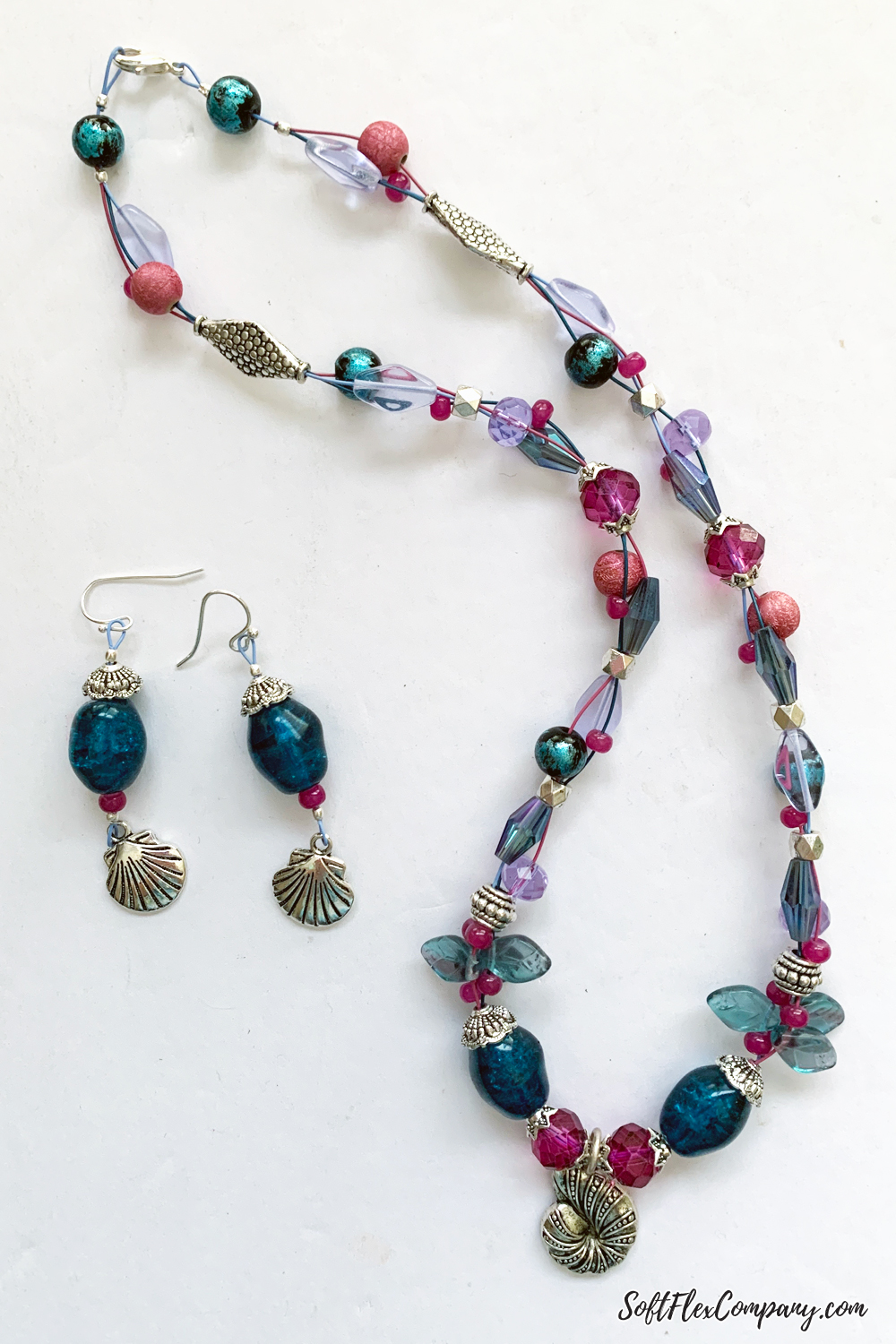 VIB Group Member Videos
We are seeing more and more jewelry making videos from our community. We love it. If you are a creator that works in front of a camera, let us know what you are filming. If you are working with Soft Flex Beading Wire or products, we would love to share the spotlight and put you on centerstage for a bit. Check out some of the fun unboxing and jewelry design videos our community has created with the Resort Chic Design Kit (Sold Out).
Aleshia Beadifulnights - Resort Chic Design Kit Opening Video
We love Aleshia Beadifulnights YouTube channel. She has an amazing collection of assorted jewelry making and craft videos. If you enjoy easy to follow and instructive videos, you just found your favorite new channel! She has been making videos on the platform for nine years. You can find unboxings, crafts, tools and supplies, and more! We wanted to see what she thought of our Resort Chic kit. If you want an unbiased opinion and want to know what you can expect to find in our kits, check out her video!
From Aleshia:
Hi I'm Aleshia, designing beaded jewelry and other beaded accessories is my passion. I'm a self taught bead weaver and I love to create new designs and experiment with bead sizes and shapes. All of the designs you see in my tutorials are my own creations. You will learn how to make your own Beadiful jewelry, even if you have never beaded before. I will show you how to make bracelets, rings, necklaces, earrings, hair accessories and anything I can put beads on even shoes. I also do bead haul videos, bead organization and monthly bead subscription reviews. Come watch my beading tutorials and create with me I will take you through all the steps. I always keep in mind that my viewers might be new to jewelry making, so I make sure to inform you of all the important details. I only have the time to bead at night that is why I call myself Beadifulnights. Thank you for checking out my beadiful channel.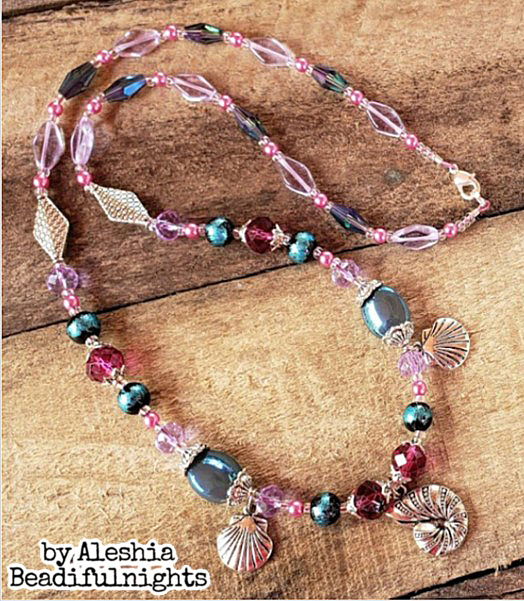 If you loved this video, make sure you follow and subscribe to Beadifulnights on YouTube. Hit the like button on the video so Aleshia knows you appreciate her work.
You can find Aleshia on these websites:
Facebook | Pinterest | Instagram | Twitter
Wendy Whitman - DIY Bracelet And Necklace With The Resort Chic Kit
A couple of weeks ago, we watched YouTube designer Wendy Whitman unbox our Resort Chic Design Kit (Sold Out). We enjoyed hearing her thoughts about the contents of our mystery themed design kit. She filmed more videos showing the wonderful jewelry she designed with her kit contents. She really put her kit to use! She showed us how to make a DIY necklace with the goodies we sent her way. We love her finished necklace. It is elegant enough for the resort and fun enough for a day at the beach!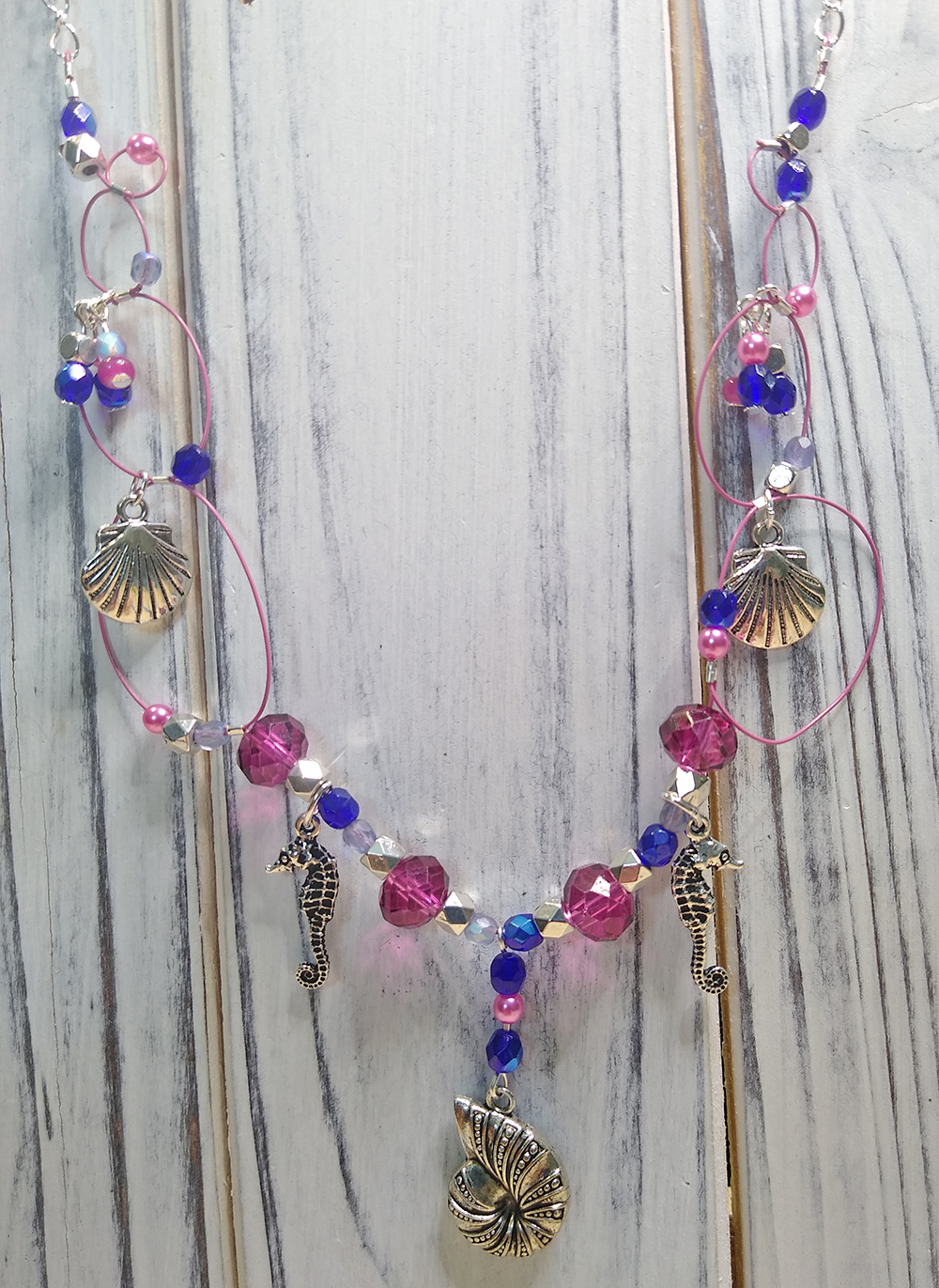 Wendy didn't stop with the necklace. She also designed a lovely bracelet. Make sure you visit her channel and give her some love on YouTube!
If you enjoyed Wendy's video, make sure you join her Facebook group, ABeadOnAWire Sales, it is a buying and selling group for HANDMADE jewelry items and jewelry making supplies.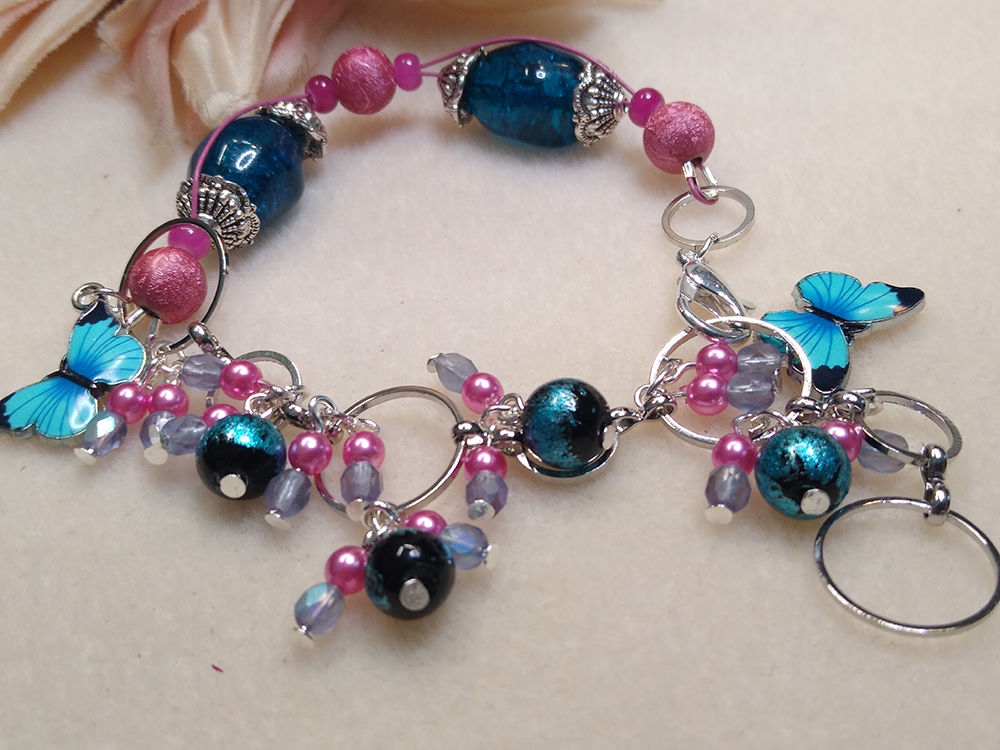 Dahlia Designs (Deb Houck) Unboxes The Resort Chic Design Kit
Deb Houck always has fun design ideas and her videos are great soul food. If you enjoy unboxing videos as much as we do, check out her video library on YouTube. She has hauls and unboxing videos that you will really enjoy - especially if you like the companies she features. Unboxing videos are a great way to do your due diligence before you purchase. Don't take a company's words as truth, listen to what a customer has to say when they unwrap their goodies and put the products to the test! You can also catch the crafty side of Deb on her second YouTube channel. Check her videos out, we promise you will learn something new and have fun doing it!
If you enjoy Deb's presentation, you can learn more about her here:
Spotlight On Our VIB Jewelry Making Community: Designer Deb Houck
Find Deb at these links:
YouTube channel: Dahlia Designs - Jewelry and More
YouTube channel: Deb Houck's Crafty Cottage
Etsy shop: Dahlia Jewelry Designs
Art Resurrected (Tracy Alden) Unboxes The Resort Chic Design Kit And Gives Us A Jewelry Demonstration
From Tracy:
Surrounded by artists and art since birth I continue the family tradition of creating, sharing and inspiring with art, history and nature. My ongoing interests, including Archaeology, World Cultures, Natural History, Traveling and Animal Conservation add to a dizzying array of subjects that are the inspiration for my art. Join me at my YouTube Channel for tutorials, unboxings and eclectic crafty fun!
Find Tracy at these links:
Facebook: https://www.facebook.com/ArtResurrected
Instagram: https://www.instagram.com/artresurrected/
Blog: https://artrez.com/blog/
VIB Group Member Designs
We gathered a small assortment of fun designs from our VIB Facebook group. There were so many wonderful ideas and jewelry pieces. You really need to join our group to see them all. A lot of our members also have stores online. If you see a design you love, make sure you let the designer know. They may sell you that design or at least let you know how they made it. We would love to see your work too, join us today!
VIB is a great place to visit. It is an online bead gathering. It is a place to chat and meet new friends. It is a great way to be social if you are distancing. Stay healthy and stay at home. You can learn a new tip or technique daily. You can get inspired by the gorgeous jewelry designs other people in the community post. You can also get your own jewelry gently critiqued if you want pointers on how to make your designs really stand out. We love wallflowers and chatty designers alike. Lurk or showcase your talent. You are going to love our fun club.
If you would like to see more Resort Chic jewelry designs, go to our VIB group. In the 'Search this group' field (or magnifying glass icon on the upper right), type or paste this: #resortchic. This will search the inspired designs we hash tagged.
See more of her designs on her Ebay page.
Designed by Soft Flex VIB Studio Member: Carey Marshall Leimbach
Designed by Soft Flex VIB Studio Member: Kimberley Turner Nunnally
See more of her designs on her Facebook page.
See more of her designs on her Facebook page.
Designed by Soft Flex VIB Studio Member: Brooke Merkt La Plante
See more of her designs on her Facebook page.
Designed by Soft Flex VIB Studio Member: Colleen Marie Sinkewicz
See more of her designs on her Facebook page and on her Instagram page.
Join our Facebook group – VIB. Stay in the know. Stay up to date. From our bead shows to our video shows and sales, you can stay in touch with us. The community is full of artistic and helpful beaders and crafty people. Inspire and be inspired. Share your pictures and get the beading bug from others!
Visit the Soft Flex Company YouTube Channel!
---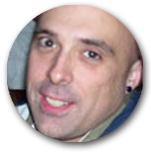 Blog contributor Thomas Soles loves Jazz Age writers and crunchy french fries. His favorite gemstones are Lapis and Pietersite. His favorite hobby is day dreaming. And his favorite mustache is Freddie Mercury's. As you can see, he has a healthy (or possibly unhealthy) sense of humor. You can write to him at Thomas@SoftFlexCompany.com