Today is Kit Day! WOOO! Are you excited? Kit Day is our favorite day of the month at Soft Flex Company. Kit Day is the day we reveal our newest themed kit. We unbox our previous kit, live on Facebook. And we take a look at incredible designs from our VIB community, using last month's kit. Our kits are themed jewelry making bundles. There are enough beading supplies inside to make lots of gorgeous jewelry. All you need are basic tools. Crimping pliers and cutters will cover most of your kit needs. Kit Day is full of exciting creative fury and fun.Let's get inspired! Join us for Kit Day!
Join us live on Facebook, today. We are going to open our Spice Market Design Kit (Sold Out). Sara will show you how much fun our kits are and she will show you how to make some artistic jewelry. Our Facebook videos are almost like a free jewelry making class online. Get a crash course on how to design and finish your favorite new necklace.
Let's look at the wonderful jewelry our employees and our community made with a previous kit - the Serenity Shore Design Kit (Sold Out). Today we will check out designs that Sara and Kristen made during the filming of their jewelry shows. Sara unboxed her kit on Facebook and made some jewelry and Kristen filmed Free Spirit Beading with the kit. We will look at jewelry our VIB group on Facebook made. Our VIB members are designers, crafters, and beginners. It is a collective of people that love to create and learn. If you need to learn a new technique, this is the group for you! If you want to be inspired or inspire others, you are going to love this community!
The Hocus Pocus Design Kit is a roiling cauldron of bewitching colors
The midnight blue sky outside holds no mystery. Your coven is powerful and is privvy to the secrets of things hidden. Black cats nuzzle your feet as you stir your cauldron. The liquid inside dances. Dark purple mist swirls and tickles the air. A serpentine band of green skates the bubbling surface. The recipe is complete. This enchanting kit is ready to make magic memories.
Sara will be doing a live broadcast on the Soft Flex Facebook page, with the Hocus Pocus Design Kit, on Wednesday, September 30th at 3pm (PST).
If you'd like to join us in the design challenge next month, buy this kit and challenge yourself to try something new and unexpected. If you are new to beading, this kit comes with findings, beads, wire, and surprises.
Our kits are great for skill building. We want our kits to feel challenging. We want them to be accessible for beginners and advanced designers alike, but we love to throw in elements that may seem difficult to test our beaders skills and make them think out of the box. We think jewelry is great when it is easy. But when you really have to engage your mind and process your materials and tools, we think that your jewelry has the potential to be life changing.
Supplies are very limited. Don't miss out!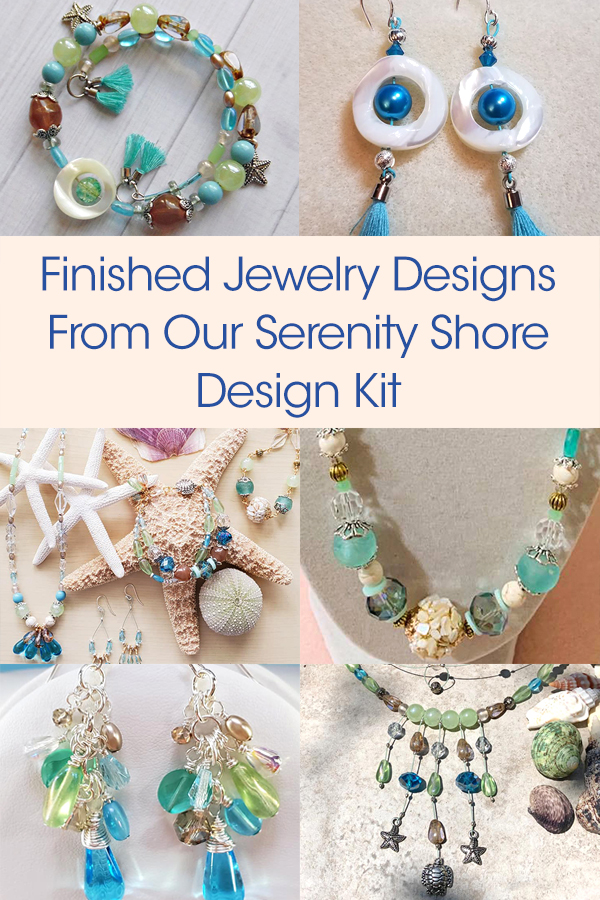 Sara Oehler Designs
It's Kit Day! We look forward to this day every month. It is our favorite company holiday. Kit day is when we release our newest kit. We unbox our most recent kit on Facebook and make jewelry. And we post a blog that shows jewelry made from a previous kit. It is such an exciting day for us. We fill our website with new products. We explore jewelry making ideas and we get to share with our community. So much fun!
We fill each our kits with a ton of fun beading supplies. We include findings, beads, wire, and more. Each kit is a themed package. Some months, we explore holidays. We explore empowerment and beauty. We explore exotic locations. You can be sure each kit is unique and full of exciting potential.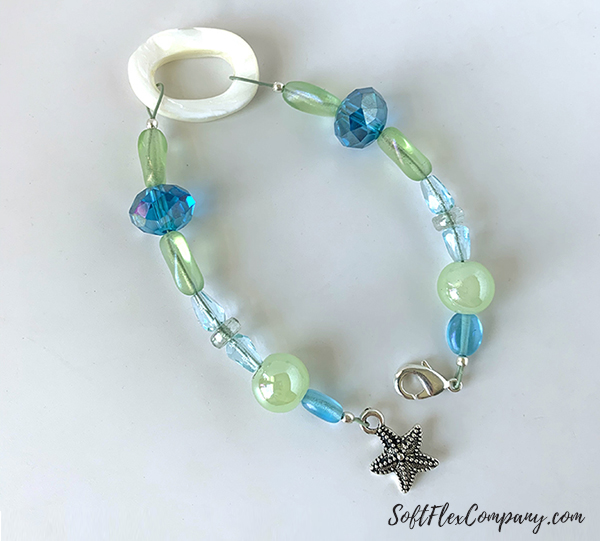 If you purchase one of our kits, you will have everything you need on hand to make some incredible jewelry. All you need are basic tools - crimping pliers and cutters will suffice for the majority of our kits. Every once in a blue moon, we will include Memory Wire or Craft Wire. We want to challenge you. Are you up for it?
Our kits have enough components and wire that you can make full jewelry sets and still have plenty of supplies left. This kit was perfect for a summer jewelry set. Do you miss the beach? Let this kit take you on a journey!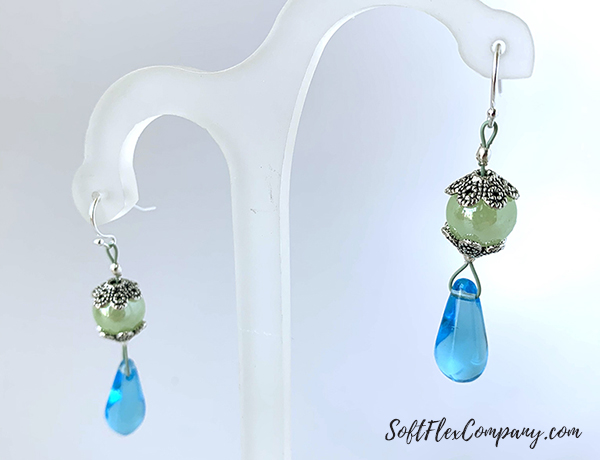 Our kits are designed for every beader in mind. We include jewelry supplies that are easy for everybody. We want the beginner to be able to finish their jewelry. We want the professional to be stimulated and inspired. We want you to make amazing jewelry! Part of the fun of the kits is that we also like to challenge you. We want the kit to be easy to navigate, but sometimes we include colors or components that will challenge your creativity. We want you to have to consider your work and not just string a necklace on cruise control. We think that if you spend your time making thoughtful and considered jewelry pieces, you will be rewarded with creations that you never imagined possible.
Easy DIY Face Mask Lanyard Tutorial
Bonus video! Sara showed us how a lanyard could make a stylish accessory to an otherwise boring face mask. Sara used elements from our Serenity Shore Design Kit (Sold Out). A mask lanyard is a great addition to your non-medical PPE. It has a bunch of useful functions. Face mask lanyards can be used to keep your mask off of contaminated surfaces. You can use your lanyards to fit your mask, rather than dirty fingers touching the mask. Lanyards are great for the kiddos that need to keep track of their masks, especially if they are going back to a physical school setting. Lanyards are handy and stylish and there have even been doctors recommending their use.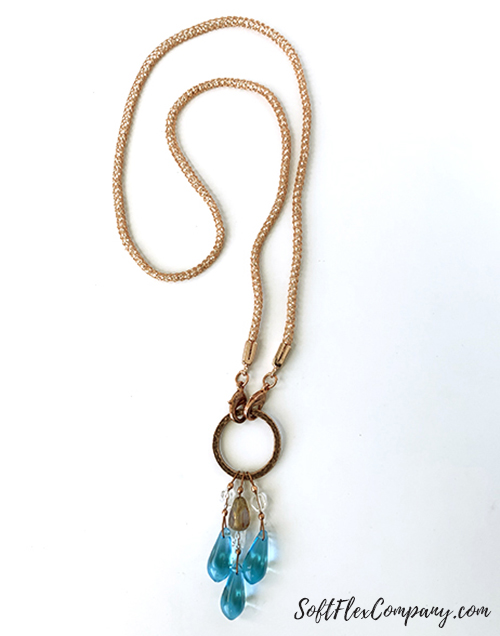 Kristen Fagan Designs
One great thing about our design kits is that they are all the same, for the most part. And when a kit reaches your doorstep, you are presented with the exact materials that another beader has received. From that point, what you do is going to be different than what another designer finishes. You might make a multi-strand bracelet with elements from your kit. Another designer might wire wrap a pendant and make it a focal on a single strand illusion necklace. If you are a member of our VIB group, you can see what others have dreamed up and compare them to your work. It is so much fun. You are sure to be inspired and inspire others if you post your work on the group.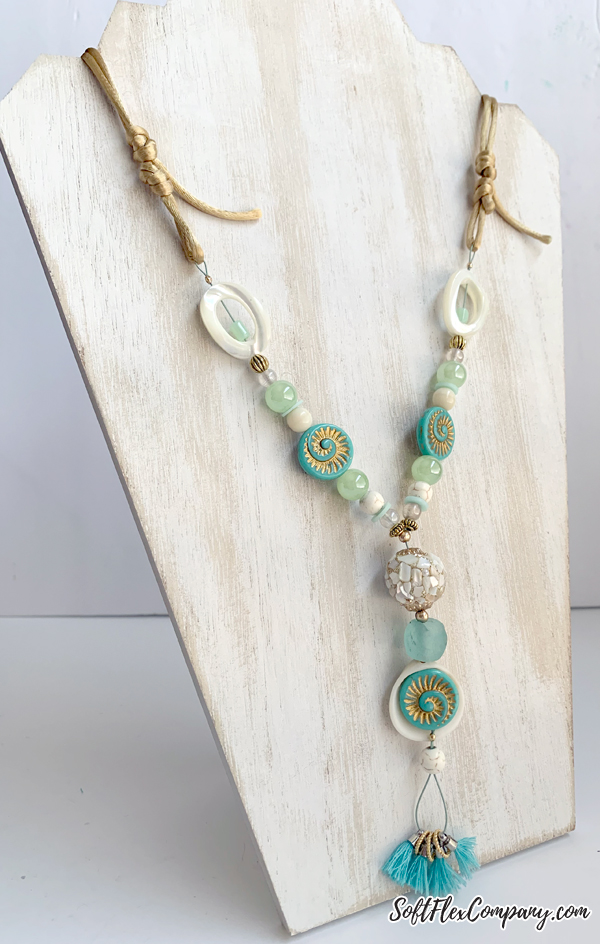 Once Sara unboxes and reveals the contents of our latest mystery kit, our Facebook group is full of activity. People post the jewelry they made with their kit. Did you purchase a Spice Market Design Kit (Sold Out)? We would love to see your work. If you post your jewelry from this kit on our Facebook group and include the hashtag #spice, you will be added to our randomized drawing. Every piece of jewelry is an entry to our drawing. At the end of next month, we will collect the names of the people that posted their Serenity pieces. We will then create a numbered list. We then use a random number drawing website to determine the winner. Skill is not a factor. Everybody can win. The winner will receive our next kit for free! Show us your work!
If you purchase a kit and want to show us your work, make sure Sara has revealed the kit. We don't want to spoil the contents for people that are waiting to open their kits. Some of our community members enjoy opening their kits with Sara. They like to inspect the supplies with her and share the moment.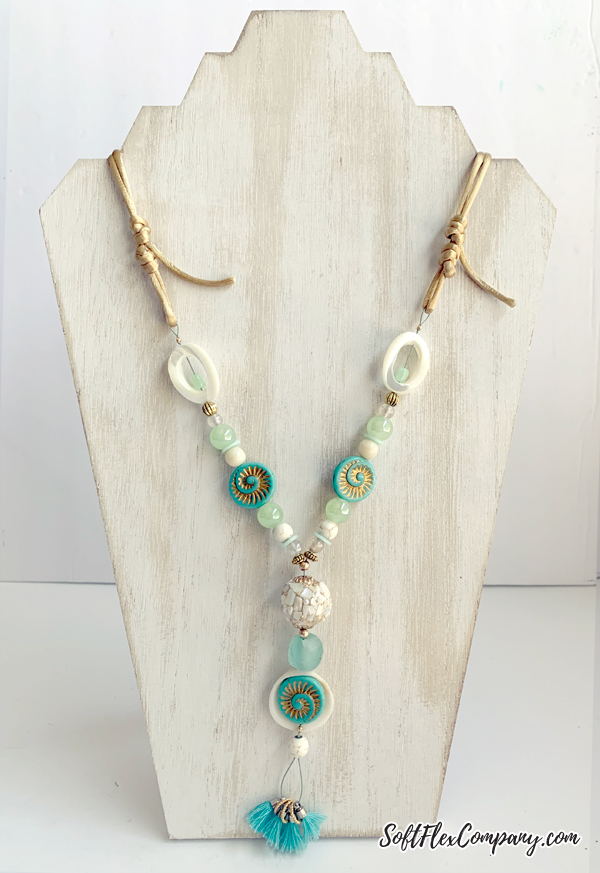 VIB Group Member Designs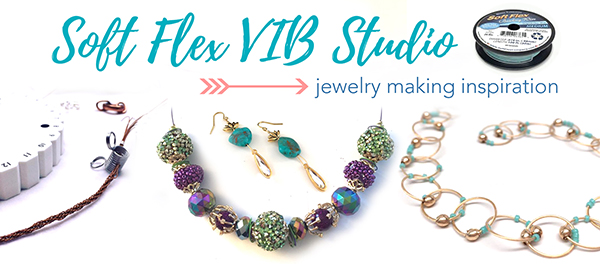 We gathered a small assortment of fun designs from our VIB Facebook group. There were so many wonderful ideas and jewelry pieces. You really need to join our group to see them all. A lot of our members also have stores online. If you see a design you love, make sure you let the designer know. They may sell you that design or at least let you know how they made it. We would love to see your work too, join us today!
VIB is a great place to visit during the COVID-19 pandemic. It is a place to chat and meet new friends. It is a great way to be social during quarantine. Stay healthy and stay at home. You can learn a new tip or technique daily. You can get inspired by the gorgeous jewelry designs other people in the community post. You can also get your own jewelry gently critiqued if you want pointers on how to make your designs really stand out. We love wallflowers and chatty designers alike. Lurk or showcase your talent. You are going to love our fun club.
If you would like to see more Serenity Shore jewelry designs, go to our VIB group. On the left hand side of the page, in the 'Search this group' field, type or paste this: #serenity. This will search the Serenity Shore inspired designs we hash tagged.
See more of her designs in her Etsy Shop.
See more of her designs in her Go Imagine Shop.
See more of her designs in her Etsy Shop.
See more of her designs on her Ebay page.
Designed by Soft Flex VIB Studio Member: Carey Marshall Leimbach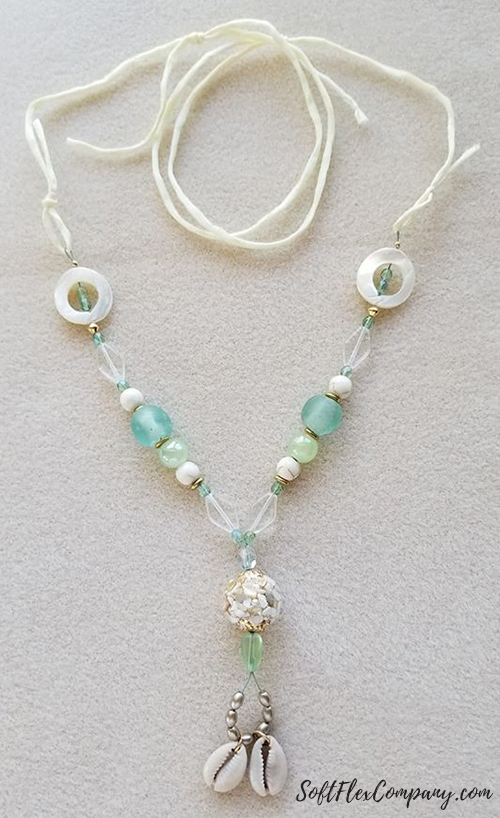 See more of her designs on her website.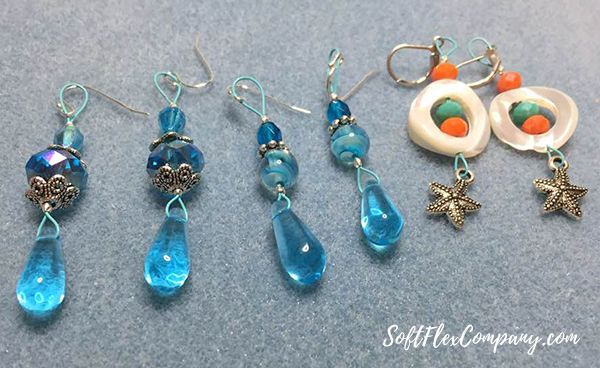 Designed by Soft Flex VIB Studio Member: Luisa of Misty Moon Designs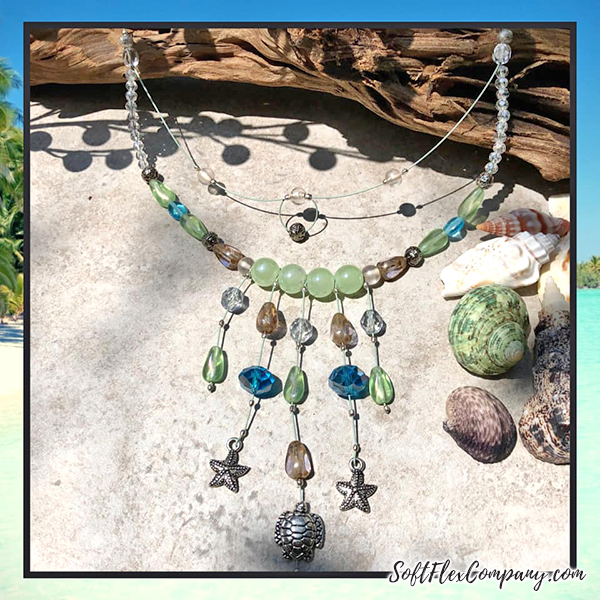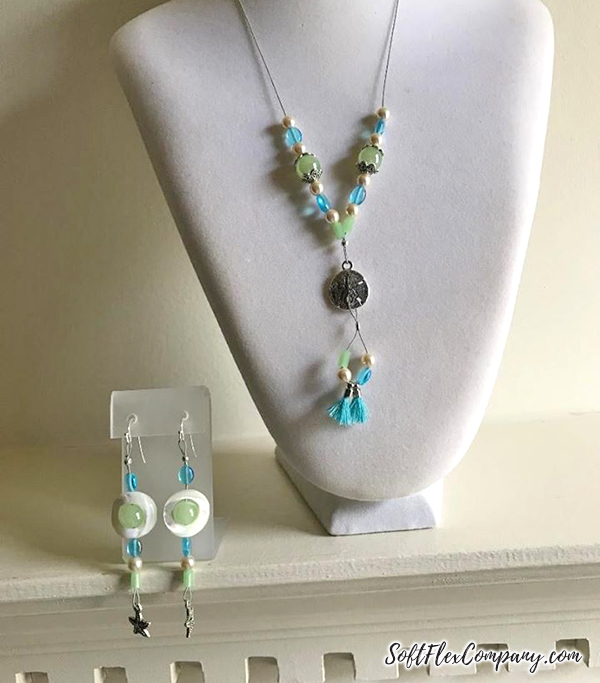 See more of her designs on her Facebook page.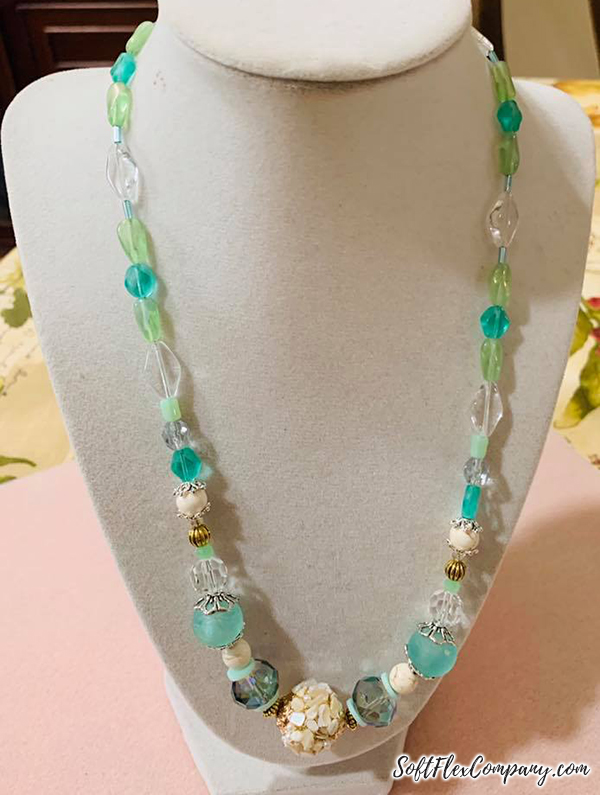 Join our Facebook group – VIB. Stay in the know. Stay up to date. From our bead shows to our video shows and sales, you can stay in touch with us. The community is full of artistic and helpful beaders and crafty people. Inspire and be inspired. Share your pictures and get the beading bug from others!
Visit the Soft Flex Company YouTube Channel!
---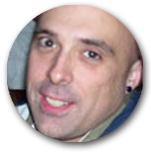 Blog contributor Thomas Soles loves Jazz Age writers and crunchy french fries. His favorite gemstones are Lapis and Pietersite. His favorite hobby is day dreaming. And his favorite mustache is Freddie Mercury's. As you can see, he has a healthy (or possibly unhealthy) sense of humor. You can write to him at Thomas@SoftFlexCompany.com