Hello beautiful beaders! We hope you had a healthy and amazing week. We spent ours making some alluring jewelry and embracing all things arts and crafts. We have a fabulous mask video for you if you are tired of wearing hum drum surgeons masks or plain cloth flu masks. We decided to give our masks a makeover! Be safe and be fashionable. We launched some new items on our website that you are going to love. Especially if you are looking forward to getting out of the summer heat and hugging a hot mug of pumpkin spice coffee. We are starting to look at warm fall colors, even as we are designing our new favorite summer necklace. Join us for a recap and let's make some jewelry together!
Kristen made a gorgeous beachy necklace this week. She used rattail satin cord to string it. The sliding knots on the necklace allow for an easily adjusted design. Wear the length you want. You are going to love how sophisticated her design is - for simple beach jewelry. You can be elegant in whatever beach attire you choose. Sara showed us how to make a mask a fashion statement - and not a political one. We are making the best of our current situation and we choose to decorate and adorn our mandated coverings. Why wear a plain mask when you can wear one that turns heads? Nealay taught us how color blocking can make a design radiant. Contrast your favorite colors and make jewelry that shines! He also showed us how to patina paint and accent a necklace with a little wire working. If you did not get a chance to sit down with us this week, this is a great time to catch up!
Spice Market Large Czech Glass Bead Mix, Assorted Shapes and Sizes in Fall and Autumn Colors

The Spice Market Large Czech Glass Bead Mix is the perfect complement to our Spice Market Design Kit.
This is the one of the biggest bead mixes we have ever offered! We have retained the same low price as our other mixes, but filled this selection with an overflowing abundance of high quality beads from the Czech Republic. This gorgeous mix is stuffed with beads to match our Spice Market Design Kit.This mix is a custom assortment of unique bead shapes and sizes in our warm Spice Market color way. Due to the random selection, there may or may not be exact matches of bead shapes and colors, perfect for "bead soup" and multi strand mixed bead designs!
The Spice Market is a quiet pause at the desert bazaar. The sultry sweet aroma of cinnamon dances in the wind. Tan desert sand dusts your clothes. The heat is invigorating. You gaze at the merchants' tables. Amber jars line vendors offerings. Red paprika is piled in fragrant heaps. Exotic saffron is bagged in small sachets. Don't miss this savory kit of delicious spices!
Supplies are very limited. Don't miss out!
Sara's new video premieres on YouTube on Saturday!
Sara's newest jewelry video will be available on YouTube on Saturday. Sara shows you another design option for your COVID mask. This time, she made a beaded mask carrier. You can place this secure lanyard around your neck for easy access to your mask. This is a great option if you are out and about and want to take your mask on and off. Make sure you stay vigilant. You do not want your mask on contaminated surfaces and you do not want to touch your mask with dirty fingers. Make sure you are washing your hands frequently and using sanitizers.
Jewelry Making Videos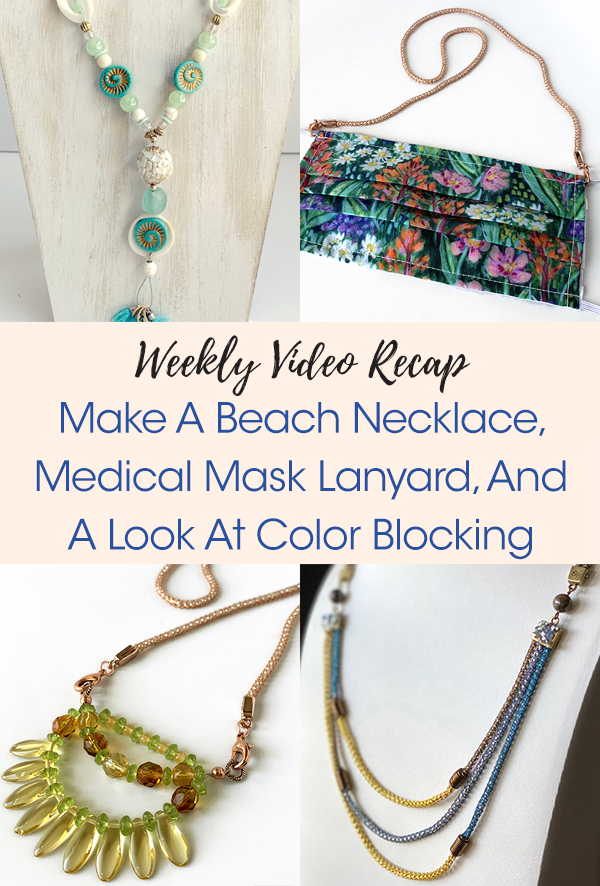 Make an Adjustable Beach Style Necklace with Ammonite Beads and Rattail Satin Cord
This week on Free Spirit Beading, Kristen showed us how to make a playful, but stunning, beach necklace. This beautiful design is adjustable. Perfect for adding length or going short, depending on your outfit. Kristen selected a fun assortment of bead colors and shapes that would be at home in any tide pool. Lots of splashy colors and a hint of earthy tones. This is a great summer necklace.
One great thing about handcrafted art and jewelry is that you are allowed to have imperfections. You can improvise and have kinks and bumps that do not detract from the final design. Flaw can add character and is not discouraged. This leads to some great exploration and stream of consciousness design thoughts. Watching Kristen tackle mistakes and turn them around is some of the most compelling parts of her videos. Don't be discouraged if you don't make the perfect knot or crimp - make it a design element. Be a free spirited beader!
From Kristen:
I had a little hiccup when designing and left too much beading wire slack between crimps. After talking it through on the video an idea came to use crimp covers to fill in the space! It worked like a charm. I was a little hesitant about using crimp covers on my video as I find them a little tricky to use and sometimes they pop off my tool and run away! With some encouragement from friends watching I went for it. I used the "rounder" in the regular crimping pliers to add them to the bead strand. You can see the crimp covers added above and below the large white shell mosaic bead.
Soft Flex .019/Medium Beading Wire - Fluorite
Czech Glass Ammonite Spiral Beads - Turquoise
Serenity Shore Bead Mix and Strand (sold out)
Seashell (found at the beach!)
Rattail Satin Cord - Gold
Special T Glue
2x2mm Crimp Tubes - Gold Filled
3mm Crimp Covers - Gold Filled
Crimping Pliers
Cutters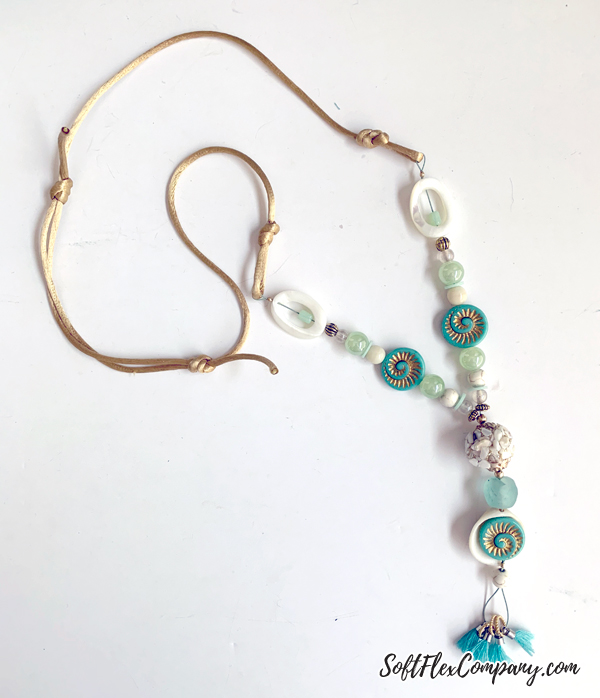 Rattail Satin Cord is a great addition to this necklace. A sandy backdrop to the buoyant focal centerpiece. The sliding knot is a great way to make this necklace organic and adjustable. This is a design that seems to live and breath. It is not a static piece that hangs still on the neck. The tassels at the base look like gentle waves lapping. What would you add to a beach necklace that really conveys the essence of summer?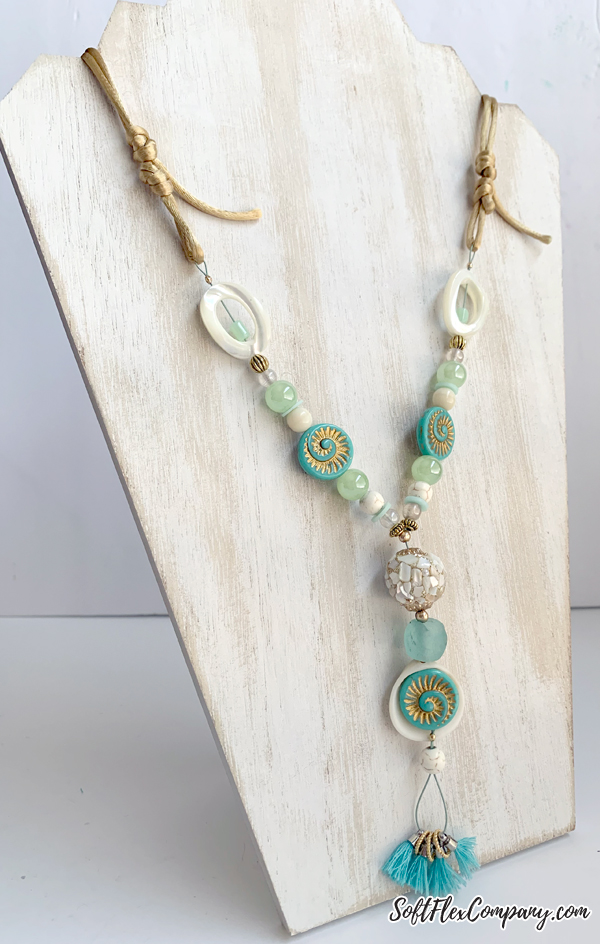 Don't miss our summery bead collections. We have some amazing Ammonite Spiral Czech Glass Beads. We have table cut Czech Glass that would be a great accent. We have a 2020 Pantone Classic Blue Bead Mix that is a cool denim or a deep ocean. Unfortunately, our Serenity Shore mixes have sold out, but we are always adding lovely new beads! We have beads for every occasion. As we wind down the summer, you can find warm autumn colors rolling into our store. If you love designing with a theme or just want to update your beading supplies with some fresh color - we have you covered!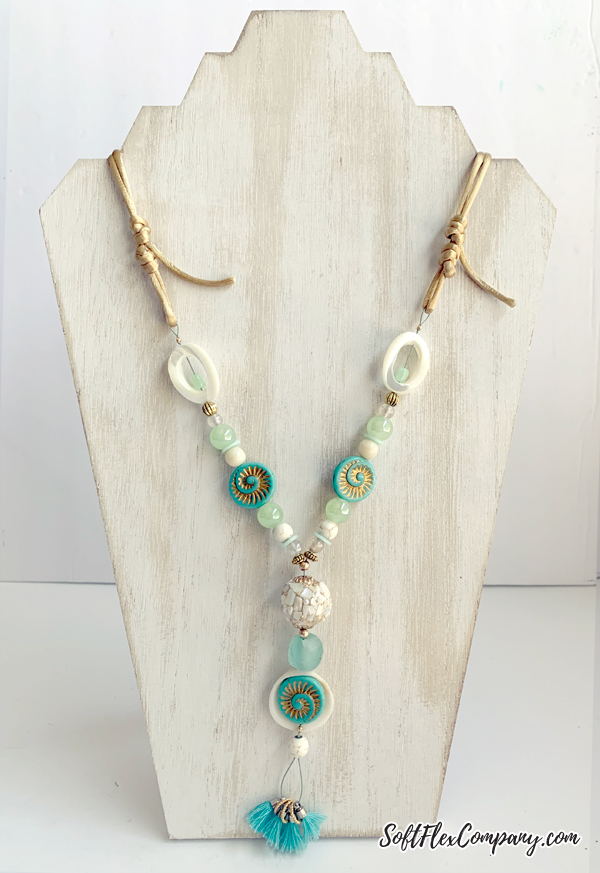 Beautify Your Corona Mask - Learn How To Make An Interchangeable Mask Lanyard Necklace!
The Coronavirus has changed life in deep and fundamental ways. It has changed the way we interact with strangers. It has changed the way we shop. It has created new rules for social interactions and encounters. We cannot leave the house without being mindful of others and vigilant about how we conduct ourselves. Some of us are not happy that we are wearing masks. Others, myself included, enjoy making the best of a bad situation. This video is our exploration of how we can use fashion and crafts to make masks a little less of a burden.
Sara got a happy surprise in the mail before filming her latest Facebook jewelry demonstration. She had purchased some face masks that feature Kristen's artwork on them. The masks arrived just in time to make a video. Sara wanted to show us how to make a COVID mask a little less of a chore to wear and more of a fun fashion statement. She decided to use a couple of our latest products to beautify her mask. If you want to enhance your mask, this is a great video for inspiration.
We have some gorgeous new beading supplies on our website. Sara wanted to take some time to make jewelry with these products. New to our site is a Spice Market Large Czech Glass Bead Mix. This mix contains an assortment of shapes and sizes in fall and autumn colors. If you love assorted Czech Glass, this mix will speak to you. Due to the random selection, there may or may not be exact matches of bead shapes and colors, it is perfect for "bead soup" and multi strand mixed bead designs! We are also offering a three foot length of shimmering copper SilverSilk Capture Chain. Included in this package is a pair of end caps, a lobster clasp, and two open jump rings. This is an instant necklace! Just add beads.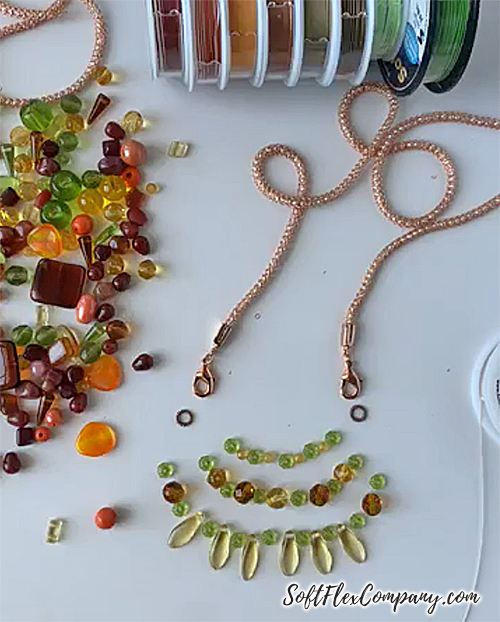 Spice Market Large Czech Glass Bead Mix
SilverSilk Capture Chain with Findings - Shimmering Copper
3x3mm Crimp Tubes - Copper
Bead Stoppers
Jump Rings
Chain Nose Pliers
Mighty Crimping Pliers
Cutters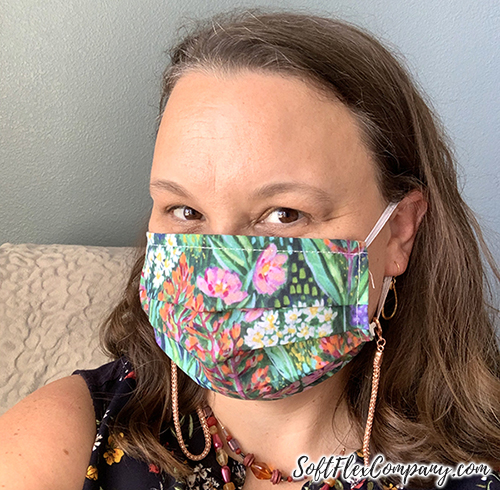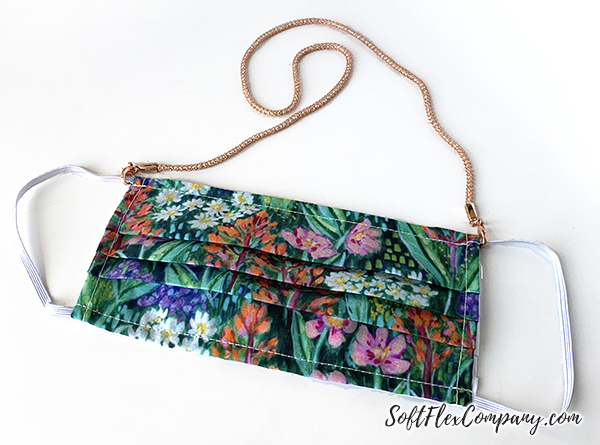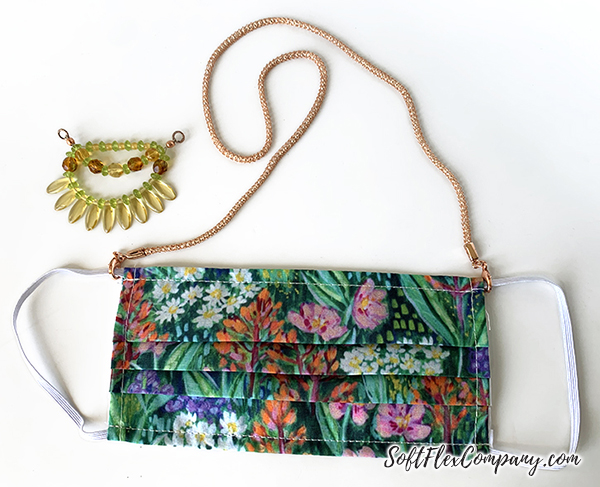 This design is super cute and functional. Sara creates a lanyard that holds her surgical mask. She can take her mask on and off and it will remain on her neck. This is a good way to keep from touching the mask or placing the mask on a contaminated surface. You can do this with SilverSilk Capture Chain or Soft Flex Beading Wire. You can leave either wire unadorned, or you can add some beads. If you add beads, make sure you go minimal as the weight of the beads may cause the mask to droop.
Are you done wearing your mask? Remove the mask from the Capture Chain and add a focal. Sara showed us how to make an amazing design. Adding jump rings allows for the focal to act like a beaded pendant. You can attach or remove as you see fit. Mix and match your colors and beads. Get creative!
Not everybody enjoys wearing a mask. But we can all do our best to make the most of it. Push some creative energy into your face mask and show the world that you can still appreciate beauty, even during a pandemic. If you would like to purchase a mask with Kristen's art work on it, make sure you click the link below and find the one that speaks to you!
Masks featuring Kristen's artwork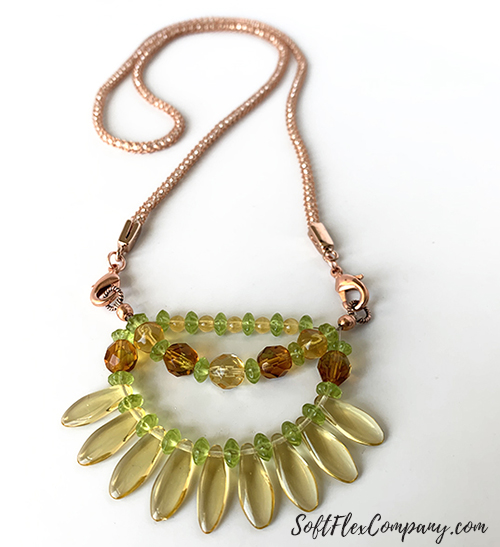 How To Make A Color Block Necklace And Paint With Patina Paints On SilverSilk Capture Chain
Nealay filmed a colorful video this week. He featured his latest jewelry making kit - the Amazon Rainforest Kit. In this video, he sketched out, crafted, and finished a bracelet and necklace. He wanted to make sure the color really popped on these designs, so he used colors that contrasted and made for a visual feast. He showed us how to patina paint elements of the design and how to do some basic wire wrapping. Lots of jewelry techniques in a little video. If you want to pick up a new trick or just see how Nealay works with a color palette, this video is a fun watch!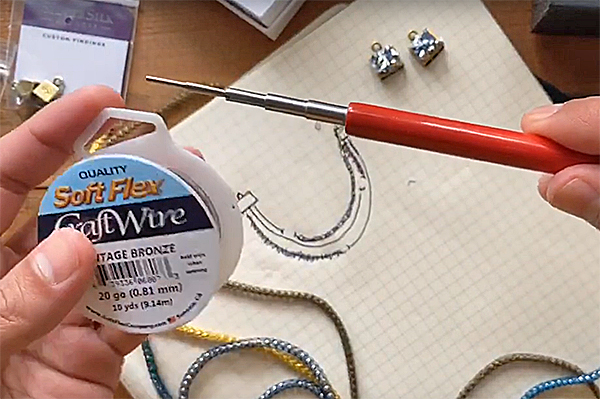 From Nealay:
I love love love color-blocking. Color blocking is a technique where you separate colors in an intentional way that juxtaposes or contrasts what is beside it. It's a very contemporary way to design your next necklace. Check out the video and let me know what you think in the comments below.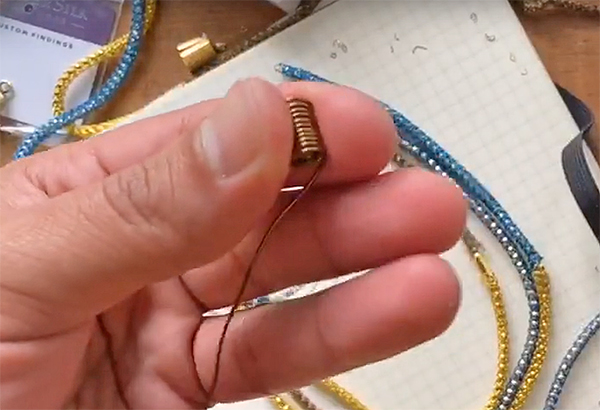 Amazon Rainforest Kit
SilverSilk Capture Chain
Soft Flex Craft Wire - 20 Gauge
Soft Flex Craft Wire Silver Plated - 20 Gauge
Vintaj Patinas
Beads
SilverSilk End Caps
Nylon Jaw Pliers
Cutters
Round Nose Pliers
Chain Nose Pliers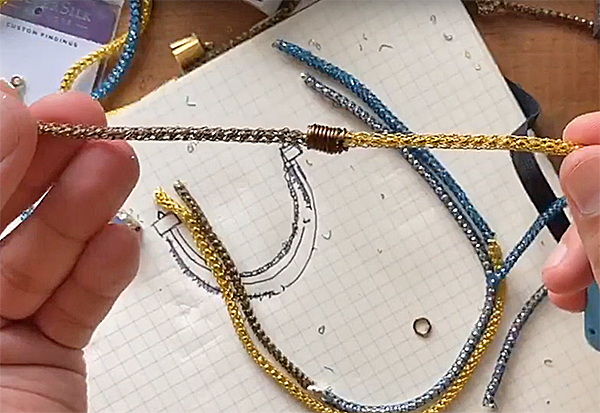 SilverSilk Capture Chain is a fabulous design medium. It looks amazing by itself. It looks amazing with a beaded accent. It pairs well with Soft Flex Craft Wire or beading wire. You can make your necklaces as minimal or as intricate as you please. The Capture Chain itself is full of sparking detail. The chain looks great with a feminine design or a masculine bracelet. You really cannot go wrong.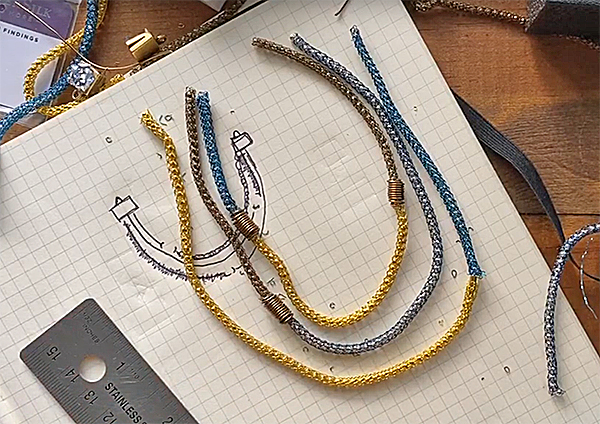 Nealay's end caps make finishing a strand of SilverSilk so easy. Simply place the chain into an end cap and compress gently with chain nose or nylon jaw pliers. You do not have to smash the caps down for security. Just a gentle and firm compression. Your design will be tight and secure.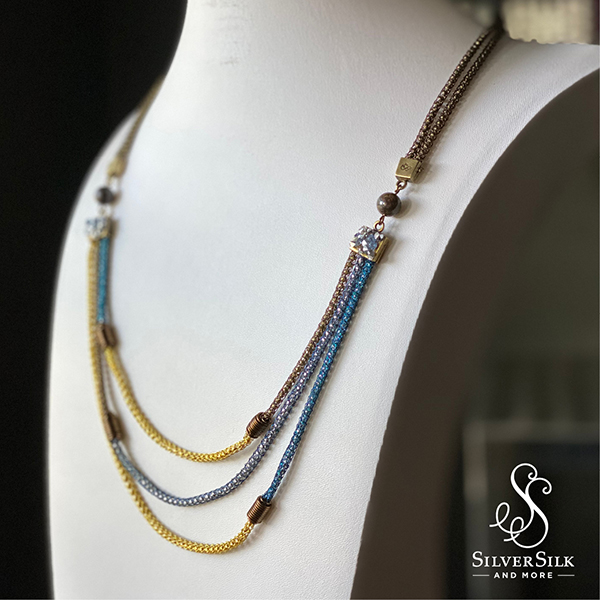 Add a splash of patina paint. Your jewelry will really come alive. The Amazon Rainforest Kit was made for patina! Give your SilverSilk chain a banded tiger pattern. Add the colorful flora of the humid jungle to your design. Turn a plain bead into a shimmering idol plucked from a temple. Nealay's videos are sure to light your creative fire.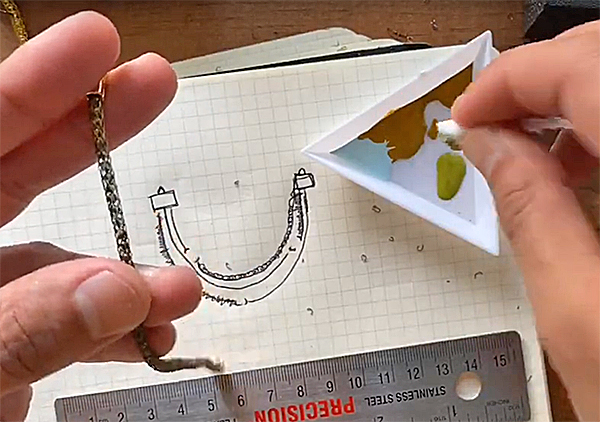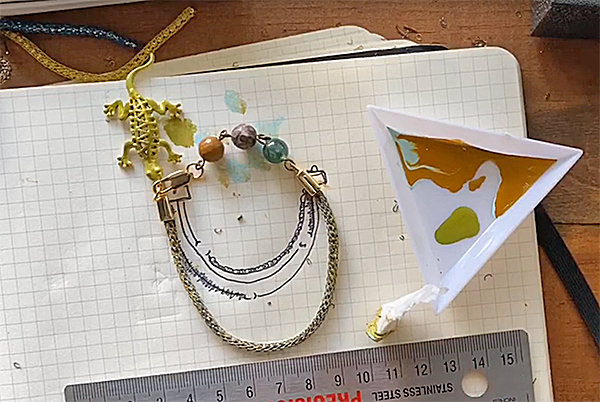 Be sure to mark your calendars for every Tuesday, 5:30pm CST and hop over to facebook.com/groups/silversilk to watch Nealay's videos live and ask questions.
Nealay's channel is dedicated to learning how to make high quality jewelry with SilverSilk with an emphasis on design. You can follow his journey here:
www.instagram.com/silversilkandmore
www.facebook.com/silversilkandmore
Or join our silkies group and be a part of the conversation www.instagram.com/silversilkandmore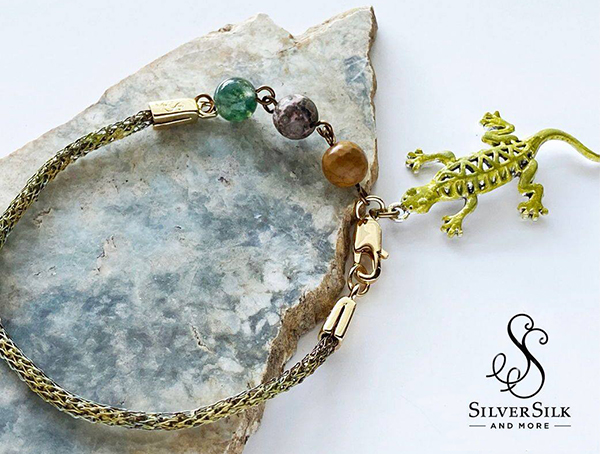 Join our Facebook group – VIB. Stay in the know. Stay up to date. From our bead shows to our video shows and sales, you can stay in touch with us. The community is full of artistic and helpful beaders and crafty people. Inspire and be inspired. Share your pictures and get the beading bug from others!
Visit the Soft Flex Company YouTube Channel!
---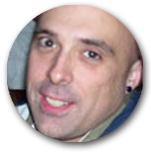 Blog contributor Thomas Soles loves Jazz Age writers and crunchy french fries. His favorite gemstones are Lapis and Pietersite. His favorite hobby is day dreaming. And his favorite mustache is Freddie Mercury's. As you can see, he has a healthy (or possibly unhealthy) sense of humor. You can write to him at Thomas@SoftFlexCompany.com