Holiday Crafts And Ornaments - How To Make DIY Beaded Icicle Earrings With Craft Wire
Since my icicle ornament idea has been so popular, I thought that I'd try out making earrings in a similar fashion. These earrings are so sparkly and pretty for your upcoming Zoom Holiday Party or New Year's Eve Party. I know that I can wear them all winter long too!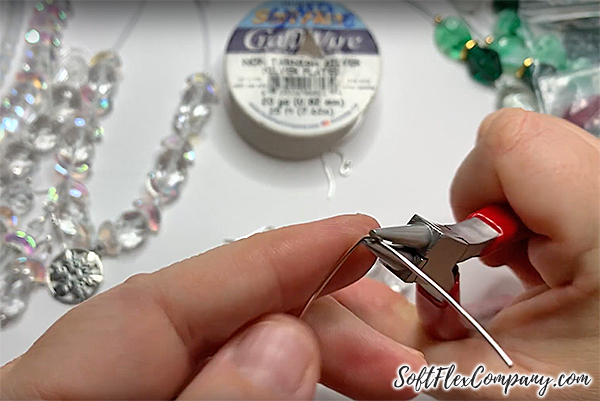 First, I created a wire wrapped loop using Soft Flex Craft Wire.
Soft Flex Craft Wire is a high quality, permanently colored copper wire. It is resistant to scratching, peeling and marring. This is due to the special enameling process used to coat the wire to produce the wide spectrum of colors we offer. After the enamel is applied, the wire is then clear coated to prevent tarnishing. Bare Copper is the only wire in the line that is not treated. If antiques and old findings are your medium, Bare Copper will patina - perfect for making that new project look like an heirloom.
Quality Soft Flex Craft Wire is 100% lead and nickel free. There are no other metals used in the wire production other than copper and fine silver. The temper of the wire is soft. It is firmer than similar wire products offered on the market, which are typically only available in dead soft and can't be tempered to half hard. We currently offer six of the most commonly used gauges in the jewelry industry and more are on the horizon. An exceptional design idea deserves a professional craft wire.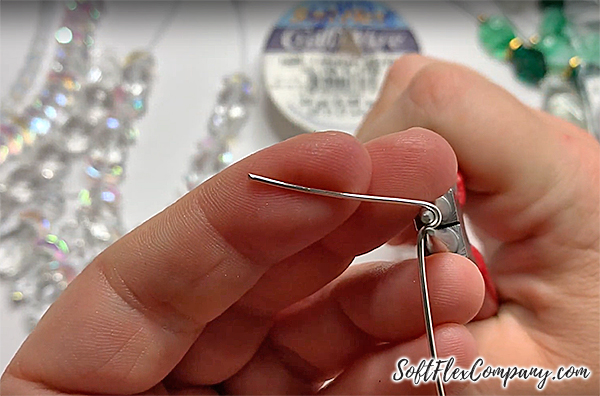 A pair of round nose pliers allow you to make a perfect little loop. These Round Nose Pliers are affordable and comfortable. Round nose pliers are great for bending, creating loops and shaping wire. They are a must for all wire workers. These pliers are a high quality tool for a great low price.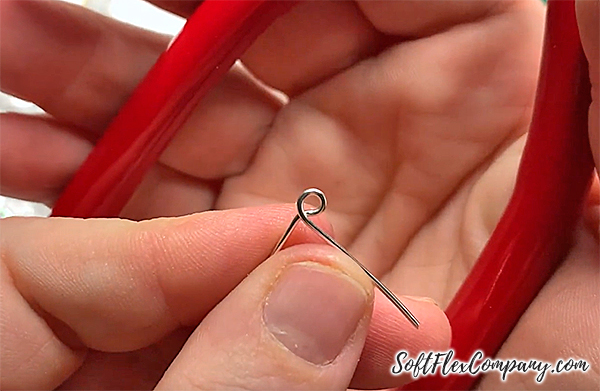 Soft Flex Craft Wire can be bent into many shapes, but this may be the most useful. Being able to make a dangle or connector can really come in handy. Lots of designers show how to do this in a number of ways. Watch the video to see my version of the wire wrapped loop.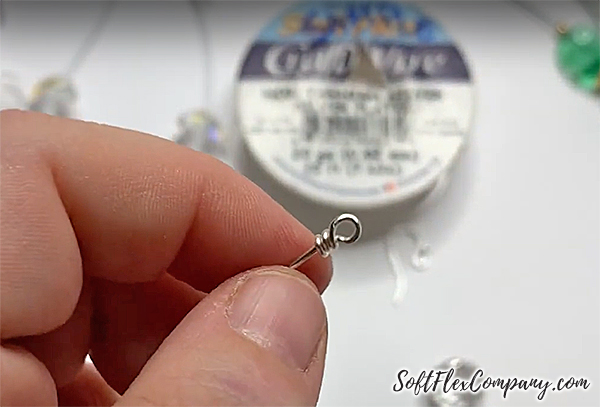 When you complete the loop, you can have the wraps sit side-by-side (like I did here) or do a messy wrap version. Either way, it will have a special handmade appearance.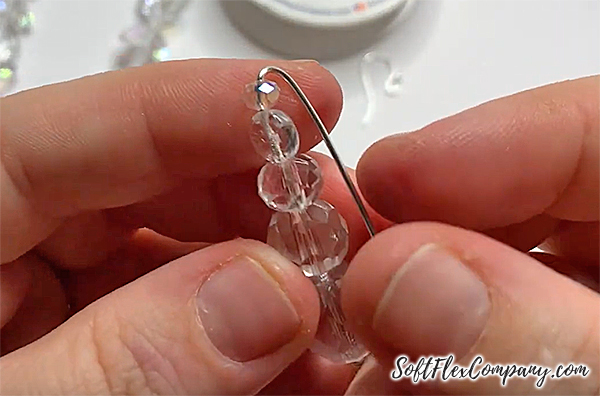 Next, string your beads from biggest to smallest. After the last bead, bend the wire and wrap it back up the beads.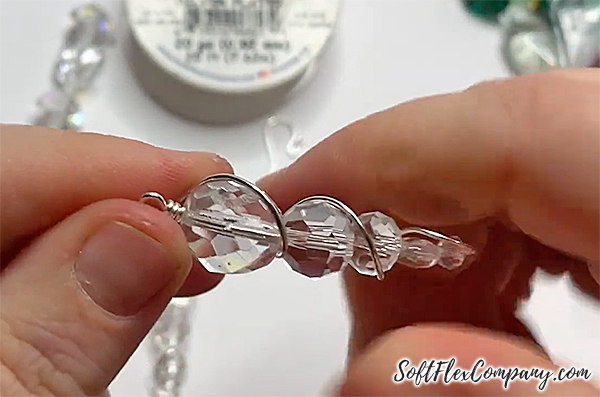 The wrap should fit loosely around the beads. You can be precise and wrap around every single bead or you can be a little less precise (like me) and just wrap up the beads with no real agenda.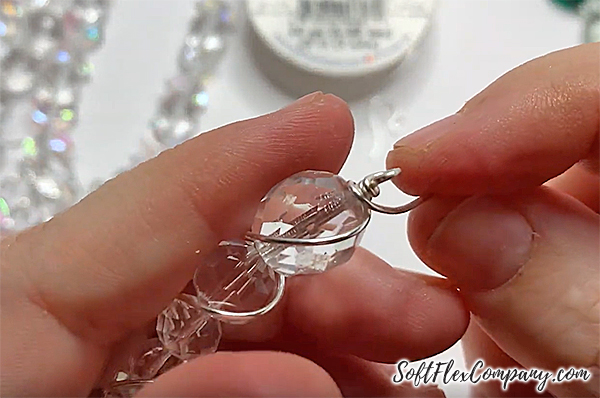 At the top, I wrapped the wire once. I trimmed off the excess wire and then made sure to tuck in the tail using my chain nose pliers. Chain Nose Pliers are great for bending, creating perfect 90 degree angles, gripping and shaping Craft Wire, head pins and eye pins, as well as opening and closing jump rings and earring wires. They are a must for jewelry makers. These pliers are a high quality tool at an affordable low price.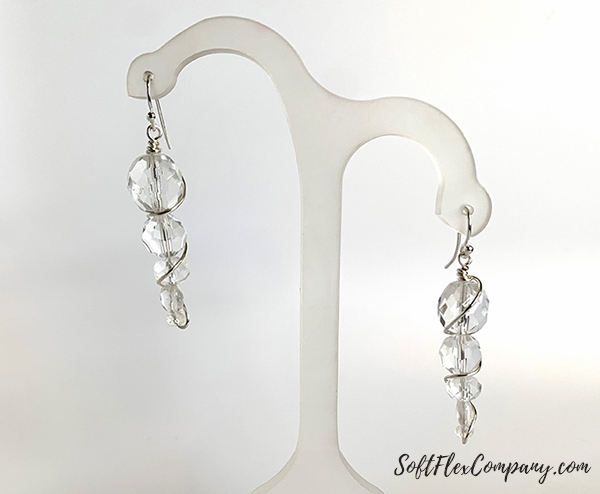 Voila! We have a pair of sparkly icicle beaded earrings. The beads that I used in this design came from our White Christmas Design Kit, which has unfortunately sold out. However, we have extras of the hand cut Czech crystal beads at the top that will be going up for sale this week! Coming by a few sparkly clear beads isn't a hard thing to do. Check your local bead shop for the supplies and support them in their greatest time of need. You can get the big crystals, tools and craft wire from us at SoftFlexCompany.com!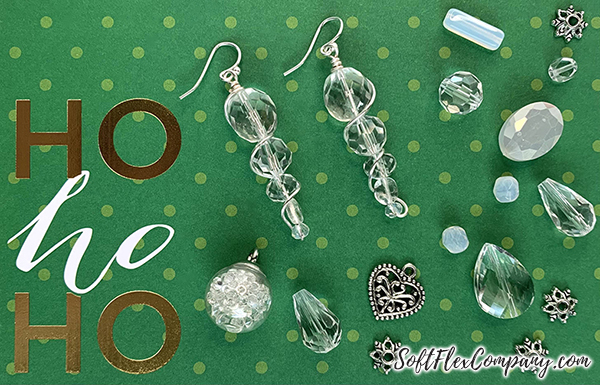 If you love these earrings, do check out the beaded icicle ornaments. I've been so happy to see so many people making them this year. I've heard from designers that they are making dozens to give out as gifts and to sell online and through their local galleries. It is so fun to see the variety of icicles being made too! Lots of colors and sizes!
Crystal Beaded Icicle Ornament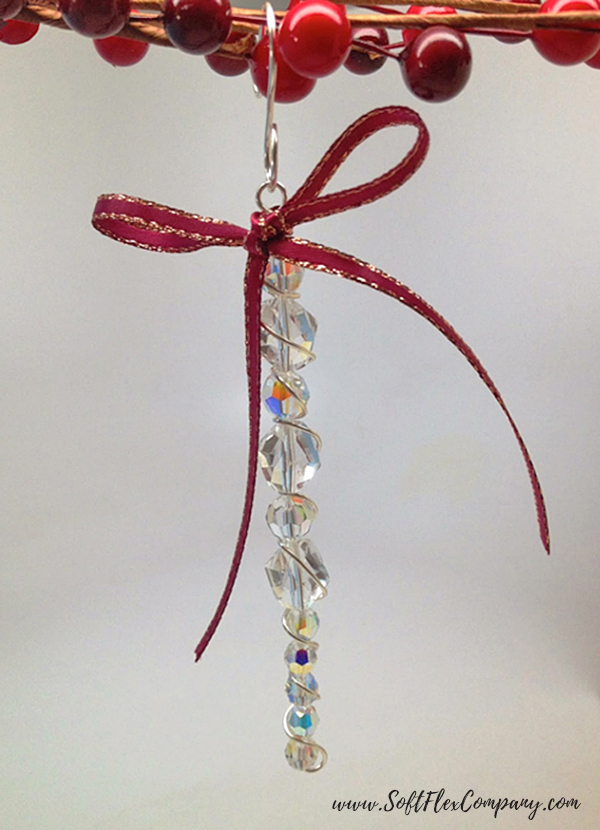 Click here for instructions to make this ornament
Join our Facebook group – VIB. Stay in the know. Stay up to date. From our bead shows to our video shows and sales, you can stay in touch with us. The community is full of artistic and helpful beaders and crafty people. Inspire and be inspired. Share your pictures and get the beading bug from others!

Visit the Soft Flex Company YouTube Channel!
---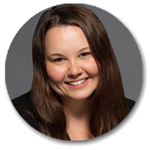 Sara Oehler (pronounced Ay-ler) is a well-known jewelry designer living in the Bay Area. Sara is the author of several beading books, including her latest title, written with Kristen Fagan, Seed Bead Revolution. She has designed and written for numerous publications including: BeadStyle, Bead&Button, Bead Trends, Stringing, Jewelry in Fashion Trends, Simply Beads, The Flow and Today's Creative Home Arts. Currently, Sara is the Sales and Marketing Manager for Soft Flex Company.Ask Sara Bead Expert
Blog: softflexcompany.com/beading-blog
Email: [email protected]