We love color. From our colorful Trios Beading Wire Packs to our books (Show Your Colors), we love color and the richness it brings to jewelry making. Last week, we looked at the dreamy greens of the Catskill Mountains. The forest has a nuanced spectrum of greens that is amazing when we can learn to appreciate it. This week, we are going to delve into the warming color of orange.

We love Margie Deeb's intimate knowledge of colors and we wanted to re-share some of our archive articles she has written for us. Margie is an incredibly talented artist, designer, and author. Follow along on her color journey. Let's all become students of color!
Below, she discusses her thoughts on the hearty warmth of orange. It may be a little early in the year, but we will be drinking pumpkin lattes before you know it!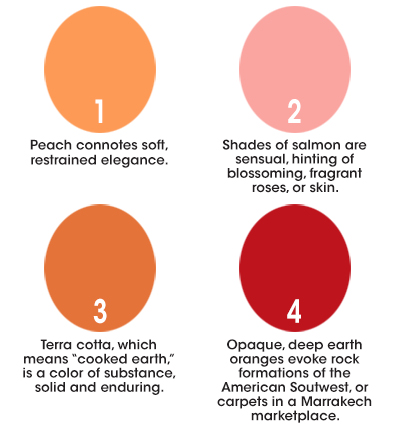 The chill outside escorts autumn, so I naturally turn to orange, the warmest hue on the color wheel, to get cozy. We find it all around us now, in fall decorations, leaves, and flowers.
Orange: hearty, lively, and warm. A pat on the back, an arm around our shoulders, a social beckoning: "Come on in and sit by the fire!" From the softest peach and coral tints, to deep sienna and brawny umbers, orange's personality is friendly and welcoming. Throughout the world, rich, tawny, red-orange conveys the earthy comfort of hearth and home: terra cotta clay earthenware, Moorish tiles, adobe homes of the Southwest, and kilim rugs of Turkey.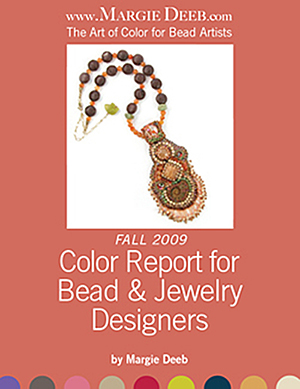 In the Color Report for Bead & Jewelry Artists, Fall/Winter 2009, Pantone's BURNT SIENNA (a deepened, earthy shade of orange) is classic autumn palette member. Like fallen maple leaves this rusted tone conveys the nurturing warmth of orange.
Orange is a food color- think of all the orange colored fruits, vegetables, and spices, cooked on an orange hearth over orange flames. It nourishes. It stimulates our appetite and aids our digestion.
Its outgoing nature can be functional as well as fun. Strident, highly visible orange, glowing like neon, is used internationally to designate areas of danger. Advertising takes advantage of orange's attention-grabbing nature. In her book Color Harmony, Bride Whelan writes "Orange along with its color wheel neighbors is frequently used in fast-food restaurants because it projects an inviting message of good food at a friendly price."
Want to draw instant attention to your latest creation? A deft and robust splash of orange declares "Look at me!"
With reduced intensity, orange relaxes into resonant earth tones. Orange darkened with touches of black or blue becomes brown.
On the spectrum between bright yellow and hot red, orange draws warmth from both. It simmers as the hottest color on the wheel. Balance orange's warmth with shades of cool blue. Combine vigorous vermilion with blue-green to suggest an exotic, Middle-eastern flavor. This balance of warmth and coolness abounds in Native American jewelry, so abundant in turquoise, coral and carnelian.
Orange tints, which suggest a quiet luxury laced with romance, flatter skin tones. Elegant apricot, salmon, and peach are slightly restrained and less zealous in their warmth than bright orange. Sprinkle one of these lighter tints with pearl and dark gold metallic accents for an upscale and sensuous palette.
To keep pastel palettes from being overly sweet, use pale orange rather than pink, as a dominant color. Blazing, sun-bright, pure orange conveys youthful vitality. Accents of these bright shades pack a lively punch.
If you've shunned orange it's time to get to know a new friend. Answer its invitation-sit by the fire!
This is partially excerpted from The Beader's Guide to Color by Margie Deeb.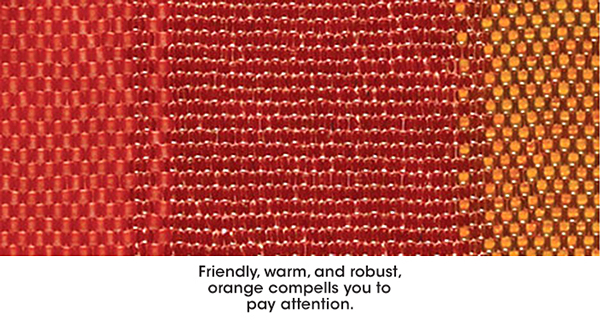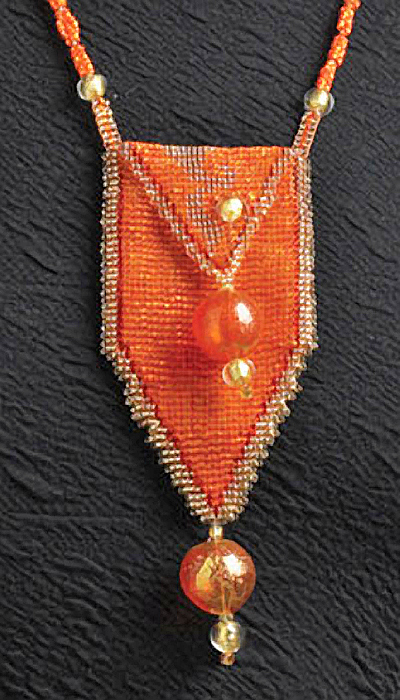 "Fire Dragon Purse" by Margie Deeb.
Pattern and instructions available in The Beader's Guide to Color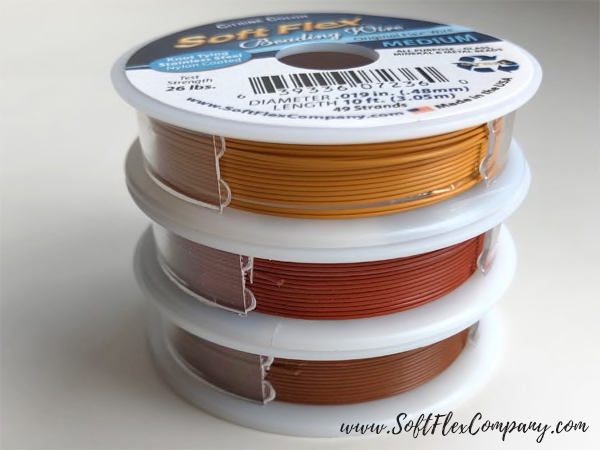 Create the warmth of the fall season by using the Vitality Trios which includes Soft Flex Beading Wire: Citrine, Red Jasper, and Butterscotch Imperial Topaz.
Join our Facebook group – VIB. Stay in the know. Stay up to date. From our bead shows to our video shows and sales, you can stay in touch with us. The community is full of artistic and helpful beaders and crafty people. Inspire and be inspired. Share your pictures and get the beading bug from others!
Visit the Soft Flex Company YouTube Channel!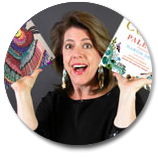 Artist and color expert Margie Deeb is the author of The Beader's Color Palette, The Beader's Guide to Color, The Beader's Guide to Jewelry Design and numerous beading and color publications. She teaches color and beading across the country and her free monthly color column, Margie's Muse, is available on her website. She writes regularly for Beadwork, Bead & Button, and Step-by-Step Beads magazines.
Visit Margie's website for her books, kits, patterns, jewelry, inspiration, and more: www.MargieDeeb.com