Learn How To Bead With Our Latest Jewelry Craft Kits Featuring The Best Beading Wire
Kit day is my monthly holiday. I get to open up a fantastic beading kit that has been curated under Soft Flex Company team's watchful eye. So much goes into each of these kits - from theme creation, collaboration with other companies, ordering, packaging, organizing, wrapping and more. It is fun to finally open one up live on the Soft Flex Company Facebook page on the last Wednesday of the month at 1pm PST and get to enjoy the fruits of our labor by making jewelry. This kit was no exception. It was a joy to reveal.
This month we celebrate Wonder Woman with an Amazon Princess Design Kit.
You do not need a throne on Olympus to enjoy this design kit or its complementary bead mix and bead strand. But it will unlock a powerful arsenal of jewelry components. Inside this majestic mix are the components needed to design your own golden Lasso of Truth. Wield a pair of bracelets crusted in deep blues and vivid reds. Or create a lush tiara that would make Aphrodite proud. Celebrate the savage beauty and ferocity of everybody's favorite Amazon Warrior. You are confident and beautiful and this bead mix will make you a woman of wonder!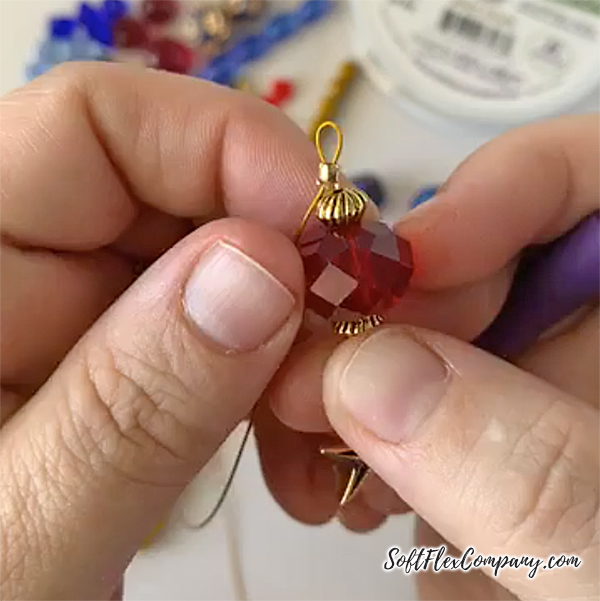 I really love the stars from TierraCast in the kit. So, I decided that I needed to use them first to make a fun pair of earrings that would make Wonder Woman sparkle.
My daughters love Wonder Woman. They love super heroes in general, and a woman super hero gets bonus points. So she is a very active part of my day to day life. We have costumes, action figures (with an invisible jet that shoots golden lassos of truth), pajamas, books and more. I love that they have a character to admire that fights for truth and justice.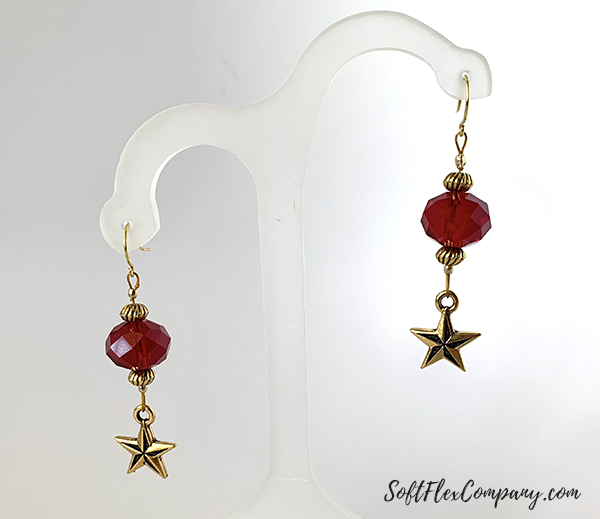 I think that these earrings turned out picture perfect. Here's how I made them. I took a strand of the Gold .019 Pro-Econoflex in the design kit and strung a crimp tube, the star and then passed back into the tube. I crimped the tube using Magical Crimpers. I cut off the excess wire. I strung a gold bead, a red Czech bead, a gold bead, a crimp tube and an ear wire. Pass the wire back into the tube. Crimp the tube. Trim the excess wire and then make an identical, second earring to match.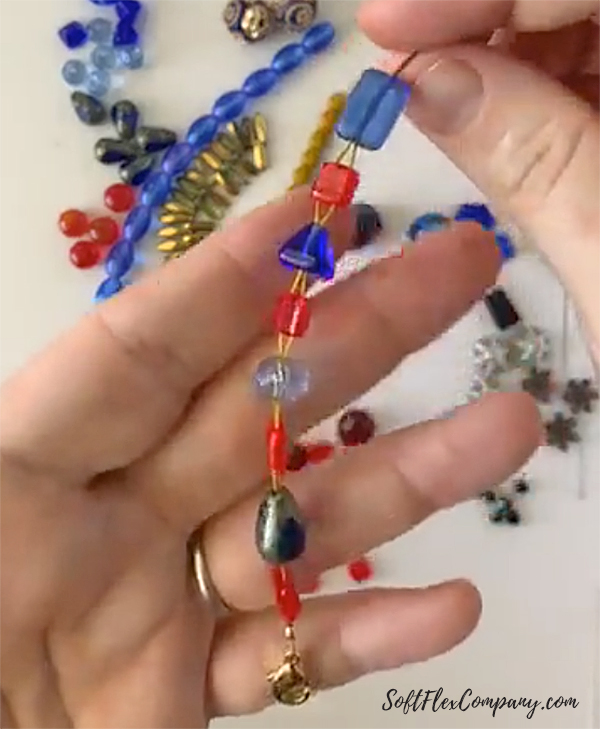 After, I decided to launch into a bracelet. I took a healthy sized piece of wire and strung a lobster clasp to the center of the wire and then passed both ends of the wire into a 2x2mm gold filled crimp tube. I used the Magical Crimpers to crimp this design as well.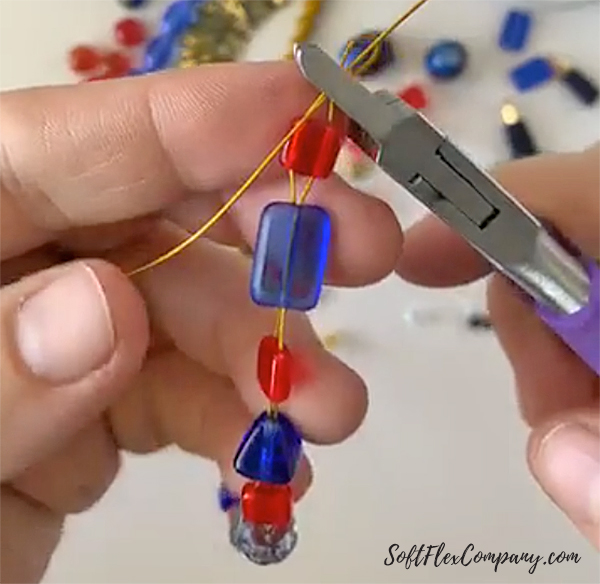 In this design, I used the red Czech glass two-hole beads included in the kit. I strung one single strand through each hole in each bead. This allows the beautiful gold color to peek out.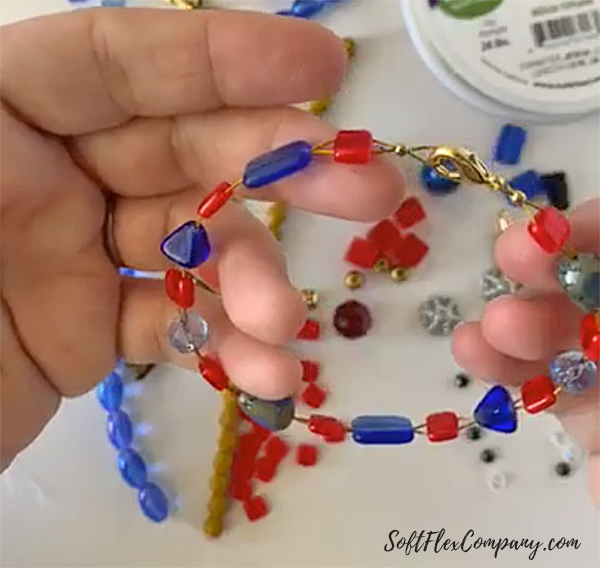 To continue the pattern, I added a blue bead, another red two-hole bead, a blue bead, etc throughout the design.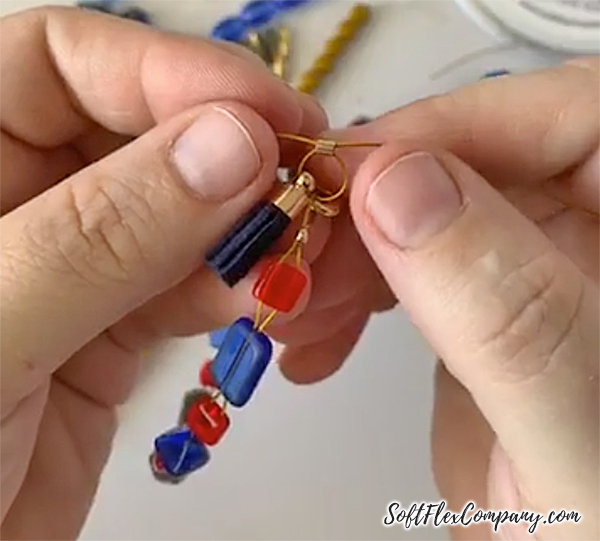 A viewer suggested that we add a tassel. So I used the beading wire to create a jump ring to attach the tassel to the clasp.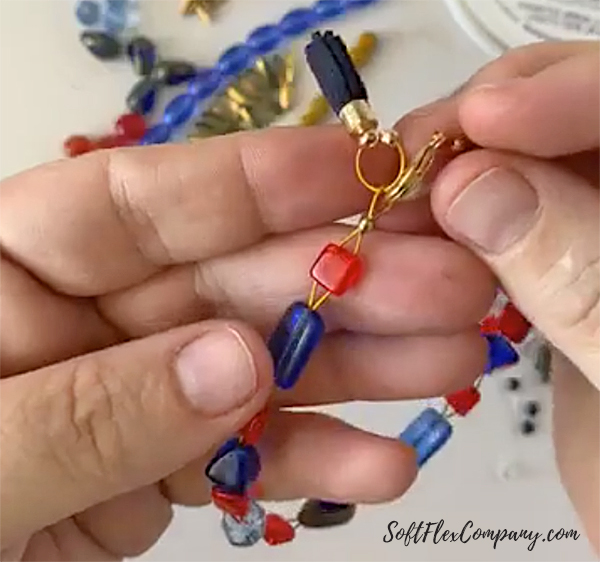 This bracelet is cute and perfect for many patriotic American occasions - Memorial Day, Veteran's Day, President's Day, Fourth of July to name a few.
Here is a snapshot of the full kit with what I made during my live streaming jewelry making video! Our kits are robust and contain everything that you need to bead but the tools. And the tools can be very basic - Magical Crimpers and Cutters are what you really need most of the time.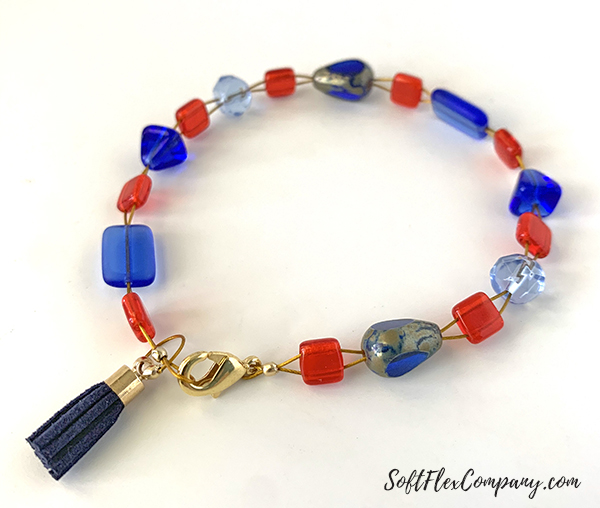 I love how the wire color sort of looks like a golden lasso of truth peaking out from under the beads.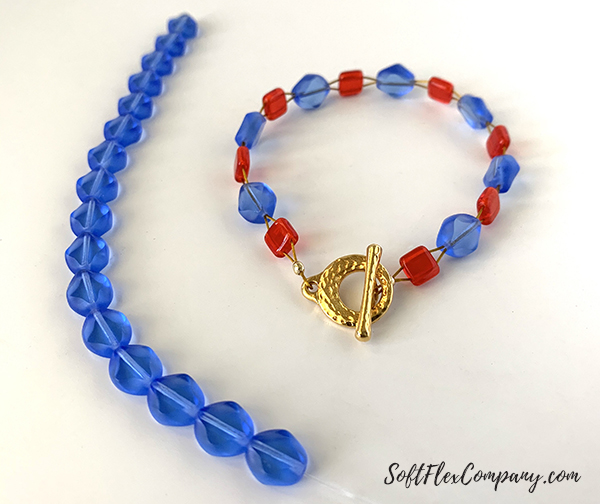 After the live show, I decided to make a second design using the same pattern but using a strand of Czech Glass Table Cut Diamond Oval Beads in the Dark Lapis Blue color. I love how this one turned out too!
I hope that you will join us next month for our next design challenge. It is easy to participate. Simply buy your kit (be sure to keep it secret until reveal day), tune in on the last Wednesday of the month at 1pm PST (or at your convenience) on the Soft Flex Company Facebook page. I will reveal the kit, make some jewelry (which you can replicate if you are brand new to making jewelry). Then, join our Soft Flex VIB Studio Facebook Group
Join our Facebook group – VIB. Stay in the know. Stay up to date. From our bead shows to our video shows and sales, you can stay in touch with us. The community is full of artistic and helpful beaders and crafty people. Inspire and be inspired. Share your pictures and get the beading bug from others!

Visit the Soft Flex Company YouTube Channel!
---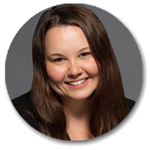 Sara Oehler (pronounced Ay-ler) is a well-known jewelry designer living in the Bay Area. Sara is the author of several beading books, including her latest title, written with Kristen Fagan, Seed Bead Revolution. She has designed and written for numerous publications including: BeadStyle, Bead&Button, Bead Trends, Stringing, Jewelry in Fashion Trends, Simply Beads, The Flow and Today's Creative Home Arts. Currently, Sara is the Sales and Marketing Manager for Soft Flex Company.Ask Sara Bead Expert
Blog: softflexcompany.com/beading-blog
Email: [email protected]