Learn How To Crimp 2 Ways With This Free Jewelry Making Tutorial
Last week, I broke open a bead strand and its matching bead mix to create two fun designs. The first was created during a live video on Facebook. I took 3 matching boho beads and made a beautiful pendant using our Extreme 24k beading wire.
Click here to buy our latest bead mixes and bead strands.
Soft Flex Extreme 24K Wire is a beading wire, free of heavy metals, for designers that want to add sparkle and shine to a piece that exposes the wire. Soft Flex Extreme Wire will not tarnish and is great for free floating necklaces and pendants. Soft Flex Extreme Wire is constructed of 1x19 micro woven metal alloy wires. It is supple enough that it can be knotted and comes in 3 radiant colors - 24k, Sterling Silver and Champagne. It is available in 3 diameters: .014 Fine, .019 Medium, and .024 Heavy.
Click here to buy our Extreme 24k beading wire.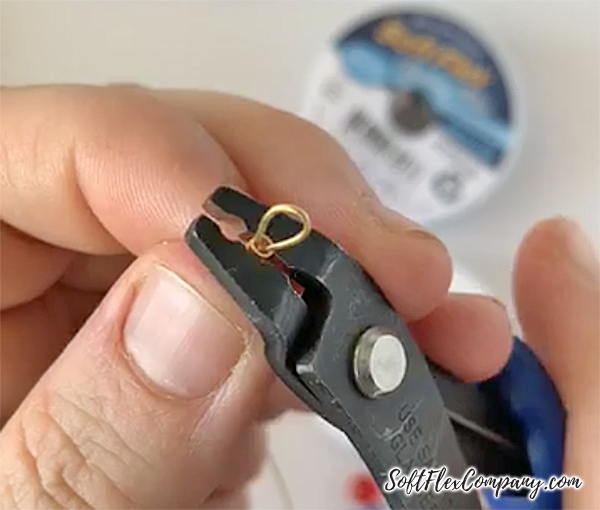 I used regular crimping pliers on 2x2-mm Soft Flex crimp tubes and then covered them with 3mm crimp covers. Our crimps are available in gold filled (shown here), as well as sterling silver, copper and black oxidized.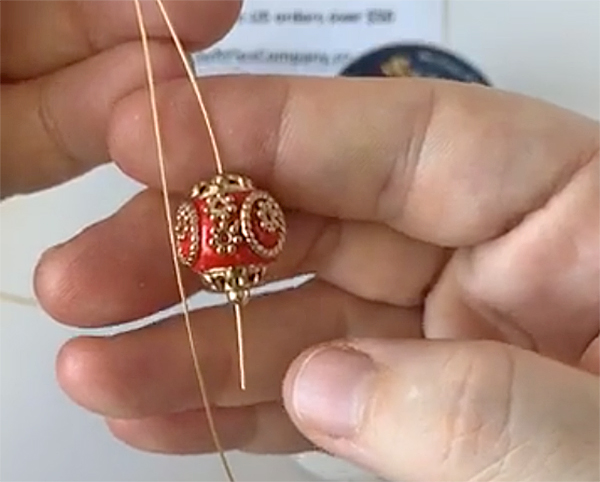 By using a crimp cover, I was able to hold the large bead in place on the wire. There is a time and a place for using crimp covers and this is a perfect example.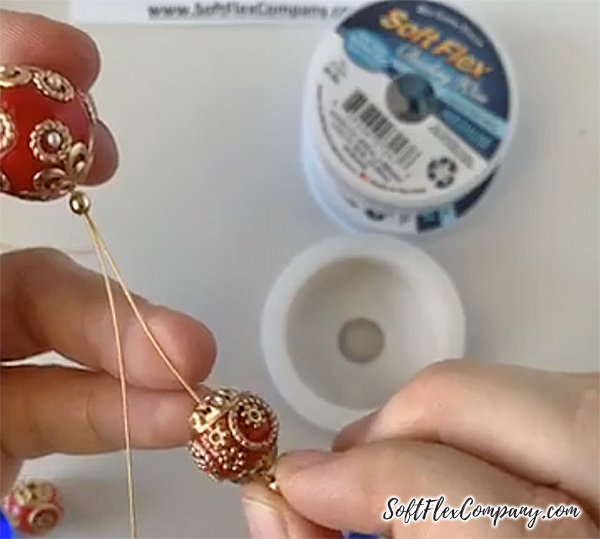 Crimp covers are nice because they cover a crimp tube and look like a little, round, metal bead. Essentially, they hide the crimp.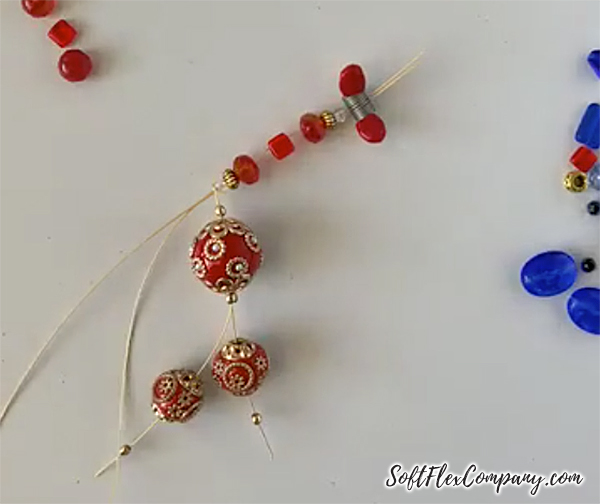 Using a two-hole bead, I was able to showcase the beautiful Extreme 24k beading wire upfront in the design. The double sided front adds fun depth to the necklace.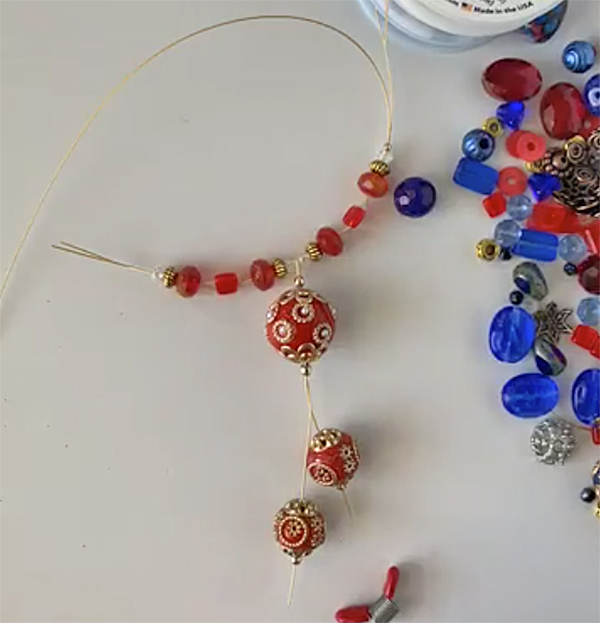 I pulled it all together with a long wire around the back. The 24k Extreme beading wire is so beautiful, it is meant to be shown and celebrated in a design. This isn't your great-grandmother's tiger tail. This wire is flexible, strong and can be part of the design rather than just a stringing supply. To complete the design, I used just a 2x2-mm crimp tube with Magical Crimpers. These pliers crimp the tube while making it into a little round bead. When the final bead has a small hole, this method is a perfect way to complete the design!
Tah-dah! The finished design turned out modern and gorgeous. You could pair it with blue and white for a patriotic holiday like Memorial Day, Fourth of July, Veteran's Day or President's Day. You could pair it with evergreen for Christmas or hot pink for Valentine's Day. Red is so versatile and always makes a statement.
And, if you want a matching pair of earrings, check out my latest video on YouTube. I love to make jewelry in pairs.
So, I could not help but develop the necklace pattern into a fun pair of matching earrings.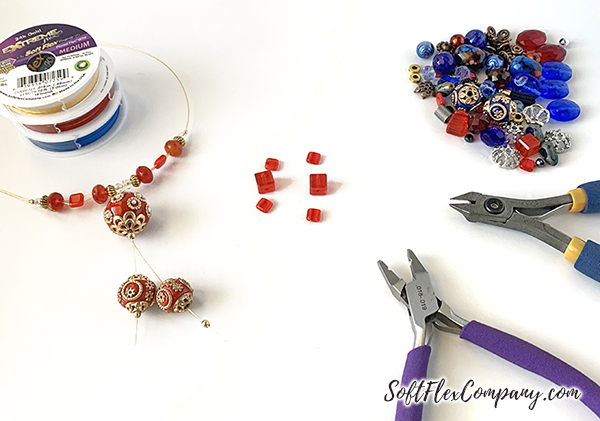 I exclusively used the Magical Crimpers with the earring design. I love how the wire peaks out between the beads in this design. So pretty!
Here are the complete earrings in all of their glory. The nice thing about 24K Extreme beading wire is that it doesn't tarnish, corrode or oxidize. It stays that gorgeous, bright gold forever.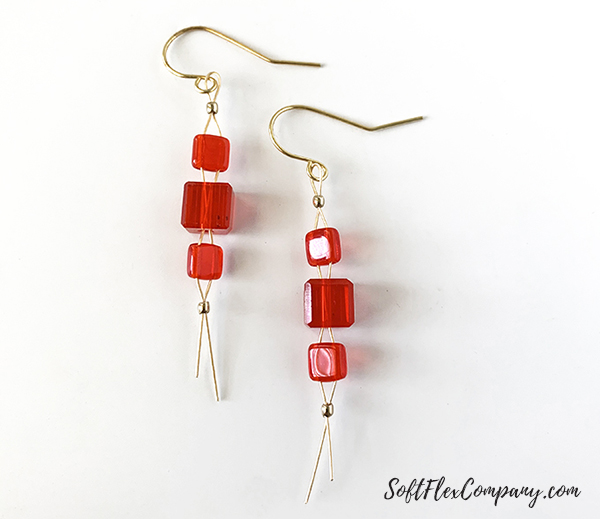 If you are looking for a new project to try, I think you will love these two designs. And you'll get to practice your crimping and closures in two different ways! Do you need crimp or crimping pliers? We have both.
Click here to buy crimp tubes and crimp covers.
Click here to buy crimping pliers.
Join our Facebook group – VIB. Stay in the know. Stay up to date. From our bead shows to our video shows and sales, you can stay in touch with us. The community is full of artistic and helpful beaders and crafty people. Inspire and be inspired. Share your pictures and get the beading bug from others!

Visit the Soft Flex Company YouTube Channel!
---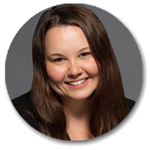 Sara Oehler (pronounced Ay-ler) is a well-known jewelry designer living in the Bay Area. Sara is the author of several beading books, including her latest title, written with Kristen Fagan, Seed Bead Revolution. She has designed and written for numerous publications including: BeadStyle, Bead&Button, Bead Trends, Stringing, Jewelry in Fashion Trends, Simply Beads, The Flow and Today's Creative Home Arts. Currently, Sara is the Sales and Marketing Manager for Soft Flex Company.Ask Sara Bead Expert
Blog: softflexcompany.com/beading-blog
Email: [email protected]