Hey, hey - It is a bonus video day! Check out Sara's latest Live Facebook Design Challenge. Sara opens a Magical Mystery Bead Box from Jesse James Beads. The Mystery Box is full of focals, beads, and jewelry making supplies. Sara will show you how to make a piece of jewelry on the fly. She does not know what is in the box prior to opening it and has to plot out a design, live, on Facebook.

Sara loves to challenge herself. Her unboxing videos feature her opening a gift from a bead store and using the beads to create a piece of jewelry in front of a live audience. It is fun to watch her creative process and see where she goes. She always creates a great piece of jewelry. This time, Sara opens "A Midsummer Night's Dream" Magical Mystery Bead Box from Jesse James Beads.
Why is this a bonus video day, you ask? Well, due to a scheduling slip up, Sara opened her Mystery Box a day early. Jesse James promoted the video the day after she opened it. Sara decided to have some fun and make a bonus video so everybody was able to get in on the fun. Sara brought Kristen in so they could both design jewelry from Jesse James Beads.

Sara starts her video discussing Live Sales on Facebook. Our live sales feature gemstones and beads from our gallery. The sales feature items that were hand selected by Soft Flex owner Mike Sherman. A lot of the items are not available on our website. The sale features great savings and a strong community of friends watching. It is fun to participate, even if you do not plan to buy anything.
Sara talks about Jesse James Beads. She loves their products and wants to share them with her viewers. She is opening her third subscription box from Jesse James Beads. She does not receive any perks or benefits from Jesse James Beads. She just loves the store. She says that viewers can sign up for future subscription boxes. The price is reasonable and the boxes are loaded with goodies.
If you would like to subscribe and get a mystery box, follow these links:
Magical Mystery Bead Box - 3 Month Subscription.
Magical Mystery Bead Box - 6 Month Subscription.
Magical Mystery Bead Box - 12 Month Subscription.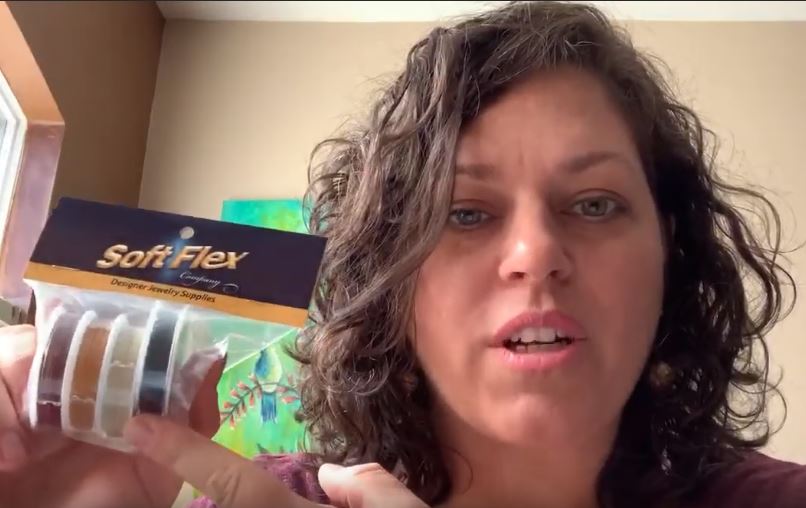 Sara opens the "A Midsummer Night's Dream" Magical Mystery Bead Box. There is a neat little itemized list of what is inside the box. Sara finds gold chain with beads attached. There is a silver plated chain with glass crystal beads. There is a beautiful dragonfly focal that looks like it has been patina painted. There is a stunning owl focal. Sara loves the owl. Says it is adorable. There is a large mother of pearl bead. There is a group of fairy beads. There are toggle clasps. There are multiple containers with bead mixes. There is an assortment of roses. Inside the box is a coupon for use on the website. The coupon code is 'MIDSUMMERNIGHT' it will give a 20% discount on an order of $59.00 or more. It ends on September 20 th, 2018.
There is so much in the Magical Mystery Bead Box that Sara had a hard time fitting it all on screen.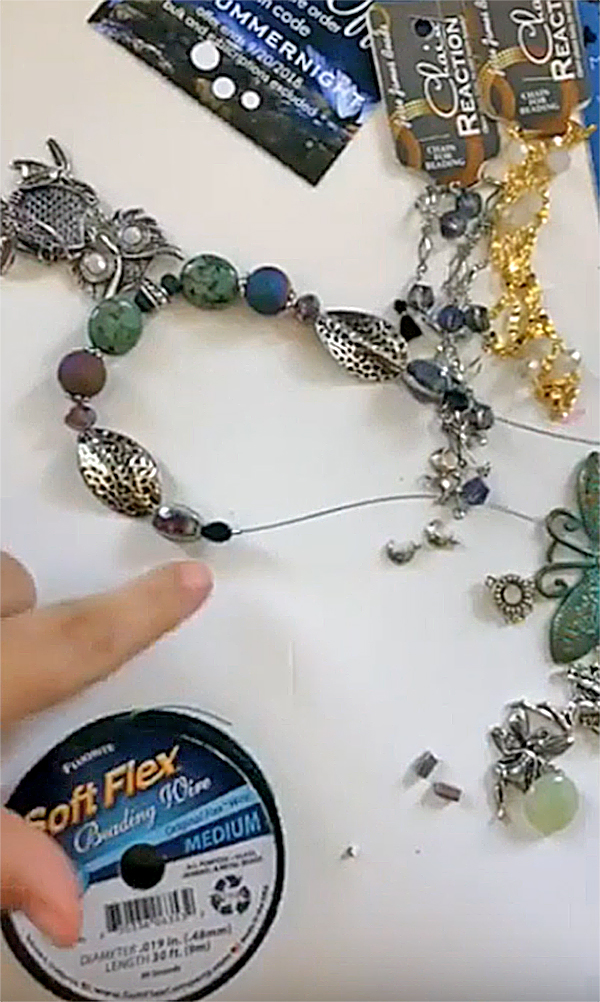 Sara chose the owl focal as the design element to work around. She gathered beads around the owl and worked in her mind what she wanted to do with the piece. She started assembling beads around the owl. She looks for anything in the mix that fits a color scheme and anything that catches her eye.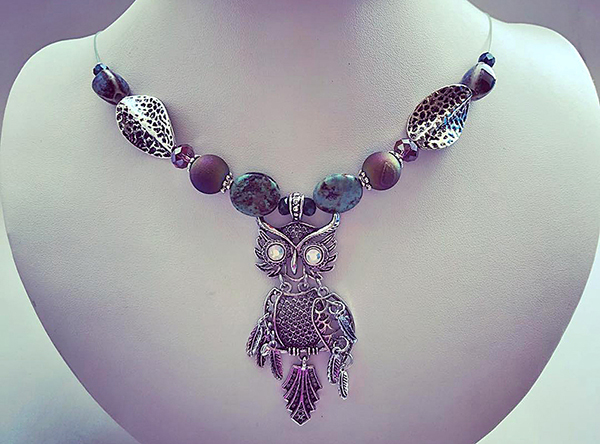 Sara selects Soft Flex Fluorite color beading wire to string the piece. Fluorite color beading wire comes in .019 medium diameter. Medium is a great diameter to use as a multi-purpose wire. It can fit inside really tiny bead channels and can withstand the abrasion of some of the chunkiest beads. You can try out any of our colors in ten foot spools or go bigger and get a thirty or one hundred foot spools. Color is an important choice in any design; don't settle for boring when you can enhance a piece with flash.
Sara strings the first couple of beads. She is not fond of how the design is looking. She restrings and finds a combination that makes her happy. She says she likes the colors of this particular Mystery Bead Box. She says she is teaching classes at a bead store in the Bay Area. She is teaching at a store called Just Bead It. She will instruct a class on how to make earrings and how to create a Russian Spiral Bangle.
Sara finishes stringing her necklace. She decides she does not want to finish with a clasp, but will just crimp the design closed. She will be wearing the jewelry without opening and closing it. She crimps the wire with Magical Crimping Pliers. Magical Crimping Pliers have a single hole. They round a crimp tube into a rounded bead. She crimps several times with the pliers, turning the crimp bead each time. The finished crimp looks like a bead. She turns the necklace until the crimp bead is flush against the last bead. She crimps a bead flush against the opposite end. The necklace now looks like a continuous strand of wire with beads on it. The crimp beads look like part of the design and not a finishing component.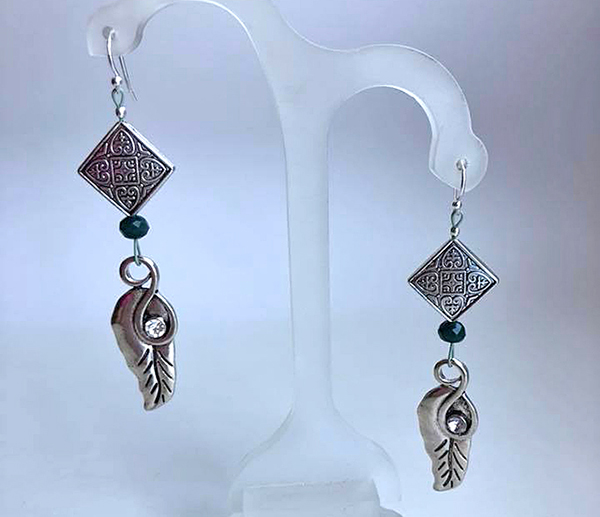 Sara then designs a pair of earrings to go with her cute owl necklace.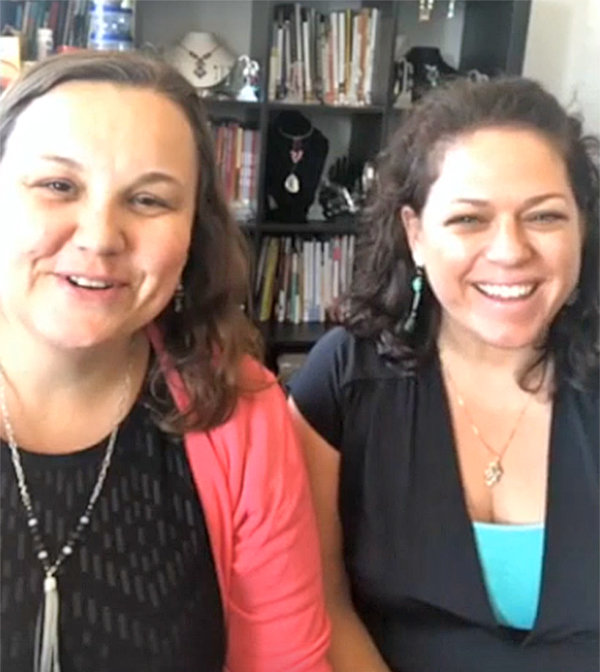 Sara finishes the video discussing Jesse James Beads subscriptions. She talks about Kristen and James' video series and our live sales on Facebook. She shows a new tool available at Soft Flex. LoopRite Looping Pliers are perfect for professionals and beginners that create uniform loops when wire wrapping. The pliers have sizes marked on the nose making consistency easy.
Stay with us for the bonus video. More fun, more laughs, and more creativity.
Sara starts the bonus video showing the jewelry she made from the "A Midsummer Night's Dream" Magical Mystery Bead Box. She discusses the subscription boxes from Jesse James Beads. Sarah James from Jesse James Beads joins the chat on Facebook.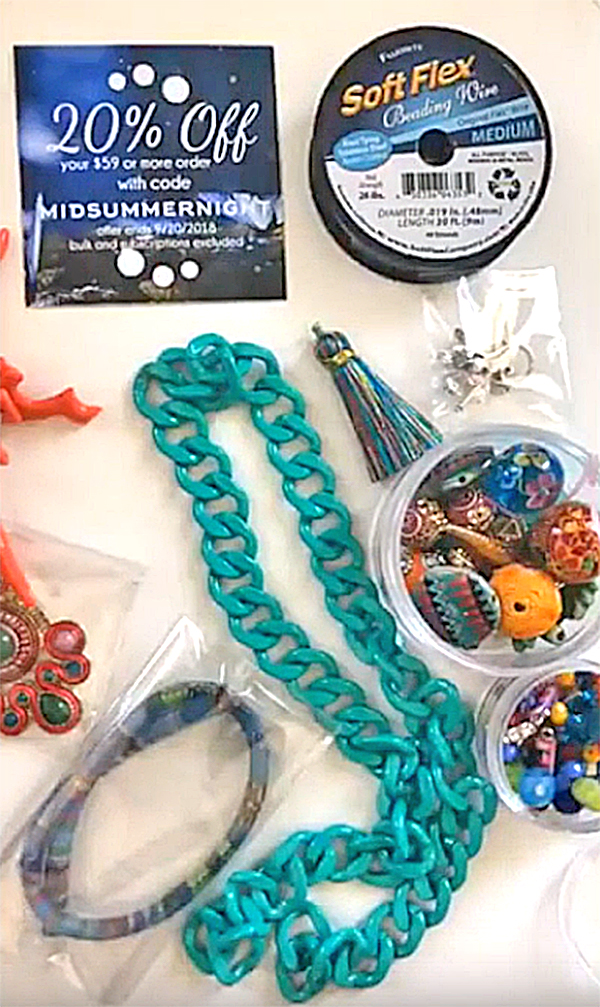 Sara has an older subscription box that she wants to show. This will give the viewer an idea about how varied the products are inside the Mystery Boxes. This box was the "Tropical Escape" box. Sara shows a beautiful pendant. It is multi-colored and bright. Sara loves the pendant. She has another from Jesse James Beads that is a different color. She says each box is unique and the colors in one box can vary from another box. There is coral. There is fiber cord that Nealay Patel loves to work with. There is some bulk chain in a fantastic summery color. There are flower toggles and rainbow tassels. Sara loves Jesse James tassels. There is an assorted mix of beads.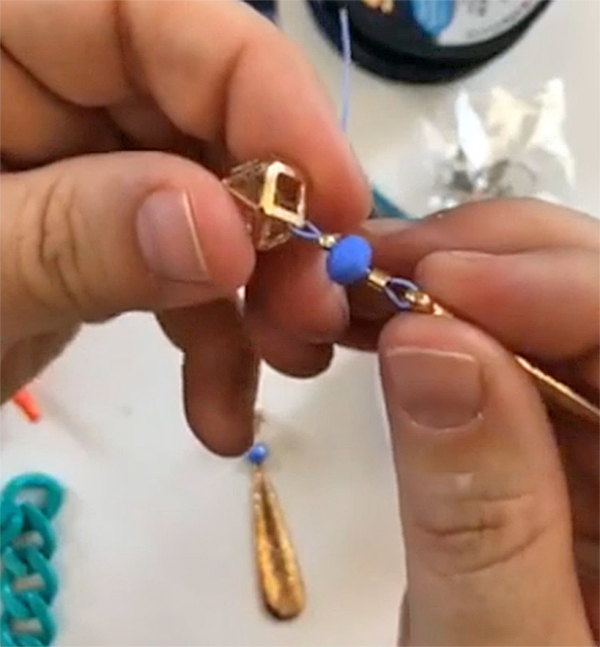 The Mystery Boxes come with a huge selection of beads and chain and fiber. There are enough components and beads to make a bunch of jewelry. The boxes are a steal at the prices listed on the website.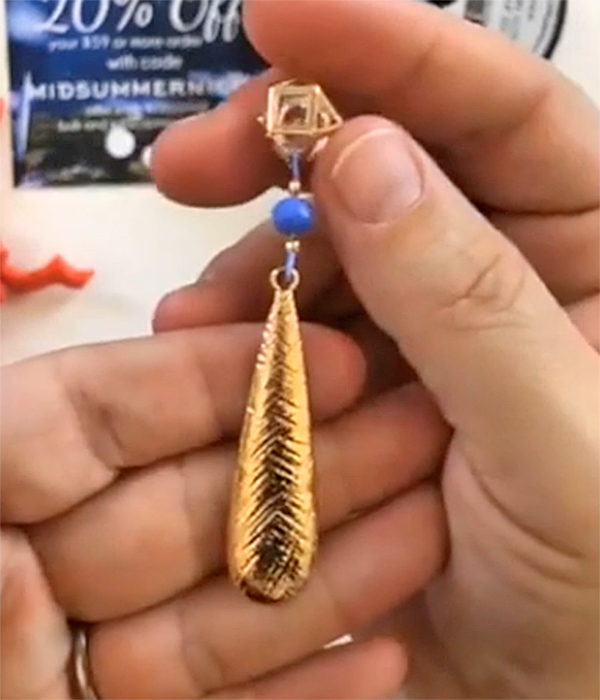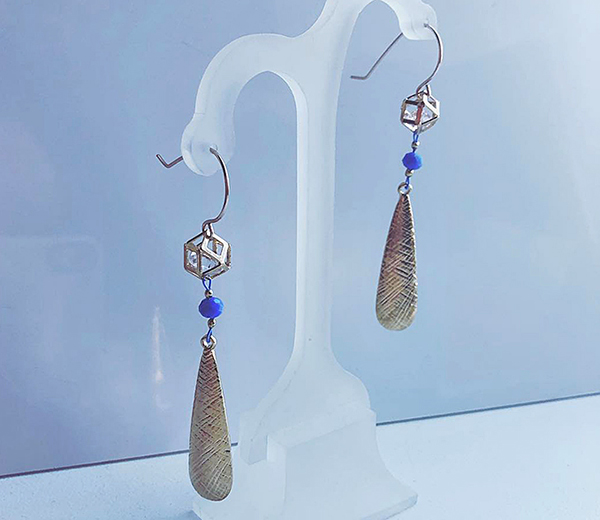 Sara decides to use Tanzanite color Soft Flex Beading wire. She is going to make earrings. Tanzanite comes in medium .019 diameter. She will finish the earrings with 2x2mm Soft Flex crimp tubes. She crimps a caged bead to the wire. She crimps the tube with Magical Crimping Pliers. Sara says she will post photos of her finished jewelry to our Facebook VIB Group. Our VIB group is a fun community of beaders. The members post photos of their work, discuss jewelry making and inspire each other.
Kristen shows a pair of earrings that she made using Green Emerald color Soft Flex beading wire. She says green is not something she normally designs with but is really happy with how the earrings turned out.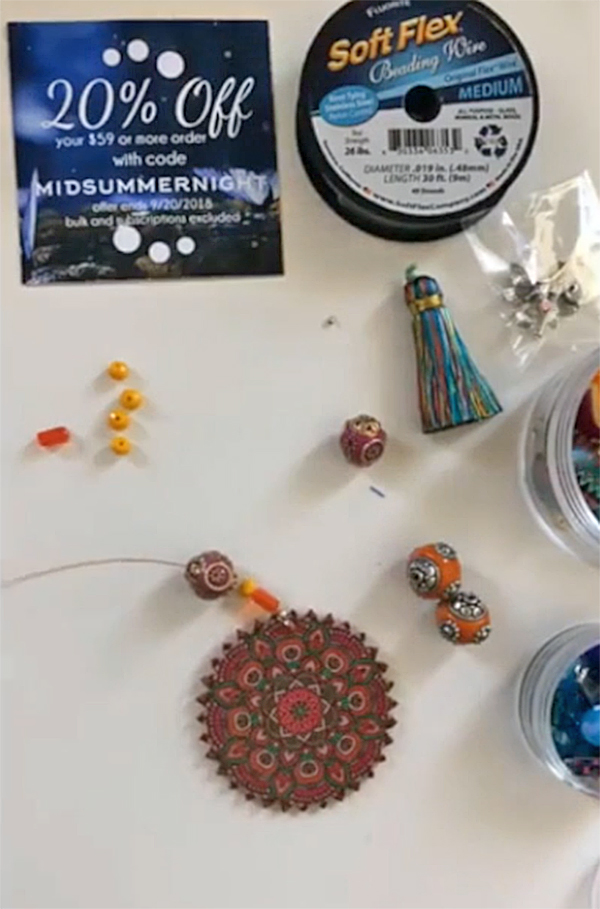 Kristen says she loves mandalas. She is going to use a bead from the box that looks like a mandala and string it with Citrine color Soft Flex. She selects color coordinated beads. Kristen is a pro in front of the camera. She hosts a live beading show on YouTube on Mondays. Free Spirit Beading airs every Monday at 11:00am PST. Make sure you check out a live broadcast. She will answer any questions you have about beading or about art in general. She is an avid artist and works in many different mediums.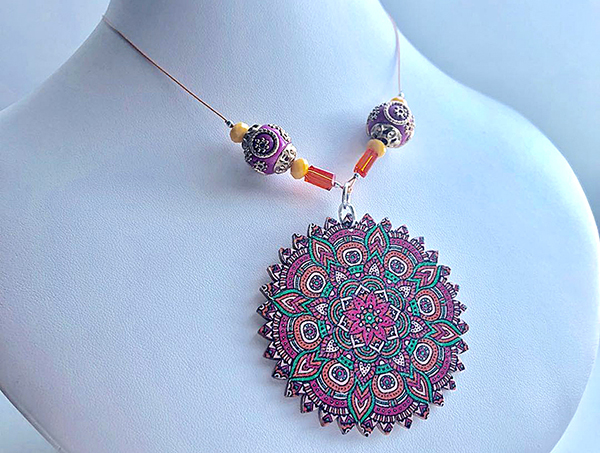 Enjoy the rest of the video. Catch us on Facebook and YouTube. If you have any questions, you can email us or message us in Facebook.
Visit the Soft Flex Company YouTube Channel!
---
Blog contributor Thomas Soles is the Trade Show Coordinator for Soft Flex Company. His favorite stones are Lapis and Pietersite. His favorite hobby is day dreaming. And his favorite mustache is Tom Selleck's. As you can see, he has a healthy (or possibly unhealthy) sense of humor. You can write to him at Thomas@SoftFlexCompany.com