Hey friends, it is time for another Live Design Challenge on Facebook. This time, we are using a beading kit we are offering, rather than a mystery box from a bead store. This beading kit is comprised of our items and goodies from our friends at TierraCast. We have a limited quantity of TierraCast Western Winds Beading Kits available. Make sure to buy one while you can.

Sara Oehler started the video discussing her Live Design Challenges. Our Live Design Challenges are unboxing videos. We receive a mystery box from a bead store. Sara opens the mystery box on camera to show her viewers the goodies that bead store sent her. The items are a great way to give the viewers insight into the products available at that bead store. Once she has opened the mystery box, Sara challenges herself to design a piece of jewelry before the show ends. She doesn't get to plan anything out as she is not aware of what is inside the box. The fun is watching her complete a beautiful piece of jewelry on the fly.
After the Live Design Challenge video is over, we place the samples we received in our kits. Our limited issue kits are available in very limited quantities. Our kits always have unique items and each is different. This time, however, Sara decided she wanted to sell a kit that was the same for everybody that purchased it. She wants to see how different the designs for this kit turn out to be from beader to beader. We encourage anybody that buys a kit to share pictures with us. We love to see your work. If you would like to post photos of your creations, a great place to do so is our Facebook Group.
Sara talked about our videos. For the most part, Sara has been the sole video producer at Soft Flex Company. Fellow employee, Kristen Fagan, is starting a live show series. She recently filmed her first episode. Kristen's live shows will be weekly and on YouTube, rather than Facebook. Kristen is an amazing artist and jewelry designer. If you would like to watch her, you can catch her on Mondays. She will be live at 11am PST. The shows will be in our library and can be viewed any time after it airs live. You just won't have the opportunity to interact with her as she creates her jewelry. Employee James Browning is also filming a video series where he discusses his passion for Craft Wire. His series, Conversations with Wire, will be filmed every other week and available on YouTube on Thursdays.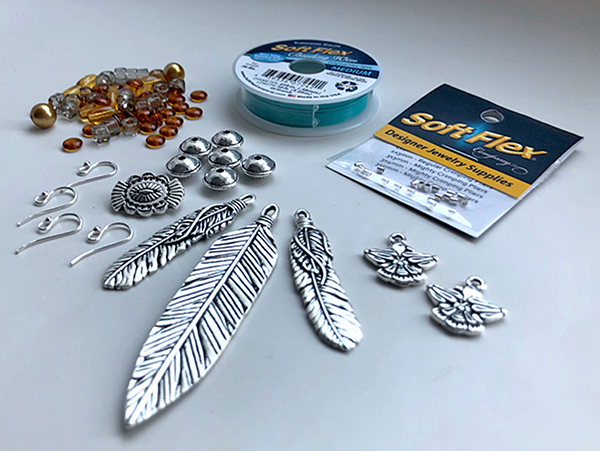 Sara talked about the new TierraCast Western Winds Beading Kit. The kit has brand new product from TierraCast. They launched this collection last week. We have 50 kits available. If you are interested in the kit, act quickly before they sell out. Sara opened her kit. Inside are metal feather pendants, thunderbird charms, a button, and six metal beads – all with a strong Southwestern motif. We included a ten foot spool of Green Turquoise Soft Flex .019 Medium Beading Wire, ear wires, a mix of Southwestern flavored beads from our gallery, and a pack of 2x2mm crimp tubes.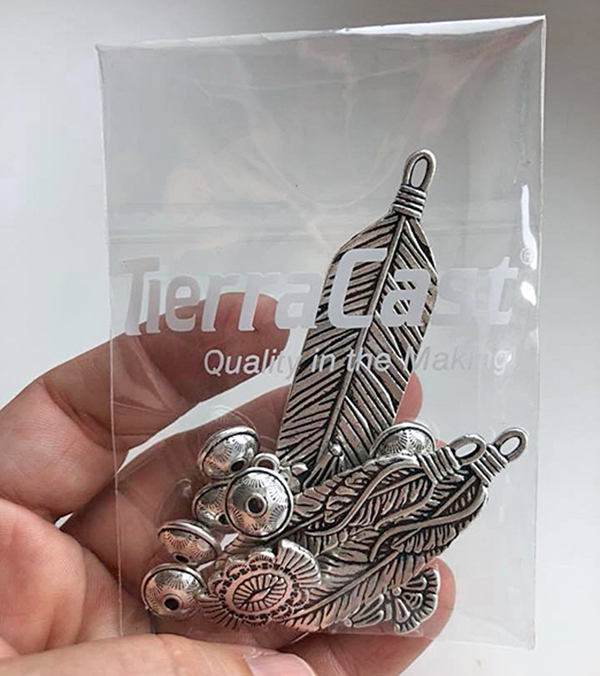 Sara read this fun product description from TierraCast's website about the Western Winds collection:
Western Winds
Welcome to the wild, wild, west!
Western Winds is an expedition through the southwestern United States, a region known for its arts and crafts. There is much natural beauty here, from the Red Rocks in Arizona through the high plains of New Mexico to the rugged terrain of the California desert. The components in the Western Winds collection embody the spirit, colors and textures of the Southwest and compliment leather, seed bead and fringe designs beautifully? Saddle up, get to that workbench and channel your inner cowgirl!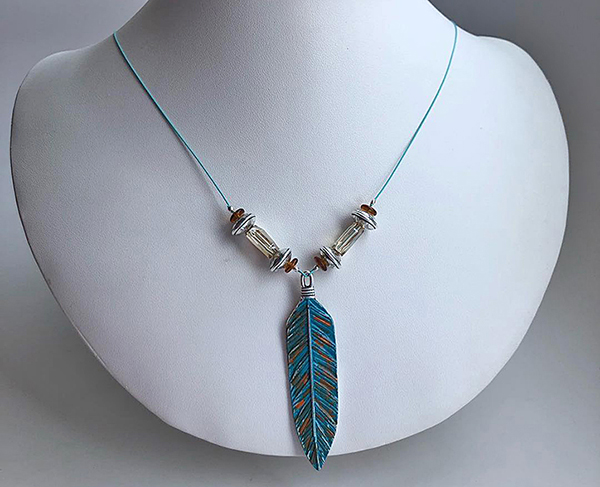 Sara laid the elements of the kit out in front of her. One of her life hacks to make working with beads easier is to place loose beads in an upside down spool of Soft Flex Wire. The spool is a perfect temporary container. She then started moving the feathers and beads around so she could get a clear idea in her head of what she wanted to design. She knew she wanted the three inch feather to be a focal bead for a necklace. She positioned beads around her focal bead as the jewelry idea started materializing in front of her.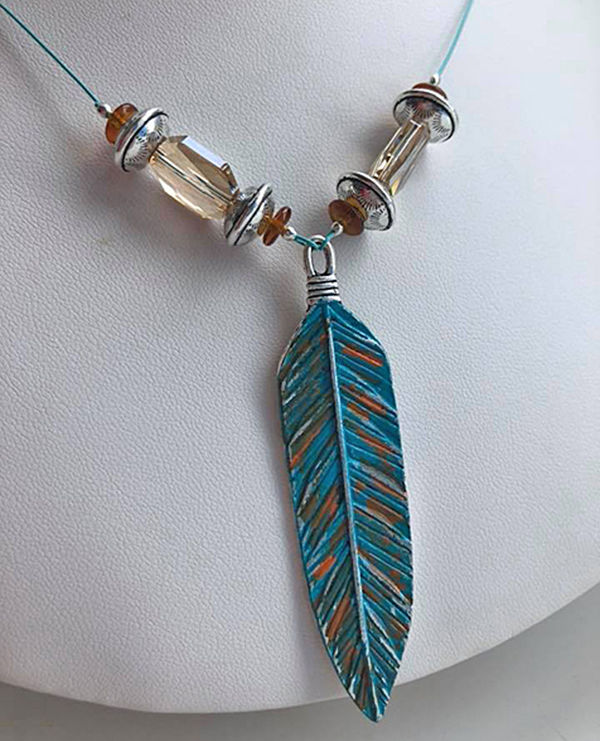 Sara discussed our sterling silver crimps. Soft Flex crimp tubes are double wall thick. A lot of crimps you might find on the market are thin walled and are relatively brittle. Poorly made crimps can even have a seam on the side, this indicates how the crimp was created. This seam can be a weak spot for any crimp. Our crimps are seamless as well as double wall thick. Our crimps are extremely durable.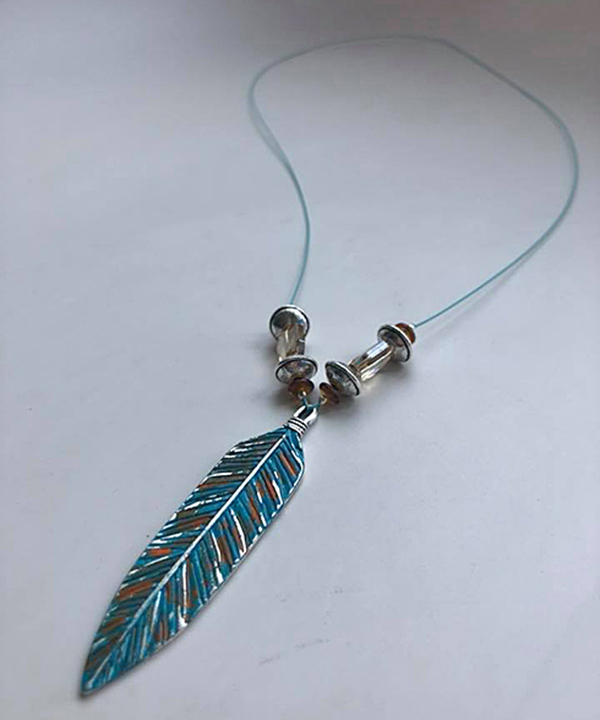 Sara decided to crimp the wire to the pendant directly. Using a pair of Magical Crimping Pliers, she crimped that tube. Magical Crimping Pliers have a single hole, rather than a crimping hole and a rounding hole. Magical Crimping Pliers round a crimp tube into a rounded bead. They eliminate the need for crimp covers. If you do not like the look of finished crimps, you need this tool in your kit.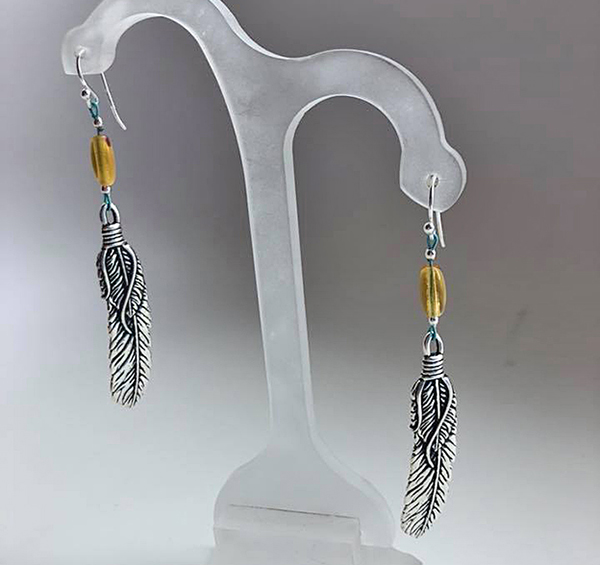 Once the feather was crimped, she decided the silver feather would look incredible if it was patinaed. Her viewers all agreed that it would be an amazing way to finish the feather. She worked on the necklace while patina was found for her. She used a patina from Vintaj. Deep Turquoise was the color. She painted one side of the feather with the patina but left the other side silver. She painted the initial color Deep Turquoise but added other patina paints to give the feather some lovely highlights. Rust, Cinnabar, White Gold, and Rose Gold were some patinas she considered. Rust was the first she selected as an accent. Clay was the other option she selected. She painted these patinas in smaller swathes across the face of the feather. One good thing about painting with patina is that accidents or colors that do not work well together can always be painted over.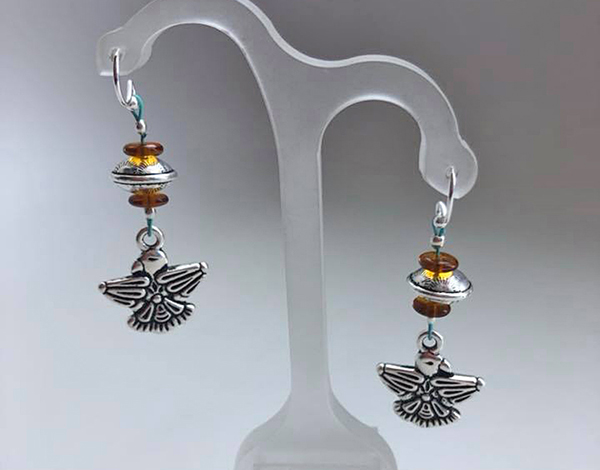 After finishing her feather necklace, Sara created a lovely pair of earrings using the other feathers in the kit. Make sure you watch the video to see her design her jewelry. She is informative and fun to watch. You may learn new techniques or be inspired to create your own jewelry. If you enjoy this video, be sure to watch our library of videos on Facebook or YouTube.
Check out this earlier video Sara filmed, featuring TierraCast.
Visit the Soft Flex Company YouTube Channel!
---
Blog contributor Thomas Soles is the Trade Show Coordinator for Soft Flex Company. His favorite stones are Lapis and Pietersite. His favorite hobby is day dreaming. And his favorite mustache is Tom Selleck's. As you can see, he has a healthy (or possibly unhealthy) sense of humor. You can write to him at Thomas@SoftFlexCompany.com