Sara's latest live design challenge features our newest beading kit, the Vintaj Innovations Kit. Every month we handcraft a themed mystery kit. We also create a kit based on bead stores we love. The bead store kits are collections of some of their newest or most popular items. We add some of our favorite items that we think would be a great complement. In the past we have featured kits with items from TierraCast and SilverSilk. This time, we are proud to announce a partnership with Vintaj for our latest kit.

If you are not familiar with Live Design Challenges, they are unboxing videos. Sara opens a kit or gift box from a bead store and designs a piece of jewelry on the fly. A good deal of the time she has no idea what is in the box before she opens it. This means she has to create a piece of jewelry with a quick imagination. Live Design Challenges are fun to watch. You get to see a jewelry designer at work. Sometimes Sara fails and discusses the short comings in her design. Most of the time, she knocks it out of the park. It is always a compelling show if you love jewelry.
Our kits are great motivators. If you buy a kit, you often get the opportunity to design something before Sara broadcasts her live show. You can also watch her live and create the design she is making. The choice can inspire you to create a wonderful signature piece or you can get inspired by her jewelry.
Sara starts the video happy to be back in Sonoma. There is so much to talk about. She was in Ohio filming an episode for the PBS series Beads, Baubles, and Jewels. She is excited about our new Vintaj Innovations Kit. This kit will have Vintaj components that came out this year, plus goodies from the Soft Flex shelves. This kit is exclusively on our website and in limited quantity. This kit went online one day prior to the show. People are already purchasing the kit. You need to hurry and buy one if you would like the chance to secure it before it is gone.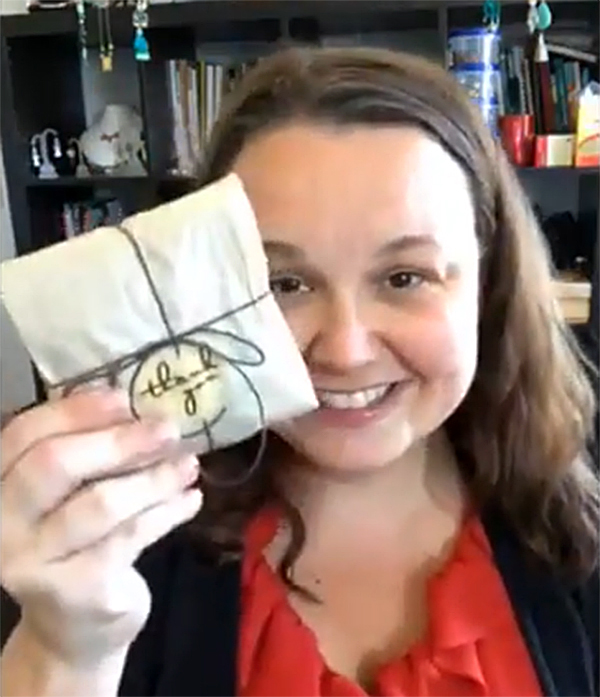 Sara says that you can purchase the kit and posts photos on our Facebook group page – VIB. Any photos you post with jewelry created with items from the kit will count as an entry into a giveaway. The giveaway is next month's kit for free. We do this for all of our kits. We randomly select an entry using a random number generator and give the lucky winner a free kit. To post an entry, you must use elements from the kit in your design. Every design you post with items from the kit is an entry. The winner of this particular giveaway will receive a Saki Silver Innovations kit after we release that kit in November. The deadline for entries is November 13 th.
Sara says that one Black Magic Kit is left for purchase (it has since sold, during the live video). The Black Magic Kit was our most recent themed kit. We handcrafted it as a celebration for the upcoming Halloween holiday, but the components and items in the kit were ambiguous enough that any design could be created from the kit.
Sara says that purchasing the Black Magic Kit and the Vintaj Innovations Kit would be over fifty dollars and that would entitle the buyer to get free shipping on our website. This is the case for every purchase in the United States. We cannot offer free shipping for international orders, but we do have discounts that make things a little easier on the wallet. You can call our toll free number and see how we can make shipping more pleasant if you are outside the U.S. - 866-925-3539.
Sara shows our Autumn Spice Trio. This collection of wire went on sale about two weeks before the show and we have already sold out of our first batch. We are busy spooling more as we know it is a popular item. Nealay Patel is going to be using the Autumn Spice beading wire set in an upcoming video. He took a poll to see what colors people wanted him to use for the video and Autumn Spice won. Look for his video. And don't forget to buy one if you have not. The Trios is comprised of three ten foot spools of wire: Red Jasper, Purple Amethyst, and Citrine colors.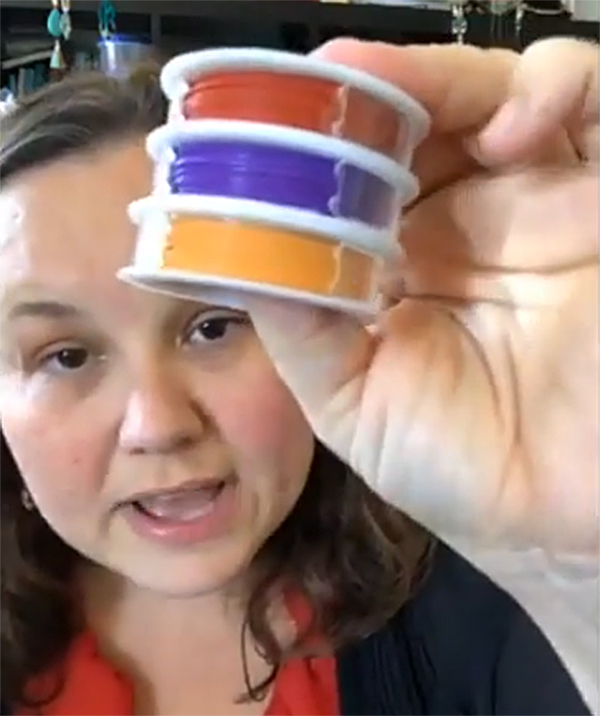 Sara shows our newest Harvest Moon Trio. This color combination was inspired by our recent themed Harvest Moon Kit. This kit sold out fast. This Trio is three ten foot spools of colored beading wire: Garnet, Citrine, and Copper. Sara says she will probably use this Trio with the designs she makes from the Vintaj Innovations Kit as the Trio is a great complement to the contents of the Vintaj kit.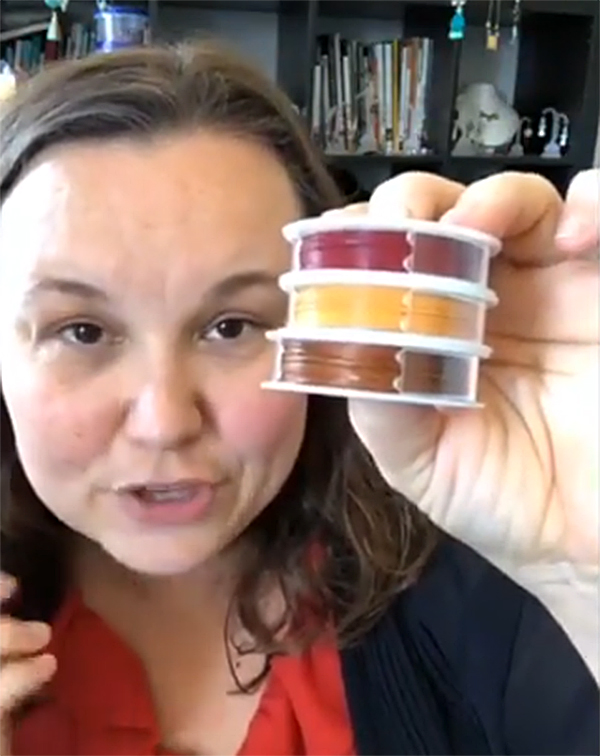 Sara shows the latest tool we have on our shelves. Vintaj Hole Punch Pliers were added the day before the show. The pliers are great for punching holes in chain or Vintaj blanks. The pliers will punch a 1.5mm hole into metal as thick as 20 gauge. The pliers come with a replacement pin and have ergonomic handles that will not be difficult on hands after multiple punches. They are new to Sara and she says she will be using them for the first time during the show.
Sara says she had some rough moments during the filming of Beads, Baubles, and Jewels. She says you cannot say brand names during the show. She has been selling Soft Flex Beading Wire for twenty years and it was very difficult to avoid product names when casually speaking about jewelry making. It was hard not to say words like 'Soft Flex' or ' SuperDuos' when discussing seed beads. She was glad she had great friends, like Nealay Patel and Jill Wiseman, during the filming.
Sara moves the camera down so we can see her desk. She shows a Christmas tree pendant she created for a YouTube video. The pendant is really easy to make. The tree would also be a great ornament or a gift tag for presents.
Sara discusses the latest sale on our beads. We have a vast and beautiful collection of beads online. They do not get as much attention as the beads we offer on our live auctions on Facebook. But they are every bit as wonderful. It is hard to show them during Facebook sales because of inventory conflicts with our gallery beads. With the current sale, the beads are half off their retail price. It can be difficult to judge beads with a still image on the site. Sara says she welcomes any emails requesting extra photos of the beads and gemstones. She is also happy to FaceTime with anybody that wants a better look at the beads before purchasing. Make sure to check out our online selection and look for sales!
Sara opens her Vintaj Innovations Kit. She is super excited. Lots of great new items and Vintaj makes them all in the U.S.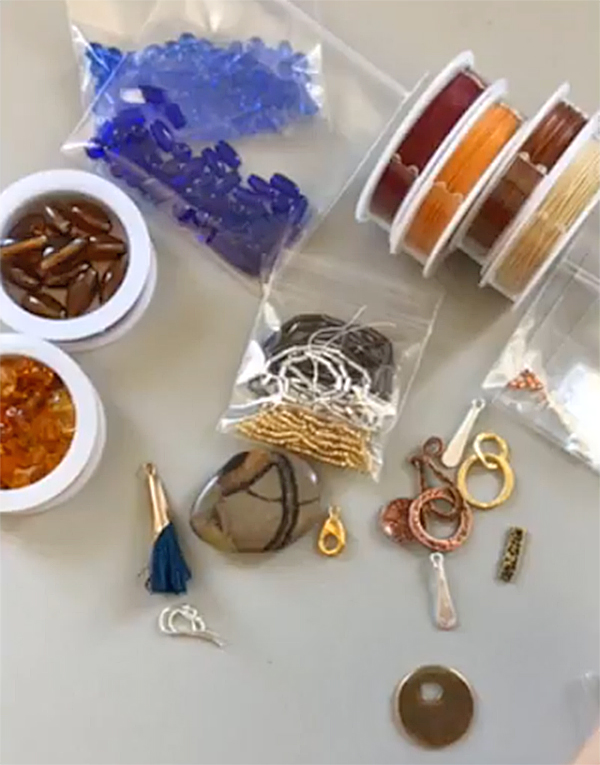 From Vintaj: "Each artisan element is created with handcrafted detail and cast from solid pewter. These exquisite castings show each stroke of the hammer that was used to design them. Chain and findings have a base of solid brass for bendability and ease of use. To ensure longevity in your designs, each finding is plated using three to five MILs of precious metal heavy plating with a flexible finish. Designed to be manipulated, each product can be stamped, hammered, hole-punched, and bent. Plated finishes are metal platings on top of solid pewter based metal. They are nickel free and lead free. All metal ingots are sourced in the U.S.A."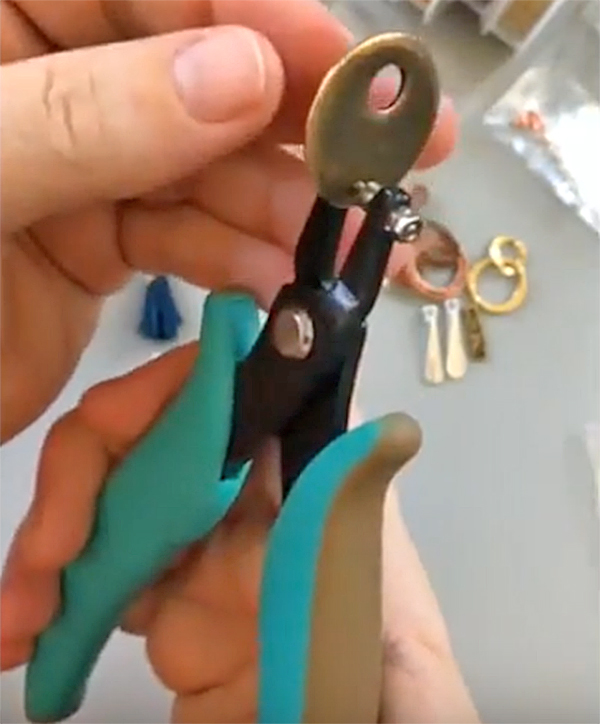 The Vintaj components in the kit are various metal blanks and findings. Sara thought mixed metal components would be a lot of fun for jewelry designs. She says they are all very organic feeling, natural, not forced or machined. The metal can be stamped or punched. If you have Vintaj Patinas on hand, you can color any of the metals as well. The metals are very compatible with our Harvest Moon Trios.
Also included in the kit are components from Soft Flex. There is ear wire, 2x2mm crimps in various metals, and lobster clasps. We included Swarovski Crystals for holiday sparkle, deep blue beads, amber color beads, and brown Czech Glass beads. We added a bag of mixed seed beads and a large gemstone for a pendant. We worked with Sarah James at Jesse James Beads to add a blue tassel to the kit.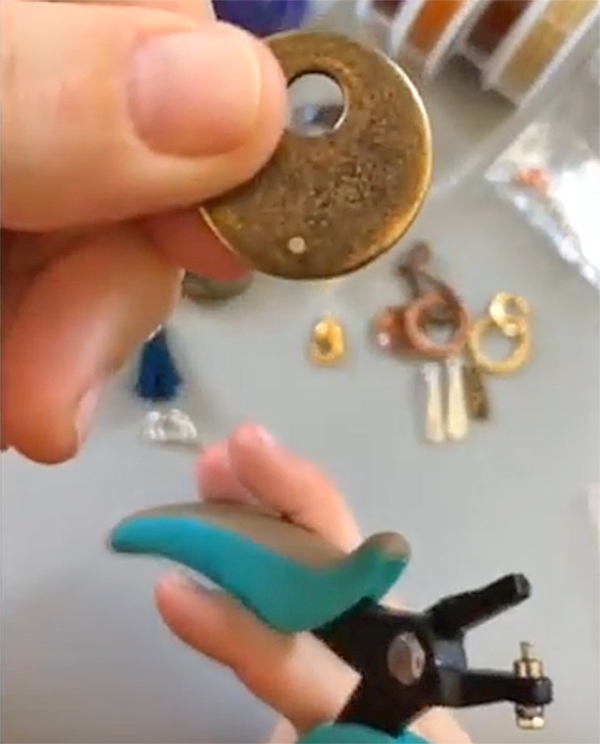 Sara shows the new Vintaj Hole punch Pliers we have on our website. She gives a demonstration by punching a hole in a blank that came with the kit. She is surprised how easy it is to punch the hole as the metal is fairly thick. The pliers work very well. She decides she is going to punch a couple more holes in the blank. She does this all freehand. She thinks it will add character. You can measure your holes out if you want. She loves the pliers. She says we will not be carrying them long term as they were just meant to be an addition to this kit. So, get your pliers while you can.
Sara starts design a piece of jewelry with the blank. She weaves wire through the holes she has punched and the blank becomes a pendant on a new necklace.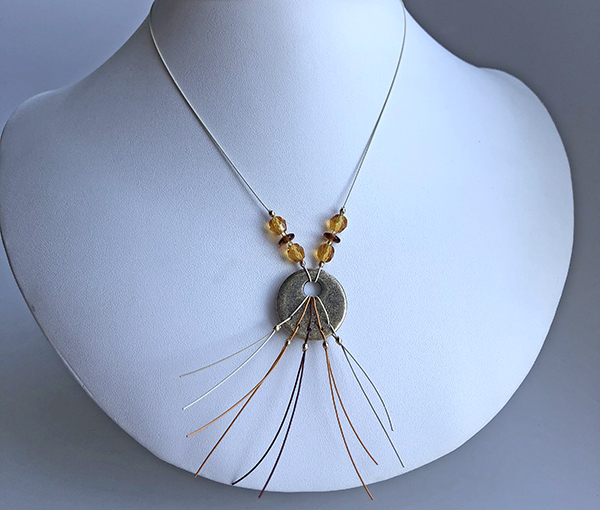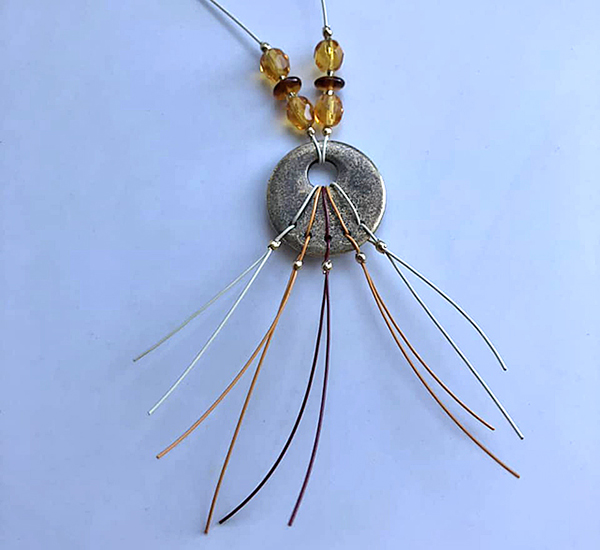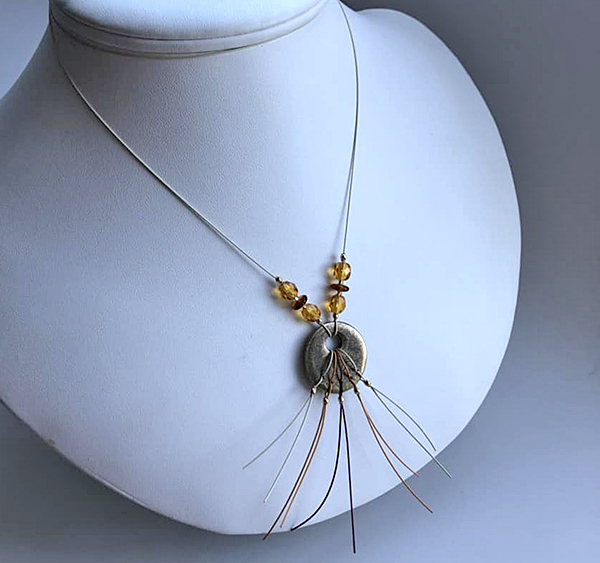 Sara creates a lovely pair of earrings with Vintaj metals and the deep blue beads in the kit.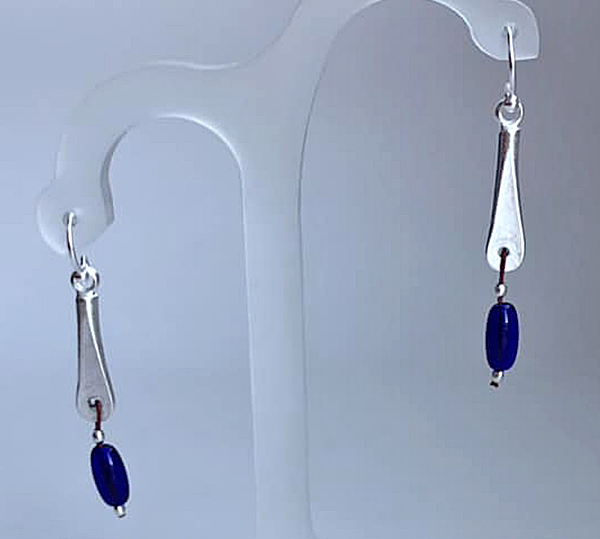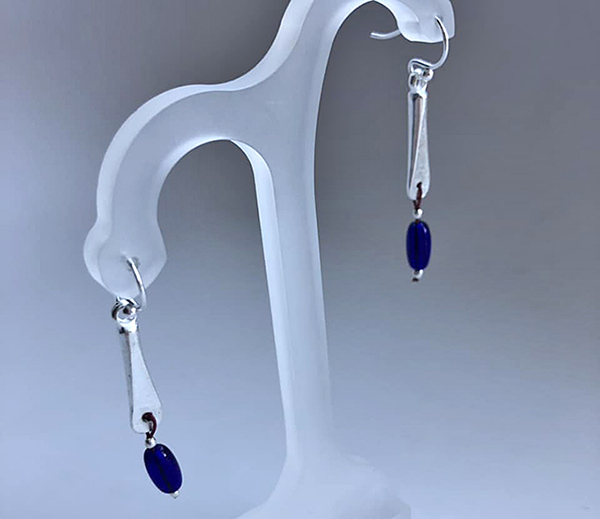 Sara designs a beautiful necklace with the gemstone focal bead. She uses a Vintaj clasp as a design element and an asymmetrical finish.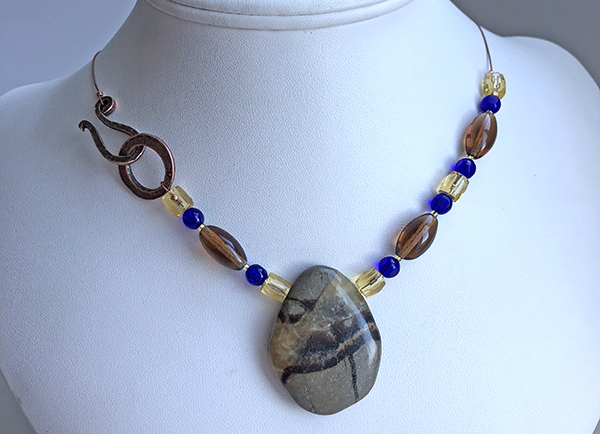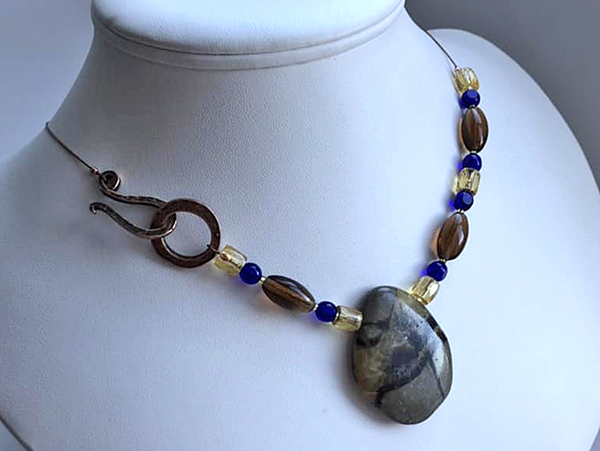 Sara uses the Jesse James Beads tassel in another stunning necklace.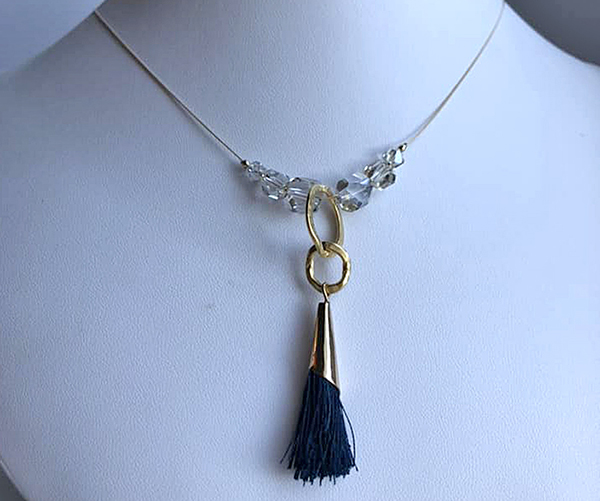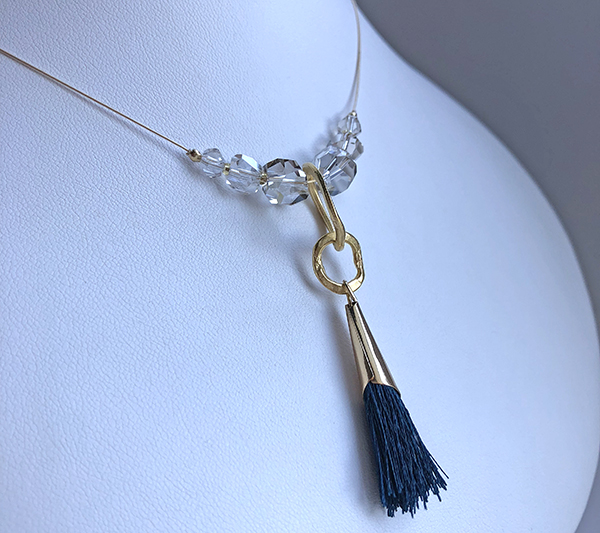 Don't forget to post designs you create from this kit to our Facebook group – VIB. This will be an entry into our next kit giveaway. To post an entry, you must use elements from the kit in your design. Every design you post with items from the kit is an entry – if you create and post earrings, that is one entry; if you post a necklace, that is another entry. The winner of this giveaway will receive a Saki Silver Innovations kit. The deadline for entries is November 13 th.
Be sure to catch Sara on PBS's Beads, Baubles, and Jewels. Check out YouTube for our video Series, Kristen's Free Spirit Beading and James' Conversations in Wire.
Enjoy the Harvest Moon unboxing:
Visit the Soft Flex Company YouTube Channel!
---
Blog contributor Thomas Soles is the Trade Show Coordinator for Soft Flex Company. His favorite stones are Lapis and Pietersite. His favorite hobby is day dreaming. And his favorite mustache is Tom Selleck's. As you can see, he has a healthy (or possibly unhealthy) sense of humor. You can write to him at Thomas@SoftFlexCompany.com