Forget the tough to keep New Year's resolutions. Go easy on yourself this year. Indulge in crafts and hobbies that make you feel alive and productive. If you love to make jewelry, we have some beading ideas for you. Why not try out a new technique or stringing medium? We have some videos and thoughts to share. These jewelry projects are all beginner friendly, if you have patience and follow along. We think you will love these jewelry making projects. Let's ring in a creative new year!

Don't settle for ordinary. Try something new this year. Explore new crafts, push your boundaries, and live outside your comfort zone. Sure, you will make mistakes. But if you try something new this year, you will be a better bead stringer and artist for it. If you have never worked with Craft Wire or stretchy cord, we want to show you some options. Try out a macrame bracelet with Soft Flex Beading Wire. Make a chainmail bracelet. Or just give your mask some adornments. Check out these videos. But more importantly, give some of these projects a shot. It might feel difficult at first, but imagine how amazing your handmade jewelry making skills will be after you try incorporating some new techniques. Let's better ourselves with jewelry!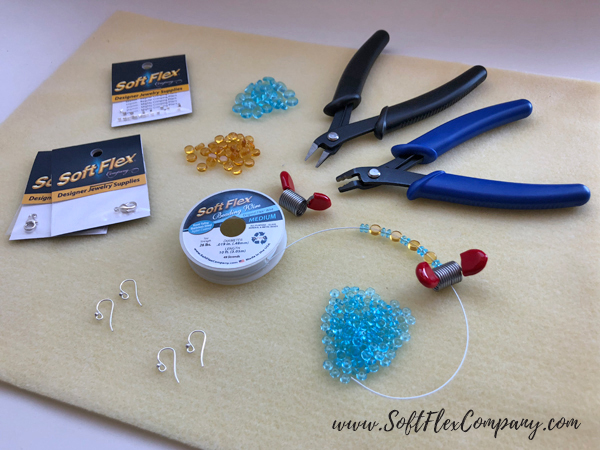 We have starter kits that are perfect for beginners. Our kits come with the tools, wire and findings you need to begin a hobby in beading. They are also great for designers that need to restock their beading supplies. Make a resolution to make jewelry this year. Learn a new technique or master a favorite.
Our Bead Stringing Starter Kit includes a Bead Mat, 2 red tip Bead Stoppers, Regular Crimping Pliers, Bead Nipper, 20 count package of 2x2mm Crimp Tubes, Ear Wires, Lobster Clasps, a 10ft spool of Soft Flex .019 Medium Beading Wire in your choice of color and a FREE package of Beads. (Bead colors vary and will be based on your wire color choice).
Our Craft Wire Starter Kit includes a Bead Mat, Bead Nipper, Nylon Jaw Pliers, Round Nose Pliers, Chain Nose Pliers, Lobster Clasps, a 10 yard spool of 22 Gauge Soft Flex Craft Wire in your choice of metal color and a FREE package of Beads. (Bead colors vary and will be based on your wire color choice).
Make A Resolution To Make Jewelry - We have 10 Beading Ideas For You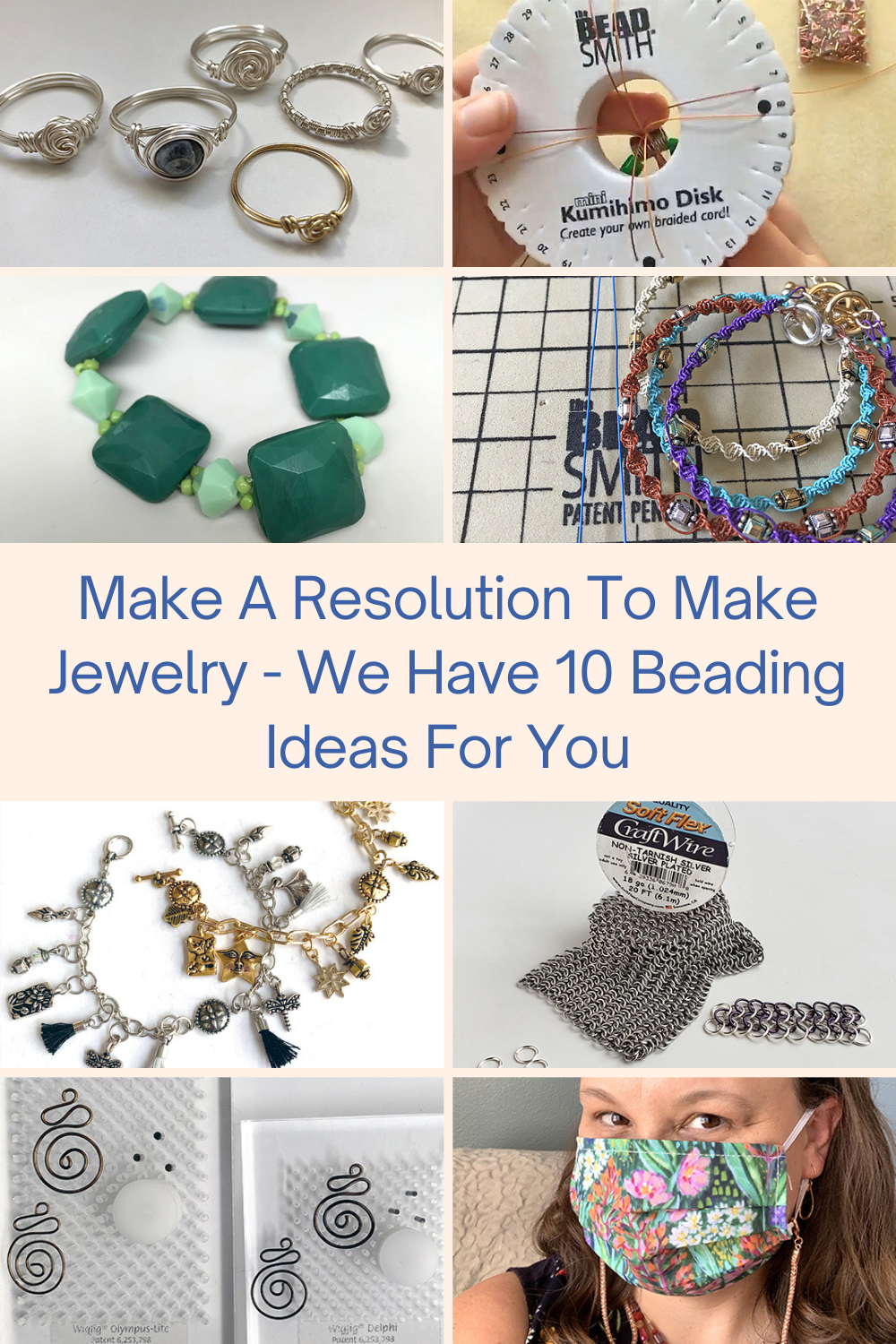 Learn How To Make Jewelry Using Craft Wire
Have you ever worked with Soft Flex Craft Wire? Craft Wire is not the same as our beading wire. Craft Wire retains a shape if you mold it or wrap it. Beading wire drapes like thread and does not hold. Having a firm wire gives you a lot of exciting options when it comes to making handmade jewelry. A wire that holds a form can be turned into an ornament, a ring, an earring, and more. Craft Wire is great for making homemade findings, like jump rings and ear wires. It is a great addition to your beading supplies.
Craft Wire jewelry seems like a daunting project to start. But don't worry, it is simple and forgiving if you take your time. Mistakes can be corrected if you go slow and pay attention to details. This ring is super easy to make and you can add your own flourishes and twists. James is a great teacher. Follow along and learn how to turn a simple wire into an amazing piece of art.
If you would like more information about Soft Flex Craft Wire, check out these - Craft Wire Links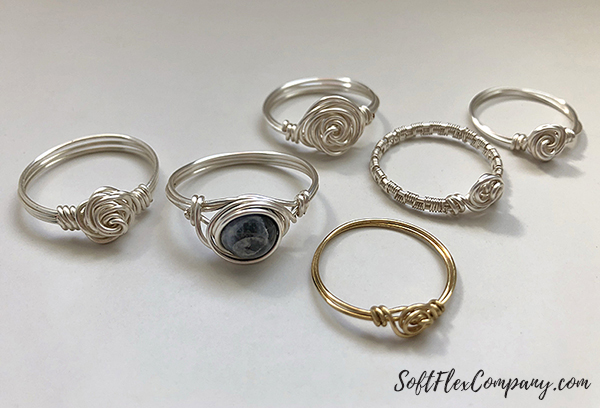 Mask Ideas - Mask Decorations Make The Best Of A Bad Situation
We are not here to discuss politics or vaccines. But we do think it is a great idea to make the best of the world we are currently living in. If you need to make a mask a part of your daily wardrobe, why not put the time into it that you put into your other accessories? Beautify your mask. We have mask lanyards ideas that are great for adding some color and life to your drab mask. A lanyard is also a great way to keep your mask on your person and off of a contaminated surface. If you are a person that forgets a mask, a lanyard is also a great way to remember that we still live in the age of COVID.
One good thing about a mask lanyard is that it can be handed down to your grandchildren. The pandemic is a horrible event, but, years down the road, your lanyard will represent a moment in time when such things were needed. Give your family a beautiful piece of your history. Far enough down the road, it is not inconceivable that such jewelry could end up in a museum. We also have ideas on how to make your lanyard interchangeable. Turn your lanyard into a beautiful necklace with a focal that can be added or removed. Stay healthy. Stay safe. And stay fashionable!
If you would like more information about how you can decorate your mask, check out these - Mask Decoration Links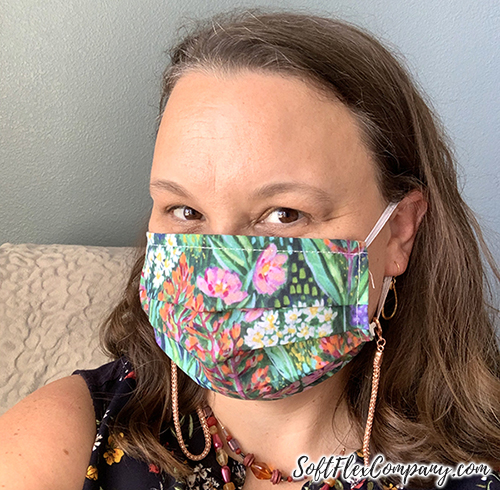 Learn How To Make And Finish Stretch Bracelets
We love Stretch Magic! Stretch Magic is so much fun to make jewelry with, it requires scissors to cut and little else. You can use Special T Glue for extra security, but a solid knot will suffice. Stretch Magic is a strong elastic-like cord. It is constructed of a mixture of polyester and polyurethane. Stretch Magic is solid and will not fray over time. Other stretchy cords can age and split into a frayed mess with fibers coming loose. Stretch Magic does not contain any latex, rayon, or elastic. It is a perfect beading string for all ages.
Stretch Magic is not as strong or durable as our beading wire. But it will be resilient enough to last for a long time. We do suggest you use our wire for precious stones and beads that you do not want to lose. But, it is a great option for easy and elegant jewelry. You will not need to add a clasp or findings. Simply expand the stretchy cord over your wrist and it is there to stay. Like any elastic or stretchy cord, it might stretch over time. But, we have had jewelry demos made with Stretch Magic that lasted for decades on the road. We took our jewelry with us to trade shows all across America. Our jewelry had people tugging and pulling on it for years with no visible wear and tear. You can feel confident that your Stretch Magic design will last!
Stretch Magic is also a great option for involving younger children in beading and jewelry making. Their mistakes won't cost you but a couple of cents. And they can always start over if they do not like their designs. Great for STEAM learning!
If you would like more information about Stretch Magic and elastic jewelry, check out these - Stretch Magic Links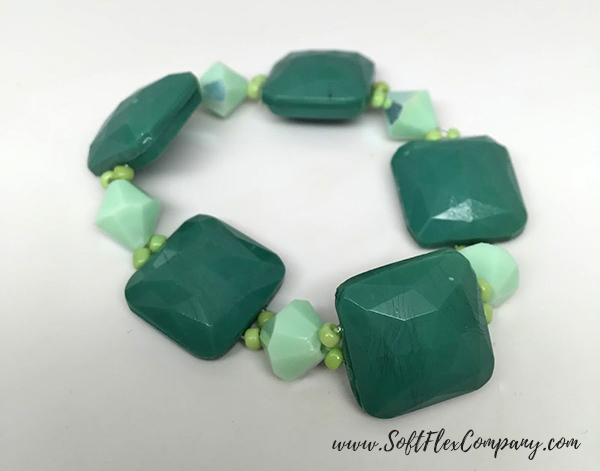 Learn How To Make Illusion Jewelry
Illusion necklaces are easy elegance! Illusion necklaces or floating necklaces are jewelry designs where the beads are crimped in place and large portions of the beading wire is visible. If you use a smaller wire or a wire that has a color that is neutral, the beads you string will appear to float in place. Soft Flex Beading Wire makes it easy to float your beads or go a step beyond and use a complementary color that enhances your beads. Show your colors! We think that you should use a colorful beading wire that brings out the brilliance of your beads, rather than worrying about concealing all of your wire under your beads.
But wait. Don't stop there. Get creative and braid the wire. Use a multi-tiered design that shows a single wire and a braided wire. We want you to consider every element of the jewelry you are designing. Live in the moment and consider how you can make that next necklace a masterpiece. Don't settle for a common piece of jewelry that will get lost in the drawer.
If you would like more information about illusion necklaces and bracelets, check out these - Illusion Jewelry Links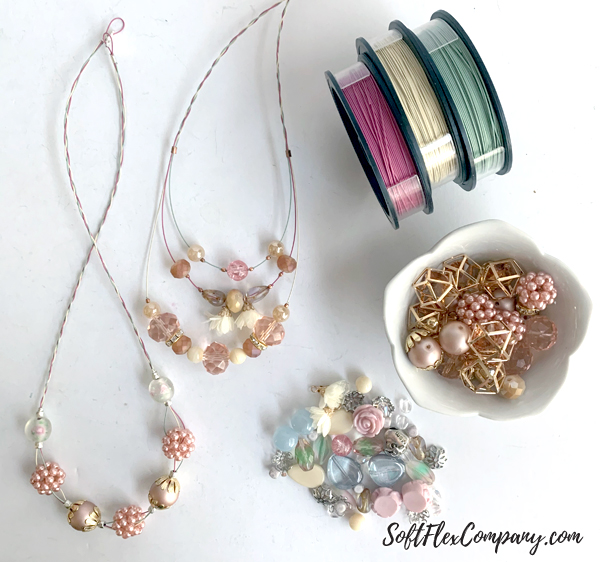 Learn How To Make A Macrame Bracelet
Macramé is an ancient art form that uses knotting to create jewelry, ornamental fringes, and textiles. Victorians used macramé to create decorations for the home, such as tablecloths. Sailors then adapted the art into decorative fringes on ladders, handmade hammocks, belts, and more. If you were around during the 1970s, you probably have very fond memories of macramé. The ancient art form skyrocketed into popular culture. Macramé found a spot on our walls as beaded owls. We made jewelry with cords and hemp. There were even macramé bikinis. It was a free spirited time for the craft!
Guess what? This fun craft of knotting is back! Now you can use a high quality beading wire to create stunning mini macramé designs. Check out our blog to learn how to make beaded macramé flowers, bracelets, and more. We have a ton of macramé ideas for you! Buy an optional Mini Macramé Board to make it easy to cradle your wire and knot. Or just do it by hand. Knotting is easy and Soft Flex Beading Wire is the perfect option for your macramé jewelry. Bring this ancient art into the future!
If you would like more information about how you can macrame beading wire, check out these - Macrame Links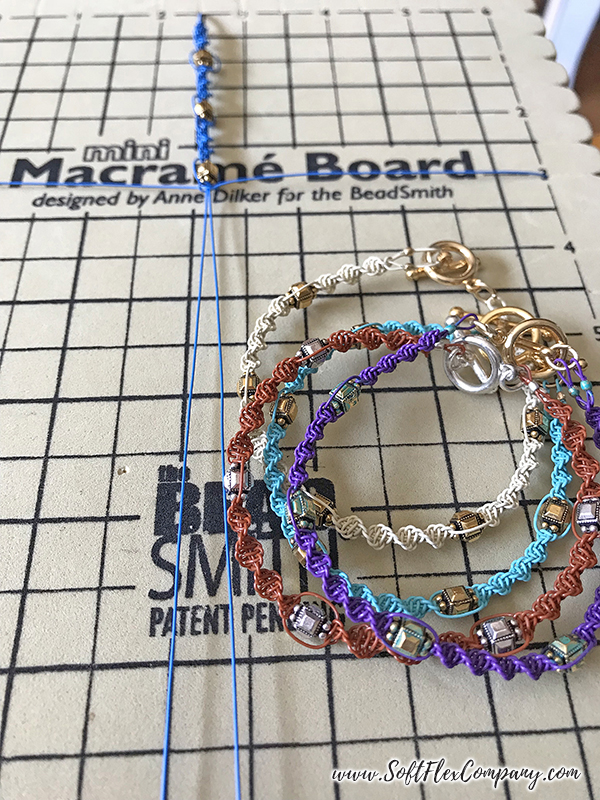 Learn How To Make Earrings Using A Jig Board
WigJig boards are a must have tool if you use Soft Flex Craft Wire. WigJigs have so many applications. You can use these jig boards to create interlocking chain designs. You can make earrings. You can make ear wires and jump rings that are consistently shaped if you use the same design on the board. WigJigs make it easy to make production quality jewelry by hand if you are a designer that designs a lot of similar pieces and want uniformity. If you are not a designer, the boards make it easy to create a pattern by placing the board over a design. WigJigs are great for ornaments and holiday decorations too!
Why WigJig jig boards? A cheap quality jig board is made of plastic that will wear over time and the holes in the boards will no longer tightly grip the pegs. This ends up in a messy design or an unusable board. Metal jig boards are fine, but you cannot use a pattern beneath a metal board. WigJig boards are created out of the same material that is used to make aircraft windows. This means that these jig boards are built to last. They have the same durability as the metal jigs with the bonus of being able to use a pattern.
If you would like more information about WigJig jig boards, check out these - WigJig Links
Learn How To Make A Beaded Kumihimo Bracelet
What is kumihimo? Kumihimo is a form of braiding. It means 'gathered threads' in Japanese. 'Kumi' comes from the Japanese word 'kumu', which is gathering or assembling. 'Himo' is cord or string. Kumihimo braids can be used to create decorative lace, cords, jewelry or clothing accessories. Historically, kumihimo braids have been used in Samurai armor and weaponry. The braids were used as a functional knit for their armor pieces. Decoratively, it adorned their horses armor and the handles of their swords.
Like macrame jewelry, Soft Flex Beading Wire is the perfect choice for an updated version of this ancient art. The beautiful spectrum of Soft Flex colors lends itself to stunning designs. Mix and match your colors and make braided designs with bare beading wires. You can also add beads as you braid. Beaded kumihimo looks amazing. Kumihimo is also incredibly easy to pick up. Following a simple pattern, the learning curve for a basic design is just minutes.
If you would like more information about Kumihimo Disks, check out these - Kumihimo Links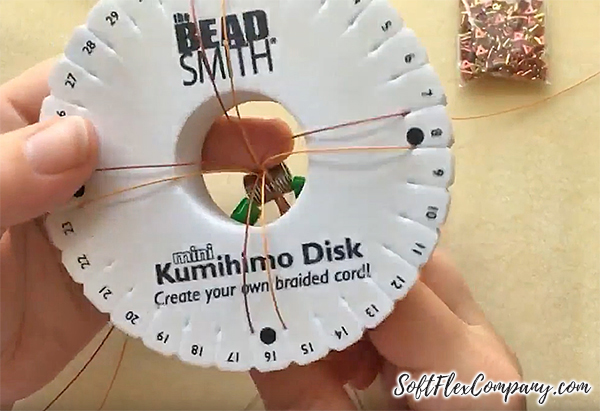 Make A DIY Dreamcatcher
Weave a wonderful web with Craft Wire. Craft Wire makes it easy to explore designs outside of jewelry. We have a ton of wire working projects on our site. Everything from the protective spider web of a dreamcatcher, to handmade lettering with wire, to a lovely tree of life design. We even successfully created a kumihimo design with Craft Wire. The applications are only limited by your creativity. Craft Wire is perfect for jewelry or holiday decorations. Give your loved ones a handmade gift for Valentine's Day.
Soft Flex Craft Wire is a pliable wire that is easy to work with when pulled from the spool. It can be turned into shapes or wire wrapped around stones. You can use it to make jump rings, clasps, interlocking chain pieces, and so much more. If you want to set a shape or firm the wire, you can simply strike it with a tool designed to work harden the wire. This will enable you to set a design so it retains the shape you like. This stunning jewelry design option is an invaluable addition to your beading supplies.
If you would like more information about wire working and wire wrapping, check out these - Wirework Links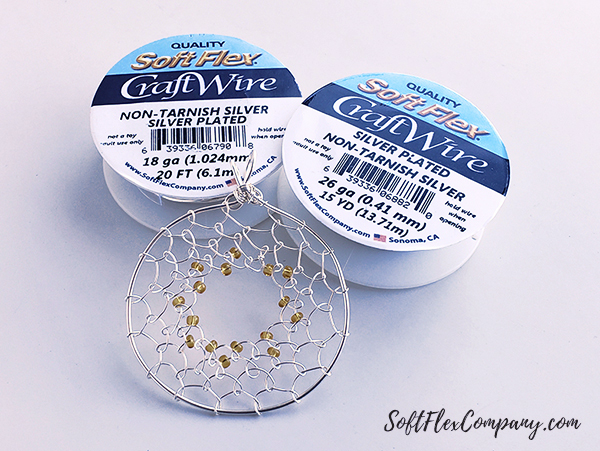 Make A Simple DIY Charm Bracelet With Chain
Charm bracelets are very much in fashion. Jewelry charms have been with us since our early ancestors first picked a treasured bone or shell from the ground. They have been trending throughout history. Iconic jewelry company Tiffany's made their name known with a charm bracelet. Charm jewelry is currently following popular culture, a movie or series tends to bring the fun back. If you know how to open and close a jump ring, you know how to attach a charm to your next design. Add a charm to an anklet or necklace. Give a friend a charm bracelet.
Charm bracelets are great for telling a story. Create a piece of jewelry with a motif or theme. Add a collection leaf charms to a bracelet with fall colors and a fall pendant. Give a friend a charm bracelet full of their favorite sports symbols - a cute football and helmet shows their spirit! Load up a charm necklace for a friend that is a veterinarian, make sure you include puppy and kitty cat charms! Have some fun creating something playful and perfect for a friend.
If you would like more information about charm bracelets and necklaces, check out these - Jewelry Charms Links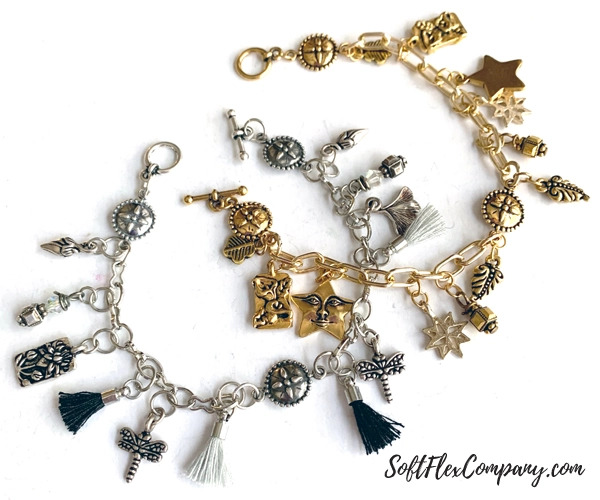 Learn How To Make Chainmail
James showed us how to make a European 4 in 1 weave pattern for chainmail. This pattern is iconic. This pattern is what we think of when we envision a knight suiting up in protective armor. Mail was used as decorative dress and defensive gear. A knife thrust or slung arrow can be deflected by the linked gate of mail. It looks amazing and you can create some stunning jewelry with the pattern. Chainmail is perfect for masculine or feminine designs.
If you want to vary things up, you can make stunning earrings with chainmail. You can add captured beads to your designs and make truly elegant jewelry. You can make totally homemade designs by making your own jump rings or you can buy colorful jump rings for extra pop.
If you would like more information about how to make chainmail, check out these - Chainmail Links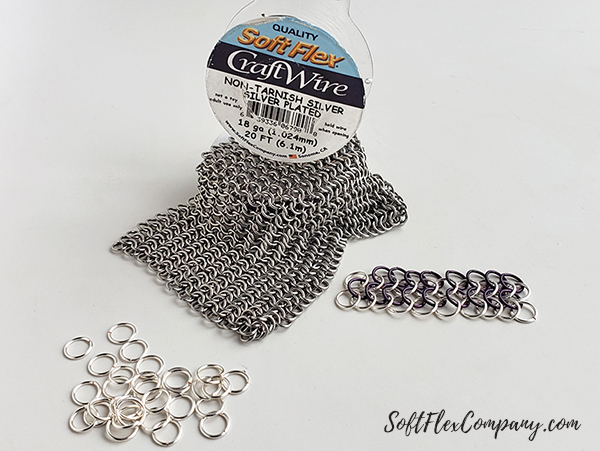 Join our Facebook group – VIB. Stay in the know. Stay up to date. From our bead shows to our video shows and sales, you can stay in touch with us. The community is full of artistic and helpful beaders and crafty people. Inspire and be inspired. Share your pictures and get the beading bug from others!
Visit the Soft Flex Company YouTube Channel!
---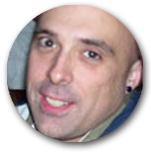 Blog contributor Thomas Soles loves Jazz Age writers and crunchy french fries. His favorite gemstones are Lapis and Pietersite. His favorite hobby is day dreaming. And his favorite mustache is Freddie Mercury's. As you can see, he has a healthy (or possibly unhealthy) sense of humor. You can write to him at Thomas@SoftFlexCompany.com