Make Bead Jewelry with 2020 Fall/Winter Pantone Color-Military Olive
This week on Free Spirit Beading with Kristen Fagan, let's created a mixed media jewelry design that incorporates bead stringing, crimping and wire wrapping for a variety of textures and interest. This tutorial used the Military Olive Pantone Bead Strand & Pantone Bead Mix exclusive to Soft Flex Company with Hammertone Ring Connectors, SilverSilk and Craft Wire.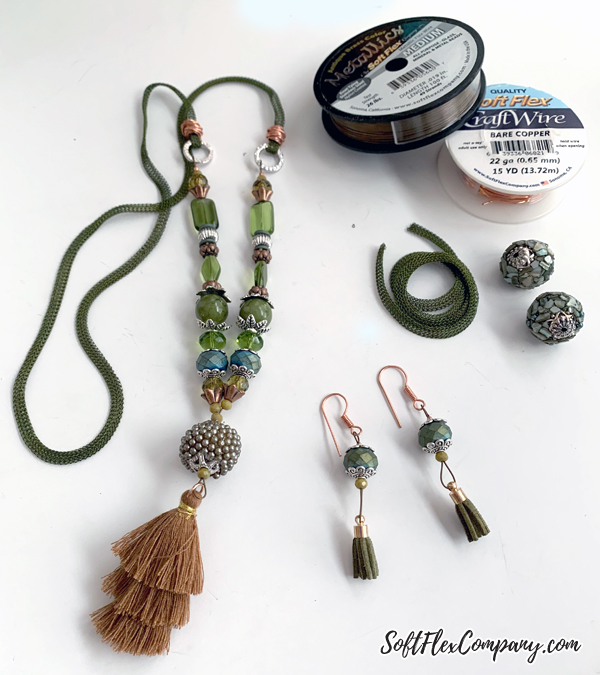 Supplies:
2020 Fall/Winter Pantone Quad of Beading Wire
2020 Fall/Winter Pantone Bead Mix
2020 Fall/Winter Pantone Military Olive Bead Strand
Soft Flex Craft Wire - Bare Copper, 22 Gauge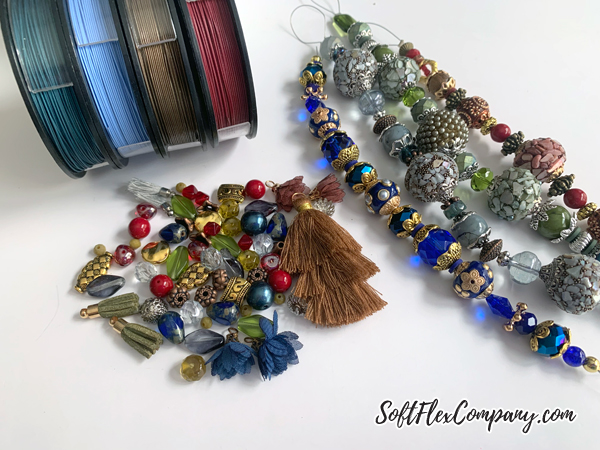 Explore the 2020 Fall/Winter Pantone Color Bead Mix, Bead Strands and Beading Wire collection and make some beaded jewelry! This selection of colors was built to complement the colorways of Pantone's seasonal selections: Military Olive, Blue Depths, Fired Brick, and Sleet. We color matched with these Soft Flex .019 Medium beading wire colors (using a little artistic liberty): Antique Brass (Military Olive), Dark Blue Lapis (Blue Depths), Garnet (Fired Brick), and Tanzanite (Sleet). We think you will love this color collection as much as we do.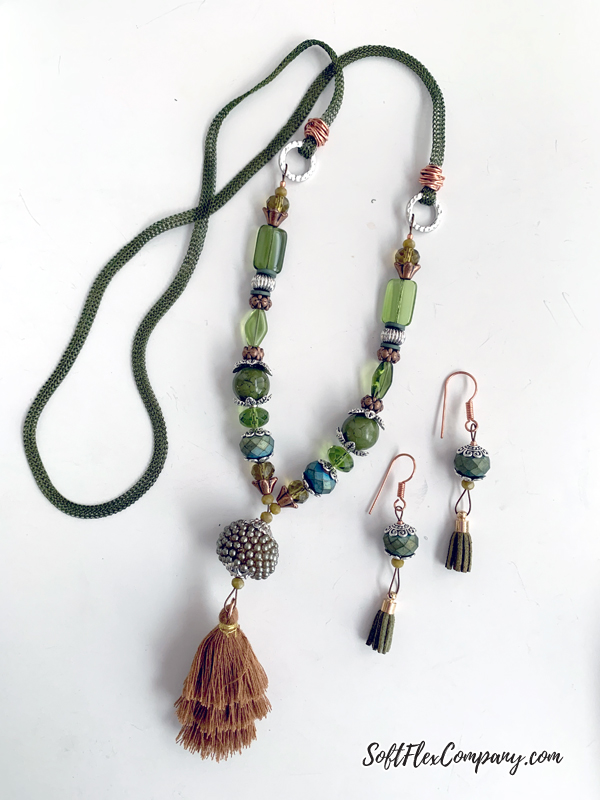 Pantone knows color! From their iconic Color of the Year to their elaborate color systems, Pantone is the authority on color. Pantone leads the way in graphic design, fashion, and beauty. Their color choices are part of the tapestry of our lives. This stunning bead mix and bead strands are color match from the 2020 Fall/ Winter Pantone palette. We color matched these delightful colors from Pantone: Fired Brick (Garnet), Sleet (Tanzanite), Blue Depths (Dark Blue Lapis), and Military Olive (Antique Brass). You can find a quad wire collection on our site that complements our Pantone Bead collections. This bead mix is ready for your most elegant fall and holiday jewelry design ideas.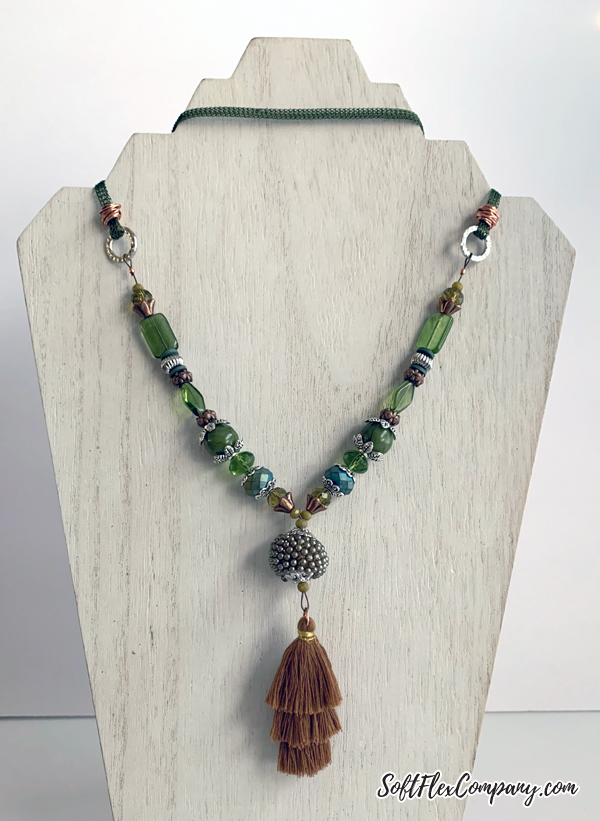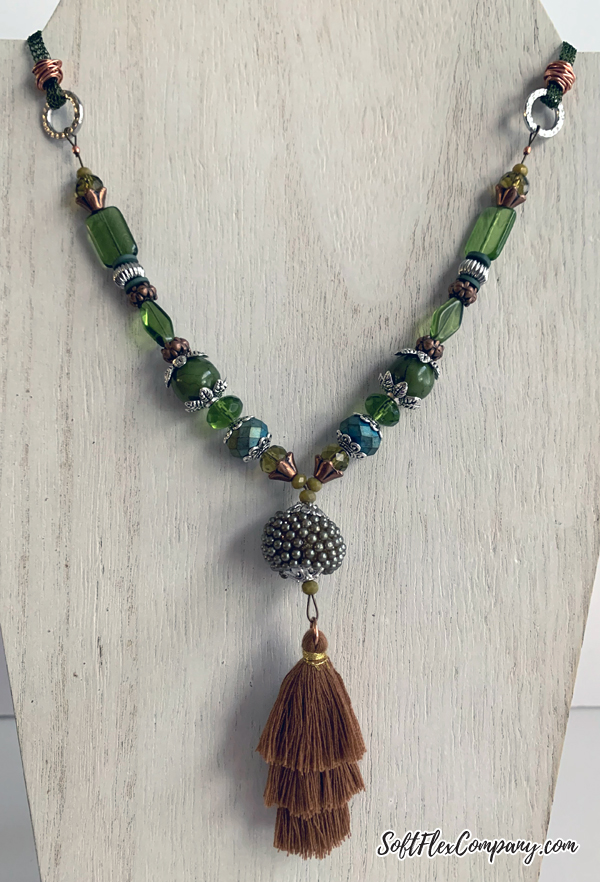 Join me live for jewelry making tutorials on Soft Flex Company's YouTube channel!
If you like this idea, you may like these other Pantone tutorials:
4 Earring Designs Using 2019 Fall Pantone Beading Wire Quad
4 Jewelry Ideas with Fall/Winter Pantone Colors & SilverSilk
Join the Fun in our Facebook Group Today! Stay in the know. Stay up to date. From our bead shows to our video shows and sales, you can stay in touch with us. The community is full of artistic and helpful beaders and crafty people. Inspire and be inspired. Share your pictures and get the beading bug from others! Visit the Soft Flex Company YouTube Channel!
---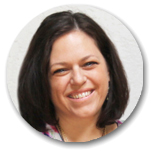 Kristen Fagan is a Website Graphic Designer and Jewelry Making Educator for Soft Flex® Company. She is the co-author of Seed Bead Revolution, an artist and creativity guide. She lives in Arizona with her husband, their two sons and two dogs. When she's not painting, drawing or beading, she enjoys reading, yoga, exploring the outdoors and traveling. Her favorite stones are Turquoise, and Quartz and she can't bead without Bead Stoppers. Contact her at Kristen@softflexcompany.com or visit her Website | Facebook | Instagram