We think Nealay Patel is a master of mixing different jewelry making media and turning his simple beading supplies into gallery quality masterworks. Today, we are looking at how creatively he couples his SilverSilk Knitted Wire Chains with Soft Flex Craft Wire. If you have never worked with Craft Wire and have shied away because you do not know how to wire wrap, this is going to be a real eye opener. Nealay uses Craft Wire in ways we never considered. You will be amazed at how versatile Craft Wire becomes in creative hands. Nealay turns our wire into fluffy clouds, messy wrapped cones, a pendant fit for a Siren Queen, and more. Learn how to use Craft Wire in ways that are simple enough for a beginner wire worker to grasp, but still achieve a professional finish. Let's explore SilverSilk and Craft Wire!
Today we are looking at seven of our favorite Craft Wire designs from Nealay. We narrowed that number down as far as we could. But, give Nealay a week or two and we might have another two or three favorite jewelry designs using Soft Flex Craft Wire and SilverSilk chain. Nealay is constantly astonishing us with his imagination. Just when you figure you have seen him hit a creative apex, he scales and leaps over it the very next week. If you have even a passing interest in learning how to wire wrap, this collection will show you how easy it is to start this new hobby and break the boundaries you have placed for yourself. Follow Nealay's lead as he shows you what Craft Wire and SilverSilk can do in a tandem design. Let's learn how to make jewelry!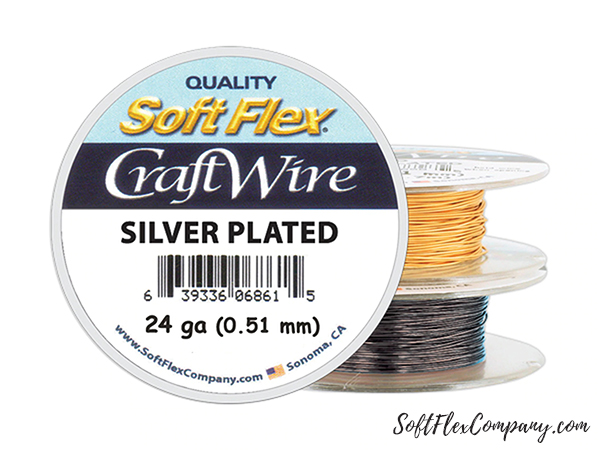 Soft Flex Craft Wire is a high quality, permanently colored copper wire. It is resistant to scratching, peeling and marring. This is due to the special enameling process used to coat the wire to produce the wide spectrum of colors we offer. After the enamel is applied, the wire is then clear coated to prevent tarnishing. Bare Copper is the only wire in the line that is not treated. If antiques and old findings are your medium, Bare Copper will patina - perfect for making that new project look like an heirloom.
Quality Soft Flex Craft Wire is 100% lead and nickel free. There are no other metals used in the wire production other than copper and fine silver. The temper of the wire is soft. It is firmer than similar wire products offered on the market, which are typically only available in dead soft and can't be tempered to half hard. We currently offer six of the most commonly used gauges in the jewelry industry and more are on the horizon. An exceptional design idea deserves a professional craft wire.
SilverSilk Knitted Wire Chains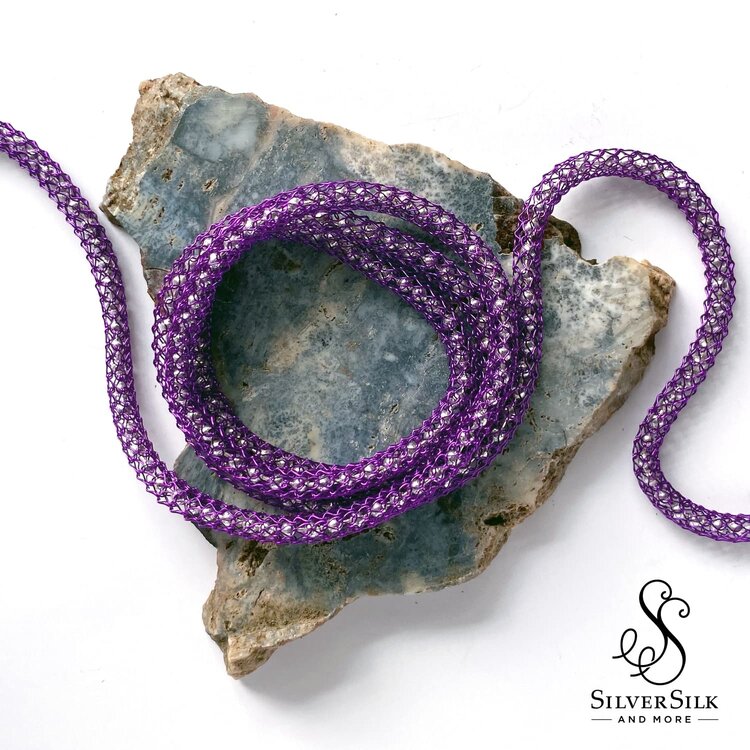 Elegant, strong and supple, SilverSilk is a jewelry ­­revolution. Knitted from wires of 99.9% pure enameled copper that are nearly as thin as a human hair, SilverSilk is lightweight, incredibly durable, can be cut without fraying and is supple to the touch. The unique elasticity of the knit lends a luxurious free-flowing feel to SilverSilk, while the permanently enameled non-tarnish copper ensures a long-lasting beautiful finish - joining the strength and beauty of metal with the intricacy of finely woven knit.

These machine-knitted chains remove tedious production time the designers have to spend learning and making their own chain, and instead allows them to solely focus on designing their jewelry. Simply put, I knit, you create.
Our Top 7 Favorite Jewelry Designs Using Soft Flex Craft Wire By Nealay Patel Of SilverSilk And More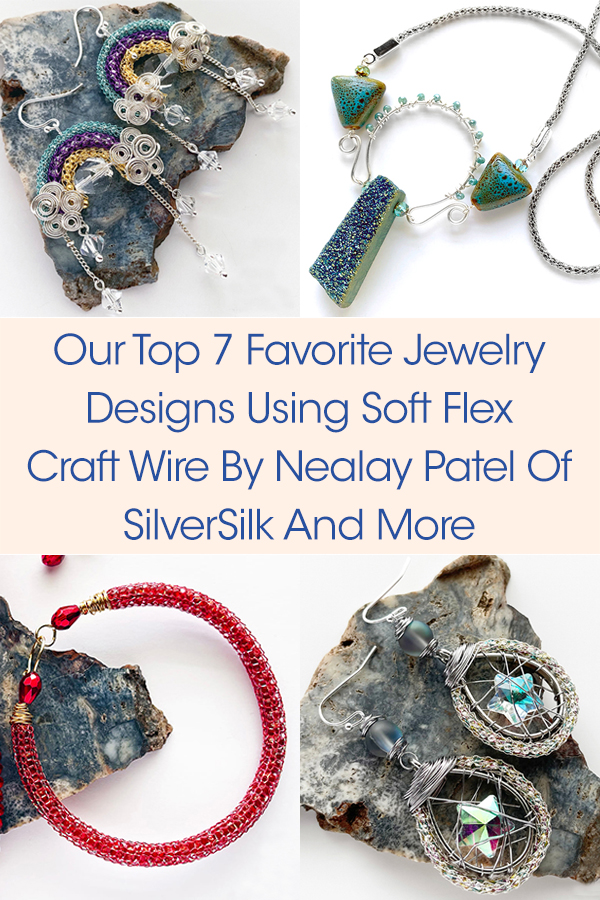 Meet Nealay Patel
I exercise my craft in designing, educating and publishing various jewelry works. My checklist of accomplishments includes writing three jewelry-making books, hosting workshops at many trade shows, making television appearances on Beads, Baubles and Jewels and Jewel School on Jewelry Television Network, maintaining brand, SilverSilk & More, and guest designing for Jesse James Beads. Aside from my dedication to the craft industry, I work full-time as an art director in my hometown, Tulsa, Oklahoma.
Rainbow Earrings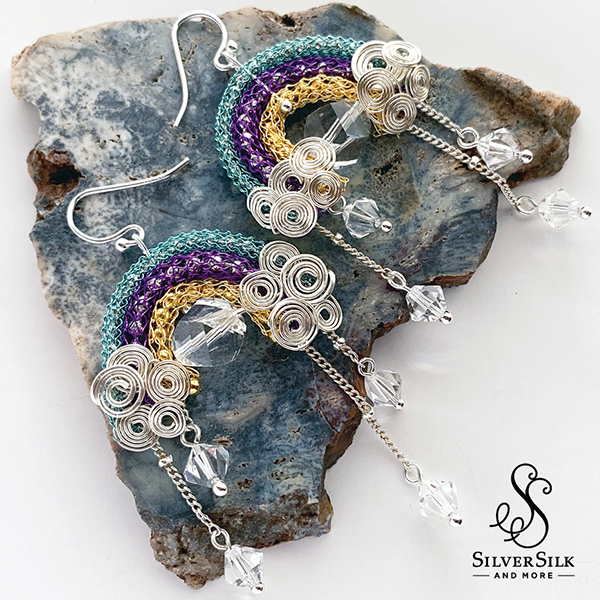 Click here to watch Nealay's Rainbow Earrings video.
2020 was one ugly year. So many troubles. So much stress and worry. Nealay was in a deep rut before making this wonderful design. He was feeling low and not itching to be creative. Rather than let depression get to him, he decided to beat the blues and make something unique and fun. Thankfully, he turned the frown upside down and made a brilliantly cheerful set of earrings. These happy little chandelier earrings are full of adorable details. The swirling clouds dancing across the bright rainbows look amazing. The drops of rain falling from the embrace of the colorful rainbow is so pretty and warming. If this set of earrings doesn't make you smile, nothing will! Click the link above to learn how to make these perky earrings with a simple to follow instructional video.
From Nealay:
When life has you feeling blue, add some more color until you get a rainbow! In this tutorial, I stack together SilverSilk chains and use 20- and 26-gauge wire to hold, coil and embellish my rainbow. Try it with different colors of Capture Chain or maybe you have scraps to play with! Either way, this project is sure to bring a smile to your face.
Hollow Mesh Wire Wrapped Earrings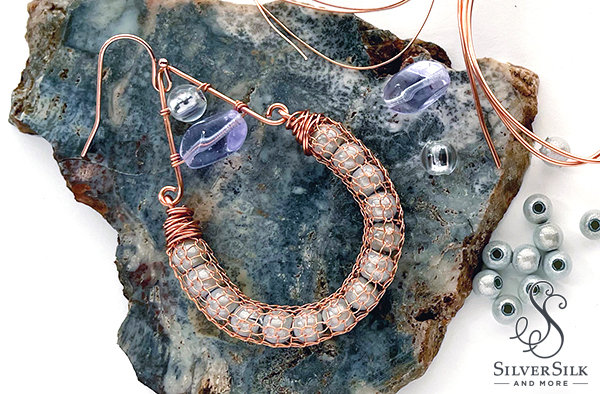 Click here to watch Nealay's Hollow Mesh Wire Wrapped Earrings video.
Nealay films a weekly jewelry making video series called Tuesday Tuts. Each Tuesday, he makes jewelry, live, in front of his friends and Facebook community. He took a break during the holiday season so he could refresh and gather his thoughts. After a brief hiatus, he returned with a new spirit and focus. Make sure you check out his series. If you watch him live, you can pick his brain about his jewelry designing. We adored these fun caged bead earrings. We are glad he is back on schedule and making amazing art!
From Nealay:
Let's make hollow mesh earrings with copper hollow mesh, 4mm miracle beads and...chopsticks??
Atlantis Siren Necklace
Click here to watch Nealay's video.
In this video, Nealay unboxed his Siren kit. This kit was part of his Atlantis mystery kit series. The Siren Kit was the smallest kit in his Atlantis series, but it was amazing. Inside this kit was an absolutely gorgeous druzy pendant. The perfect pendant for a queen of the underwater kingdom. Nealay turned this underwater theme into a stunning necklace.
From Nealay:
I've always been insecure about wire-wrapping but decided to try it anyway. Watch me open the last kit from the SilverSilk Atlantis Mystery Kit series and work with a Druzy pendant and 16-gauge wire to transform the items into a fun, architectural pendant. I'll be working with SilverSilk Capture Chain for the necklace rope to complete the design.
Rose Earrings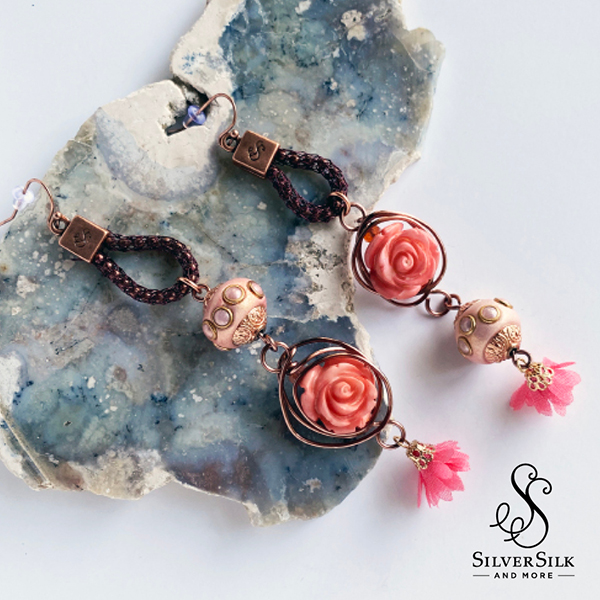 Click here to watch Nealay's Rose Earrings video.
In this video, Nealay shows us how to make a multi-strand necklace with his SilverSilk chain. He uses triple strand end caps to secure his design. He then shows us how to make earrings with Soft Flex Craft Wire to complement the necklace. The finished jewelry set is simple, but stunning. Nealay shows us how simplicity can look gorgeous.
From Nealay:
You honestly cannot go wrong with a combination of Jesse James Beads, Soft Flex Wire and SilverSilk. Here, I demo two very easy projects you can do at home with some SilverSilk and your beads. We'll work on some wire wrapping techniques and simple crimping to make a design in less than 30 minutes. You can also expect to hear lots of good news at SilverSilk in this video.
Hollow Mesh Bangles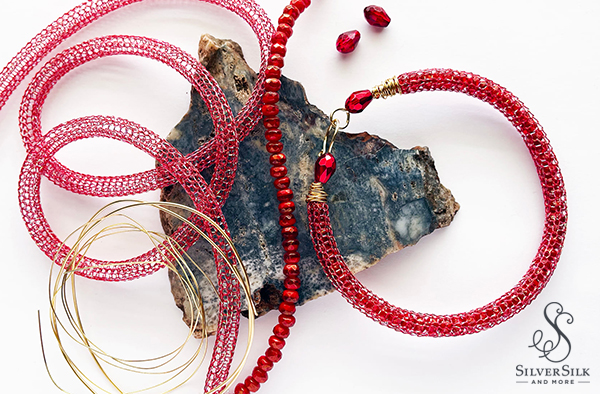 Click here to watch Nealay's Hollow Mesh Bangles video.
In this video, Nealay showed us how to make bracelets with his SilverSilk Hollow Mesh. Hollow Mesh is a hollow knitted mesh wire. This lovely jewelry medium is perfect for filling with your choice of beading elements. You can fill the mesh with larger beads for a lovely bangle that holds a shape. You can adorn the Hollow Mesh with Soft Flex Craft Wire and seed beads. You can fill the wire with leather, beading wire, or silk. The possibilities are endless!
From Nealay:
Learn the fast way on stuffing Hollow Mesh with 4mm donut beads to make colorful bangles. We'll cover some very basic wirework to make an attached closure too.
Seed Bead Earrings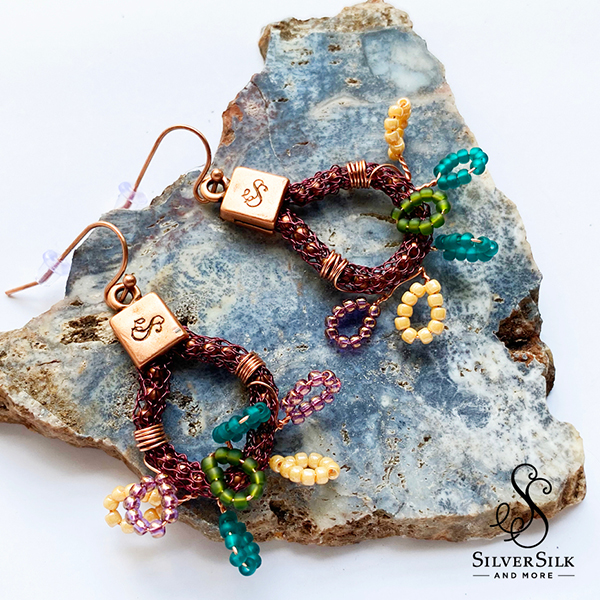 Click here to watch Nealay's Seed Bead Earrings video.
We love Nealay's creative jewelry kit themes. In this video, he unboxed his Sahara Sandsea Mystery Kit. This kit was an exotic look at the ancient desert. Every grain of sand in the desert hides a story. Nealay showed us how to make earrings using Soft Flex Craft Wire and SilverSilk Capture Chain. This set of earrings is captivating, but incredibly quick and easy to make. This is a great chance to learn how to make earrings that look complicated but are, in fact, so simple and easy a beginner can learn how to finish them after a simple lesson from this great teacher.
From Nealay:
I love using seed beads when the technique is easy and quick. Here, I show you how to make seed bead petals that are fast and simple to make and adds ton of embellishment to your design in minutes.
Northern Lights Earrings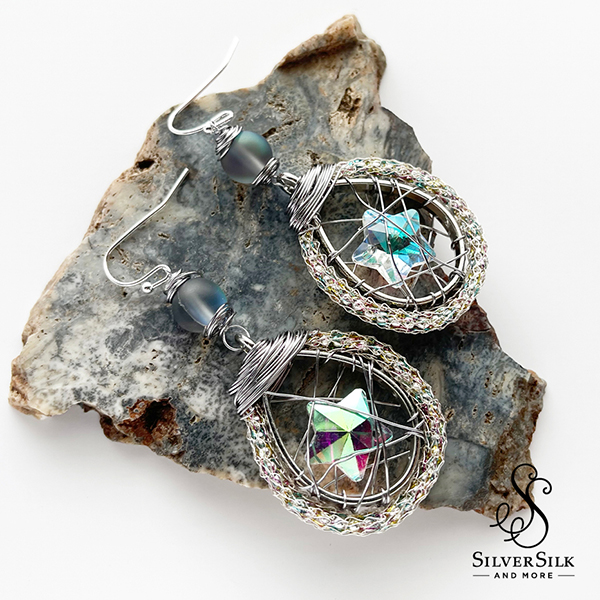 Click here to watch Nealay's Northern Lights Earrings video.
If you love the shimmering and serpentine rainbow of colors that dances in the sky during aurora borealis, you are going to adore this colorful splash of mystical tones. The Northern Lights Mystery Kit is Nealay's latest themed kit. The magical earrings that he made astounded us. Soft Flex jewelry designer, Sara Oehler, could not stop gushing over this stunning pair or earrings. Check this video out if you love the slithering majesty of northern lights in the cold winter sky.
From Nealay:
Let's wrap the latest SilverSilk & More mystery kit and learn what we can make with the beads and chain from me, Nealay Patel. I'll walk you through all the fun contents and show you some ideas on what to do with it to get you motivated and inspired to create. You're invited to join in and chat with me, of course!
10 Best Episodes Of SilverSilk And More

Check out this playlist we gathered. It is ten of our favorite videos from SilverSilk. Just click on the video and it will play out. As we said above, every list we create for Nealay is usually shattered a week or three down the road. Nealay is a whirlwind of creative energy and exploration. Follow his Facebook page and join his SilverSilk Silkies group. He will never cease to amaze you with his thought provoking jewelry.
Be sure to mark your calendars for every Tuesday, 5:30pm CST and hop over to facebook.com/groups/silversilk to watch Nealay's videos live and ask questions.
Nealay's channel is dedicated to learning how to make high quality jewelry with SilverSilk with an emphasis on design. You can follow his journey here:
www.instagram.com/silversilkandmore
www.facebook.com/silversilkandmore
Or join his Silkies group and be a part of the conversation www.facebook.com/groups/silversilk
Join our Facebook group – VIB. Stay in the know. Stay up to date. From our bead shows to our video shows and sales, you can stay in touch with us. The community is full of artistic and helpful beaders and crafty people. Inspire and be inspired. Share your pictures and get the beading bug from others!
Visit the Soft Flex Company YouTube Channel!
---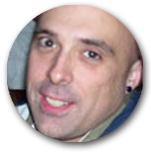 Blog contributor Thomas Soles loves Jazz Age writers and crunchy french fries. His favorite gemstones are Lapis and Pietersite. His favorite hobby is day dreaming. And his favorite mustache is Freddie Mercury's. As you can see, he has a healthy (or possibly unhealthy) sense of humor. You can write to him at Thomas@SoftFlexCompany.com