Do you love jewelry? Do you love saving money? You need to make your own handcrafted jewelry. Experience the joy of crafting. Make one-of-a-kind necklaces and bracelets. Stringing beads allows you to create the designs you want, your imagination is the only limit. Stringing your own DIY necklaces is a great way to save big money. Forget the gallery mark-ups of finished jewelry. Forget wearing a name. Go easy on your pocketbook and wear affordable jewelry. We want to let you know about two great ways to save big money when you shop with us. Check out this blog and learn about our Closeouts and Outlet Shop. Fill your beading supplies without breaking the bank!

We offer lots of sales - weekly, holiday, flash, and more. We also offer two easy ways to save money all year 'round. Our Closeout category is full of items that are on clearance. Our Outlet Store is full of items with slight flaws. Our Outlet items are not up to the high standards we demand for our inventory, but the flaws are often microscopic - a tiny fleck on a wire, a spool that is slightly short - save big money on items that just did not make the highest scrutiny but are perfect in just about every other way. We will look at these money saving options and we will look at jewelry projects made with our Closeout and Outlet items. Let's make jewelry!
Save Money With Affordable Jewelry Making Supplies
Our shelves are full of high quality jewelry making supplies. We want you to make affordable jewelry, not cheap jewelry. We want to offer ways to stock and fill your beading kit without unraveling your pocketbook. Make sure you visit our Closeout and Outlet Store. We think you will find something that speaks to you - at a price you like. Both categories are full of unique beading supplies at a discount.
Shop Closeout Sales And Save On Clearance Items

If you avoid Closeouts, trust us, you are missing out. Our Closeout category has a spectrum of great items at great prices. These products are discounted and on clearance. We are innovators and we love to offer new and exciting products. Items in Closeout are placed there after great consideration. We want to be able to bring new goodies to our shelves but we need to trim some of our stock. Clearance items offer you the chance to buy professional beading supplies at a big discount. And they offer us a chance to keep our inventory at a manageable level. If you find something you want, make sure you grab it quick. Once a product sells out here, it will be gone for good.
Look at all of the amazing things you can find in Closeout. We have beading wire, tools, books, findings, and so much more. We have full beading kits in our Closeout. Beading kits are a single purchase but have everything you need to make a bunch of jewelry - you just need basic tools (crimping pliers and cutters). Closeouts offer huge savings. Restock your tools here!
Shop Curated Colors And Save On Closeout Beading Wire

Do you want to load up on discounted beading wire? We have curated colors that will save you money. We love all of our colors. But we want to be forward thinkers and plan for the future. We offer color wire options at a big savings. We are phasing these colors out. Lots of hard decisions here. We adore all of our beading wire colors. But we want to think about adding new colors. We are putting some colors on clearance. Each month, we will post a new curated color up. We will offer this wire color at a discount and pair it with beads that complement that wire. Our free spirited beader, Kristen, hand selects beads to pair with the Curated Colors. Kristen is a graphic designer, artist, and jewelry maker. She has a great eye for color. Shop her choices and save money!
Shop Our Outlet Store And Save Money On Slightly Imperfect Products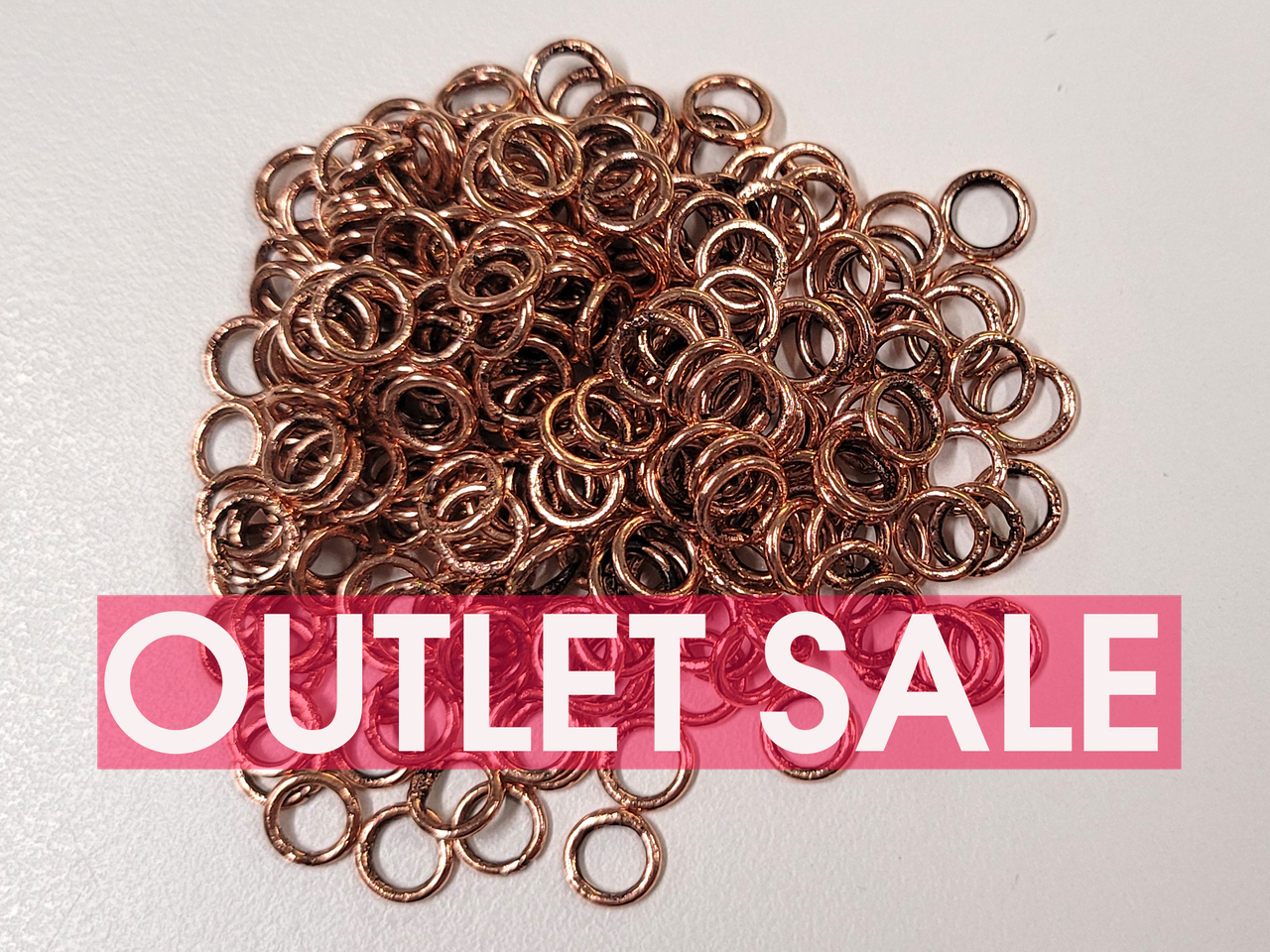 Sometimes we find ourselves with products that just do not meet the high quality standards we have. We scrutinize all of our inventory. If we find a flaw - even if it is tiny - we are not going to put that item in our regular inventory. We recently decided to offer an Outlet Shop so we could pass on some savings. Everything in this category is exceptional. But, Outlet items are reduced in price due to tiny flaws in color, length, size, diameter, etc. Unless you are really looking, you might not even notice the flaw we caught.
Our Outlet Shop is a great place to find jump rings. These findings are so fun. Make sure you check out the videos below. You can use these wonderful components for their normal uses - lengthening a necklace, connecting charms and clasps. You can also get creative. Kristen had an abundance of jump rings on hand and decided to use them as spacers. So fun!
Our Extreme 925 Sterling Silver wire is a silver plated beading wire. Our Outlet inventory is a great way to stock up on some of this elegant wire. This particular batch was just slightly off. We thought the finish was slightly duller than our normal inventory. The finish is brilliant but not the bright sheen we expect from our Extreme brand. If you love silver, you will love this wire!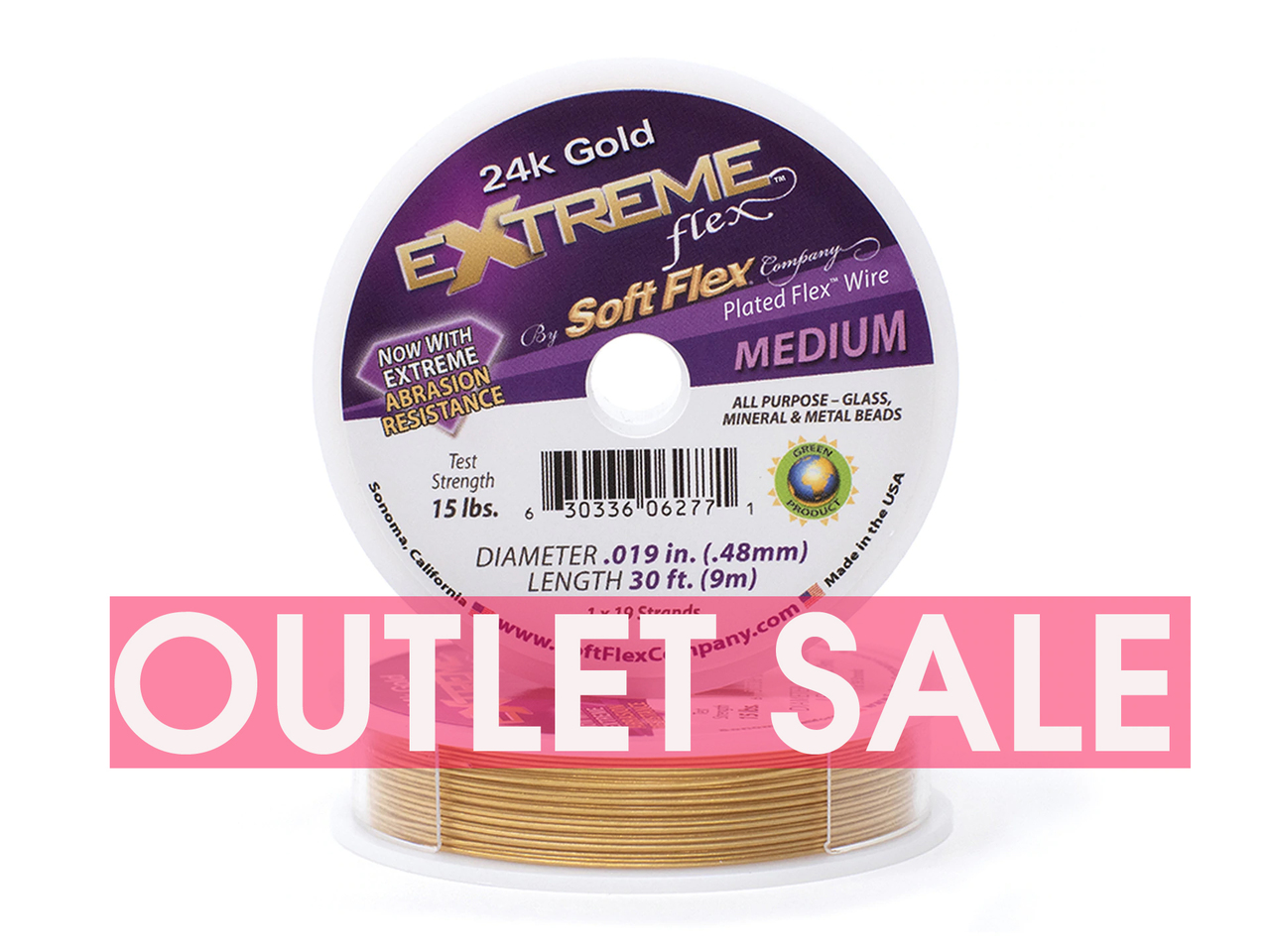 Save on 24k gold plated wire! This batch has small flecks in the nylon coating. They are infrequent and you might not even see any in the spool you buy. But we felt this did not pass our inspection. The flaws occurred during the nylon coating process, fluctuating heat resulted in the spots. The wire is still in excellent condition and is as strong as the regular wire. This is a great way to save on a sophisticated wire!
It's Spring Cleaning Week at Soft Flex Company - Learn About Closeouts, Our Outlet Shop, And Learn How To Make Earrings
Sara wanted to show off our latest sale and all of the new products on our shelves. When she filmed this video, we had added a bunch of new Outlet items and moved some of our older products to Closeout. Kristen hand selected a bunch of beads for our Curated Color - Chrysoprase. So many fun beading supplies at discount prices! Sara also made her first pair of earrings since coming back to work. You can also catch the necklace she made to complement this gleeful pair of spring earrings, check out our Instagram Reels.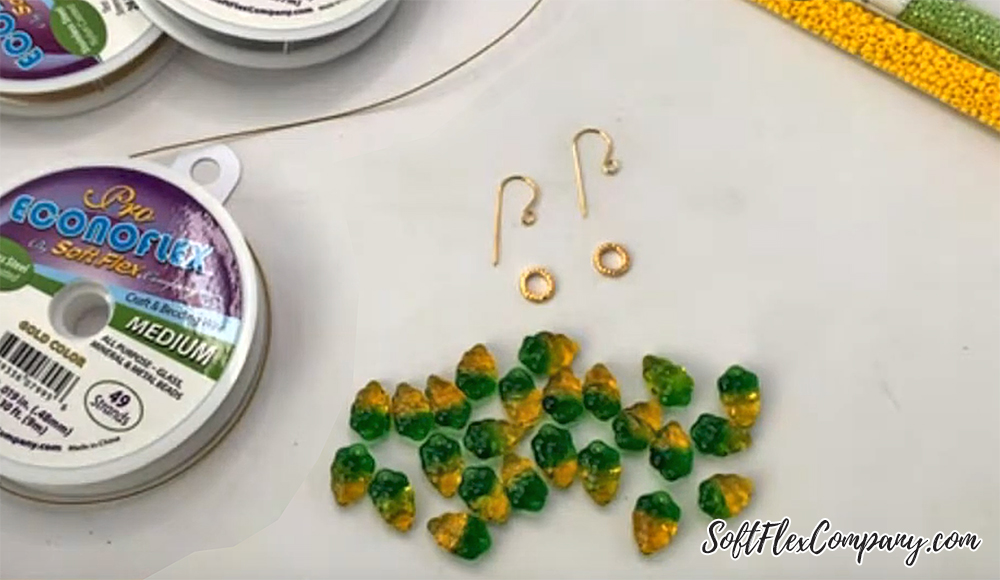 Our Outlet products as sold as-is and we do not accept returns on them. There is a limited supply on this inventory as it is comprised of products that did not pass our stringent inspections. Everything in our Outlet section is perfectly usable and high quality. But we felt there was a flaw that warranted us pulling it from our regular inventory. We have wire on our Outlet that looks almost exactly like our regular store of wire - but we saw a flaw, like a freckle or two or the color was not as bright. Outlet items are a fantastic way to save money on high end inventory that is ever so slightly faulty.
Check out our Outlet and Closeout sections for fantastic bargains!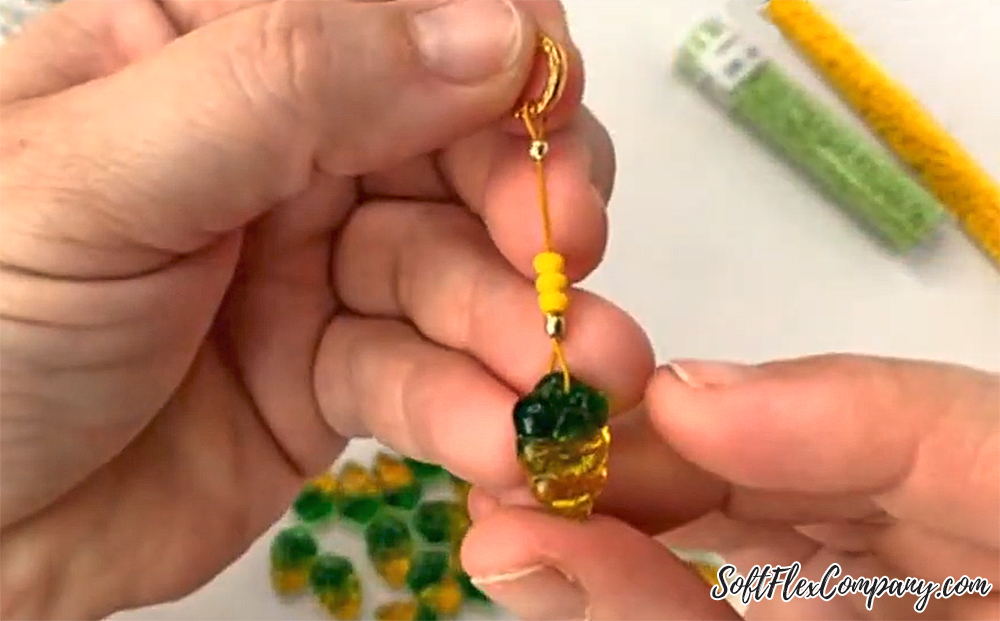 Pro Econoflex Hobby Beading Wire Medium, .019in in Gold Color
Closeout Czech Glass Beads
2x2mm Crimp Tubes
Magical Crimping Pliers
Ear Wires
Cutters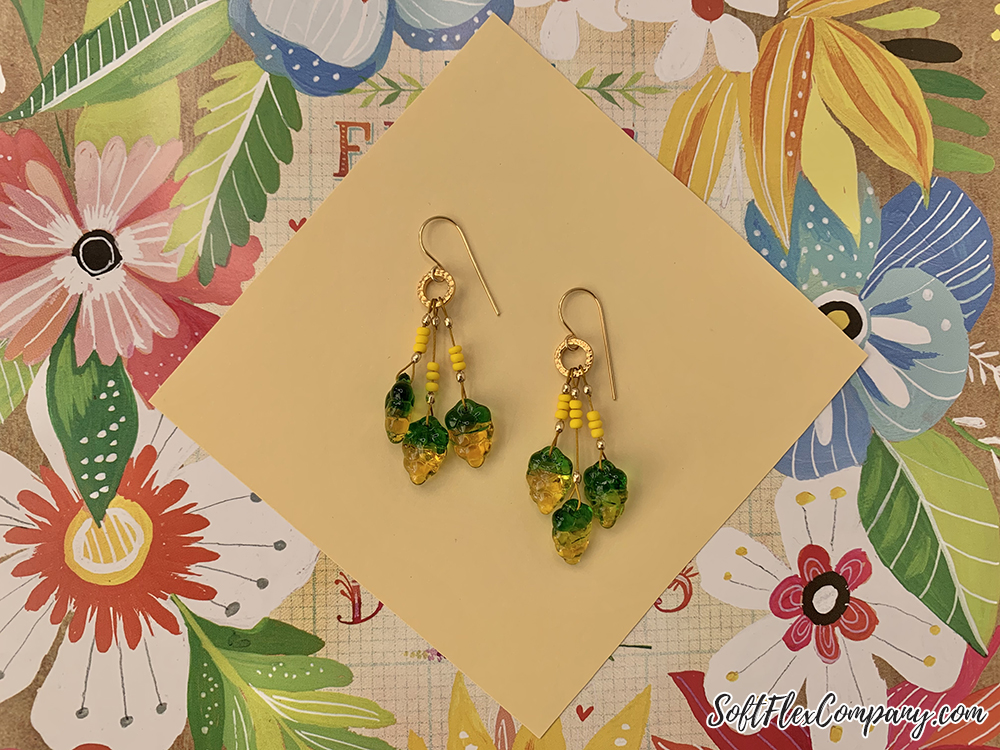 3 Easy Gemstone Bracelets Using Closeout And Outlet Findings And Beads
This was a fun episode of Free Spirit Beading, we learned how to make some incredible bracelets. Kristen showed you how you can turn simple beading supplies into artisan jewelry designs. For these stunning pieces, she used beads she bought from our Live Sales. Live Sales are a great way to save some money. She also used jump rings from our Outlet Store. Our Outlet items are products that did not hold up to the scrutiny we place on items that make it to our shelves. There might be a color flaw or a size discrepancy in our Outlet items, but they are always slight and the item is perfectly usable. Our Outlet Store is a fantastic way to save on findings and other supplies! You could also visit our Closeout section and find some deep discounts on products like the Crystal Squaredelles Kristen used. You do not need to be a millionaire to make jewelry that is priceless!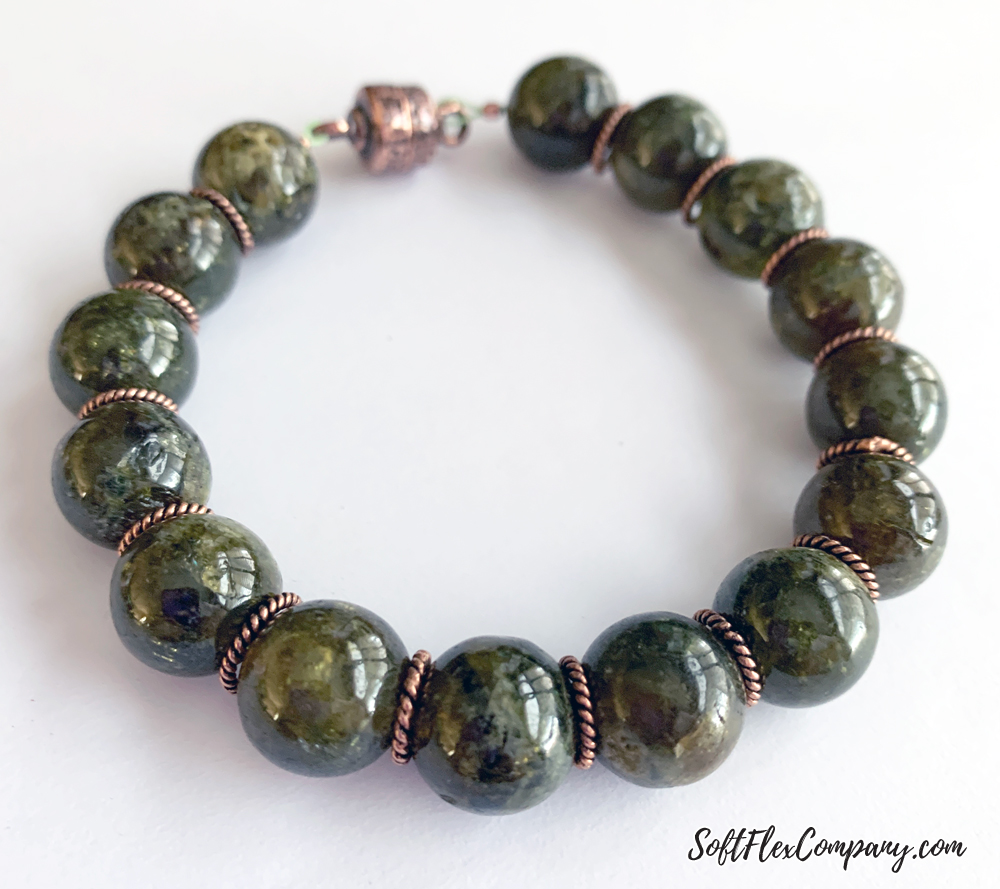 Kristen's videos are always a learning experience. If you are hung up on perfectionism, watching her is a great way to accept your errors and keep on creating. She makes mistakes, like the rest of us, but she never lets one dictate her progress. Most of the time, she tries to incorporate her errors into the final designs. She is a free spirit beader! In this video, she accidentally attached her toggle bar wrong. Thankfully, she caught her slip up and course corrected without having to restring her design. Learn from Kristen. Make a silly slip once in awhile! We can all learn from Bob Ross' words, "We don't make mistakes -- we just have happy accidents."
Join Kristen live for a jewelry making tutorial on Soft Flex Company's YouTube channel on Mondays.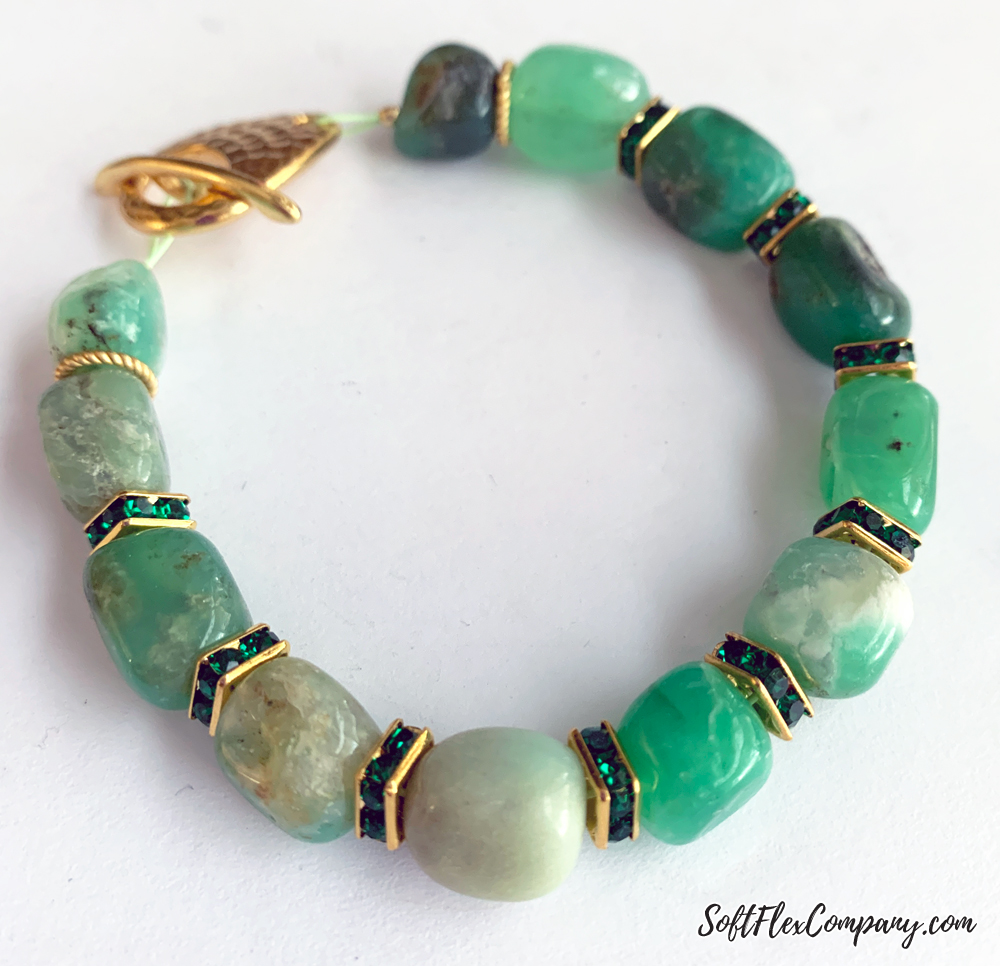 Soft Flex Medium .019 Beading Wire
Extreme Flex 925 Sterling Silver Medium .019 Beading Wire
Round Beads
Nugget Beads
Rondelle Beads
Textured Jump Rings
Crystal Squaredelles
Clasps
2x2mm Crimp Tubes
Crimping Pliers
Cutters
Bead Stoppers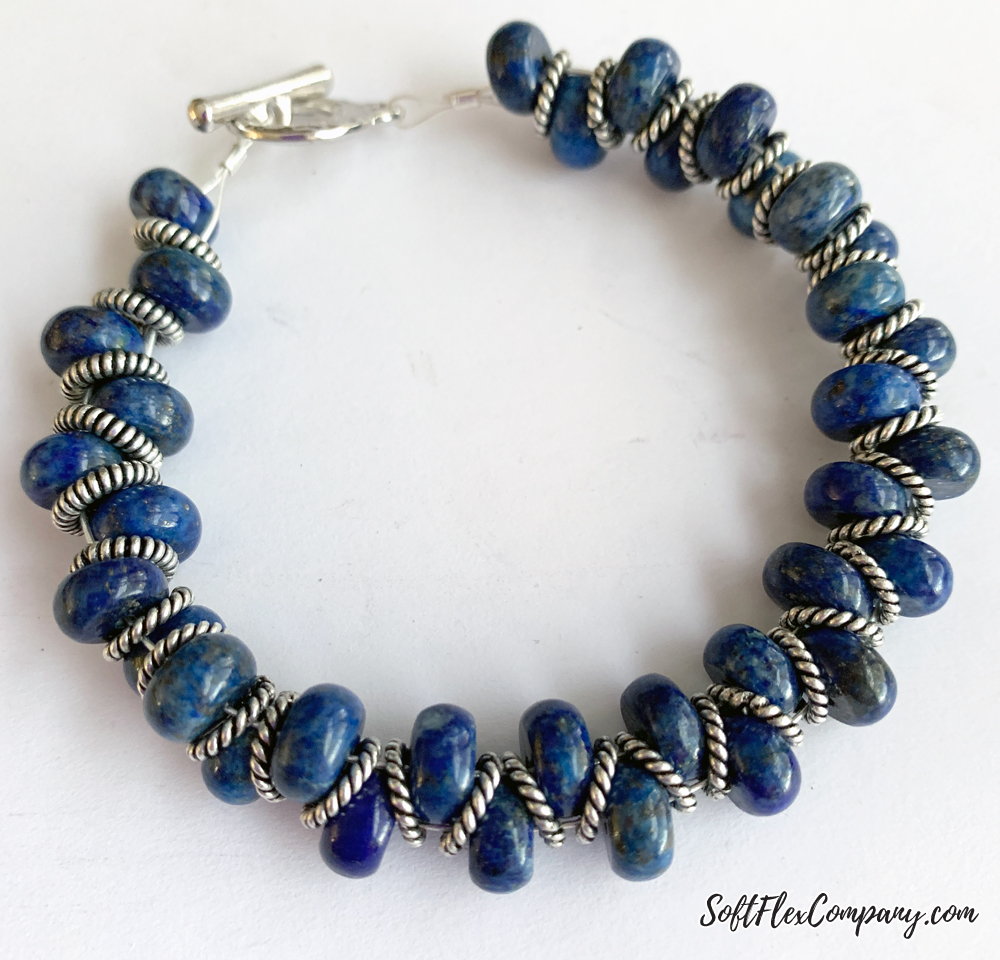 How To Make A ZigZag Bead Bracelet With Outlet Shop Jump Rings
Kristen has always loved jump rings and she has always found creative ways to use them. Most of us just think of jump rings as connectors or use them to add length to a jewelry design. Some of us use them to make wonderful chainmaille jewelry. Kristen sees them as a whole new jewelry component. In a previous episode of Free Spirit Beading, she used a bunch of jump rings, strung together, as spacer beads. This time, she used the jump rings to guide her beads in a unique and fun pattern.
Quick tip for bead sizing: Download our Bead Sizes Chart!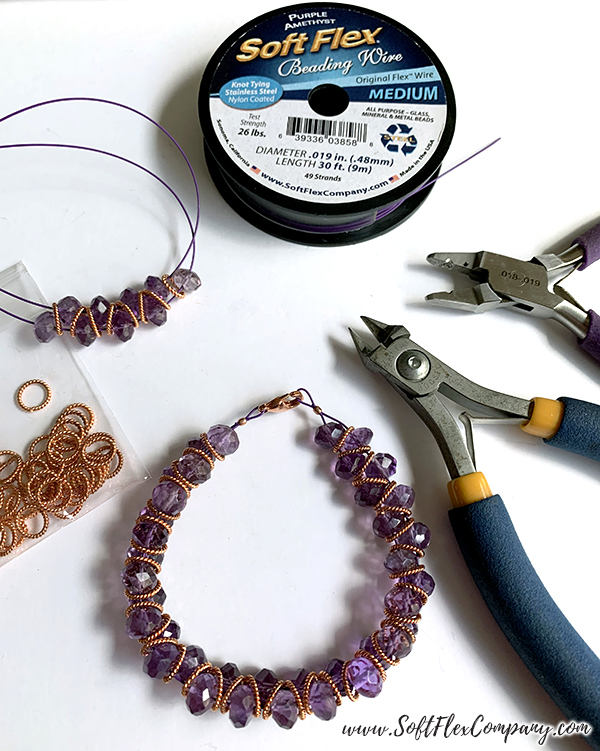 From Kristen:
This zigzag bead bracelet is a simple design, quick to do and overall has a big impact! The design is elevated with gorgeous amethyst gemstone beads and textured copper jump rings.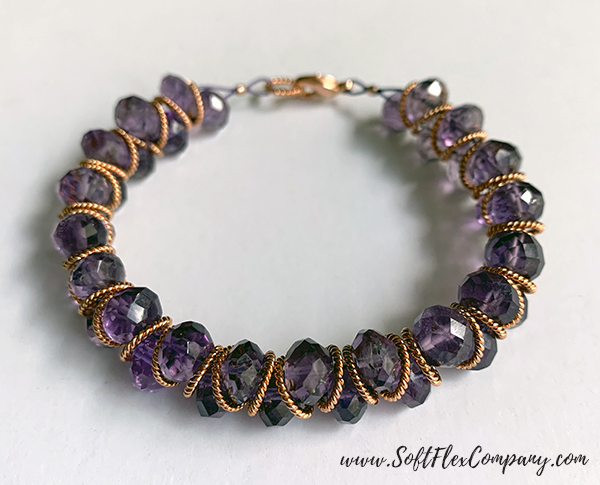 Soft Flex Medium Beading Wire in Purple Amethyst
8mm Amethyst Rondelle Beads
8mm Textured Copper Jump Rings
2x2mm Crimp Tubes
Lobster Claw Clasps
Magical Crimping Pliers
Soft Flex Pro Flush Cutter

Alternate Design 1:
Soft Flex Medium Beading Wire in Garnet
8mm Pink Round Beads
8mm Textured Silver Tone Jump Rings

Alternate Design 2:
Soft Flex Medium Beading Wire in Copper
Shades of Coral Bead Mix
8mm Textured Gold Tone Jump Rings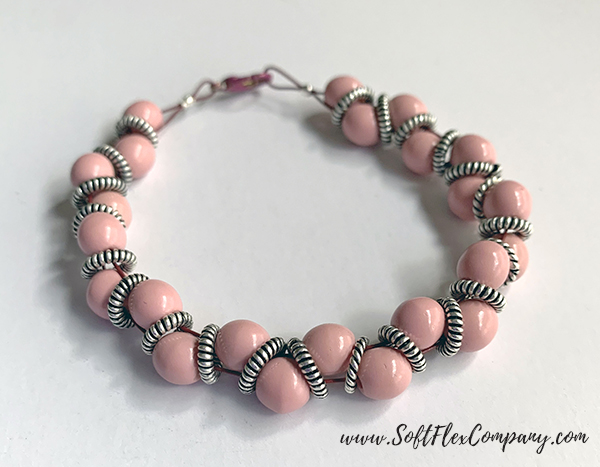 These bracelets are just sumptuous. The way the jump rings guide and accent the beads is just fantastic. It would be very easy to use this technique for some masculine designs as well. Don't forget to use a Soft Flex Beading Wire color that will complement your beads and jump rings. This design will allow for some exposed wire.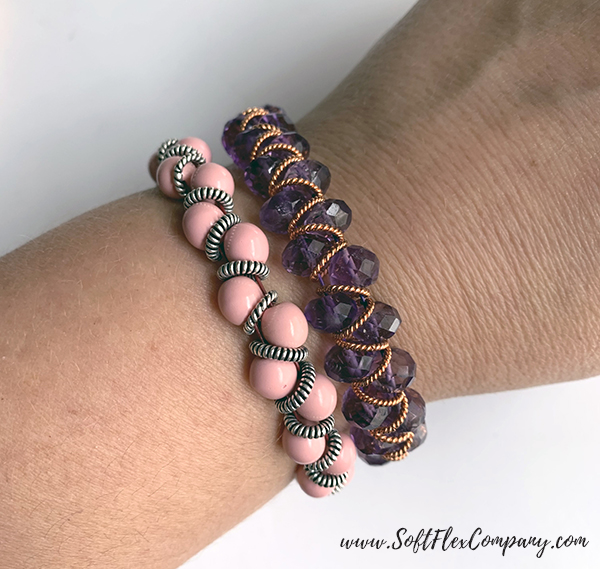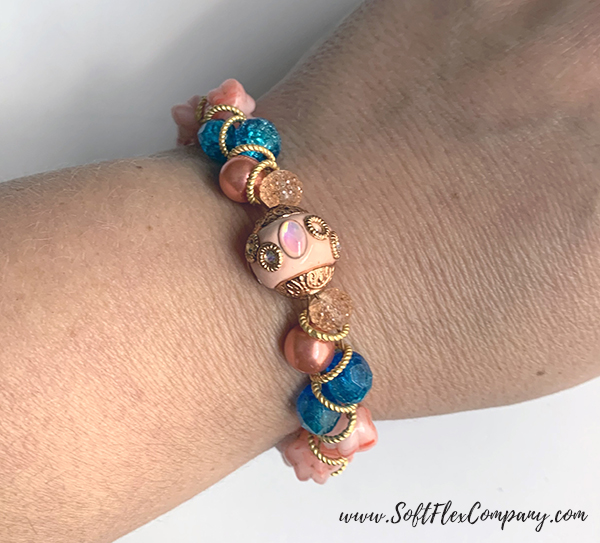 Join our Facebook group – VIB. Stay in the know. Stay up to date. From our bead shows to our video shows and sales, you can stay in touch with us. The community is full of artistic and helpful beaders and crafty people. Inspire and be inspired. Share your pictures and get the beading bug from others!
Visit the Soft Flex Company YouTube Channel!
---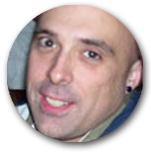 Blog contributor Thomas Soles loves Jazz Age writers and crunchy french fries. His favorite gemstones are Lapis and Pietersite. His favorite hobby is day dreaming. And his favorite mustache is Freddie Mercury's. As you can see, he has a healthy (or possibly unhealthy) sense of humor. You can write to him at Thomas@SoftFlexCompany.com