Do you want to learn how to start a small business? Do you want home business ideas? Are you a small business owner that loves to get tips and small business ideas from other successful small business owners? Today we have a crash course in all things small business. Learn how to create your brand. Learn how to price your inventory and profit! Learn how to package your products so they make a solid first impression. Be daring! Toot your own horn and create a presence. Dominate your social media, learn about social networking and social media management. We have a ton of videos and information for you. This is a boot camp for small business owners. If you are just watching from the sidelines, but want to learn more about the jewelry making industry, you are going to want to check this blog out, too! Support small business and learn how to run your own business!
We need to support small business. Big box stores lack some very critical things that only a small business can provide. You are unlikely to find an employee at a random Walmart that could tell you about Kumihimo Disks or how to crimp securely and finish your design like a professional. Your local Target is not going to befriend you and regard you like a regular every time you come in. Big stores may be convenient, but you need to support the little guys if you want to have options and a place where personalized attention is the order of the day. Small businesses offer specialized inventory and knowledgeable employees. People working for a small business tend to be avid supporters of the inventory they carry. And they have knowledge that surpasses what a jack of all trades employee at a department store could convey. If you become a regular at a small business, you may find that you are treated above and beyond what other establishments can offer. You might have an owner that loves your jewelry and offers to make special orders specifically for you. Support small business. Little guys need love to flourish and if you only shop from the giants, you will see less and less small business risk the venture.
Join The Great Bead Extravaganza Facebook group. TGBE has a wealth of small business information from seasoned pros. Learn how small businesses grew and thrived during COVID. Learn how some business owners made the difficult decision to close their brick and mortar stores and open a storefront on the internet. Learn how to make your voice heard on social media. Learn how to price your inventory so you are recognizing its worth. Intrinsic value goes deeper than a simple calculation. Learn how to create a memorable brand that people want to associate with - create a customer persona! This is your chance to get the advice of small business owners that have weathered storms and conquered!
Small Business Ideas: Learn How To Start A Business And Thrive In The Jewelry Making Industry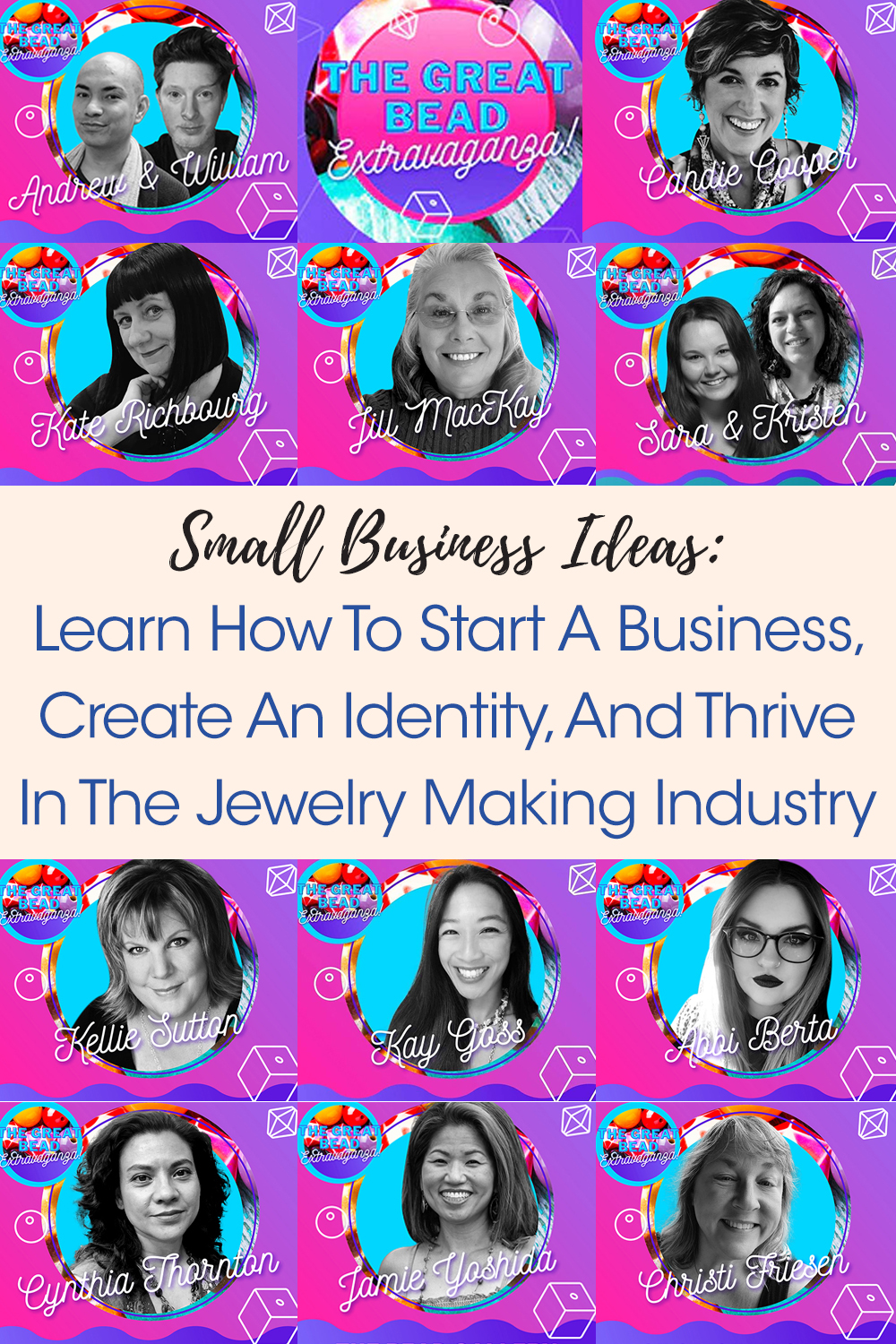 The Great Bead Extravaganza - Small Business Week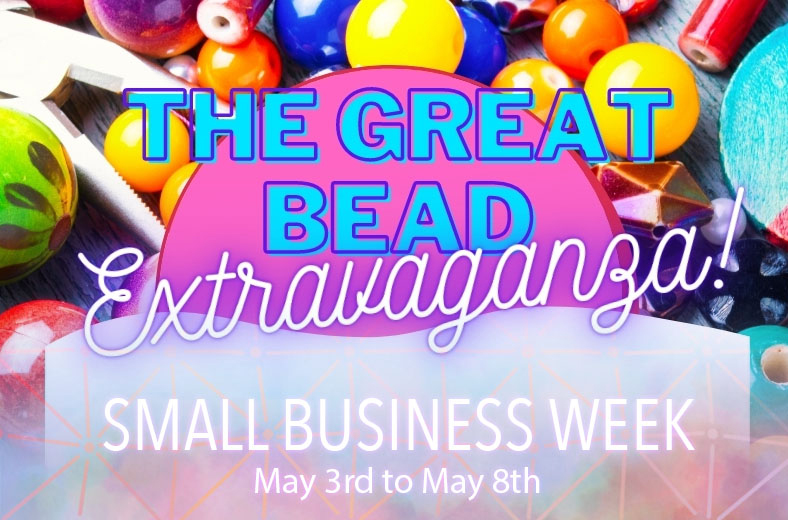 We celebrated Small Business Week at The Great Bead Extravaganza Facebook group. The Great Bead Extravaganza group is a collective of 15 different small businesses. For a week, we got expert advice from small business owners. If you missed these wonderful video presentations, now is your chance to catch up. You are sure to learn something new. These business owners have weathered turbulent times and have come out on top. Learn small business secrets from the best and brightest in the jewelry making industry!
If you have trouble seeing any of the videos, try watching on the Facebook pages of each of the presenters or visit the Facebook group - The Great Bead Extravaganza - and watch the presentations there.
Allegory Gallery, Andrew Thornton & William Jones - AllegoryGallery.com
Social Media Bootcamp for Small Business
Hello everyone, this social media boot camp is intended for those just getting started on their small business adventures. Learn the ins and outs of social media marketing. These are some tips and tricks that we've learned over the years, and some of the same tips we give to those we consult with. We hope that you enjoy!
Andrew talks about Creating a Customer Persona!
Creating a Customer Persona. Get to know your customers and their personal preference. Learn how to bond with your customer base through purchasing preferences, email and contact preferences and more. Go above and beyond and establish a relationship that is mutually beneficial.
Candie Cooper, Candie Cooper - CandieCooper.com
Packaging and Presentation: Tips and Tricks for Your Small Business!
Packaging tips and tricks for business and being the bright spot! Your packaging speaks volumes about your product. The love and creativity you put into packaging creates a powerful impression. Make unboxing your products as fun as purchasing them. Show your customer base how much you value your own work. Be original and put your heart into your packaging.
Kate Richbourg Jewelry, Kate Richbourg - katerichbourgjewelry.com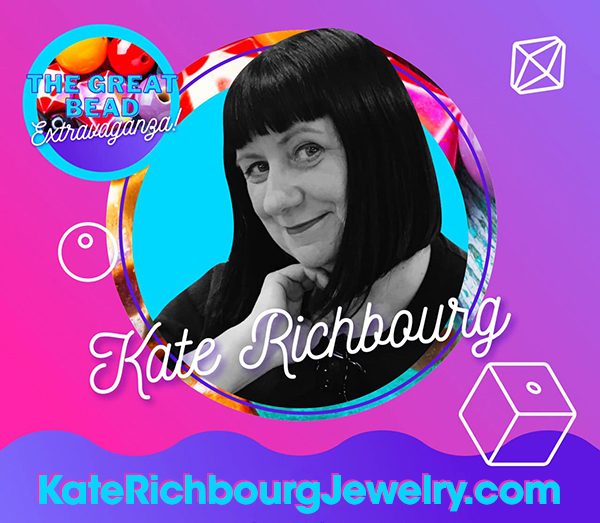 TGBE Small Business Week: 60-Minute Business Workout with Kate Richbourg
In this one-hour presentation, Kate shares her perspective and advice for new business owners on how to find your authentic voice to build your brand, engage your customers and grow your business. You are going to want to take notes on this powerful small business presentation. Kate is sharing information that she has learned since she started this career path in 1992. Stand on the shoulders of giants and learn how to engage your customers, create a brand identity, and more!
JillMacKay.com, Jill MacKay - JillMacKay.com
Think Big and Believe In Yourself!
What do you want from yourself and why? You need to know yourself and what is important to you to be successful in any venture. Set achievable goals. Define what success means to you. Manage your time, 'pull alligators teeth', and own every level of your business. Think big and believe in yourself!
Soft Flex Company, Sara Oehler & Kristen Fagan - SoftFlexCompany.com
Small Business Week - Photo Tips with Sara Oehler of Soft Flex Company
Most small business owners and employees find that they have to wear many hats to complete everything needed for the business. Over the years, Sara has shot a lot of photos for Soft Flex Company as their Sales and Marketing Manager. She will be the first admit that she is not a professional photographer, but perhaps she can share a tip or two with you about what has worked well for her small business. Branding and DIY photos can be difficult to get just right.
Kellie's Bead Boutique, Kellie Sutton - KelliesBeadBoutique.com
How to Easily Price Handmade Jewelry and Make a PROFIT!
One of the fundamental aspects of owning any small business is making a profit. In order to make money you need to learn how to make a profit. Know your value! Don't undervalue yourself. Assert your talents and price accordingly. Kellie with Kellie's Bead Boutique will teach you how to use her tried and true method of jewelry pricing. It will not only make it easier for you but will allow you to make PROFIT!
Star's Beads and Clasps, Kay Goss - StarsBeads.com
Stories, Tips, and Tricks About Product Sourcing, Pricing, and Other Ways To Support Small Businesses
Bead with Me: Star's Beads & The Bead Place. Kay Goss of Star's Beads hosts Abbi Berta of The Bead Place for a conversation about small business! Join us for stories, tips, and tricks about product sourcing, pricing, and other ways to support small businesses.
The Bead Place, Abbi Berta - BeadPlace.net
Stories, Tips, and Tricks About Product Sourcing, Pricing, and Other Ways To Support Small Businesses
Bead with Me: Star's Beads & The Bead Place. Kay Goss of Star's Beads hosts Abbi Berta of The Bead Place for a conversation about small business! Join us for stories, tips, and tricks about product sourcing, pricing, and other ways to support small businesses.
Green Girl Studios, Cynthia Thornton - GreenGirlStudios.com
A Conversation with Cynthia Thornton of Green Girl Studios About Life, Art, and Small Business.
A conversation with Cynthia Thornton of Green Girl Studios about life, art, and small business. Cynthia discusses her early days. When she started, she was paid in compliments. She has come a long long way. Learn how to capture your customers with photography. Learn how to set goals and manage your expectations. Learn her views on social media marketing and social media influencers. Learn how Instagram and other social sites can influence buying behavior.
The Bead Gallery, Jamie Yoshida - TheBeadGallery.com
Small Business Ask Me Anything!
Jamie, Andrew and William hosted an 'ask me anything' session about starting your own business in jewelry and beading. Learn from our personal experiences over decades. We have lots to share!
Aloha! Jamie
Christi Friesen, Christi Friesen - ChristiFriesen-store.com
"Tooting Your Own Horn" - All About Self-Promotion
"Tooting Your Own Horn" - all about self-promotion. Utilize social media and social networks for sharing and connecting your business to your personal life and creative work. Explore organic paths to creating a bond. Learn how Christi's brother's occasional appearances on her cam became 'Ricky Sightings' which was a fun way to engage with her community and even became a memetic drinking game. Use hooks to gain trust and help establish a connection with your customers. Learn how to be vulnerable and be yourself but don't fall into a trap where your customer base sees this in a negative light. Toot your own horn - nobody else is going to do it for you!
How To Photograph Jewelry On a Budget - Great Photography Equals Great Sales
Photographs are supremely important. For many business owners, a well shot product image is the first point of contact with a customer. If you do not make a great first impression, you are destined to fail. Nobody wants a flat and boring image. You need to master color and lighting. You need a dynamic backdrop that gives life to your products. We have some basic photography tips. Your phone is a great tool for pictures of your inventory - as long as you are smart about the images you are taking. A DIY phone stand can be useful for supporting your camera and maintaining the height and distance during each shoot. A homemade light box can help you evolve into a better photographer.
Read our blog: Photograph, Price, And Sell Your Handmade Jewelry
2 Pricing Solutions: Cost Times Three And Intrinsic Value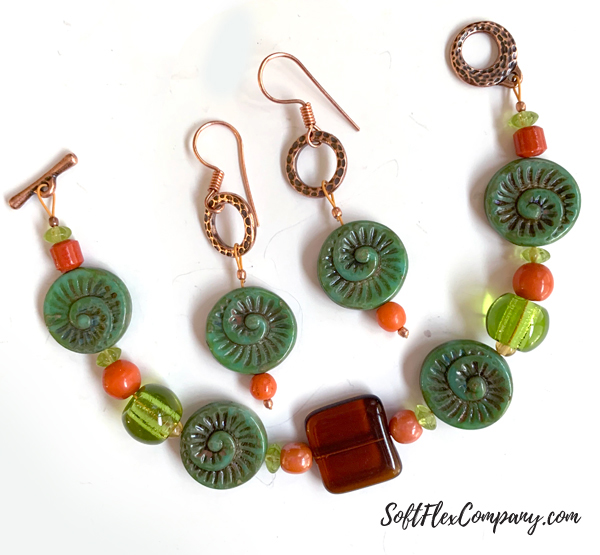 My mother and I had a jewelry craft store for over 40 years combined and we did shows and sales as well. We developed 2 successful formulas. First is cost factor, times 3. In retail, keep in mind that a business cost factor is wholesale. I purchased materials at 30-50% below retail. If you're buying your materials retail already, your prices will be slightly higher but still work with your cost base. Use cost times 3. 1/3rd of your asking price will be to recover the cost of your materials to keep making and staying in business. 1/3rd is to cover and contribute to your overhead and advertising/marketing expenses. Last third is your profit. Your reward for making the item. When it comes to art, you can forget hourly wages. There will always be someone who values their time differently so an hourly wage is too random to use as a consistent formula.
Read our blog: Photograph, Price, And Sell Your Handmade Jewelry
Where To Sell Handmade Jewelry
Are you looking for a place to sell your beautiful homemade jewelry? The jewelry industry is worth approximately $70 billion! The demand for jewelry has grown tremendously. And as a result, today there are a lot more places to sell jewelry - both locally and online. The jewelry niche complements many other product categories such as fashion, accessories, bridal, and more. It is important to choose the very best place to sell your jewelry - one that not only fits your needs but that can also give you a fair offer. So why not try your hand at the market? Whether you're a pro looking to sell or a newbie to jewelry making, we have a guide to handmade jewelry websites for you.
Read our blog: Where To Sell Handmade Jewelry
40+ Tips To Help You Clean, Organize, And Solve Your Beading Storage Problems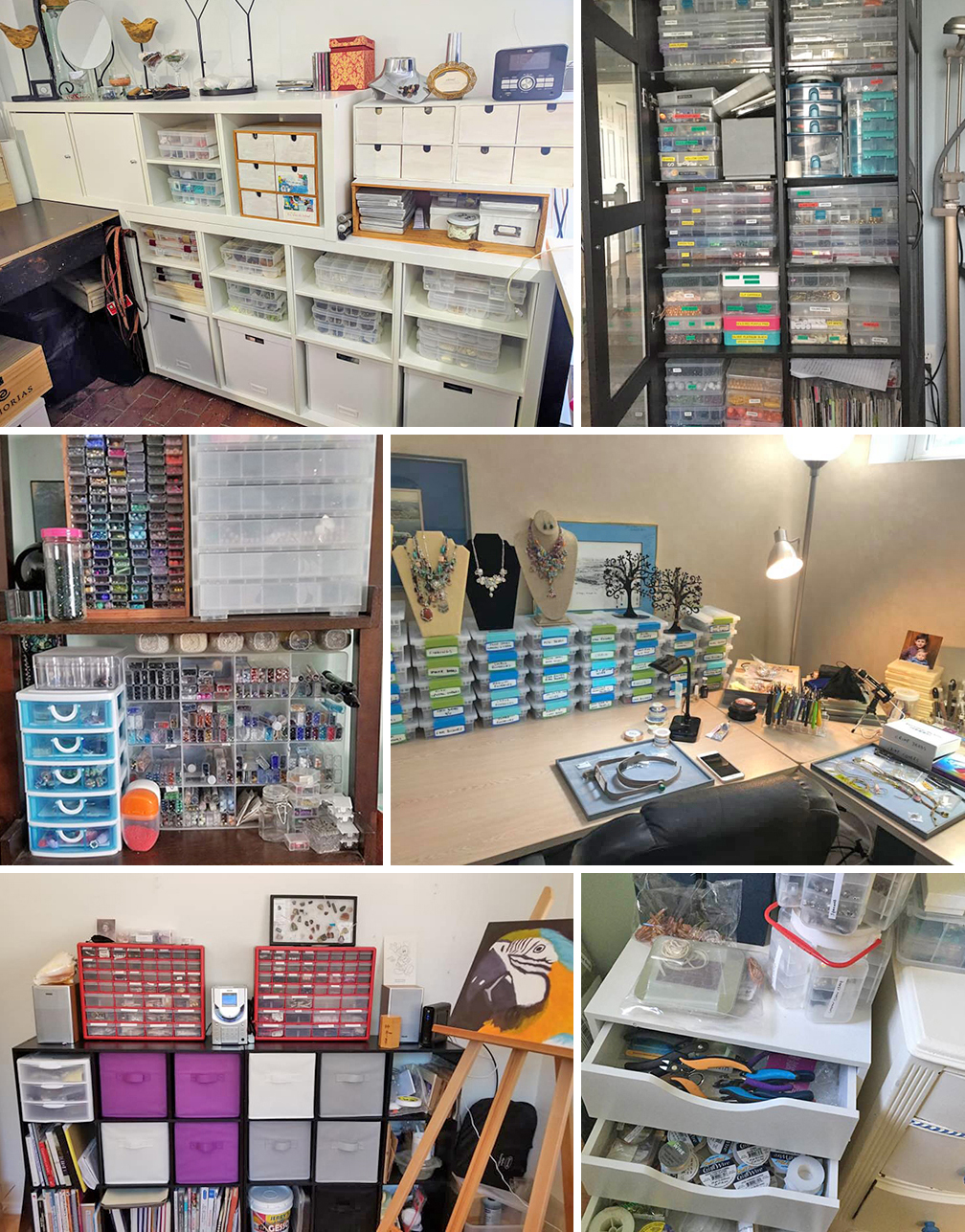 Is your work space a scattered mess? You need to organize and declutter! Do you need storage ideas and solutions so you can stash your beading supplies and tools? We are exploring ideas for every budget and space allotment. We will give you some storage tips and tricks so you can maximize the space in your work area and minimize the headaches. We will also look at how members of our community manage their work spaces and show you their storage solutions. If you need to do a little spring cleaning, this is a great read. Become a professional organizer. You are going to manage your mess in no time!
Read our blog: 40+ Tips To Help You Clean, Organize, And Solve Your Beading Storage Problems
Launching A Business In The Flexible Beading Wire Industry
Mike Sherman, the inventor and co-founder of Soft Flex Company, discusses his journey in the beading industry. From a small start up to a name designers trust, he talks about the things that shaped his business, the business of bead stores, and the craft industry in general.
Read our blog: The Flexible Beading Wire Industry
10 Questions Jewelry Designers Ask About Jewelry Making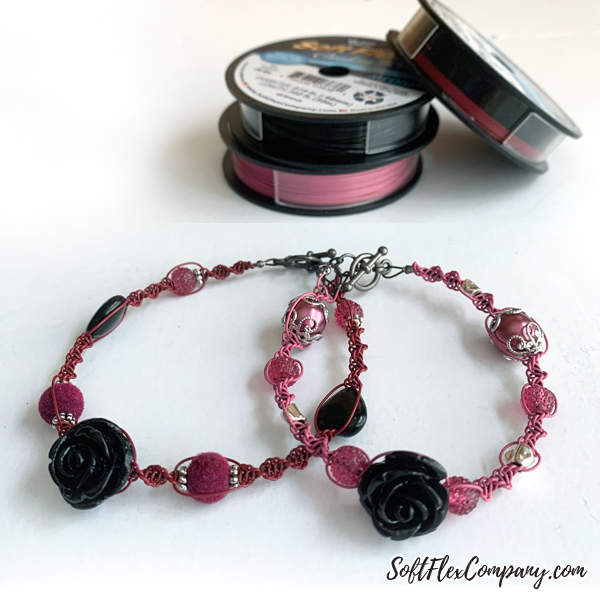 Why is your necklace breaking? You have all of the best tools and beading supplies in your beading toolkit, but your designs are coming back from your customers broken. What is going on? What is the best beading wire? What is the difference between Soft Flex wire and other beading threads? Will this seed bead fit on my wire? Today we answer ten customer queries we found on Amazon and other sites. Let's tackle some of your questions!
Read our blog: 10 Questions Jewelry Designers Ask About Jewelry Making
10 Questions Beginners Ask About Jewelry Making
Bead stringing can be incredibly confusing to a jewelry making beginner. There are so many variables in what seems like such a simple craft. If you are a beginner, you probably have a lot of questions. Everybody has to start somewhere. Don't worry, it is a lot easier than it looks. We did a little research and found some real questions that you have asked on Amazon and other sites. We have the answers you are looking for!
Read our blog: 10 Questions Beginners Ask About Jewelry Making
Beading Parties With Small Business Owners - Learn Secrets For A Successful Small Business
Visit our Beading Parties. We spent time with a designer or small business owner and discussed what made them successful. We heard stories of amazing success and heartbreaking failure. All of these business owners have persevered and have created a brand that is booming. You can learn a lot from these simple sit downs. We love these free form interviews. We make jewelry and learn how to become a better business owner.
We sat down with Joyce Trowbridge, from Just Bead It. She owned a brick and mortar store for 17 years. Just Bead It brought people together in friendship and creativity. Just Bead It helped their community. Her bead store grew and Joyce hit the bead show circuit. COVID brought everything to a halt. Her business fell during the pandemic. Rather than dwell on the sad loss, Joyce turned a negative into a positive. She recognized the value her store had and moved it to an online business model. Now, rather than limiting her talents to a neighborhood bead store, she is sharing her creativity and inventory with a world wide audience. Failure can mean evolution and growth if you know how to move forward!
We shared some time with Sam Siegel. Sam is the owner of Sam's Bead Shop, an online bead store based in Northern California. Sam is also the youngest business owner we have featured on our beading parties. Learn business secrets from a member of the young millennial crowd. Learn how a child's love of plastic beads turned into a small business model. Sam learned how integrity and honesty would create a strong business.
We chatted with jewelry designer Jill Wiseman. Jill is an amazing talent and business owner. If you love handmade jewelry, you are probably familiar with her work, her YouTube channel or her online store. Jill discussed the bliss of traveling to buy beads for her store. We discussed how important beading and jewelry making was for our health and community. Stringing beads is a transformative medium.
Follow our social media and blogs for our beading parties. You can find these fun beading shows on the video section of the Soft Flex Company Facebook page and our YouTube Channel. We have learned a lot about these wonderful jewelry designers. And we have learned a lot about ourselves. Join our beading parties for deep dives into the jewelry industry, travel, and how making jewelry can be beneficial for mental health and clarity.
Join our Facebook group – VIB. Stay in the know. Stay up to date. From our bead shows to our video shows and sales, you can stay in touch with us. The community is full of artistic and helpful beaders and crafty people. Inspire and be inspired. Share your pictures and get the beading bug from others!
Visit the Soft Flex Company YouTube Channel!
---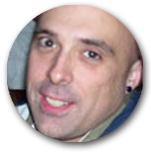 Blog contributor Thomas Soles loves Jazz Age writers and crunchy french fries. His favorite gemstones are Lapis and Pietersite. His favorite hobby is day dreaming. And his favorite mustache is Freddie Mercury's. As you can see, he has a healthy (or possibly unhealthy) sense of humor. You can write to him at Thomas@SoftFlexCompany.com