Behold! My Halloween hounds, spiders have invaded the Soft Flex Company! Beautiful, bulbous and glittering spiders. These cute little creepy crawlies appeared after James, our Craft Wire guru, created one for his YouTube series, Conversations in Wire. These deliciously wicked creatures can be crafted with just a spool of Soft Flex Craft Wire and some beads. Begin your own infestation! Check out this blog and learn how to make a enchanting Halloween spider!

Today we are looking at the video that inspired a spider frenzy. These spiders crawled across our Facebook group in droves. VIB is a lively community of Soft Flex Craft Wire and beading enthusiasts. We had lots of posts from community members sharing their adorable arachnids. We wanted to show off a couple and show you how James devised this charming little creeper. If you would like to make you own little spider, all you need is a simple set of tools and some Craft Wire.
Check out our Craft Wire Starter Kits if you would like everything you need in one package!

If you have not joined our Facebook group yet, do so! We would love to have you. Our VIB group is full of talented jewelry designers and crafty folk. We love to foster the spirit of acceptance and inspiration. There are always lively discussions about the beading and the craft. There are giveaways and stuff you will not find any where else. We love active participants but do not require you to chat. If you do feel chatty or would like to hear some opinions about your Soft Flex strung jewelry, you can post your images and get feedback.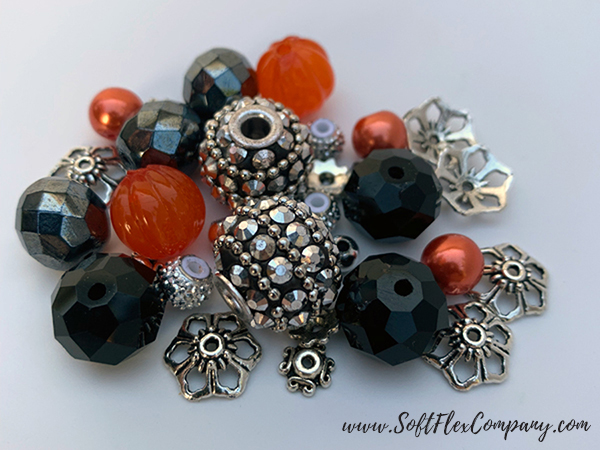 Do you need Halloween beads for your Daddy Longlegs? Shop our Bead Mixes. The Great Pumpkin Bead Strand is an elegant look at Halloween fright. Darkness and sophistication are the gift of the vampire this season. Spooky black beads brood next to shimmering silver and orange pumpkins. Invite this mysterious visitor into your house and indulge. Make your most frightful jewelry look exquisite this October!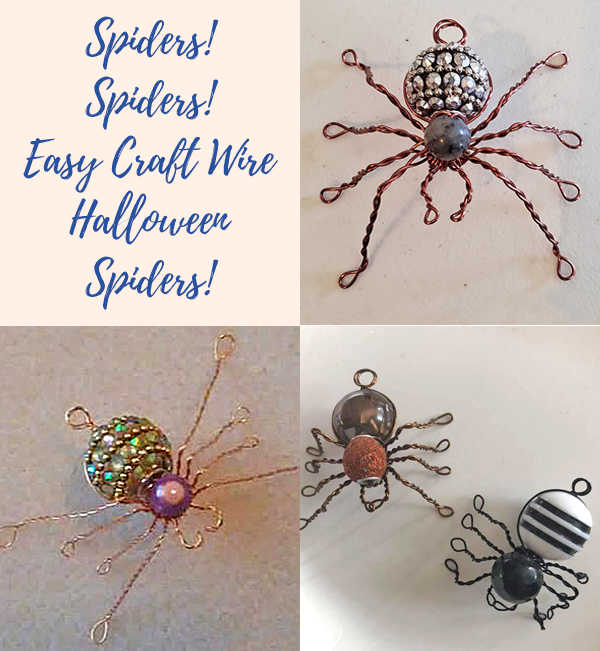 How To Create A Spider Using Beads And Soft Flex Craft Wire
James created a creepy little spider for this episode of Conversations in Wire. If you have not checked out his series yet, make sure you watch some of his work! He uploads a new episode every other Thursday. His episodes are not live, but if you catch him when the episode is uploaded, he is on chat and ready to answer any questions about Soft Flex Craft Wire and wire wrapping - or in this case, a cute little spider.
James showed us how to create a fun little spider with just two beads and Soft Flex Craft Wire. He then showed us how to design an accompanying web. It was a fun watch. James made some mistakes in this video - his wire length was too short for his little spider legs, but rather than get frustrated - which most of us would probably be guilty of, James powered through his oopsie and made a delightful piece of art.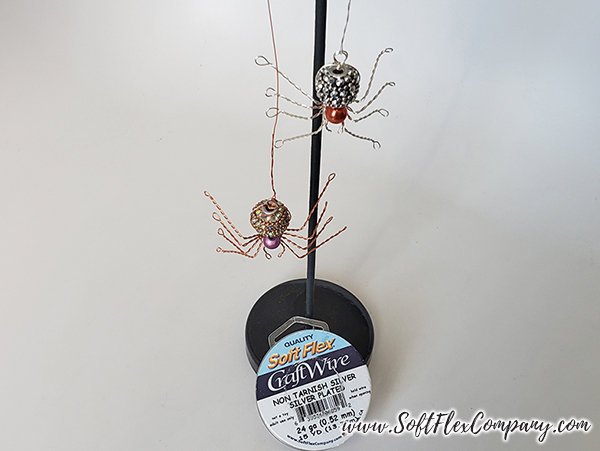 Supplies:
Soft Flex Craft Wire - Silver Plated 24ga
Soft Flex Craft Wire - 24ga
Great Pumpkin Bead Strand
Beads
Chain Nose Pliers
Bent Nose Pliers
Round Nose Pliers
LoopRite Looping Pliers
Nylon Jaw Pliers
Bead Nipper (Cutters)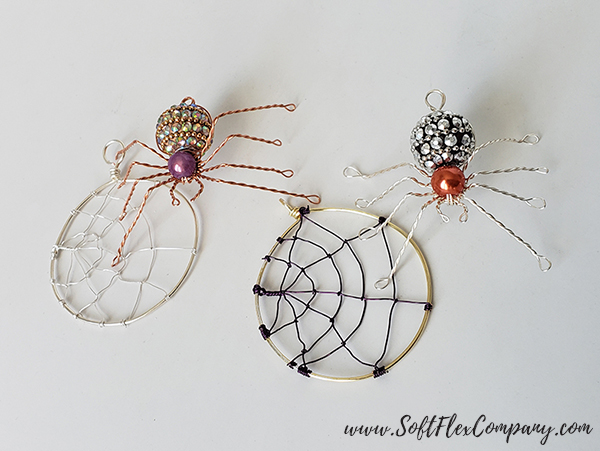 Watch this fun video. This is such a simple decoration. You do not have to know how to wire wrap to finish this fun little bug. James is a fantastic teacher. His slow method of working with wire ensures that you will never make a mistake you cannot fix. His wire working library has many fun projects and jewelry designs and all are accessible to a beginner through a professional wire wrapper. Check out his series!
VIB Group Member Designs
We gathered a small assortment of fun spiders from our VIB Facebook group. This collection of creepies really shows how each spider can look unique with a new bead or color of Craft Wire. You can make your little spider dark and menacing or pink and pleasant. Every spider is an opportunity to personalize your decoration to suit your tastes.
We would love to see your work too. Join us today!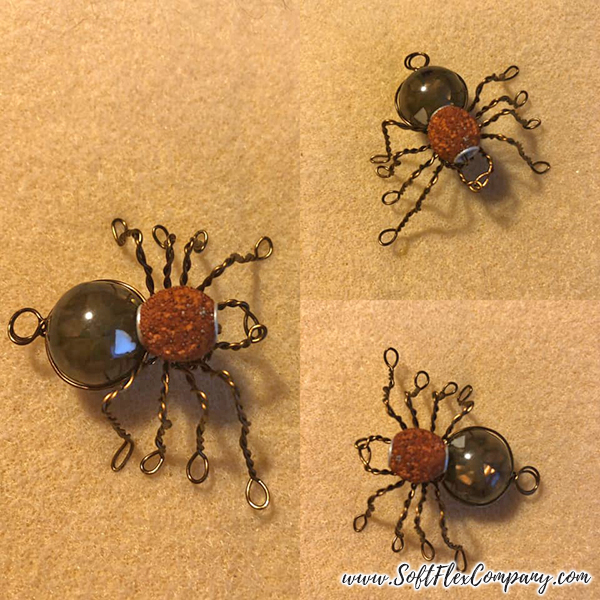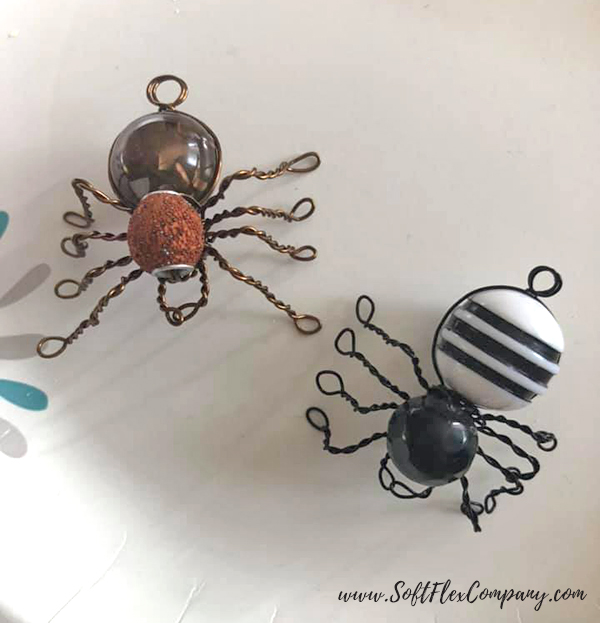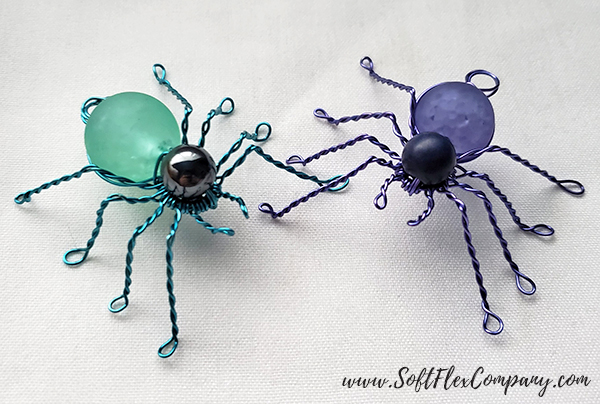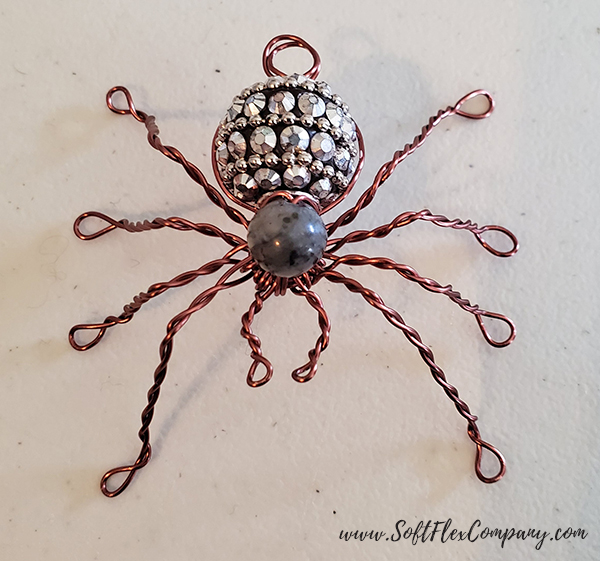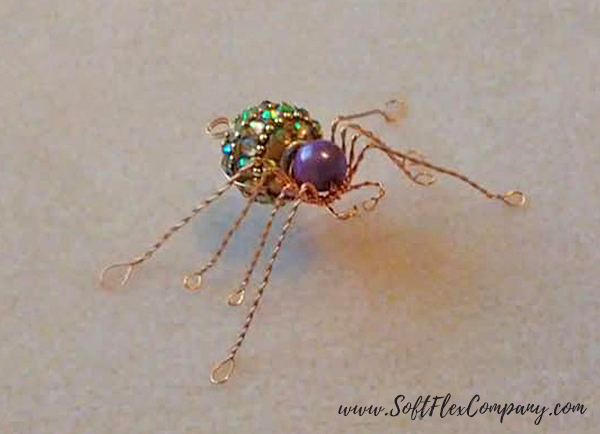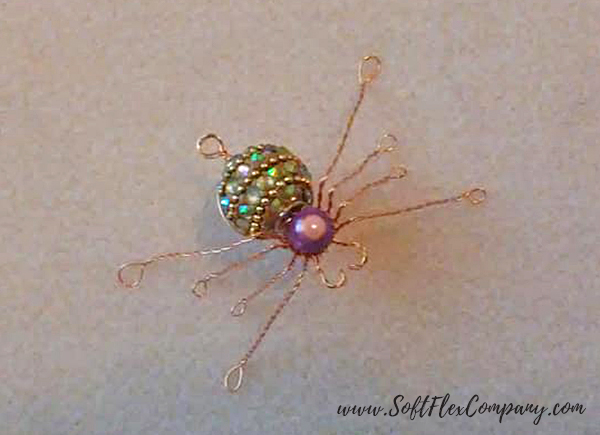 Join our Facebook group – VIB. Stay in the know. Stay up to date. From our bead shows to our video shows and sales, you can stay in touch with us. The community is full of artistic and helpful beaders and crafty people. Inspire and be inspired. Share your pictures and get the beading bug from others!
Visit the Soft Flex Company YouTube Channel!
---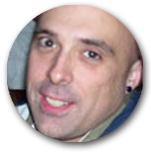 Blog contributor Thomas Soles loves Jazz Age writers and crunchy french fries. His favorite gemstones are Lapis and Pietersite. His favorite hobby is day dreaming. And his favorite mustache is Freddie Mercury's. As you can see, he has a healthy (or possibly unhealthy) sense of humor. You can write to him at [email protected]