The wonderful folks at the Great Bead Extravaganza are trendsetters and artisan jewelry designers. Join the Facebook group and follow along! Each month, the group is exploring the latest in jewelry fashion and craft. Want to know what the next craze is before it goes viral? We have some thoughts and ideas. Always in be in vogue with your handcrafted necklaces. Make jewelry that is classic and on trend - at the same time!

Join us in The Great Bead Extravaganza Facebook group and explore our thoughts and see our shares about Pearls. You can find all the trendsetter posts in the group photo album.
Right now, we have been focusing on pearls. This iconic gemstone is the embodiment of legends - Jackie Onassis, Audrey Hepburn, and Marilyn Monroe gave this organic bead an identity and class that resonates through generations. Design with a gemstone that commands attention and awes everybody that appreciates it. Pearls are the very aspect of grace and classic beauty. They are the mystery of the ocean and the organic promise of rebirth. Today, we have some free jewelry making project ideas for you. Let's explore the timeless beauty of pearls!
TGBE Trendsetter - DIY Jewelry Making Ideas Using Pearls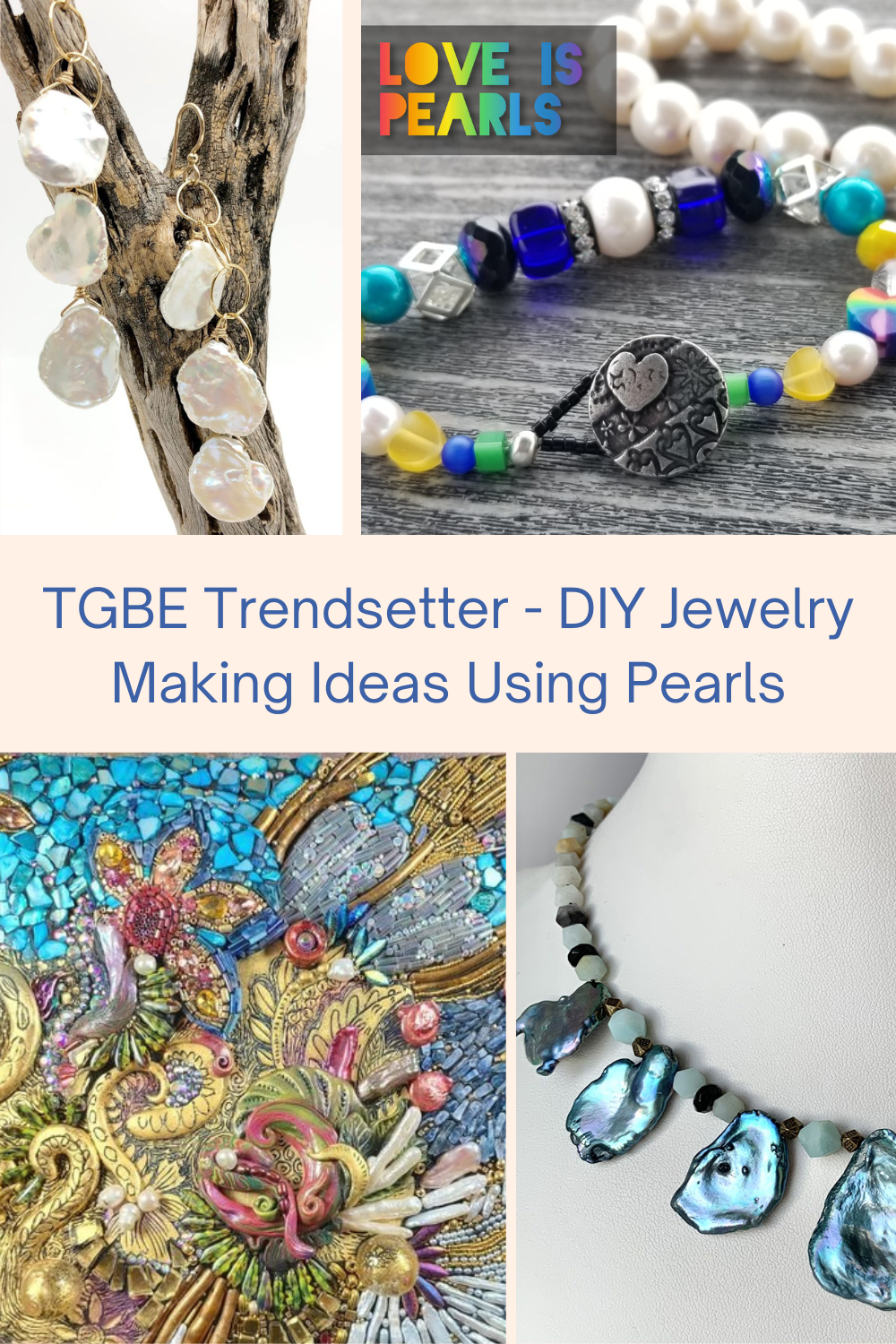 Learn Everything You Need To Know About Pearls!
Celebrate pearls! Pearls are many things. Pearls are delicate and feminine. Pearls are a vivid symbol of ocean life. Pearls are the very definition of grace. Did you know yo can knot Soft Flex Beading Wire between pearls? One of the neatest features of Soft Flex Beading Wire products is that you can actually knot the wire. You will not lose any strength or durability where the wire is knotted. Learn about pearl knotting with beading wire here and read our learn everything you need to know about pearls blog!

Pearls are organic gemstones. Natural pearls are formed when an irritant gets inside a mollusk's shell and the animal responds with a nacre coating to shield itself. Pearls are a rare occurrence naturally and in previous centuries, thousands of oysters and mussels would have to be opened to find even one. They are now cultivated with the expert help of pearl farmers.
Learn How To Make A Cornflake Pearl Necklace
Sara made this video on Inauguration Day in 2021. Pearls were in full force on that day. Celebrity necklaces and political jewelry designs were encrusted with this delicate bead. Sara wanted to make her own pearl necklace to mark the occasion. She found a strand of cornflake pearls that she loved and made her own signature piece. We know politics are a hot button issue and we were not interested in engaging on that topic. But we did want to celebrate the power of the pearl!
Click for details about this project.
Don't forget to add some earrings to your jewelry set. Wire wrapping Soft Flex Craft Wire or stringing with a small length of beading wire is an easy way to make a pair of stunning earrings. You don't need a bunch of jewelry supplies to finish a pair.
Say Oui To Making This Parisian Couture Inspired Pearl Necklace Tutorial
Say oui everyday with this very French inspired necklace design!
Click for details about this project.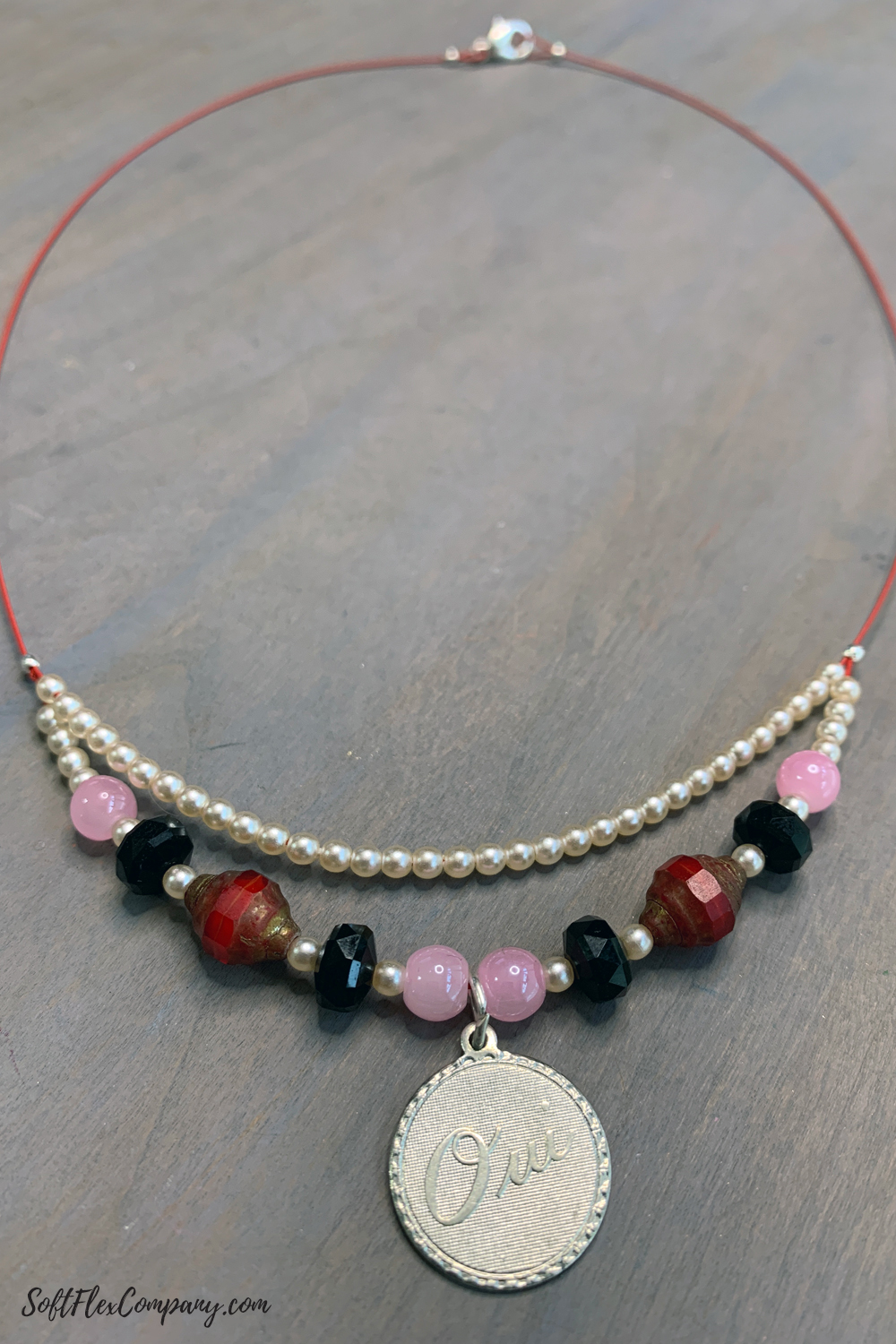 Shell pearls are similar to natural pearls. Shell pearls are man made but are created using the same material - the mother of pearl that is found in the lining of oyster shells. Since shell pearls are produced, there is a wider option in color selection. Shell pearls have a more affordable price point than their rarer counterpart. Shell pearls are also more durable than natural pearls. If you love the look of pearls but want a much more sustainable and economical option, shell pearls are a great fit. Our high quality shell pearls are great for the designer that loves the grace of Jackie Kennedy or the fun of Carrie Bradshaw.
Learn How to Make a Kumihimo Braid with Pearls on Beading Wire
Kumihimo is a form of braiding. For this 8 warp kumihimo pattern, you will need 16" strands of beading wire and small pearls. You can customize the back of your necklace by attaching a chain or beaded strand to the back end of your braided piece. SilverSilk Capture Chain was the elegant option we went with on this lovely design.
Click for details about this project.
Follow The Trendsetters At The Great Bead Extravaganza
The presenters at The Great Bead Extravaganza don't just follow trends, they set them. Join us in The Great Bead Extravaganza Facebook group and explore our thoughts and see our shares about pearls. You can find all the trendsetter posts in the group photo album.
Check out the amazing bead stores and creative jewelry makers that comprise the Great Bead Extravaganza. These stores offer pearls at stunning gemstones at affordable prices. Refill your beading supplies or spoil yourself with a new favorite bead. Watch their jewelry demonstrations and master a new technique.
Make pearl earrings the Hawaiian way with Jamie Yoshida of The Bead Gallery in Honolulu, HI.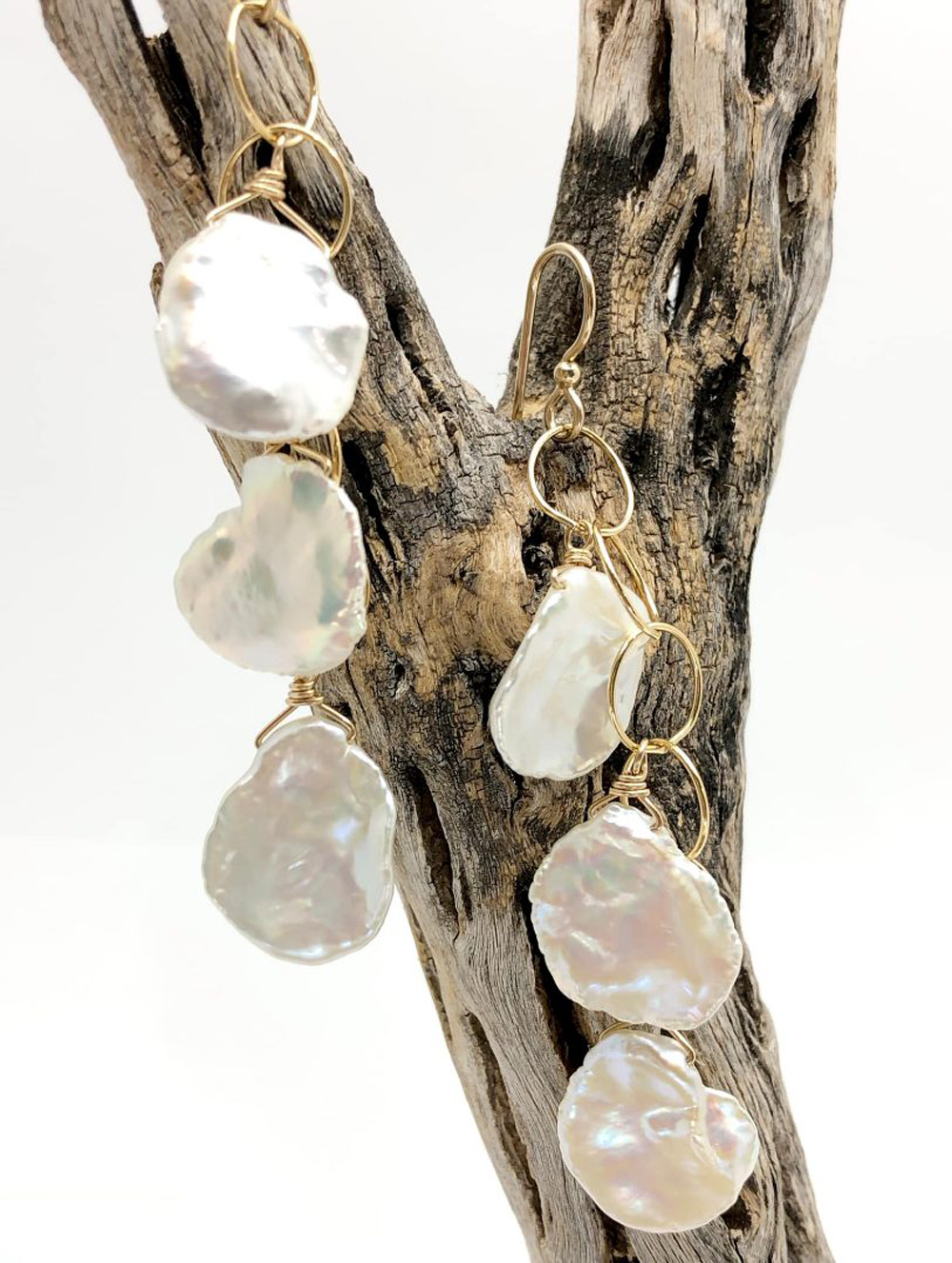 Jamie Yoshida from The Bead Gallery, Honolulu: Cornflake tip-drilled pearls can sometimes be a challenge on how to highlight the gorgeous luster and shiny thick nacre! Make earrings with yours! One of our most popular techniques over 25 years! Check out the top drill briolette wrap video here.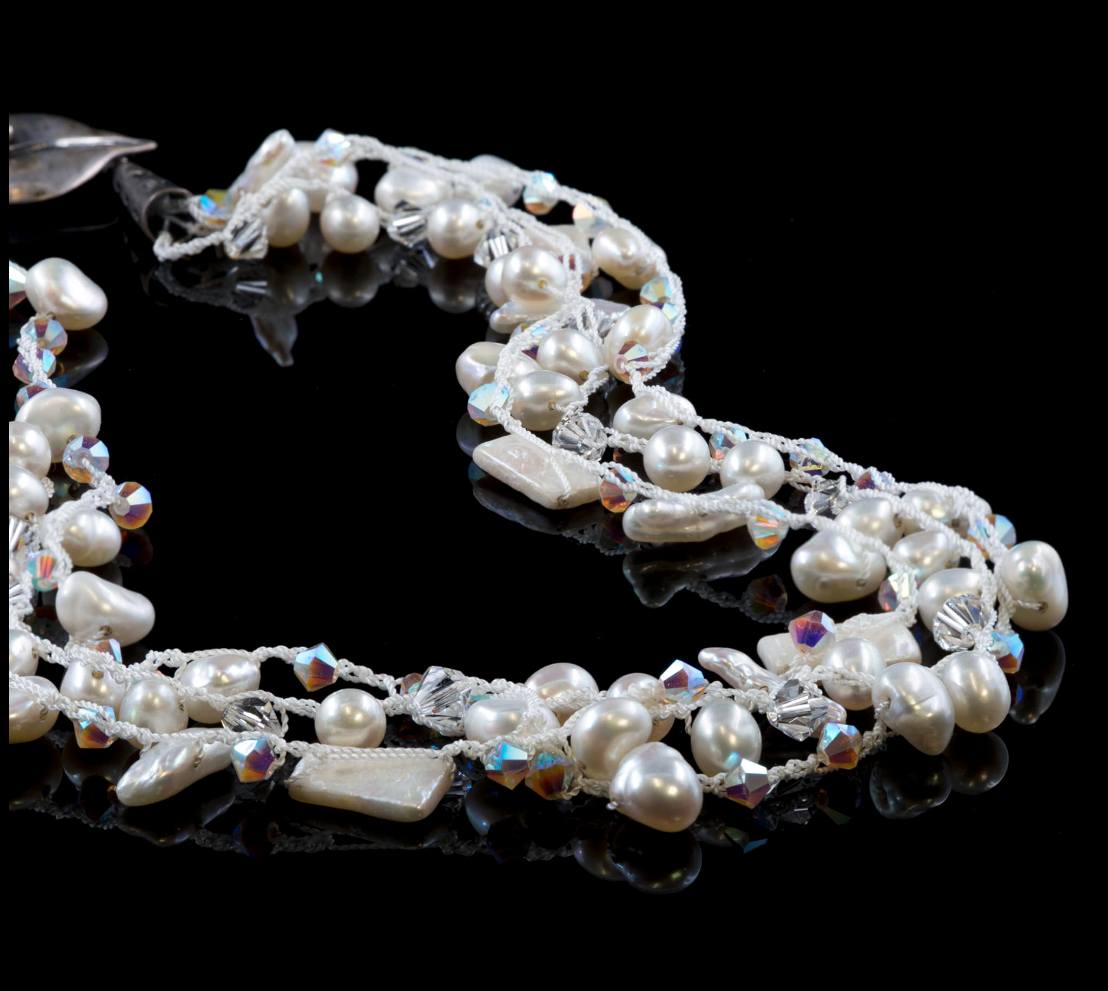 Crochet with pearls- gorgeous! Check out a mini crochet quick demo video here. Have a wonderful lustrous day!
At Allegory Gallery, we love pearls so much! In this collection, you'll find some of our beautiful pearls (most of them vintage with gorgeous luster and color). See our entire pearl collection (including some old-stock, vintage goodness) at Allegory Gallery.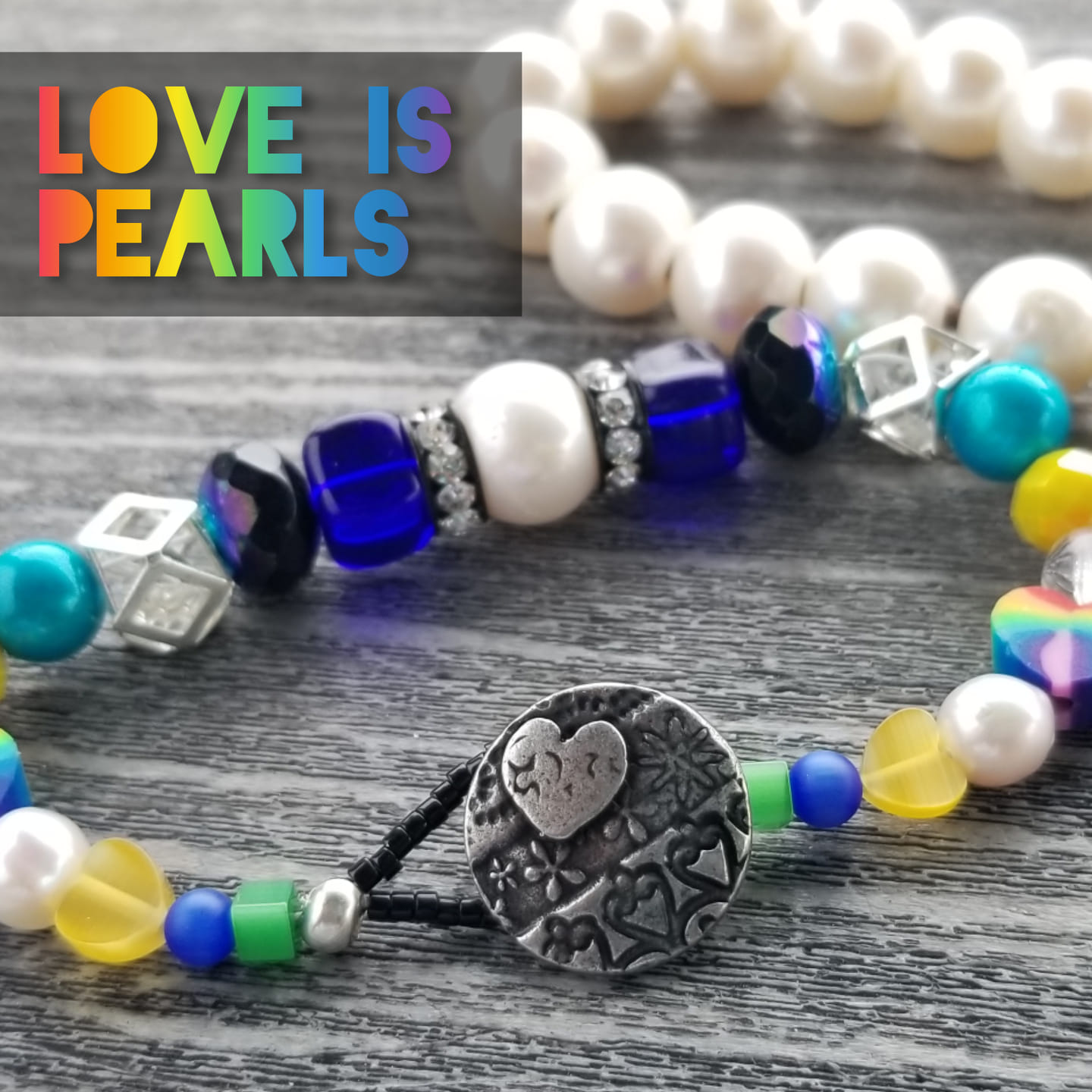 Love is Pearls! Kay Goss is playing with this month's gemstone and the Love is Love Design Kit from Soft Flex Company. Click to enjoy a little Beading with Me at Star's Beads.
Also, Kay reviews pearl shapes and plays with her favorite pearls in a quick interchangeable necklace design with big hole crystal beads. Click for Bead With Me Pearls video.
Check out this cool video from with Kate Ferrant Richbourg from beadshop.com using pearls and Soft Flex beading wire. Deliciously glowing with a lovely nacré of natural pearl, these "baroque-finish" freshwater pearls are a visual feast; their coating goes from very smooth to pebbly, which we think adds lots of visual interest. Find lots of pearls for sale at beadshop.com!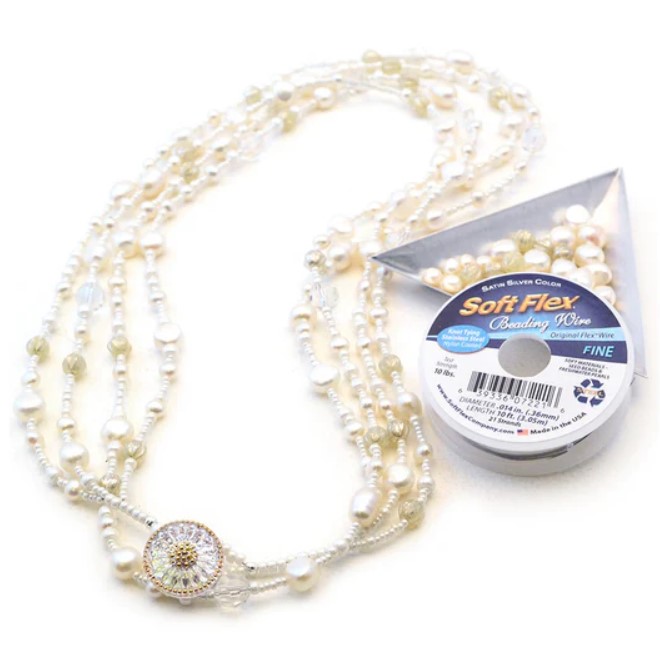 Watch as Abbi Berta of The Bead Place (www.beadplace.net) shows you how how to create a modern pair of earrings using just pearl beads and headpins! All materials are from beadplace.net.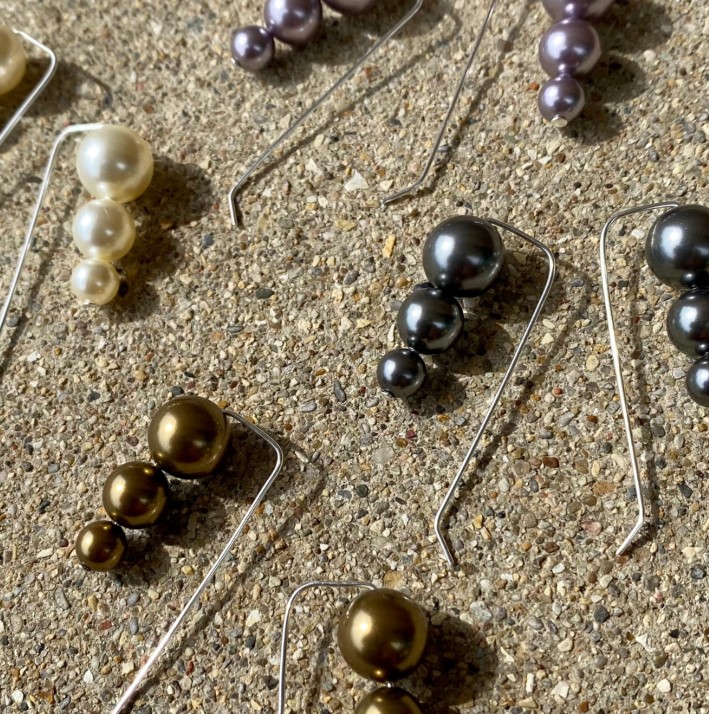 Christi uses pearls all the time in her mosaic creations. This video shows pearls in action! How many beads are in this piece? (don't bother counting, Christi hasn't got a clue if you'd be right anyway!)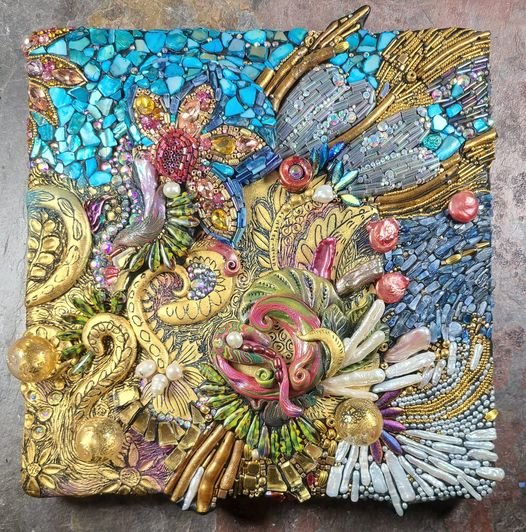 Just reminding you that beads are GREAT for jewelry but they like to hang out on the wall as well! Wanna learn how to use beads with epoxy clay to create jewelry for your home? Start here: https://www.youtube.com/c/ChristiFriesenArt/videos
Finally up, let's take a look at this stunning jewelry design created by Soft Flex Company Co-Founder Mike Sherman. Big, chunky and exuding strength and confidence.
Join our Facebook group – VIB. Stay in the know. Stay up to date. From our bead shows to our video shows and sales, you can stay in touch with us. The community is full of artistic and helpful beaders and crafty people. Inspire and be inspired. Share your pictures and get the beading bug from others!
Visit the Soft Flex Company YouTube Channel!
---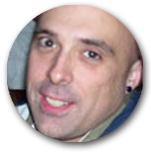 Blog contributor Thomas Soles loves Jazz Age writers and crunchy french fries. His favorite gemstones are Lapis and Pietersite. His favorite hobby is day dreaming. And his favorite mustache is Freddie Mercury's. As you can see, he has a healthy (or possibly unhealthy) sense of humor. You can write to him at Thomas@SoftFlexCompany.com