It's Friday, beautiful beaders! Let's celebrate another glorious weekend with a bunch of jewelry making videos. This week, we saw fashion and politics collide - Inauguration Day was packed with pretty pearl jewelry. Regardless of your political leanings, we can all celebrate the beauty and powerful statement a pearl necklace makes! We are also gearing up for Valentine's Day. Make something special for your loved ones or give Galentine's Day jewelry to your best friend! Let's make jewelry!

This week, Kristen showed us how to make a stunning pearl necklace that is a perfect Galentine's Day gift idea. Sara celebrated Inauguration Day with a gorgeous cornflake pearl necklace. Nealay showed us how to make earrings with SilverSilk Copper Hollow Mesh and Craft Wire. Finally, we are taking a look at a project idea we love from Just Bead It - Joyce showed us how to make a Fantastical Feather Bracelet. Lots of lovely designs from great jewelry designers. The videos are as close to an online beading class as you can get - but they are free! Let's learn how to make jewelry today!
If you love pearls, make sure you check out this link to one of our amazing blogs about pearls. Lisa Kan went in depth and discussed this delicate gemstone in detail:
Learn Everything You Need To Know About Pearls!
Valentine Passion Design Kit

Happy hearts are all aflutter!
Embrace the most fiery holiday of the year. Valentine's Day is a day of explosive passion and vivid tones. You are going to adore this bouquet of romantic colors! You will be wild about the mystic purples. Watch them dance with rosy reds. You will be smitten with the sweet brass accents and the brilliant gold pops! This design kit is for the lovesick, the infatuated, and the head over heels in love. Flirt with your loved one this year, make them a handcrafted forget-me-not!
Sara will be doing a live broadcast on the Soft Flex Facebook page, with the Valentine Passion Design Kit, on Wednesday, January 27th at 3pm (PST).
Jewelry Making Videos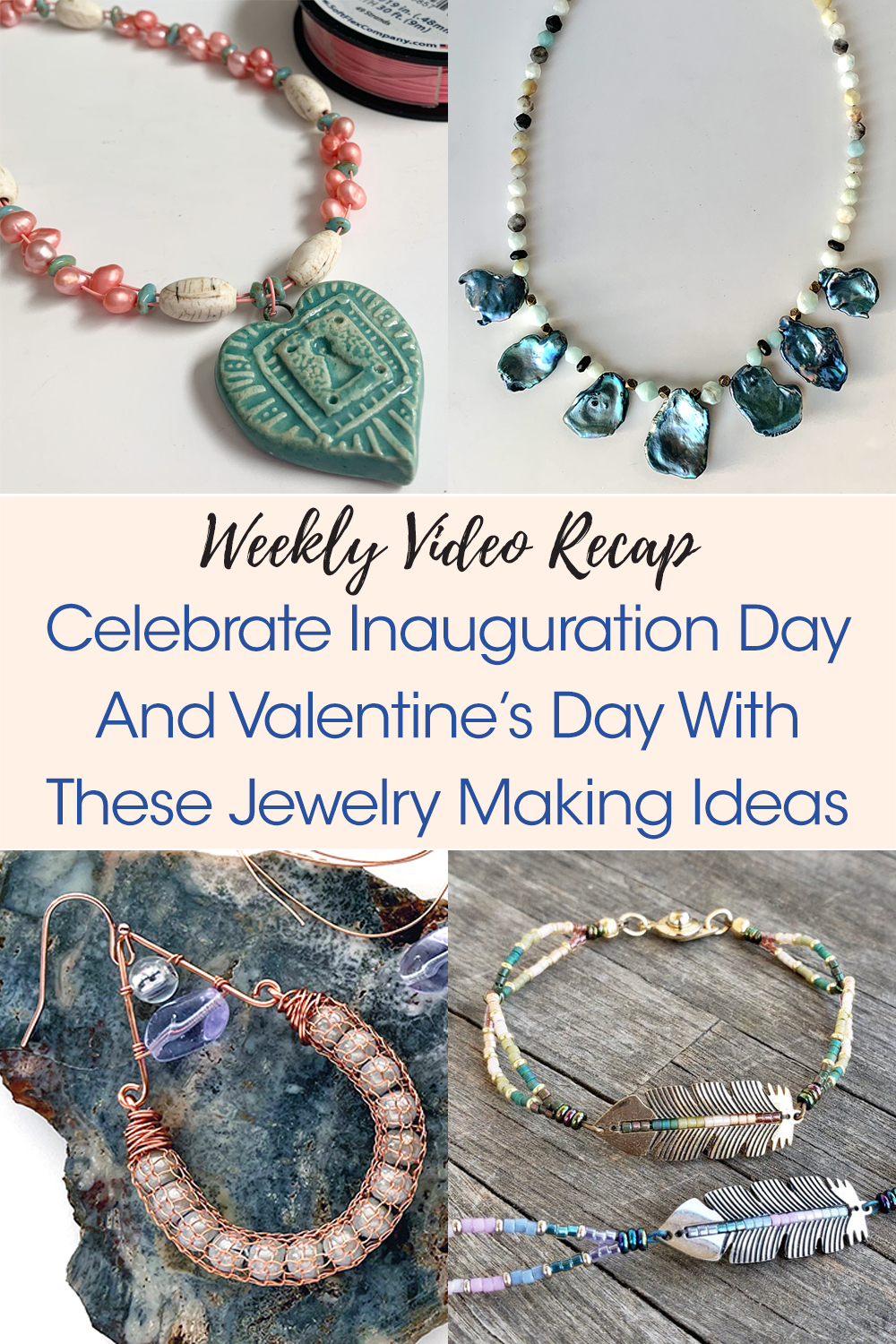 DIY Valentine Heart And Pearl Necklace Strung On Pink Soft Flex Wire
This week on Free Spirit Beading, Kristen showed us how to make a fun pearl necklace with a delightful ceramic pendant as the focal. She chose an artisan pendant from Gaea Handmade. This pendant has been in her beading supplies for awhile and she figured this was the perfect occasion to use it. The pendant was a cute little heart shape, making it perfect for Valentine's Day jewelry. This necklace would also make a fantastic beach necklace. Kristen used pearl and conch shell beads. Super cute for summer!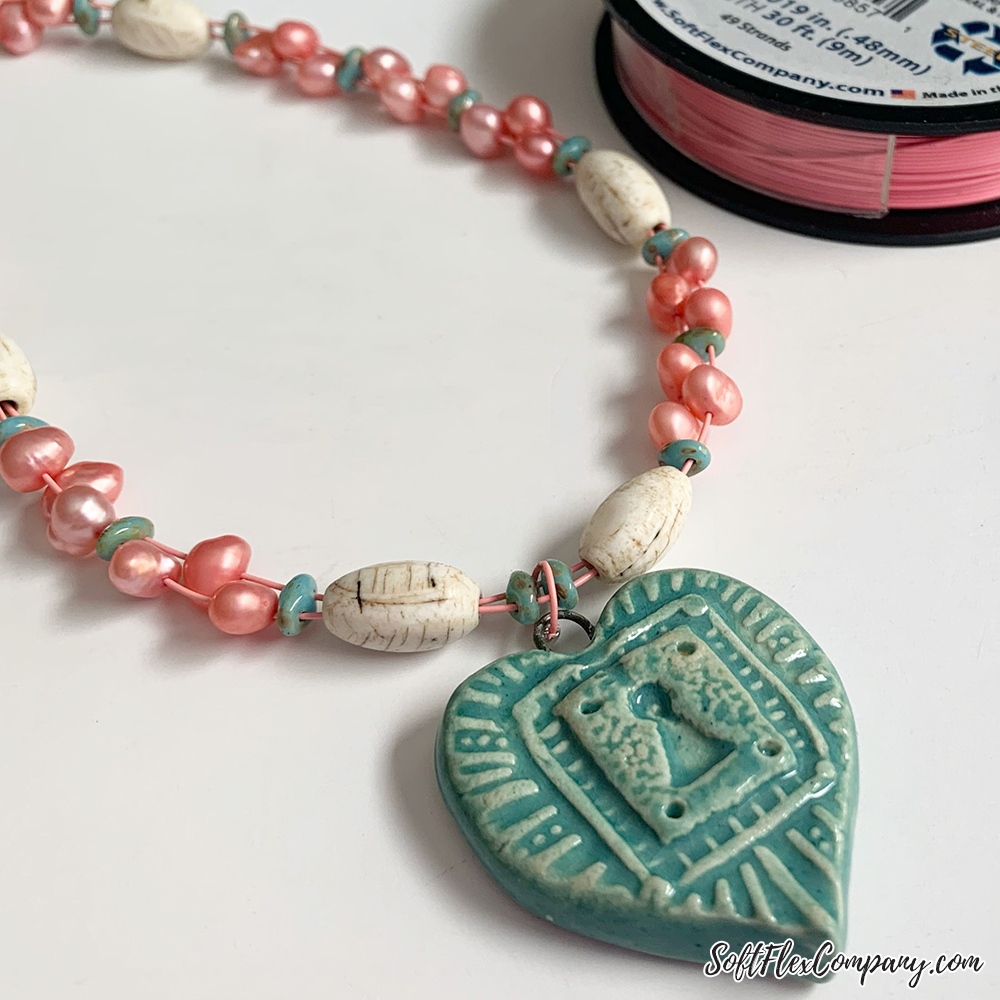 This is a great video if you are a beginner beader. If you have just started stringing beads, you have probably only used a single strand of beading wire for your design. Learning how to add multiple beading wires to a jewelry design will expand the possibilities for future designs. Simple one strand designs are a classic look. But that is only one way to make jewelry. Explore new ideas and break some rules. You will be an amazing designer in no time!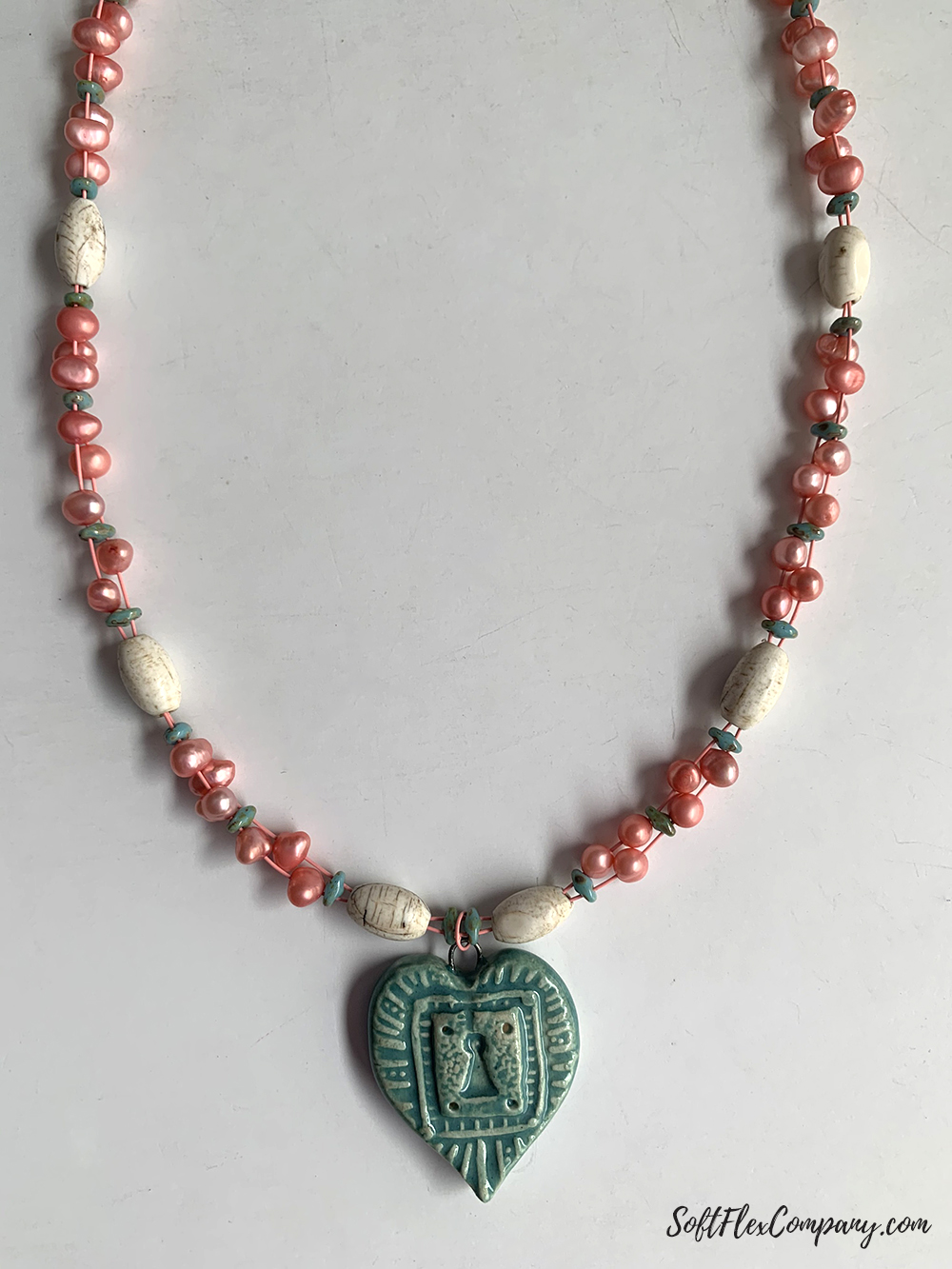 Beads
Soft Flex Beading Wire, .019 Diameter in Pink Rhodochrosite Color
Bead Stoppers
Locked to Love Pendant
Clasp
2x2mm Crimp Tubes
Magical Crimping Pliers
Cutters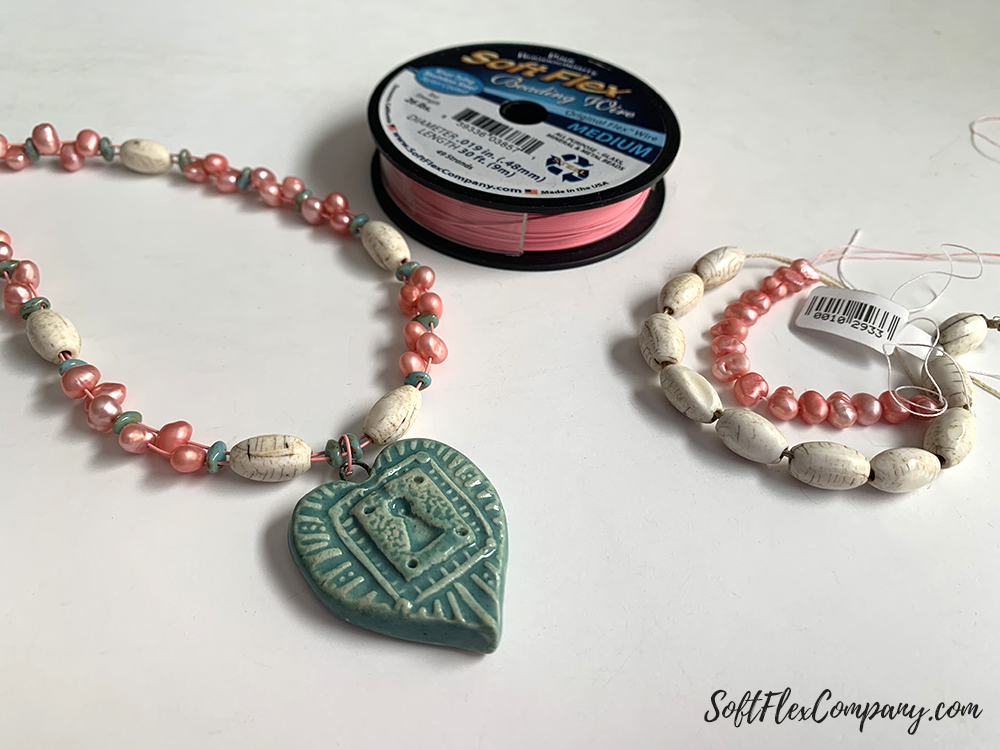 Changing the focal will change the theme of this necklace. If you want to make an Inauguration Day necklace, add a patriotic pendant that shows your colors. If you want to go for the endless summer vibe, add an aquatic focal that pairs well with the pearls and conch shell beads. If you just love the look of the two stranded design and do not want a pendant - you can go that route, too. These stunning beads do not need an accent to make a lovely necklace.
Kristen used beads from a bunch of great bead shops for this design. If you are interested in making a similar necklace, check out these fun stores and shop their beads. She bought her supplies from:
Learn How To Make A Pearl Necklace On Inauguration Day
All of us at Soft Flex were wowed by the massive display of pearls on Inauguration Day. Celebrity necklaces and political jewelry designs were encrusted with this delicate bead. Sara wanted to make her own pearl necklace to mark the occasion. She found a strand of cornflake pearls that she loved and made her own signature piece.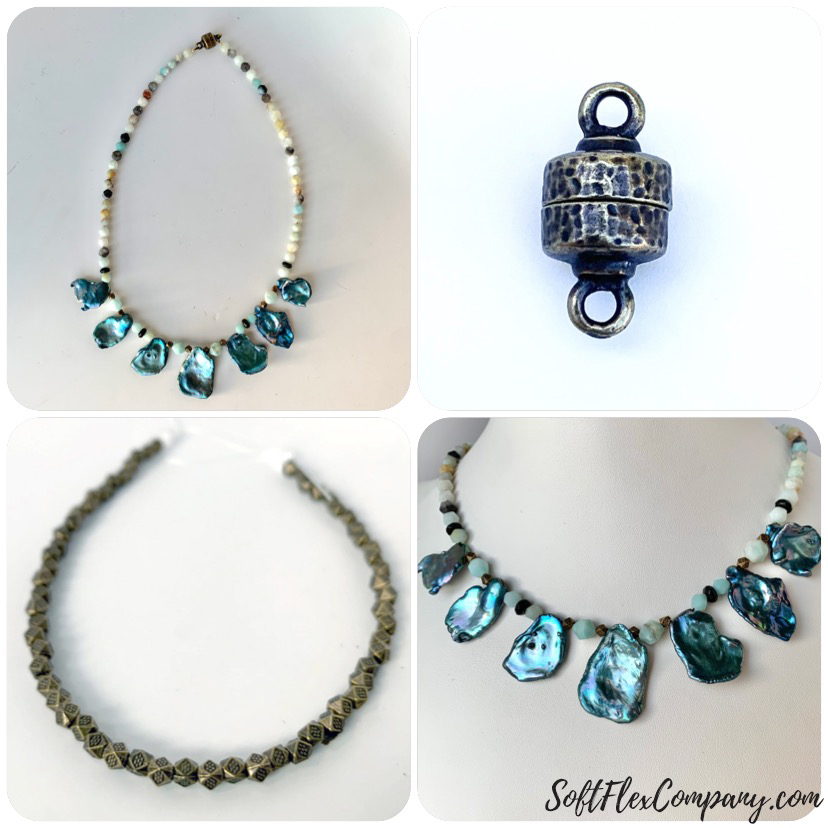 Pearls were the focus for Inauguration fashion. Facebook groups like, Wear Pearls on Jan 20th, 2021, focused on pearls as a symbol for the empowerment of women. Some people wore pearls to honor Ruth Bader Ginsburg. And some wore them to celebrate the Vice President, Kamala Harris. Kamala wore her pearls in solidarity with her sorority sisters, Alpha Kappa Alpha. AKA uses pearls as an identity symbol. Each new member of Alpha Kappa Alpha is given a badge with 20 pearls.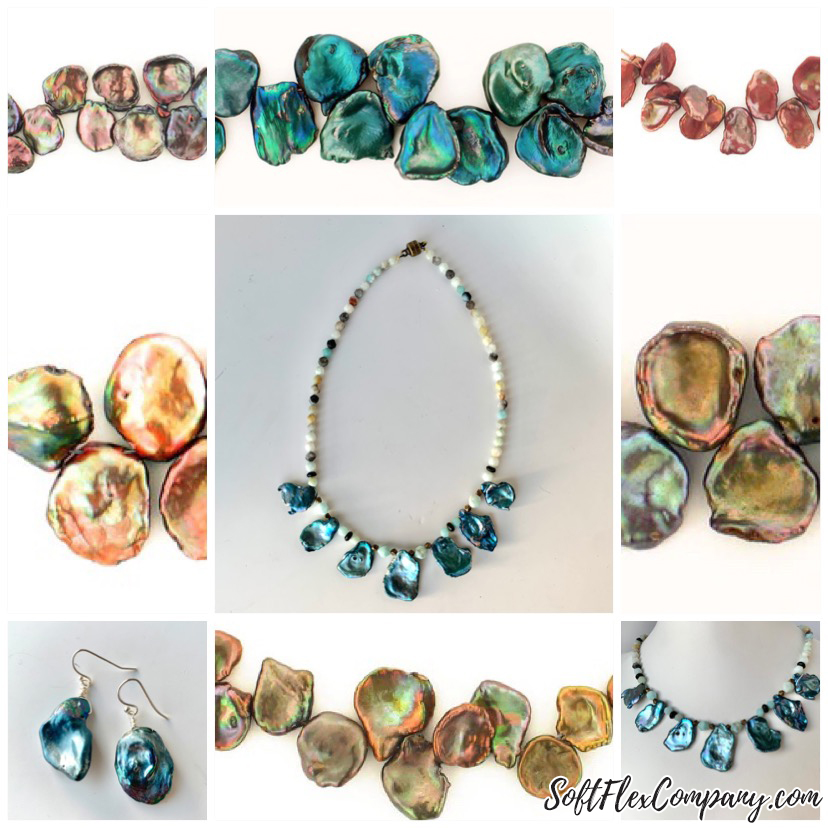 Pearls
Soft Flex Beading Wire, .019 Diameter in Black Onyx Color
Mini Macrame Board
Clasp
2x2mm Crimp Tubes
Magical Crimping Pliers
Cutters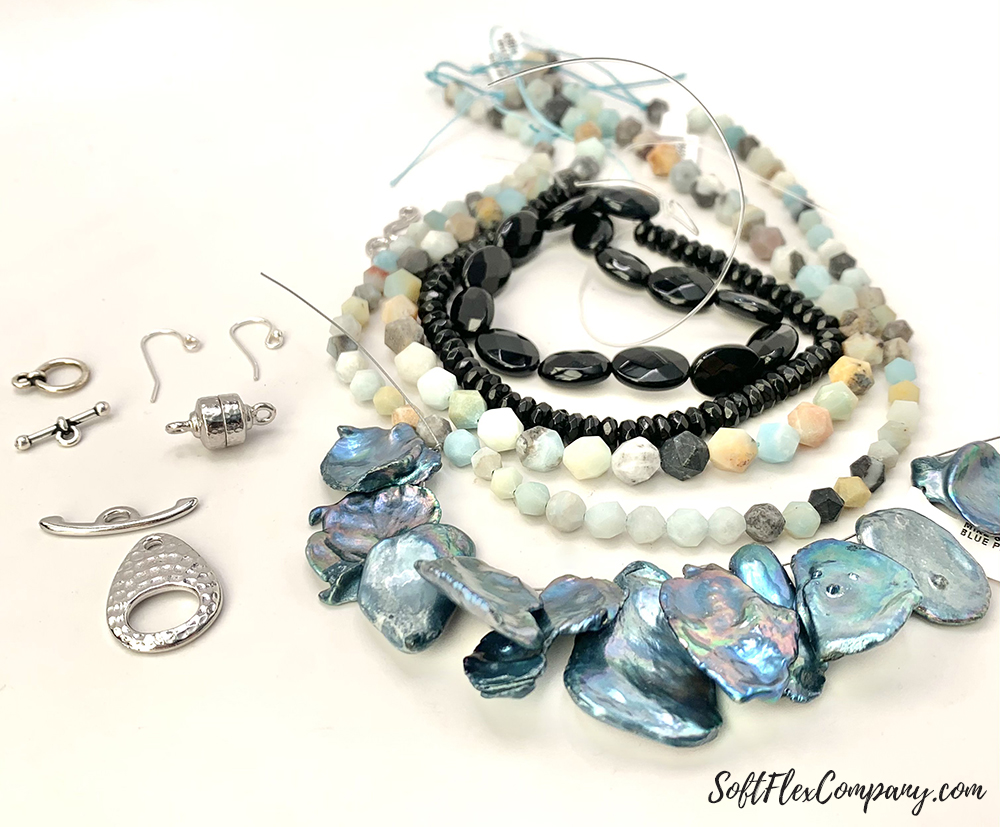 Politics are a hot button issue. Even in the calmest of years, bringing up the topic is sure to get somebody heated. We do not want to do that at all. But we would like to acknowledge that Wednesday was a historic moment in the United States. We have elected our first female Vice President. Regardless of your affiliation, let's take a moment to celebrate this amazing achievement. One hundred years ago, women were only just getting the right to vote, in America. We have taken major steps toward equality.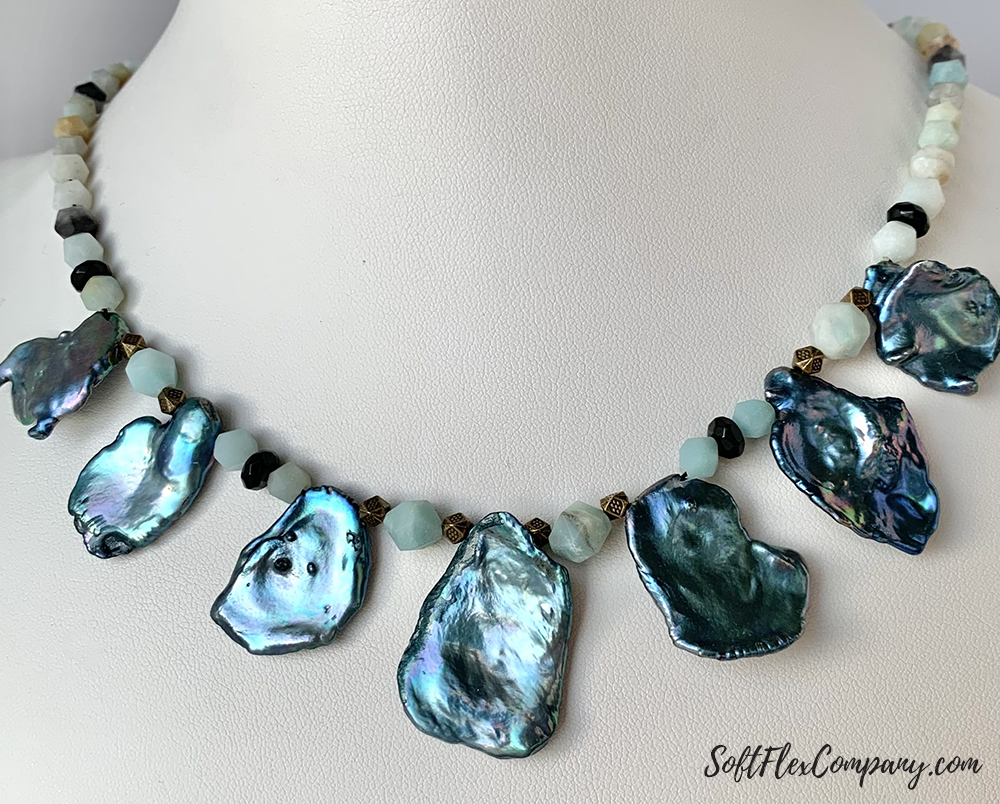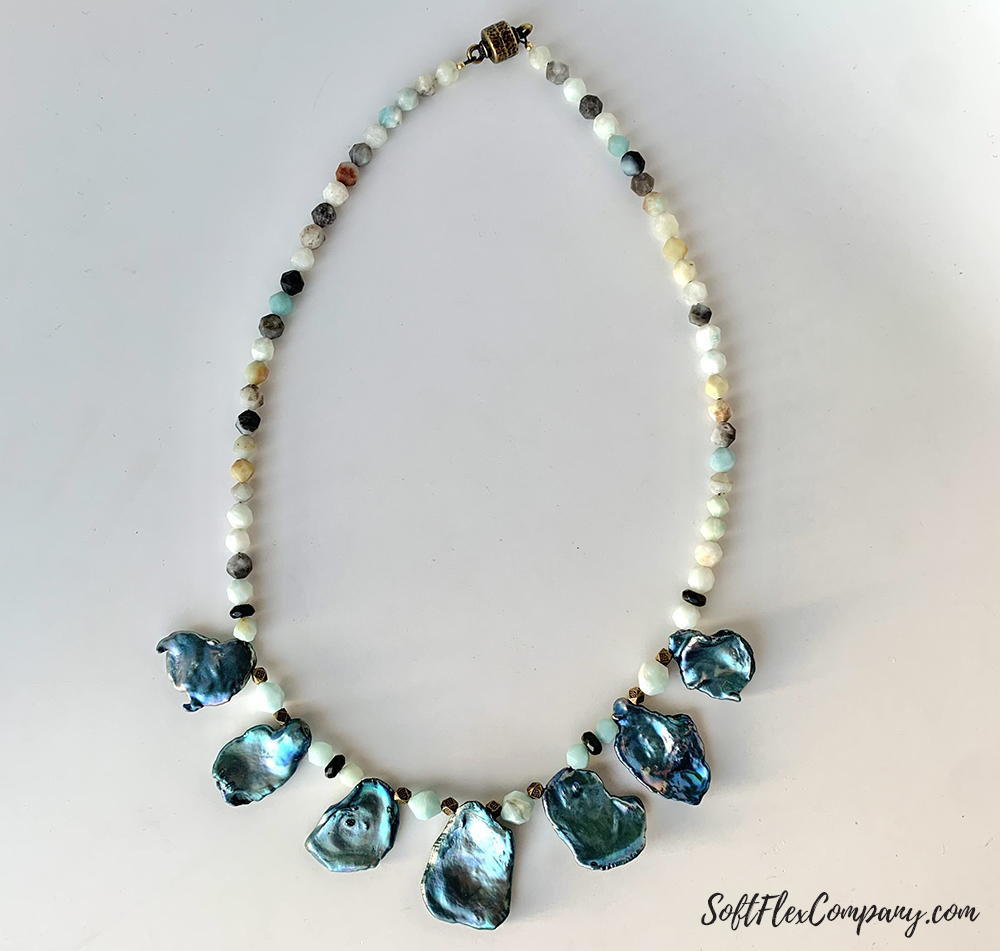 All of the necklaces Sara and Kristen make are easy to modify. Instead of adding beads throughout the length of this design, you can turn this necklace into an illusion necklace with a large focal. The cornflake beads can be centerstage and you can crimp floating beads up the length of the neck. There are so many ways to make this design your own. Change up the colors if you want a lighter look or add some mystic purple if you want a little magic. Don't settle when you can explore new ways to make jewelry! Use their instruction as a springboard and then scale new heights!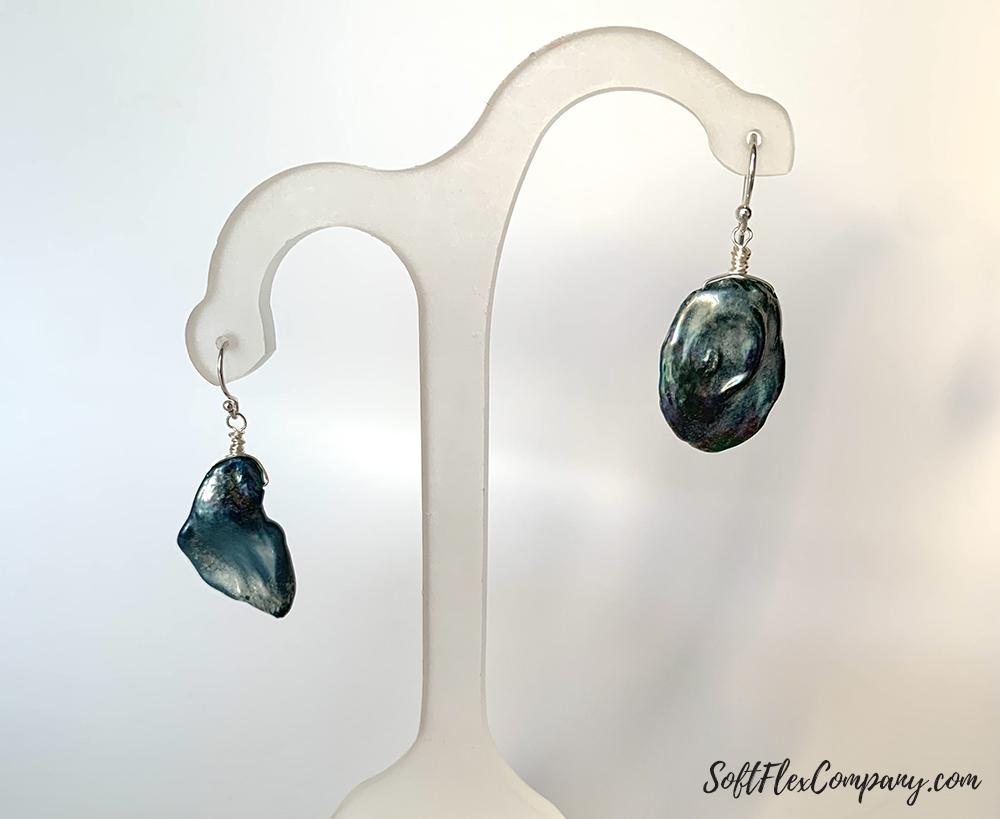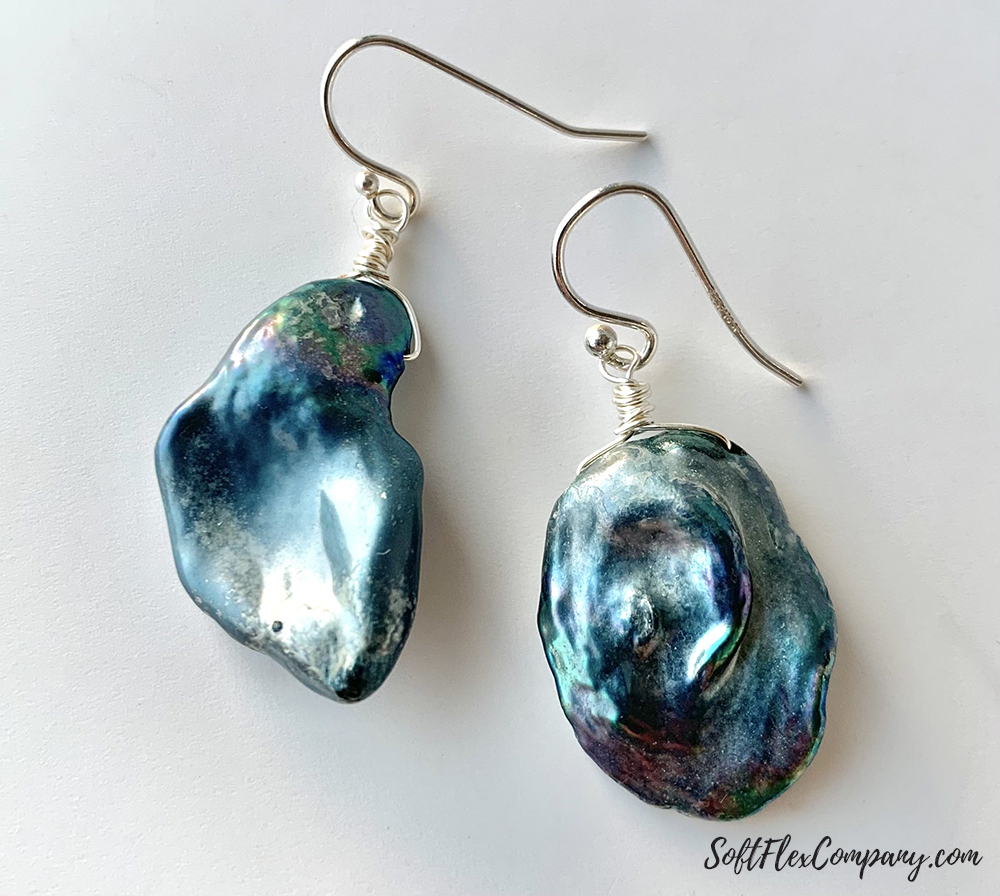 Learn Everything You Need To Know About Pearls!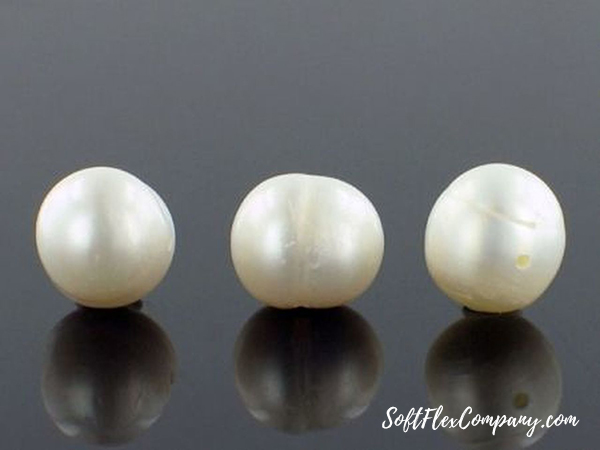 This week, Americans observed Inauguration Day. But, we are not going to discuss politics. What we want to celebrate is pearls! Pearls are many things. Pearls are delicate and feminine. Pearls are a vivid symbol of ocean life. Pearls are the very definition of grace.
Let's celebrate this wonderful bead!
Click here - Learn everything you need to know about pearls!
On Inauguration Day, pearls were out in full force. These dainty beads represented a terrific dichotomy - fragility and immense power. The movement to bring pearls into Inauguration was born from many sources. Some wore pearls to represent their beliefs. Some wore them to honor tradition. Others wore them in a show of defiance. Regardless of belief - solidarity with women or a collar of dissent - we think pearls are absolutely amazing.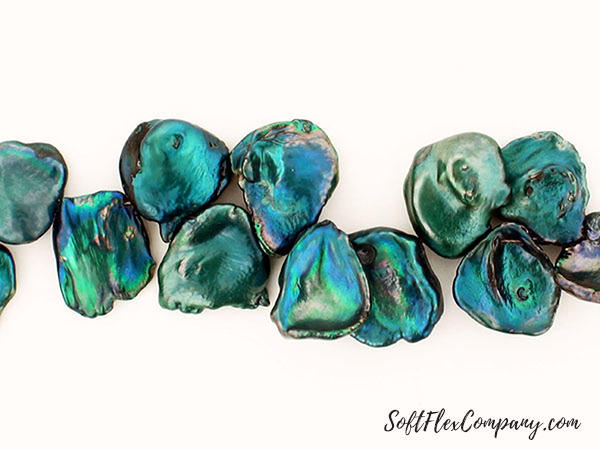 Handmade Earrings - Learn How to Fill Hollow Mesh & Make Wire-Wrapped Statement Earrings

Nealay is back! He took a brief break during the holidays and postponed his weekly Tuesday Tut tutorials. He deserved a little downtime. Running a business, working a full time job, and filming a weekly broadcast is enough to make anybody a little tired. He is back and refreshed. He spent his off time organizing and resetting. Are you ready for more hobby/craft and jewelry videos? We are excited to see what Nealay has in store for us for the new year!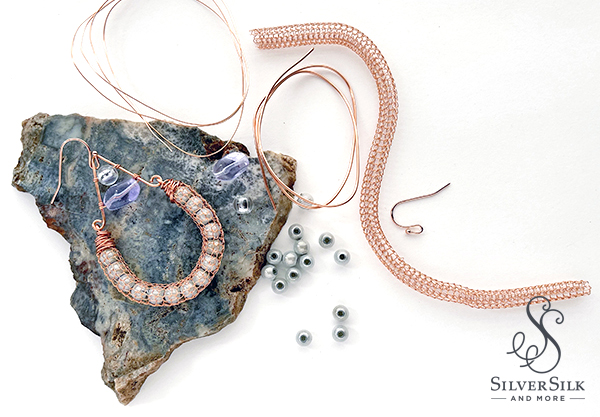 SilverSilk Copper Hollow Mesh
Soft Flex Craft Wire - 26 Gauge
Soft Flex Craft Wire Silver Plated - 26 Gauge
Soft Flex Craft Wire - 20 Gauge
Soft Flex Craft Wire Silver Plated - 20 Gauge
Beads
Ear Wires
Cutters
Round Nose Pliers
Chain Nose Pliers
Nealay's videos are great for any jewelry designer that would like more instruction on how to use Soft Flex Craft Wire. Craft Wire can be a little daunting at first. It is a blank canvas until you have an idea about how your finished design will look. With Nealay's fantastic and easy to follow videos, you can see how he uses Craft Wire to add an accent to a design or even create design elements. He makes it easy to see how you can pair craft wire with other beading string or beading cord. His SilverSilk Hollow Mesh and Capture Chain are wonderful beading elements that work synergistically with Craft Wire.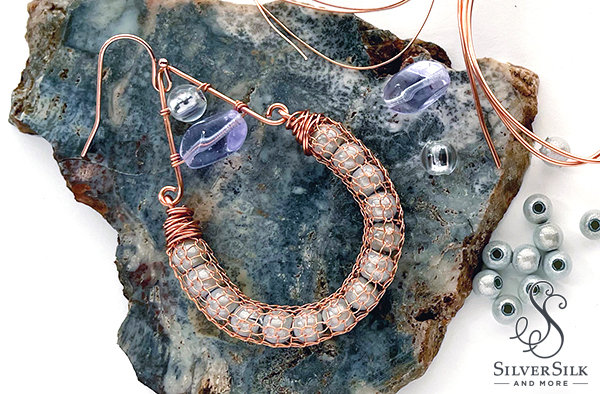 Be sure to mark your calendars for every Tuesday, 5:30pm CST and hop over to facebook.com/groups/silversilk to watch Nealay's videos live and ask questions.
Nealay's channel is dedicated to learning how to make high quality jewelry with SilverSilk with an emphasis on design. You can follow his journey here:
www.instagram.com/silversilkandmore
www.facebook.com/silversilkandmore
Or join his Silkies group and be a part of the conversation www.facebook.com/groups/silversilk
Fantastical Feather Bracelet - Just Bead It Free Facebook Live Virtual Beading Class
Joyce Trowbridge is the owner of Just Bead It. Just Bead It was a local bead store that operated in Concord, California. Joyce ran her bead store for seventeen wonderful years. Unfortunately, her business was one of millions that failed when hurricane COVID crashed into us. Joyce did not throw in the towel, though. Even if her brick and mortar store was gone, she knew she could maintain an active bead store, online. She is transitioning her catalog of jewelry supplies and beads to her website and Etsy store. She is also taking the classes that she offered in Northern California to a virtual space. You can attend her jewelry making courses on Facebook. You can purchase a kit and make jewelry with her. If you miss a class, you can download the PDF and make the design on your own time.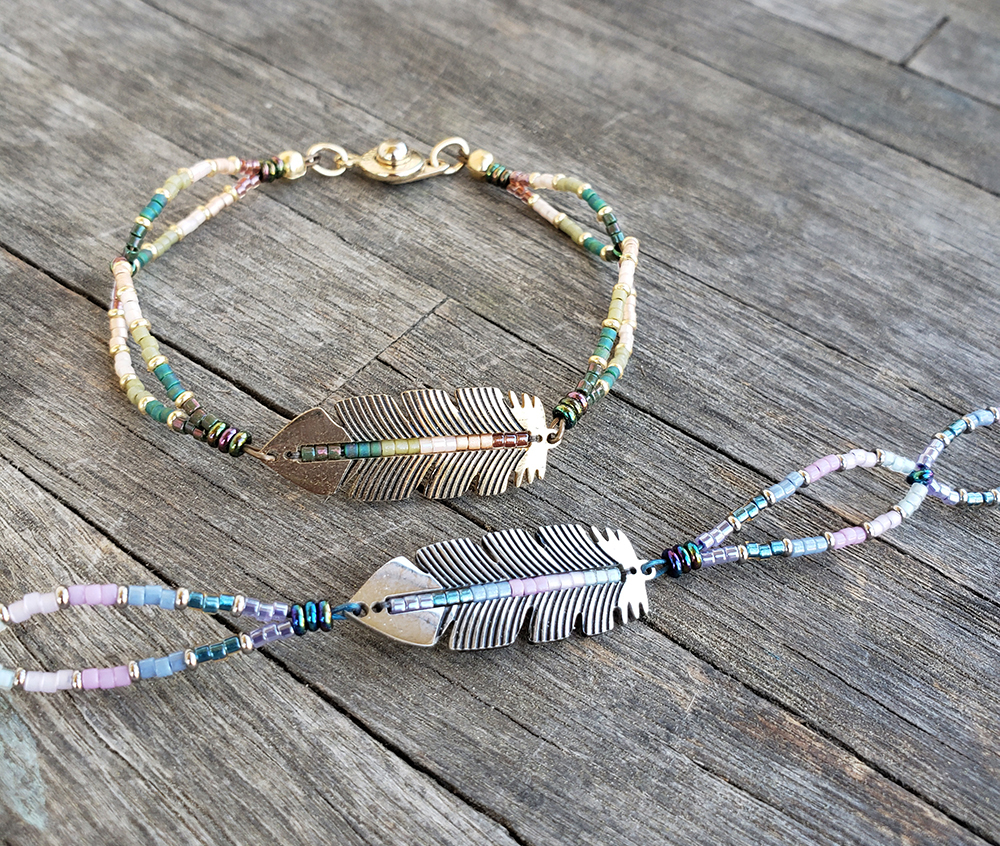 We thought this feathery design was stunning. Follow the video and the images below and make one of your own. If you would like to participate in a class, check the Just Bead It event calendar. For this design, she used Medium .019 Soft Flex Beading Wire. Support her business and buy your Soft Flex Beading Wire from her Etsy shop!
Etsy link to purchase this bead kit: Fantastical Feather Bead Kit for DIY Bracelet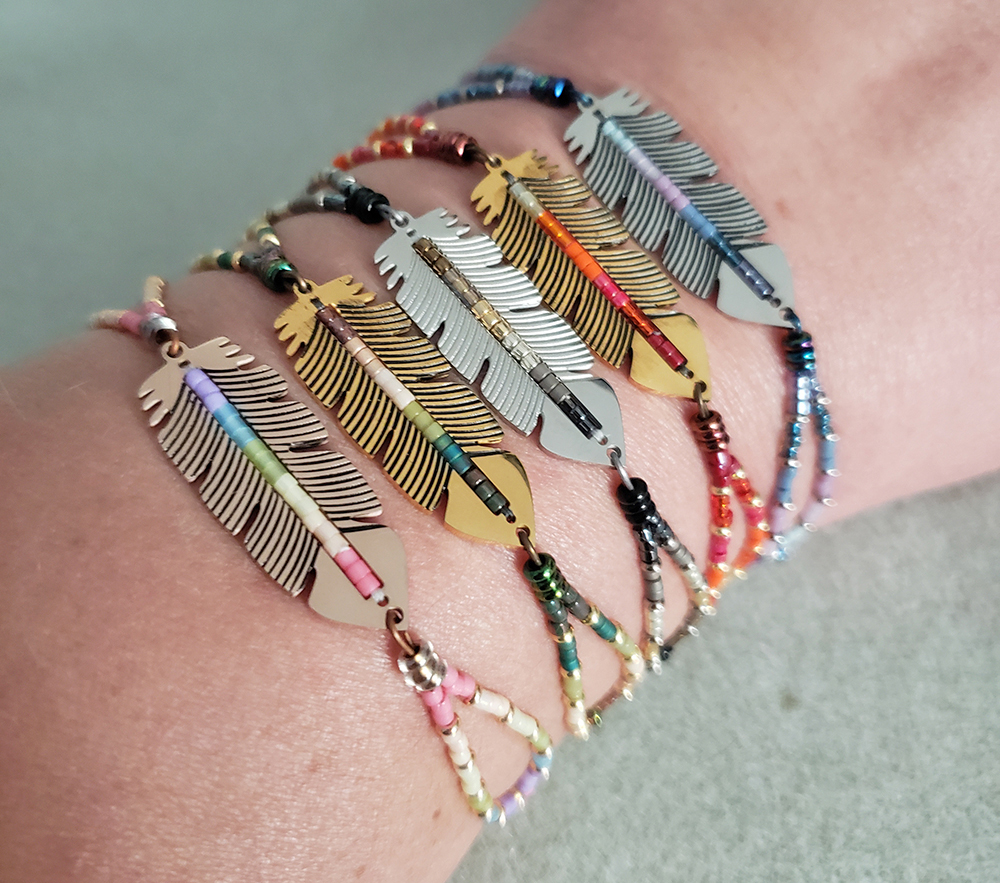 Visit Joyce's Links: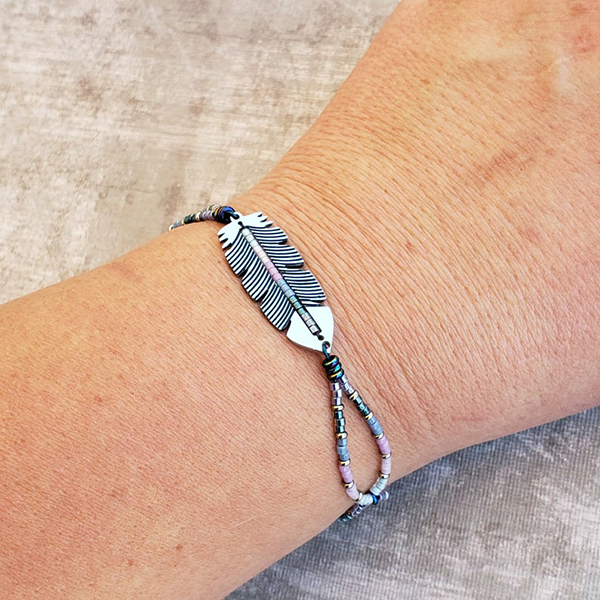 More than beads and supplies, Just Bead It is known for classes. They currently hold virtual beading classes most Saturdays at 2pm PST. Catch them on Facebook Live.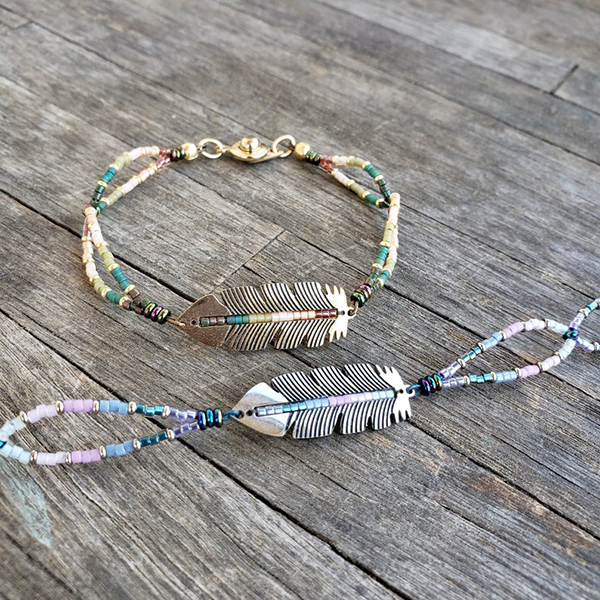 Join our Facebook group – VIB. Stay in the know. Stay up to date. From our bead shows to our video shows and sales, you can stay in touch with us. The community is full of artistic and helpful beaders and crafty people. Inspire and be inspired. Share your pictures and get the beading bug from others!
Visit the Soft Flex Company YouTube Channel!
---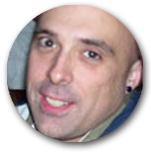 Blog contributor Thomas Soles loves Jazz Age writers and crunchy french fries. His favorite gemstones are Lapis and Pietersite. His favorite hobby is day dreaming. And his favorite mustache is Freddie Mercury's. As you can see, he has a healthy (or possibly unhealthy) sense of humor. You can write to him at [email protected]