Wow. Can you believe that it is almost the end of November? Where did this year go? We had a fantastic week of jewelry making and bead shows. If you love making necklaces with bead stringing wire or getting creative with kumihimo disks, you are going to love the collection of videos we filmed this week. If you love Christmas crafts, you need to check out Sara's latest holiday video, she makes a Christmas tree ornament that is super popular on Pinterest. Let's watch some jewelry videos!

What a week! Sara and James joined Nealay at his booth in Oakland. They all made some wonderful jewelry and did jewelry making demonstrations for guests at the show. Sara filmed a video each day. Nealay designed a stunning necklace that is perfect for the holidays. Lots of smiling faces and fun! Kristen showed us how to make a kumihimo necklace with beads and a focal. Sara updated her gratitude necklace. She added her baby boy's name. Just in time for holiday celebrations. You are going to love her stunning design. Sara wrapped the week up with one of her most beloved design ideas - she taught us how to make Christmas trees with Soft Flex Craft Wire. This was a jam packed week of instructional videos. It is almost like you get a beading class online!
Jewelry Making Videos

Check out our findings. We have the highest quality crimps you will find. Our crimps are double wall thick and seamless. These amazing crimps are not going to fail you. They are strong and secure. We have a big assortment of clasps, head pins, ear wires, and more. Buy findings and components online and we will make sure it is in your mailbox in time to make Christmas gifts for your family. Happy holidays!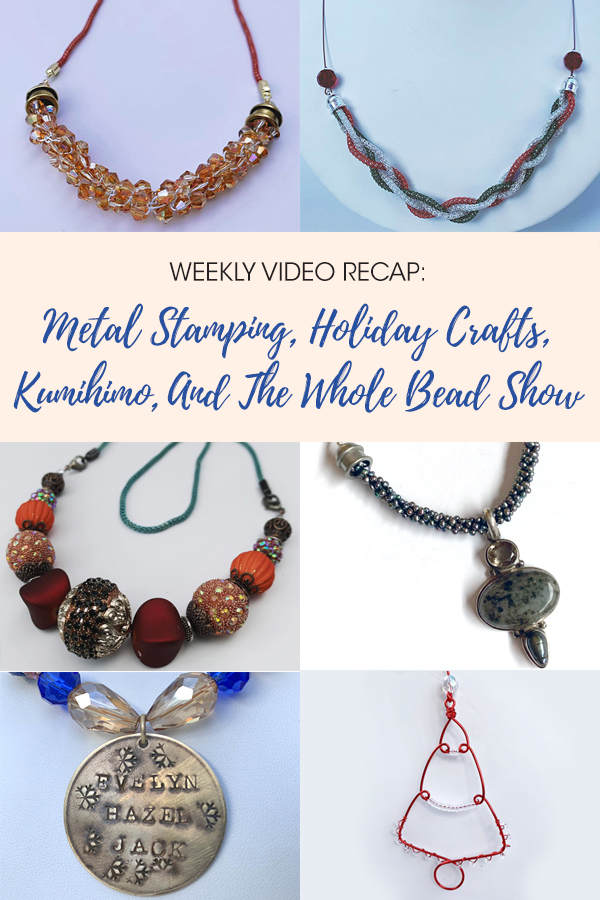 Demos, classes and fun at the Oakland Whole Bead Show
We had an amazing time at the Whole Bead Show in Oakland. If you were not able to visit us at the SilverSilk & More booth, this is your chance to see what you missed.
We filmed a video each day we were at the three day show. It was a great time to show everybody how well Soft Flex Beading Wire and SilverSilk chain worked together. SilverSilk adds a lovely texture and detail to a jewelry design. If you have never used it for any beaded designs, you need to visit the SilverSilk site and add some Capture Chain or Hollow Mesh to your beading toolkit.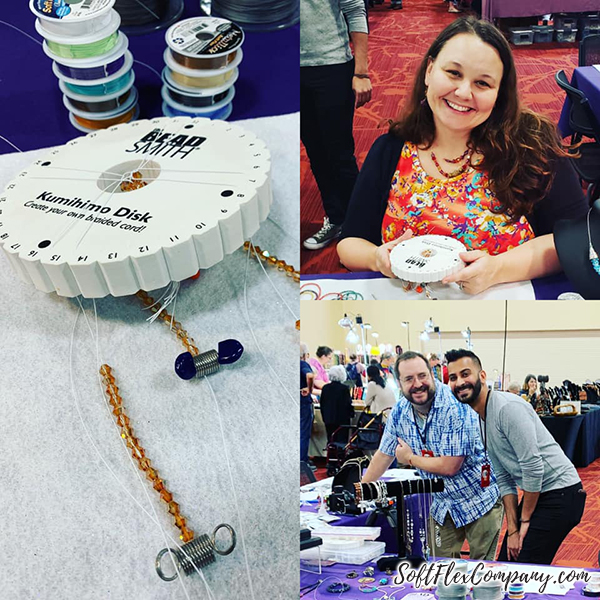 If you were not able to attend the Whole Bead Show in Oakland this year, we hope you come visit us next time. If you are ever in Northern California and you would like to visit our Gallery, we would love to show you our stunning bead collection.
November 15: Live from Oakland Whole Bead Show! Attaching beaded kumihimo braid to SilverSilk cording.
Oakland was so much fun. Sara and James got to spend the weekend with our friend, Nealay Patel. They did demos and made some wonderful jewelry during the show. On the first day of the show, Sara wanted to show everybody how she finishes a kumihimo design. She completed the kumihimo braiding earlier, but had not pulled it from the disk. She thought it would be a great design to enhance with some luscious SilverSilk chain.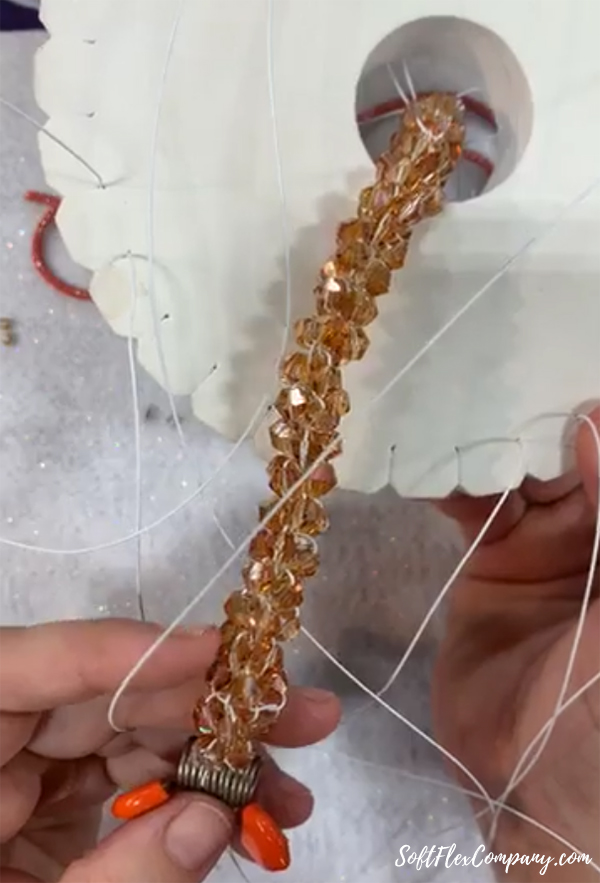 Colorful Soft Flex Beading Wire is a great choice for a braiding material. Sara chose to bead her wire for this design. Doesn't it look gorgeous?
Sara used a Bead Stopper to organize the wire while she worked. They are super handy. Simply pull it off when you are ready to finish your design. They are also handy if you have to leave a design before you can finish it. The Bead Stopper will keep everything in order until you can crimp your design. If you are stringing beads, you can also your the Bead Stopper to close one end so the beads do not fall off as you go.
Sara crimped her wire with a 3x3mm crimp tube and added a Captial Cord End bead cap. This allowed her to hide the crimp and the wire and is a great element to add to the design. She left a single Soft Flex wire uncut so she could attach the SilverSilk to her design.
You will not need a bunch of supplies for any of the wonderful designs we made during the show. Just make sure you have these in your toolkit.
Supplies:
Round Kumihimo Disk
Soft Flex Beading Wire
Beads
Soft Flex 3x3mm Sterling Silver Crimp Tubes
Soft Flex 2x2mm Sterling Silver Crimp Tubes
Soft Flex 3mm Sterling Silver Crimp Covers
Captial Cord Ends
Clasp
SilverSilk Capture Chain
Cutters
Regular Crimping Pliers
Mighty Crimping Pliers
Chain Nose Pliers
Round Nose Pliers
Bead Stoppers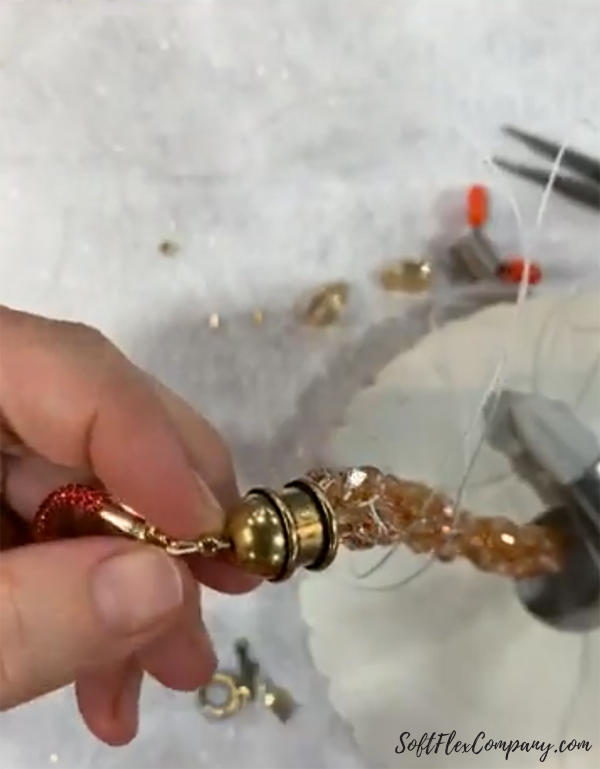 It looks stunning. SilverSilk is a wonderful looking chain. It comes in various colors. It adds such an interesting texture and visual element to a design. Beaded kumihimo braids make such a lovely focal. Don't you want to make one of these wonderful necklaces for yourself?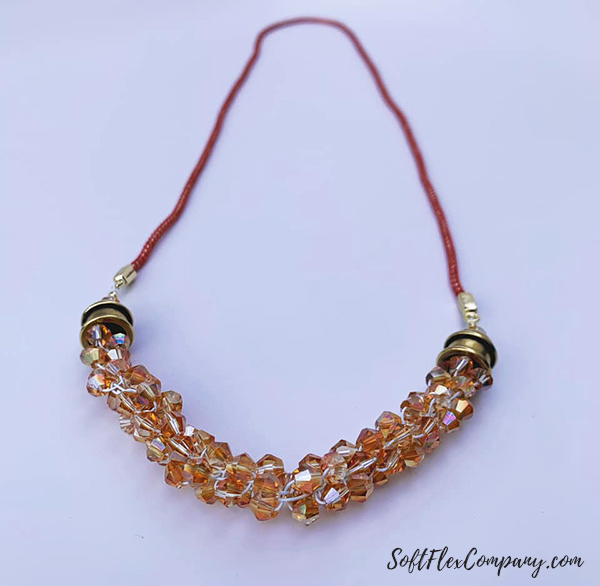 November 16: Live from Whole Bead Show in Oakland with a Soft Flex and SilverSilk combo necklace!
Saturday in Oakland. We had another fun day. If you have never visited a bead show and love to string jewelry, you really owe it to yourself to visit a show. Bead shows offer a unique chance to meet the vendors and jewelry designers you love. You can find some deep discounts and rare items. You can take classes. You can learn new techniques watching demos. There is a lot of fun to be had.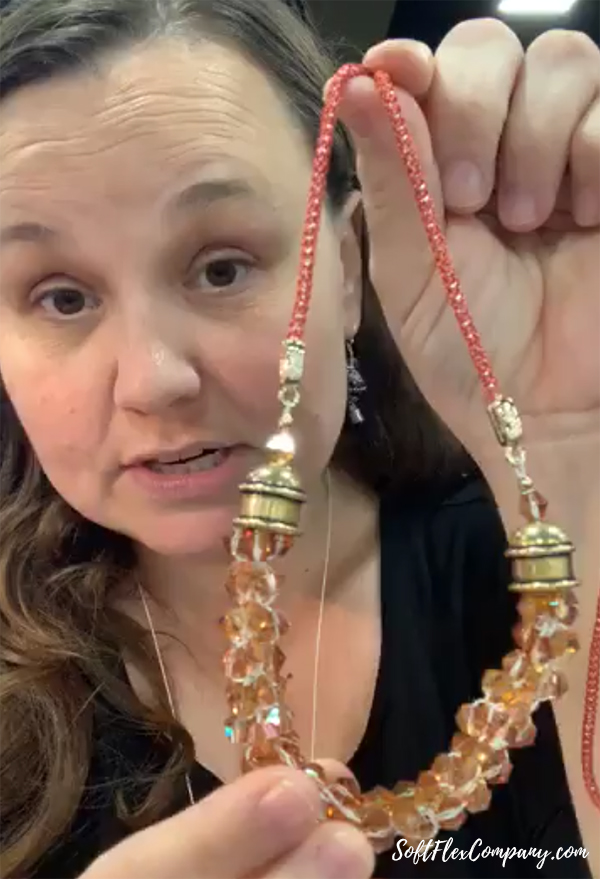 Sara showed off her finished kumihimo necklace from the day before. If you have not dipped your toes into kumihimo, you should check it out. The designs look complicated, but the braiding is really easy and adaptable to so many different pieces of jewelry. You can make dainty jewelry. You can add beads or use different cords and fibers. You can also make bracelets that are perfect for the fellows in your life. If you would like a crash course in kumihimo, check out our blog - Everything You Need To Know About Kumihimo.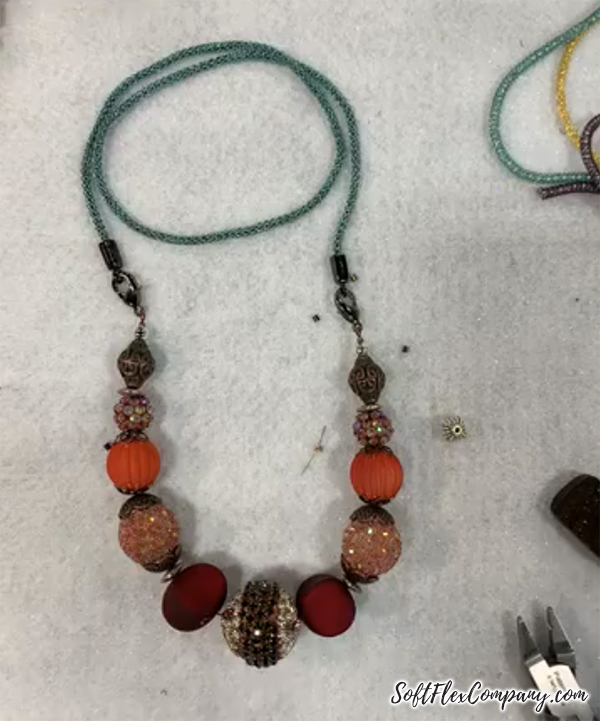 Sara created another necklace with Soft Flex Beading Wire and SilverSilk chain. This time she used our bead stringing wire as a beaded focal for a SilverSilk necklace. This design is so easy to make and it looks so sophisticated. Wouldn't this be a great gift? Make some jewelry for your friends and family!
Sara showed off some Soft Flex Craft Wire Christmas decorations she made (and a Halloween bat). These are really fun. You can make your own DIY ornaments. You can turn these beautiful crafts into garlands or you can adorn a Christmas gift with ribbon and one of these cute little stars. Check out Sara's videos on our YouTube channel. She is making an new ornament each Friday until Christmas, except for next week, she will be celebrating Thanksgiving with family and friends in Arizona.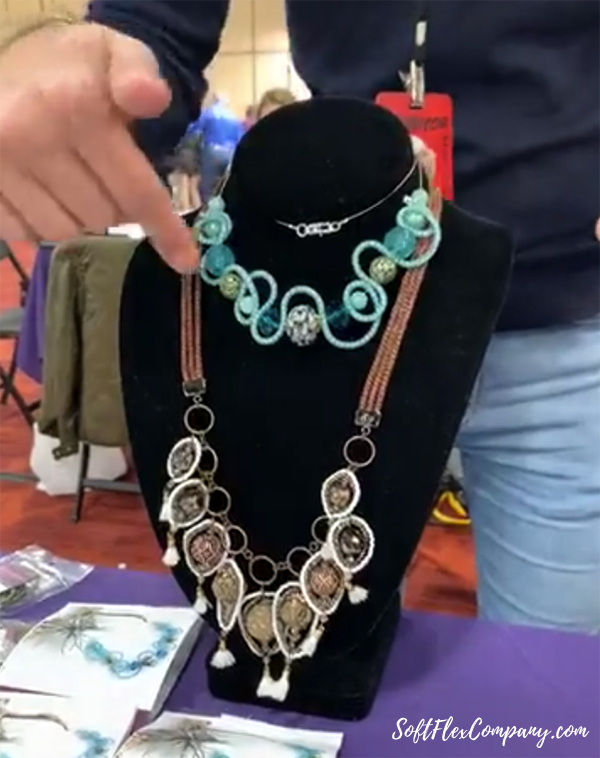 Nealay showed off some of the lovely jewelry he had created. He has some stunning stuff. He is a talented and thoughtful artist. He also showed the jewelry he was making with the class he was teaching. You are going to wish you had visited his booth if you did not get a chance to visit the Whole Bead Show.
November 17: Jewelry Making Ideas from Nealay Patel and Sara Oehler - Live from the Whole Bead Show in Oakland!
If you made it to the show, these happy faces would have greeted you at the booth. If you were not able to make it - we wish you were here!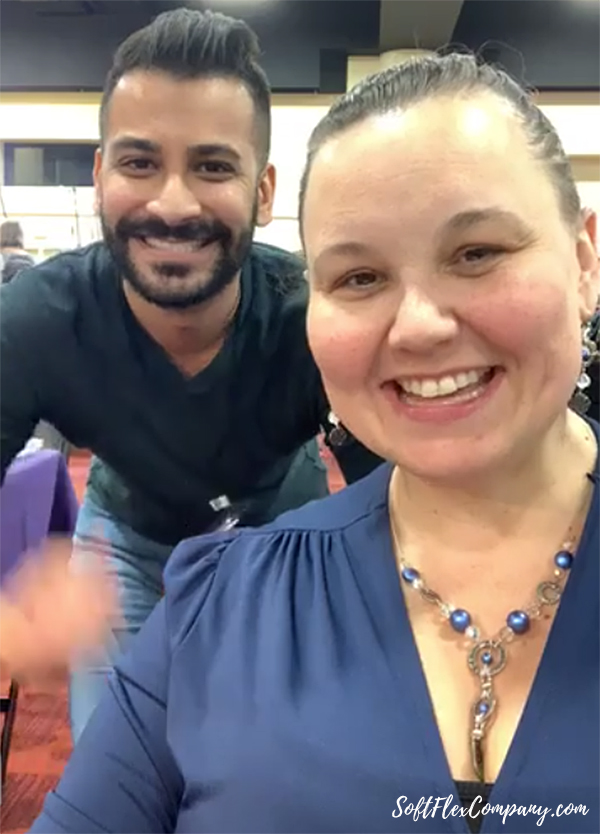 One the third day of the Oakland show, Nealay showed us how to make a festive SilverSilk necklace. Using tradtional Christmas colors, he braided SilverSilk into an pretty design. You can braid this as tight or loose as you like if you are creating a necklace for yourself. You can also opt for different colors depending on the time of year you plan to wear it.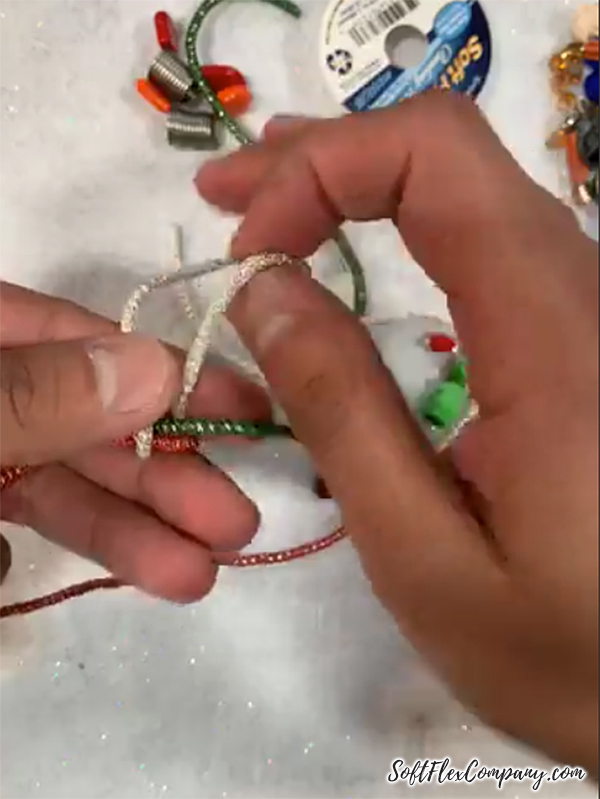 These colors would be great for really fancy Christmas decorations. Wouldn't it be fun to make a really extravagant Christmas garland this year? Maybe even a sweet little necklace for Mrs. Clause. Who needs to cookies? Give Santa a gift his wife will love!
Nealay finished this design by adding it to red Soft Flex Beading Wire. So stunning and jubilant! This is perfect for an office party.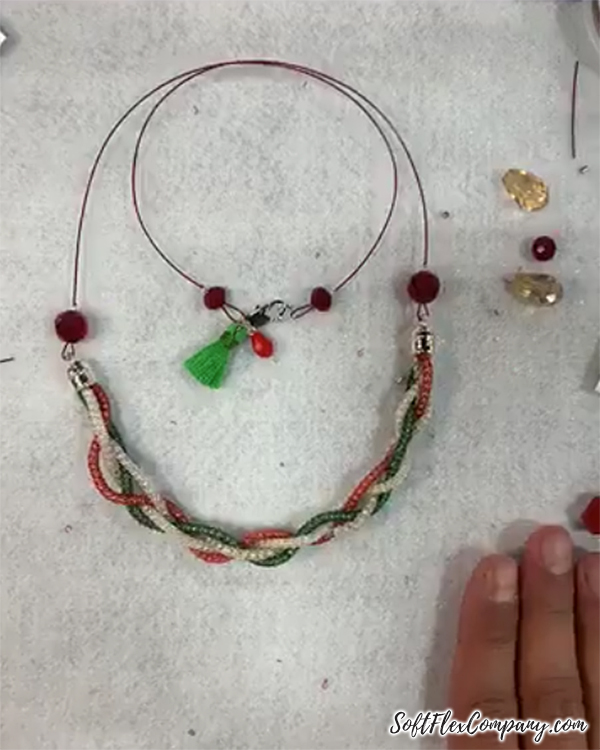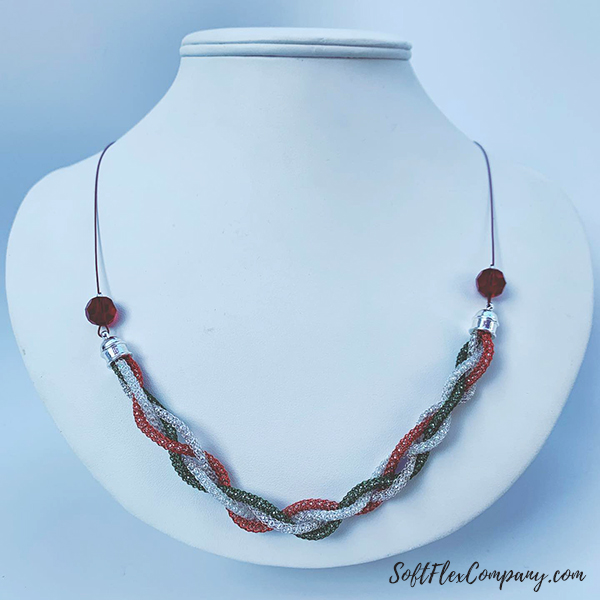 Sara showed off some more Soft Flex / SilverSilk necklaces. They are all so decadent and sumptuous. It is amazing how economical all of the supplies are, the finished look seems like it would be expensive.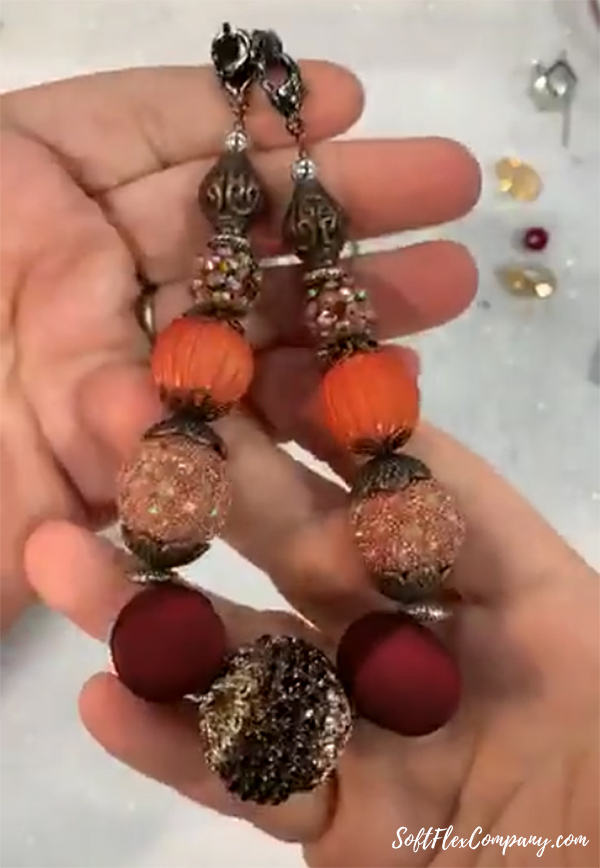 Do you have a Soft Flex necklace that was finished with SilverSilk? We would love to see it. You can post it in our Facebook group – VIB. Or show it off on Nealay's Facebook group - The SilverSilk Silkies.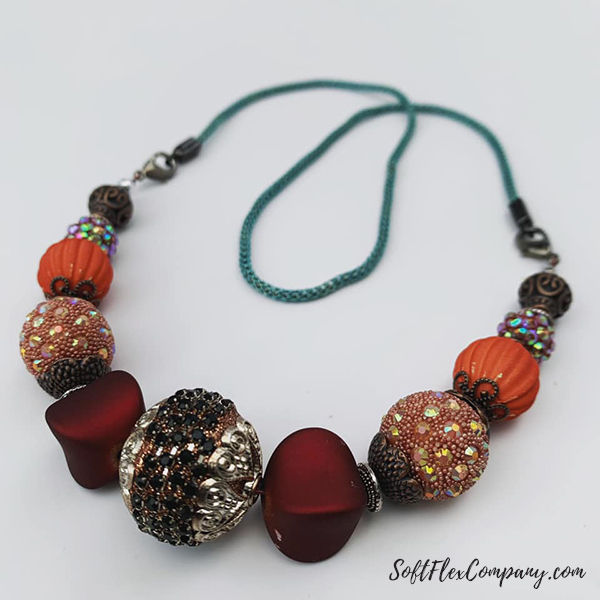 You can find Nealay on Facebook and YouTube. If you are a fan, make sure you join his active group on Facebook - The SilverSilk Silkies. He is very accessible and loves to answer questions. He is a great jewelry teacher and source of inspiration.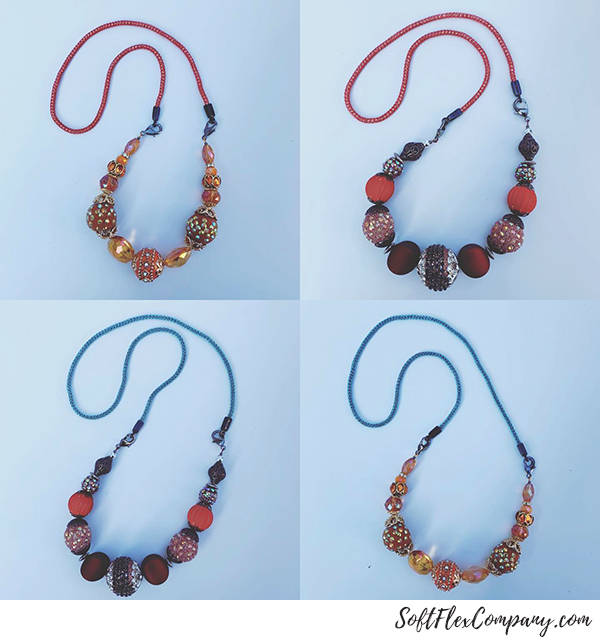 How to Make a Kumihimo Braid with Pearls and Soft Flex Wire

Kristen filmed another episode of Free Spirit Beading on Monday. She is live on Mondays at 12pm PST.
This week Kristen showed us how to braid a kumihimo design with beads. This is a great video for beginners or kumihimo braiders that have not tried adding beads. She shows the entire process and it is easy to follow her. If you wanted help learning kumihimo - this is a must see video!
Kristen uses a Bead Stopper to contain her wires. You can use this or you can buy a kumihimo weight online. This will gather your wire in a clean and manageable way. It will also be easy to add tension to the design as you work on it if you want a tighter braid.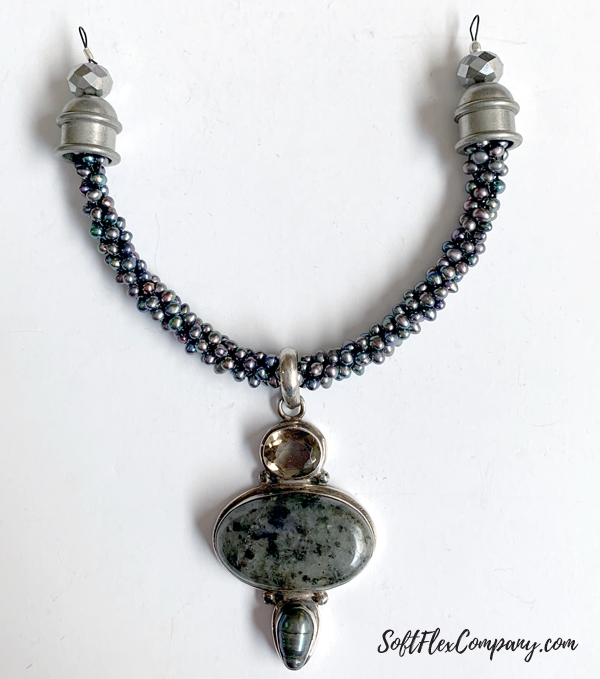 Supplies:
Round Kumihimo Disk
Soft Flex .014/Fine Beading Wire in Black
3mm Black Peacock Potato Shaped Freshwater Pearls
Soft Flex 3x3mm Sterling Silver Crimp Tubes
Soft Flex 2x2mm Sterling Silver Crimp Tubes
Soft Flex 3mm Sterling Silver Crimp Covers
Captial Cord Ends in Tin Plate
Lobster Claw Clasp
22 Gauge Soft Flex Craft Wire
SilverSilk Urban Capture Chain
Accent Beads (optional)
Large Focal Pendant (optional)
Cutters
Regular Crimping Pliers
Mighty Crimping Pliers
Chain Nose Pliers
Round Nose Pliers
Bead Stoppers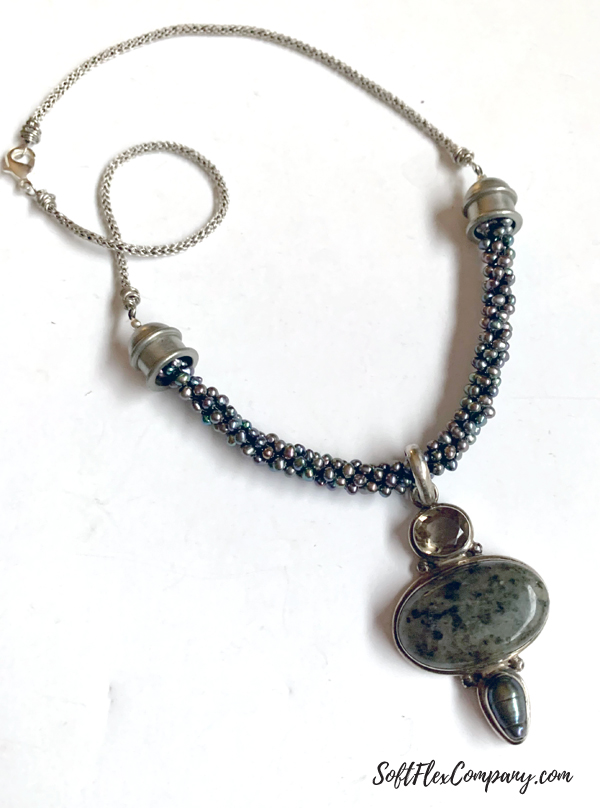 This design looks beautiful. It is easy to customize it too. You can make your own signature necklace with SilverSilk Capture Chain or Soft Flex Beading Wire. You can do the entire design with just the kumihimo braid. You can change the beads and focal. You can change the color. Make it your way!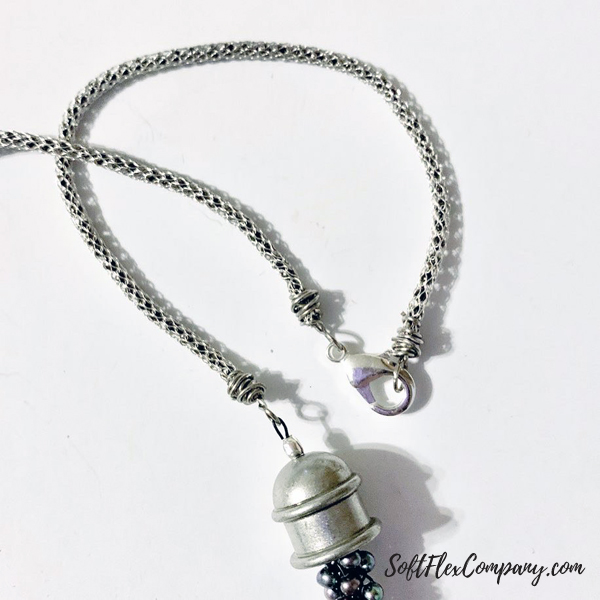 Kristen chose to add SilverSilk Capture Chain and a lobster claw clasp to finish off her design. Instead of a cone, she did a cute little messy wrap with 22 Gauge Soft Flex Craft Wire.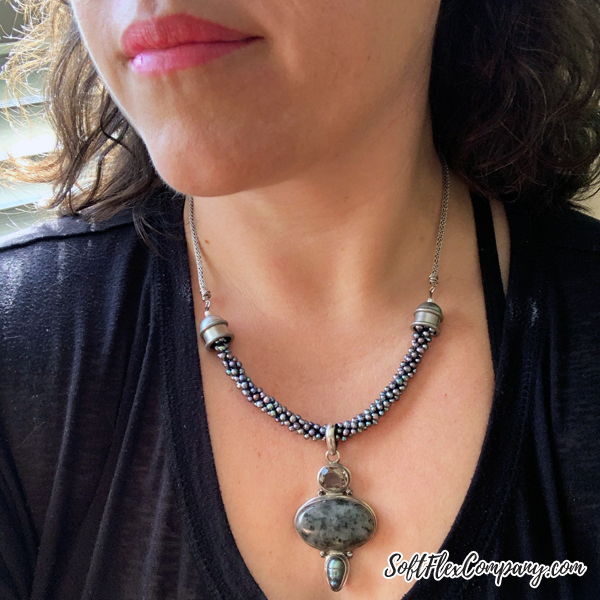 Metal Stamping Gratitude Necklace With Soft Flex Beading Wire
We stocked our shelves with some fun new metal stamping tools. Sara thought this would be a great time to make a new gratitude necklace. She has a gratitude necklace she made several years ago. The names of her daughters were on it. Santa came early this year and a little man named Jack joined the family. Sara wanted to make sure she added his name to a new necklace for the holidays.
What are you grateful for this year? Do you have a warm and loving family? A beautiful fur baby? We hope you have a lovely holiday season and spend it with people you love.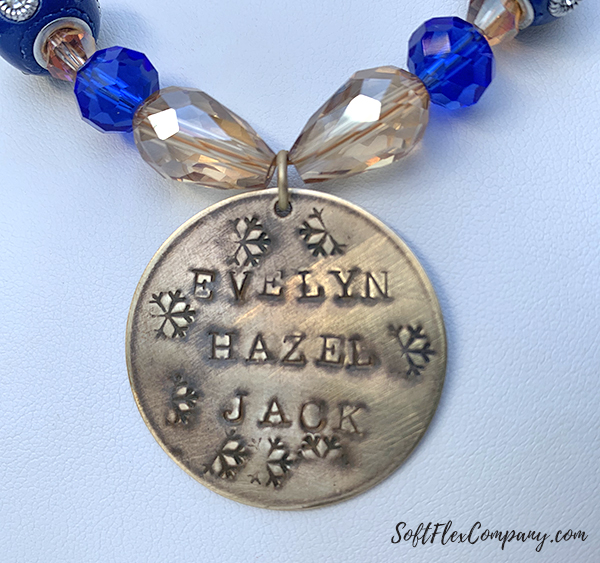 How sweet is this? If you have patina paints you can color your stamp any way you like. You can add the names of your children or favorite pets. What a gorgeous way to tell everybody how grateful you are for the things in your life!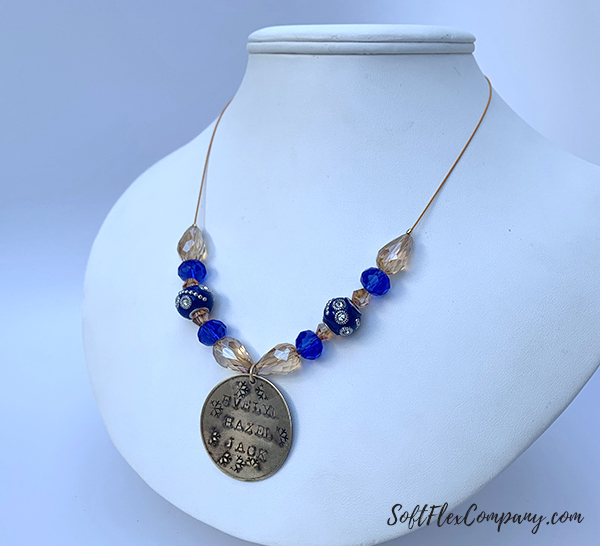 Holiday Crafts and Ornaments with Sara Oehler - How to Make 4 Wire Christmas Tree Decoration Ideas
Sara is doing holiday crafts this season. She filmed her fifth episode in an eight part series of holiday craft and ornament videos. This week, Sara made some delightful little Christmas trees. Hang these, with love, on your Christmas tree or add them to gift ribbons. They are a little Christmas magic for this happy season!
Make sure you catch Sara's new YouTube live shows. She is filming every Friday morning (except Thanksgiving week) at 10:00am PST. She will be making holiday decorations throughout the season. Her videos will be a great way to find inspiration if you need decoration or jewelry ideas. Catch her live and she will answer your questions. Make sure you subscribe to our YouTube channel. We have new uploads three and sometimes five times a week.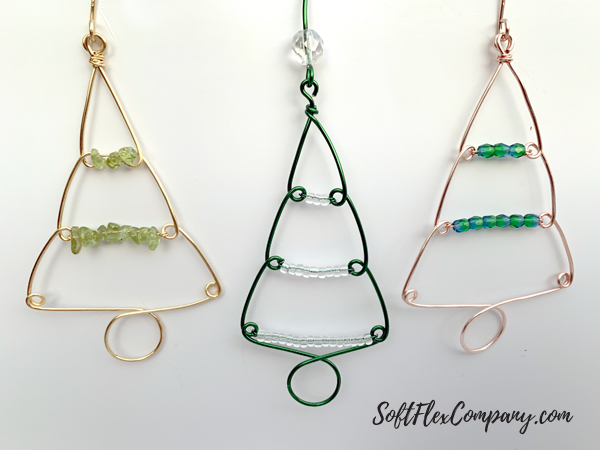 What a beautiful day to make some crafts. Sara filmed this video in her backyard, which gave us some great light for the video. She wanted to show everybody how she makes Christmas trees with Soft Flex Craft Wire. These Christmas trees do really well on Pinterest. The get pinned by thousands of people that love to make holiday crafts. You should make some this Christmas. They are super easy to make if you have a WigJig jig board.
Soft Flex Craft Wire - Silver Plated 18ga
Soft Flex Craft Wire - 18ga
Soft Flex Craft Wire - Silver Plated 26ga
Soft Flex Craft Wire - 26ga
WigJig Olympus Lite Acrylic Wire Jig
WigJig Large Super Pegs For Olympus Lite
Nylon Jaw Pliers
Chain Nose Pliers
Round Nose Pliers
Wire Whacker
Bead Nipper (Cutters)

SilverSilk Travels To Toyland Mystery Kit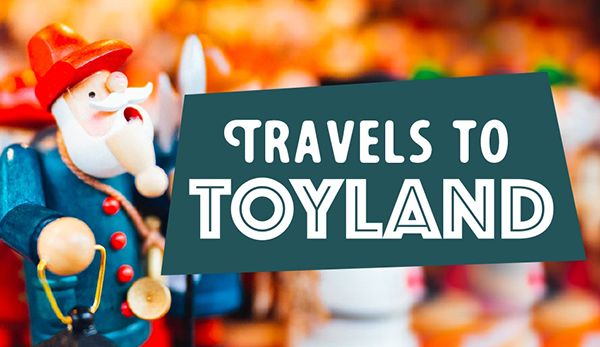 From Nealay:

When I think of the holiday season, I go back in time to simpler toys that brought pure joy to me, and that is what inspired this kit. I love vintage holiday colors, styles and beads. Let's get creative and make jewelry inspired by old school toys from a toy shop! Inside this collection, you can expect some adorable charms, a custom Jesse James Beads mix, some charms from Tierra Cast, Soft Flex Beading wire, some SilverSilk Chain and a selection of SilverSilk findings.

Go to SilverSilk's website to purchase the Travels To Toyland Mystery Kit.
The Travels To Toyland Tour kicks off Tuesday, November 26 on the SilverSilk facebook page.

Join our Facebook group – VIB. Stay in the know. Stay up to date. From our bead shows to our video shows and sales, you can stay in touch with us. The community is full of artistic and helpful beaders and crafty people. Inspire and be inspired. Share your pictures and get the beading bug from others!
Visit the Soft Flex Company YouTube Channel!
---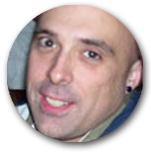 Blog contributor Thomas Soles loves Jazz Age writers and crunchy french fries. His favorite gemstones are Lapis and Pietersite. His favorite hobby is day dreaming. And his favorite mustache is Freddie Mercury's. As you can see, he has a healthy (or possibly unhealthy) sense of humor. You can write to him at Thomas@SoftFlexCompany.com