Beads of Courage has aided and inspired ailing children for years. They are an outlet for creativity when a young person is on what can be a bleak and scary journey. Children earn beads by facing their fears. For a surgical procedure, they will get a bead. For facing the dragon that is cancer – they receive a bead. For losing their hair, they get a bead. The jewelry they wear is a story and it is a testament to that child's bravery.

Beads of Courage is also a celebration of beads. It is a joyous embrace of an ancient art. Let's appreciate these brave children and celebrate their creativity!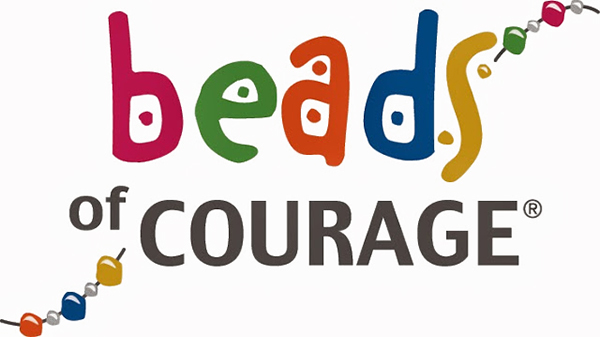 Beads of Courage is an organization that seeks to comfort children with serious illness. Beads of Courage offers ailing children goals and hope and rewards them for the harsh journey that nobody wants to undertake.
Beads are historically significant. The art of stringing beads is ancient and incredibly important. Beads have been around for thousands of years. Beads are an indicator of behavioral modernity. Beads signified a moment in time when our ancestors began to explore abstract thought and art. This pushed us to explore life beyond simple hunting and gathering. Beads were rewards for hunts. Beads were status. Beads were cherished.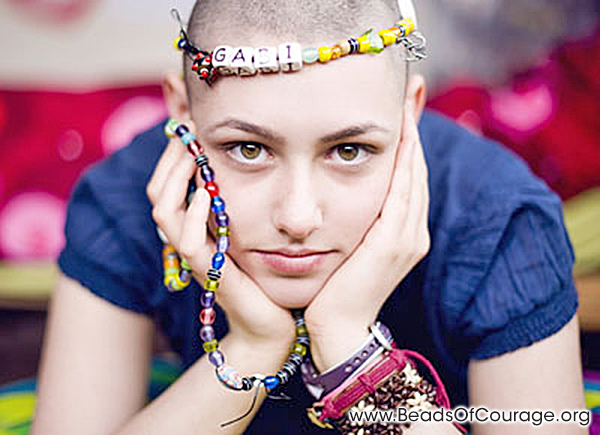 From Beads of Courage:
Why Beads?
Beads signify strength and courage
Just like medals, ribbons and certificates, many ancient and modern-day cultures use beads to show bravery and accomplishment. They have long been used to protect warriors from natural and supernatural enemies, along with lending special magical protection for heroes during long journeys.
Beads have every-day uses
They have served many practical purposes throughout history, from weighing down scrolls, saddle blankets and table cloths to serving as calculators (like the abacus) to prayer tools (like the rosary). Today, we see beads in mats, car seats, and curtains. Can you think of any ways that people use beads today?
Beads carry value
Beads have been traded for everything from gold to beaver pelts, ivory to spices, and even slaves. Societies across the world have made beads from tortoise shells, wood, pottery, sea shells, seed, ivory, stone, egg shells, animal teeth, bone, claw and horn…and glass. Some of the world's most talented glass artists devote their whole careers to making beads.
In many societies, beads are believed to carry protective and healing powers

Beads Of Courage is a joyous exploration of beading. The children that receive beads have created some wonderful jewelry. The individual beads they string tell the story of the journey they are on. There are beads that denote hospital stays. There are beads gifted for losing hair. There are beads given for surgical procedures. Every necklace tells a story. And every necklace is personal and reveals the strength of the child that wears it.
Below are 10 glass beads that were created based on drawings by 10 children in the Beads of Courage program.
10 jewelry designers, chosen by Soft Flex Company, were challenged to incorporate the beads into finished necklace designs. These necklace designs were displayed and sold with the proceeds benefiting Beads of Courage.
"Love"
Design by Sara Oehler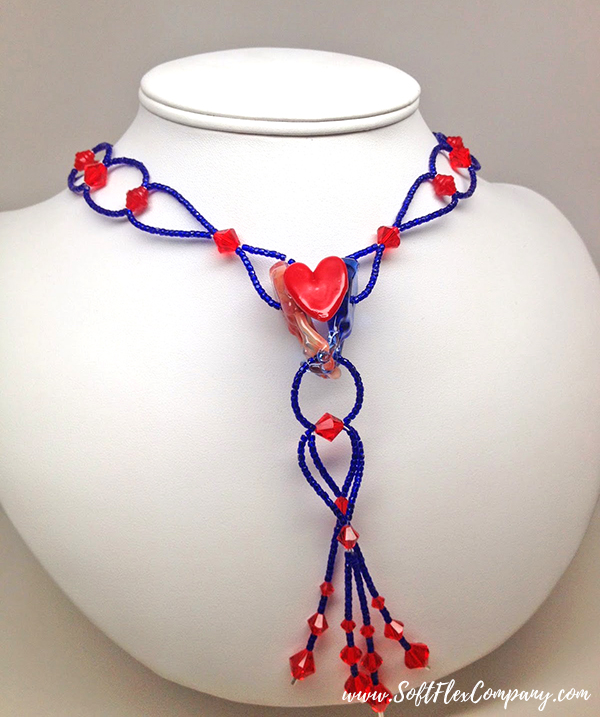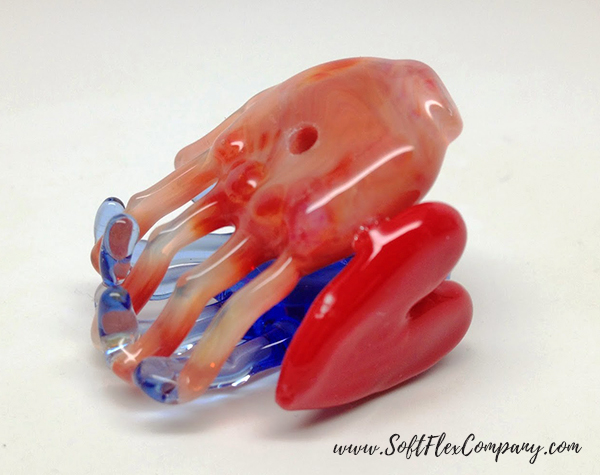 Bead designed by Khrynn/David Schmidt
Honored Sibling and Parent of BOC Member Cameron Schmidt
Bead created by Dorie Guthrie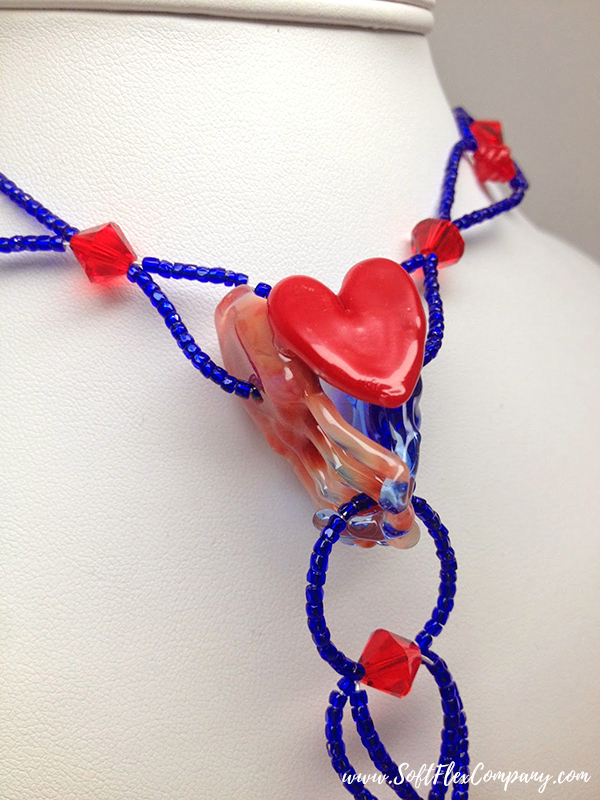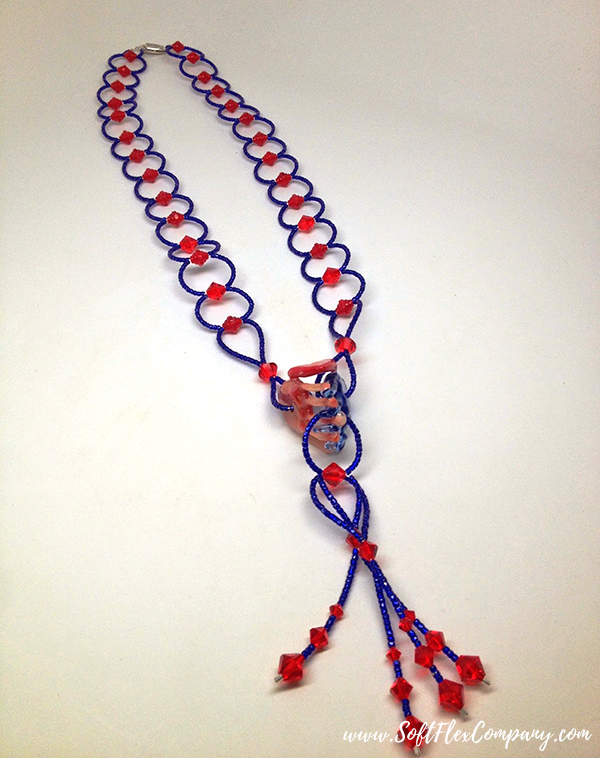 "Spirit"
Design by Cathy Jakcic
Bead designed by Beads of Courage Member Teah Mantzke
from Seattle Children's Hospital
Bead created by Lara Lutrick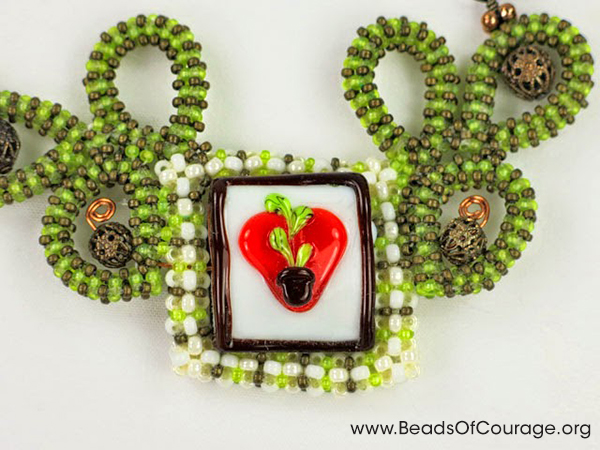 "Life"
Jewelry Design by Andrew Thornton
Bead designed by Gilina Voon from Lucile Packard Children's Hospital
Bead created by Elizabeth Bunn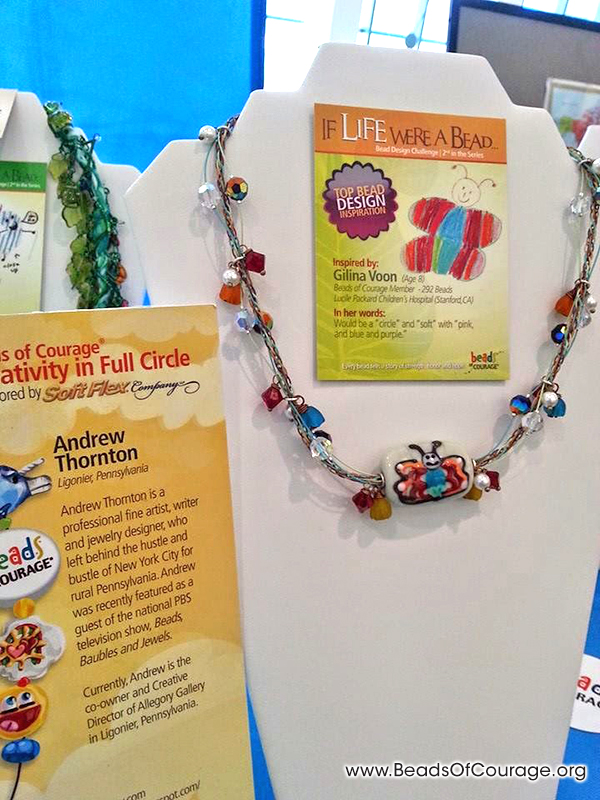 Read about Andrew here: Bolivar artist creates jewelry for Beads of Courage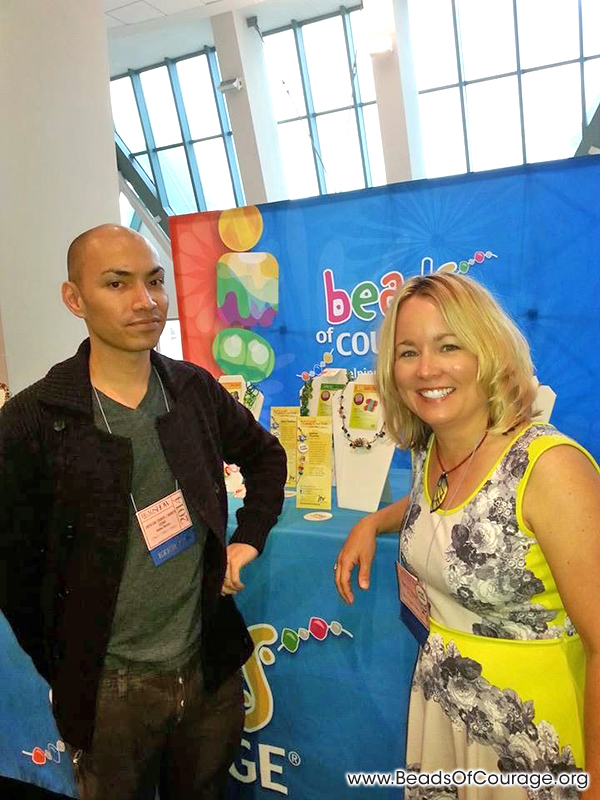 "Courage"
Jewelry Design by the Designers of Fusion Beads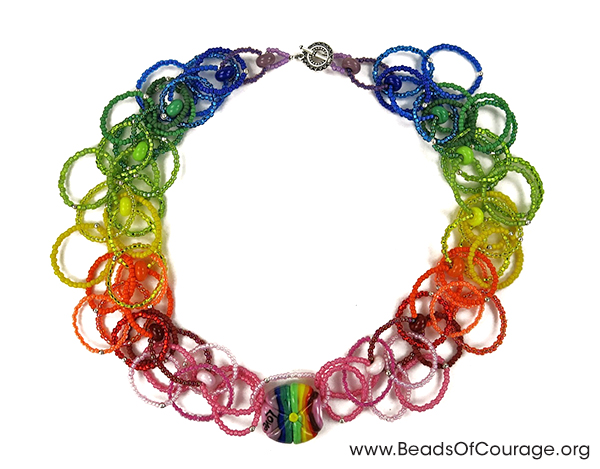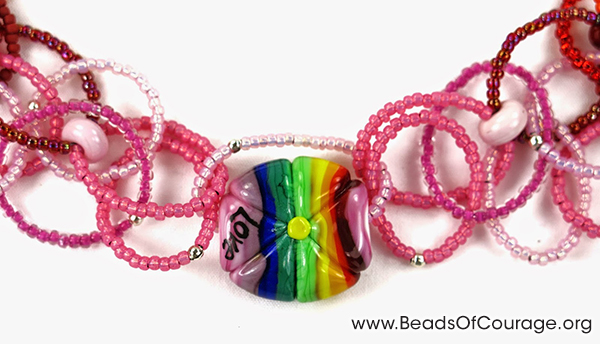 Bead designed by Mia Ronstadt, honored sibling of Larry from Diamond Children's
Bead created by Margaret Zinser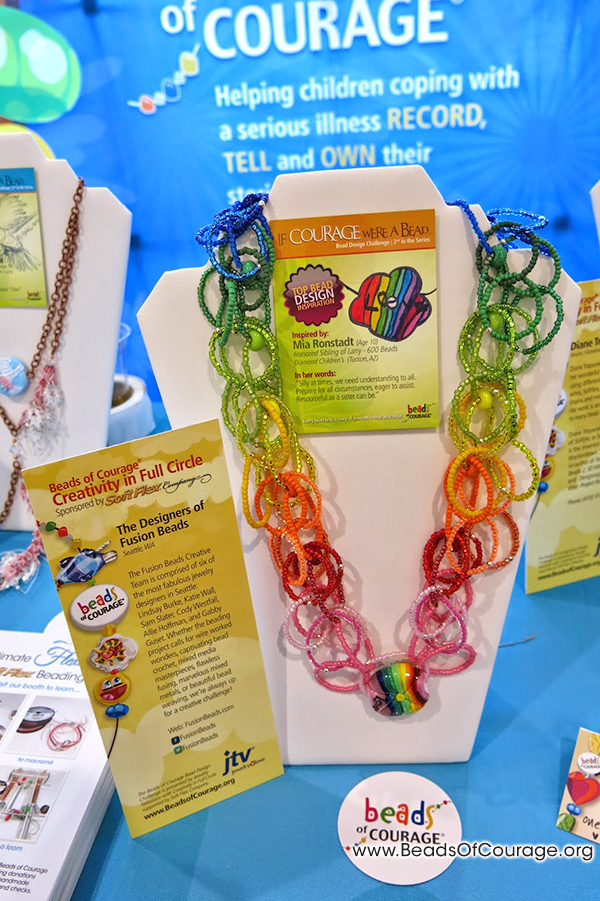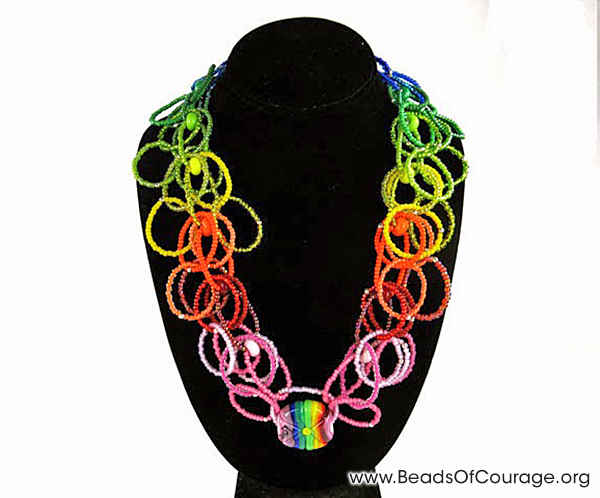 "Strength"
Design by Jamie Hogsett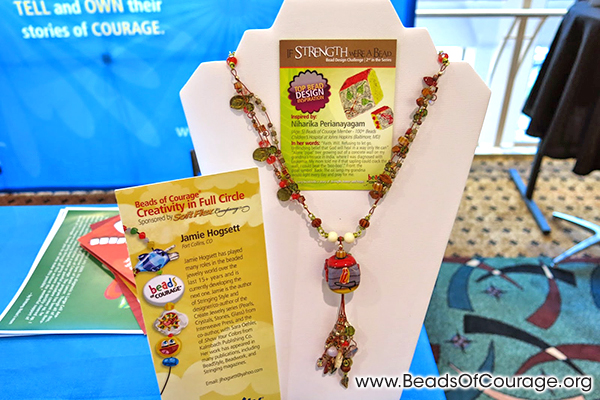 Bead designed by Beads of Courage Member Niharika Perianayagam from Johns Hopkins Children's Center
Bead created by Kris Schaible
"Laugh"
Design by Diane Trepanier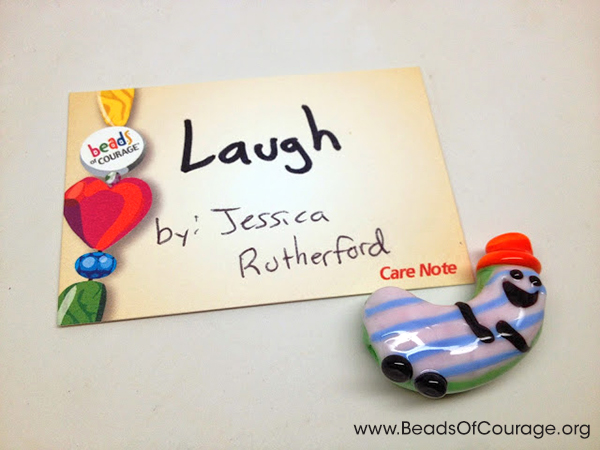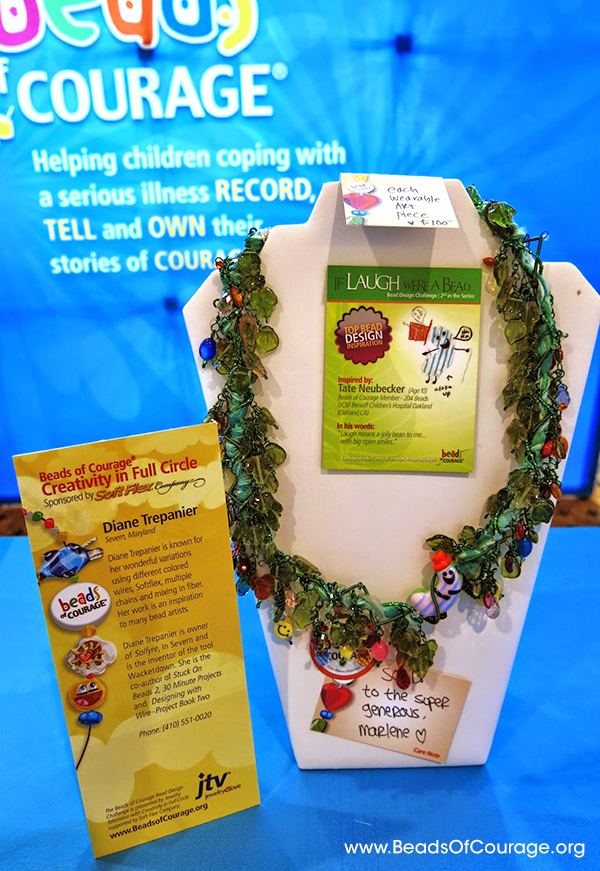 Bead designed by Beads of Courage Member Tate Neubecker from UCSF Benioff Children's Hospital Oakland
Bead created by Jessica Rutherford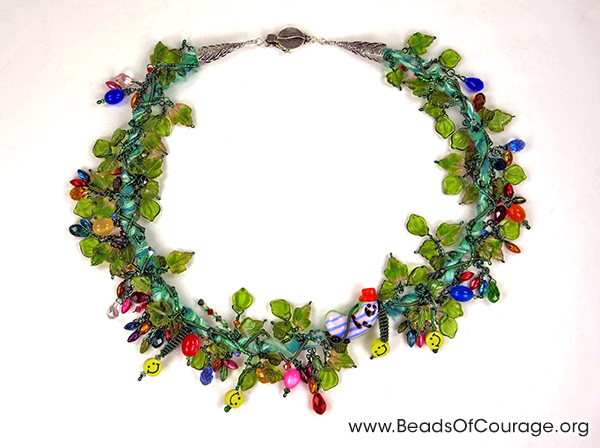 "Joy"
Design by Ayla Phillips Pizzo on behalf of Ayla's Originals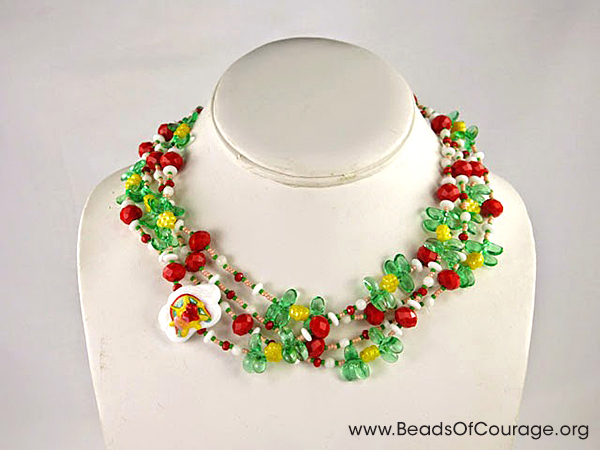 Bead designed by Beads of Courage Member and Bead Artist Hall of Fame Inductee, Jessi
Bead created by Marcy Lamberson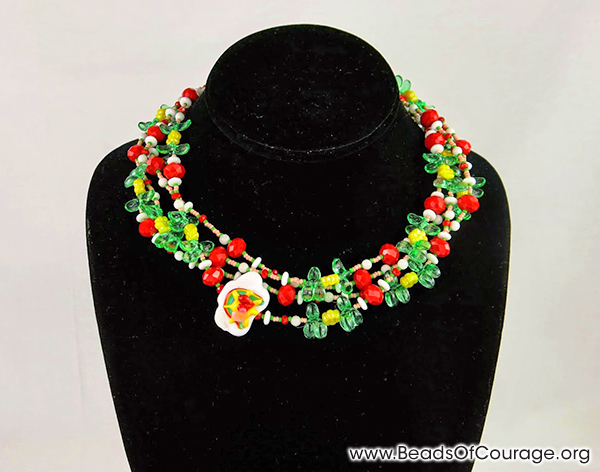 "Inspire"
Design by Kristen Fagan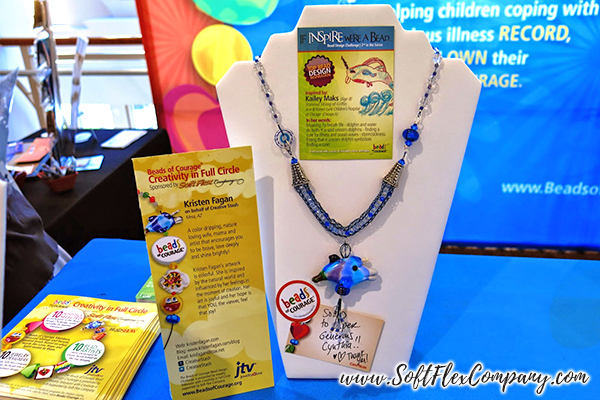 Bead designed by Kailey Maks, honored sibling of Griffin from Ann and Robert H. Lurie Children's Hospital of Chicago
Bead created by Nanette Charif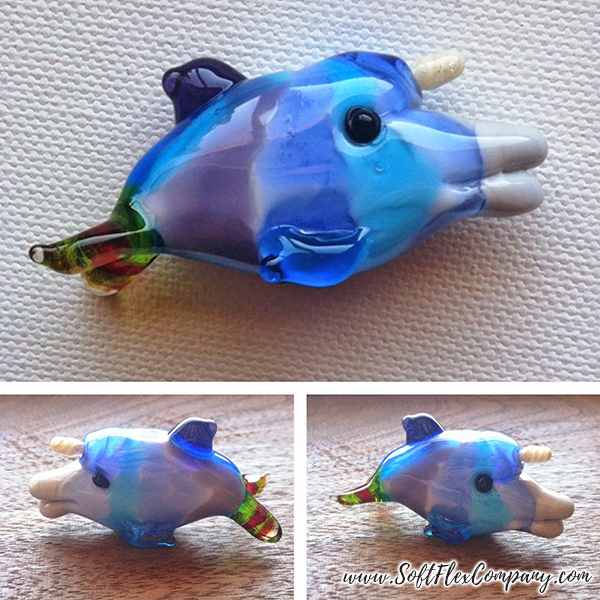 Kristen knitted Soft Flex Beading Wire on a knitting spool for this design!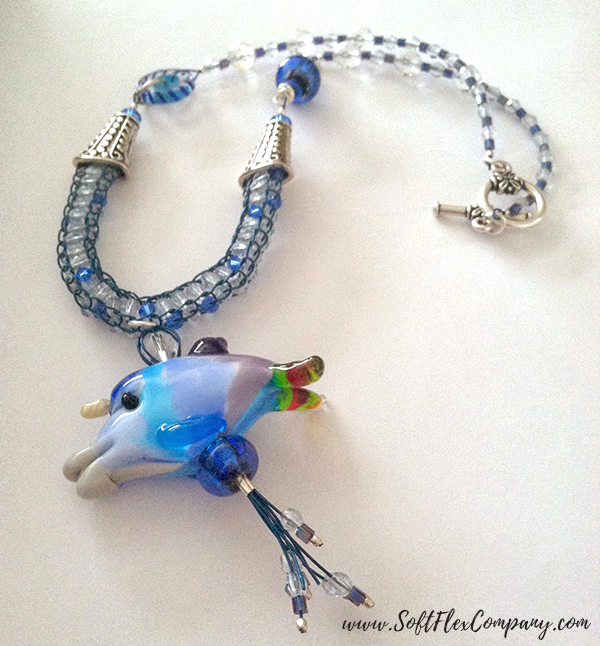 "Peace"
Design by Erin Prais-Hintz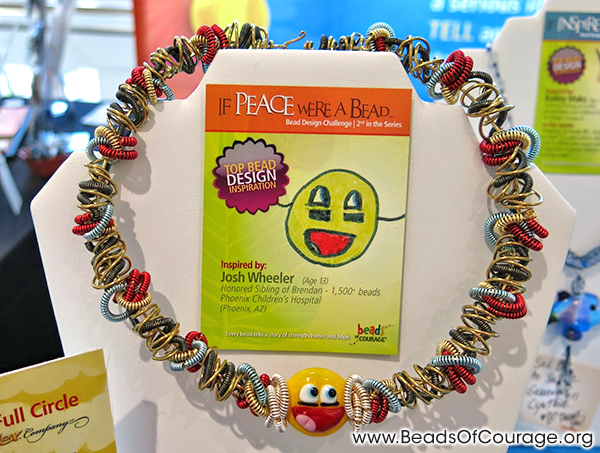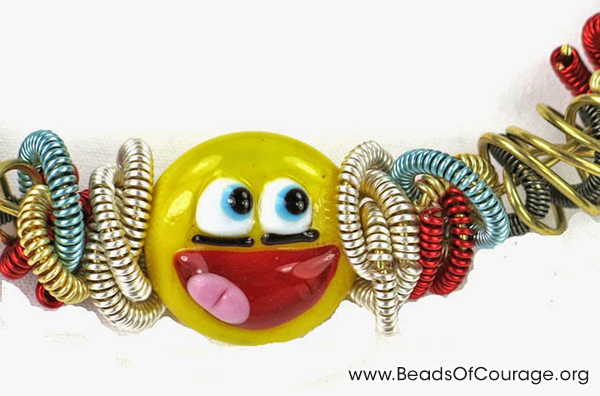 Bead designed Josh Wheeler, honored sibling of Brendan from Phoenix Children's Hospital
Bead created by Heather Sellers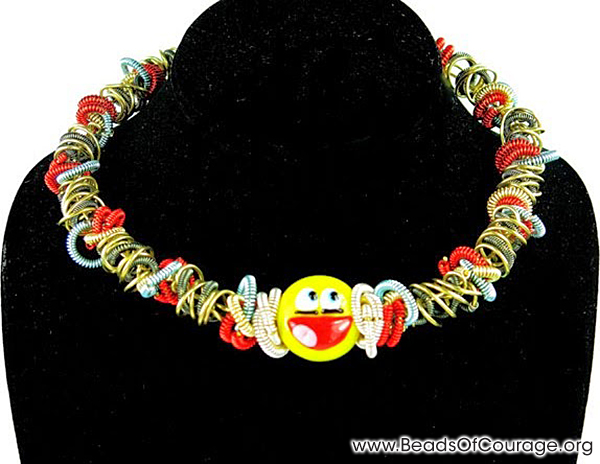 Read all about Erin's experience in this collaboration on the Art Bead Scene.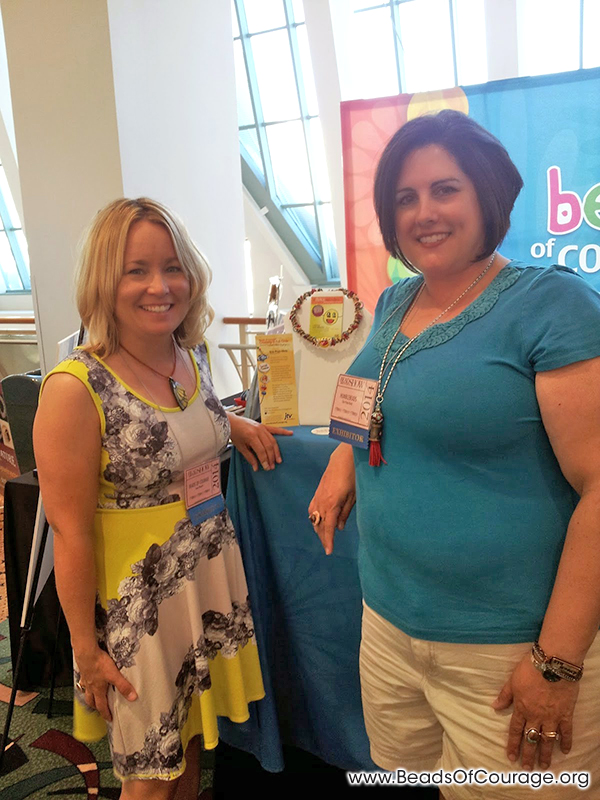 "Hope"
Jewelry Design by Nealay Patel, owner of SilverSilk and More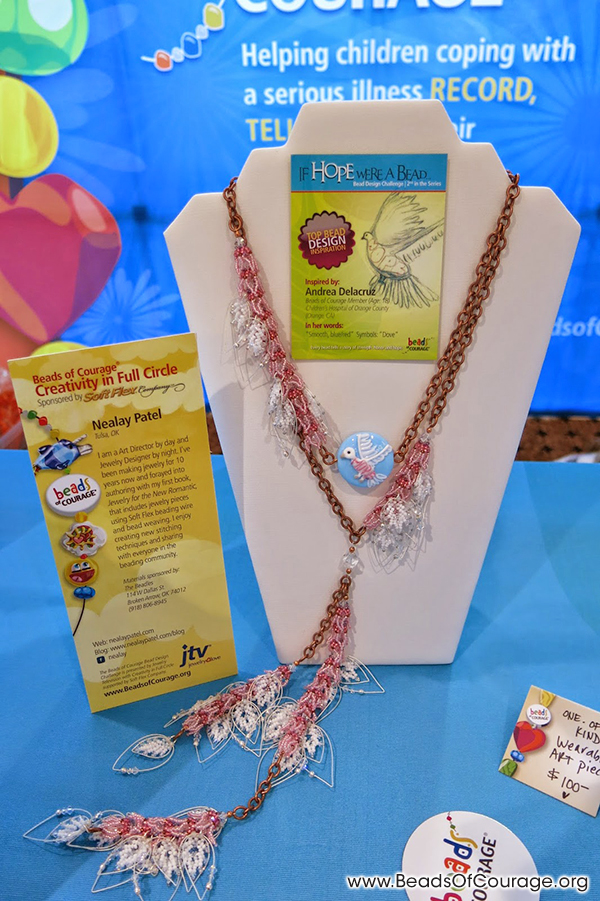 Bead designed by Andrea Delacruz from Children's Hospital in Orange County
Bead created by Diana Rast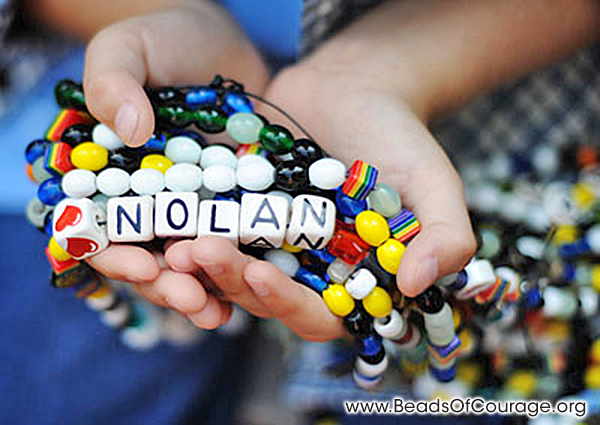 The Beads of Courage Mission:
We are growing every day, providing innovative, arts-in-medicine supportive care programs for children coping with serious illness, their families and the health care providers who care for them.
Beads of Courage, Inc. is an approved public charity under I.R.S. Code Section 501(c)(3), based in Tucson, Arizona.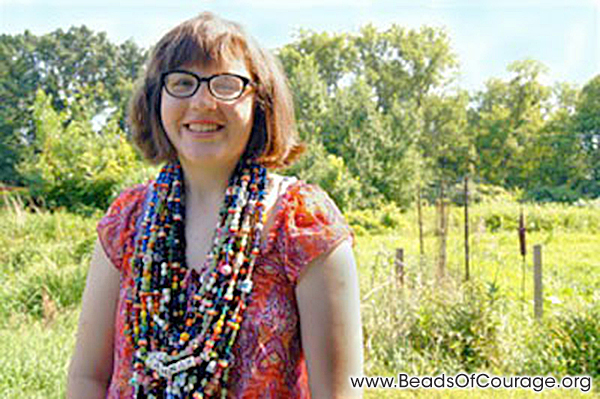 Additional Program Support. The Beads of Courage Program is now implemented in more than 130 children's hospitals in 6 countries. It is estimated that over 30,000 children currently receive Beads of Courage® during treatment. Since 2005, the organization has developed additional programs to support siblings of children that have a brother or sister coping with a serious illness, a program for parents, and an innovative "Strand for Strength and Remembrance" workshop for bereaved family members. All programs are provided free-of-charge for participating children and families because of the generosity of supporting donors who cover the program expenses.

Get Involved! The international headquarters for Beads of Courage, Inc. is located in Tucson, Arizona, however, the scope of outreach is international. The organization depends on the generosity of volunteers, donors and artists groups to pursue their mission of providing arts-in-medicine programs for children coping with serious illness. There are many ways to get involved to support the mission of Beads of Courage® and to directly support children through Beads of Courage Programs in your community. Please visit their website to learn more at www.beadsofcourage.org. If you are interested in getting involved to support the mission of Beads of Courage, Inc. please email Ashley Ethridge, Director of Communications and Development at Ashley@beadsofcourage.org.

Contact information:

Jean Baruch, PhD RN
Founder and Executive Director
Headquarters - 520-344-7668

www.beadsofcourage.org

Email: jbaruch@beadsofcourage.org
Join our Facebook group – VIB. Stay in the know. Stay up to date. From our bead shows to our video shows and sales, you can stay in touch with us. The community is full of artistic and helpful beaders and crafty people. Inspire and be inspired. Share your pictures and get the beading bug from others!
Visit the Soft Flex Company YouTube Channel!
---
Blog contributor Thomas Soles is the Trade Show Coordinator for Soft Flex Company. His favorite stones are Lapis and Pietersite. His favorite hobby is day dreaming. And his favorite mustache is Tom Selleck's. As you can see, he has a healthy (or possibly unhealthy) sense of humor. You can write to him at Thomas@SoftFlexCompany.com