Elevate your jewelry making. We have a guide on how to start simple, learn how to make jewelry, and then break the rules. Your hand crafted jewelry is going to be amazing with these tips. We want you to be a forward thinker. Every piece of jewelry is a learning experience. Don't rush your crafts. Explore colors and shapes. Explore your findings and components. Don't fear failure, it can lead to innovation. Make every creation an insightful journey.
In this guide, we will look at hacks and skills that you may never have pondered. Have you ever considered using a jump ring as a spacer? Well, we will look at that and a lot more. We will embrace chaos and learn from mistakes. If you are a beginner, we will give you some assets so you can master the techniques you will need to make a bracelet or necklace. We have links so you can follow our social media and get connected. If you are a designer, we have lots of great ideas for you, too! Let's make some jewelry.
The Definitive Guide To Jewelry Making From Our Beading Experts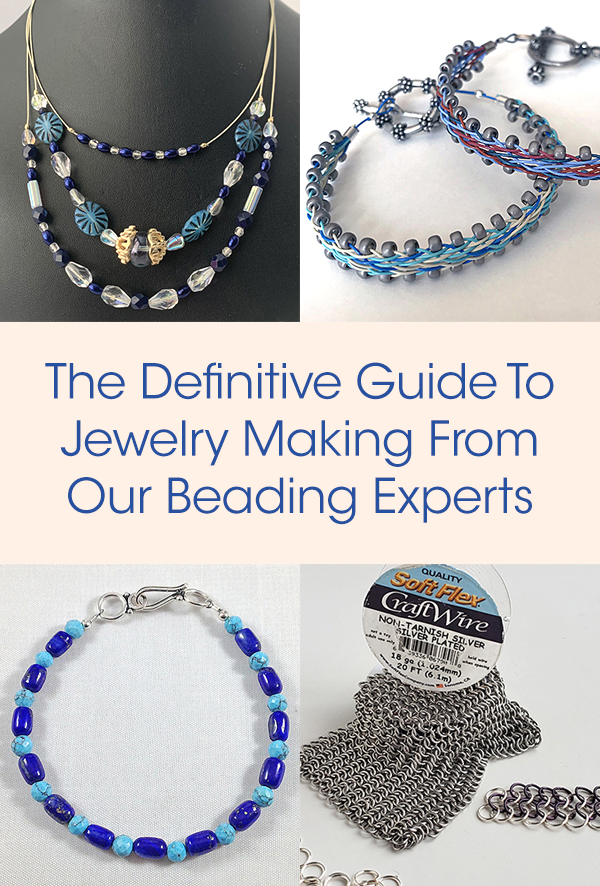 Get To Know Your Beading Supplies
Jewelry making supplies can have odd and sometimes misleading names. You don't want to crimp your style, but you do want to crimp your jewelry. Your jump rings are going to be stationary, even if you frighten them. Your eye pins should never go near your iris or pupils - trust us.
We have a ton of resources on our site if you would like to learn what a product or tool does. But, let's look at a few of the most basic beading supplies. These are the tools you are initially going to need to tackle your first jewelry projects. It is a good idea to spend a little extra money on these supplies as you are going to be using them even as an advanced jewelry designer. Better tools means less headaches. If you buy a good tool, you are not going to need to replace it. If you buy budget tools, you will find they are not always the most durable.
Soft Flex Crimp Tubes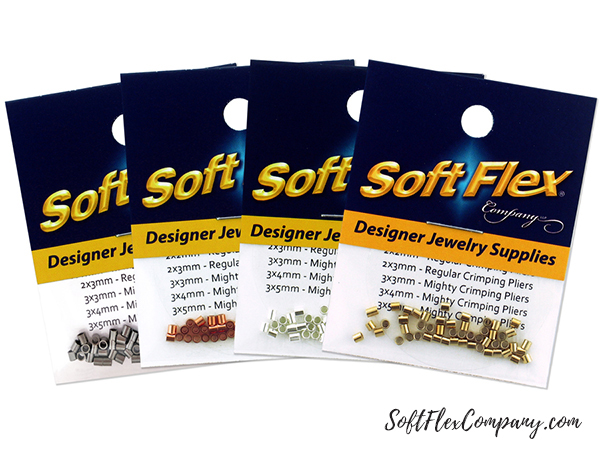 Crimp tubes are fundamental. Crimps are one of the most basic parts of any jewelry design. If you plan to string a necklace or bracelet, you are going to want to learn how to finish a crimp securely. This should be one of the first activities you master. You can practice your crimping before even stringing your first necklace, simply buy some cheap crimps, economy wire and practice. Don't go at it alone, though. We have a lot of instructive videos and text. We want you to know how to finish your jewelry securely. Restringing is not fun and it is a good way to get frustrated. Once you have mastered your crimping, your jewelry will last years. Maybe even decades. It will withstand the abuse of wear and tear. You can then try other crimping techniques, like designing illusion jewelry. Illusion necklaces appear to have beads floating on the neck. This is because the beads are crimped onto a single stand of wire.
Soft Flex Crimp Tubes are crafted with the professional in mind. We have constructed a crimp tube that is almost twice as thick as others on the market. The sturdier build of the crimp is enhanced by the fact that they are also seamless. Finish your next piece securely with our designer crimps. Available at Soft Flex Company in Sterling Silver, Gold Filled, Sterling Silver Black Oxidized or Copper.
Regular Crimping Pliers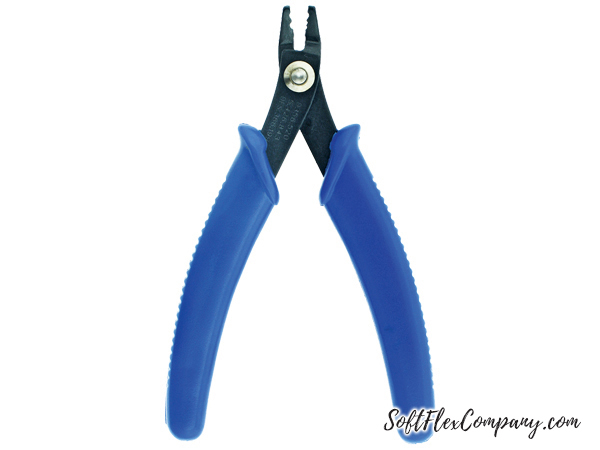 Crimping pliers are a must if you want to finish your jewelry like a professional. Once you master your crimping pliers, every crimp is uniform and secure. Trying to smash your crimps with a pair of regular pair of pliers means your crimps will be irregular and prone to slipping. Crimping pliers allow for your design to be secure with a crimp bead that looks and feels smooth.
Cutters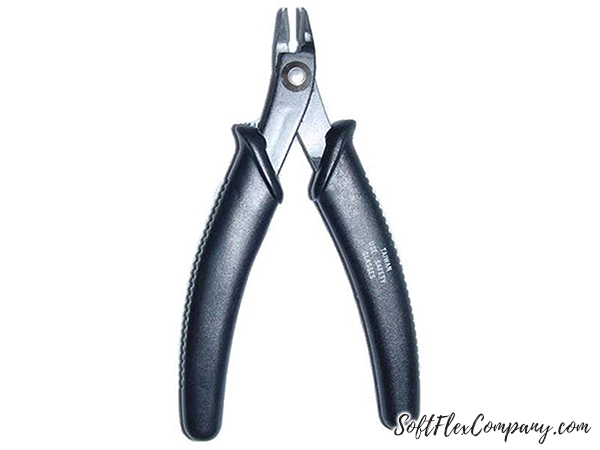 These Bead Nippers are wonderful for a beginner. These are cost effective for someone who does not do a lot of cutting. These are not intended to be used for anything but cord and soft wire. Once you start stringing more designs and cutting more wire, we do suggest you buy a more expensive pair of cutters. Better cutters are created with harder metal and can, sometimes, be resharpened. But these nippers are perfect for a beginner or designer that does not cut a bunch of wire.
Clasps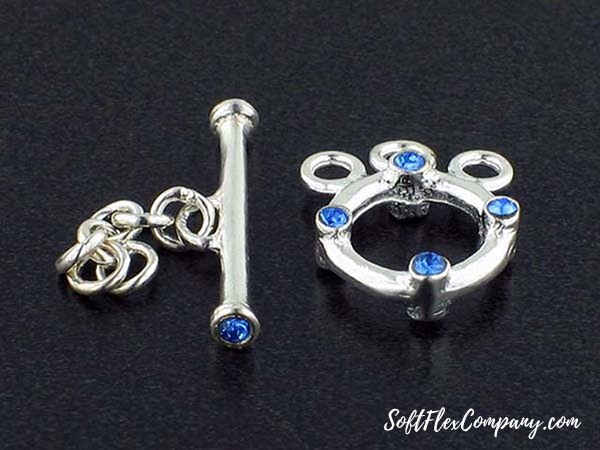 An easy design element to overlook when creating jewelry is the clasp. The focus in our craft is often on the beads comprising the piece and not the little details. Add a stunning clasp to your next project and you will be amazed at the professional finish.
Learn How To Crimp - Sara Oehler
Crimping is probably going to be the most difficult step when you are a beginner. We have lots of resources for you. We want you to accomplish this task. Making jewelry is easy if you know how to securely finish your designs. Once you get the hang of crimping, everything else is super easy. Crimping, itself, is not difficult, watch a couple of YouTube videos and practice a bit and you will master this talent in no time. The video below is a great introduction to bead stringing. Sara discusses wire diameters, crimping, and more. Make sure you check it out if you are new to our favorite hobby!
One easy way to practice crimping is to get a small piece of wire. Two or three inches is perfect. Grab a couple of crimps. Crimp the wire until you are comfortable. You will be wasting some crimps, but learning how to finish a piece securely will ensure that your finished designs will not need to be restrung. Better to practice and fail now when it does not matter.
Make sure you check out our crimping instructions, here:
Stringing Your First Necklace - Thomas Soles
Let's learn how to make our first necklace. Getting your feet wet is easy. You will only need a couple tools and very little beading supplies. The most difficult part of your first project will be crimping the wire to a clasp to finish the design.
Let's gather some basic beading supplies. We will want beads, of course. Choose the colors and shapes that speak to you. This is your jewelry, get creative. Grab some subtle beads or get some chunky stone and really show off! You will need Soft Flex Wire to string your design. Choose a color wire if you want to show any of your wire or a satin silver gray if you are just going to conceal the wire beneath your beads. Our .019 diameter is a wonderful all purpose wire, unless you are solely working with tiny, non-abrasive beads, try to stick with this diameter so your ensure that your designs will be sturdy and last for years. You don't need a fancy clasp for your first design, but if you have one on hand, go for it! A nice clasp is a perfect way to finish a stunning necklace. Crimps will be used to secure your clasp to your wire. Once you master crimps, you can use them as a design element. Finally, you need two tools - cutters and crimping pliers. That's it. These basic beading supplies will be used by every bead stringing jewelry designer. From gallery quality jewelry to basic necklaces. We suggest making sure you invest money into these particular supplies as they will be the foundation of your jewelry.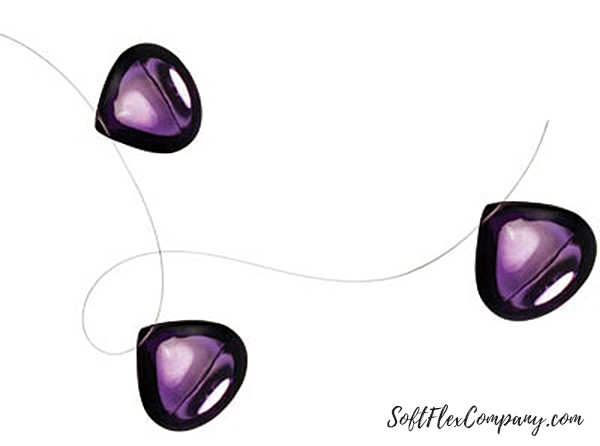 Directions:
Step 1: Lay out your beads on a bead board, mat, or towel (if you do not have anything else on hand). This will allow you to get an idea how the colors and shapes will flow when the design is strung. A mat will also keep your beads in place so they are not rolling around.

Step 2: Cut your Soft Flex Wire to the desired length. If this is going to be a simple design, you can even string your beads on the wire while it is on the spool and cut it when you are satisfied with the length. For the sake of this exercise, we suggest using .019 diameter, it is good for the majority of your projects - not too big, not too small, but very strong.

Step 3: This is the fun part. Time to string your first necklace. Add beads in whatever pattern floats your boat. You do not need to over think the colors and shapes just yet. This is just a beginners jewelry design. We can make mistakes and correct them later, once we have the techniques figured out.
Step 4: Once your design is strung, you need to finish up and crimp your clasp into place. Open your clasp so that is two pieces. Now take one end of your wire and add a crimp bead (2mm x 2mm crimp beads are ideal with .019 diameter wire). Place one of the clasp pieces on the wire. Loop the wire back through the same crimp bead. Now tighten the loop so the clasp end is secure, but has a little room to play, if it is too taut, there will be extra wear on the wire. Make sure the wires inside the crimp are parallel. If the wire is criss-crossed, this will weaken the security of the crimp and it may slide. Place the crimping hole on your crimping pliers on the crimp (this is the hole with the tooth in it). Using firm pressure, squeeze the pliers and give your crimp a divot (don't smash the pliers, this will work-harden the crimp and make it brittle - use as much pressure as you would shaking your grandmothers hand). Now move the rounding hole on the pliers over the crimp. Using the same squeeze as before, round the crimp, turn it ninety degrees and round it again - repeat this process five or six times until the crimp is well rounded and has a nice, secure finish.

Step 5: Repeat step four for the other end of the wire. Make sure you use crimping pliers, they will ensure that every finished crimp has a uniform look. If you smash your crimps with regular pliers, every crimp will look different and none will have the security that crimping pliers can provide. Crimping is often the most frustrating part of the process for the beginner beader, if you need further instruction or would like to see pictures as well as an easy to follow guide, check out our tips section. A good way to get some practice is to go to bead stores and see if they can give you a crimping demo to help you along. Many practiced beaders love to show off their tricks and meet new beading buddies, don't be afraid to ask!

Step 6: Make sure your crimped necklace has some breathing room. You don't want to crimp too close to the beads. Leave a little room so the beads can move freely. If you crimp right next to your beads, your necklace will not drape properly and the wire will be strained. Once your crimps are finished, cut the excess wire. We suggest cutting all the way up to the crimp bead for a more professional look. Past wisdom suggested leaving a tail of wire beyond the crimp and going back through the last couple of beads. We think this is unnecessary if the crimp is done well enough. Also, having a wire fine enough to double back through your beads means that you could be using too fine a wire for the job, using the largest wire that will fit through your beads once will ensure the piece as a whole is going to be strong.

Note: It won't be long before you have mastered the one strand necklace. There is a whole world of options after that - multiple strand necklaces, stitching, lariats. Think outside the box and get creative!
Network And Make Friends Online
COVID-19 has put a damper on all of our travels and in-person beading visits. But that does not mean you have to wait until everything reopens to go and have some fun. If you would like to join some beading groups, you can do it from the privacy of your own home. Facebook is a fabulous way to find friends and like minded people. If you search jewelry making groups, you will find plenty of exciting clubs to join. Check out our Soft Flex VIB Studio. Our group is full of wonderful jewelry designers. Every skill level is represented. We have professional designers and we have beginners that have never strung a necklace. We foster an atmosphere of creativity and helpful critique. If you post a jewelry piece, you can get praise or help troubleshooting. Join us! You can be a wall flower or you can post as often as you like.
Our regular Facebook page is full of announcements and insightful jewelry information. Learn how to make incredible hand crafted jewelry with our tips and tricks. We have live videos weekly on our Facebook page. We have live jewelry sales. You are going to have fun here, drop in and check it out!
Not everybody likes Facebook. Don't feel excluded if you would rather not visit our group there. We have lots of other social media spots that you can check us out on.
Our YouTube channel is loaded with amazing content. We have instructional videos on a wide variety of jewelry making subjects. Visit our channel and learn how to crimp. Learn how to use a Kumihimo disk. Learn how to make chain mail and more! We have live videos every Monday. We move a good deal of our Facebook shows over to YouTube for people that do not want to visit our Facebook site. We want to teach you a new trick. If you want to learn something new, email us and ask. We want you to master your tools and become a better beader.
Get inspired! We have a Pinterest page full of lovely jewelry projects and links. We have an Instagram site that is updated daily. You are sure to find something stunning. Our Twitter is great for catching wind of our newest products and sales. Stay connected with us. Stay networked and make new friends!
Design Men's Jewelry - Damien Shay
It is easy to make jewelry that you would wear. You know your favorite beads and stones. You might have a favorite colorway (rose quartz, red, and cream looks gorgeous with your favorite dress). Your next jewelry making project is going to be a breeze. Now, let's think outside the box. If you are stringing a necklace that you are going to give to somebody else, you are going to need to think critically about what that person is going to want. Designing men's jewelry is one way you can flex your creativity and maybe learn a new trick or technique in the process.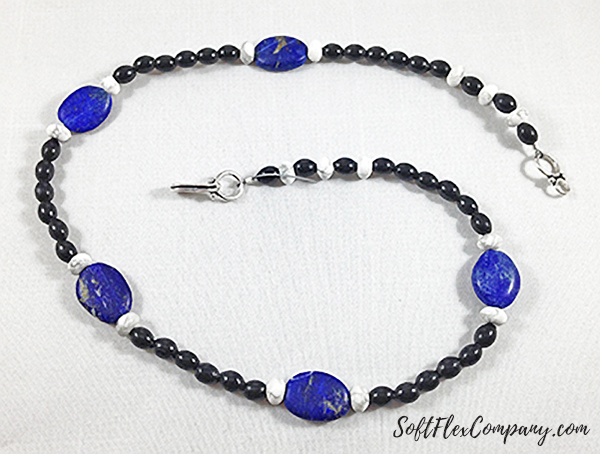 Men's jewelry looks deceptively simple. That is the fun part. String a single strand of beads and finish. Done! But, is a male going to wear that necklace or bracelet? You need to make sure you are using beads he will love and colors that fit him. A beach necklace is a classic piece of men's jewelry. String bone, wood, and shell - super easy and something he would wear. Muted and earthy colors are always a good choice, too. Pietersite, copper, and Turquoise are beautiful and not overwhelming. Most guys would love these choices.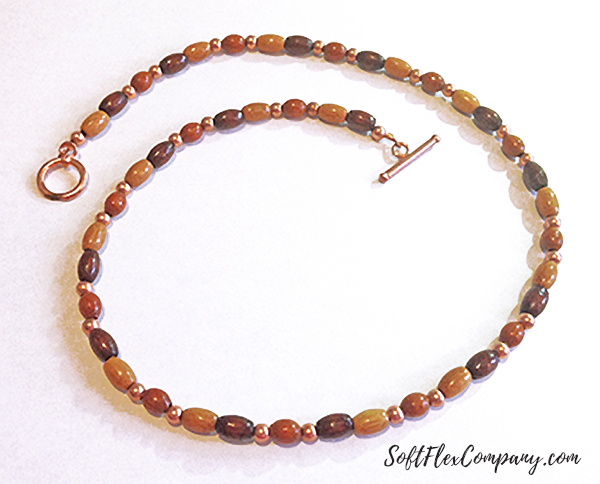 Basic jewelry is perfect for the man that does not wear jewelry. But that does not mean you cannot work with chunkier stones and flashy colors. Start with basic designs and work your way into masculine pieces that demand attention and are not subtle.
If you would like to create any of these men's jewelry designs, check out our blog. We have free jewelry project ideas here:
DIY Men's Bracelets And Necklaces
We have more ideas here:
Timeless Men's Bracelets And Necklaces
Break The Rules - Kristen Fagan
Once we have gotten familiar with our beading tools and supplies, it can be easy to fall into a trap. You might get comfortable and complacent. Your designs might be lovely and aesthetically pleasing, but you are not seeking to elevate your creativity. Push boundaries! Your talents will flourish if you push yourself to be better. Don't work from muscle memory. Make each piece of jewelry a thoughtful creation. You will be rewarded with a better eye towards what makes a piece of jewelry a work of art.

Kristen is a talented artist and jewelry designer. She loves to explore. Art is a journey and she is a nomad. She has an incredible jewelry making series on YouTube. Each Monday, she shows us how to make free spirited designs. Kristen believes that mistakes are part of the experience. She does not let an error ruin a design. She incorporates flaws when she can. Some of us are perfectionists. We let an error overtake our project and we give up. Kristen shows us that we can still move forward - even if we perceive we have failed. Make sure you check out her library. If you watch her show live, you can ask questions and be a part of the experience.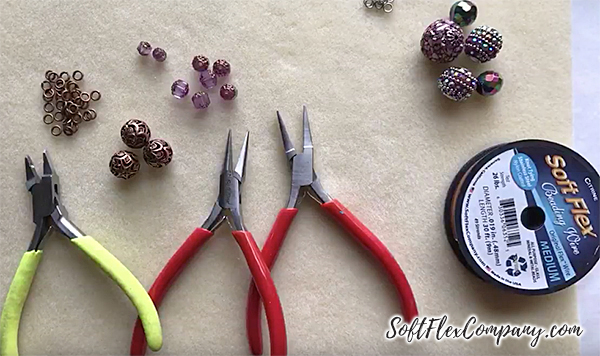 Kristen filmed a fantastic episode where she realized she had over abundance of jump rings. If you have a lot of jump rings on hand, one design choice might be creating chain mail. Kristen did not feel like walking that path. Instead, she wanted to use her findings in an unusual way. Rather than using her jump rings as connectors, she opted to create a unique spacers with the jump rings.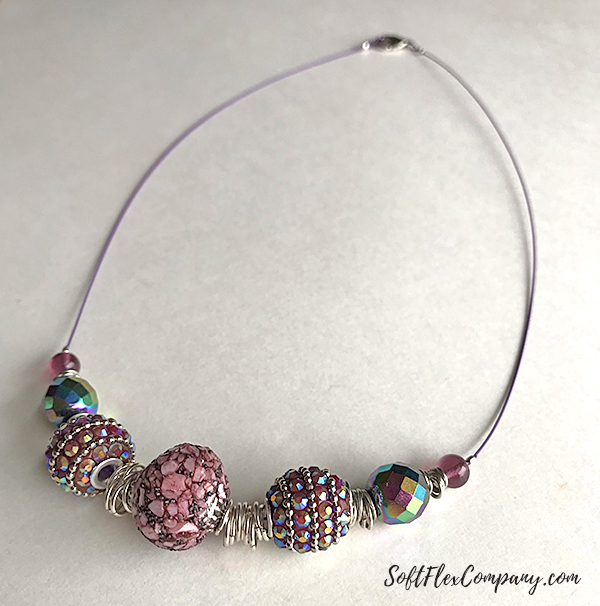 Between the beads on her necklaces, Kristen loaded a bunch of jump rings on the wire. The collective mass of jump rings becomes a fun spacer element. Thinking outside the box, like this, is a great way to see your jewelry in new and exciting ways. Not only are you making active design choices and using thoughtful stringing methods, but you are also able to use components that you may have too many of. Are your beading supplies overstuffed with a certain item? Think about how you can use that item in a new and unique way.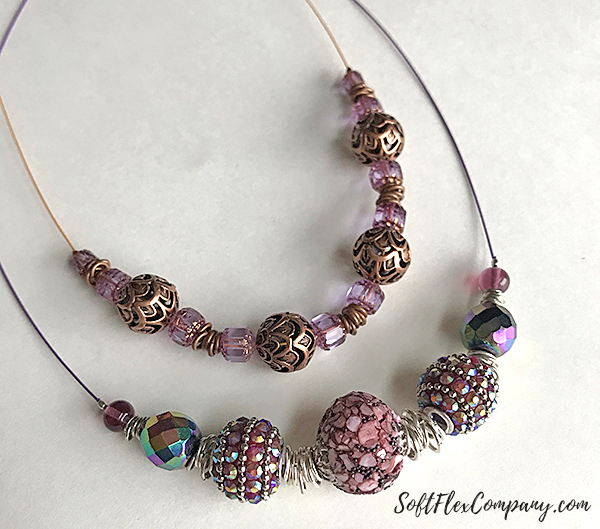 Don't be afraid to break the rules. You never know what kind of fun techniques you will stumble on once you quit thinking like a jewelry designer and start thinking like an artist. And forget failure, your next mistake can be engineered into the piece. Turn an error into an element. Don't settle for a boring necklace!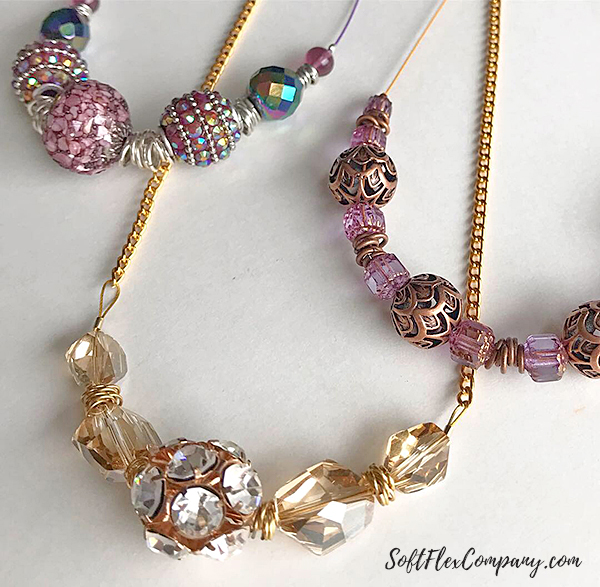 Don't Rush Your Jewelry Designs - James Browning
Let's be honest, sometimes the journey can seem like a hassle and we just want to arrive at our destination. This can be problematic. Especially because it seems to occur on the longer projects and not the quick ones. We want to finish a sleeve of chain mail, an hour ago, we don't want to struggle through creating and linking each and every single jump ring. Over and over and over. We start to cut corners when this happens. We try to power through parts of the process when we should be careful and deliberate. When we start freight training our work, we can make mistakes. Mistakes which will derail the project. We need to take it easy. We need to make sure we are doing our best work. If you are getting over eager and start speeding up, take a break and come back to your jewelry design.

James is our Craft Wire guru. He is exceptionally talented at creating numerous variety of wire work jewelry designs and wire wrapped art. He knows that Soft Flex Craft Wire is malleable and easy to work. But if you start rushing your projects, you can make mistakes that will ruin a piece. If you slow yourself to a thoughtful and measured pace, you can course correct if you make mistakes.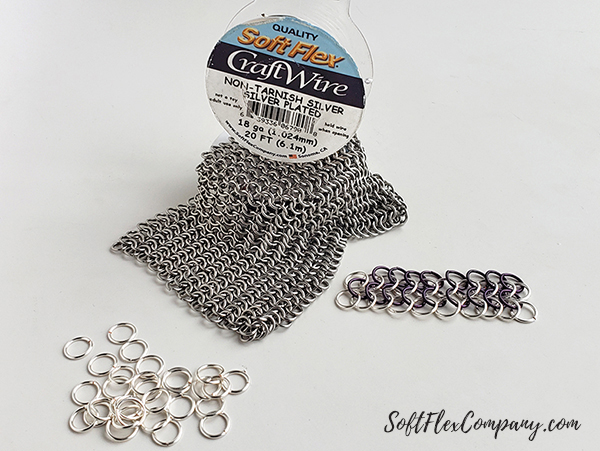 Craft Wire is a soft wire. It does not drape like a beading cord or wire. Craft Wire is malleable and easy to shape. It will hold a soft shape until it is work hardened. Once work hardened, the wire will remain in the shape you wrapped. To finish a Craft Wire design, like ear wire, for instance, simply bend the wire into the shape you desire and then strike it. Work hardening is a plastic deformation of the wire. Plastic deformation is not reversible. The process causes the wire to become stronger and hold a desired shape. It cannot be undone.
Work Hardening your Craft Wire is great for finishing a design. But, it is also a bad thing when you are working on a design and accidentally work harden the wire. You can work harden a wire by over bending and shaping it. This will make the wire brittle, if you keep trying to force a shape. Eventually the wire will break. This can happen if you are making a loop and are not satisfied with the shape. So, you reshape the loop. You still are not happy with the result and repeat the process. Now, the wire is going to start holding a shape and also get brittle. If you rush through your work, it is going to be easy to fall into this trap. Take a breath. Slow down. You do not need to rush this!
Go slow. Enjoy the moment. Enjoy your hobby. It is the best part of the day! Leave that rat race stuff at work. Embrace a slow and considerate challenge. You may even get inspired to try new tricks when you are at a slower pace. Explore!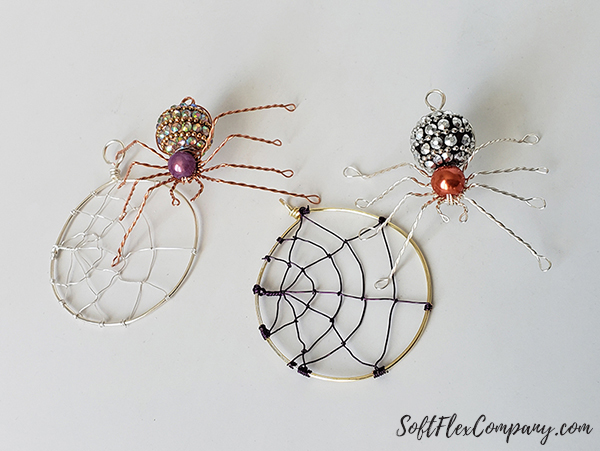 Make Every Element Of Your Jewelry Design Count - Sara Oehler
Sometimes we know what our finished jewelry design is going to look like before we ever string our first bead. We know the beads we want to use, the colors, the patterns. We are ready to string our design. But it can be easy to overlook parts of your jewelry that you do not think about. Are you using a beading wire that complements your gemstones? Are you using crimps that are, not only strong, but look beautiful when finished? Do you have a stunning clasp to finish a stunning necklace? Don't forget to think of every element of your jewelry. The beads are not the endgame or the best part of a bracelet or necklace. Every component should be equally beautiful.
If you consider the materials you are going to use before stringing your first bead, you are going to have a necklace that is truly a piece of art. Crimps may seem like a minor finding to concern yourself with, but if you opt to finish your piece with budget crimps, you are going to have a design that is weaker than intended and a finish that is not great. Clasps can be boring or you can finish with an artisan clasp. The more care and concern you invest into every part of your jewelry, the better your design is going to look. An unforgettable piece of jewelry is comprised of unforgettable components.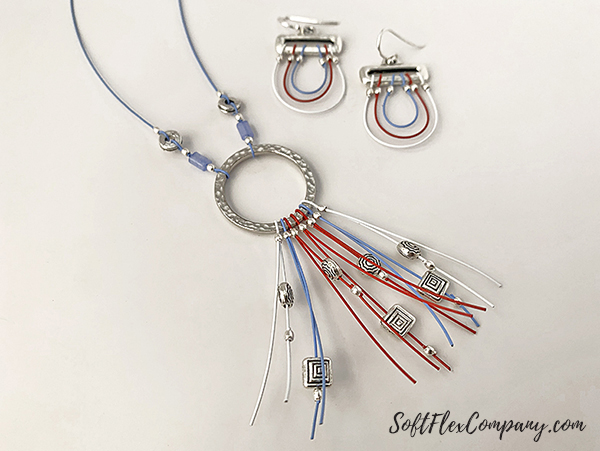 Sara loves to load her designs with detail and components that complement each other. She often strings illusion jewelry. Illusion jewelry is a design where beads appear to be suspended mid air, around the neck. The beads are strung on wire and crimped in place, so they appear to float. Sara chooses wire colors that look amazing with her beads. She uses the best crimps. And she uses components that are interesting and often hand made. Adding a connector as a focal is one neat way she approaches a design. Adding a memorable clasp makes her jewelry come alive. She considers the whole design before she progresses. When you work with great components, you can be sure your finished jewelry is going to be amazing.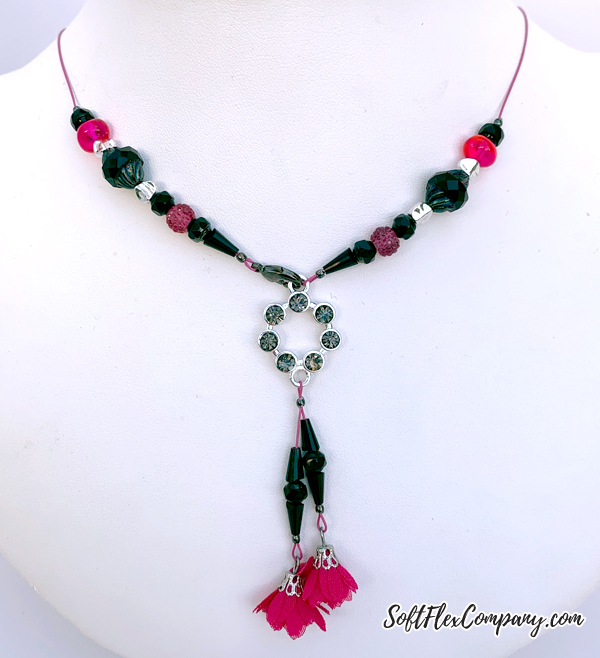 Beginners often start with a single strand of wire to make a necklace. They conceal the wire with beads so not even a sliver is visible. This is fine for a dull wire. If you opt to use a color wire that pairs well with the beads you love, you can make an amazing piece of jewelry. Show your colors. Expose your crimps. Move your clasp so it is visible in front of the necklace - there is no rule declaring your clasp needs to be hidden behind the neck. Make every element count and your jewelry will be stunning.
Don't settle for a clasp that just gets the job done. Make your design organic and full of amazing details! What design elements do you often overlook? Do you settle for budget crimps? Why? Why not make jewelry fit for royalty?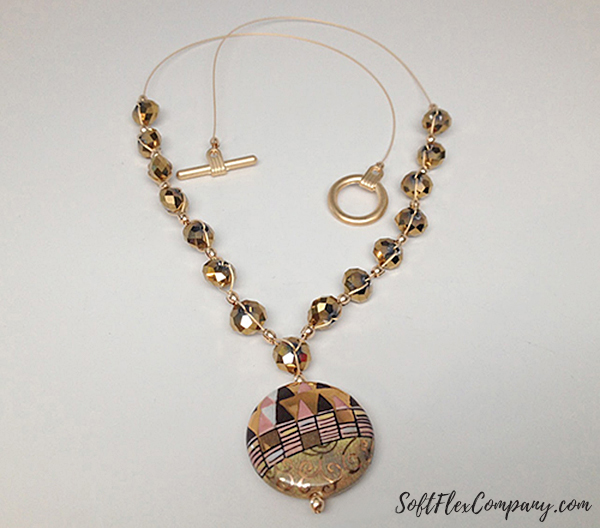 Color Makes Your Jewelry Come Alive - Margie Deeb
We love Margie Deeb's intimate knowledge of colors. She is an incredibly talented artist, designer, and author. Check out our blog for a free crash course in color interpretation and use. You will learn a lot about how colors can make or break a piece of jewelry. She discusses how texture (bead shapes) can enhance color. She looks at non-traditional color thoughts for the holidays. She discusses how overusing an explosively colorful bead will end up making a piece comprised of that bead washed out and boring. Become a student of color!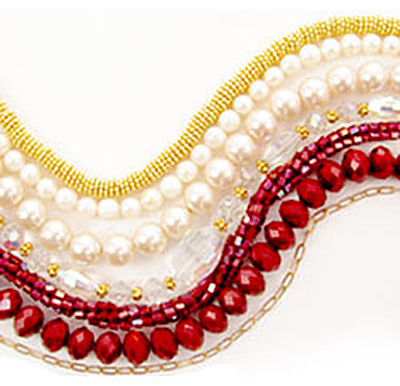 Holiday jewelry calls for two kinds of texture that, when combined, create sumptuous elegance.

Facets. Faceted beads, like the red ones in the photo, are a must: they coruscate, tossing flashes of light all around. Faceted beads have a visual crispness full of edges, points, and lines of light.

Pearls. Smooth, and silky, pearls seem to glow softly from within. Theirs is a quiet radiance.

When juxtaposed against the linear sharpness of facets, pearls create a textural contrast. Contrast is always a point of interest. Combine these two opposing textures for luxurious elegance that is beguiling.
Read more here:
Jewelry Design: Elegant Holiday Texture with Margie Deeb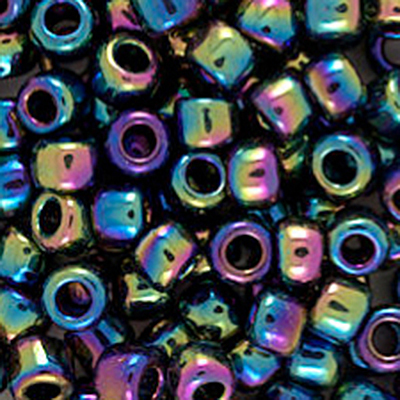 First, let's visually dissect the metallic iris bead. When we look at the bead we are seeing three things simultaneously: the actual base color of the bead, a coating on the surface much like shifting oil slick colors, and a reflective "hot spot" (a bright white dot reflecting the source of illumination right back to us). Each bead is like a little planet with its own surface (the original color), atmosphere (the AB finish), and sun (the hot spot). Keep in mind that all of this is taking place on every single bead. Visually, these are active, busy beads.
The most common mistake is using only and all metallic iris beads to make an entire piece, expecting that the piece will be as lush and gorgeous as all those sensuous, shifting, rainbow colors. It won't because to actually see those beautiful rainbow colors you have to inspect the beads very closely. When viewing metallic iris beads from a distance, you don't see all the rainbow colors. Depending on how much distance, you see one homogeneous color that the brain has visually mixed, just like it visually mixes the millions of pixels that make up an image.
Read more here:
Jewelry Design: How To Work With Metallic Iris Beads with Margie Deeb
Study the two versions of the Aqua/Silver Mini-Radiant Sun Earrings. Before you read further, decide which you think works best and why. Read further and I'll tell you my thoughts.

The one on the right is the final version that I sell as a kit. Here's why it is a much better design than the one on the left.
Read more here:
Jewelry Design: Subtle Color Changes Make Significant Design Improvement with Margie Deeb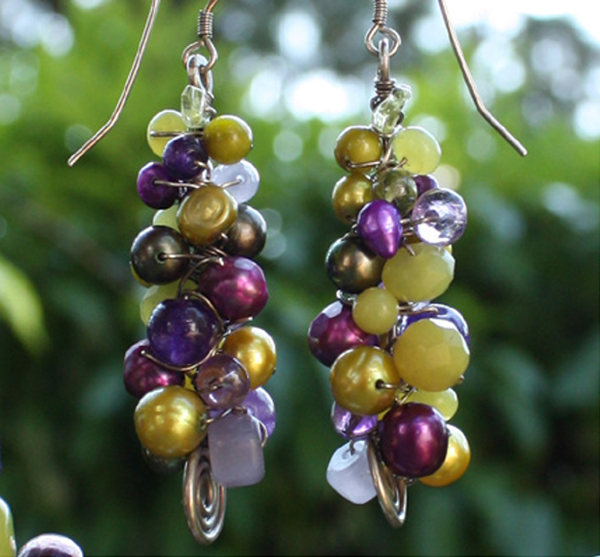 Margie discusses how she has designed jewelry that did not fit the color palette she had intended. She relates her jewelry experience to a music class she took. She was told to write music using only five notes. She found this to be a liberating moment as it forced her to explore creative areas she had never considered. Don't be afraid to face a difficult challenge, it will make your work stronger.
Read more here:
Jewelry Design: Ask The Color Queens with Margie Deeb
Demand Better Beading Wire - Kristen Fagan
Your finished jewelry is only going to be as good as the tools you use to create your design. If you are settling for a budget beading string, your jewelry is going to be weaker and prone to breaking. Budget beading thread is not going to have a range of color. It is going to be a flat and boring medium. Invest in better beading wire. Visit your local bead store and see what wire speaks to you. If you have never used Soft Flex, you can email us at info@softflexcompany.com to request a sample. We think you will love our wire.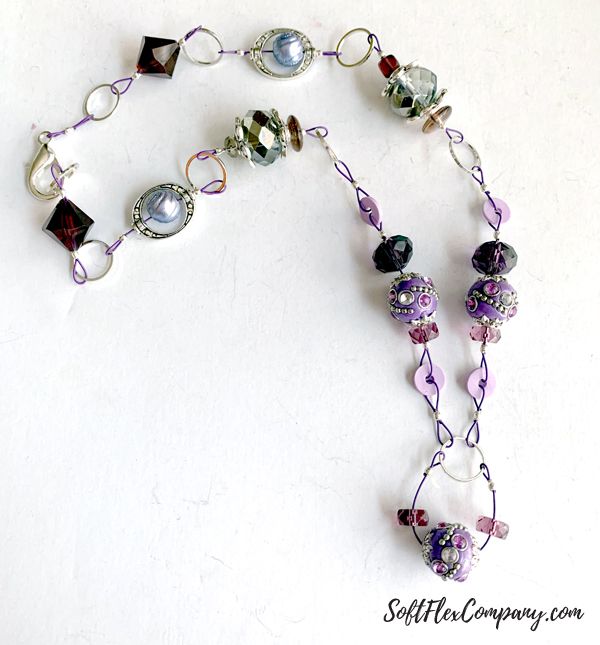 We love having color options. We want you to expose our wire. Pair the color and complement your beads. Since our wire is so delicious, we try to design without settling for the commonplace. Sure, you can design a single strand necklace, but why not think out of the box and make something exceptional? Our wire is super easy to shape and link. Make linked chains of our wire to string a necklace. Crimp beads will hold the shapes for your. Add beads as you see fit and you have a stunning necklace that everybody will love.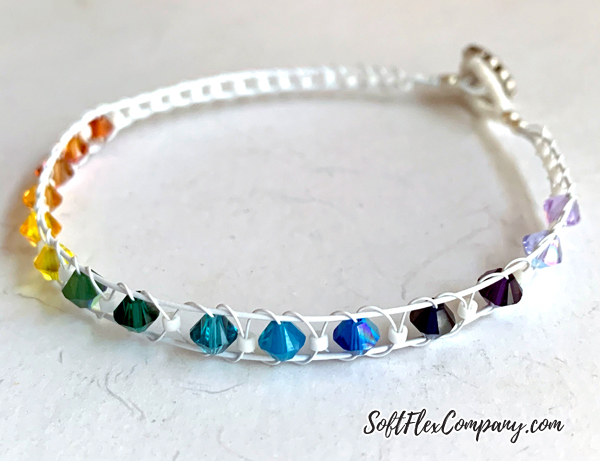 Think out of the box. Soft Flex Beading Wire is incredible easy to string and super flexible. Use multiple diameters on a bracelet and you will end up with fun results. Look how wonderful the white color of this wire highlights the spectrum of beads. Have you made a bracelet like this? How did it turn out?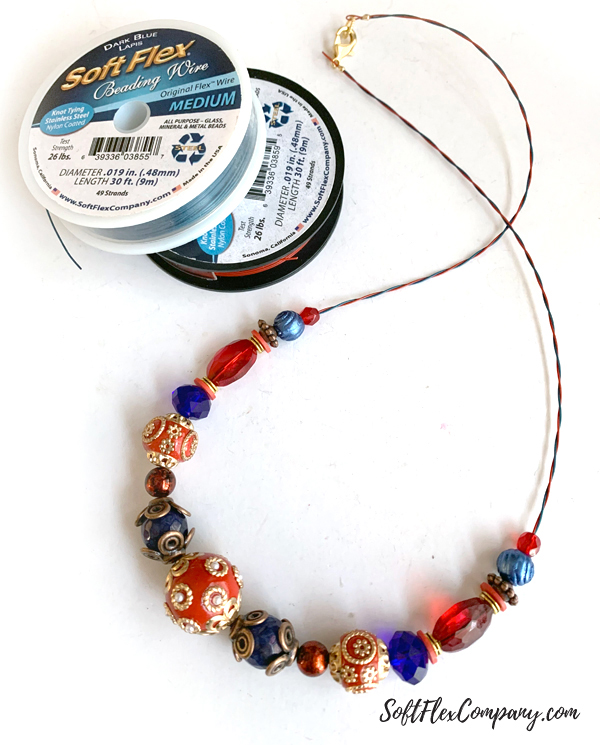 Another fun way of working with our beading wire is mixing and matching color. Instead of using a single strand of wire to string a necklace, why not use two - or three? Braiding is a fun way to give your design texture. Look how majestic this design is, it would be so boring if it was strung on a single strand. The pairing of the two colors gives the necklace life and energy. Soft Flex can be braided. You can even macrame with it.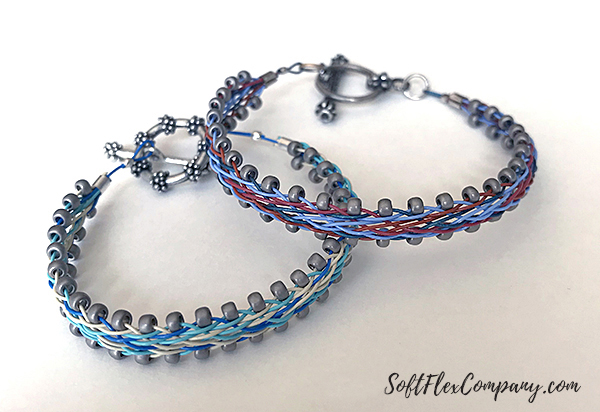 Did you know you can use a Kumihimo disk with Soft Flex? Our wire is flexible enough that you can create amazing designs with a Kumihimo board. You can add beads and gemstones to make your designs pop or you can use the wire itself. If you try using multiple diameters on a single piece, your finished braid will have an interesting texture.
Create A Dedicated Workspace
Consider creating a workspace. Having a dedicated area where you design jewelry is great for eliminating distractions and keeping organized. It is hard to be creative when you are busy shooing the cat away. A dedicated area is a place of zen. Your workspace, your beading cave, your she shed - a place where you are alone with your thoughts and ideas is a magnificent thing.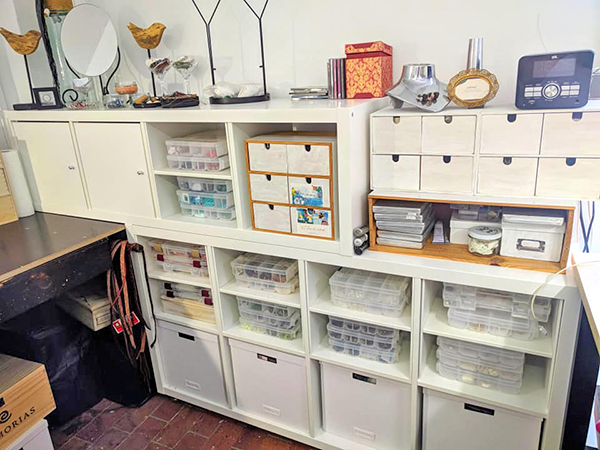 Your workspace can be full of displays or full of containment. Create the space to suit your needs.
Check out our blog for more workspace solutions:
40+ Tips To Help You Clean, Organize, And Solve Your Beading Storage Problems
Do you have a beautiful beading space? Make sure you share it with us on our VIB Facebook group. We would love to see how set your crafty nook up.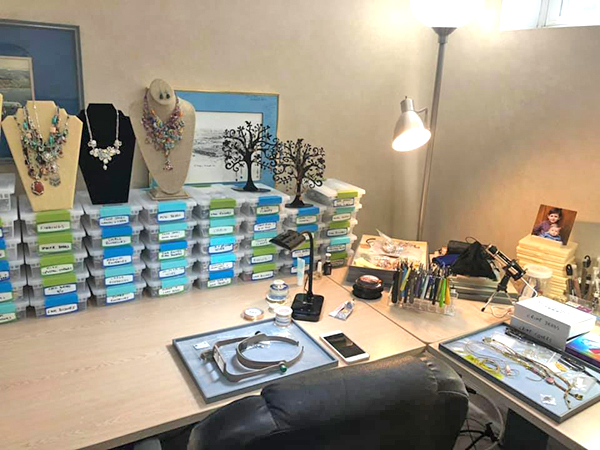 Join our Facebook group – VIB. Stay in the know. Stay up to date. From our bead shows to our video shows and sales, you can stay in touch with us. The community is full of artistic and helpful beaders and crafty people. Inspire and be inspired. Share your pictures and get the beading bug from others!
Visit the Soft Flex Company YouTube Channel!
---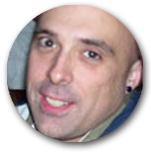 Blog contributor Thomas Soles loves Jazz Age writers and crunchy french fries. His favorite gemstones are Lapis and Pietersite. His favorite hobby is day dreaming. And his favorite mustache is Freddie Mercury's. As you can see, he has a healthy (or possibly unhealthy) sense of humor. You can write to him at Thomas@SoftFlexCompany.com