Do you use colorful wire when you are stringing beads? If not, then you need to check out our latest blog. We will let you know how you can turn a simple necklace or basic bracelet into an artisan quality design with Trios Beading Wire Collections. Colorful beading wire is an amazing way to enhance your jewelry. Color is vivid and urgent. Color brings an electricity to a design. Quit hiding your drab and lifeless beading wire under your beads. String your beads with a rainbow of tones and show your colors!

We think that every part of your next jewelry design should be considered. You spent hours shopping for beads and gemstones. You hand selected only the finest beads for your design. You have chosen a decorative clasp to finish the piece. Your crimps are sterling silver or gold filled. Shouldn't your beading wire also be functioning as a design element and not just a beading string? Use a colorful wire to give your jewelry life. Don't worry about the wire showing. In fact, expose the wire, make it a part of the finished piece! Trios Beading Wire Collections offer a spectrum of color options at an affordable price. Restock your jewelry making kit or introduce a rainbow of color without having to buy full 30 foot spools. Read on and learn what Trios Beading Wire can do for you!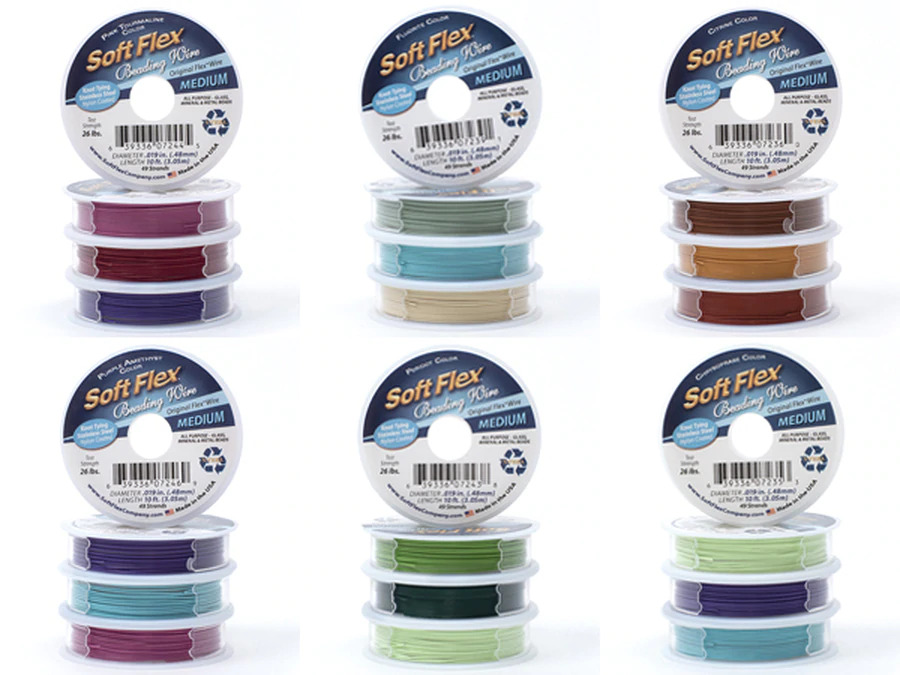 Trios Color Wire Sets let you apply color theory to your next design.
Trios Color Wire is a lead-free beading wire for designers that want to create jewelry with color mixing in mind. Trios Color Wire Sets encapsulate the vivid palette of nature and the glamour of the fashion world. Trios Color Wire Sets are comprised of three 10 foot spools of Soft Flex .019 (Medium), the wire is constructed of 49 micro woven stainless steel wires. We recommend Trios Color Wire Sets for designers that want to design with a motif or gemstone in mind.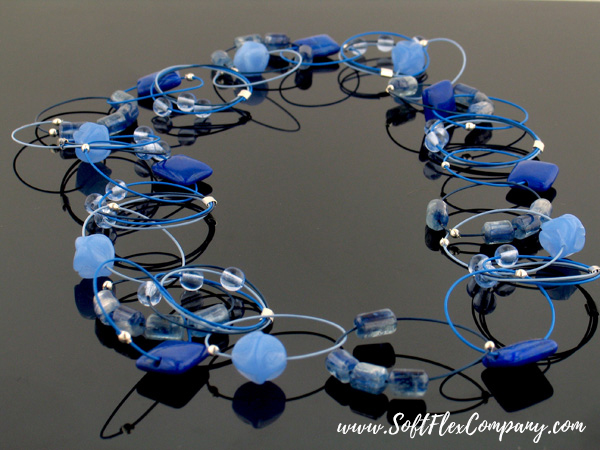 Soft Flex Wire is a lead-free beading wire for designers that demand strength and durability. Soft Flex Wire is a superior beading wire, created by beaders for beaders. Soft Flex Wire is constructed of either 21 or 49 micro woven stainless steel wires. It is supple enough that it can be knotted and comes in a wide variety of colors. It is available in 3 diameters: .014, .019, and .024. We recommend Soft Flex Wire for designers that want their pieces to last and eliminate the frustration of restringing. Soft Flex Wire is also available in 30, 100 and 1000 foot spools.
Basic Usage: Ideal all purpose wire. Great with glass, mineral, and metal beads. We suggest finishing with 2x2mm crimps.
Length: 10 ft. / 3.048m (each color)
Diameter: .019 (Medium)
Made in the U.S.A.
Trios Beading Wire: Everything You Need To Know About Our Colorful Wire Collections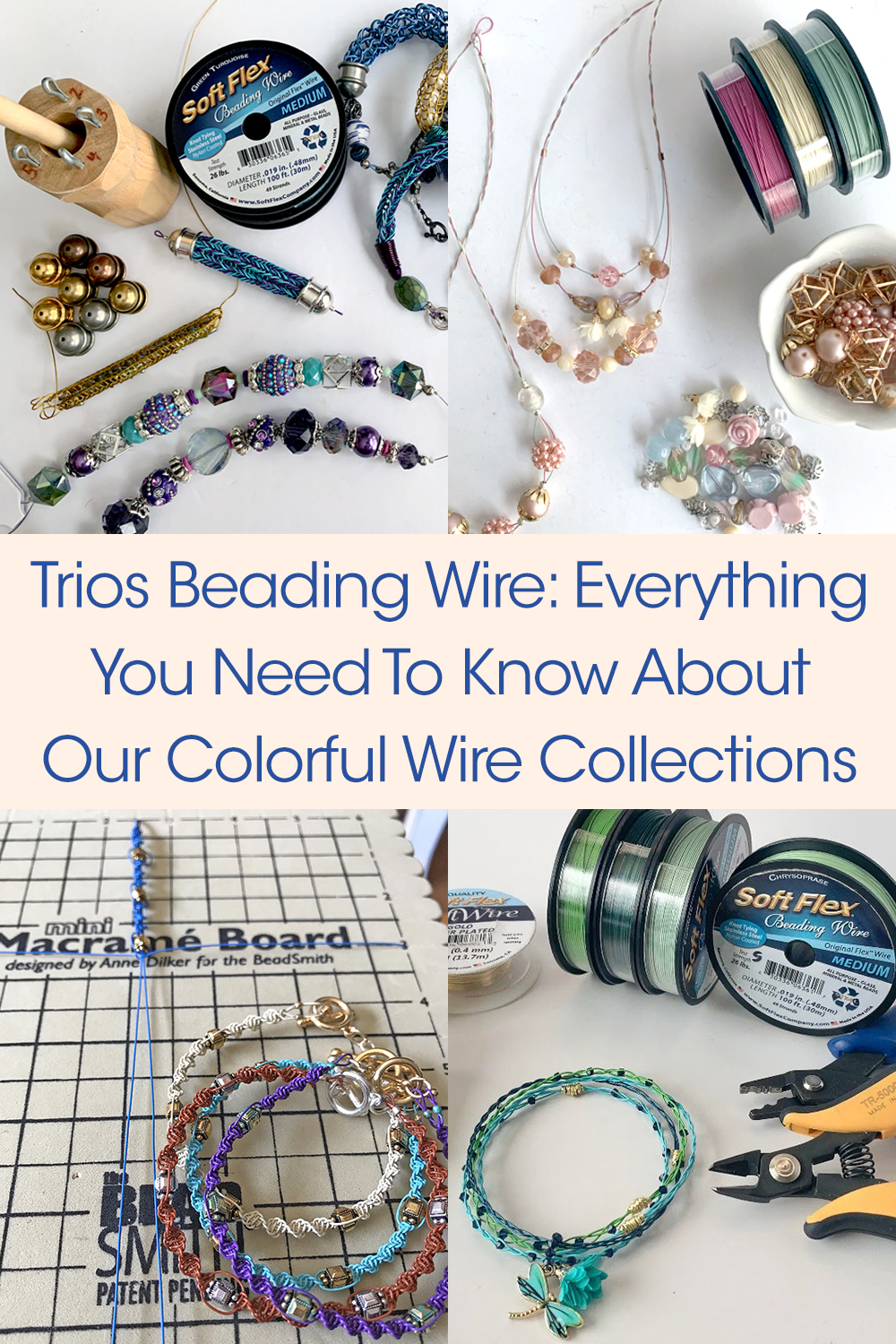 Every revolution begins with a single act of defiance. Soft Flex Beading Wire is leading the charge for dynamic colorways and brilliantly executed themes. We are not going to accept stale wire options. Life is much more colorful than that. Explore a rainbow of possibilities! Don't settle for simple wire colors - gray, black, bronze, and white are not going to make your jewelry glow.
String your next necklace with the same kind of meticulous care you spent selecting your beads and findings. Trios wire collections offer a simple way to stock your beading supplies. String your next necklace or try something new. Trios sets are handy dandy to have around for crafts like kumihimo, knitting, and macrame. Elevate your jewelry designs with an exciting splash of color!
4 Reasons Why You Need To Add Trios Beading Wire Collections To Your Toolkit: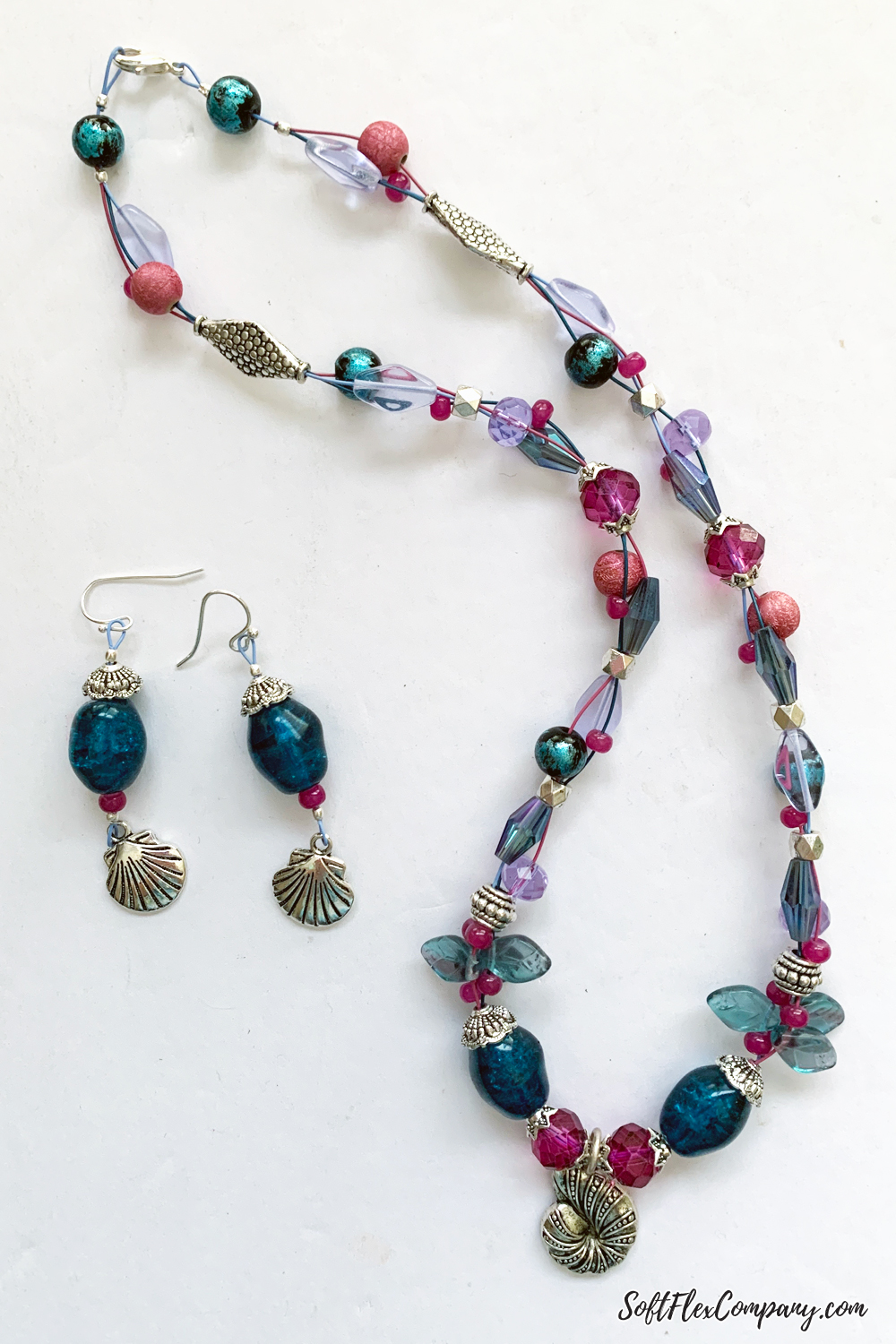 Are you ready to move beyond simple jewelry designs? When we first began stringing necklaces, we always used a bland gray wire. We made sure every inch of that wire was buried under beads and very little was showing at the crimps. We thought the beading wire was ugly and detracted from the natural beauty of gemstones.
We realized the problem was that there was just no options for color. If we used a wire that paired well with our beads, our designs could be vibrantly colorful. Our wire could actually shine through the beads and enhance their beauty - Rose Quartz looks amazing with a pink color Soft Flex inside, it almost radiates color! We could also string with more techniques than just concealing the wire and hiding it. Why not show the wire? Soft Flex is wonderful for illusion necklaces. It is also fun for textured designs, braid several strands of beading wire for a unique look!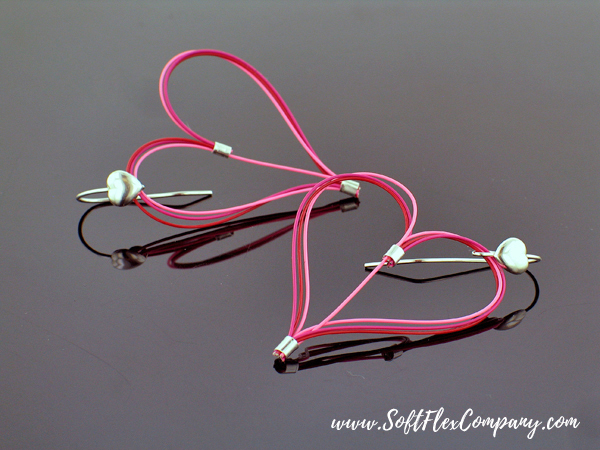 1. Trios Beading Wire Collections offer a rainbow of color for the price you would pay for a single spool
Do you want to string beads with colorful wire? Maybe you are just not ready to commit to a full spool of color - not everybody needs 30 feet of Pink Tourmaline color Soft Flex wire. Trios wire sets offer three 10 foot spools at a similar price that you would pay for a single spool. Three times the color for one low price! Your next jewelry piece can be gallery quality with only a small dent in the wallet. Affordable quality and color!
The three spools of color in each Trios collection can be used together or separately. Use your color how you want to use it. With so many options, you can pick and choose how colorful and unique you want your next necklace to be. Show your beading wire with illusion jewelry, float your beads with crimps and let long stretches of beautiful beading wire act as a showcase for your favorite sparkly stuffs. Make earrings with colorful wire - hoops or dangles. Check out our blog and YouTube channel for inspiration!
2. Trios Beading Wire Collections are an easy way to stock your jewelry making kit with affordable stringing options
Are your beading supplies lacking variety? Don't you wish you had more stringing options.? Trios packs make it easy to load up on a spectrum of colors. You no longer have to settle for the same bead stringing choices for every bracelet you design. Take advantage of our sales and grab some Trios. Every package of Trios Beading Wire comes with three ten foot spools. This is a great time to make something new and innovative. Grab two Trios sets and you have six new colors to play with - the sky is the limit. If you are burned out on bland, grab a collection of color!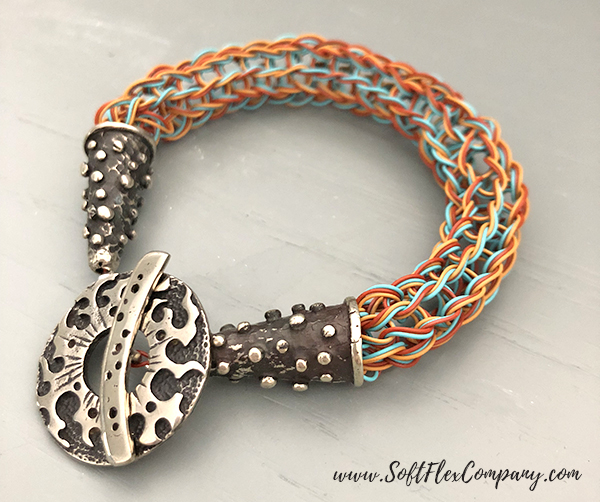 3. Small spools are perfect for crafts and hobbies
Do you like to knit? Soft Flex wire is flexible enough to weave, knit, crochet - you name it. Our wire is comprised of marine quality stainless steel, but it is incredibly flexible. The strength of steel and the grace of silk! Crochet your next design with Trios wire spools. The three ten foot spools inside the Trios packs are small and convenient. They make it easy to organize your work as you craft your favorite hobbies. If you love braiding on kumihimo disks, these small spools are perfect as little bobbins. Unspool what you need as you work! You are going to enjoy the ease of use when handling the small spools - everything is organized.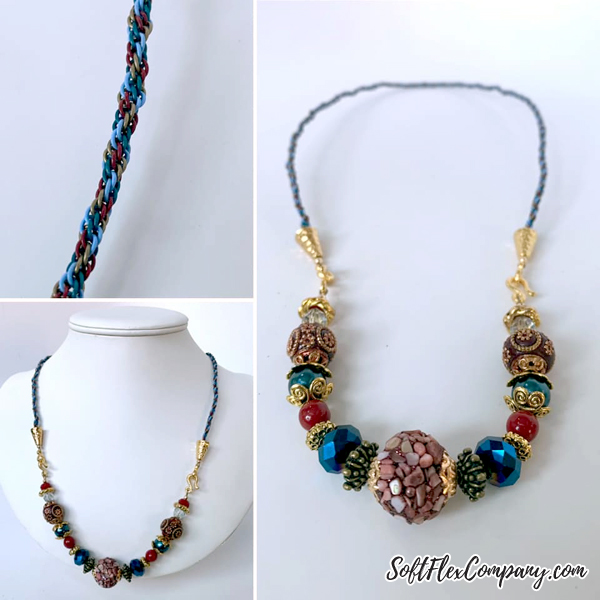 If you are a multi-faceted crafter that loves to tackle projects of every variety, Trios are exceptional. We have met model railroad builders at beading shows that have admitted that our wire was their favorite choice for scale electrical wire (pretend, not actual) and cabling for tiny towns. We have met ship builders, model scale, that needed to purchase wire from us because they were getting in trouble stealing from their wife's jewelry supplies. There are a ton of crafting applications. Think out of the box! Beading wire is not just for beading. Trios are perfect for ornaments and holiday surprises!
4. Making jewelry is easy when you are designing with a theme
Let us collect the colors for your favorite theme. We have Trios Collections colorways from tons of themes and moods. We have color collections that are Easter influenced. We have the red, white, and blue of an American fireworks display. We have the mysteries of the Golden Gate Bridge all bottled up in a magical Trios Collection. We have the rain slicked streets of an 80s music video in our Neon Nights collection. We have the ghosts of the American Southwest in a Trios pack that will transport you to southern Arizona. Celebrate Mother's Day with Mom Rocks Trios. We have a theme for every occasion and our curated color selections will surprise and amaze you!
Our Black Magic Trios are a collection of three delicious Halloween colors. Purple Amethyst, Black Onyx, and Peridot comprise this tasty treat. This selection truly embodies the spirit of this ghoulish holiday. Design a necklace for your favorite zombie this year! Make your little Barney a beautiful set of purple earrings. Give your favorite goth the gift of darkness with a Black Onyx bracelet!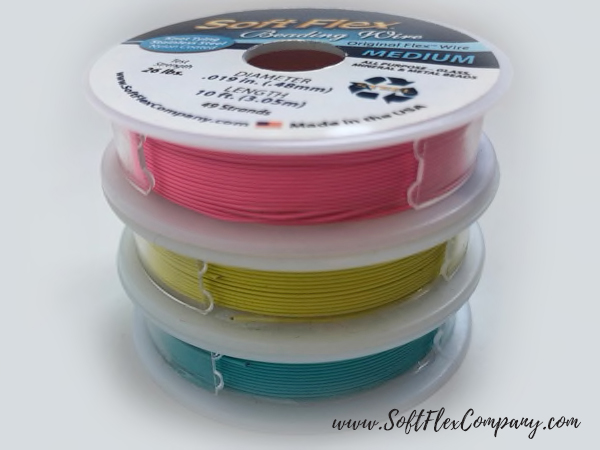 Neon Nights Trios Beading Wire Packs were created to celebrate the color and theme of one our of mystery Design Kits. This Trios set includes 3 ten foot spools of Pink Rhodochrosite, Turquoise, and Yellow Quartz Beading Wire. We loved the electricity of the kit. The energetic colors seemed to glow and dance. We knew this kit was going to be a hit with anybody that loved the 80s and that pastel retro flavor. What we did not anticipate was how wonderful this Trios set worked with floral bead Mixes. What an amazing combination!
What Can You Expect With A Themed Trios Collection?
Do you need the perfect beading wire for the Holidays? We have you covered! Festival of Lights (925 Silver Plated Alloy, Dark Blue Lapis, White Quartz) is our homage to Hanukkah. Jingle Bells (Garnet, 24k Gold Plated Alloy, Green Emerald) is our celebration of all things Christmas.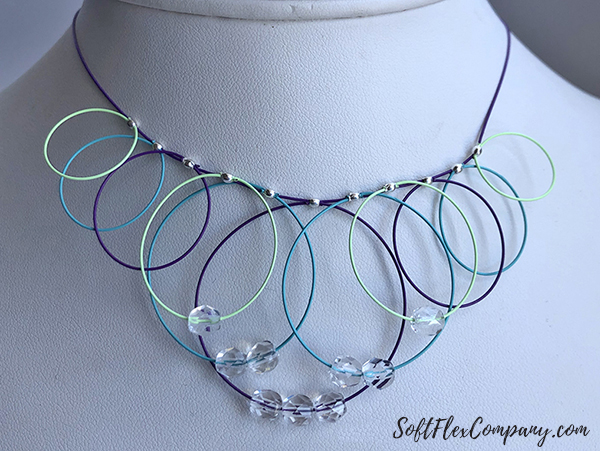 If you are not interested in holidays but want to explore a theme, Mystical (Spinel, Pink Tourmaline, Purple) is an otherworldly mix of colors that is guaranteed to make your next bracelet a magical talisman!
Decorate with moods. Harmony (Bone, Yellow Quartz, Copper Color) is a peaceful, easy feeling. Design jewelry that is comfort food for the soul. Give your bestie a gift that says that everything is going to be OK and that the world is in balance.
We sell a new mystery themed design kit each month. Every month these kits are stuffed with beads, findings, and wire. We love these kits and put a lot of love into them. It is no surprise that our community falls in love with themes we explore. We have looked at avant-garde artist Yayoi Kusama, fashion designer Lilly Pulitzer, the Greek island of Santorini, and more in our kits. Sometimes we love a theme so much that we turn it into a new Trios Collection. Spice Market (Bone, Copper, Spinel) is one colorway that lives on in a Trios Beading Wire Set.
Trios Beading Wire Collections are available in an exciting assortment of themes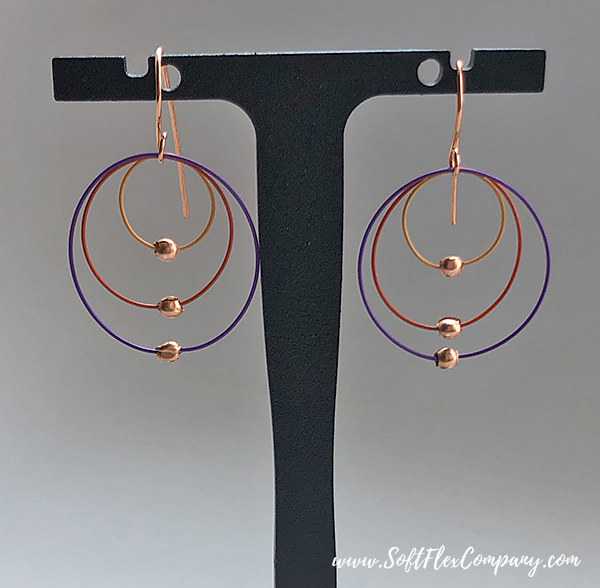 Do you want a unified theme for your next design? Are you having trouble plotting out the colors you would like to incorporate in your jewelry. Let us choose for you. Autumn Spice is a great way to design with the withering leaves of the late year. Sophisticated and Elegant are easy choices if you want to make jewelry to wear with your finest evening dress. Whimsical Beadtastic is a bouncy theme that exudes happiness.
Making jewelry with a theme makes it easy to start with a foundation. If you have a color palette at the onset, you can choose beads and components that complement and collaborate with the theme. It makes everything easy. Use the theme as your guide to color choices. Even if you are stringing a single strand, you can use the color palette as a reference. Explore themes!
Trios Beading Wire Collections can evoke a mood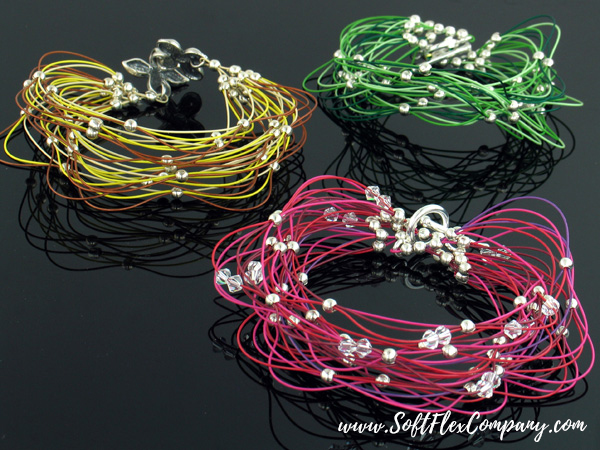 Do you want to evoke a mood with your next necklace? Romance is always exciting. We brought colors together that spark love and infatuation. Renewal is an ode to nature's rebirth after a long winter, celebrate with shades of verdant green! Serenity is a muted palette that is a quiet exhale, leave the conflict to others. Valentine Passion is red hot and fiery, wear jewelry that is vivid and engaged.
Wear your moods! If you wear your heart on your sleeve, why not also adorn it and wear it around your neck too! Let Soft Flex Trios be your elegant mood ring. Wear jewelry that expresses how you feel in the moment. Let everybody know that you are joyous and happy. Let them know when you are well balanced and harmonious. Or - show them your Dark Heart!
Trios Beading Wire Collections celebrate all of your favorite holidays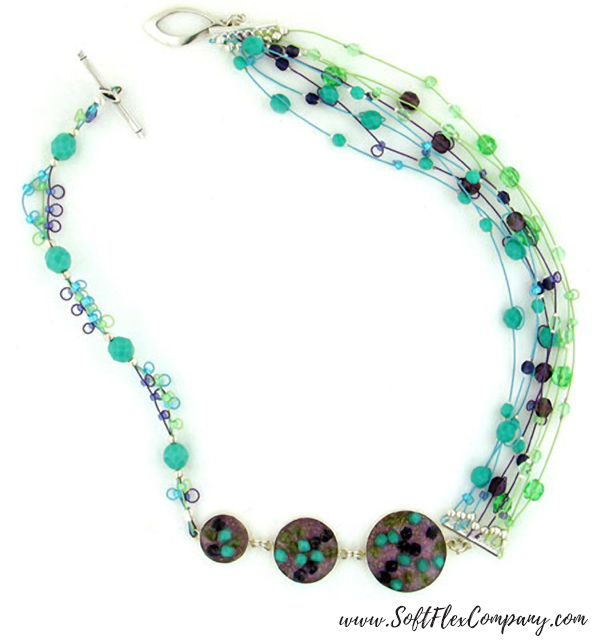 Deck the halls with Trios ornaments. Tis the season for jubilant jewelry! We have your favorite holidays covered. Be My Valentine is sure to be a hit when sent from a secret admirer. Festival of Lights is for beaders that illuminate their home for eight days and nights. Holly Jolly is a celebration of Old Saint Nick. Fireworks is a joyous praise of independence. Mom Rocks is a salute to the matriarchs that make this world a beautiful place.
We have made it easy to celebrate your favorite holiday. Trios make it simple to string seasonal jewelry. Unwrap a beading collection and make your next pair of earrings with a song in your heart. Decorate the tree and then decorate your wrist! Trios are wonderful for holiday inspired jewelry making and crafts. You can adorn your gifts with a ribbon and a thoughtful pendant or ornament made with your favorite beading wire.
Trios Beading Wire Collections celebrate your favorite themed design kits
Do you celebrate Kit Day with us? Kit Day is a Soft Flex Company 'holiday'. If you are a crafter or maker, you are going to want to join us on this day. We schedule a live jewelry demonstration with our most recent kit. It is an unboxing, an unveiling. Up until this point the contents of the kit is a mystery. We sell a new kit each month and reveal them on Kit Day. Also on Kit Day, we announce our newest kit. And we take a look at a finished jewelry showcase featuring jewelry designs from our employees, our VIB Facebook community and our friends. Kit Day is a day for joyful beading and fun. Let's celebrate Kit Day!
Our kits are limited quantity. Inside each is a collection of rare items, curated colors, and a bead mix that you will not find anywhere else. Once they are gone, they are gone for good. But, you can still celebrate the spirit and colors of our kits. When we create a kit that is especially near and dear to us and our community, we follow up with bead mixes and Trios that continue that color palette. Each kit is a creative journey. Make sure you check our kits out if you love a playful jewelry making challenge. Every kit contains all you need to make jewelry, as long as you have the most basic beading tools - crimping pliers and cutters.
Previous kits have been abstract ideas - Neon Nights was an 80's infused kit full of love for a decade of great music and striking visuals. Black Magic was a spooky celebration of snarks and grumpkins. Other kits have taken us on a journey around the world, fantastical or real. Spice Market was a walk around an exotic desert souk. Santorini Dreams was a Greek holiday. Golden Gate was a homage to the most iconic part of the Bay Area. We also celebrate people that make this world fun - Theodor Geisel (our favorite doctor), Lilly Pulitzer (fashion designer and purveyor of party ensembles), Georgia O'Keeffe (the Mother of American modernism), and more!
If you fall in love with a design kit's theme, make sure you add the Trios Collection to your beading supplies!
What Kind Of Jewelry Can You Make With A Trios Beading Wire Collection?
If you are a jewelry maker, Trios are invaluable. A package of three spools means that you have options for every design. You can use all three in a jewelry piece or you can select a single color. There are no rules - just bead stringing fun! Trios give you a palette of colors that you can use as a theme idea or you can simple just add all of the spools to your toolkit.
Trios Beading Wire Collections for an alluring necklace
From Kristen:
Using the soft color palette of our newest Trios, La Fleur, combined with the La Fleur Bead Mix and a Jesse James Beads bead strand made for a romantic 3 tier multi-strand look.
In this video tutorial, you learn how to crimp using 2x2mm crimp tubes with the magical crimping pliers and 3x3mm crimp tubes with the mighty crimping pliers. As well as create a simple braid with the three colors of Soft Flex beading wire. For more information on when to use what crimp with your beading wire, check out the handy chart on our Tips & Tricks Page - All About Crimps.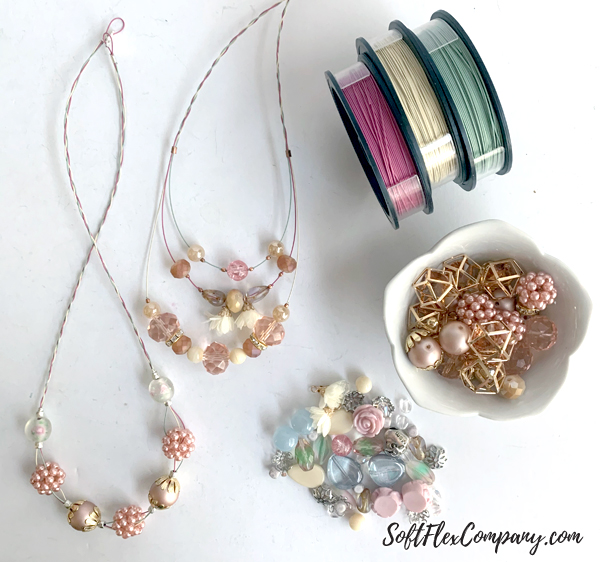 Trios Beading Wire Collections for a perfect pair of earrings
Kristen kicked off the week with a lively episode of Free Spirit Beading. She filmed her segment on Monday. This Monday happened to be Earth Day. Kristen was inspired to create something floral and earthy. She opted to design some efflorescent earrings with a bead mix and our Trios Beading Wire Packs.
Kristen chose our Serenity and Neon Nights Trios Beading Wire Packs. Both wire sets look stunning with the beads in our Flower Power Bead Mix. The color combinations seemed to evoke the mood of a quiet spring morning.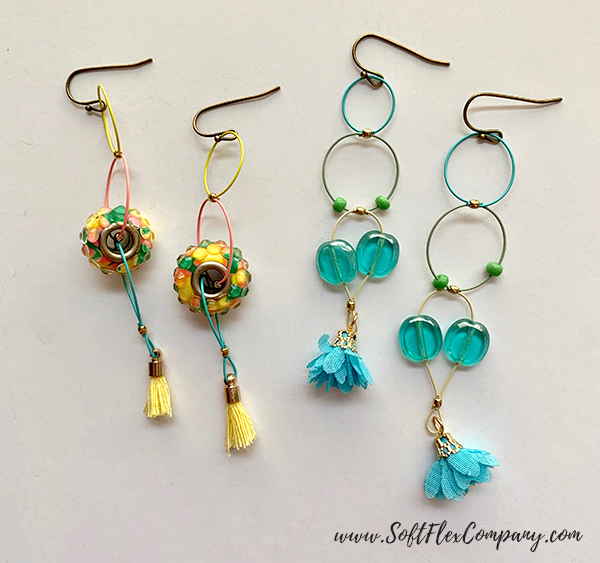 Trios Beading Wire Collections for a beautiful bracelet
Sara celebrated St. Patrick's Day with a short video. She showed us how to make braided bangle bracelets that look great on the greenest of holidays. But are also a wonderful design for spring. Change up the color wire you braid your bracelets with and you have an easy design for every occasion.
If you love St. Patty's we have a Trios beading wire collection, just for you - Kiss me, I'm Irish! This color mix is premade for your easy holiday jewelry. You do not have to hide Soft Flex wire, either. Show your colors! Our wire is flexible enough to braid and even knot for macrame designs. Don't hide your wire underneath your beads, let it shine and use the color as part of your jewelry design!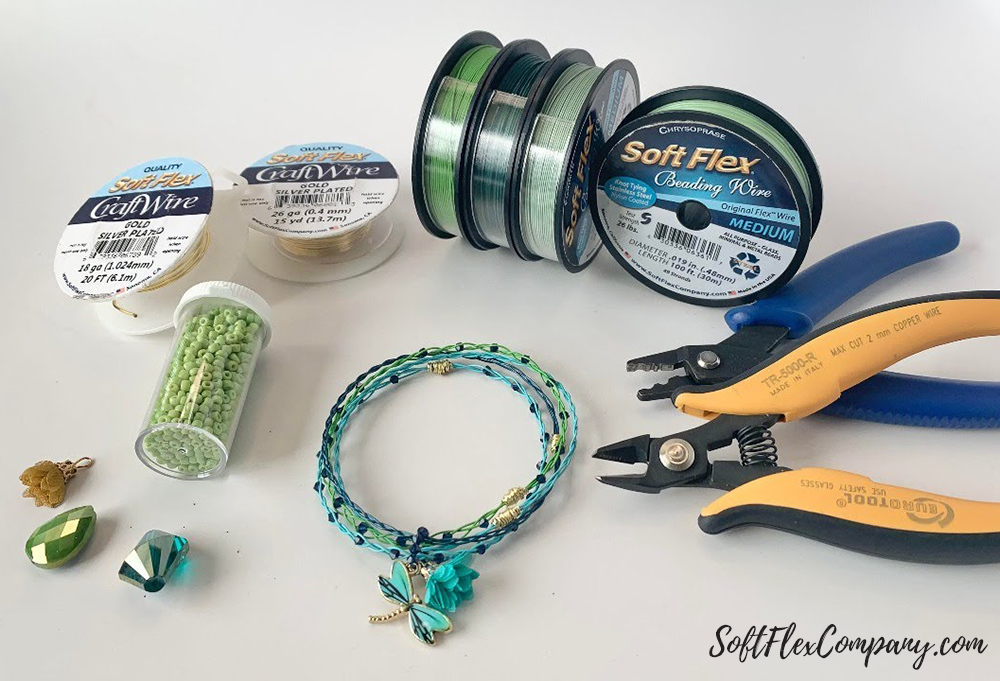 Trios Beading Wire Is Not Just For Stringing Jewelry, Try These Exciting Crafts:
Beading wire is versatile and strong. Explore and see what you might make. Let's look at how stunning a colorful wire can look when used with knotting, knitting, braiding tools. There are many more applications out there. Christmas is great for crafters and hobbyists, Soft Flex Trios are wonderful for handcrafted decorations and ornaments and gift wrap adornments. Be daring and take a journey in living color!
Trios Beading Wire Collections for glamorous macrame crafts and jewelry

Kristen used a Mini Macramé Board for this project. She used Soft Flex Beading Wire in .019 Medium diameter. Kristen loves Autumn Spice and Mermaid Trios (Sold Out). She used a pair of cutters, Magical Crimping Pliers, and a pair of chain nose pliers. She used Art Deco Cube Beads in Antique Silver or Antique Gold from TierraCast. For findings, she suggested: 3 sterling silver or gold filled 2x2mm Crimp Tubes, a silver or gold tone toggle clasp, and silver or gold jump rings.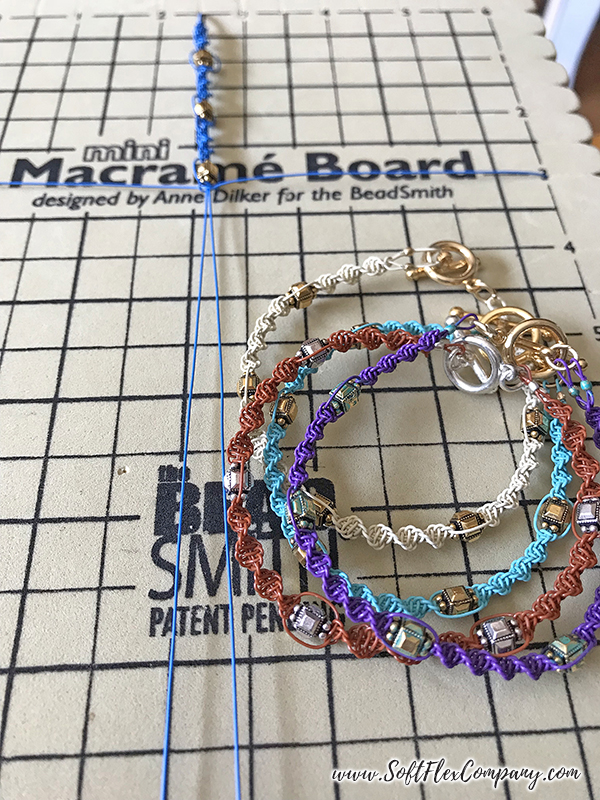 Trios Beading Wire Collections for colorful kumihimo braids
Trios Beading Wire Collections make this stunning braiding project easy. Choose multiple colors or go with a single! You can adorn your design with beads as you braid or you can leave your wire exposed. The finished look is elegant and amazing regardless of how you choose to make your jewelry.
Modern Kumihimo is accessible. The tools needed to begin braiding are a disk and cord. You can add bobbins if you want to keep your work tidy, we suggest using our ten foot spools of Soft Flex Beading Wire - they are perfect for organizing. You can also purchase a kumihimo weight if you want to keep your cord taut at the center with very little fuss. There is very little cost required to begin this craft. It is perfect for adults and children alike.
Kumihimo disks are incredibly affordable. Purchasing two or more will allow you to leave a design on one if you wanted to try something new on another. You can purchase a square kumihimo plate if you would like a flat braid or a round kumihimo disk of you want a thick round braid.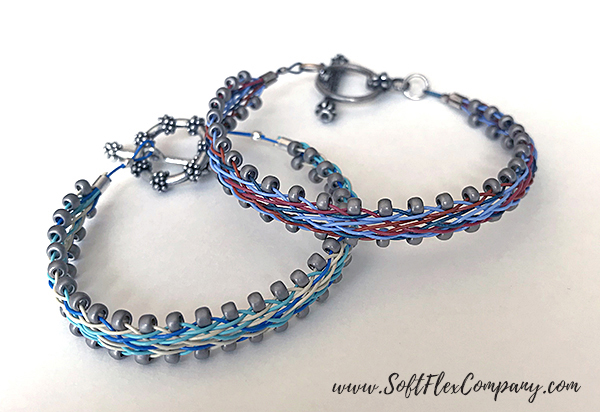 Trios Beading Wire Collections for radiant knitting spool designs
From Kristen:
I used 2 colors, 10 feet each to create this little 3" knitted piece. I did it as a test originally to see how much wire length you get this this style knit on a 5-pin knitting spool. If working on a smaller spool you will get a longer length with the same length of wire and knit style. I showed a quick demo using two wire colors and again using just one wire color. One color will be a little easier to start as the wire tension isn't as tight as when you work with two colors.
Check out our how-to pages on the three styles of knit we like to work with:
Knit with Beading Wire - Style 1
Knit with Beading Wire - Style 2
Knit with Beading Wire - Style 3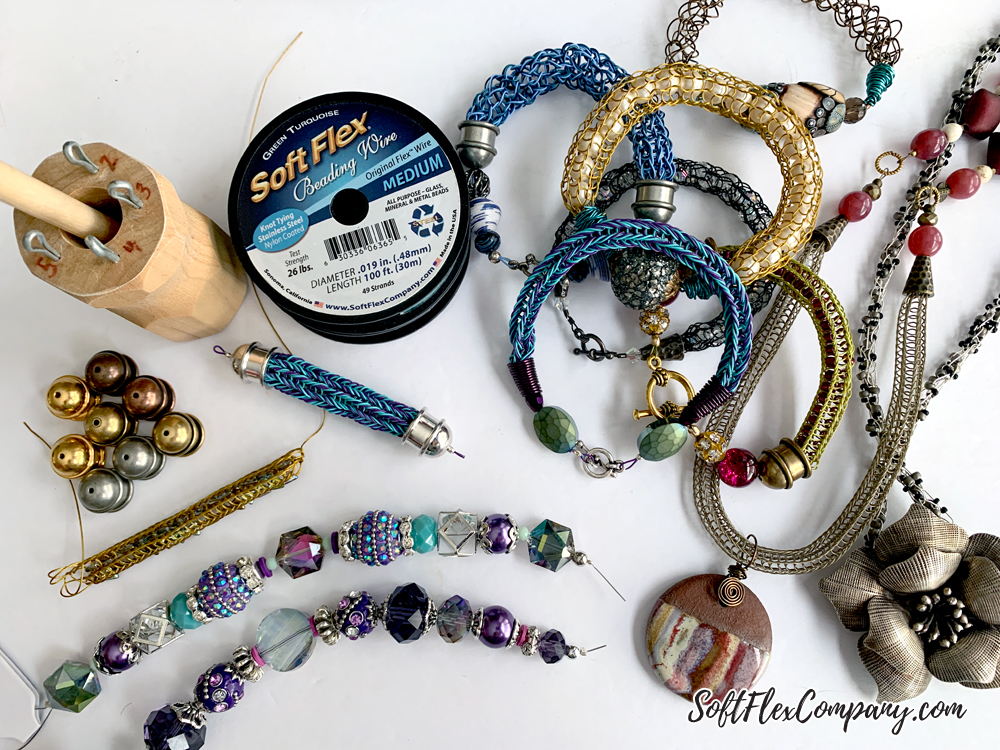 Trios Beading Wire Collections for festive ornaments and decorations
Holidays are ideal for crafters. We have so many options to make something magical. It is a time for making playful ornaments or getting more in depth and adding decor to the house or flourishes to our gifts. And just think, this special time has a meaning and significance that is greater than our normal day to day lives. Our youngsters create life long memories during this special time. Make a handcrafted heirloom that spans generations. The simple ornament you make today might have a place in your grandchildren's grandchildren's tree. Turn your little craft into a time traveler and share your memories with generations that follow.
If you need to be inspired. If you need help creating a holiday keepsake, make sure you visit our Free Project Ideas or YouTube channel. We have tons of resources. We want you to succeed in making something special with our Trios Beading Collections or just single spools of wire.
Don't forget other holidays. We have Trios that are geared for Valentine's Day, St. Patrick's Day, and more!
Add Trios Beading Wire to your jewelry making kit!
Add one of our best selling Trios Beading Wire Collections to your toolkit. These hot selling beading wire packs are perfect for every jewelry project!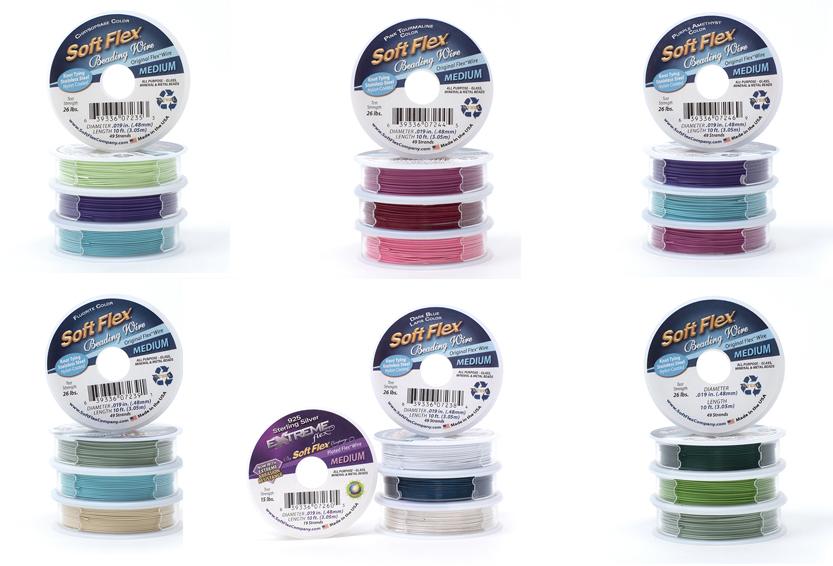 Row one from left to right: Egg Hunt, Be My Valentine, Mom Rocks
Row two from left to right: Serenity, Festival of Lights, Kiss Me! I'm Irish!
Put your bland boring wire away. Consider your jewelry designs as a whole. Add a wire color or colors that complement your beads and findings. You have spent time gathering your jewelry making supplies. Now create something special with a Trios Beading Wire Collection!
Join our Facebook group – VIB. Stay in the know. Stay up to date. From our bead shows to our video shows and sales, you can stay in touch with us. The community is full of artistic and helpful beaders and crafty people. Inspire and be inspired. Share your pictures and get the beading bug from others!

Visit the Soft Flex Company YouTube Channel!
---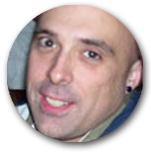 Blog contributor Thomas Soles loves Jazz Age writers and crunchy french fries. His favorite gemstones are Lapis and Pietersite. His favorite hobby is day dreaming. And his favorite mustache is Freddie Mercury's. As you can see, he has a healthy (or possibly unhealthy) sense of humor. You can write to him at Thomas@SoftFlexCompany.com