This week has been absolutely packed with jewelry making tips and demos. Have you kept up? If not, we have a little bit of everything in this blog. We are in Tucson and doing daily demos. James Browning shows us how he uses Soft Flex Craft Wire to create beautiful designs and Kristen Fagan gives a demonstration with the Magical Crimping Pliers. Sara Oehler showed us how to make an illusion style bracelet or necklace using Soft Flex Beading Wire. She also explained the different beading wire diameters that we offer.


We are at the biggest bead show in the world. Tucson has been magnificent. We have learned new jewelry making techniques and we have taught people some of our tips. It has been so fun. The show ends tomorrow, February 9th from 10am to 6pm. If you happen to be in Tucson and have not visited us yet, please come find us! Soft Flex is at booth #180 in the ballroom at Casino Del Sol for the To Bead True Blue bead show.

Stay updated on Tucson. Join our Facebook group - VIB. VIB is a fun community of beaders that love to create jewelry and share their work. You are not obligated to post photos, but if you want to, we would love to see them.Our little community is full of jewelry designers that love to be inspired and love to inspire others. It is a great place to find some fun jewelry ideas and keep up with news from the beading world.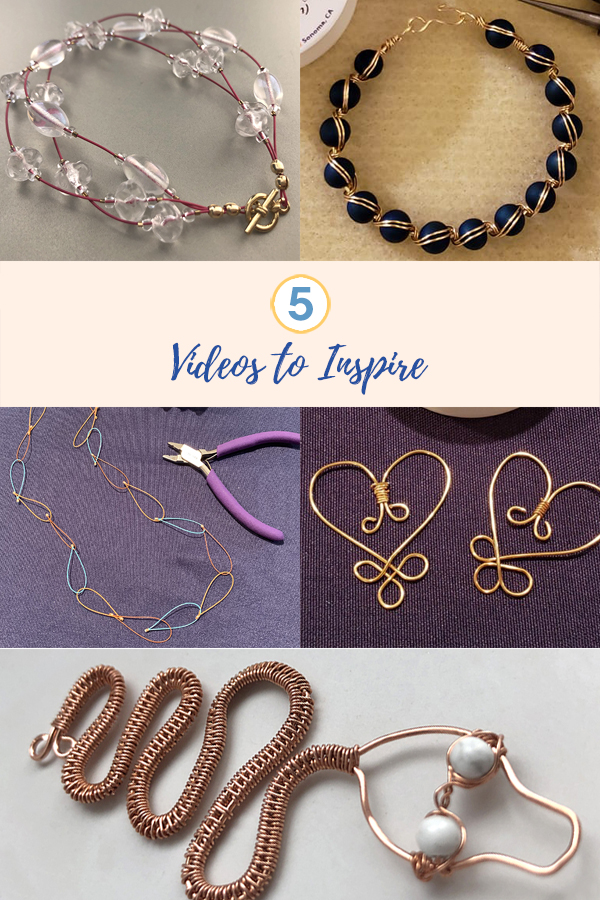 Live Conversations In Wire with James Browning: How To Make A Celtic Style Heart Link
In this video from To Bead True Blue, James shows how to make a Celtic Style Heart Link that can be used for a variety of different things. He uses 20 gauge Soft Flex Craft Wire in Gold Silver Plated. This Heart Link would be perfect to use in some Valentine's jewelry or craft projects.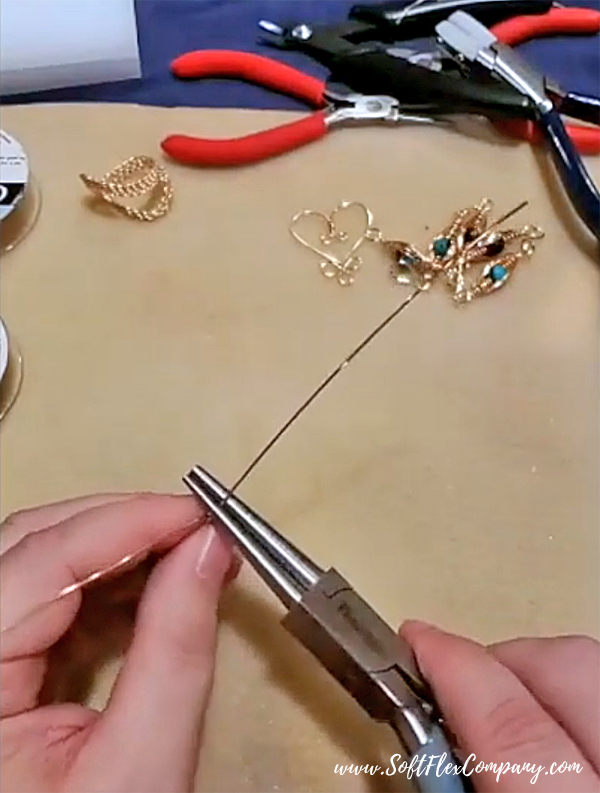 James starts out by using the LoopRite Looping Pliers to create loops in the Craft Wire. The LoopRite Looping Pliers are perfect for making consistent loops for your wire working projects. The nose of the pliers graduates from 2mm to 8mm. The guidelines along the nose will allow for accurate loop sizes. Make every loop uniform and professional. This is the perfect tool for creating jump rings, head pins, eye pins and more.
The other tools used in this video are the Nylon Jaw Pliers and a pair of cutters. You can find both of these tools in our Craft Wire Starter Kit. The Craft Wire Starter Kit also includes a Bead Mat, Round Nose Pliers, Bent Nose Pliers, Lobster Clasps, a 10 yard spool of 22 Gauge Soft Flex Craft Wire in your choice of metal color and a FREE package of Beads. (Bead colors vary and will be based on your wire color choice). If you are planning to make this heart link, then you will also need to buy some 20 gauge Craft Wire because the 22 gauge Craft Wire that comes with the kit is a bit on the thinner size for this project.

With James' easy to follow instructions you'll be making this Celtic Style Heart Link in no time. Don't forget to work harden the wire after you are finished. An easy way to do that is to use the Wire Whacker.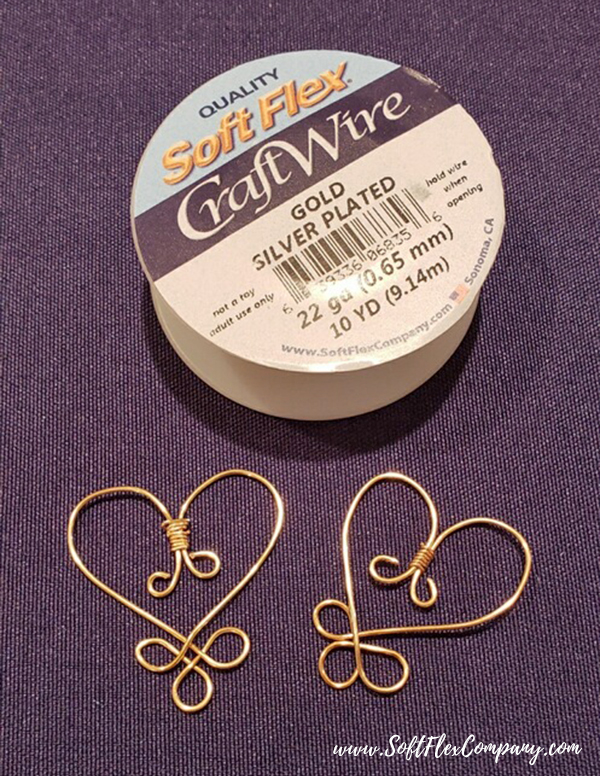 Live Conversations In Wire with James Browning: Make A Beaded Bangle Bracelet With Craft Wire
Watch James Browning make a beautiful Beaded Bangle Bracelet using Soft Flex Craft Wire in Gold Silver Plated 22 gauge and 18 gauge. The 18 gauge Craft Wire will be the base wire and is used to string the beads and the 22 gauge Craft Wire is used to wrap around the beads.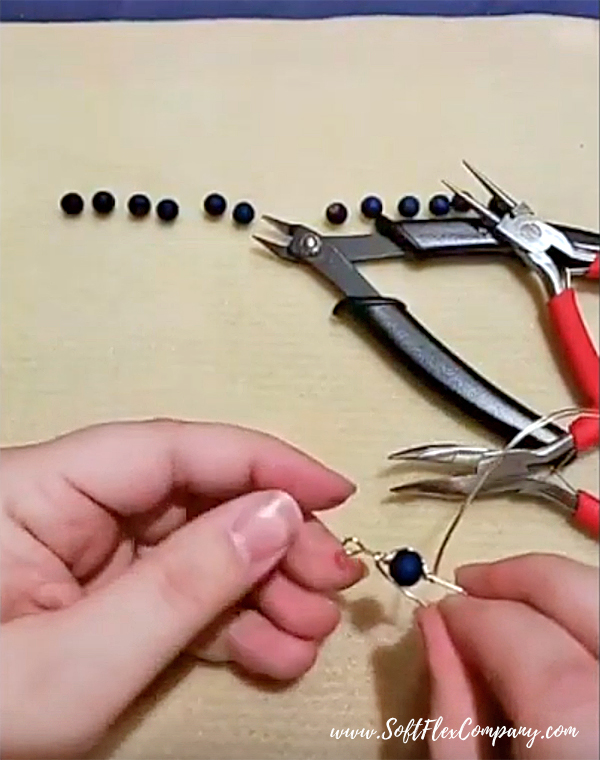 James starts out by cutting a foot of the 18 gauge wire and uses Nylon Jaw Pliers to straighten the wire. He then creates a loop stopper, like an eye pin, using Round Nose Pliers so that the beads won't slide off of the wire.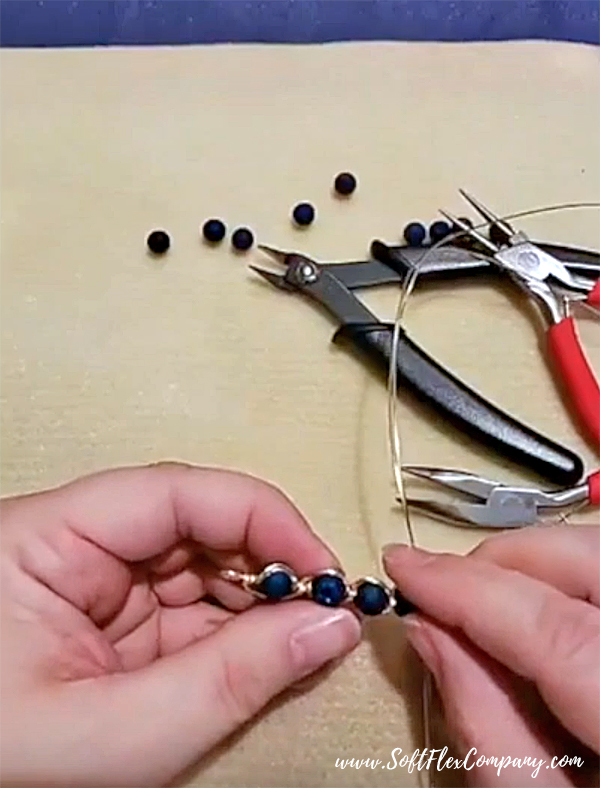 He cuts two 24" of the 22 gauge Craft Wire, bending them in half so he has 4 wires to work with. He uses a simple wire wrap to secure the 22 gauge wire around the 18 gauge wire (at the loop), adds his first bead and continues using the 22 gauge wire to wrap around each bead.
You will need to continue adding beads until you have the right length to wrap around your wrist. James makes a loop on the other end of the 18 gauge Craft Wire and makes a simple clasp that he attaches to the end of the bracelet.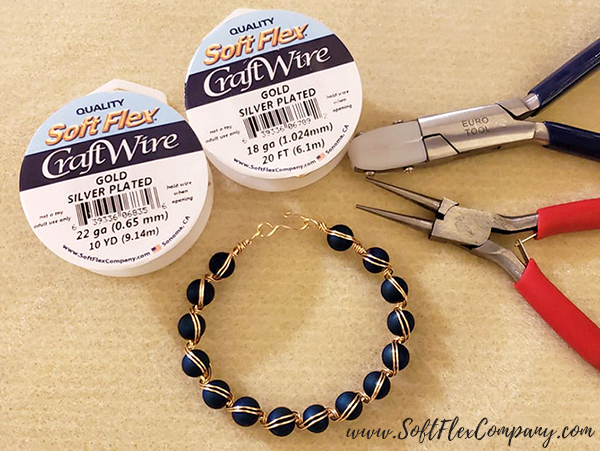 Live Demonstration with Sara Oehler: Make An Illusion Style Bracelet or Necklace Using Soft Flex Beading Wire
Sara Oehler shows how to make an illusion style bracelet or necklace using Soft Flex Beading Wire.

She also talks about the brand new Trios Southwest Beading Wire Set which can be paired with the "Southwest" episode of Beads Baubles And Jewels. This Trios contains the same three wire colors that she used to make the Southwest Knit Bracelet on that episode: Turquoise, Red Jasper, and Citrine. Watch Beads Baubles and Jewels on your local Public Television station. This season started on January 24, 2019. Check you local listings for air times.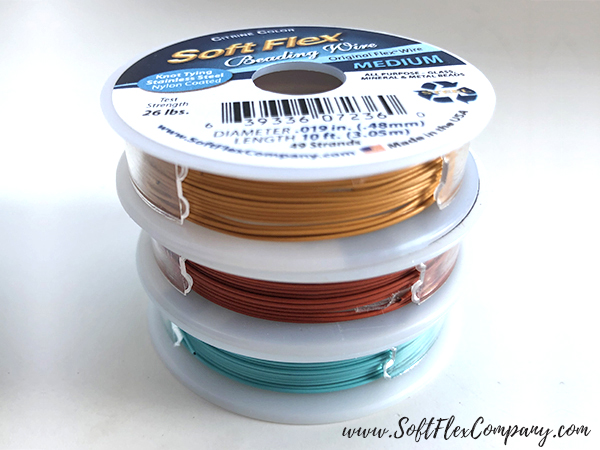 In this video Sara shows the four different wire diameters that we offer in our Soft Flex beading wire brands and talks about our current sale where you can get 20% off all Beading Wire. The sale is good through February 11, 2019 or while supplies last.
Sara originally started out making an illusion style necklace but later in the day decided to make this beautiful illusion style bracelet instead. We'd love to see what illusion style jewelry you end up making. Share your photos on our Facebook VIB Group.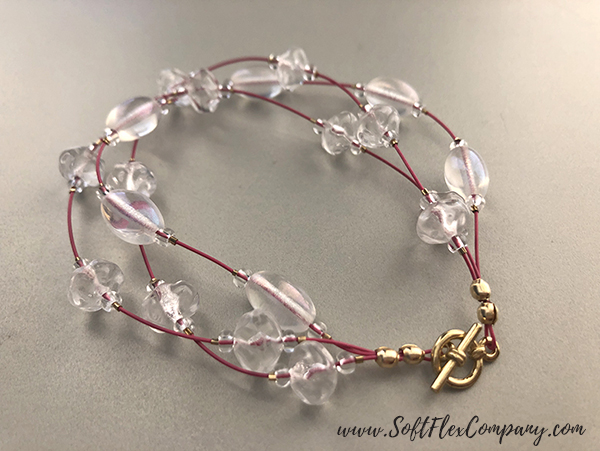 Conversations In Wire with James Browning: Learning A Simple Wire Wrapping Technique
James Browning shows how to do a simple wire wrapping technique using 20 gauge and 24 gauge Soft Flex Craft Wire. This technique can be used in several kinds of wire projects.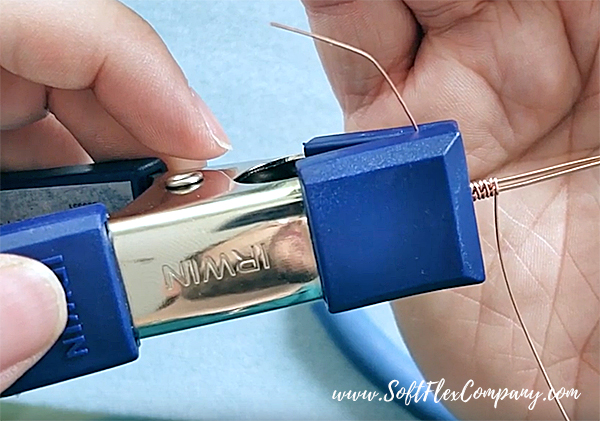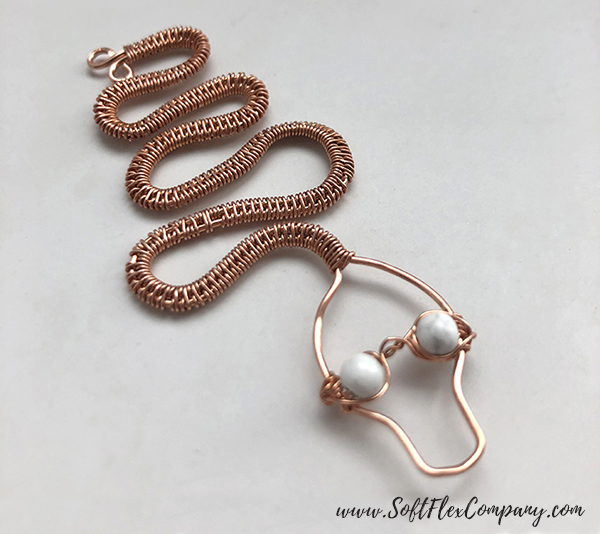 Free Spirit Beading with Kristen Fagan: Magical Crimping Pliers Demonstration
Kristen Fagan creates a wire chain using the new Southwest Trios Beading Wire Set, 2x2mm Soft Flex Gold Filled Crimp Tubes and the Magical Crimping Pliers.

Magical Crimping Pliers will turn an ordinary crimp tube into a finished, rounded, bead. A beautiful end to any design. They have a single rounding hole and this hole rounds any 2x2mm tube into a rounded bead. This quick rounding method eliminates the need for a crimp cover.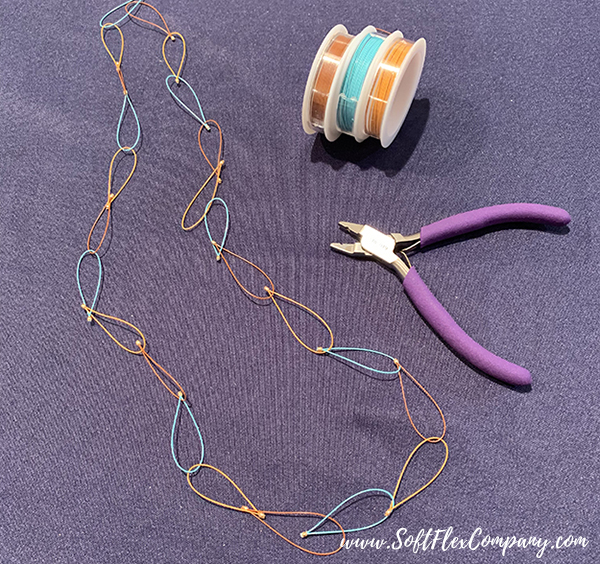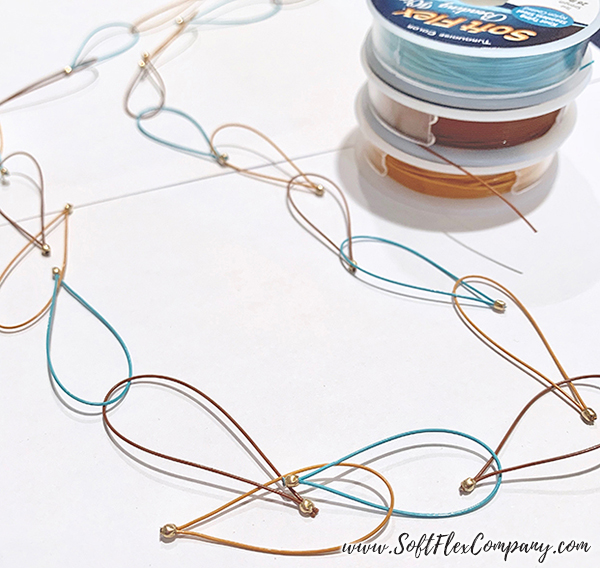 Join our Facebook group – VIB. Stay in the know. Stay up to date. From our bead shows to our video shows and sales, you can stay in touch with us. The community is full of artistic and helpful beaders and crafty people. Inspire and be inspired. Share your pictures and get the beading bug from others!
Visit the Soft Flex Company YouTube Channel!
---
Blog contributor Thomas Soles is the Trade Show Coordinator for Soft Flex Company. His favorite stones are Lapis and Pietersite. His favorite hobby is day dreaming. And his favorite mustache is Tom Selleck's. As you can see, he has a healthy (or possibly unhealthy) sense of humor. You can write to him at [email protected]