We love Zoom parties! Last month, we featured guest Andrew Thornton. This month, we followed up with jewelry designer Jill Wiseman. Jill is an amazing talent and business owner. If you are a jewelry designer, you are probably familiar with her work, her YouTube channel or her online store. You will love her insight and experience. If you are a beginner, this is a great chance to meet a bead stringing artisan and learn about her work. This Zoom party was a blast. We made jewelry. We chit chatted about travel. We discussed how important beading and jewelry making was for our health and community. Join us for some casual conversation and then learn more about Jill. Let's meet your new favorite designer!
We love Jill Wiseman. We have followed her for years. She is a wonderfully talented jewelry designer and entrepreneur. She has an online shop where she sells kits, books, and beading supplies. She even offers free patterns. She teaches an eclectic range of mediums - stitches, simple bracelets, weaves, seed beads and more. We have been lucky enough to see her at beading trade shows. We have appeared with her on the televised series Beads Baubles and Jewels on Public Broadcasting Stations. We have enjoyed her books. She is a joy to watch. You can tell how much she loves to make jewelry. And it is infectious. We dare you not to be inspired! Let's watch a beading party and learn more about Jill.
Jewelry Making Zoom Party With Designer Jill Wiseman
We think Zoom parties are the best way to network and socialize during this time of social distancing. The coronavirus may have turned us all into hermits. But we can still enjoy friendly company and maintain a social life by using this exciting conference software. Zoom is intended for use for business meetings. But it really shines for casual interviews. The camera focuses on the active speaker. This makes it very easy to follow along. To watch one of our live Zoom parties, you do not need to download or install anything. Simply visit the Soft Flex Company Facebook page and watch the fun.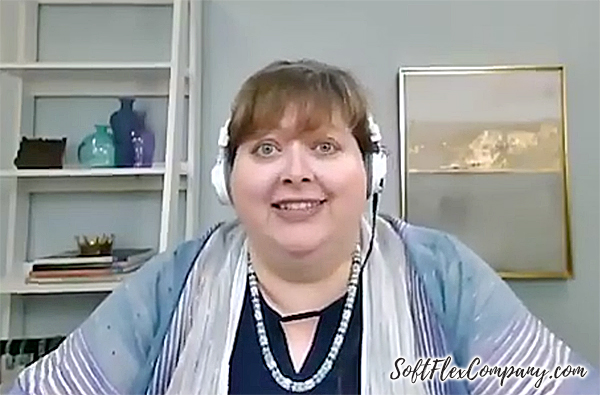 We wanted to catch up with our friend Jill Wiseman. Jill has been a commanding presence in the beading world for almost twenty years. She was a corporate career woman until she unexpectedly ran across a bead sale. This sale changed her life. She bought her first tubes of seed beads and it upturned everything. She knew she had found her true calling. Life would be wonderful if we were all as fortunate! Jill turned her new passion a career. She has worked in all corners of the industry. She has owns an online bead store. She has written books. She has appeared on television. And she is a fabulous teacher.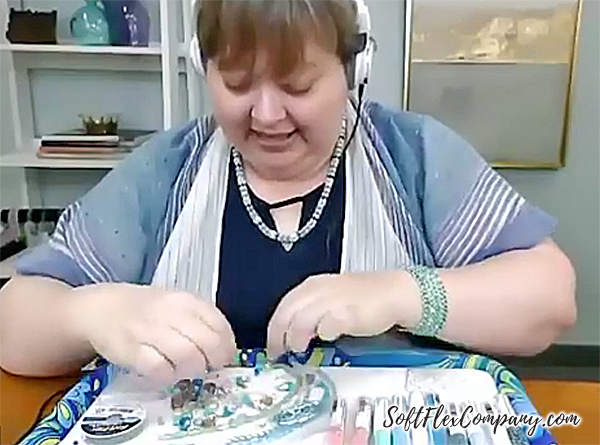 Jill loves beading. She feels like the word doesn't do justice to the reality. 'Beading' brings to mind a picture of somebody stringing a strand. In fact, the word is more of a lifestyle encapsulation. Beading is community. Jill has meet some wonderful people through this hobby. She met an older woman and bonded so deep that they called each other sisters. She has meet people that were only 18 that she considered important friends. Beading is therapy. The act of making jewelry is meditative and relaxing. Beading is great after a long stressful day.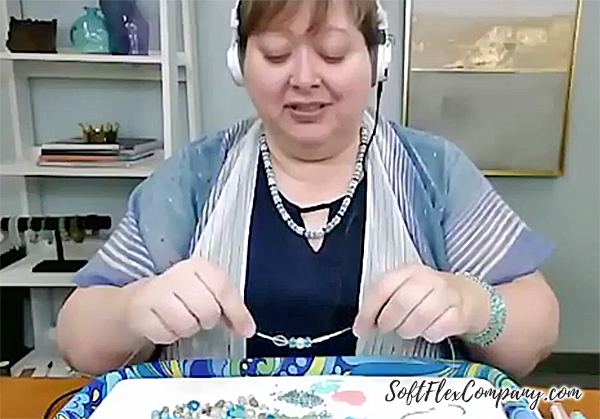 One great thing about beading is that beads do not go out of style. They do not go bad. And you cannot ruin a bead, unless you break it, of course. Buying a bead is a moment in time. You make that purchase because something speaks to you. There is an unspoken transaction in your head. You see the bead and know it has to be part of your collection. This bead now needs to find a home on a piece of brilliant jewelry. The good thing is you cannot mess this masterpiece by stringing it on something you do not like. If you make a necklace and do not feel like it really came together the way you envisioned - restring it. You have unlimited chances to make the perfect necklace - as long as you have the beading supplies on hand.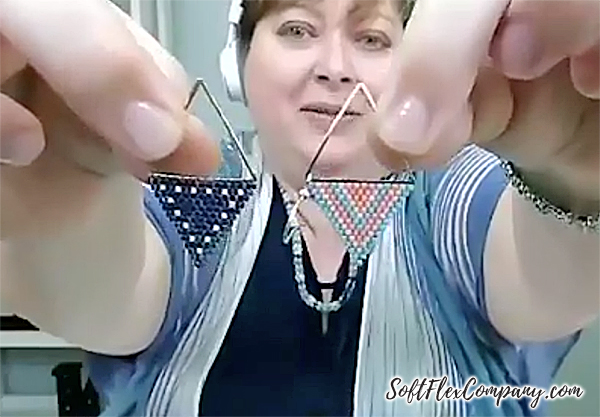 Jill has traveled the world. She has purchased beads in exotic places. She found a bead mall in China that just sounds like Heaven. The Liwan Plaza, in Guangzhou, is seven stories of bead shops. Jill spent three days here and said it was not remotely enough time to see everything. We hope we get the chance to visit this mecca someday! Jill says one of her favorite places is the Czech Republic. The people are welcoming and lovely. And, of course, the Czech Glass is stunning! Jill thinks that this is one of the few places, other than the United States, that she would ever consider moving to and calling home. Sounds like high praise!
From Jill:

I finally got my quick beaded bead video filmed today! I promised this video when I showed the bead in the Soft Flex Company FB Live Bead Party on Tuesday with Sara Oehler & Kristen Fagan! I hope you enjoy making them!

Here is the link to Jill's quick beaded bead video on Facebook.
Jill Wiseman on Beads Baubles And Jewels
Last year, Sara got to spend some time with Nealay Patel and Jill Wiseman on the set of Beads Baubles and Jewels. This show is dedicated to jewelry making and beading tutorials. You can find it on many local Public Broadcasting Stations. The trio had a ton of fun filming their respective episodes. Getting to catch up and hang out was a huge perk, too.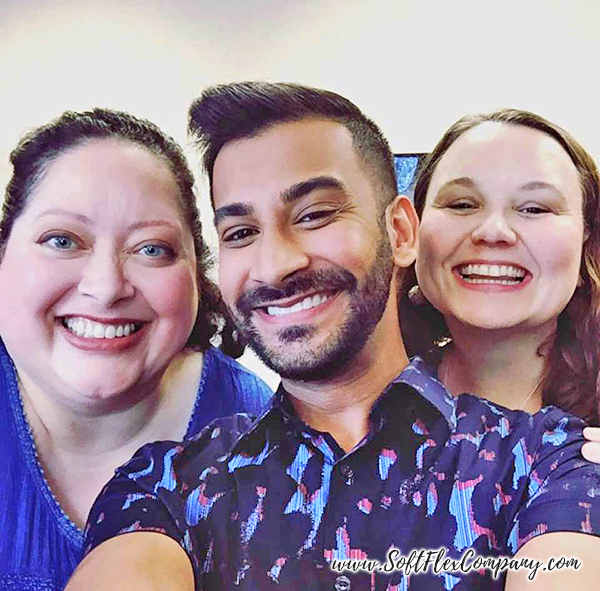 Jill's episode, Peaceful Pursuit, is episode 2713 in the series. Episode 2713 is jam packed jewelry making fun and features two fantastic designers using Soft Flex Company Beading Wire - Kate Richbourg of BeadShop.com using Soft Flex .014 Fine Beading Wire and Jill using Soft Touch .010 Very Fine Beading Wire! Want to learn an exciting new technique? This is a fun show to visit. We have Jill's segment in the video embedded above. If you would like to see Kate's work, visit our beading blog!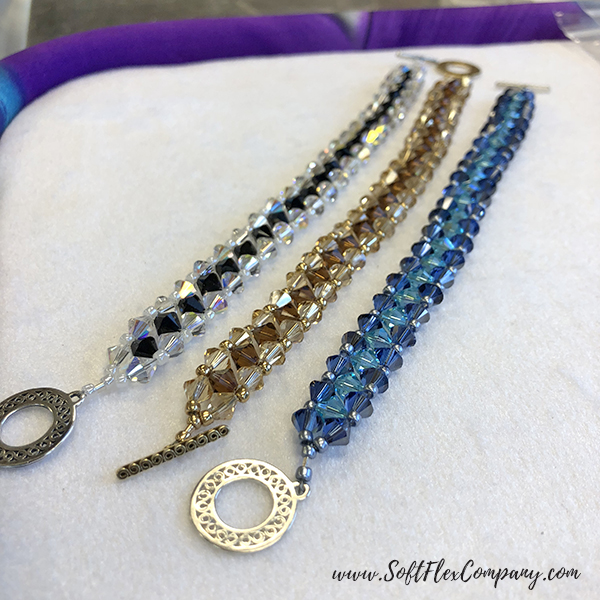 Jill's project is full of sparkle. She uses our .010 Very Fine Soft Touch Beading Wire to weave a special crystal bracelet. This bracelet looks complicated, but it can actually be finished fairly quickly. And if you have a basic knowledge of weaving and crimping, this can be finished in a single sitting. Give it a shot! This is a lovely bracelet design to add to your collection.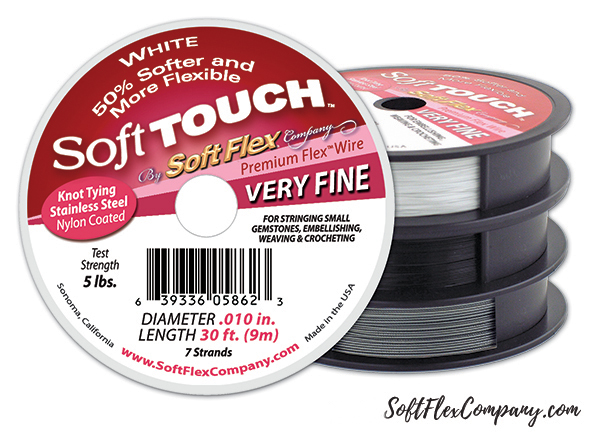 Soft Touch beading wire in our Very Fine diameter is the perfect fit for this design as crystals have sharp edges that will eat into a traditional beading thread. This wire has 7 strands of marine quality, stainless steel braided together and coated in satin silver, white or black nylon coating. It is strong and flexible for bead weaving.

In this segment, Jill says, "The other great thing about using beading wire, is you are able to use something that has really sharp edges (like Swarovski crystal beads) and not worry about whether it is going to cut."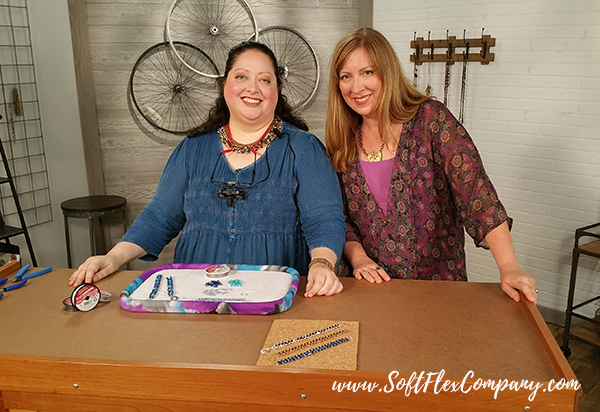 If you aren't familiar with Jill Wiseman, you should really check out her website. Here is how she describes her business:
"Our goals are to bring you great new designs, great products, and to make beading easy and fun. How many times have you wanted to make a bracelet or necklace, but didn't have exactly the right color or size seed beads? If you're like us, it happens all the time! With a kit, you'll have everything you need to complete the project – all the beads, needle, thread and instructions. And if you just need the beads and materials, we have that too!"
These bracelets are gorgeous. If you would like to explore this technique further, it is called a Two-Needle Right Angle Weave. This design is stunning. Grab your favorite beads and some Very Fine Soft Touch Beading Wire and make your own!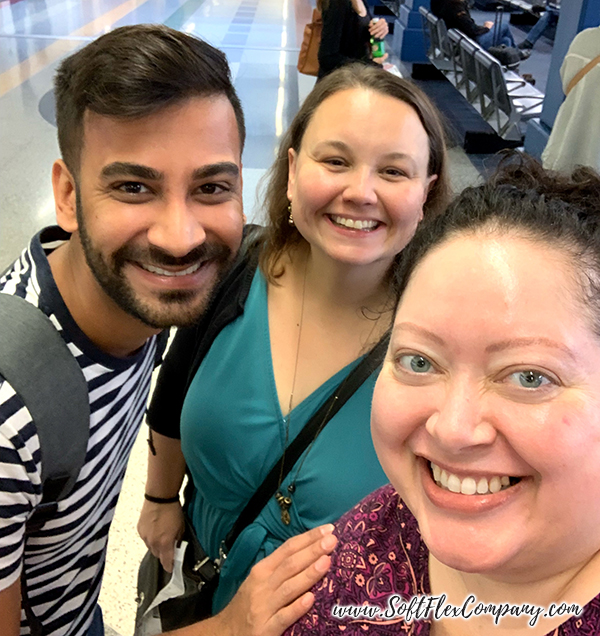 From Sara:
Taping Beads, Baubles and Jewels was a such a joy to share with Nealay Patel of SilverSilk and More as well as Jill Wiseman. We had such a nice visit and enjoyed learning from each other. I hope that we have a fun opportunity like that again someday.
Meet Jill Wiseman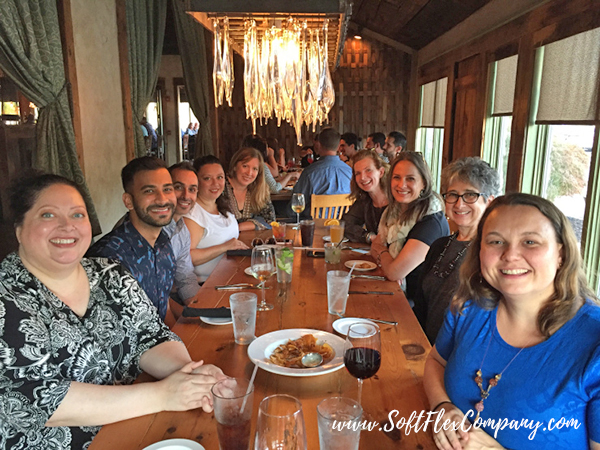 Jill Wiseman is a tremendously talented designer. You may have seen her jewelry in various magazines, she was a Beadwork magazine Designer of the Year! You may have read her book - Beautiful Beaded Ropes : 24 Wearable Jewelry Projects in Multiple Stitches. You may have seen one of television appearances. You may have been a student in one of her beading classes. Or, you may be a subscriber to her YouTube channel. If you love beautifully crafted jewelry, you will want to follow her.
In 2001, Jill was working a corporate job and paying the bills. She was living a quiet life and getting by. But, life can change in an instant. And one day, Jill's world did just that. Jill attended an international quilt convention. She took a stroll down the Embellishments aisle and it was here that everything changed. She found beads. A deep love and wonder blossomed. Beads were the things that she needed to make her life complete. She purchased several tubes of seed beads. The purchase was so momentous and transformative, she kept the receipt - and even has it to this day.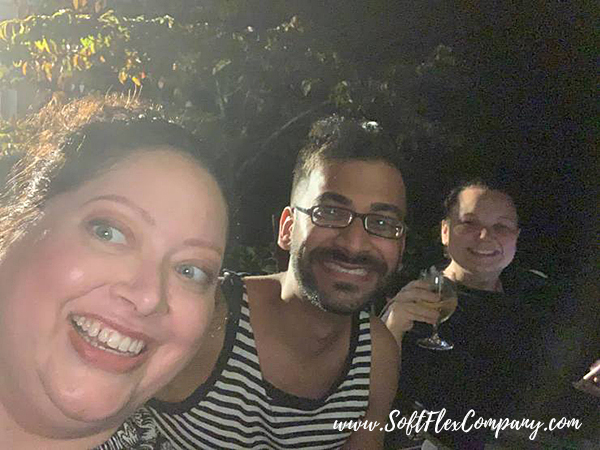 Jill immersed herself into her new hobby. She mastered beadweaving. By 2004, she was a full time jewelry maker and teacher. She left the comforts of home for the adventure of bead shows and stores. She was soon teaching at international events, like Bead & Button and other massive gatherings. Jill and her mother, June, launched a bead store called Tapestry Beads (now Jill Wiseman Designs). Finally, six years ago, Jill started uploading videos to her YouTube channel. What an amazing journey!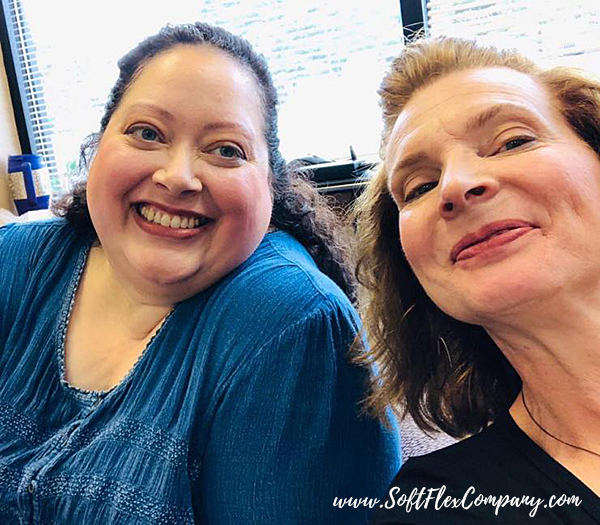 All of us in the jewelry making trade have seen the epic heights and turbulent depths of this industry. Downturns in the economy have left many beads stores and designers struggling and desperately seeking other forms of income. Jill has managed to weather the stormy seas and become an amazing force for the craft of beading. We are amazed at her resilience and talent. Make sure you support designers and stores. People like Jill are an asset to beaders everywhere. Make sure you visit her website and support her channel.
Visit Jill Wisman's YouTube Channel
If you have not seen her work, make sure you watch some of her YouTube collection. Her videos are absolutely top notch. She is instructive and easy to follow. There is a strong emphasis on her hands and what she is working on. She employs a production company to make sure her work is full of clarity and detail. If you want to learn a new pattern or technique, this is really a great platform. Think a stitch, like peyote, is something you could never master? Jill will teach you how!
Jill Wiseman's YouTube Channel
We love watching Jill Wiseman. She has an awesome collection of videos on her YouTube channel. She has project tutorials, free project ideas, product reviews, and more. Her videos are professional and instructive. She has hired a production crew to make sure her videos will always be the highest quality. She has a strong presence on YouTube, almost 160K subscribers! That is an amazing number for any market on YouTube. Content creators like Jill are definitely rare on the platform. She deserves the success she has found!
Visit Jill Wiseman's Designs
About Jill Wiseman Designs:
Our goals are to bring you great new designs, great products, and to make beading easy and fun. How many times have you wanted to make a bracelet or necklace, but didn't have exactly the right color or size seed beads? If you're like us, it happens all the time! With a kit, you'll have everything you need to complete the project – all the beads, needle, thread and instructions. And if you just need the beads and materials, we have that too!
Are you a beginning beader? We specialize in helping beginners get started. We will never tell you to do something without giving you clear instructions along with diagrams and/or photos to help you. Our necklace and bracelet pages designate which projects we recommend for beginners. We also provide "tech support" if you get stuck.
We're working hard to keep our prices as low as possible, and to make beading affordable for everyone. At Jill Wiseman Designs, you have options.
You can purchase:
The complete kit, which includes everything you need to complete the project, including needle and thread
Just the instructions, if you prefer to use your own beads
The beads only – a kit refill, which includes beads, clasp (if not beaded), needle, and thread
All your beading supplies – seed beads, SuperDuos, MiniDuos, crystals, firepolish, tools, and much, much more.
Wholesale inquiries welcomed.
Visit Jill Wiseman's Links
Jill Wiseman's Designs Facebook Page
Join our Facebook group – VIB. Stay in the know. Stay up to date. From our bead shows to our video shows and sales, you can stay in touch with us. The community is full of artistic and helpful beaders and crafty people. Inspire and be inspired. Share your pictures and get the beading bug from others!
Visit the Soft Flex Company YouTube Channel!
---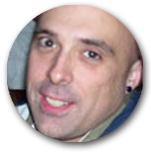 Blog contributor Thomas Soles loves Jazz Age writers and crunchy french fries. His favorite gemstones are Lapis and Pietersite. His favorite hobby is day dreaming. And his favorite mustache is Freddie Mercury's. As you can see, he has a healthy (or possibly unhealthy) sense of humor. You can write to him at Thomas@SoftFlexCompany.com