3 Ideas For Handmade Holiday Gifts Using Gemstone Beads To Make Jewelry - Perfect For The Essential Worker In Your Life
I love to make gifts. I was the kid that sewed a small stocking for every member in my extended family (which you realize is a lot when your Mother has 9 brothers and sisters and you have 18 first cousins). I was the teenager that would macramé bracelets in colorful threads for my closest friends. And now, I am the lady who makes handmade gifts for nearly anyone I come across in the holiday season.
Jewelry making has been a handy hobby to have for gift giving. This year, I have two designs to show you. The first highlights a gorgeous Chrysoprase bead from our website. This bead is large and in charge. It is also a great focal point and comes in a soft green tone that is just gorgeous.
We are overstocked and eventually discontinuing a few colors (shown below) of Soft Flex Beading Wire. These wire colors in any length are currently marked down 15% in addition to any other discount that might apply to your account online. So if you are a retail customer, you can get an additional 20% off when you buy 8 spools of beading wire. Yes, 35% off total! If you are a designer, the 15% applies WITH your design discounts. If you are a bead store, the 15% applies WITH your bead store discounts! I chose to use the Emerald Green from the grouping. I love to expose beading wire color as part of my design. I like the contrast between the Emerald Green color and Chrysoprase bead!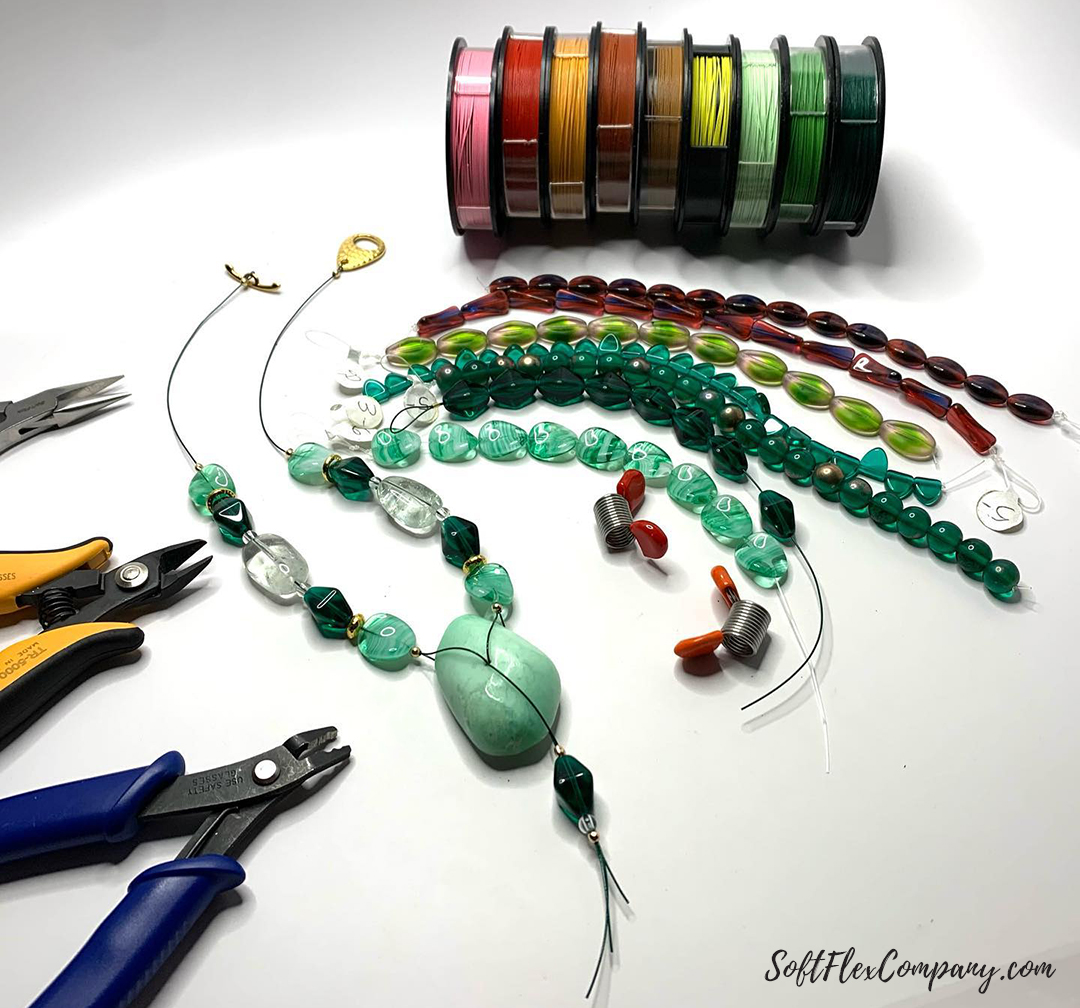 We also introduced some gorgeous new Czech glass beads this month. I used two of the new styles in my design with a dash of gold TierraCast spacer beads and small rings. That dash of gold made the design just perfect for me. I had to hunt those pieces down to make it work in my home office, but it was totally worth it!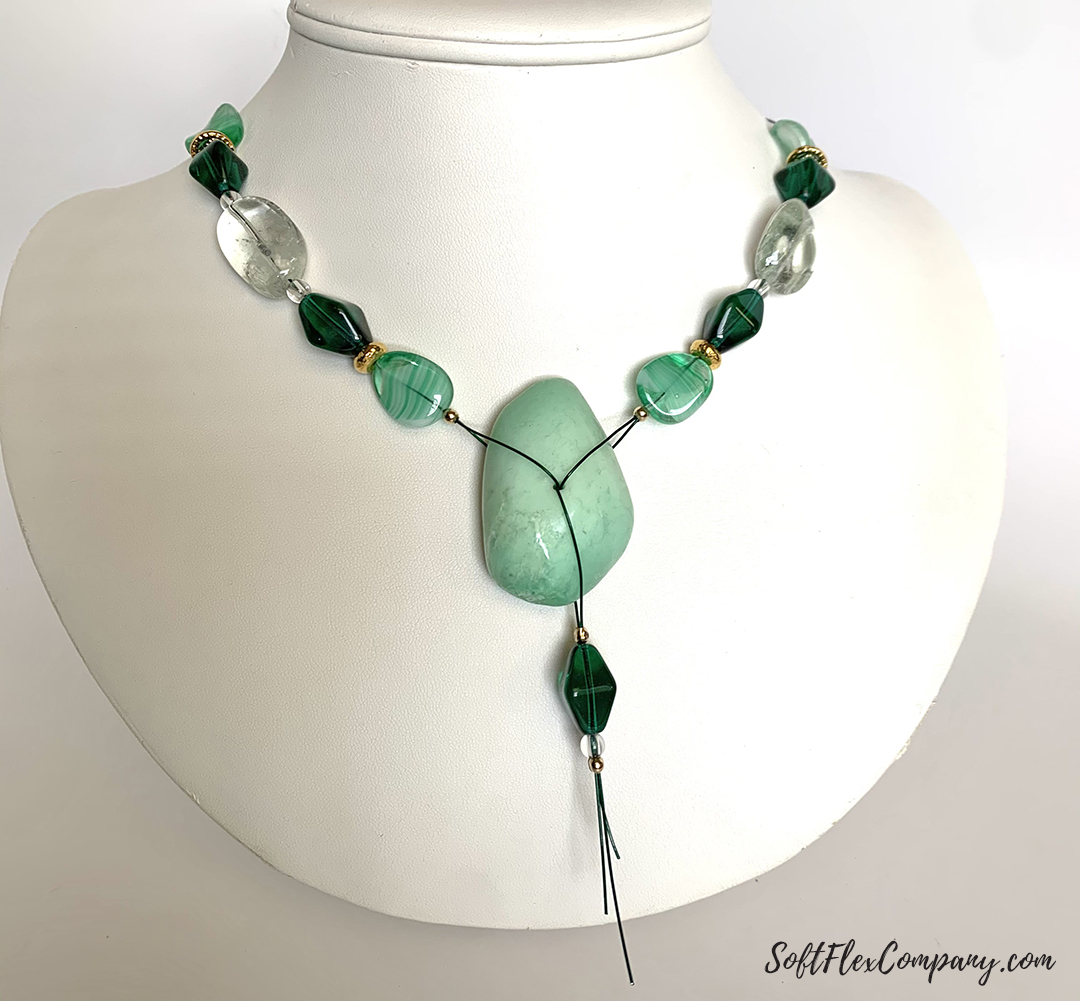 We love to give jewelry gifts to teachers, friends and family. If I am going to see my dentist, hair stylist or favorite book store owner, I might whip up a quick pair of earrings to hand them as a big thank you for the year of help. This year is a little different as I won't be seeing a lot of those people, but I definitely will still drop by gifts for teachers.
It was exciting when I put this design on and realized just how much I loved it. In addition to that great Chrysoprase bead in the front, I also broke open a gorgeous strand of Green Amethyst. I rarely wear green, but this design made me question why!
The second design that I have to share is a really pretty piece made with a strand of Light Purple Amethyst. This is a beautiful and more expensive strand of beads. So this is the type of design that you may gift to a treasured friend, sister, mother, grandmother or daughter. It is one of those pieces that they will wear with pride and keep forever.
The only part that we don't carry in this design is the gold bail from TierraCast. I am sure a quick google search will reveal this finding. I may even make it available in an upcoming live sale. We do carry the rings in 3 sizes. I believe that I used the medium and large. These TierraCast Hammertone Connectors are really wonderful to use in a lot of different ways, but I love how they come together to make a quick pendant like this.
My favorite new product this month are the 12mm Vintage Preciosa Czech Crystal Faceted Round Beads. I was very excited to design with them. They are super affordable! These 12mm crystals were hand cut on old machines, which gives them an amazing look. They were created using a man made raw material that Preciosa Ornela stopped using a decade ago. The glass used to make these lovely beads is a step up from the 00030 glass that is commonly used in glass bead production. These crystals are strikingly clear and the cut is superbly clean. You are going to love the clarity and beauty of these elegant crystals.
I finished off the design with a matching TierrCast toggle in gold. It should be noted that I used the gold finish, but TierraCast comes in a few metal finishes - antique brass, silver and black.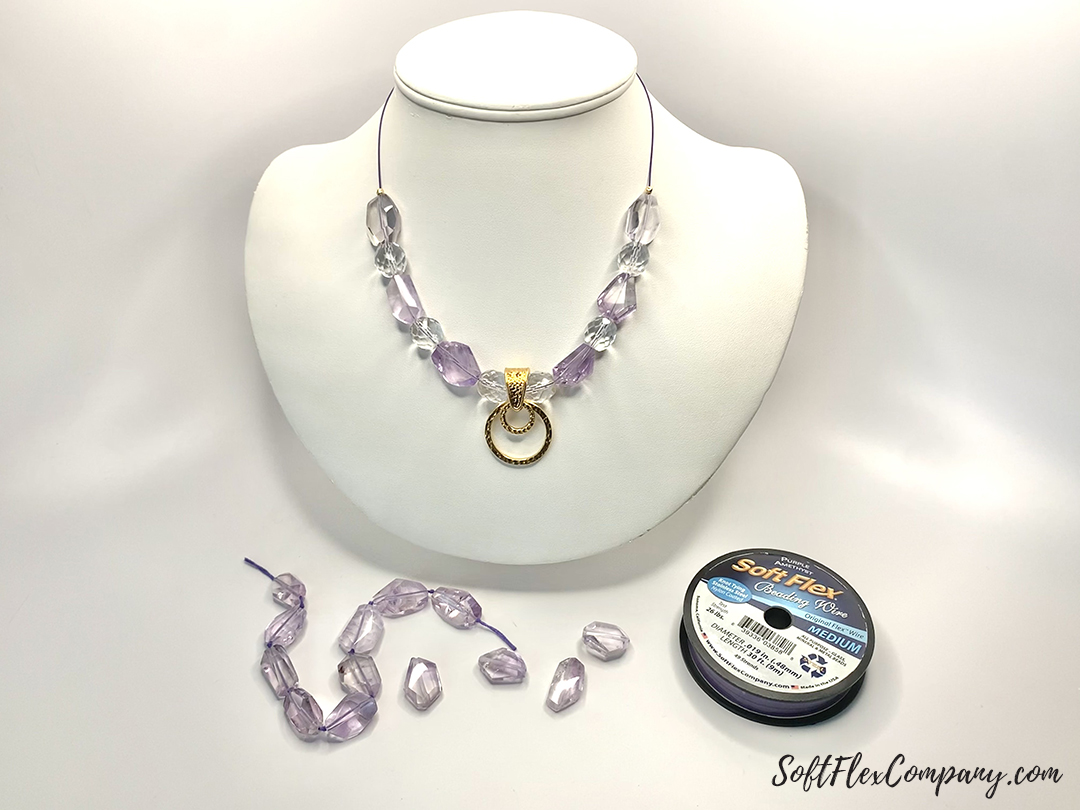 By just using beads in the front, you can get several designs out of this one strand of Light Amethyst beads. This helps to make each gift more affordable. I could still make a bracelet and earrings, maybe even more after this necklace.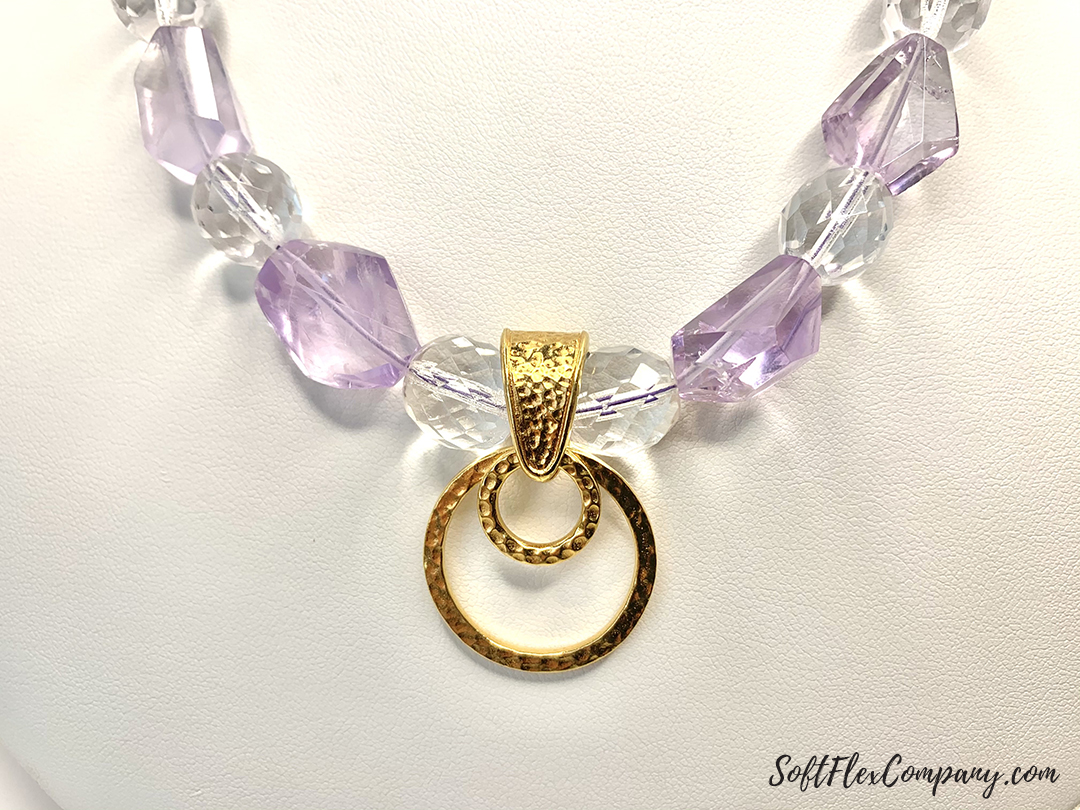 I think this design is so elegant and would make someone very happy on Christmas morning.
Since I had those lovely Light Amethyst Beads and Vintage Preciosa Crystal Beads left, I had to make some earrings to match.
In this video, I made earrings in 2 different ways with 2 different crimping pliers. Learn how to use the Magical Crimpers and Regular Crimping Pliers to make quick and easy earrings with Soft Flex Beading Wire. You can use gemstone beads, Swarovski or Preciosa crystal beads, Czech glass, etc. The metal dangles are from TierraCast and sold in our online shop in several metal finishes, but you can also substitute with glass dagger beads. The sky is the limit for making these earrings in your own unique style. We hope that you love this beaded earrings tutorial!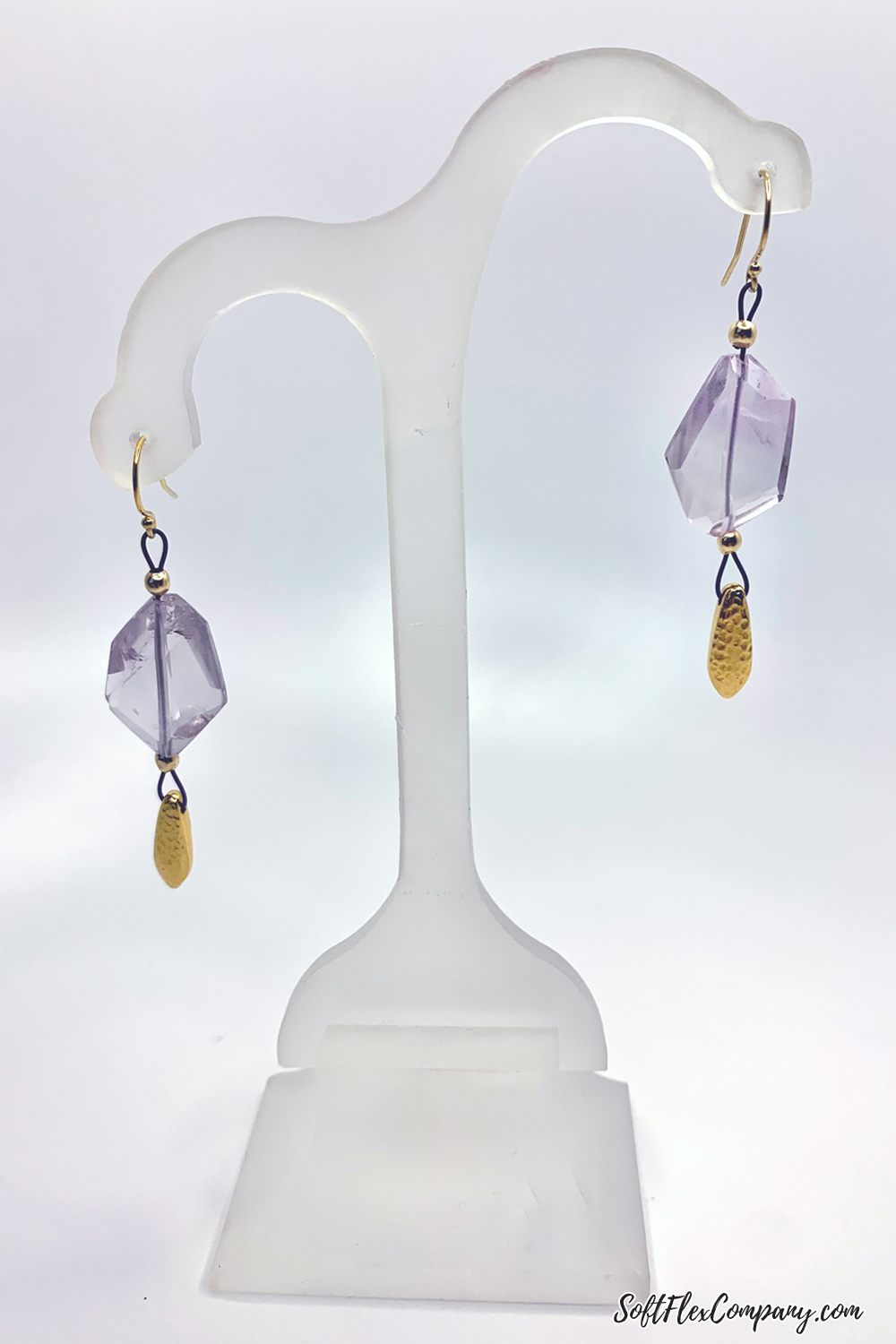 For this pair, I used regular crimping pliers, 2x2mm crimp tubes and added a 3mm crimp cover to each crimped tube.
For this pair, I used the Magical Crimpers with 2x2mm crimp tubes.
Soft Flex Crimp Tubes are crafted with the professional in mind. We have constructed a crimp tube that is almost twice as thick as others on the market. The sturdier build of the crimp is enhanced by the fact that they are also seamless. Finish your next piece securely with our designer crimps.
Available in Sterling Silver, Gold Filled, Sterling Silver Black Oxidized or Copper.
2x2mm Soft Flex Crimp Tubes are recommended for diameters .014, .019 and .024 beading wire and should be crimped with Regular Crimping Pliers or Magical Crimping Pliers.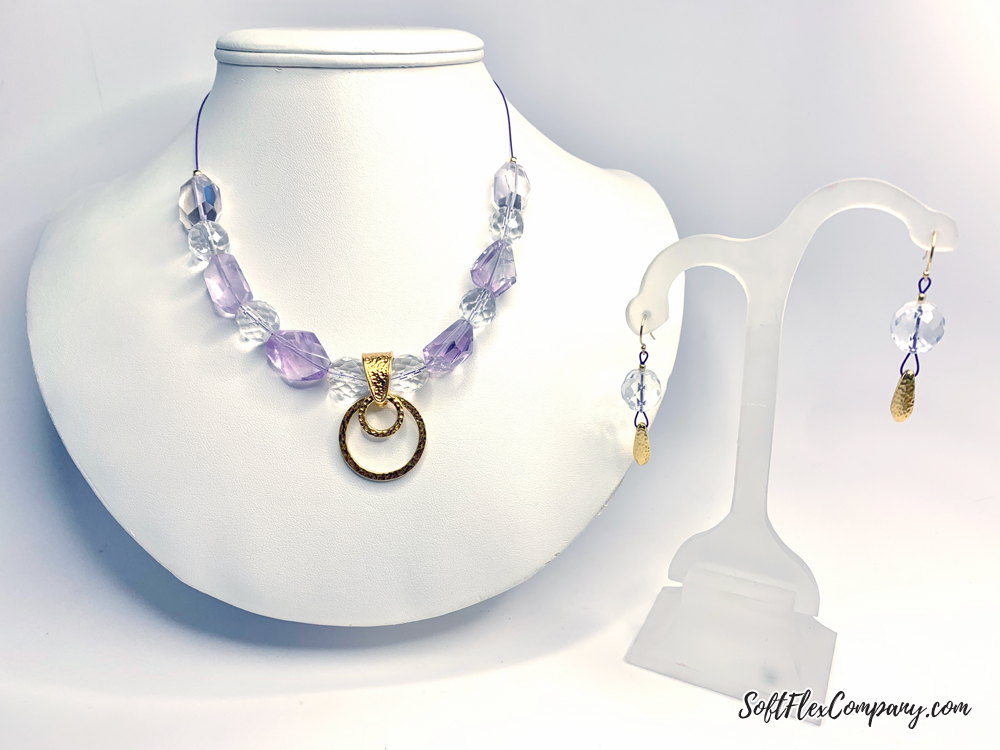 Earrings are a favorite Christmas gift go-to for me. They are quick and easy and you can make them in a million different colors of beads and wire.
I encourage you to make a few gifts this year, it is good for you and the recipient. Maybe even make a gift for someone who is not expecting a gift - a neighbor, a postal worker, a cashier, a nurse. We have depended so much on so many essential workers this year. What a nice way to show our appreciation for what they have sacrificed to keep things moving forward amidst this wild pandemic?
Join our Facebook group – VIB. Stay in the know. Stay up to date. From our bead shows to our video shows and sales, you can stay in touch with us. The community is full of artistic and helpful beaders and crafty people. Inspire and be inspired. Share your pictures and get the beading bug from others!

Visit the Soft Flex Company YouTube Channel!
---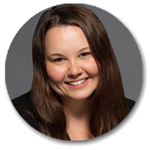 Sara Oehler (pronounced Ay-ler) is a well-known jewelry designer living in the Bay Area. Sara is the author of several beading books, including her latest title, written with Kristen Fagan, Seed Bead Revolution. She has designed and written for numerous publications including: BeadStyle, Bead&Button, Bead Trends, Stringing, Jewelry in Fashion Trends, Simply Beads, The Flow and Today's Creative Home Arts. Currently, Sara is the Sales and Marketing Manager for Soft Flex Company.Ask Sara Bead Expert
Blog: softflexcompany.com/beading-blog
Email: Sara@SoftFlexCompany.com