Magical Crimping Pliers are one of our favorite tools. They have replaced the need to conceal finished crimps with crimp covers. Magical Crimping Pliers crimp a tube and turn that tube into a beautiful rounded bead. The finish looks amazing. This tool is invaluable. Your crimps will be part of your beaded design. You won't want to hide your work. We love Magical Crimping Pliers.

If you have not used Magical Crimping Pliers, check these videos out. We have some fantastic free beading project ideas using the Magical Crimping Pliers and Trios Beading Wire. Subscribe to our YouTube channel for more tips. Visit our Facebook page if you want to catch our live shows and sales. If you have any questions about the tools we carry, email us or join our Facebook group – VIB. We want you to be an informed beader!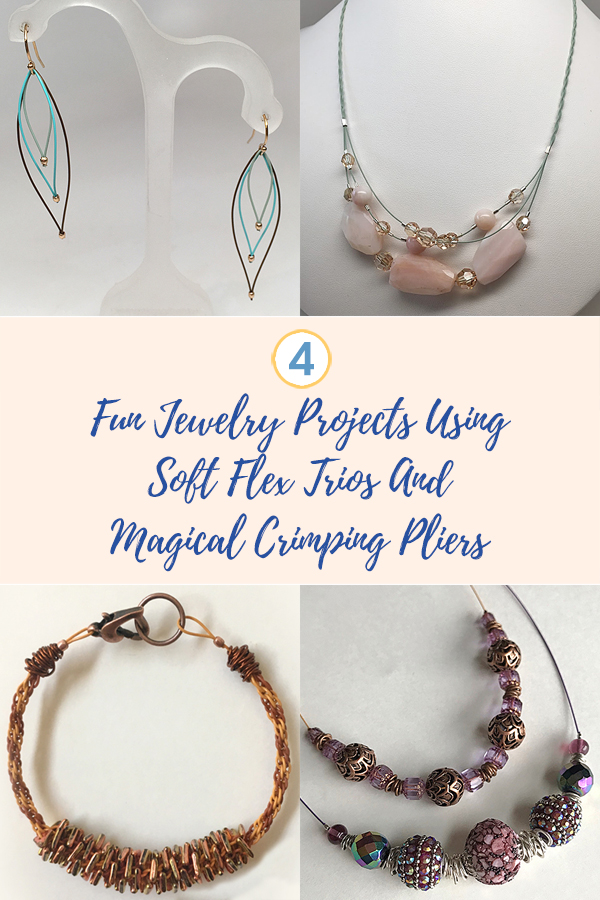 Drop Earrings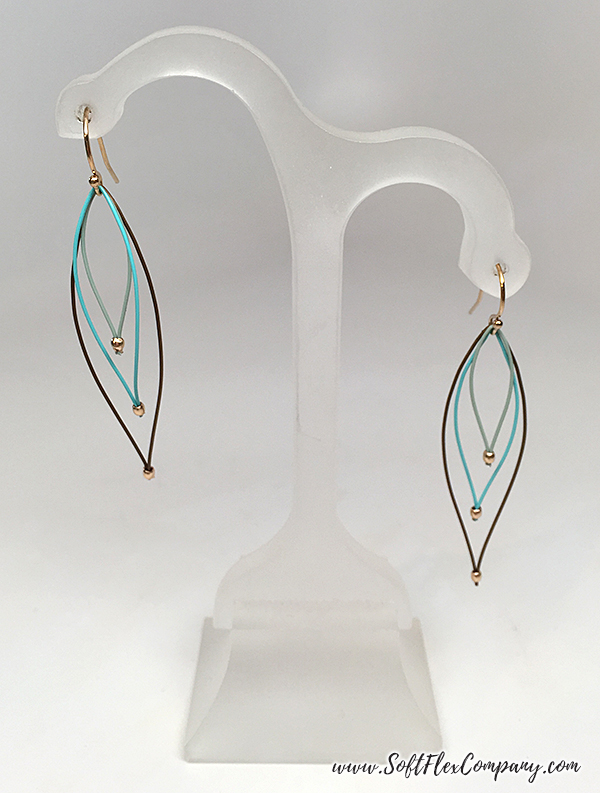 Designed by Sara Oehler
Materials
Soft Flex® Beading Wire .019, Fluorite Color - 4"
Soft Flex® Beading Wire .019, Turquoise Color - 6"
Metallics™ Beading Wire .019, Antique Brass Color - 8"
(Or use the three colors of wire in a Soft Flex Trios Color Beading Wire Set)
2x2mm Crimp Tubes - 6
Ear Wires - 2

Tools
Magical Crimping Pliers
Cutters
Chain Nose Pliers

Instructions

Step 1: Using 4 inches of antique brass beading wire, fold in half and pass both ends of wire through a crimp tube. Crimp the tube at the end of the wires.

Step 2: Use chain nose pliers to create a crease where the wire folds in half. Pull the two sides out to create a leaf shape.

Step 3: Repeat Steps 1-2.

Step 4: Repeat Steps 1-2 twice with 3 inches of turquoise beading wire.

Step 5: Repeat Steps 1-2 twice with 2 inches of fluorite beading wire.

Step 6: Open an ear wire and attach one component in each color/size.

Step 7: Repeat Step 6 for a second earring.
This design is a perfect candidate for a Trios Beading Wire Pack. Sara loves to make earrings using Soft Flex Wire. She has made earrings with remnant wire (wire that was too short for bracelets and necklaces) and she has used Trios and various color wire to complete her designs. She wrote a fantastic booklet about earrings - the Soft Flex Earring Projects Booklet. She loves earrings. They are so simple and quick to make. They make wonderful gifts. Soft Flex earrings are also perfect if you want to wear lovely home made jewelry and have a new pair of earrings every day.
Watch the video below:
Illusion Style Necklaces Done Three Ways With Beading Wire And Crimps
Designed by Sara Oehler
Sara created a lovely illusion necklace with Soft Flex Beading Wire. An illusion necklace is a design where the beads are suspended in place. You can string this design with a wire that seems to be invisible at a distance – thus giving the illusion that the beads are floating. Or you can go color crazy and expose your beading wire. Sara loves color. In this design, she braided the top part of her necklace and then drifted into a stunning illusion necklace as the focal part of the design.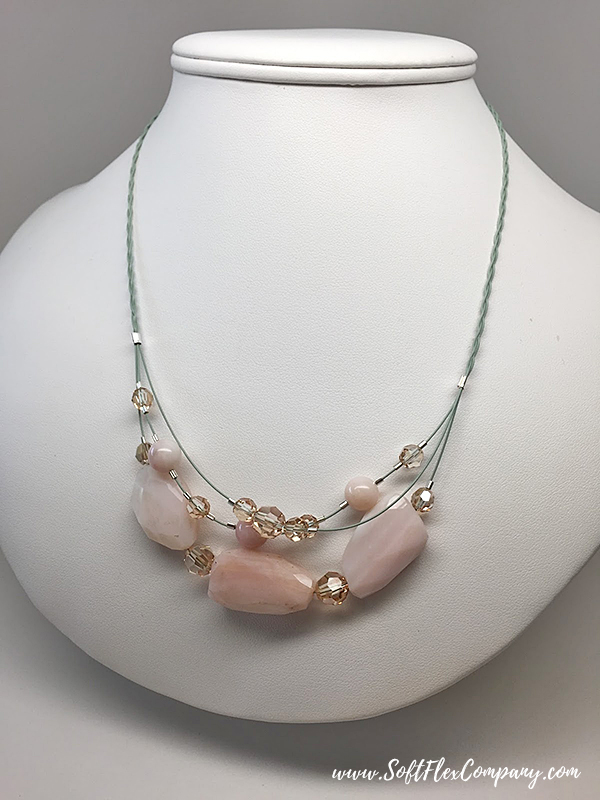 This video is a quick watch. Don't miss it if you would like tips on how to crimp. Sara discusses regular crimping pliers. She talks about crimp covers. And she discusses Magical Crimping Pliers. She gives a great demo. Her videos are always educational. If you need to tighten up your crimping techniques, this video is well worth the watch.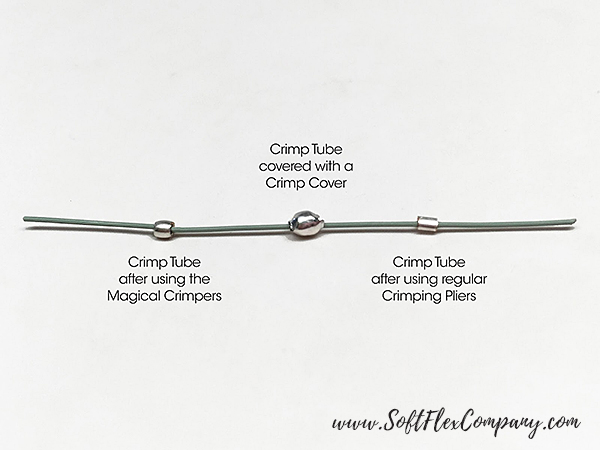 Make A Kumihimo Bracelet With Soft Flex Wire
Kristen discusses how to make beaded jewelry with kumihimo boards on this episode of Free Spirit Beading. She shows you how to make a beaded bracelet with beading wire. She designs a bracelet similar to the necklace she made for her book Seed Bead Revolution. If you like braided jewelry, this is a great introduction to kumhimo.
Free Spirit Beading airs on Mondays at 11:00am PST. Free Spirit Beading is a live beaded jewelry making series on YouTube. Kristen is a free spirited designer, author, artist – she loves to create. She does not worry about perfection. She believes that art is a journey and part of that journey is making mistakes and living with them. If you miss an episode, you can find it in our YouTube library.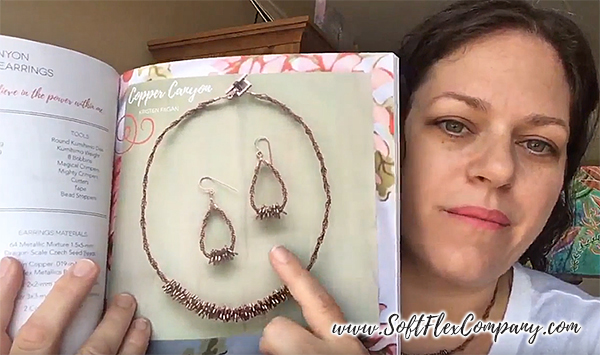 Kristen starts the video discussing the art of kumihimo braiding. Kumihimo means 'gathered threads' in Japanese, it began as fingerloop braiding and then moved to boards, which made it easier and allowed for more complex braids. Kristen is wearing the kumihimo necklace she designed for Seed Bead Revolution (page 48). It was made with medium diameter copper color Soft Flex beading wire and Dragon Scale Czech seed beads from Fusion Beads.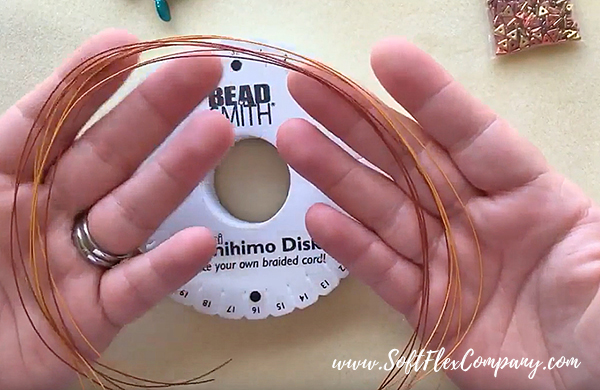 Kristen used a Vitality Trio for this project. Trios are packages of ten foot spools of Soft Flex wire. There are three different colors in each Trios package. Trios have been designed to fit a color mood or holiday. If you want to design a piece of jewelry that evokes a magical mood, for example, you might select a Mystical Trio for your next design. If you want to create a Saint Patrick's Day necklace, you might select a Kiss Me I'm Irish Trio. Her Vitality Trio is comprised of Butterscotch Imperial Topaz, Red Jasper, and Citrine beading wire.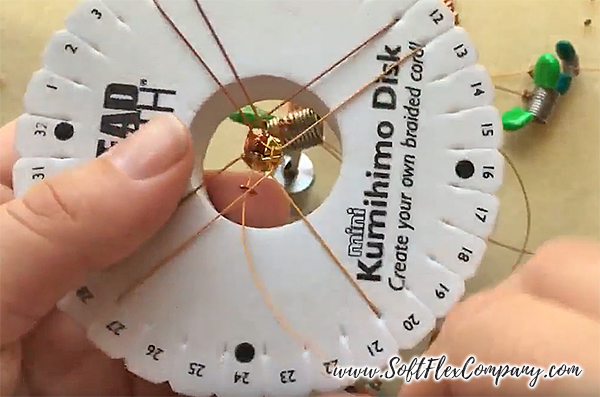 The materials Kristen used for this video are a bead mat, a kumihimo disk, and a Vitality Trio. She used Tri-bead Czech seed beads for this bracelet. She used Bead Stoppers in place of bobbins. She says you can also use the spools as bobbins if you have enough of them. You will need a cutter. She says you will need large 3x3mm crimp tubes and a Mighty Crimper to finish them. She says you will need two smaller 2x2mm crimps. She recommends using Magical Crimping Pliers or regular crimping pliers to crimp the 2x2mm crimps.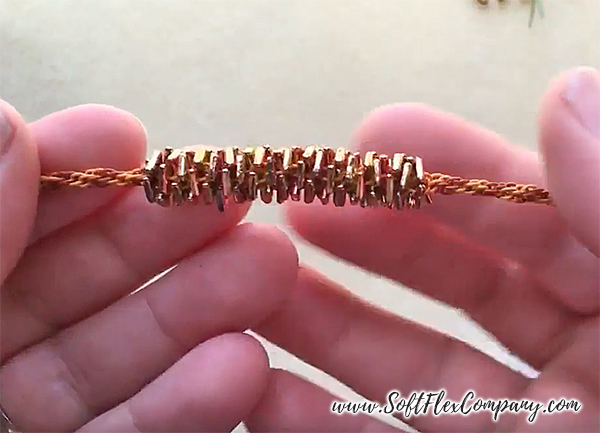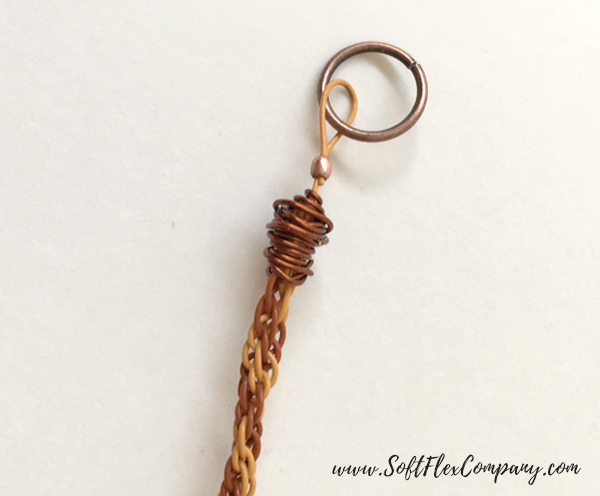 She says you can use any color combination you want on the board. You can also use a single color if that suits you.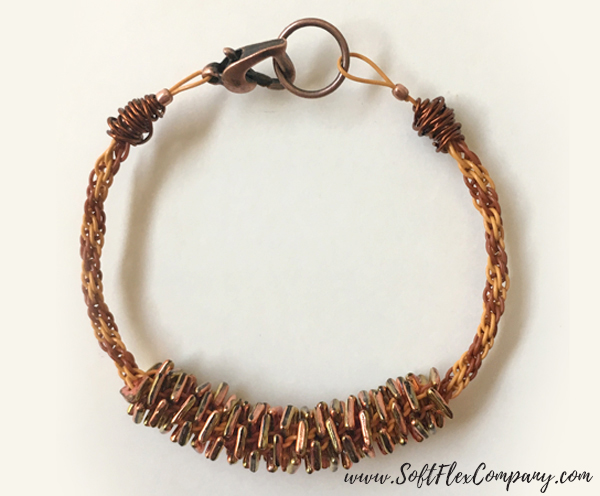 Watch the video and see how easy it is to create this wonderful bracelet. The finished design is stunning but easy enough that a beginner can finish this jewelry design.
Using Jump Rings As A Design Component In A Necklace
I think this necklace is absolutely incredible. Kristen thought way out of the box for this one. She had an abundance of jump rings on hand and rather than use the jump rings in the ways we would normally use a jump ring, she turned them into spacer beads.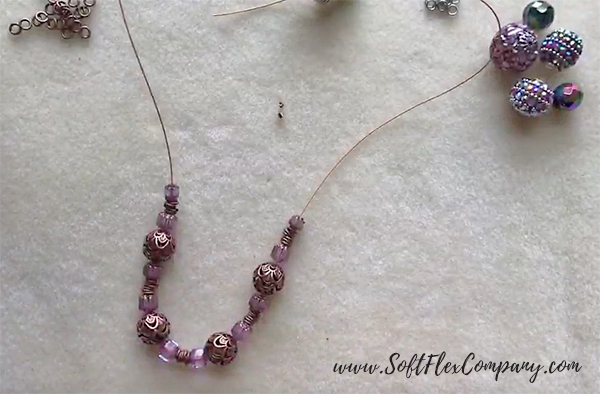 Kristen used one of our newest Trios for this project - Autumn Spice. Autumn Spice comes with Citrine, Red Jasper, and Purple Amethyst spools of Soft Flex Beading Wire.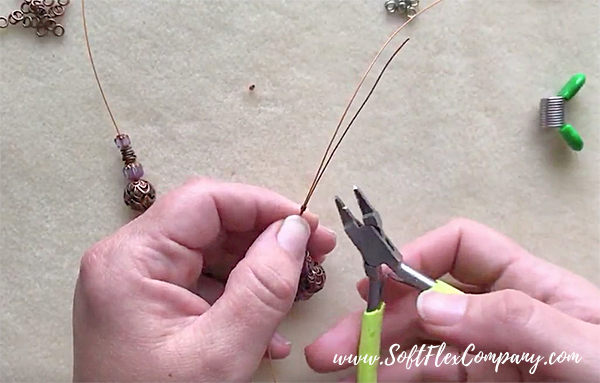 Kristen uses flat nose pliers, chain nose pliers, and Magical Crimping Pliers in this video. Magical Crimping Pliers turn a crimp tube into a rounded bead. They are great if you do not like the look of a finished crimp and use crimp covers to hide your crimps. The rounded bead finish basically replaces the need for crimp covers. Kristen uses 2mm crimps for these projects and lobster clasps.
This is a great video. Kristen is informative and fun to watch. She talks about Magical Crimping Pliers, she discusses how to crimp with regular crimping pliers and more.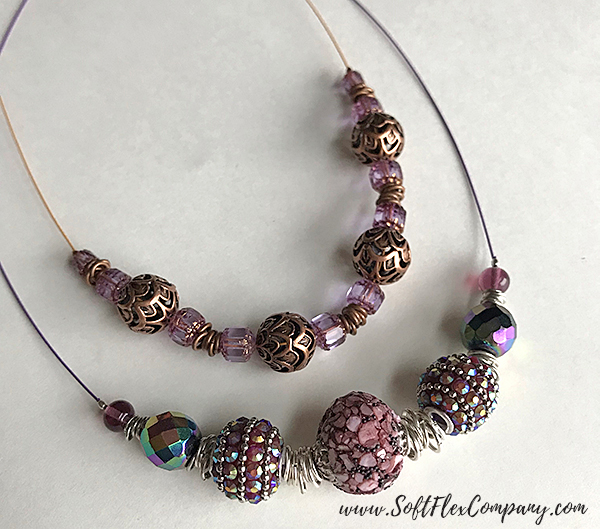 Join our Facebook group – VIB. VIB is a community of jewelry designers and jewelry lovers. There is a lot of inspiration and a bunch of fun pictures posted daily.

Projects not intended for children under the age of 13. The information on this instruction sheet is presented in good faith, but no warranty is given, nor results guaranteed. Soft Flex® Company disclaims all liability from any injury to anyone undertaking the construction of this project as a result of improper safety precautions.
Visit the Soft Flex Company YouTube Channel!
---
Blog contributor Thomas Soles is the Trade Show Coordinator for Soft Flex Company. His favorite stones are Lapis and Pietersite. His favorite hobby is day dreaming. And his favorite mustache is Tom Selleck's. As you can see, he has a healthy (or possibly unhealthy) sense of humor. You can write to him at Thomas@SoftFlexCompany.com