The Great Bead Extravaganza is the world's biggest virtual bead show. The Midwinter Market 2023 was the most recent version of the big event. We hope you were able to enjoy the exciting presentations and jewelry making demonstrations! If not, you can still catch up with the exhibitors on the official Facebook group. TGBE is not just a bead show, though, if you are a part of the group, you will see what the designers are doing or selling through out the week. You can find giveaways and special events. You never know what is going to happen next. Stay connected! Today, we are sharing some of the jewelry demonstrations that used Soft Flex products. Learn how our friends use Soft Flex Craft Wire and beading wire in their jewelry making and crafting!

We have five exciting videos for you today. Check out these jewelry tutorials and restock your beading supplies at our store! Soft Flex Company designers, Sara and Kristen, discussed our latest product lines and created two fantastic necklaces. Kristen created a gorgeous design with our TGBE Midwinter Market Cozy Mountain Retreat Design Kit (created for this event). Sara revisited an asymmetrical lariat and discussed her upcoming trip to Tucson. If you would like beads from the Tucson show, you can make Sara your personal shopper with our Surprise Collection kit, check out our store for more details!
Our friend Nealay, at SilverSilk & More, revealed his Scandinavia Mystery Kit. He then made a stunning beaded pendant with Craft Wire and an elegant necklace. Andrew, at Allegory Gallery, designed a bracelet with Soft Flex Metallics Beading Wire. Kay, of Star's Beads and Beadorea, created some amazing jewelry designs with Soft Flex Craft Wire- she has some great tips and techniques if you are learning how to wire wrap. Finally, we are going down the rabbit hole with Christi Friesen - one of the most imaginative creators out there. She is going to show us how to adorn a polymer clay butterfly with Soft Flex wire. Learn something new and exciting today! Make sure you join the fun at the Great Bead Extravaganza!
Jewelry Making Videos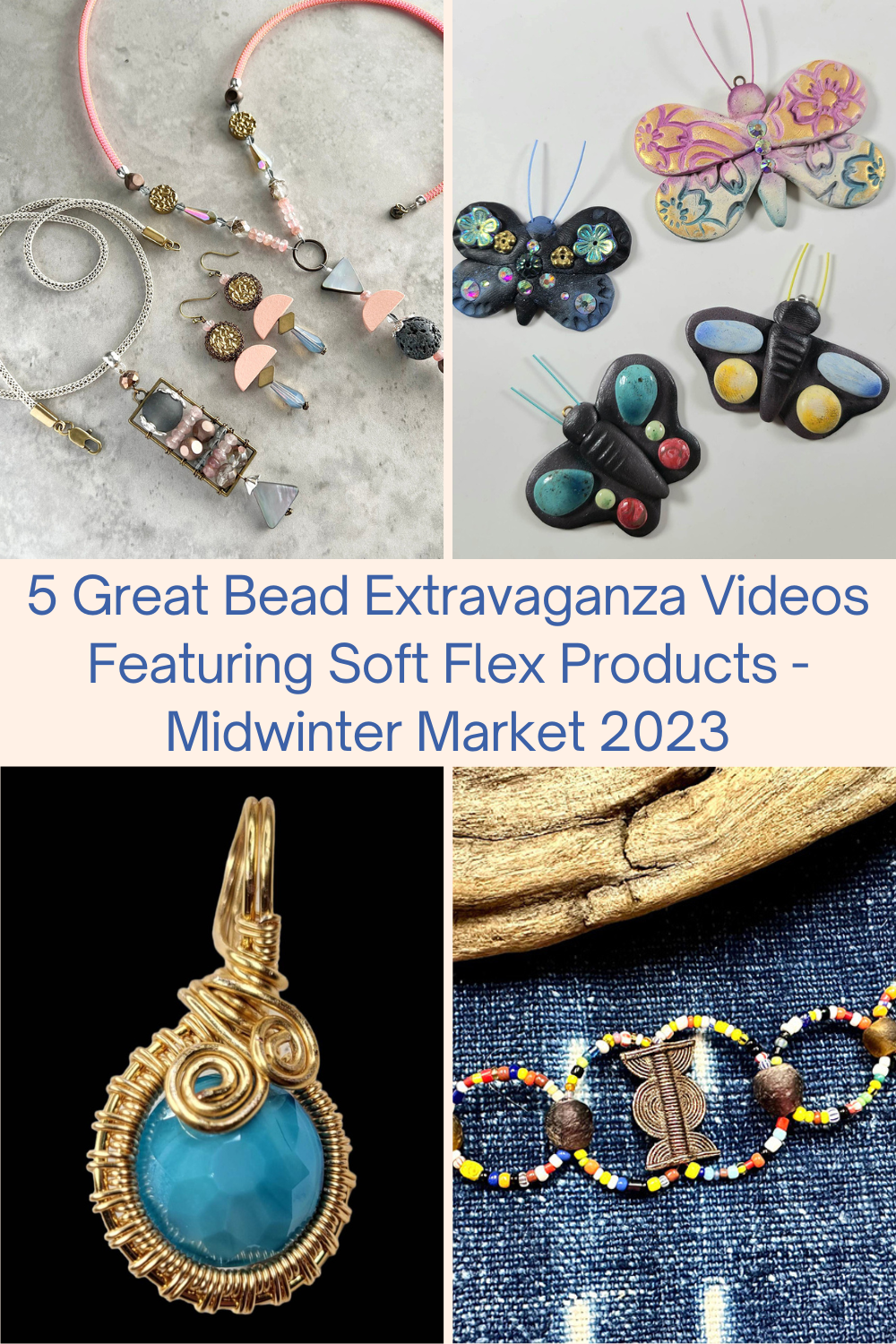 Soft Flex Company
Our Midwinter Market Cozy Mountain Retreat Design Kit was created for the big show. Kristen used the kit to create her jewelry set. We think her designs embodied the spirit of cozy! Look how gorgeous the finished designs are - you can truly elevate a comfy moment on the couch with jewelry this lively!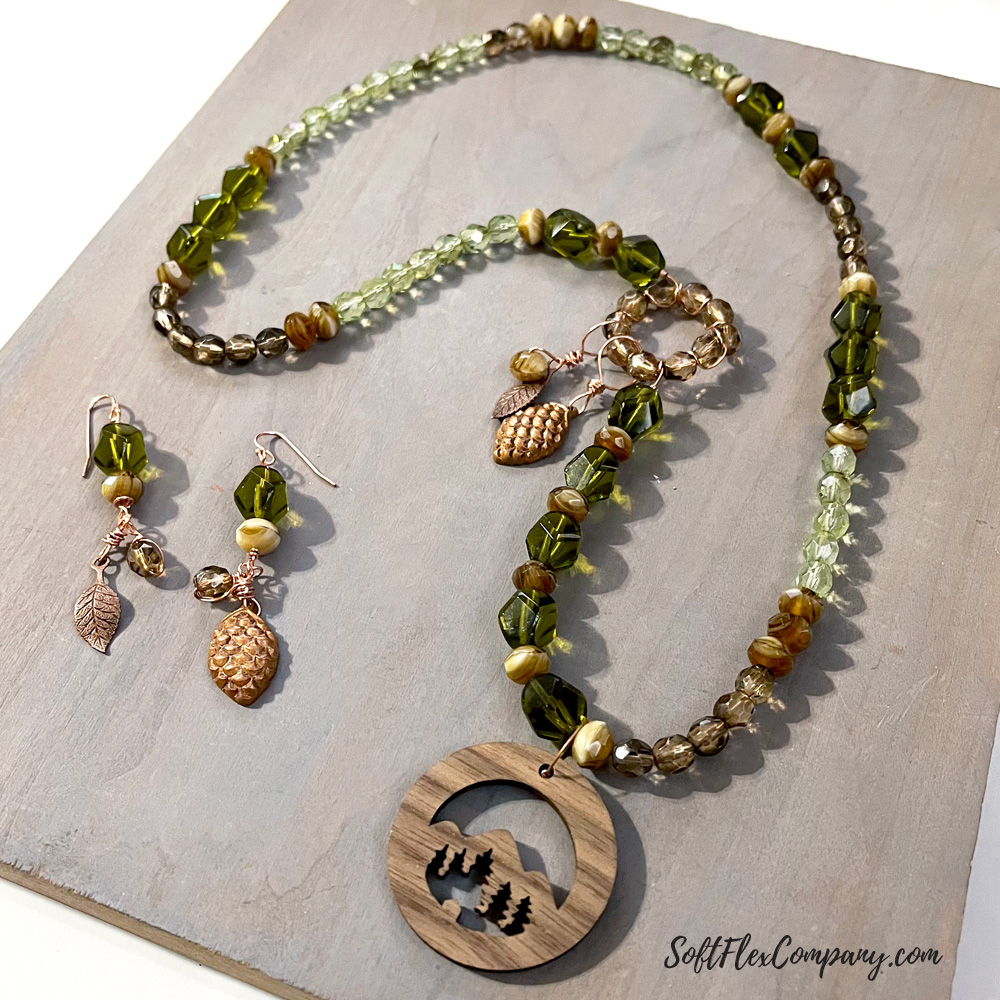 For this installment of TGBE, Sara chose to make an asymmetrical lariat with a heart ring connector to finish the design. If you only design symmetrical jewelry, Sara will show you how to think outside the box and explore a new frontier. This is a fun way to test your boundaries. Uniformity and balance are safe and often the path we choose when creating jewelry. Sara allows you to be a rogue and make mistakes. You can always restring if you do not like the finished design. Try something new today, make a necklace that does not follow the rules!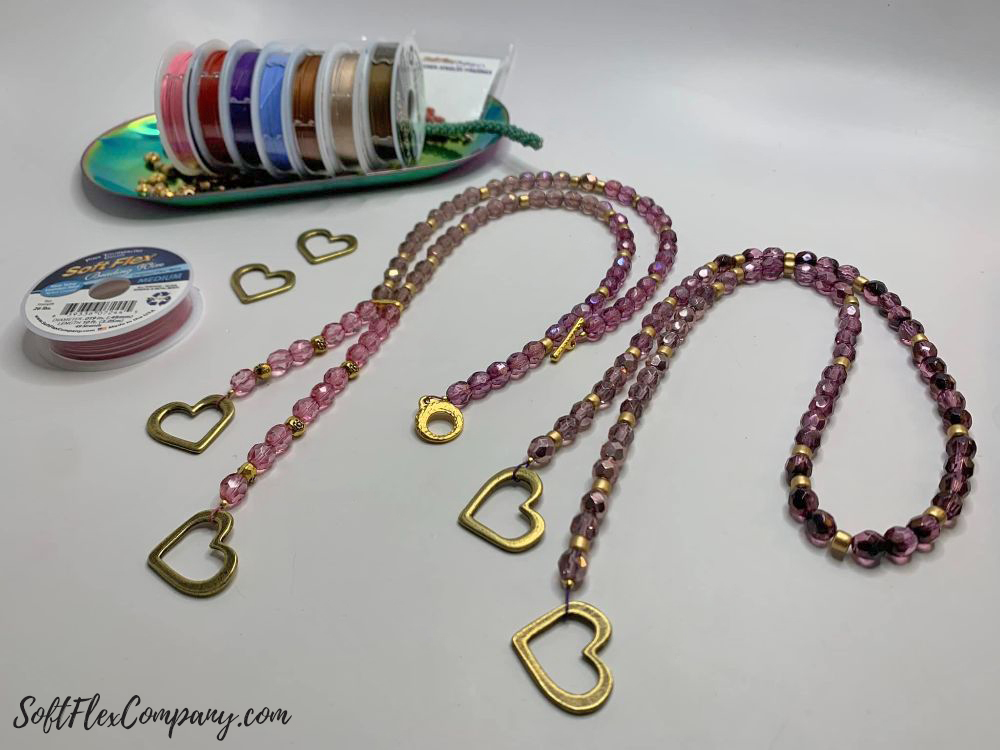 Themed Jewelry Making Kits
Asymmetrical Heart Ring Connectors
7mm Czech Glass Fire Polish Faceted Rounds

Don't miss our Tucson kit - Tucson's Surprise Collection Featuring Viva Magenta & Unique Finds From The Show. Our beading guru, Sara Oehler is headed to Tucson soon. This is your chance to make her your personal shopper. She is going to be purchasing beads and stones that intrigue her and follow a colorway. The kit is based on Pantone's Color of the Year, Viva Magenta, but she is not making this a single color option. Her selection will be very colorful but themed with Pantone's amazing selection. Visit Tucson without traveling. Hurry and grab a kit. Sara is going to make sure you get something special! Supplies are very limited.
Sara is an industry insider. For more than twenty years, she has been attending and teaching at bead shows across the globe. This kit turns her into your personal shopper! She will be visiting a number of gem and bead shows and buying items that she knows will enhance your beading supplies and jewelry.
This kit is a pre-order item. You will need to purchase the kit before January 26, 2023. As it is a pre-order, the kit will ship separately from any other items you order. Sara will be attending shows at the end of January. There is an $8.00 fixed rate shipping price for this kit.
SilverSilk & More
Nealay, of SilverSilk & More, is an amazing designer. His SilverSilk chain adds an elegant knitted look to any design. Working with SilverSilk is simple and you can combine SilverSilk chain with Soft Flex Craft Wire or beading wire with ease. Our products are the perfect marriage of flexibility and charm.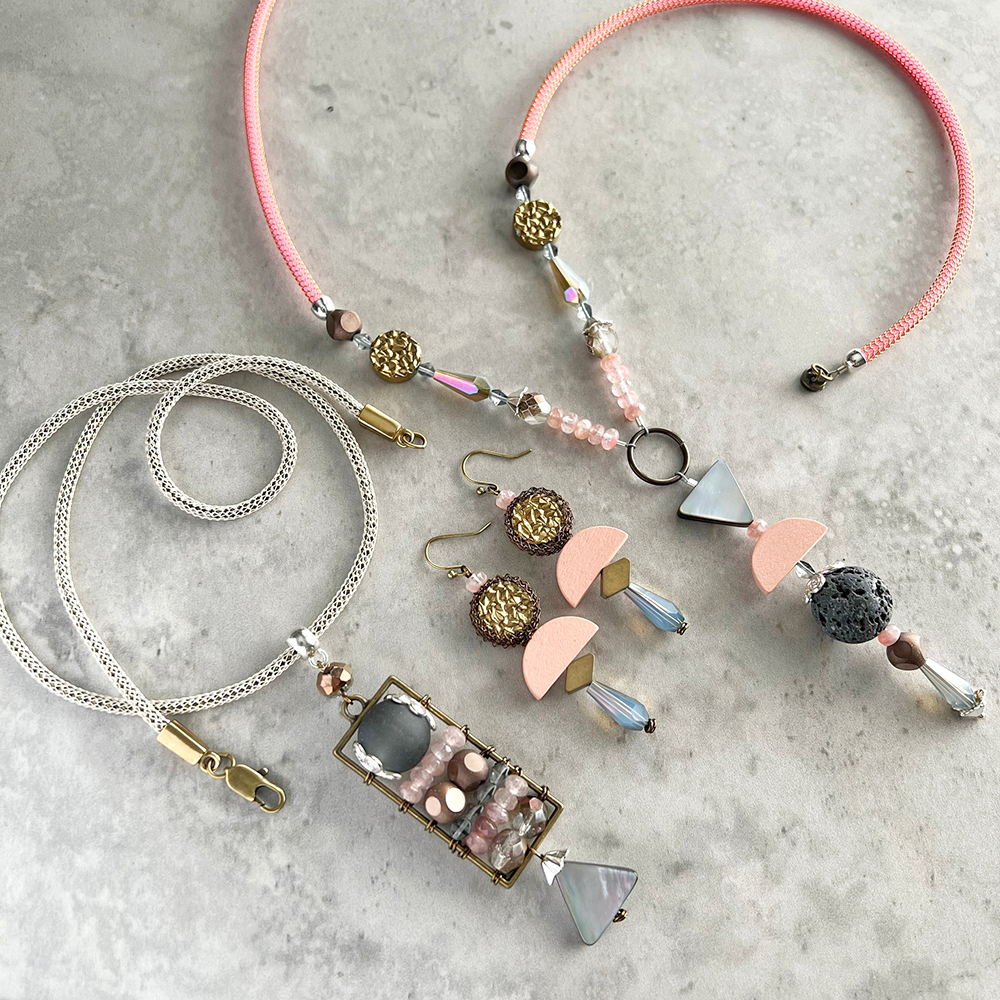 Tool Magic
Soft Flex Craft Wire
Nylon Jaw Pliers
Allegory Gallery
Andrew, at Allegory Gallery, is never afraid to try something new. Check out the colorful bracelet he made with Soft Flex flexible beading wire during his TGBE presentation. If you enjoyed the wooden cut-out pendant that was included in our Cozy Mountain kit, check out Allegory Gallery for more. Andrew draws and crafts these cute pendants.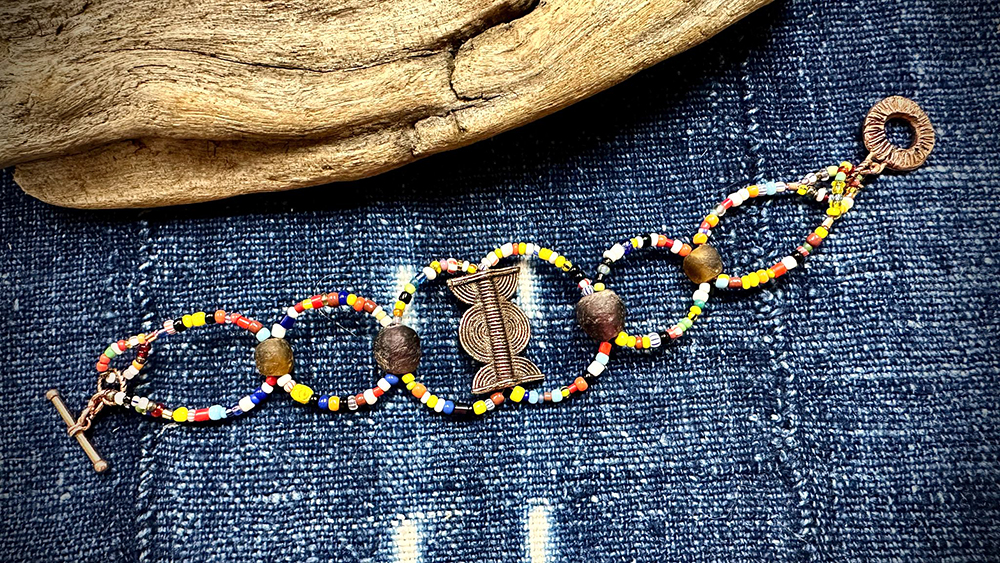 Soft Flex Metallics Beading Wire
Crimping Pliers
Star's Beads
Kay, of Star's Beads and Beadorea, has been a beader and jewelry designer since her early childhood, when she traveled the world, with her mother, looking for beautiful beads. She brings her knowledge of color pairing and wire wrapping with Soft Flex Craft Wire to her social media, weekly. She is a great teacher and if you want to hone your wire working skills, her TGBE demonstration is a great place to start!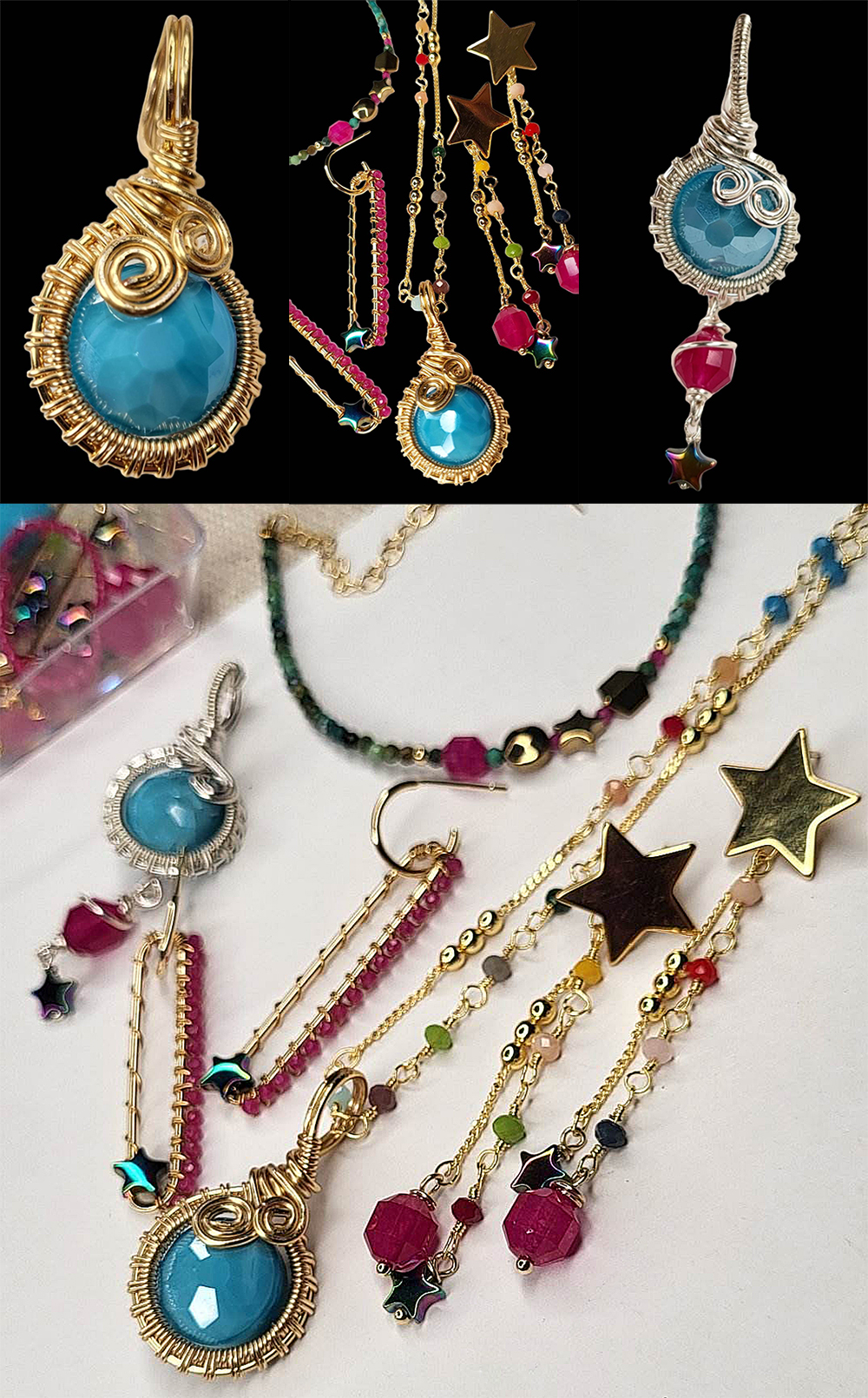 Wire Working Pliers
Soft Flex Craft Wire
Christi Friesen
Christi Friesen has a wonderful imagination and clay is her medium of choice for bringing her adorable gremlins and goblins to life. For TGBE, she showed us how to make butterflies with polymer clay and Soft Flex Beading Wire. If you loved this presentation, make sure you join us in February. Christi will be teaching a class using Apoxie Sculpt during our Galentine's Day celebration.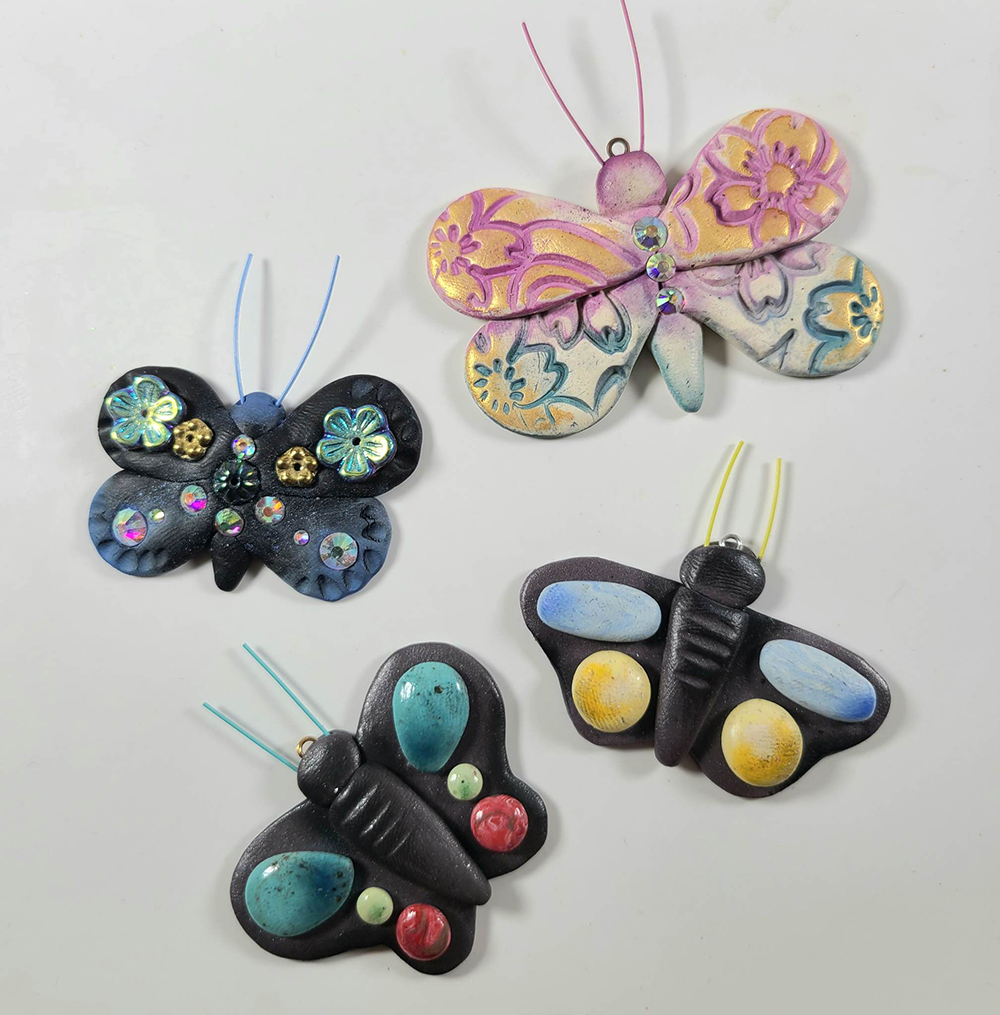 Join our Facebook group – VIB. Stay in the know. Stay up to date. From our bead shows to our video shows and sales, you can stay in touch with us. The community is full of artistic and helpful beaders and crafty people. Inspire and be inspired. Share your pictures and get the beading bug from others!
Visit the Soft Flex Company YouTube Channel!
---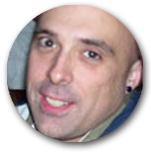 Blog contributor Thomas Soles loves Jazz Age writers and crunchy french fries. His favorite gemstones are Lapis and Pietersite. His favorite hobby is day dreaming. And his favorite mustache is Freddie Mercury's. As you can see, he has a healthy (or possibly unhealthy) sense of humor. You can write to him at Thomas@SoftFlexCompany.com