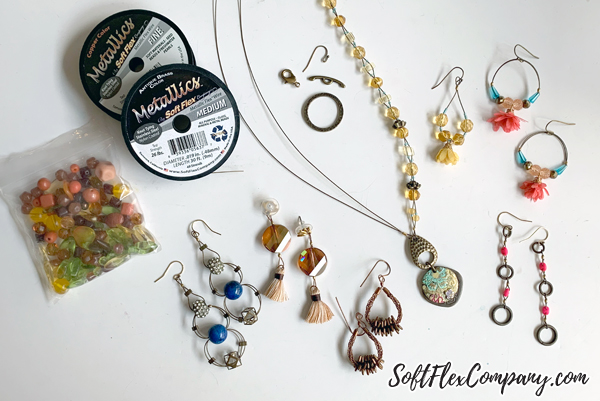 Antique Brass Beaded Pendant Necklace & Earrings Tutorial
This week on Free Spirit Beading with Kristen Fagan, I share an Antique Brass beaded pendant necklace & earrings tutorial. Learn how to create a vintage style beaded necklace and dangle earrings with Soft Flex beading wire in Antique Brass color. Before designing, I share a bit about the two metallic product lines, Soft Flex beading wire in Antique Brass & Copper colors compared to Extreme Flex beading wire in Champagne, 24K Gold Plated and Sterling Silver Plated colors.
Supplies:
Soft Flex .019/Medium Beading Wire - Antique Brass Color
Czech Glass Spice Market Bead Mix
Hammertone Ellipse Toggle Set - Oxidized Brass
Lobster Claw Clasp - Antique Brass
Vintaj Patina Paint
Delica Beads
Tassels
2x2mm Crimp Tubes - Gold Filled
Layer two metal pendant pieces for extra weight and interest. Brighten up the top metal pendant with colorful metal patina paints from Vintaj and couple it with TierraCast hammered oxidized brass component for a stunning focal. I painted this pendant last year. It's crazy how long it takes to use our supplies some times, this pendant was just waiting for this design idea to emerge! If you would like to see how I made this painted metal pendant, I share that in the video below.
Make Bead Jewelry With Vintaj Patina Paint & Beading Wire
After creating the focal pendant, we string a bead necklace on Soft Flex flexible beading wire in Antique Brass color. Cut two strands of 30" beading wire for each side of the pendant. Take one strand, string it through the Hammertone Ellipse Set, center it. Add one crimp tube and crimp. We pull the design together with yellow glass and two hole beads from the Czech Glass Spice Market Bead Mix (limited supply), a few brass spacer beads and tiny delica beads in a blue-green color to match the painted pendant.
I believe the size delica beads I used was 11. It's about 1mm in size. You may substitute any other small beads, seed beads or delicas in any size to create a similar look.
Finish off the pattern with delica beads until you reach your desired length. I made mine 20" long and then added the clasp by crimping with Magical Crimping Pliers. Magical Crimping Pliers were created to be used with 2x2mm crimp tubes. It is important to use good quality crimp tubes with the Magical Crimping Pliers. Soft Flex manufactures their tubes with double the wall thickness of most and they are also seamless. They are terrific for this application. A weaker walled crimp will have a hard time cinching into the nylon coating. Recommended for .019 and .024 flexible beading wire. Click for 5 Step Crimping Instructions using the Magical Crimping Pliers.
Be sure to click to watch, subscribe, like, comment on our YouTube videos! Join me live for a jewelry making tutorial on Soft Flex Company's YouTube channel Monday's at 3pm PST / 6pm EST.
If you like this idea, you may like these other Czech Glass bead mix jewelry making tutorials:
DIY Face Mask Lanyard Tutorial - Make Your Own Face Mask Necklace
Jewelry Making Kits for Beginner and Advanced Designers - Learn How To Make Jewelry
Join the Fun in our Facebook Group Today! Stay in the know. Stay up to date. From our bead shows to our video shows and sales, you can stay in touch with us. The community is full of artistic and helpful beaders and crafty people. Inspire and be inspired. Share your pictures and get the beading bug from others!Visit the Soft Flex Company YouTube Channel!

---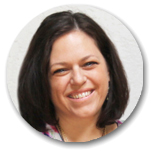 Kristen Fagan is a Website Graphic Designer and Jewelry Making Educator for Soft Flex® Company. She is the co-author of Seed Bead Revolution, an artist and creativity guide. She lives in Arizona with her husband, their two sons and two dogs. When she's not painting, drawing or beading, she enjoys reading, yoga, exploring the outdoors and traveling. Her favorite stones are Turquoise, and Quartz and she can't bead without Bead Stoppers. Contact her at Kristen@softflexcompany.com or visit her Website | Facebook | Instagram