DIY 3 Strand Bracelet with the Woodland Walk Design Kit
This week on Free Spirit Beading with Kristen Fagan, we open the Woodland Walk Design Kit and make beaded jewelry! I share how to make a 3 strand bracelet, perfect for Fall. The Woodland Walk Design Kit is sold out however, you can still get the Woodland Walk bead mix, bead strand and Trios beading wire pack for a limited time!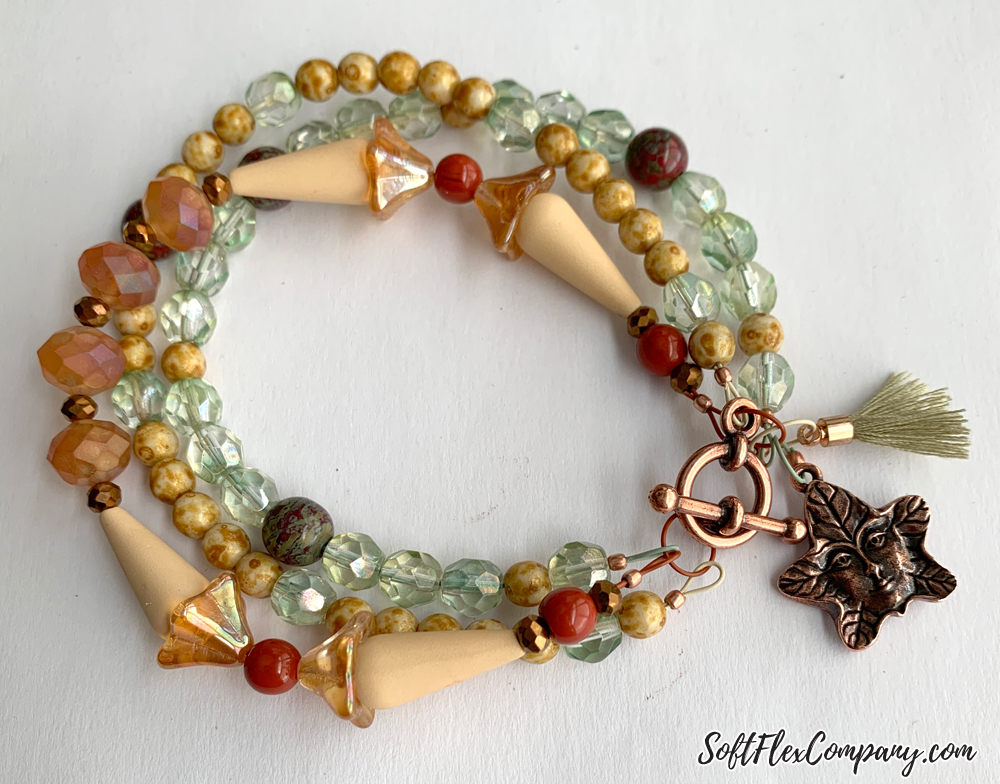 Supplies:
Woodland Walk Design Kit (sold out)
Woodland Walk Trios Beading Wire Pack
Slender trees are cathedral spires in the autumn wilderness. In the heart of the darkening forest, there is quiet contemplation. The verdant life of summer has faded and the woods are a sleepy hollow. Fallen leaves and twigs creak and snap with a visitor's footfalls. Every step is a beat in a crunching rhythm that echoes across the empty thicket. The flora is dressed in somber fall splendor. An audience of woodland animals watch the stranger make headway through their kingdom. They focus on the guest with watchful eyes as they carry food to their nests and stores. Let this meditative walk inspire visionary designs. Stimulate your creativity with the fertile blessing of nature.
I just adore this sweet Tree Spirit Charm by TierraCast. It instantly gives this bracelet a whimsical nature inspired vibe. Also known as the Green Man, this protector of the forest is presented as a kind face framed by lovingly carved leaves. The design is double sided and repeated front and back, so it looks great from any angle.
Since 1978, TierraCast has been making high-quality, lead-free cast beads, findings and components in Santa Rosa, California, USA.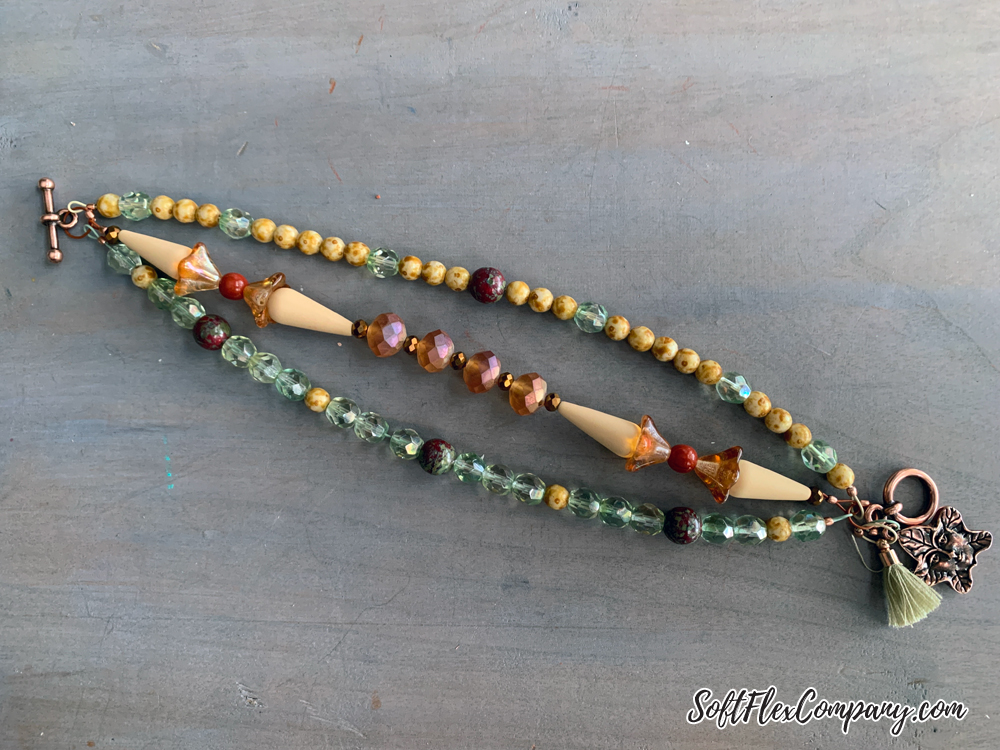 During this tutorial, I shared how to attached the charms and the strands to the toggle with a crimped "Soft Flex jump ring"! It's a great technique to have in your back pocket when you don't have a jump ring on hand or you want to make the ring is extra secure and without a seam to the open up. A fun new tip that many viewers enjoyed!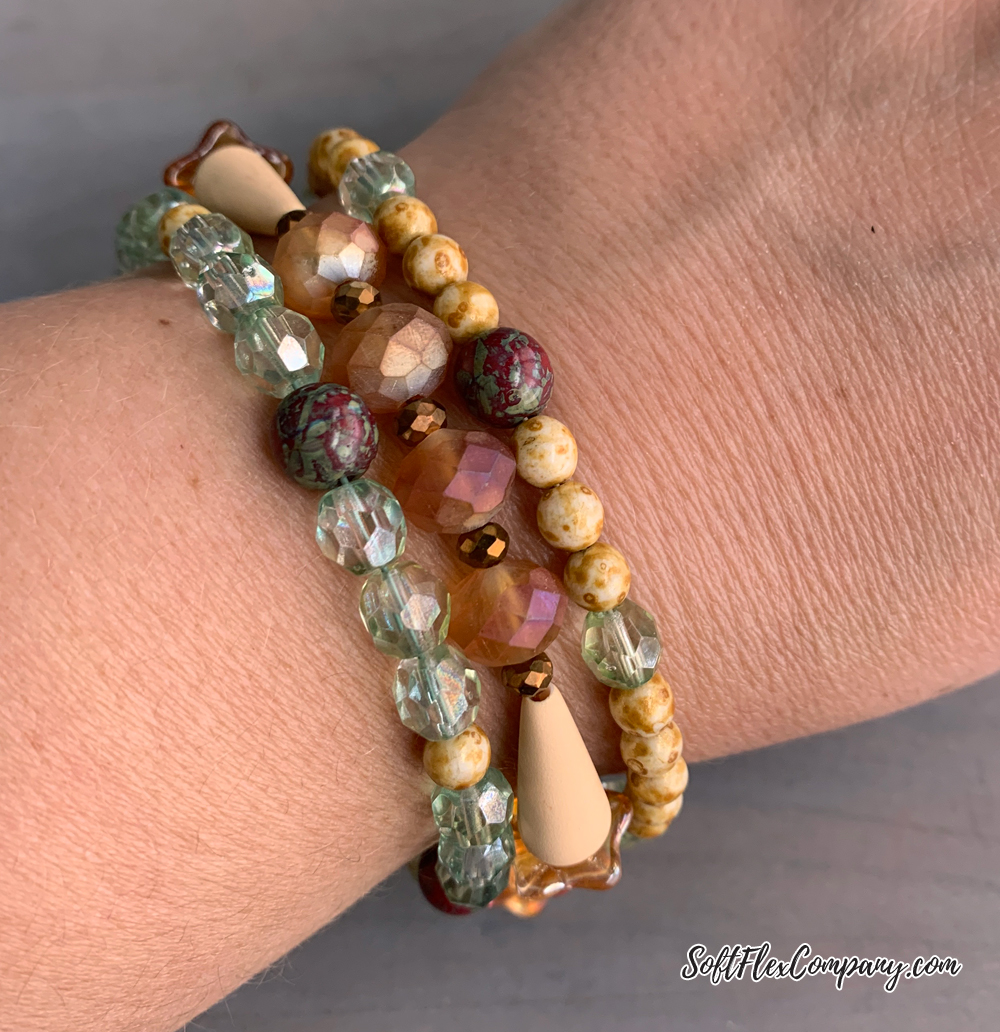 If you'd like to join us in the design challenge next month, buy our newest kit, Retro Christmas, and challenge yourself to try something new and unexpected. If you are new to beading, this kit comes with findings, beads, wire, and surprises. Retro Christmas is now available at www.SoftFlexCompany.com
Our kits are great for skill building. We want our kits to feel challenging. We want them to be accessible for beginners and advanced designers alike, but we love to throw in elements that may seem difficult to test our beaders skills and make them think out of the box. We think jewelry is great when it is easy. But when you really have to engage your mind and process your materials and tools, we think that your jewelry has the potential to be life changing.
Our kits may be inspired by a colorway or theme, but they are meant to be creative interpretations. Imagination and innovation do not follow the rules. Expect the unexpected.
Join me live for a jewelry making tutorial on Soft Flex Company's YouTube channel or Facebook Page on Mondays.
Join the Fun in our Facebook Group Today! Stay in the know. Stay up to date. From our bead shows to our video shows and sales, you can stay in touch with us. The community is full of artistic and helpful beaders and crafty people. Inspire and be inspired. Share your pictures and get the beading bug from others! Visit the Soft Flex Company YouTube Channel!

---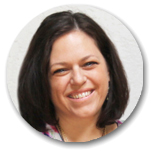 Kristen Fagan is a Website Graphic Designer and Jewelry Making Educator for Soft Flex® Company. She is the co-author of Seed Bead Revolution, an artist and creativity guide. She lives in Arizona with her husband, their two sons and two dogs. When she's not painting, drawing or beading, she enjoys reading, yoga, exploring the outdoors and traveling. Her favorite stones are Turquoise, and Quartz and she can't bead without Bead Stoppers. Contact her at Kristen@softflexcompany.com or visit her Website | Facebook | Instagram