How to Use Crimp Beads
Would you like to know the quickest way to become a jewelry making expert? Learn how to master your crimping process. Crimping and using crimp beads can be intimidating at first. But, with this helpful guide, you will be crimping like a professional in no time!

What Is Crimping?
So, what is crimping? Crimping, in jewelry making, is a process that is primarily used to finish a piece of jewelry. Crimping is taking a crimp tube and placing it at the end of beading wire and compressing the crimp tube so that it molds around the beading wire and holds it in place. Crimp tubes are used to secure a clasp on the beading wire. Crimping is the last step on a strung design. Once a piece is crimped, there is no way to add a bead or change the length of the design without restringing it.
Crimps can also be used on the design itself. Beads can be crimped, on each side, to hold them in place. Illusion necklaces are comprised of beads that are suspended in place by crimps, for example. Crimps can be used as spacers and more. But the most common use is finishing the design.
Crimping is a huge part of the jewelry making industry. You must master your crimps in order to create a design that is sturdy and will not break. If you are selling your jewelry, a poor crimp can literally make or break your business. Customers demand a strong design that will not fall apart.
Best Wire Crimpers
Getting a crimping tool is an important step. And it must, therefore, be chosen carefully. If you are thinking of buying one, you should choose a tool that will suit your beading projects and needs. If you would like to crimp 2x2mm crimps, a single pair of crimping pliers will suit your needs. If you have different sizes of crimps, you will need to explore a bit more.
There are many different types of crimping pliers. The differences may include the following:
The size or sizes of the crimping jaws
The hand grip
The way the finished crimp looks
The most common pair of crimping pliers is suited for use with 2x2mm crimp tubes. These pliers are invaluable if you only work with 2x2mm crimps. If you work with 1x1mm crimp tubes, you will need a pair of crimping pliers with smaller holes on the head of the pliers – Micro Crimpers are the best bet. If you are crimping 3x3mm and larger, you need a pair of Mighty Crimpers.
Crimping turns a tube or bead into a compressed bead with a divot on it. This bead conforms around the wire and locks everything in place. Not everybody likes the look of a finished crimp. You can opt to conceal it with a crimp cover. A crimp cover is a small clamshell that closes over the crimp and looks like a metal bead. If crimp covers sound like a hassle, consider Magical Crimping Pliers. Magical Crimpers turn a tube into a rounded bead. There is no need to use a crimp cover as the crimp itself is finished in a beautiful round shape.
So why crimping pliers? Why not just use a pair of common flat nose pliers to smash the crimp in place? Well, crimping pliers have holes that are job specific. One hole puts a divot in the crimp tube and the other rounds it. Every single crimp is uniform and sturdy. There is no guesswork. A flat nose can smash a crimp, but the finish will always be different. The smashed crimp may have irregular edges that can abrade the skin. The smashed crimp may not conform around the wire and secure it, the crimp could slip and lead to a broken design. If you want your design to last, you must use a pair of crimping pliers.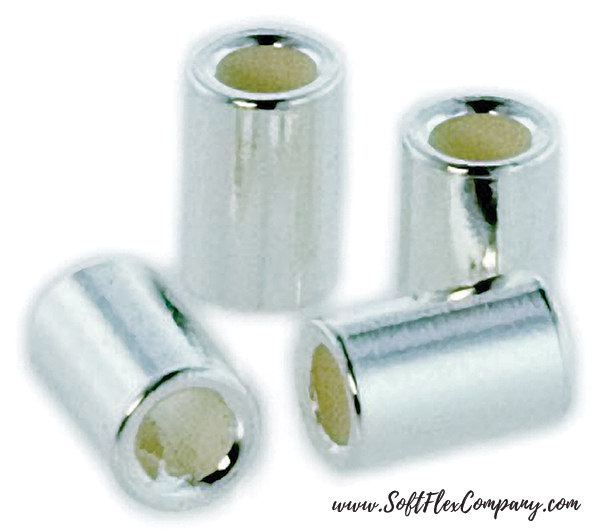 Types of Crimp Beads
Crimp beads are available in two common shapes:
1. Beads
2. Tubes
Crimp beads tend to be made with base metal. Because they are not created with precious metal, they can be cost effective and great for a small budget. Base metal can be hard, though. Hard metal is difficult to compress. Once crimped they can be easily work hardened and made brittle. They are wonderful if you are working in mass production. If you are designing a necklace that is to be worn once and then restrung later, crimp beads are a great way to avoid spending a lot of money to finish a piece. Crimp beads are a great way to practice your crimping without wasting more expensive crimps. They are perfect for teaching a child how to design jewelry.
Crimp tubes are a Soft Flex Company favorite. Crimp tubes are commonly created with precious metal. This metal is soft and malleable and will conform around the beading wire. The look of a crimp tube is conducive for higher ended jewelry design. Crimp tubes are the perfect solution for finishing a piece of professional jewelry that is expected to last for years and years.
Make sure you choose the correct size crimp. If your crimps are too large, they can slip on the wire. If your crimps are too small, they may not be secure enough to hold the wire. You can reference a handy crimp guide – here.
If you do not like the look of your finished crimps, look into crimp covers. They are easy to close over the crimp and will hide the finished crimps.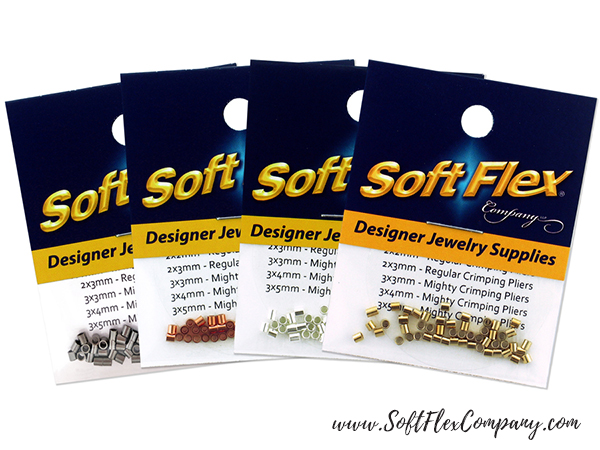 Choosing a Crimp Size
For best results, you'll find it best to follow the beading wire manufacturer's guidelines on crimp sizes. Soft Flex Company helps you out by offering a chart of what we call the "most typical" crimp tube and beading wire size combinations:
Soft Flex Beading Wire - Crimp Tube Size

.010 Very Fine - 1x1mm
.014 Fine - 2x2mm
.019 Medium - 2x2mm
.024 Heavy - 2x3mm

Here is a guide for basic wire usage:
.010 Very Fine - Ideal for embellishing, weaving, crocheting and stringing very small beads. We suggest finishing with 1x1mm crimps.
.014 Fine - Ideal for soft materials, seed beads and fresh water pearls. We suggest finishing with 2x2mm crimps.
.019 Medium - Ideal all purpose wire. Great with glass, mineral, and metal beads. We suggest finishing with 2x2mm crimps.
.024 Heavy - Ideal for abrasive materials, large stones, lamp work and bracelets. We suggest finishing with 2x3mm crimps.
These are Soft Flex Company's crimp tube and crimping pliers' size recommendations:
Crimp Tube Size Crimping Pliers Size
1x1mm Micro Pliers
2x2mm Regular Pliers
2x3mm Regular Pliers
3x3mm Mighty Pliers
3x4mm Mighty Pliers
3x5mm Mighty Pliers
Step-by-Step Guide to Using Crimp Beads
Gather your materials. If you are stringing a simple necklace, you will need the following:
Make sure you are using the correct diameter wire for the beads you are stringing. .019 Medium diameter is our most commonly used wire. It is small enough to fit through most beads and strong enough to weather the abrasion levels of some of the most coarse beads. If you are stringing a necklace full of different elements - glass, silver, stone, seed beads - this is a great wire. You design will be strong but supple.
2) Bead Board
Bead boards are not a necessity. But they are fabulous if you like to put some thought into your design or want consistency. They have measurements so you can reference the length before the design is even strung. They are also great for a visual idea of what the finished piece will look like.
3) Cutters
Economy cutters are great for beginners. Once you really step up your craft and use your cutters often, you will want to upgrade to professional cutters. Economy cutters will dull over time. Professional cutters are made with a much harder metal and will retain their edge for thousands of cuts and can be resharpened.
4) Crimp Beads
Make sure you select the correct crimp size for your project. A smaller crimp might not be as secure and too large a crimp and the crimp may slip.
Make sure your crimp sizes match the crimping pliers. You cannot use a Micro Crimper to crimp anything larger than a 1x1mm crimp, for example.
Finishing a crimp with regular crimping pliers: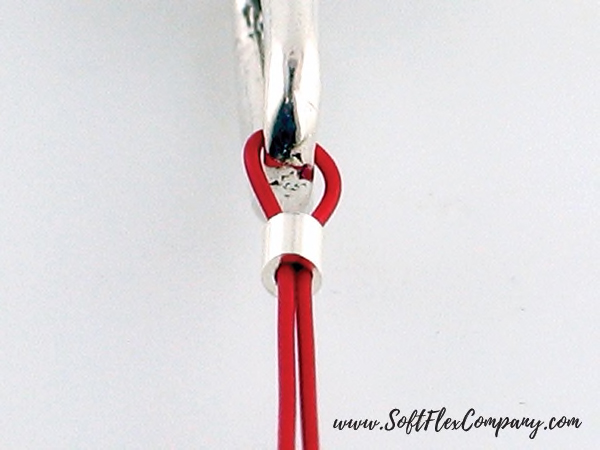 String a crimp tube and a clasp onto the wire. String the wire back through the crimp tube. Straighten the wires inside the crimp tube so that they lay side by side.
Using the crimper, gently compress the crimp tube, creating a divot.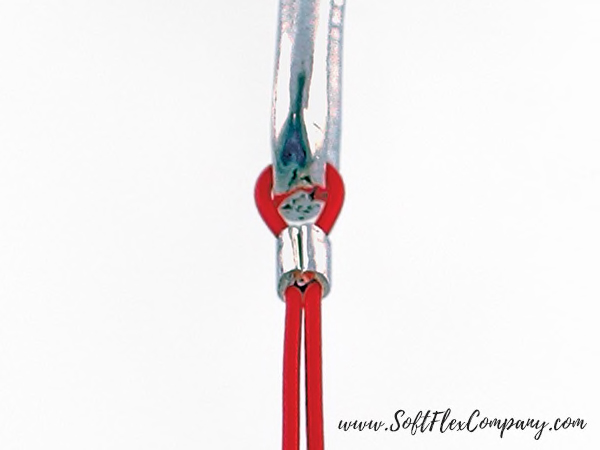 Using the "rounder" gently compress the crimp tube. Turn and repeat until it creates a round shape. Cut off the excess wire at the base of the crimp.
When compressing your crimps, be mindful of how much pressure you are using to compress them. You do not need to smash down on the crimp. Just compress with as much pressure as you would apply if you were shaking your grandmother's hand. If you smash down as hard as you can, you might work harden the crimp and make it brittle. Gently compressing your crimp and then turning it and repeating the compression will ensure that your crimps are secure and strong.
Finishing a crimp with Magical Crimping Pliers: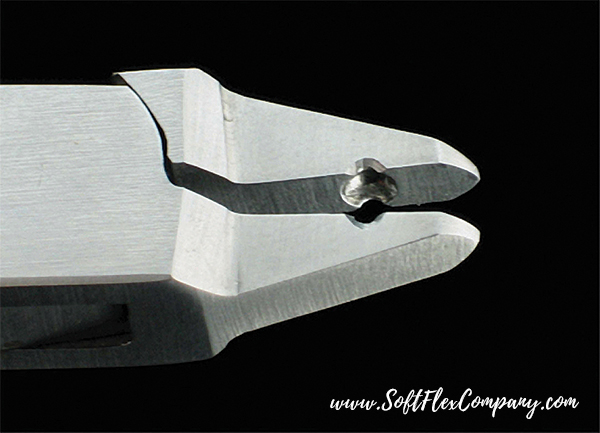 String a crimp tube. If attaching a clasp or ear wire, make sure that wires lay side by side. Place the crimp tube inside the groove of the Magical Crimping Pliers and squeeze.
The pliers will pinch the four corners of the crimp tube and look like a square.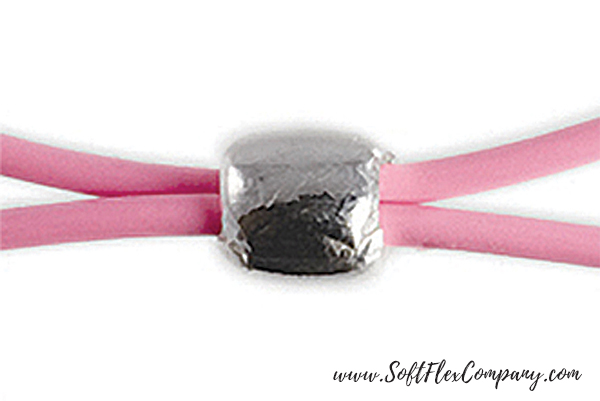 Turn the crimp tube on its side in the Magical Crimping Pliers, making sure the top of the square is up and squeeze. Rotate and squeeze a few more times. The crimp should tighten down on the wire and look like a round bead.
Magical Crimping Pliers are the next generation of crimping tools. If you use crimp covers to conceal a finished crimp, you will love Magical Crimping Pliers. Magical Crimping Pliers will turn an ordinary crimp tube into a finished, rounded bead. A beautiful end to any design.
Here is the secret: regular crimping pliers have two holes, a crimping hole to place a divot in the crimp and a rounding hole to finish. Magical Crimping Pliers have a single rounding hole. This hole rounds any 2x2mm tube into a rounded bead. This quick rounding method eliminates the need for a crimp cover.
Magical Crimping Pliers are suitable for both beginner beaders and seasoned artists alike. Easy to learn and quick to master. At Soft Flex Company, we always suggest using high-quality wire and crimps, such as our Soft Flex Beading Wire and our crimps (which are seamless and thick-walled). Choosing a budget wire and crimps might not have the same strength and finish.
Visit Soft Flex Company for Crimping Beads
Soft Flex Crimp Tubes are crafted with the professional in mind. We have constructed a crimp tube that is almost twice as thick as others on the market. The sturdier build of the crimp is enhanced by the fact that they are also seamless. Finish your next piece securely with our designer crimps.
Available in Sterling Silver, Silver Filled, Gold Filled, Sterling Silver Black Oxidized or Copper.
Wholesale Beads and Jewelry-Making Supplies for Designers
Whether you are an up-and-coming or a seasoned and professional jewelry-making designer, you are probably looking for quality wholesale beads and jewelry-making supplies at the best price. You may already have a game plan for success, along with the energy that is needed for your start-up or existing business, but where can you find the best materials available to create your products at the best price possible?
Whether you're creating bead works with Bali spacers, pearls, sterling rounds, gemstones or glass beads, it is important to know how to choose the right material and supplies for your jewelry product and where to obtain these supplies at the right price. You want to make jewelry that will last forever and not be returned due to breakage from using inferior products or tools. Often designers have the right mindset but limited information on the resources that are available to them. We have all the information you need on wholesale beads, jewelry-making supplies, tools, Soft Flex Craft Wire, Soft Flex Beading Wire and findings in order to achieve maximum profit for your designs!
Here at Soft Flex Company, we offer a tiered discount structure for jewelry-making designers and manufacturers. If you use our products in your designs and resell them as a business, you are considered a wholesale designer and after a few short steps, you will be able to purchase from us tax-free and receive automatic wholesale designer discounts.
From crimp beads to components and wire, Soft Flex Company has the perfect choice for your bead stringing projects. Contact us today !
Join our Facebook group – VIB. Stay in the know. Stay up to date. From our bead shows to our video shows and sales, you can stay in touch with us. The community is full of artistic and helpful beaders and crafty people. Inspire and be inspired. Share your pictures and get the beading bug from others!
Visit the Soft Flex Company YouTube Channel!
---
Blog contributor Thomas Soles loves Jazz Age writers and crunchy french fries. His favorite gemstones are Lapis and Pietersite. His favorite hobby is day dreaming. And his favorite mustache is Freddie Mercury's. As you can see, he has a healthy (or possibly unhealthy) sense of humor. You can write to him at Thomas@SoftFlexCompany.com