Making jewelry with Stretch Magic is a blast! Stretchy bracelets are easy and fun. Using elastic for bracelets takes away the learning curve that advanced beading wire, cord and fiber require. Elastic is the perfect bead stringing cord for a beginner and it is wonderful for a quick jewelry design. You may have dismissed stretchy cord if you are a seasoned artisan, but today, we are going to look at all things s-t-r-e-t-c-h-y and show you why you should invest in this wonderful jewelry medium. Whether you design men's jewelry, children's jewelry, or just want a quick design for yourself, we will show you everything you need to know to master DIY stretchy jewelry!

Are you a beginner? You are going to love how easy it is to learn how to make beaded jewelry with stretchy cord. Do you have children? Show them how to make an easy beginner friendship bracelet. Give your kiddos a fun new craft to explore and enjoy. Are you a jewelry designer? You are going to be amazed at how quick you can put together a stunning elastic bracelet with very little supplies on hand. Stretch cord is simple to use and incredibly cost effective. Stretch Magic is perfect for beaded bracelets for men, children's crafts, aromatherapy bracelets using essential oils, and so much more. You are going to be amazed by how easy it is to use this cord for beading bracelets and funky jewelry.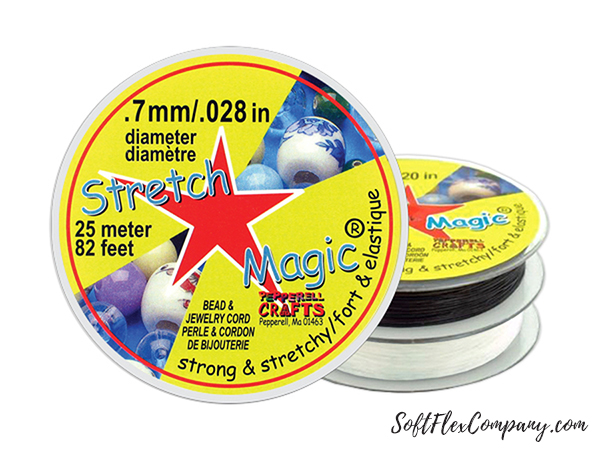 Shop our Stretch Magic cord. This elastic like cord makes jewelry making easy. You do not need tools to finish a design (except scissors or bead nippers to cut the cord). Knot and glue to finish. Just add beads and a dash of creativity!
Everything You Need To Know About Stretch Bracelets And Stretchy Cord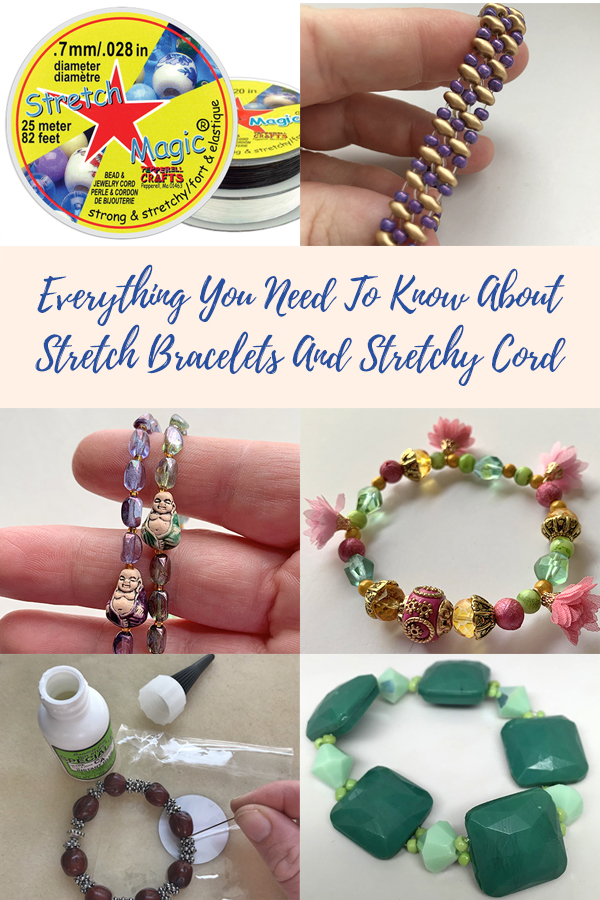 What Is Stretch Magic
We think Stretch Magic is one of the best stretchy cords out there for jewelry making.
Stretch Magic is a strong elastic-like beading and jewelry making cord. It is made of a unique proprietary polyurethane. It is constructed of a mixture of polyester and polyurethane. Stretch Magic is solid and will not fray over time. It does not contain any latex, rayon, or elastic. It is recommended that you pre-stretch Stretch Magic before beginning a project. This will ensure the cord does not stretch and lengthen after beads are placed on it.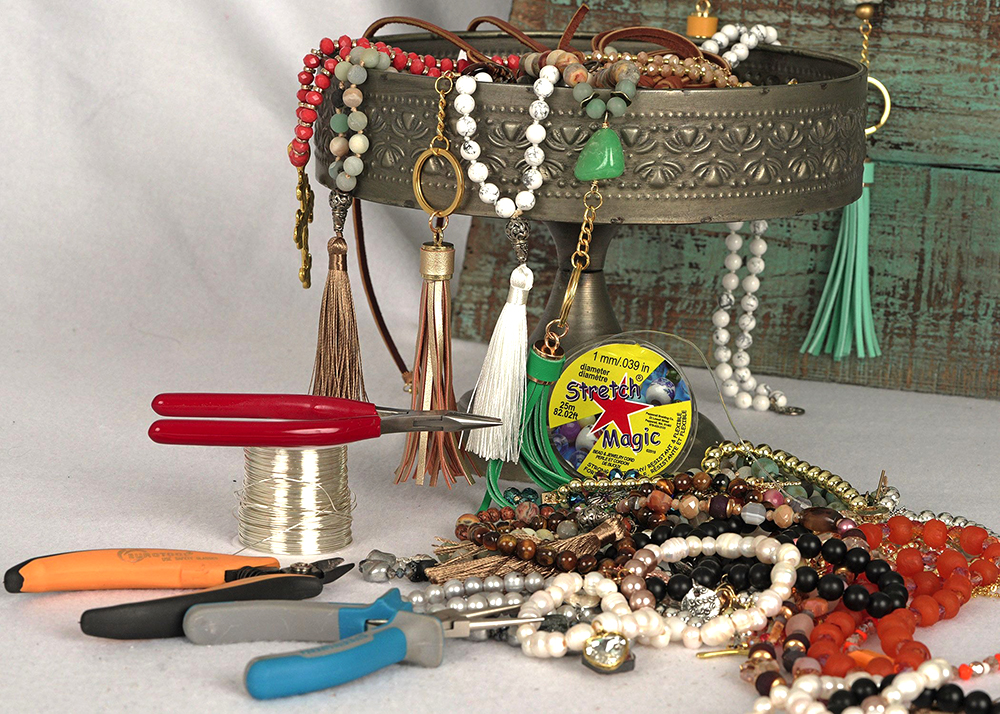 Jewelry by Lynn White
Photo by Nina Shields
Stretch Magic is manufactured by the Pepperell Braiding Company. The company was founded in 1917 as a shoelace manufacturer. They went on to make cigarette lighter wicks and candle wicks. In the late 70's, the company moved into the craft market with macramé products. Today, Pepperell Braiding Company is still involved with the craft industry. They manufacture a number of creative products and have three factories in operation.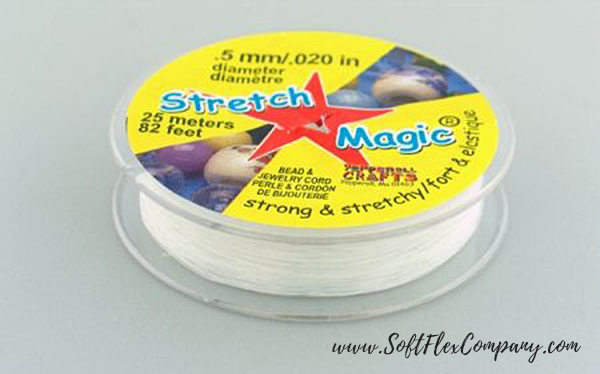 Stretchy cord is fantastic option for bead stringing beginners. It is forgiving and easy to string. This stretchy beading cord is durable and can take the abuse that a bracelet gets as it rocks back and forth on the wrist. It will last a long time. All a beginner needs to start out with stretchy cord is some beads, scissors or a bead nipper, and some glue and they have everything necessary for a jewelry design.
An accomplished beader will have fun creating a quick design with stretchy string. Want to punch up a quick jewelry design? This stretch cord makes it so easy. Simply string your beads, knot your cord and add a drop of glue to seal the knot. Here are some knots that work great: Surgeon's Knot, Figure-Eight knot and a Carrick Bend Knot.
Stretch cord is fantastic for designing feminine and masculine jewelry pieces. You can assemble jewelry quickly and easily using this elastic like cord. A bracelet takes minutes. You can design a single strand or even a complex multi-strand design with ease. Stretch cord is unseful for some amazing rings as well. It is not ideal for a necklace, but you can make some stunning tattoo chokers or a daring chunky necklace with larger beads.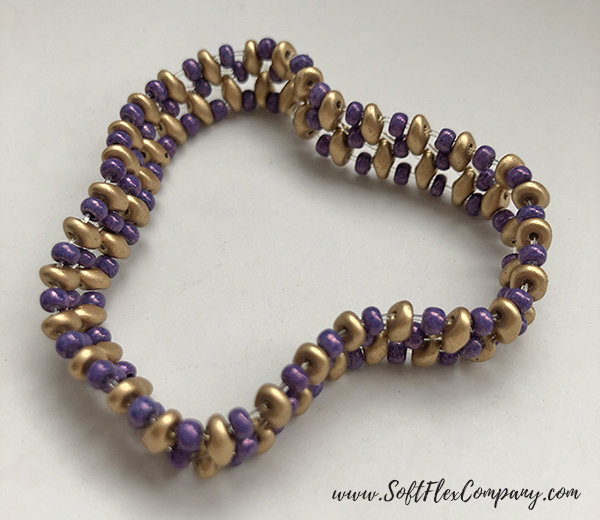 At Soft Flex Company, we carry three of the most common sizes of Stretch Magic elastic cord, .5mm, .7mm, and 1mm. We think these sizes are perfect for just about every jewelry design. The .5mm cord is great for smaller, lightweight beads that have a smaller bead hole. The .7mm is an all-round stretch cord because you can put almost any type of bead on this cord. The 1mm is best for heavier gemstones and bigger beads.
We do suggest using Soft Flex Beading Wire for a design that requires strength and durability, but Pepperell Stretch Magic is a blast to string with! Read on and learn all about how to use this wonderful bead stringing cord.
How to Make A Beaded Stretch Cord Bracelet
Designer: Sara Oehler
Sara shows us how to make a quick bracelet. This video is easy to follow and a great watch if you would like to learn more about how to make jewelry with stretch cord. Sara also makes a matching pair of earrings for her new bracelet. This bracelet design uses two hole beads and two strands of stretch cord. It looks so sophisticated. Elastic cord is not just for hobbyists, you can make some stunning jewelry too!
Bead Stringing Tips: Pre-Stretching and Double Strands
Make sure you pre-stretch your elastic and stretchy cords. They can elongate over time and stretch and it may make your designs look odd. Simply pull and tug and give your cord some weathering so it flexes and stretches before you add beads. If you do not pre-stretch your cord, the beads you string may look loose and the bracelet can elongate, sag, and not drape the way you anticipated when you designed it. After pre-stretching, your cord will look the same and retain its elasticity, but it won't lengthen over time. Once knotted, make sure your beads have a slight bit of tension so your knot remains secure.
If you would like to add a lot more security to your bracelet, consider using two cords instead of one. You will need to make sure your cords fit inside of your bead channels, but your bracelets are going to be much more durable. Adding a second stretchy cord to a design makes the jewelry feel much more solid and steady. A single elastic cord can sometimes feel gossamer and less equipped to handle the abuse of rocking back and forth - especially if you have strung gemstones on the cord. Your designs will never be as durable as those strong on beading wire, but you can have confidence that your jewelry will last. Two stranded designs can also be finished using a unique knot. The Tricky Ricky Knot is a popular and fun way to finish a double stranded design. Kristen's floral bracelet below uses this technique.
How To Tie Stretch Magic Cord
How do you finish stretchy bracelets?
If you need to learn how to tie Stretch Magic, Pepperell has a great video. In this quick tutorial, they teach us how to tie a surgeon's knot. It is an easy knot to learn and master. It is secure enough to lock your bracelets in place. But we do suggest adding glue to the knot for even more security.
Pepperell recommends using a surgeon's knot or a Carrick bend.
How do you hide a knot in a stretch bracelet?
There are several ways to conceal your finished knot on your jewelry design so it does not detract from the beauty of your work. One way is to use beads with larger holes. Simply move the knot so it rests inside a bead. If you are determined to make sure the knot stays, you can glue it in place - but that might cost you a bead in the long run. Another option is to use spacers with large holes. You can hide the knot inside a spacer, if your beads have smaller holes, your knot will never move. Another fun way to finish a design is to use a bail with a large hole. You can conceal the knot in the bail and then add a fabulous dangle to your jewelry design.
Stretch Magic Sizes
What size stretchy cord should I use?
At Soft Flex Company, we carry three of the most common sizes of Stretch Magic, .5mm, .7mm, and 1mm.
These sizes of elastic cord are going to be perfect for almost every design imaginable. They are going to accommodate some of your tiniest beads and some of your largest. You can find 25 meter (82 foot) or 100 meter (328 foot) length spools on our website.
Stretch Magic 1mm
1mm is .039 inches, or slightly over 1/32" thick. This diameter is great for larger beads and gemstones. It is strong and durable. If you are using a chunky, abrasive bead, like Turquoise, glass, or coral, you may want to consider using a bead stringing wire as they can tear into the elastic cord. You can also consider using a reamer to smooth the inside of the beads if you are having troubles with beads breaking your stretchy cord.
Stretch Magic .7mm
.7mm is .027 inches, or between 1/64 - 1/32" thick. This diameter is great as an all purpose bead stringing cord. Most bead sizes will fit comfortably on this cord. Keep this stocked in your beading toolkit as your go-to diameter for every day beading.
Stretch Magic .5mm
.5mm is .019 inches, or slightly over 1/64" thick. The .5mm cord is great for smaller, lightweight beads that have a smaller bead hole. This is an ideal cord for your favorite seed beads. This cord is perfect for beads that just do not fit on the larger diameters.
Learn How To Make a Beaded Men's Bracelet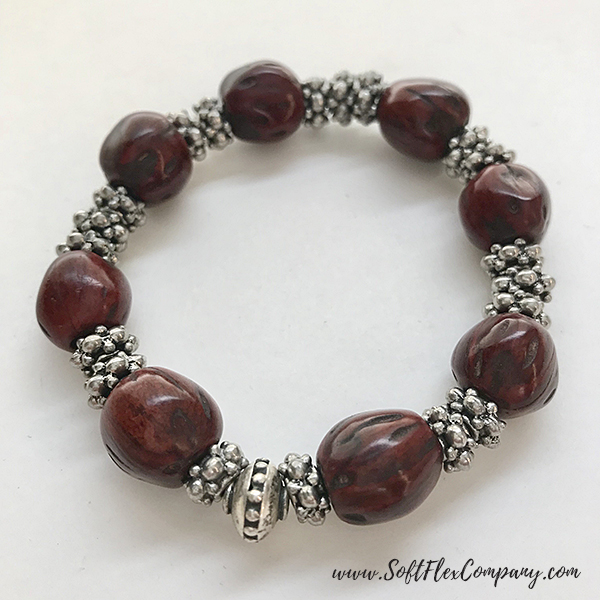 Designer: Kristen Fagan
My dad likes to wear jewelry yet, I seldom make it for him. Shame on me! I give my mom and sisters handmade jewelry all the time but, I don't spend much time thinking about jewelry ideas for the guys in my life. Last year, I made sure to include my dad when thinking about gift-giving. I made him a necklace for Fathers Day and a stretch bracelet similar to this one for Christmas. He loved them both. I hope this bracelet idea inspires you to think about making some jewelry for men too.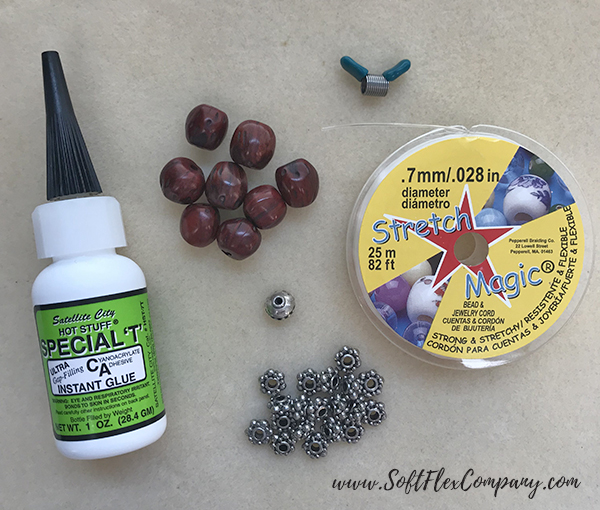 Materials
Stretch Magic - 0.7mm Clear - 13"
12mm Wood Beads - 8
7x4mm Silver Turkish Heishi Spacer Beads - 19
8mm Silver Saucer Bead - 1
Head Pin - 1

Tools
Scissors or Cutters
Special T Glue
Bead Stopper

Finished Size: 8"

Instructions

Step 1: Cut 13" of Stretch Magic. Attach a bead stopper to one end.

Step 2: String 1 wood bead, 2 spacer beads, 1 wood bead, 3 spacer beads, 1 wood bead, 2 spacer beads, 1 wood bead, 1 spacer bead, 1 saucer bead, 1 spacer bead, 1 wood bead, 2 spacer beads, 1 wood bead, 3 spacer beads, 1 wood bead, 2 spacer beads, 1 wood bead, 3 spacer beads.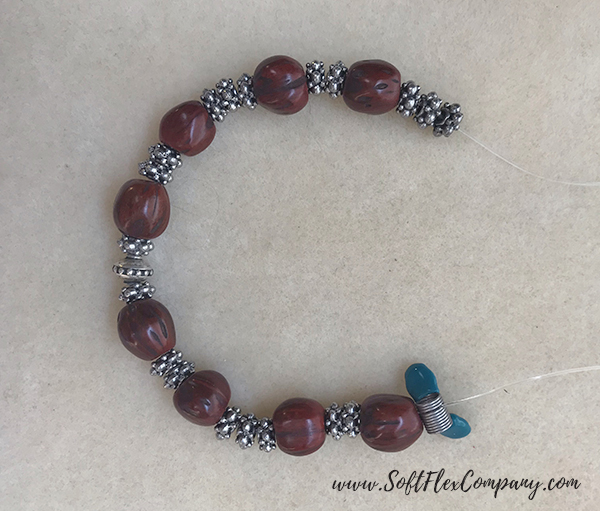 Step 3: Remove the bead stopper and tie a simple overhand knot. Take both ends of stretch magic and cross them over. Take one end under and through the loop. Pull tight. Repeat the knot two more times.

Step 4: Add glue to the knot to make sure to stays secure. Cut excess stretch cord. Tip: Instead of using the glue bottle tip, unscrew the top, dip a headpin into the glue and use the headpin to apply glue to the knot.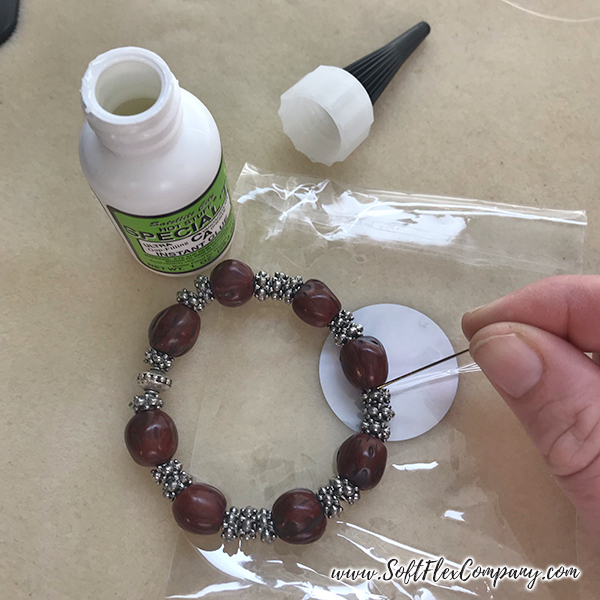 Best Stretch Jewelry Ideas
What kind of jewelry designs are you looking to do? Stretchy jewelry cord is capable of so many unique designs. Be daring. It is so affordable that mistakes are not going to hurt your wallet.
Kids' Bracelets:
Stretchy bracelet string is perfect for your crafty kiddo. They can assemble jewelry quickly and easily using stretchy cord. They do not need tools to start (you can cut the ends and glue the knot for them). They just need to string their jewelry how they see fit. Elastic cord allows them to be creative. Let their imagination reach new heights. Share the moment with them. Make a beautiful piece of jewelry together. Making beaded jewelry is a great foundation for learning. If they enjoy this fun craft, they can continue with different cords, fibers, and beading wire as they further their talent. They will have memories of making their lovely jewelry with family and friends that they will carry into adulthood.
Men's Bracelets:
Make something special for the men in your life. Fellows love a good piece of handmade jewelry. You just have to know what kind of style we like. Use earthy beads, bone and shell for a great start. He will love your design. Just make sure it suits his character. You do not want to make a flashy bracelet for a subdued guy. If he does love a little glitz - check out some smooth gemstones.
Essential Oil Diffuser Bracelets:
Aromatherapy is the belief that aromatic plant extracts can promote a healthy body and mind. Essential oil diffusers are used to put this energy into the air around us. For those of us that love essential oils and are always on the go, we have found ways of taking our favorite extracts with us. Stretchy cord bracelets are one great way of taking your essential oils where ever you travel. You can find porous lava beads that soak up your oils. You can string your lava beads on stretch cord and give them a little sprinkle so the lava retains the scent. You can also find a locket that hold a scent pad that can be doused with your favorites oils. Make a stretch bracelet for the aromatherapy lover in your life.
Beaded Anklets:
Anklets look amazing with stretchy cord and they are super easy to maintain and wear. Put it on and forget about it. But your wonderful jewelry is sure to turn some heads. Create a fabulous piece of statement jewelry for your next trip to the beach or accessorize with a summer dress. You can make an anklet to match any wardrobe. Stretch cord allows you to design on the fly. Make jewelry that flatters you - fast!
Elegant Chokers:
If you want to make a necklace, you can always opt for an elegant choker. Black color Stretch Magic is great if you do not want to add beads. Choker tattoo necklaces are easy to make and look wonderful. They are especially great if you enjoy a darker wardrobe and gothic look.
Stretch Cord Ring:
If bracelets are not your thing, try a ring. You can do a single strand with smaller beads as the band and add a larger bead as the focal on the design. You can try a ladder with multiple strands and beads. You can mimic the tattoo choker style on a smaller scale and add a bead. You can braid or macramé if you want to get really creative. Beaded rings are amazing on stretchy cord. Add a focal beads and silver seed beads and mimic your favorite metal jewelry. Rings are fun and as intricate or simple as you want to make.
Easy Friendship Bracelets:
Friendship bracelets have been in style for decades. School children and up. We have been giving the gift of jewelry since early man discovered beading adornment. Continue the tradition with elastic cord. Friendship bracelets can be made with fiber, hemp, yarn, and more - stretchy stuff makes for a fun new style. Show your bestie how much they mean to you with a personalized braided or macramé bracelet. They might even return the favor with a warm hug - and who doesn't like a good warm hug?
Healing Gemstone Bracelets:
Like aromatherapy, gemstone healing is a popular way to achieve mind and body health without traditional medicine. People have long used crystals and other gemstones as a talisman and items of healthy healing power. Make a stretch bracelet with some smooth healing gemstones and carry the power of healing stones with you. Popular choices are crystal, Rose Quartz, Hematite, Citrine, Amethyst, and more.
Beaded Necklaces:
Beaded necklaces may be overlooked by those that design with elastic beading cord, in favor of a more durable bead string wire or mono-filament line. But stretch cord works great if you have a collection of smooth round beads and gemstones. Add a little weight and you will have an interesting drape. Making a necklace with an elastic cord means you do not have to worry about crimps, clasps, or other findings.
Best Glue For Stretchy Elastic Cord
We have two excellent solutions for any elastic cord knot that is slipping. Tie your knot and add a dab of glue. Your knots will never come undone! This is the ultimate way to secure your jewelry designs. You may have a favorite glue, but we think these are the cream of the crop. We have a gap filling glue - a glue that fills the gaps inside a knot. And we have an all purpose glue. Both are excellent.

Special T Glue is a gap filling glue. It is designed to fill any gaps inside a knot - this makes the knot secure and less likely to come undone. In the case of knotted jewelry, it is extra assurance that your design is not going to fall apart after prolonged wear. Special T Glue dries pliable rather than hard and crunchy. It takes around sixty seconds to dry and dries clear. Special T Glue is excellent for use with Illusion Cord, Stretch Magic, Soft Flex and Soft Touch Beading Wire.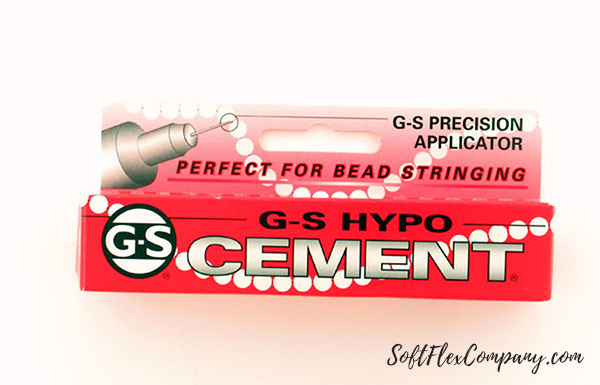 G-S Hypo Cement is a wonderful all purpose glue. It was invented in the 1930's for jewelry and watchmaking professionals. It is perfect for all sorts of surfaces and beading materials: glass, plastic, metal, wood - any more. The cement sets in 10 minutes. Dries after about one hour. May take up to 24 hours to cure completely. Time may vary based on humidity. There is a slight odor, but it fades quickly. The applicator tip is small and perfect for precision use. The glue will not bond to fingers and can be removed from other surfaces with nail polish remover.
Usage: To apply a fine line of cement, gently move the applicator along the surface. To avoid waste, press tube gently until cement starts flowing, then ease up. Flatten the tube as it is used; do not roll, twist or bend as this may cause the tube to crack. Do not press down on the applicator when applying cement, as pressure can cause the precision applicator to become dislodged.
Usage Suggestion: The cement tends to keep flowing out of the applicator once it starts, so if you do not have time to place the cap wire into the precision applicator between uses, keep an empty, small bottle (like a spice bottle) in your work area, along with a small piece of sponge soaked in rubbing alcohol. After using the cement, set the tube "neck up" in the spice bottle and place the wet sponge over the precision applicator point. This will stop the flow of cement and keep the applicator clean and ready for its next use. Replace cap wire when finished.
Stretch Cord Colors
At Soft Flex Company, we offer a clear Stretch Magic or a black color. Clear is perfect for concealing the cord. It is nearly invisible inside your beads and on your design. We offer a black color that is striking for tattoo chokers or designs where you want to expose the color.
If you would like a more expansive rainbow of colors, make sure you visit Pepperell's store for more options.
Make a Colorful Bracelet Using Stretchy Cord

This video offers a more complex pattern. But it is still really easy to design and finish. Sara created a lovely bracelet with stretchy cord, gold super duo beads and size 8 Czech glass beads. Sara uses her Mini Macramé Board to hold her wire in place while she works. The board is great for macramé work, but can be used for braiding and other designs.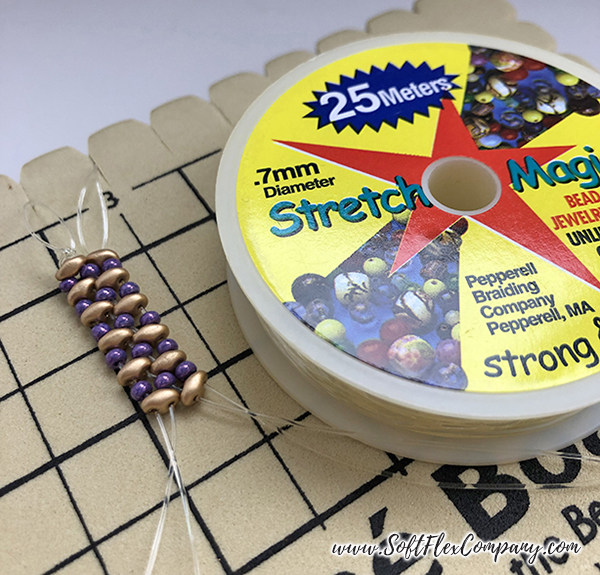 Sara does not conceal her knots on this bracelet, but even though they are exposed, they really do not detract from the design. They are almost invisible on the bracelet.
Follow Sara's simple instructions and you will surely elevate your beading technique with elastic beading string. This video is clear and accessible to beginners and pros alike.
Materials
Stretch Magic - 0.7mm Clear - 13"
Gold SuperDuo Beads
Size 8 Czech Seed Beads
Tools
Mini Macramé Board (optional)
Scissors or Cutters
Special T Glue
Bead Stopper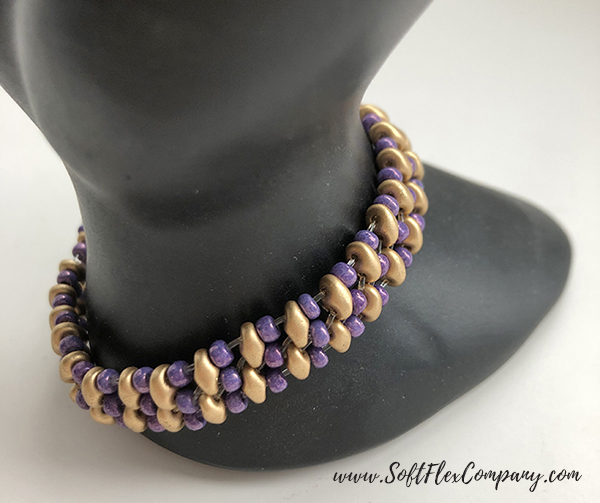 This is one amazing piece of jewelry. You would not imagine that an elastic cord would be able to make such a sophisticated pattern. Well, now you know that you can create stunning pieces of jewelry with this wonderful beading cord.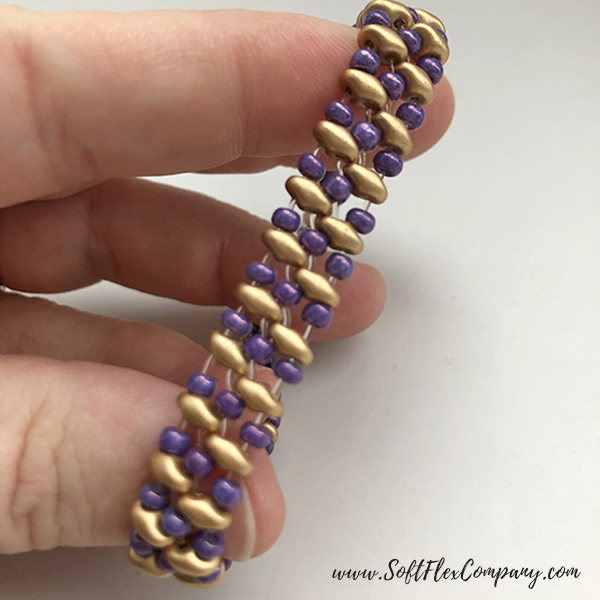 Ask Sara - How do I finish a stretchy bracelet?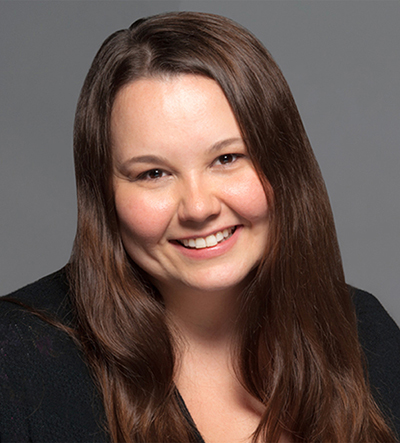 Question: How do I finish a design on stretch product? Should I crimp it?

Answer: We don't suggest crimping any stretch cord product. It is usually pretty soft. When you compress the metal crimp, it can easily slice through the stretch product. A better way to finish off a design on elastic cord is to tie a square knot and use a dab of Special T glue for security. Special T glue is non-acidic and dries fairly clear and pliable. I've also used Special T glue for gluing glass to metal, wood to wood, and on other threads and cords. I don't use the actual applicator on the bottle of glue, but instead, I unscrew the cap and us a toothpick or eye pin to pick up a drop of glue and apply it to my surface. A little goes a long way with this glue. It dries in less than a minute.
Make a Designer Stretch Bracelet
Soft Flex Company employee Kristen Fagan is free spirited beader. She films an new episode of Free Spirit Beading every Monday at 12pm PST. In her series, she explores different jewelry mediums. She uses an eclectic collection of tools, cords and beading wire. She loves to design unique pieces of jewelry and think outside the box. You are going to love her show if you love making jewelry. This episode featured Stretch Magic. She wanted to design a easy bracelet. Want some great tips and tricks on how to design and finish a stretchy bracelet? This is a great video to get your feet wet.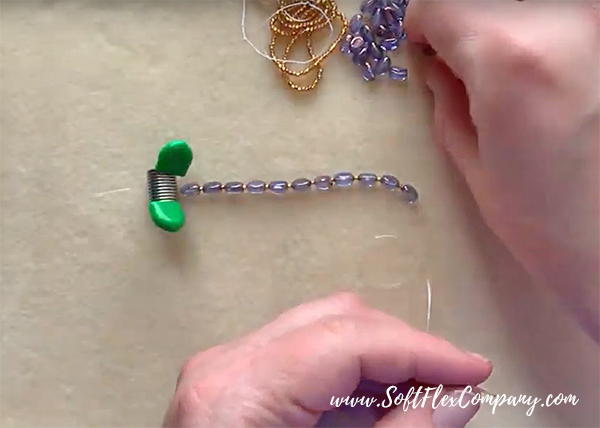 Stretch Magic is an elastic like cord that can be finished without tools, other than simple scissors. Glue can be used for extra security. A stretch cord design is not nearly the commitment a beading wire design is, it can be strung and finished in minutes. Great for a quick piece of new jewelry for an event or night on the town. There is no learning curve and you will not need findings. String and go!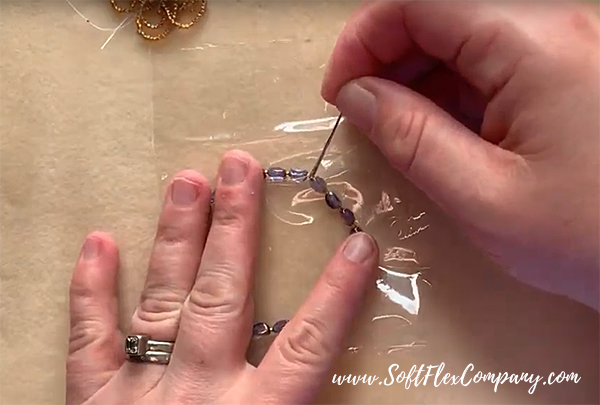 Supplies:
Stretch Magic - Clear .7mm
Teeny Tiny Beads
Tri Cut Czech Glass Beads
Size 11 Seed Beads
Special T Glue
Cutters or Scissors
Bead Stopper
Headpin (optional)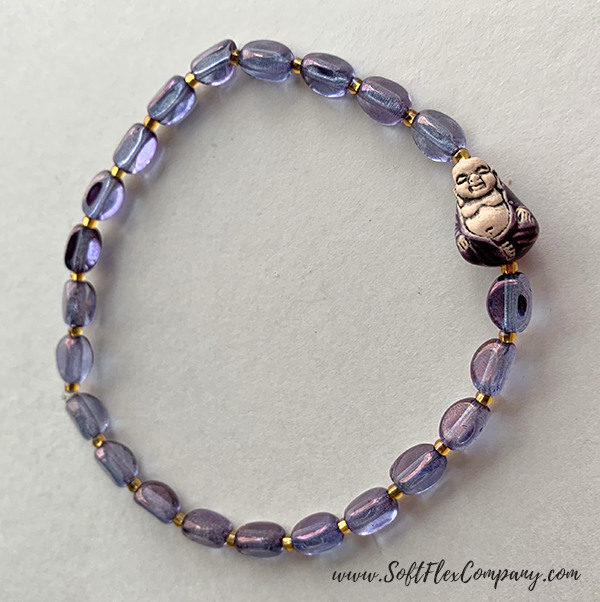 This bracelet just seems to glow. It is gorgeous and quick to put together. Need a little something for your dinner dress? Why not string a quick bracelet. Stretch Magic bracelets will last for years, but the cost of the materials also means that you can cut the design and repurpose the beads without hurting the wallet.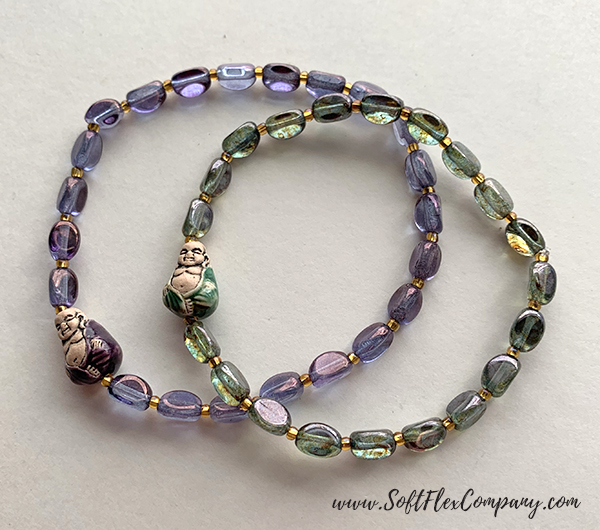 Elastic cord is a great bead stringing material for those beginning with beading, crafting with kids, or if you like lightweight easy-to-wear bracelets that are budget friendly. With only a few supplies needed, stretch cord, glue and cutters or scissors - this is a great way to get started in jewelry making. This design combines size 11 seeds beads and tri-cut glass beads with a teeny tiny ceramic Buddha bead as the focal. You can simply string the ceramic bead on the cord as shown here or you use a headpin to create a dangle and hang the ceramic bead as an embellishment instead. Either is a cute and simple bracelet design.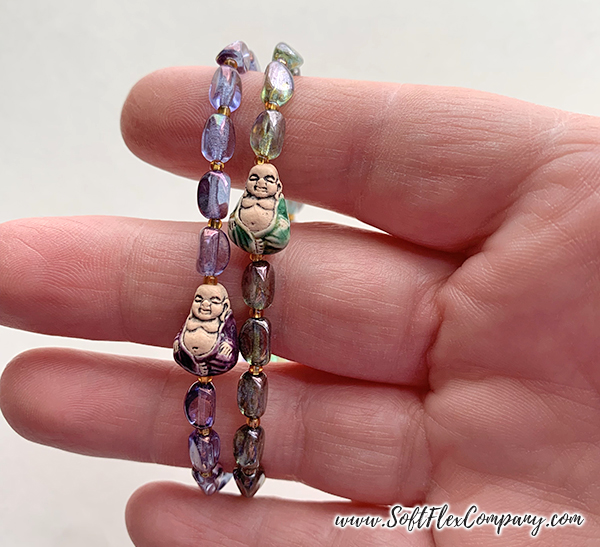 Kristen wanted to use some fun Teeny Tiny Beads in her design. Teeny Tiny Beads come in fun shapes and themes. We have animals, holidays, food, and more. There is a bead for every occasion. Going to a baby shower? We have pacifiers that would look so fun on a bracelet. Love the ocean and want to show it? We have sea life, mermaids, and more. Teeny Tiny Beads are so much fun!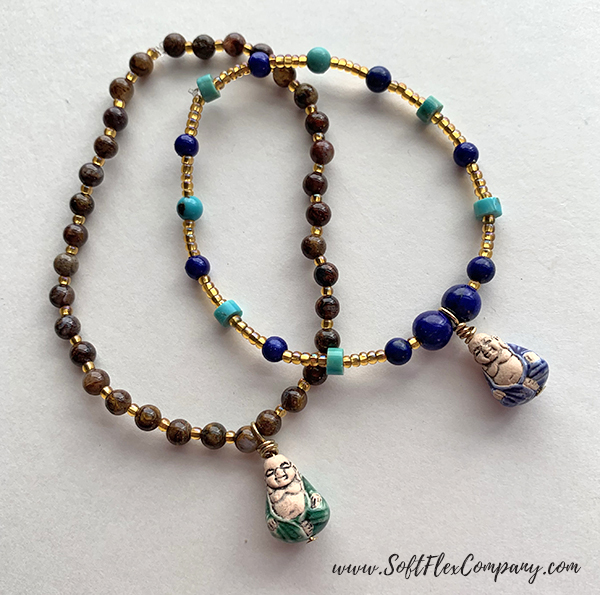 Speeder Beaders Work With Elastic Cord Too!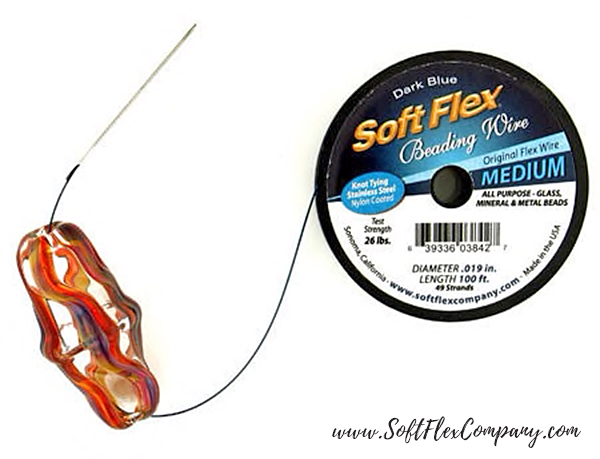 If you work with Stretch Magic or elastic it can be difficult to get that kind of cord through beads from time to time. Our Speeder Beaders are a great way to string fast. The Speeder Beader that is designed to accommodate our heaviest wire, .024, also works wonderfully with .5mm and .7mm sizes of stretch cord. If you don't want to spend a lot of time trying to get a flexible cord through your beads, check out our Speeder Beaders with the white or clear caps.
The Soft Flex Speeder Beader makes threading Soft Flex or Stretch Magic fast and simple. Push your beading cord into the pan of the Speeder Beader at a 30-45 degree angle. The pan will guide the wire into the hollow part of the Speeder Beader. Beads slip over the Speeder Beader and onto your wire or cord quickly and easily.
Make a Unique Floral Stretchy Bracelet
On this episode of Free Spirit Beading, Kristen explored one of our bead mixes, the Flower Power Bead Mix. She made a bracelet with Stretch Magic and then some earrings to match.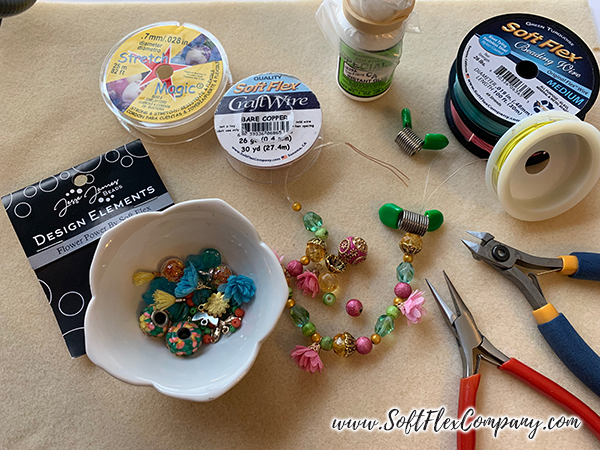 Supplies (includes earrings):
Yellow Lemon Quartz Soft Flex .019 medium beading wire
2 ft Stretch Magic - Clear .7mm
Flower Power Bead Mix
Special T Glue
Bead Stoppers
26ga Soft Flex Craft Wire
4 - 2x2mm Crimp Tubes
2 - Antique Brass Ear Wires
Cutters
Crimping Pliers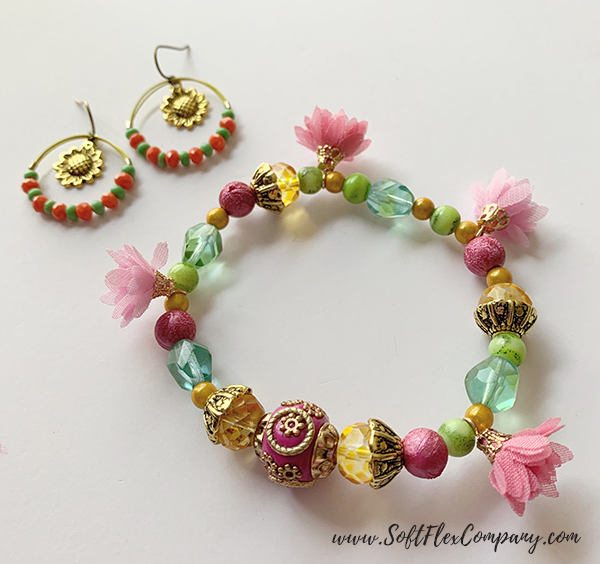 From Kristen:
Jewelry making fun with the new Flower Power Bead Mix! Learn how to make a stretchy bracelet with Stretch Magic and sunflower hoop earrings with Soft Flex Beading wire for two sweet springtime designs!
Stretch Magic elastic cord is a great bead stringing material for those beginning with beading, crafting with kids, or if you like lightweight easy-to-wear bracelets that are budget friendly. With only a few supplies needed, stretch cord, glue and cutters or scissors - this is a great way to get started in jewelry making

This bracelet design uses the flower power bead mix with the "Tricky Ricky" stretch bracelet knot technique shared with me by Ricky of Dakota Stones! The earrings also use the flower power bead mix combined with Soft Flex beading wire and crimps for a sweet and simple pair of hoop earrings.
Did you learn a lot about beaded stretch bracelets and jewelry? We think this bead stringing cord is a lot of fun. If you would like to share your work with us, please post your pictures on our Facebook group – VIB. We would love to see your handiwork!
Join our Facebook group – VIB. Stay in the know. Stay up to date. From our bead shows to our video shows and sales, you can stay in touch with us. The community is full of artistic and helpful beaders and crafty people. Inspire and be inspired. Share your pictures and get the beading bug from others!

Visit the Soft Flex Company YouTube Channel!
---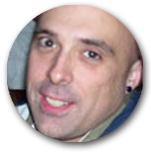 Blog contributor Thomas Soles loves Jazz Age writers and crunchy french fries. His favorite gemstones are Lapis and Pietersite. His favorite hobby is day dreaming. And his favorite mustache is Freddie Mercury's. As you can see, he has a healthy (or possibly unhealthy) sense of humor. You can write to him at [email protected]