Do you wear a cloth mask or a surgical mask? It is not the most enjoyable accessory, right? There are a few different ways to look at it: you can wear it and do your business, you can wear it and complain about it, or you can embrace change and make your mask a fashionable extension of yourself. Either way, we've got to mask up to protect each other. So, if we have to wear a mask, by golly, we are going to make it special. Today, we are offering some great DIY mask lanyard ideas. Lanyards are an elegant and unique way to personalize a mask. They are becoming a fashionable trend. Let's take a look at some reasons why you should add a lanyard and then let's explore some ways to make this a magnificent way to enhance your mask!

Today, we are looking at face mask lanyards. Lanyards are a great way to keep track of your mask. They are also an easy way to keep your dirty fingers off of your mask. If you have a boring mask, they offer a way to personalize your face mask and make it unique. Lanyards are great for an office setting, take your mask off at your desk and leave it on your neck. Prevent your mask from sitting on a contaminated surface. School teachers can use a lanyard for the same purpose as they move around. Take the mask off and leave it on the neck. On again when you need it. Lanyards are an easy way to help your kids keep track of their masks. You are going to love this stylish accessory. When all of this is over, you can use your lanyard as an eye glass holder of a badge lanyard for work. To get started, all you need are a couple of basic tools.
Face Mask Lanyard Kit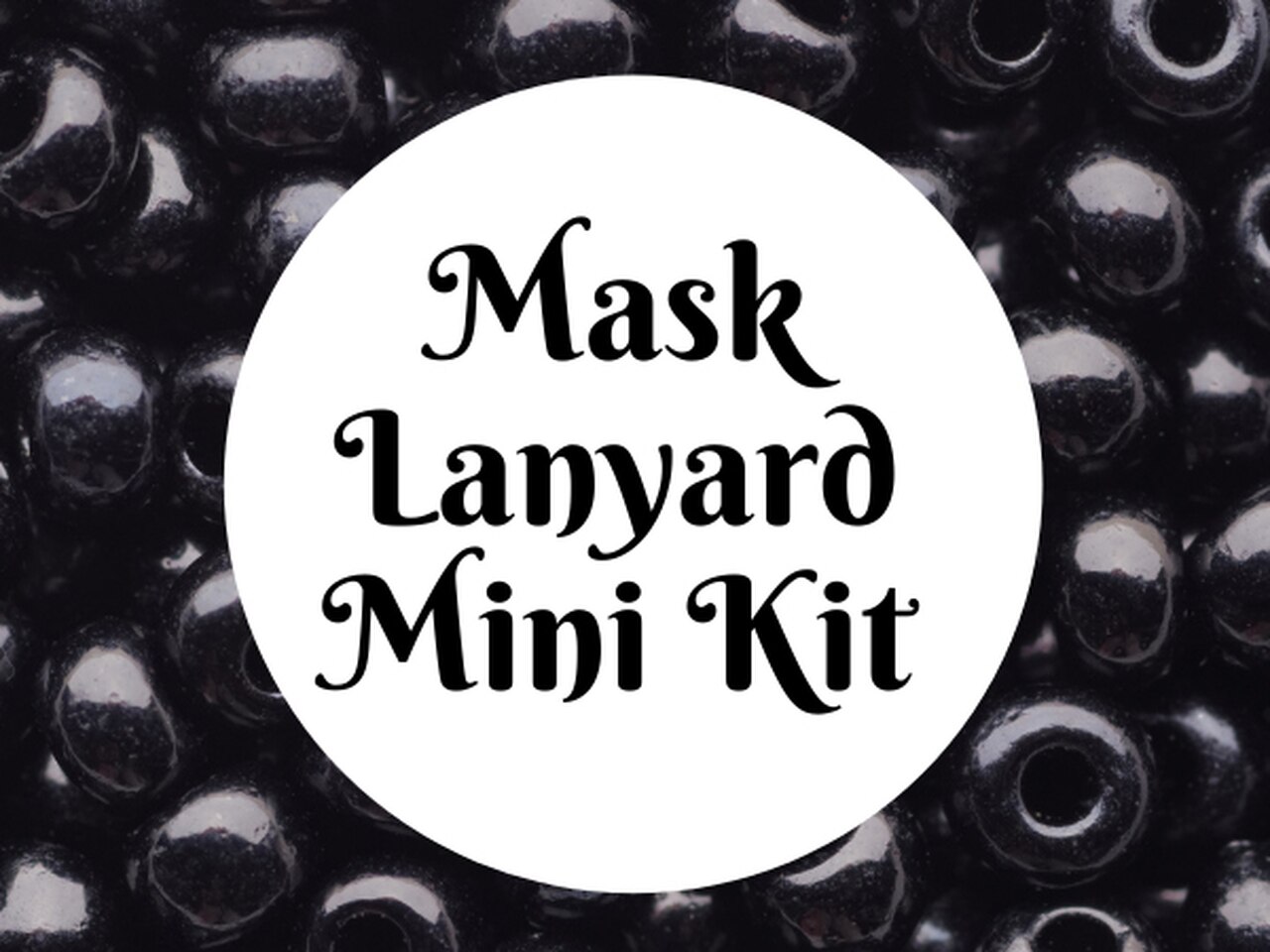 Face mask lanyards are the newest fashion accessory. Masks aid in reducing the transmission of the virus. If we have to wear a mask, let's embrace it and add our personal touch with a beaded face mask lanyard!
A beaded lanyard will conveniently hold your mask when not in use. This means less touching the mask with dirty fingers and you do not have to place your mask on contaminated surfaces. When you are done with your mask, this lanyard can be used for an interchangeable necklace design. This is a fun and easy project to show my gratitude for our teacher's hard work. We hope this makes her life just a little easier as she moves through the year. The best part of this beaded lanyard is that she can move it to any other similar mask. This is a great back to school gift, holiday gift and teacher appreciation gift in these very strange times. Get creative!
To make it easy for you to make your own, we are offering this mask lanyard mini kit. This kit comes with wire, clasps, crimps, and an elegant mix of black beads, a neutral color that matches a wide variety of masks and styles. The kit includes enough lobster clasps for making one mask but enough supplies to make many more. Additional 15mm lobster clasps may be purchased to create more lanyards.
If you would like to see how Sara used this Mask Lanyard Mini Kit to make an interchangeable face mask / necklace for children of all ages, click here - DIY Face Mask Lanyard Tutorial - Make Your Own Face Mask Necklace for Students and Kids.
Supplies are very limited. Don't miss out!
Lanyards Are An Important Accessory For Your Mask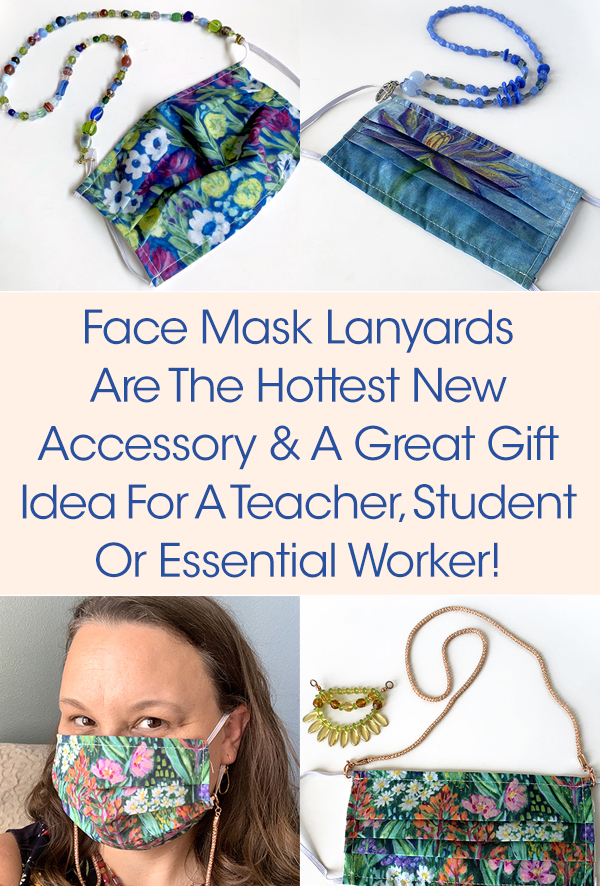 Lanyards are a way to handle your mask without letting it touch contaminated fingers and surfaces. They can be adorned and personalized. Lanyards are an anchor for a mask that is lost in a deep purse, find your mask easy with this landmark. Want some reasons why we think lanyards are important? Let's take a look.
And, we kid you not. Lanyards are a trending fashion item. Want to be on the razors edge of modern couture? You got it - a lanyard is your swinging bling! Lanyards have appeared across fashion and news sites. Doctors have said it can be a welcome way to reduce mask touching and encourage mask use. Be a part of the mask fashion vanguard - adorn and be healthy!
Want a stylish mask to make your friends jealous? Shop Kristen's mask art - HERE.
#nomaskshame #maskup #normalizefacemasks #masklanyard
You Need A Lanyard For Your Mask, Here Is Why
Healthy Mask Handling:
Dirty fingers do not belong on masks. Lanyards can help prevent contact.
Setting your mask on a contaminated surface defeats the purpose of the mask - keep it on you with a lanyard.
Lanyards are a great way to hold the mask in place while you sanitize your hands. Make sure you stay clean!
Some people put a mask that is not in use on the forehead or below the mouth. Don't do that. A lanyard keeps the dirty surface away from your face.
Lanyards can make it obvious which way a mask will face, if you have a mask that is similar on both sides.
Remind Me:
Never leave the house without your mask. Hang your lanyard near your keys.
A lanyard is a visual exclamation mark. If you misplaced your mask, a lanyard will light the way.
Don't dig around a bottomless purse for a mask that feels like everything else. A lanyard is a great way to find your mask.
It is much harder to lose a mask that is attached to something you love - beaded adornment.
Everyday Life:
On the go? Lanyards are a great way to put your mask up outside and down in the car.
On a walk? Keep the mask down if desired. Near people? Mask up. Easy peasy.
Meeting friends? Show them your fashion and grace. Lanyards are a way to let them know you still have style.
Picking up dinner? Raise that mask with your handy dandy lanyard.
If you need to stop and grab a pop, a lanyard is an easy way to put that mask up and down when you jump back in the car.
Don't be a face in a crowd. A lanyard will let your creative side show through the concealed facade.
Lanyards are awesome if you are working out.
A surgical mask or medical mask can be a bland affair - add color with a lanyard!
Arts and Crafts:
Lanyards are the new 'IT' accessory. Trust us!
Lanyards can be turned into multipurpose use - watch Sara turn a mask lanyard into a necklace!
Adorn everything! Lanyards are perfect for expression and craft!
Soft Flex Beading Wire is great for beaded lanyards - don't put too much weight on it though, you do not want a droopy mask.
SilverSilk Capture Chain is great for stylish lanyards. Add a patina paint for extra glow!
Lanyards can be a fun new friendship bracelet of sorts. Involve your kiddos and make it fun!
Coordinate your lanyard with your necklace for extra glamour!
Be different. A lanyard will hang down the back of the neck when the mask is in use - like a reverse necklace - throw a focal on that thing and really grab some attention!
Teachers:
If you are a physical presence at school, lanyards will keep you mindful of your mask as you move around.
Lanyards are a great way to make your mask special. This will let the children you teach see a mask as a fun necessity and not a nuisance
At our local schools, the children are distance learning but the teachers are teaching at the school. They can take their mask off in the classroom but have to pull it back on to maneuver through the building.
DIY Face Mask Beaded Lanyard Tutorial - Make A Face Mask Necklace for a Teacher Gift
Children:
If your child is going to be physically present in school, a lanyard will differentiate their mask from others. You don't want your kiddo swapping masks.
Your children are less likely to forget their masks if there is a lanyard attached.
They are also less likely to lose a mask with a lanyard attached.
Parents - make sure you do not add choking hazards to the lanyards for the younger kiddos.
Make Your Time In A Mask Fun And Fashionable
Homemade crafts are a great way to de-stress and enjoy yourself. Take some time to quiet the grumpkins and snarks outside. Find a comfy couch or retreat to your art space. Stringing beads is a great means of quiet contemplation and meditation. You are focused and living in the moment. Each bead is a footstep and completing your design is an end of a journey. A lanyard is a quick jaunt. A trek that can be made in minutes or hours. The reward for the task is close and you get to appreciate your work.
Making a lanyard at home is easy and fun. Make sure you have the right supplies on hand. We have some beading tools and jewelry making supplies that will help you design the perfect lanyard for you. Make your handcrafted beaded lanyard an award winner.
Style also means innovation. A lanyard is great. But why not make your work multi-functional? Using lobster clasp and jumps, you can make your work adjustable. Make a lanyard that ends with clasps and a pendant that is book ended by jump rings and you have an instant jewelry/ mask combination. Done with the mask for the day? clip on your pendant. This stunning focal will turn your lanyard into an amazing necklace.
Watch Sara and she describes the process. It is super simple. This video will show you how to think outside the box and make a lanyard that works double duty.
Beautify Your Corona Mask - Learn How To Make An Interchangeable Mask Lanyard Necklace!
See how easy it is to make something stunning and functional?
Now let's look at a beaded lanyard. This is another easy to follow video. If you know the basics on how to create a beaded necklace or bracelet, you already know how to make a gorgeous lanyard. Simply string your beads and then close the wire with a crimp. You can add your favorite clasp or clasps to finish the piece. If you need to learn how to crimp, click the link below. You can also check out the vast library of instructional jewelry making videos we have on YouTube.
Regular Crimping Pliers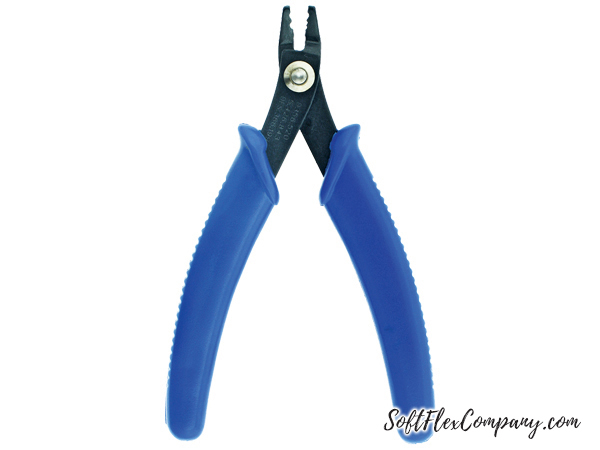 Crimping pliers are a must if you want to finish your jewelry like a professional. Once you master your crimping pliers, every crimp is uniform and secure. Trying to smash your crimps with a pair of regular pair of pliers means your crimps will be irregular and prone to slipping. Crimping pliers allow for your design to be secure with a crimp bead that looks and feels smooth.
Make sure you check out our crimping instructions, here:
Learn How To Make A Beaded Lanyard For Your Cloth Mask
In this video, learn two different way to make your own face mask lanyard. There are so many times when you can take your face mask off but still need it handy and this offers a solution to make it easy to wear your mask on or off of your face. The face mask lanyard can attach on one or both sides of your mask (like eye glass holders). You can bead it or use chain, SilverSilk, beading cord, etc to make it uniquely yours. Sara will offer you several ideas and then show you how to create a beaded version with one big lobster claw. This is great in an office where you may take your mask off at your desk but need it to move around building. It is perfect for a teacher teaching at school online. He or she may not need it in the classroom but may need it handy to talk to co-workers. It is also a great way for kids to keep track of their masks if and when they do go back to school. Again, there are so many times when you can take it on and off, on and off and this stylish accessory makes it very easy to keep your mask close and accessible.
Just remember to keep your beaded lanyards light. We all love beautiful beads. Big beads, chunky beads - give us more! But your mask is probably going to find a lot of extra weight wildly unpleasant. Your mask is going to sag from all of the hard work. It is going to droop and look like a sad affair. Treat that mask nicely. It is keeping you safe. You do not want to overtax it. Be kind! Seed beads, Czech Glass, CZs - there are light options out there. You can have a mask that is adorned with the most gorgeous lanyards and still be light enough that your protective cover isn't struggling to be vigilant.
Children Are Impressionable, Let Them Know Staying Safe Is Important And Fun
Back to school! Lets motivate our kiddos to be the best and most creative fireflies they can be! We can begin at home. We can involve them in their mask. We can instruct them how to use it. How to stay clean. How to keep dirty fingers away from their face. And we can have them take charge on making their mask beautiful! Let them choose the beads and wire they like. Make them part of the craft. When you involve a child, especially a younger kid, in a project, they become invested. They want it to succeed because they succeed. Having your littles help you make a mask will empower them and give them confidence. It will spark a creative fire. They may even make their friends envious and want to make their masks more appealing. This is a great way to spark confidence and shut down the mentality that a mask is somehow harmful and detrimental. Masks are keeping us safe. They more we respect distance and wear our masks, the sooner we can retire them and be a healthy society!
Want to involve your children even more? While crafting your lanyards together, why not make a gift for somebody? If your child has a favorite teacher, a beaded lanyard is a great way to show them how much you appreciate their work. Your child is going to have fun creating something for the teacher they adore. Why give the teach an apple when you can surprise them with something more permanent and beautiful?
DIY Face Mask Lanyard Tutorial - Make Your Own Face Mask Necklace for Students and Kids
Need some supplies to get you going? We have themed beading mixes and kits. A kit is pretty much all you need to start making jewelry or lanyards. Inside each of our kits is enough beads and findings to finish a couple pieces of jewelry - or lots of jewelry, depending on the kit you purchase. If you have the basic tools (crimping pliers and cutters), a kit is all you need. Check out our Kids Beading Activity Kit for more details, if you want a child's design kit.
Kids Beading Activity Kit

A beading activity kit is a great way to share your passion and keep little ones busy during this time of social distancing and isolation. Children crave fun and educational opportunities to grow and blossom. Use this beading activity kit to show your youngest how to recognize colors and preschoolers how to count using beads. Show your grade school aged kids how to create and form beautiful patterns and your teens how to explore asymmetry and out of the box thinking.
Or, just keep a kit for yourself. We won't tell!
This jewelry making kit is a STEAM learning activity (Science, Technology, Engineering, Art, Math). Beading teaches kids both engineering and art in one fun project. Math, too - if you are teaching your kiddos how to count! If your child is a Girl Scout, this kit is a great way to work on a Jeweler Badge. Skill Building Badges can be done at home and are great ways to keep occupied during quarantine.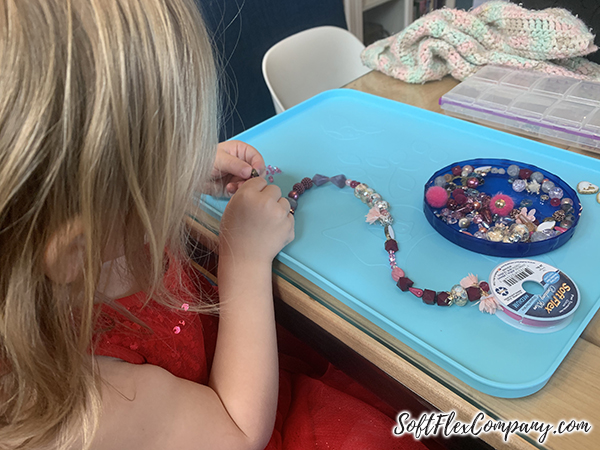 Note: This kit contains Stretch Magic. There are directions for using this product on the back of the package. We also have video tutorials in the video tab (click "Videos" above). Stretch Magic is easy to use for kids and beginners to complete a piece of jewelry. For added security, we recommend adding glue to your stretch cord knot. Special T Glue is excellent for use with Stretch Magic. This kit will require adult supervision and assistance for most children under the age of 12.
How to Make a Beaded Face Mask Chain Lanyard with Clasps
Kristen filmed a beaded face mask chain lanyard tutorial for her YouTube series Free Spirit Beading with Kristen Fagan. Since face mask wearing is a part of our "new normal", we might as well do what we beaders do best and accessorize it! She used a Czech Glass Mystery Bead Strand as the jumping off point for designing a beaded face mask chain to conveniently hold her mask when not in use.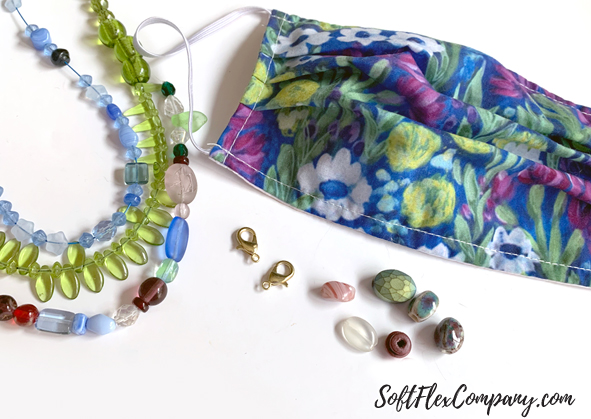 From Kristen:
The face mask I show in the video is one that is created with my original art printed on it - If interested, you can find my art printed face masks here: https://bit.ly/KristenFaganMasks
Soft Flex .019/Medium Beading Wire
Czech Glass Mystery Bead Strand
Czech Glass Classic Blue Bead Mix
Czech Glass Spice Market Bead Mix
2x2mm Crimp Tubes
Crimping Pliers
Cutters
Face Mask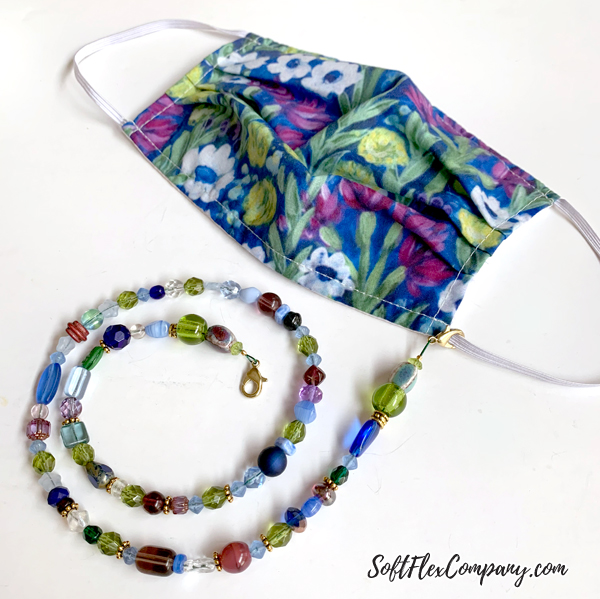 From Kristen:
Face masks are effective in preventing the spread of coronavirus (COVID-19) however, they are one more thing you have to remember to take with you when you walk out the door. That part has proved to be a little tough for me, I sometimes drive completely out of my community before realizing I forgot my mask and need to turn around. In addition, I already fumble around for my keys every time I'm in and out of the car and now I have to think about a mask too, especially if I'm taking it on an off between errands.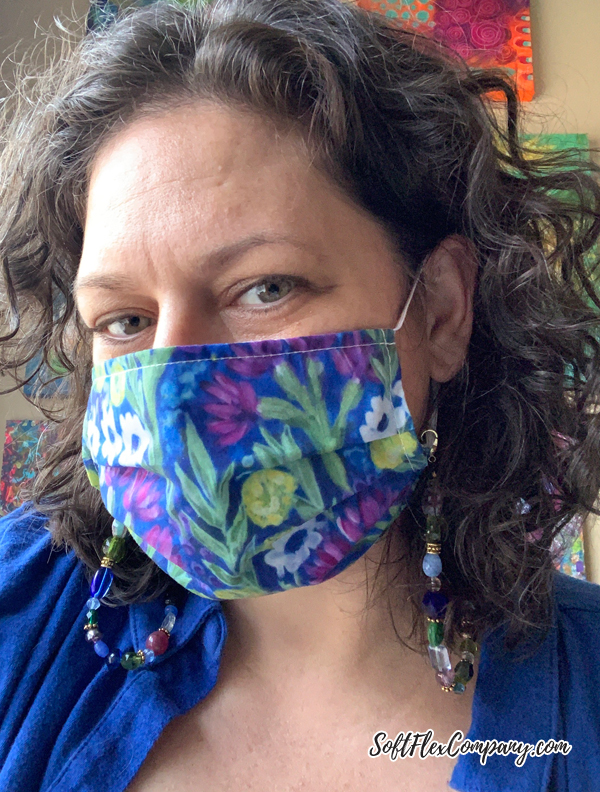 Face mask lanyard to the rescue! This beaded mask chain will be a life saver at work or when you are on the go. It can help to conveniently hold your mask when not in use. A face mask lanyards allows your face mask to hang around the neck so, you have no more lost or dropped masks. Some are as fashionable as they are functional, too, this beaded lanyard is certainly eye catching.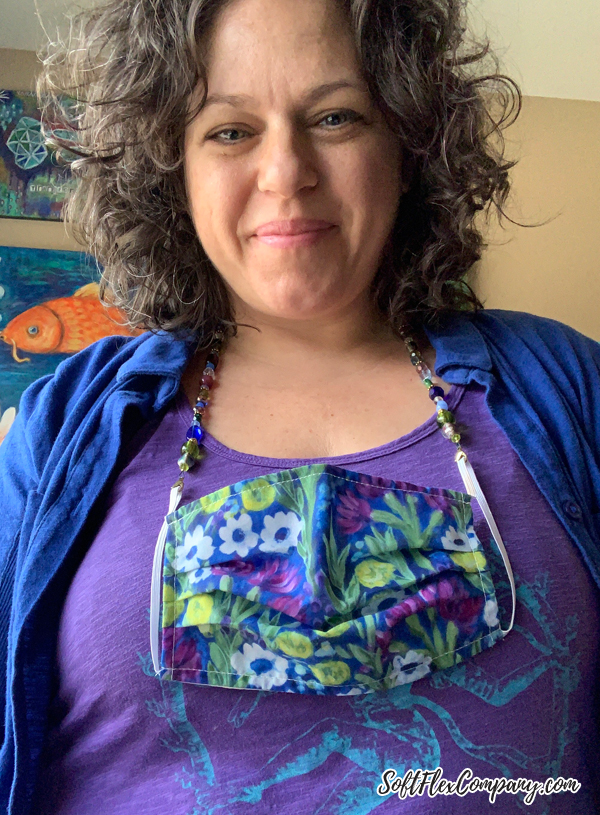 These beaded mask chains can be personalized based on your favorite colors or to match your mask or just up that bead soup and make a random design that will match anything like Kristen did here! This design is made with Czech Glass beads and strung on Soft Flex .019 Medium beading wire. The beaded chain holds the face mask with two secure 15mm lobster claw clasps. Soft Flex Beading Wire is the designer's choice in bead stringing wire. It is a lead-free beading wire for designers that demand strength and durability. Constructed of either 21 or 49 micro woven stainless steel wires. It is supple enough that it can be knotted and comes in a wide variety of colors. It is available in 3 diameters: .014, .019, and .024.
Diameter Usage:
.014 Fine - Ideal for soft materials, seed beads and fresh water pearls. Finish with 2x2mm crimps.
.019 Medium - Ideal all purpose wire. Great with glass, mineral, and metal beads. Finish with 2x2mm crimps.
.024 Heavy - Ideal for abrasive materials, large stones, lamp work and bracelets. Finish with 2x2mm or 2x3mm crimps.
When you're not wearing the mask but need it accessible, consider wearing the beaded chain like a necklace with the mask at back your neck. Connect the clasps together at the back to wear the beaded necklace by itself without the mask. I hope this inspires you to make your own face mask beaded chain lanyard and that you find it as helpful to use as Kristen does.
Easy DIY Face Mask Lanyard Tutorial
Boy. Wearing a face mask was a bit of a shock a couple of months ago. It was an odd 'new normal'. But now that we are adjusting to the situation, we are looking to make the best of it. Sara showed us how a lanyard could make a stylish accessory to an otherwise boring face mask. A mask lanyard is a great addition to your non-medical PPE. It has a bunch of useful functions. Mask lanyards can be used to keep your mask off of contaminated surfaces. You can use your lanyards to fit your mask, rather than dirty fingers touching the mask. Lanyards are great for the kiddos that need to keep track of their masks, especially if they are going back to a physical school setting. Lanyards are handy and stylish and there have even been doctors recommending their use.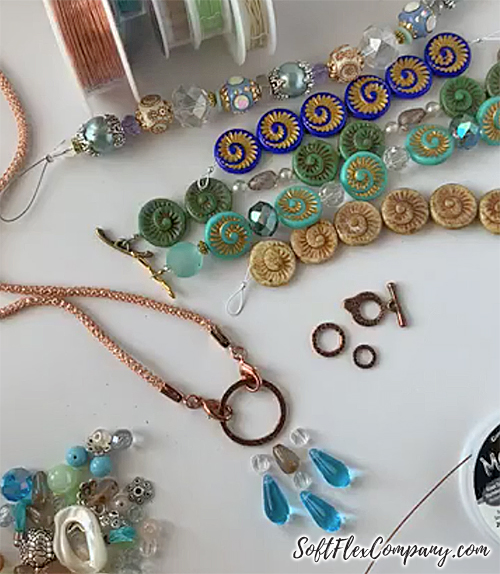 Sara showed us what you could do with a mask lanyard when you are not in a situation where the mask is necessary. She has created a lanyard, using SilverSilk, that attaches to an end with lobster clasps. If she wants to attach her mask, she simply clips it on with the clasps. She can then remove the mask as needed and change the lanyard into something else as useful or a stunning piece of jewelry. When the day comes when we can retire our masks, you can use your lanyard as an eyeglass holder, leash for your workplace badge or a stunning necklace. Don't settle for a boring face mask. Add some fashion with a mask lanyard that catches eyes and has a purpose.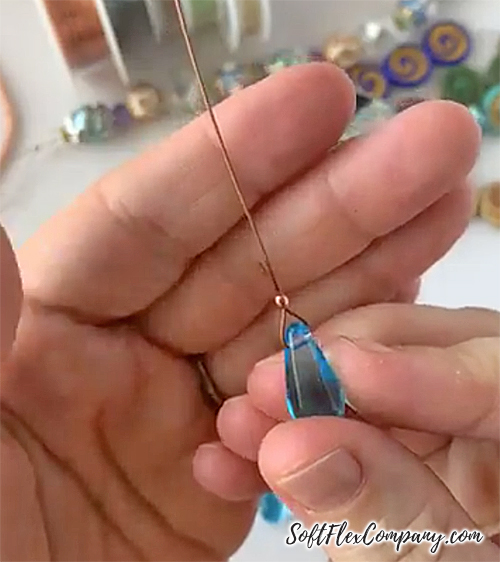 Soft Flex .019/Medium Beading Wire - Copper
Serenity Shore Bead Mix (Sold Out)
SilverSilk Capture Chain with Findings - Shimmering Copper
15mm Lobster Claw
TierraCast Ring Connector - Antique Copper
2x2mm Crimp Tubes - Copper
Magical Crimping Pliers
Cutters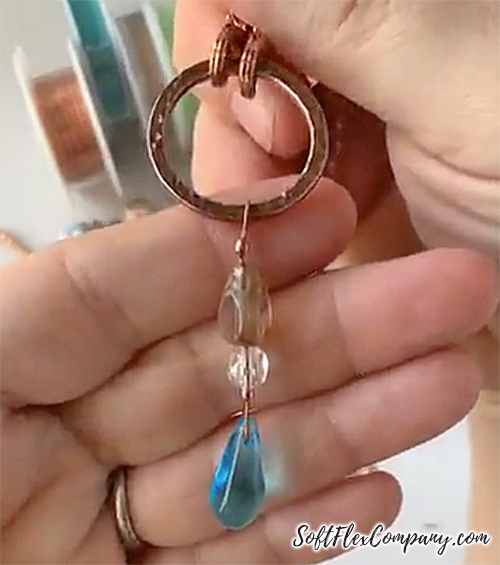 Sara wanted to make a necklace out of her mask lanyard. To do this, all she needed was some Soft Flex Beading Wire., some beads, crimps and a connector. Sara choose to use a TierraCast Hammertone Ring Connector as a focal. She strung some beads to it so it became an elegant pendant. This is an extremely easy design to make and finish. If you know how to crimp, this can be your new mask lanyard! If course, you can make your own stunning pendant your favorite wire and beads.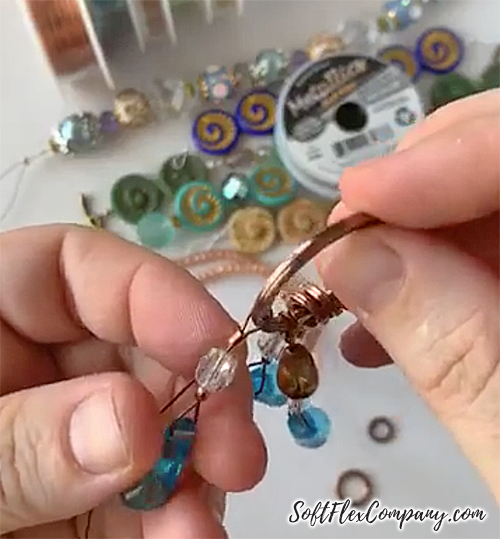 Crimp a small strand of beading wire onto your connector and now you have a dangle. Add as many colorful beads as you please. The are no rules to handmade jewelry. Make a pendant that speaks to you. That is the best part of DIY jewelry, you can make something you think is amazing.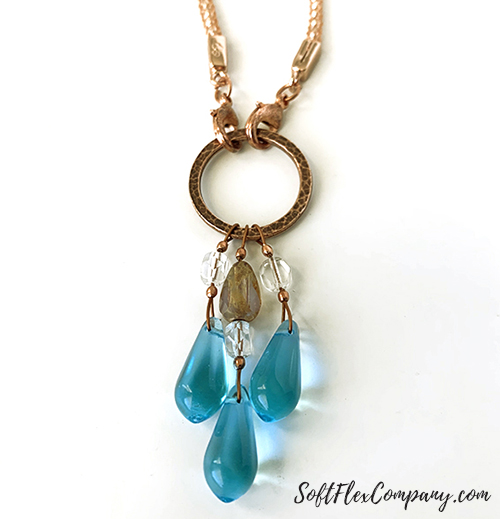 You can use stylish Capture Chain from SilverSilk to create your lanyard lengths. You can also use beading wire. Soft Flex. is a great option. Add some floating beads and make an illusion necklace that won't be too heavy on your face mask. Or, play with the flexibility of our beading wire. You can macrame or braid your wire and then finish with lobster clasps so you can take it on and off your mask.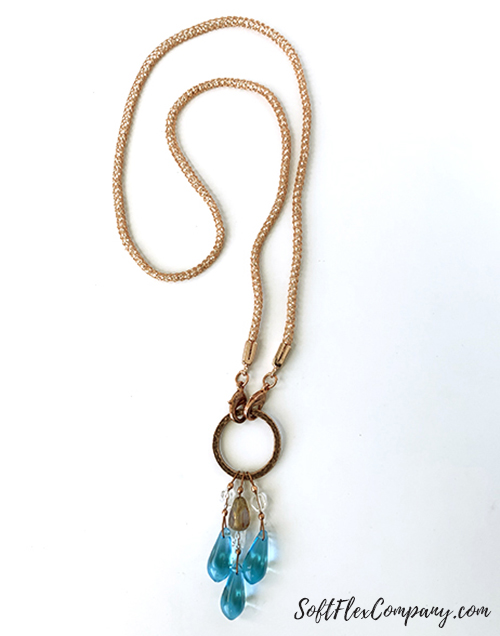 When the dawn arrives and we no longer need to leave home with a mask. When we are all back to normal. When we are all enjoying movies and eating in establishments without fear of spreading germs and virus. This lanyard will make a great necklace. Pass it on as an heirloom and give your little ones a little piece of personal history. They will cherish your fashion sense and design skill. And they will think you were so brave to face each day when the world was uncertain!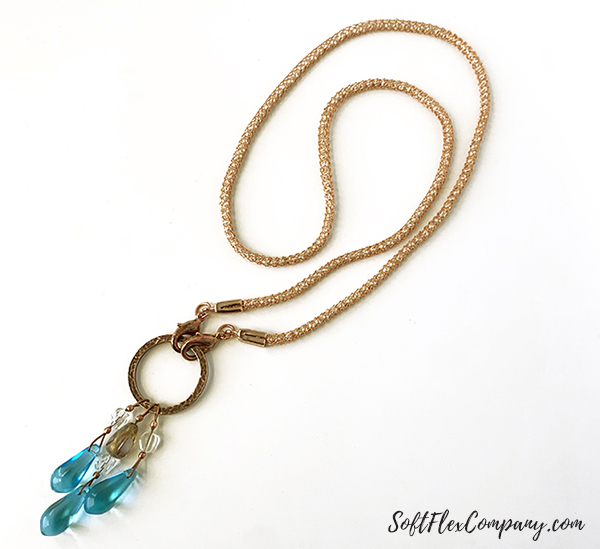 Join our Facebook group – VIB. Stay in the know. Stay up to date. From our bead shows to our video shows and sales, you can stay in touch with us. The community is full of artistic and helpful beaders and crafty people. Inspire and be inspired. Share your pictures and get the beading bug from others!
Visit the Soft Flex Company YouTube Channel!
---
Blog contributor Thomas Soles loves Jazz Age writers and crunchy french fries. His favorite gemstones are Lapis and Pietersite. His favorite hobby is day dreaming. And his favorite mustache is Freddie Mercury's. As you can see, he has a healthy (or possibly unhealthy) sense of humor. You can write to him at Thomas@SoftFlexCompany.com