Knitted Bangle With Sea Glass And Pearls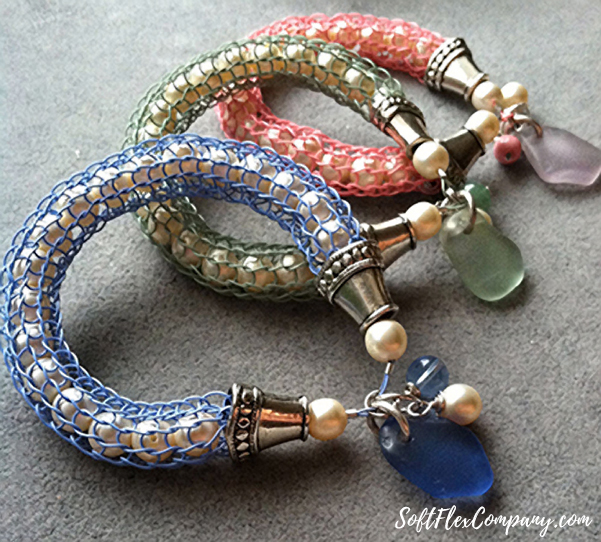 Designer Kristen Fagan

Materials
Soft Flex Beading Wire, .019 Diameter
6mm Pearl Beads - 21 pcs
Cones - 2 pcs
2x2mm Sterling Silver Crimp Tubes - 2 pcs
5mm Split Ring - 1 pc
Sea Glass Charm - 1 pc
Czech Glass Bead - 1 pc

Tools
5 Pin Knitting Spool with Stylus
Crimping Pliers
Cutters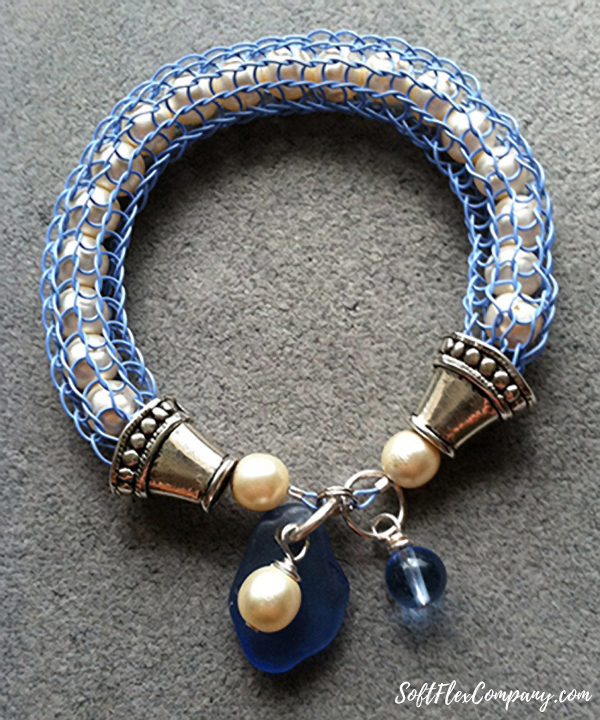 Tanzanite Color Beading Wire Option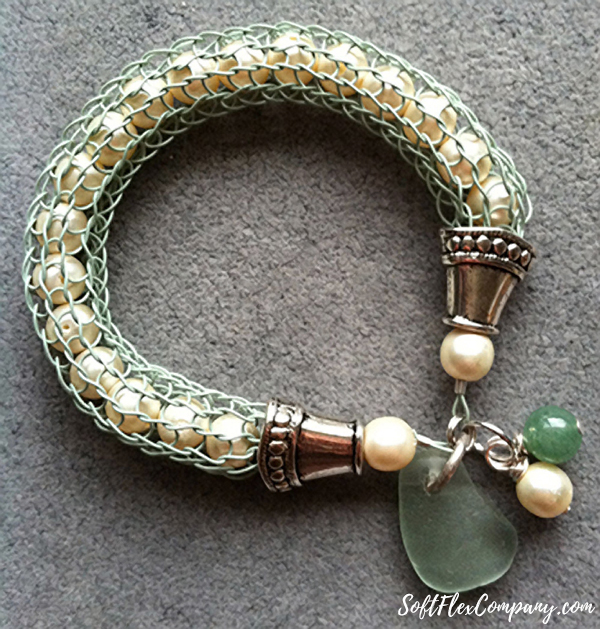 Fluorite Color Beading Wire Option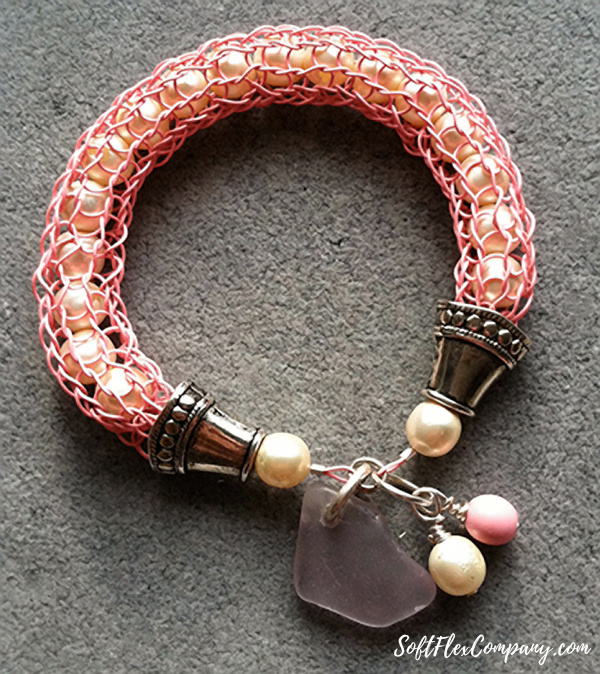 Pink Rhodochrosite Color Beading Wire Option


Instructions

Step 1: Using Soft Flex .019 beading wire and the 5-pin knitting spool knit approximately 6" length of knitted wire directly from your wire spool using Style 1 in the instructions for How to use the Knitting Spool (this is also the basic instructions that come with each spool). Leave 2" of wire at the beginning of the knitted wire and once your length is complete, cut the wire from the spool, leaving a 2" tail on the other side.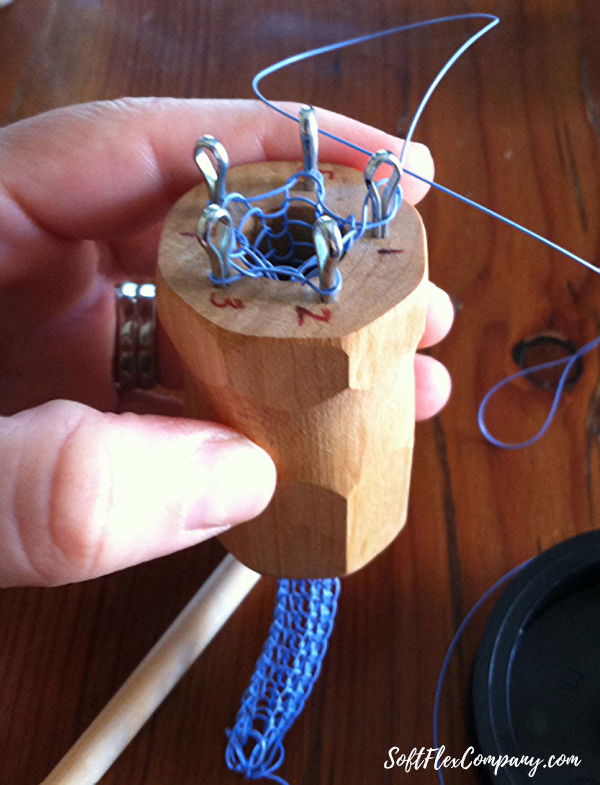 Step 2: Once your knitted wire is approximately 6" in length, remove the knitted wire from the spool. One by one, drop (18) 6mm glass pearl beads inside the knitted wire cage unstrung.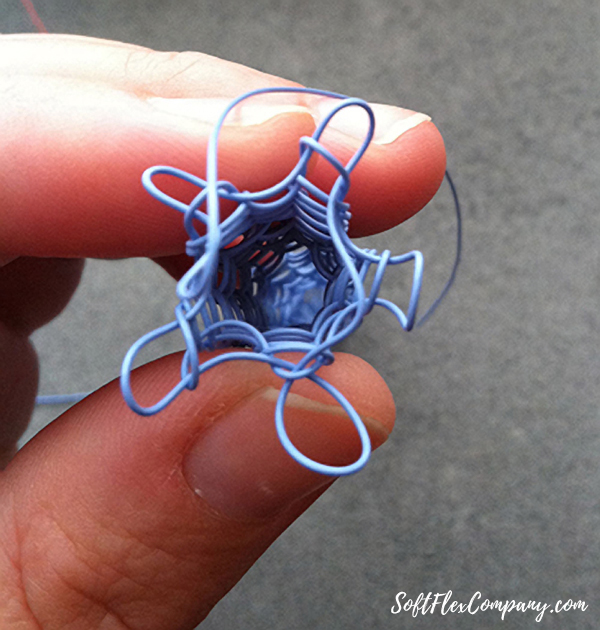 Step 3: Weave your wire tail through the knit loops to close it up. I go through the loops a few times to make sure the end is secure. You will now have a closed knit wire cage with a one strand wire tail coming out each end.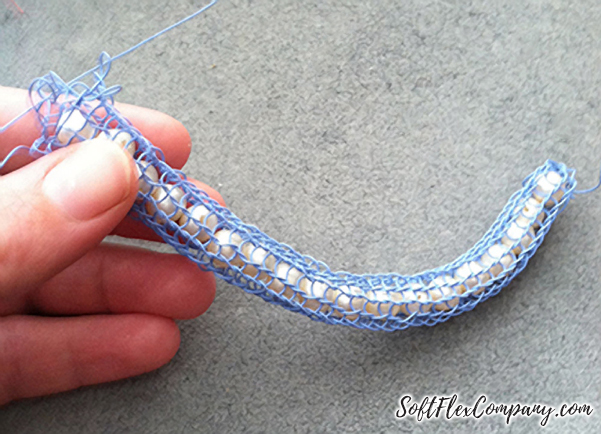 Step 4: To finish the wire ends, string a pewter cone on each side. Pull the wire tail through the cone and string one 6mm pearl bead on top of the cone.

Step 5: Since the finished design will stretch, you do not need a clasp. Instead, simply crimp each end of the knitted wire tails to a 5mm silver split ring using 2x2mm sterling silver crimp tubes. Click here for crimping instructions.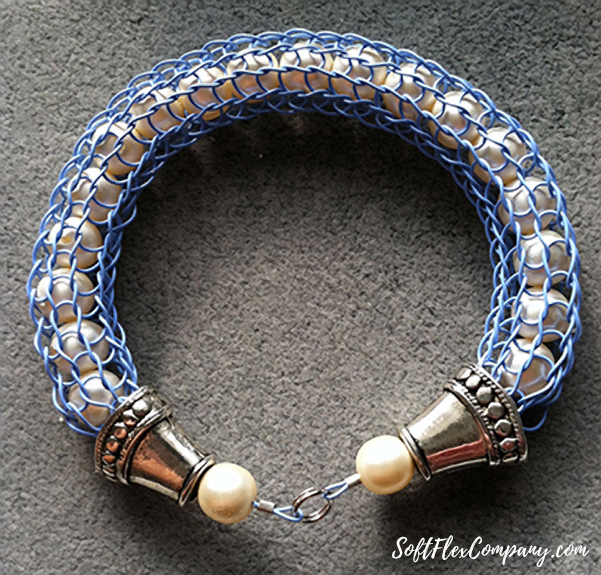 Step 6: Lastly, I added a sea glass charm with wire wrapped pearl bead and matching Czech glass bead from my bead stash to create a pretty dangle in the center of the design. The finished bangle stretches up to 8" and then springs back for perfect to fit over any wrist!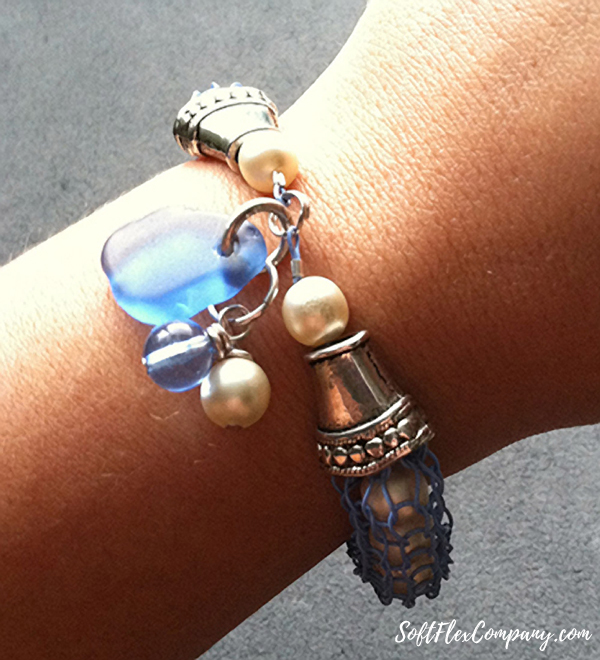 Projects not intended for children under the age of 13. The information on this instruction sheet is presented in good faith, but no warranty is given, nor results guaranteed. Soft Flex® Company disclaims all liability from any injury to anyone undertaking the construction of this project as a result of improper safety precautions.

Join our Facebook group – VIB. Stay in the know. Stay up to date. From our bead shows to our video shows and sales, you can stay in touch with us. The community is full of artistic and helpful beaders and crafty people. Inspire and be inspired. Share your pictures and get the beading bug from others!

Visit the Soft Flex Company YouTube Channel!
---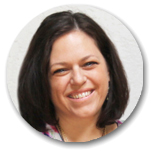 Kristen Fagan is a Website Graphic Designer and Jewelry Making Educator for Soft Flex® Company. She is the co-author of Seed Bead Revolution, an artist and creativity guide. She lives in Arizona with her husband, their two sons and two dogs. When she's not painting, drawing or beading, she enjoys reading, yoga, exploring the outdoors and traveling. Her favorite stones are Turquoise, and Quartz and she can't bead without Bead Stoppers. Contact her at [email protected] or visit her Website | Facebook | Instagram