The holiday season is here! Now is a great time to start making handmade jewelry and seasonal crafts for your loved ones. The good thing about DIY jewelry is that you can make high quality designs for very little money. If you have crimping pliers and cutters, you are off to a good start. Add some professional beading wire and crimps and you can make gallery quality jewelry for pennies. We have some free project ideas for you. Make timeless jewelry that will look great all year round! You can even involve your children or grandchildren and nurture a passion for creativity. Beading is a great way to spark a young mind to pursue great things! Let's make merry and get inspired!
Last week, we took part in the latest edition of the Great Bead Extravaganza. Fall Fest 2021 was an amazing success! We hope you were able to join us live and win some fantastic giveaways or find some delicious sales! If you caught any of the jewelry demos, you most certainly came away from the show richer for the experience. Today, we are following up on our jewelry making demo for the big bead show.
Kristen and Sara had some exciting ideas. Sara showed us how to use a knitting spool to make a necklace. And Kristen showed us how to make a multi-strand necklace. Did you know you can knit, braid, knot and weave our wire? Our beading wire is constructed out of marine quality stainless steel, but it drapes like silk and knots as easy as thread! On Wednesday, we had a beading party with Danielle Wickes of John Bead. Danielle is a talented and innovative jewelry designer. You can find her classes on Michael's website. Learn something new and amazing with Danielle! We explored Sam's Bead Shop. Sam Siegel is a young business owner with big ideas. We checked out his video featuring brio drops and Soft Flex Beading Wire. We watched Brittany Chavers open one of Sam's Bead Boxes and make a multi-strand bracelet. Finally, we caught up with an adventurous design video from Andrew Thornton of Allegory Gallery. Andrew has a unique idea you will love! Lots of great ideas this week. Make something amazing for your loved ones this Christmas!
12x15mm Assorted Colors Ceramic Barrels, Approx. 50 Beads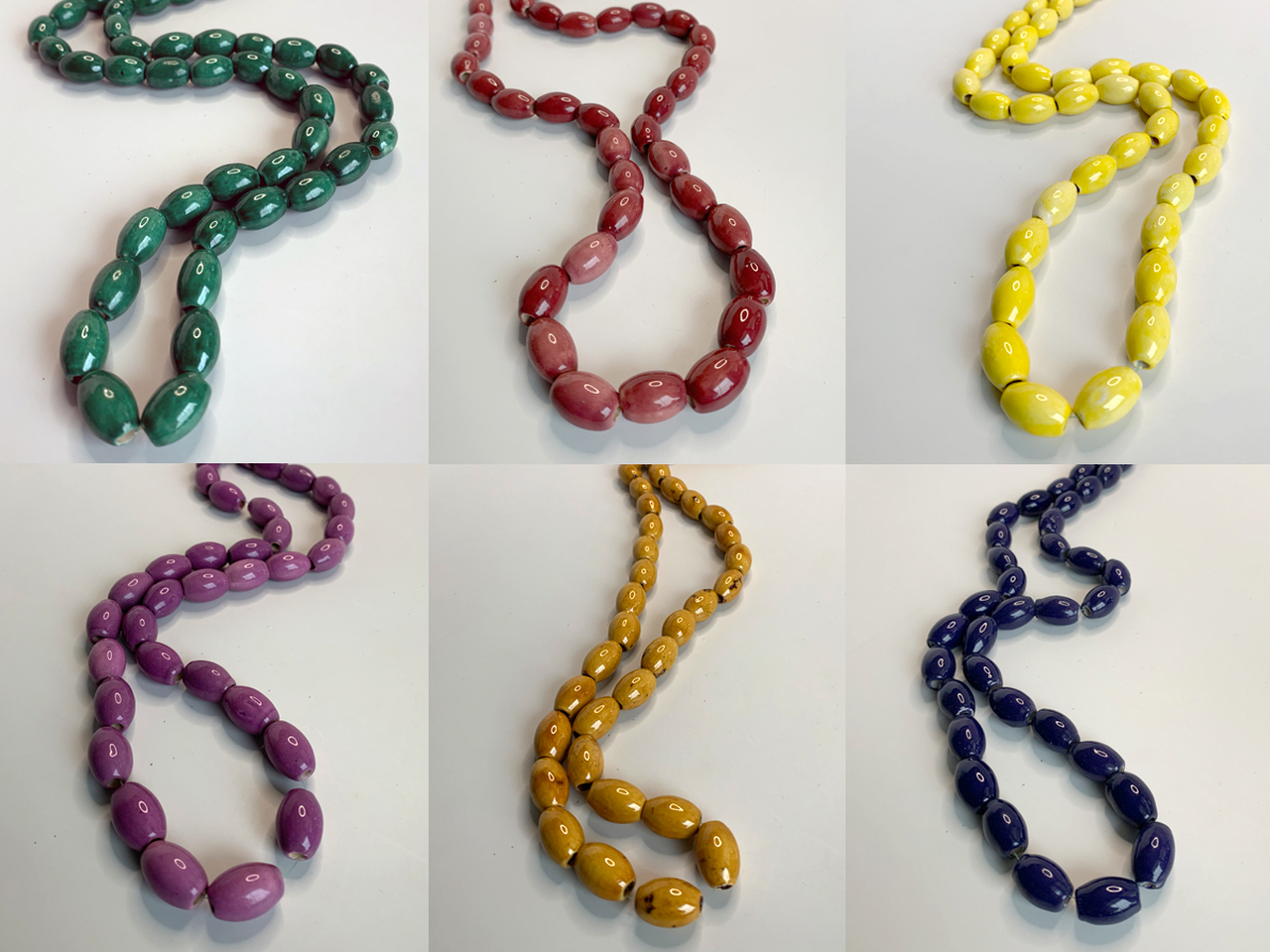 These ceramic beads have been produced for over 20 years near the ancient city of Cusco, Peru by the Romero family business. The Romero's have dedicated themselves to artisan quality artistic and ornamental ceramics. They have also explored a fun side with their collection of Teeny Tiny beads. They have created thousands of stunning designs and playful bead mixes. Add some exciting ceramics to your beading supplies.
Warning: This product may contain lead and is not intended for sale or use by children 12 years of age or younger.
Jewelry Making Videos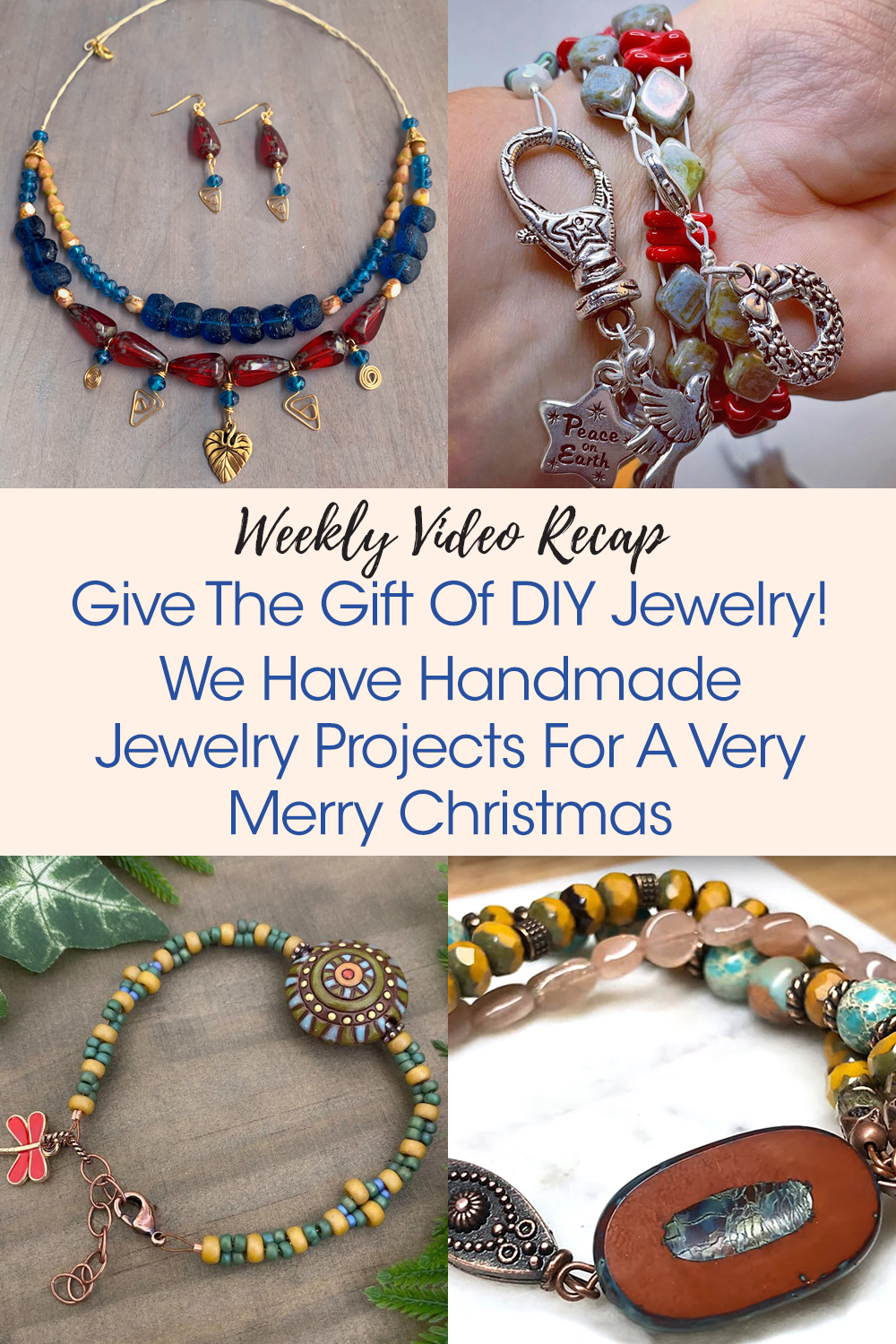 Follow Us On TikTok And Instagram - Learn How To Make Jewelry In Just Minutes
Follow us on the web! Our social media sites are loaded with instructional jewelry making videos YouTube and Facebook have a ton of long form videos that will teach you how to make jewelry. You will find in depth discussions on how to use your tools and finish your jewelry on those channels. Our Instagram page and SoftFlexWire@TikTok will teach you how to make jewelry in under a minute. Smash that learning curve and learn a new technique at lightning speed. Instagram Reels and TikTok are great tools for learning something new or finding quick inspiration. If your creativity needs a quick cup of coffee, make sure you visit us for a much needed jolt of crafting caffeine!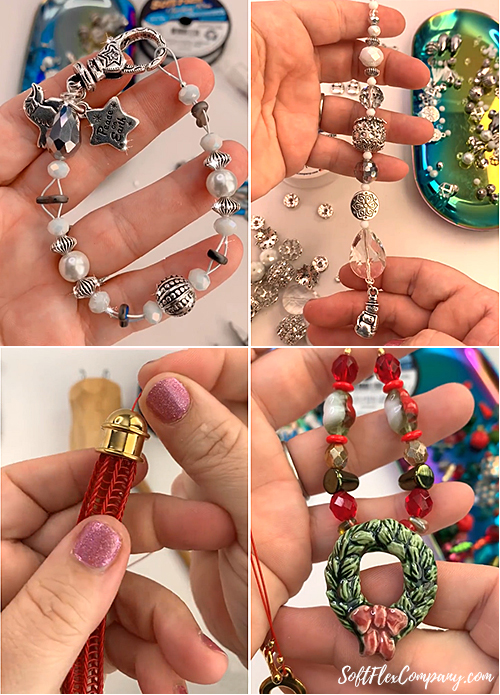 Check out our 30 second jewelry tutorials on Soft Flex Company's Instagram Reels! Master a new technique in minutes. These videos move quick but are easy to follow. You will get a sense of how to use your tools and finish your crimps securely. If you need more assistance, make sure you check out our YouTube catalog for deeper dives into jewelry making education. Stand on the shoulders of giants and enhance your jewelry making knowledge in a flash!
Got a minute? Follow us on the Soft Flex TikTok Page! Learn how to use a knitting spool in minutes! Sara shows you how to knit the wire around the pegs and then draw it down. This is a great quickie if you need the basics. You can always follow up with more in depth videos on our YouTube channel if you need extra help. Sara uses Soft Flex Beading Wire to make a bracelet. But, you can also make jewelry with Soft Flex Craft Wire on the spool. There are so many possibilities!
Soft Flex Jewelry Making Demonstration For The Great Bead Extravaganza Fall Fest 2021
The Great Bead Extravaganza is the world's biggest virtual bead show. The exhibitors that take part in this epic bead show have hundreds of years of bead show experience between them. They know how a big bead show feels. They know how to provide deep discounts on sales. And they know how to make amazing jewelry. This show is your chance to visit a bustling and busy bead show without leaving your couch. Learn a new technique or meet a new vendor while dressed in your most comfy pajamas. We won't tell!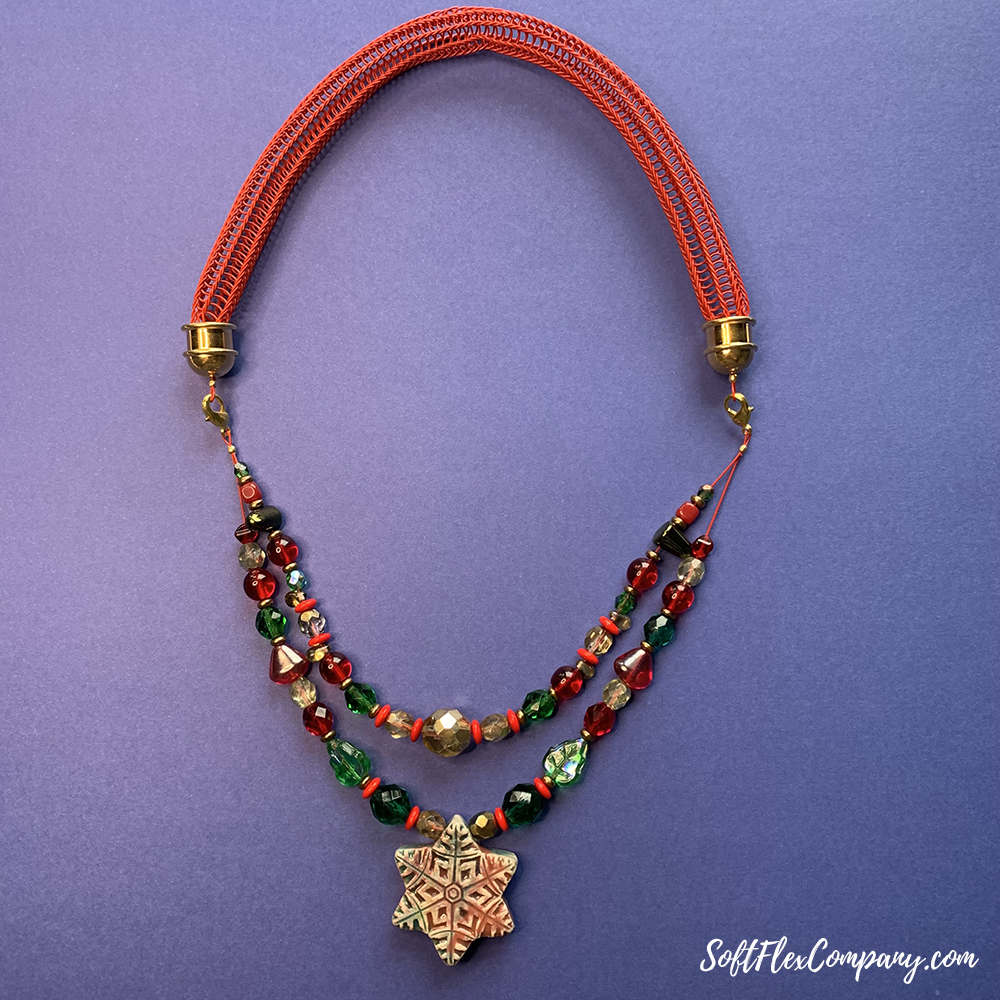 For the Fall Fest 2021 edition of the world's biggest online bead show, Sara showed us how to use a knitting spool. If you have never used a knitting spool from our website, it is probably something that will bring a bit of nostalgia to you. The knitting spools we carry are basically the same as the knitting spool you might have had when you were a kid. Maybe your grandfather made you a wooden spool with nails at the top, for pegs. Maybe you had a store bought one. You likely designed a cute little knitted piece with thread. This is the same idea, but with a contemporary update. You can use Soft Flex Craft Wire or beading wire and make stunning jewelry.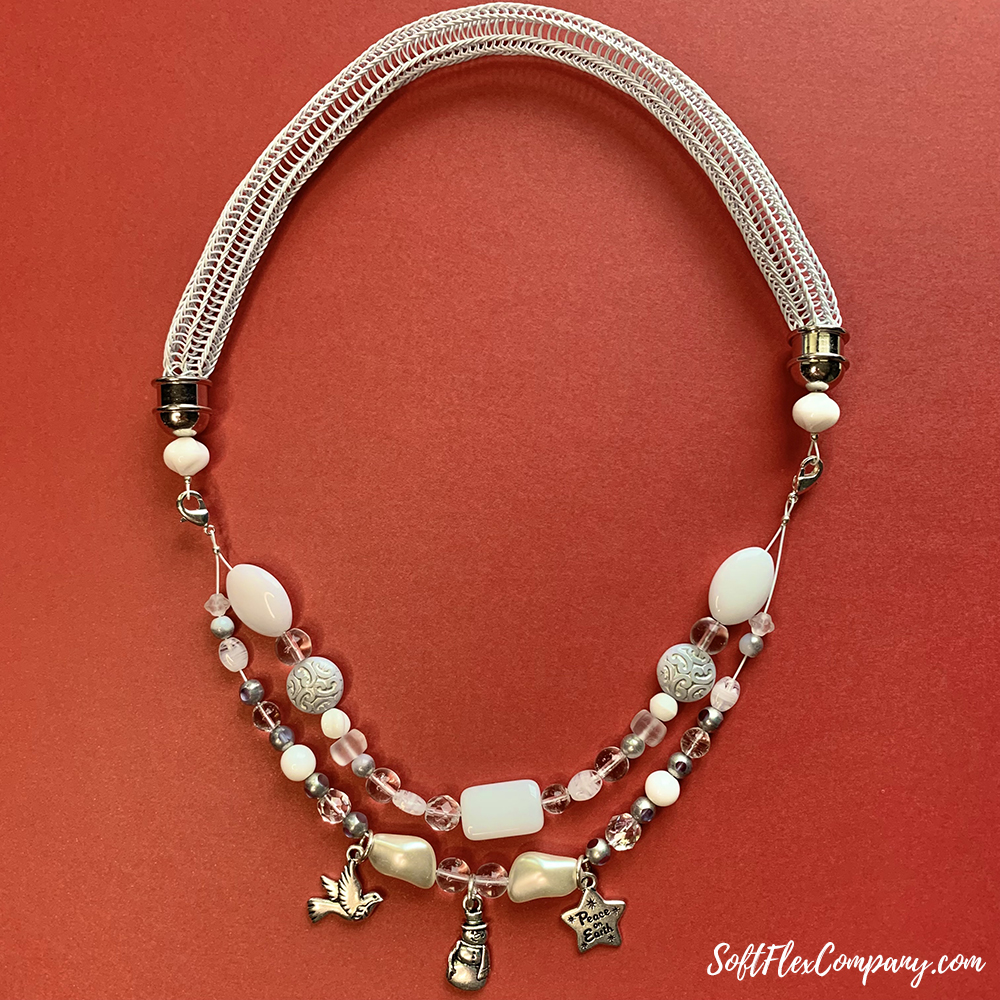 Kristen showed us how to make a multi-strand necklace. You can bead the entire design or you can expose the wire, like she did. If you have exposed wire, using a complementary color is a great way to make the wire part of the design. You can also braid or twist the wire to give it a fun textured look. Kristen also shows you how to make simple handmade charms with Craft Wire. This design was a lot of fun!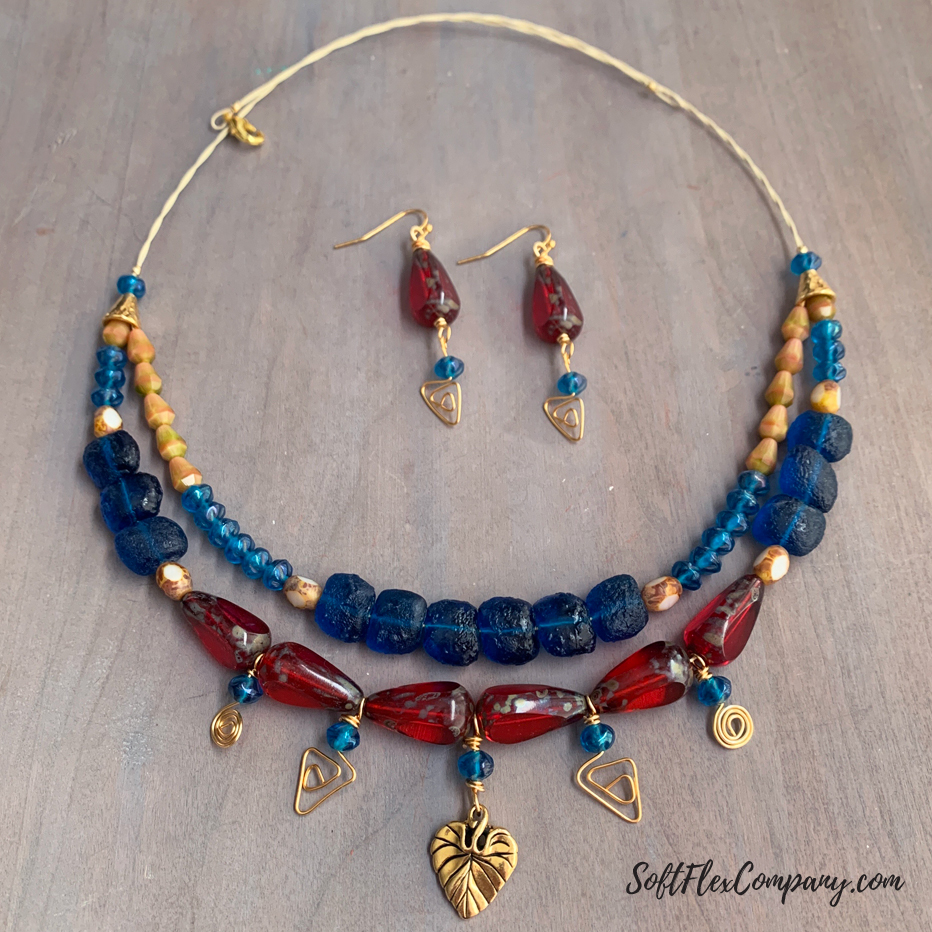 Live Beading Party Featuring Danielle Wickes of John Bead
We celebrated the joy of jewelry making with Danielle Wickes. This was our second beading party with her. She is an incredible designer and we love to get inspired by her talent and techniques. You can find out more about Danielle in this blog - Meet Jewelry Designer Danielle Wickes. Danielle is a content creator for John Bead. She is featured in John Bead blogs and is also a teacher for Michael's, you can find her weekly classes on Michael's website. If you want to make something special this Christmas, you can definitely find an inspirational class or idea from Danielle.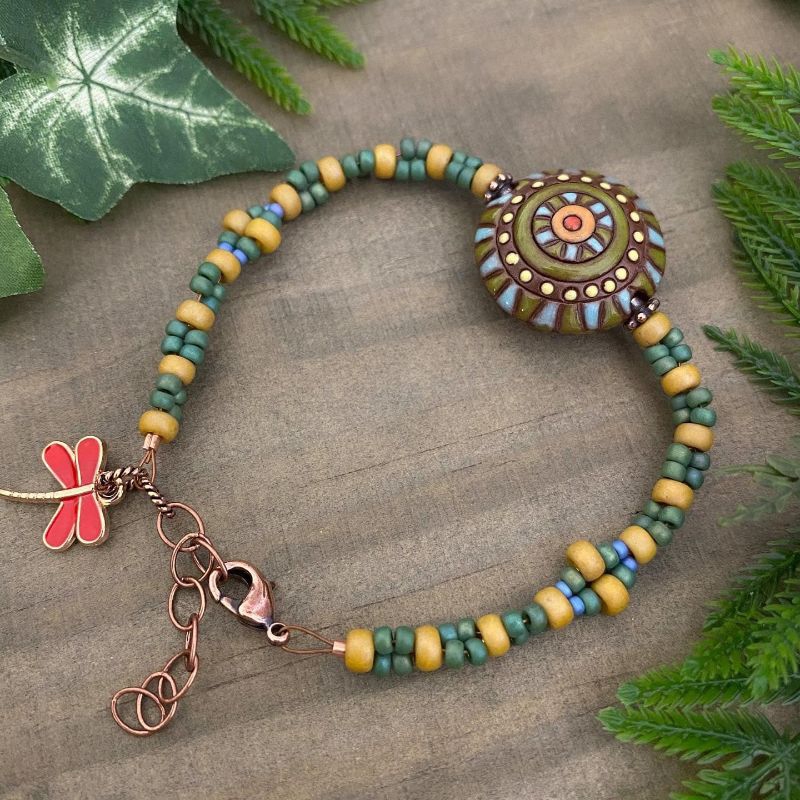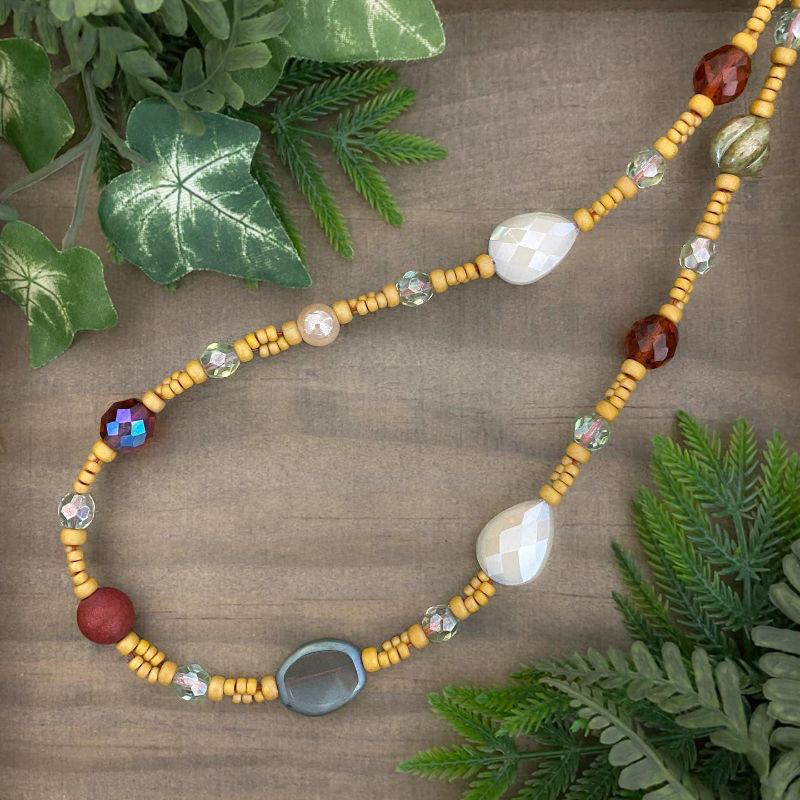 Danielle showed us a fun two strand stringing technique with Soft Flex Beading Wire, charms, and beads. If you have two hole beads at home, this is a fun project for you. You can make your design a holiday inspired piece or you can make a timeless piece of jewelry that will look amazing all year long. Danielle opted for designs that would look great any time.
Danielle's links:
Danielle Wickes Jewelry
John Bead
Etsy
Blog
Michaels.com/classes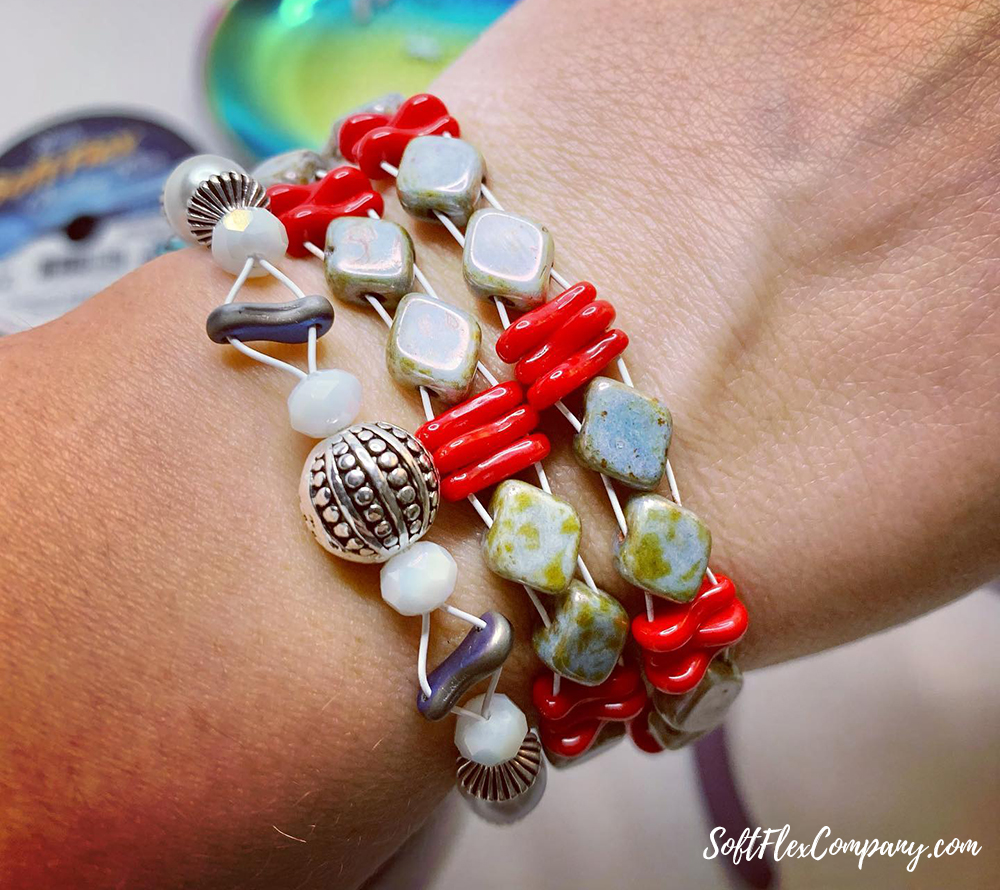 Sara has some splendidly jolly designs. Sara used charms that are perfect for Christmas. Use as many charms or as few as you wish. Go with traditional Christmas reds and greens or try a blue and white or blue and silver for stylish Hanukkah jewelry. Festive beads are easy to find and you can make the perfect jewelry for everybody on your holiday list.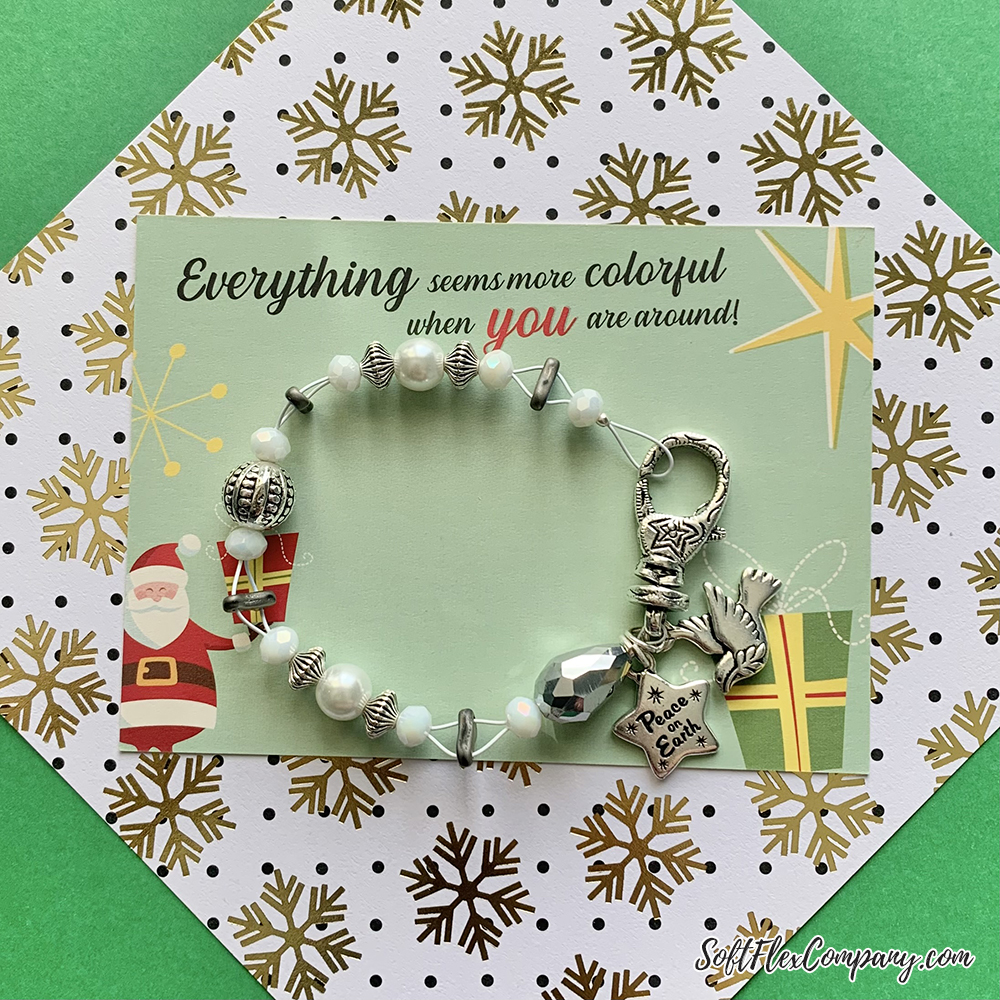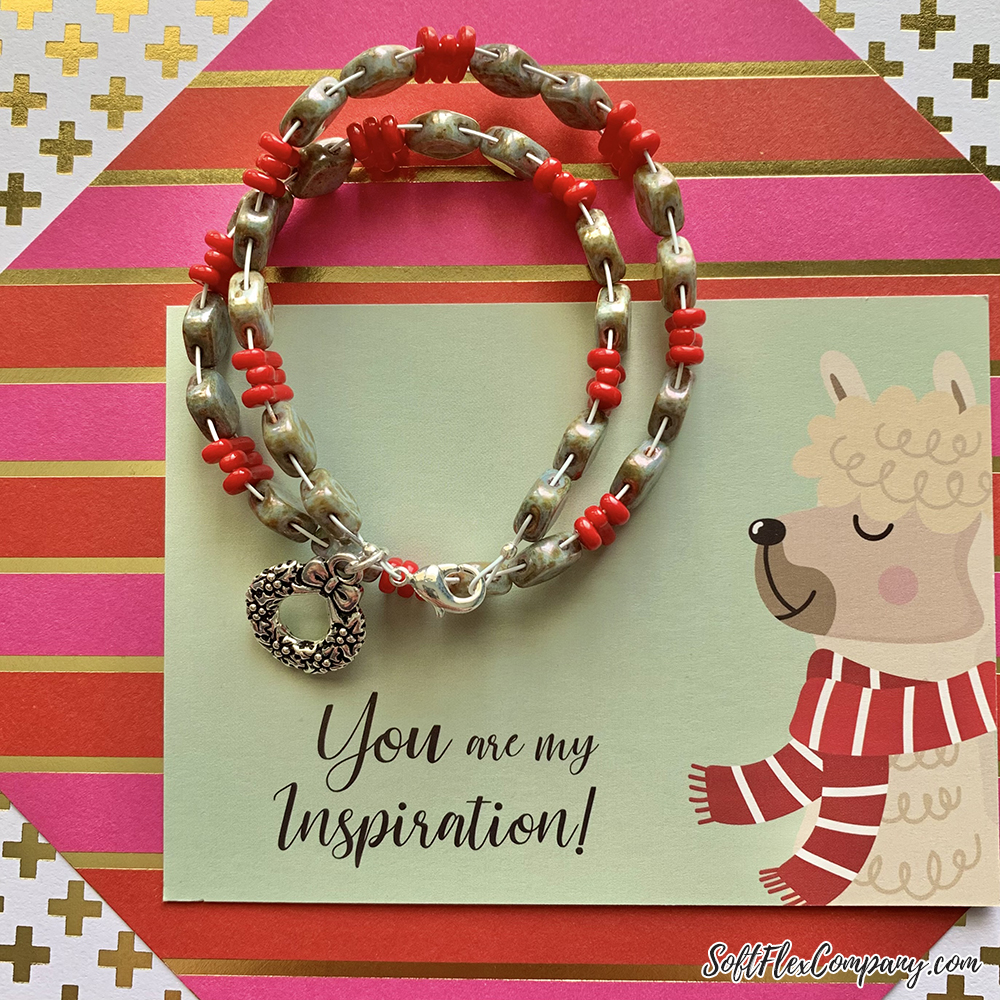 Sam's Bead Shop: Super Easy Soft Flex Brio Drop Necklace
Sam Siegel is the owner of Sam's Bead Shop. You can find free weekly beading classes on his site. You can find some gorgeous gemstones and beads. You can also find beading supplies, like Soft Flex wire. If you want to get a sweet deal on jewelry making supplies, make sure you visit his site and support his small business. If you want to get inspired by Sam's collection, subscribe to his Monthly Bead Box. Each box is loaded with curated beads and colors. You can also gift a box. Give the gift of beading this Christmas!
Sam showed us how to make a stunning necklace with some of his new inventory. He recently acquired some pressed pear brios. These beautiful beads were too lovely to pass up. If you want some ideas on how to showcase the briolettes in your beading supplies, check out this video.
Sam's links:
Sam's Bead Shop
Mailing List
Facebook Group
Gem Chat Group
YouTube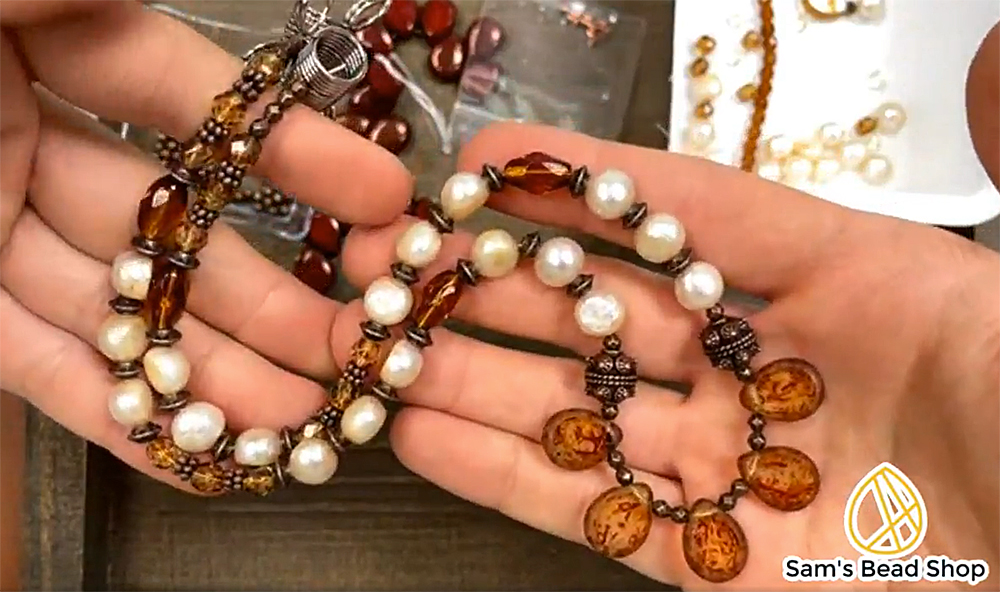 Multi Strand Bracelet Tutorial Featuring Sam's Bead Box And Soft Flex Beading Wire
Want to know what you will find in one of Sam's Bead Boxes? Brittany Chavers unboxed one of his subscription boxes and made some jewelry. Check out this fun, Arizona themed box from Sam's Bead Shop. Brittany made a multi strand bracelet with her box. What will you make with yours? Sign up for Sam's Monthly Bead Box and use Brittany's code TURQUOISE to receive $5 off your first box! The box is $39/month, plus shipping, and they ship Internationally.

Brittany used copper color Soft Flex Beading Wire from our Metallcs line. This wire is perfect for stringing turquoise and jewelry inspired by the American Southwest. It is also fabulous from making jewelry with old findings. Have a skeleton key that grandma gave you? Turn that key into a stunning pendant and string it with our copper color!
Brittany's links:
Facebook Bead Group
YouTube
Facebook
Instagram
Turquoise.Street Instagram
Etsy
DashingDeStash Etsy
Twitter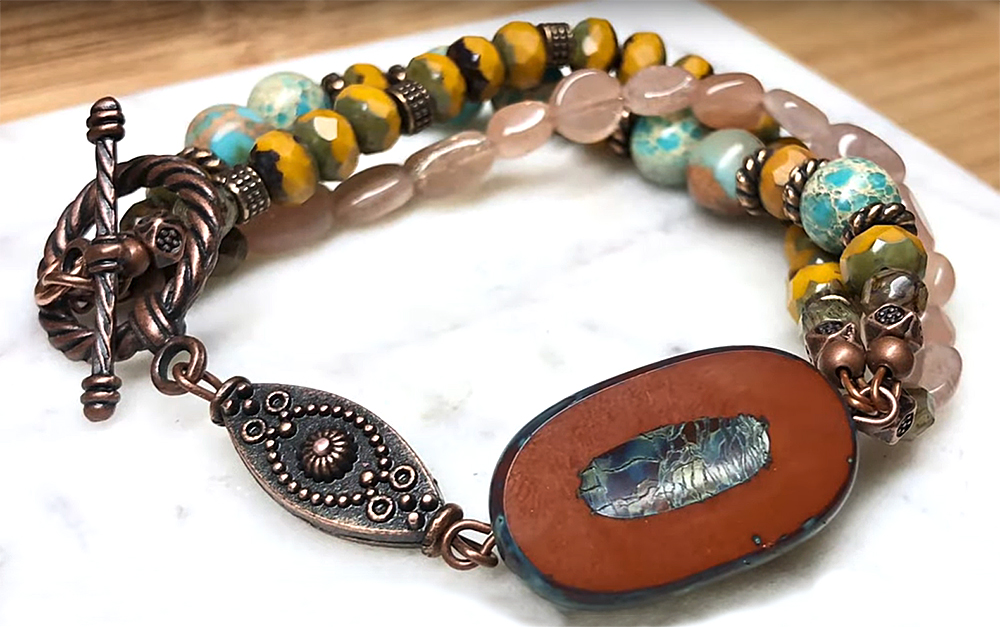 How To Make A Painted Paper Cloud Necklace From Allegory Gallery
Andrew Thornton, co-owner of Allegory Gallery, is also one of our previous beading party guests. In fact, Andrew was our first beading party friend. Amazing things happened when we collaborated with Andrew. After the party, we got to talking about how much we missed bead shows. This was when the pandemic first started crossing the globe. We missed our friends. We missed the fun. We longed for an experience that was safe and did not require being within somebody's social distance bubble. From this conversation, a spark was born. The discussion turned into the foundation for the Great Bead Extravaganza. We truly value Andrew's ideas and creativity.
Andrew had an incredible idea for a necklace. He was not sure if it would work. But the thought of creating this necklace really interested him. For this project, he tried painting Soft Flex wire and used his painted wire with a painted piece of paper. We love it when an artisan tries an adventurous project! The finished piece looks fabulous. But wow! So much out of the box creativity. Don't be afraid to try something new. Failure is a learning experience and you might figure out a technique that nobody has ever used.
Andrew's links:
Allegory Gallery
Facebook page
Design Challenge Facebook group
Inspired by Reading Book Club
Allegory Gallery Interviews
Etsy
Twitter
Instagram
YouTube
Blog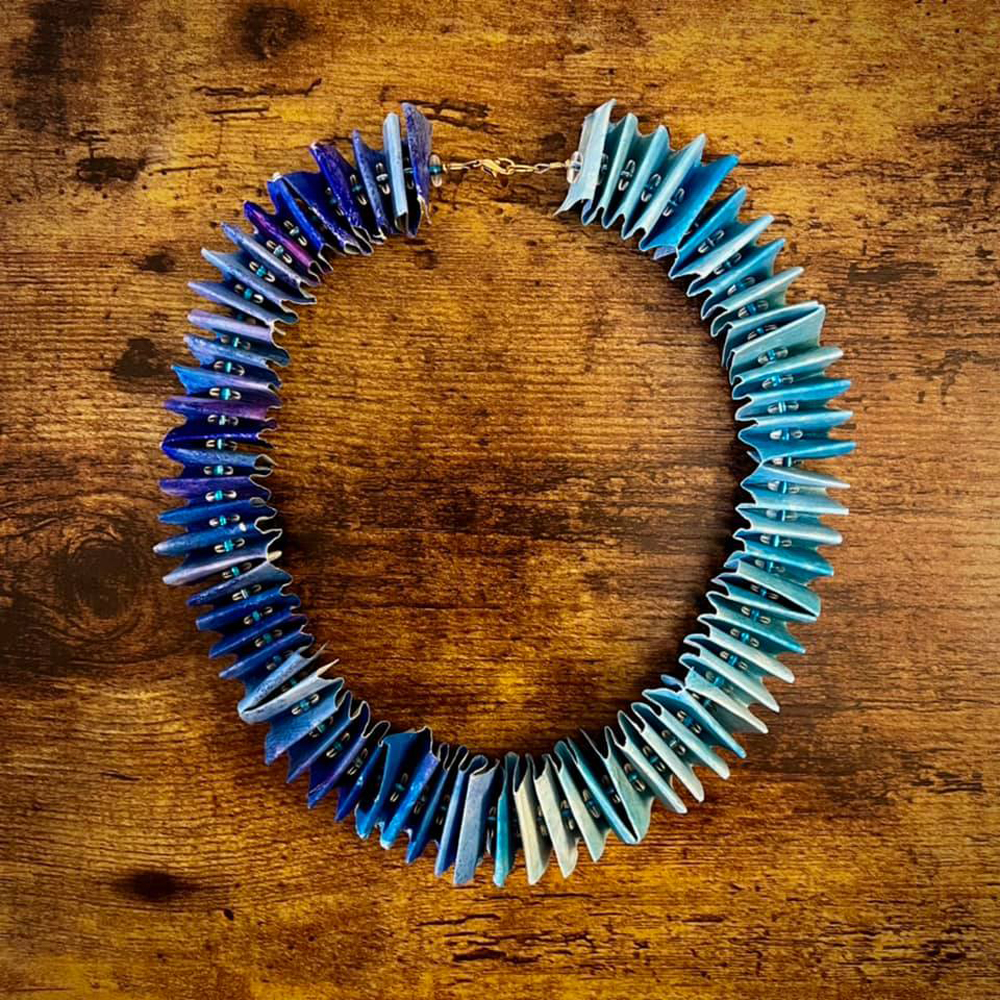 Join our Facebook group – VIB. Stay in the know. Stay up to date. From our bead shows to our video shows and sales, you can stay in touch with us. The community is full of artistic and helpful beaders and crafty people. Inspire and be inspired. Share your pictures and get the beading bug from others!
Visit the Soft Flex Company YouTube Channel!
---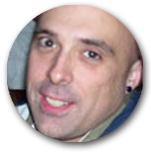 Blog contributor Thomas Soles loves Jazz Age writers and crunchy french fries. His favorite gemstones are Lapis and Pietersite. His favorite hobby is day dreaming. And his favorite mustache is Freddie Mercury's. As you can see, he has a healthy (or possibly unhealthy) sense of humor. You can write to him at Thomas@SoftFlexCompany.com