Necklaces composed of multiple strands of beads may seem complicated, but are actually quite easy to make with a little extra time and care. A 3-strand necklace design is an excellent time to put a Soft Flex Trios Beading Wire Pack to work! Trios combine three flexible beading wire colors that look pleasing together and make a unique color palette. Trios Color Wire Sets are comprised of three 10 foot spools of Soft Flex .019 (Medium), the wire is constructed of 49 micro woven stainless steel wires. Trios allow you to effortlessly apply color theory to your next design.

How to Make a 3 Tier Multi-Strand Illusion Beaded Necklace
This week on Free Spirit Beading with Kristen Fagan, I will show you how to create your own three tiered multi-strand beaded necklace in a floating illusion style. Illusion or floating necklace designs are accomplished when the beads appear to float on the beading wire. You do this by using crimps and colorful Soft Flex bead stringing wire.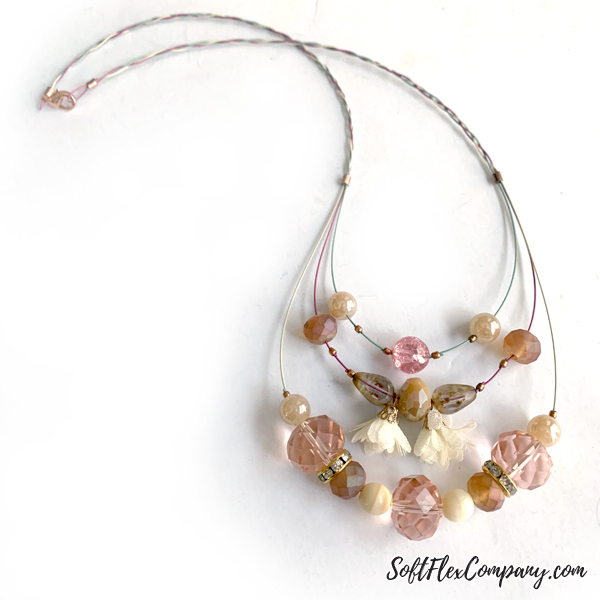 Supplies:
La Fleur Trios Beading Wire Pack
Lobster Claw Clasp in Copper
2x2mm Crimp Tubes in Copper
3x3mm Crimp Tubes in Copper
Using the soft color palette of our newest Trios, La Fleur, combined with the La Fleur Bead Mix and a Jesse James Beads bead strand made for a romantic 3 tier multi-strand look.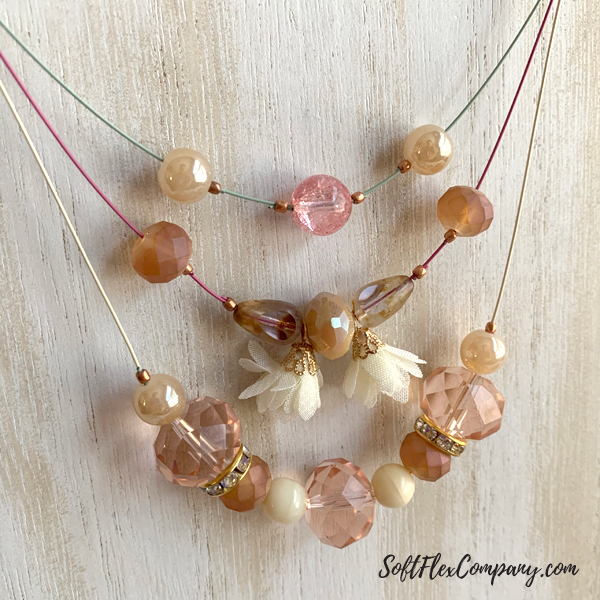 In this video tutorial, you learn how to crimp using 2x2mm crimp tubes with the magical crimping pliers and 3x3mm crimp tubes with the mighty crimping pliers. As well as create a simple braid with the three colors of Soft Flex beading wire. For more information on when to use what crimp with your beading wire, check out the handy chart on our Tips & Tricks Page - All About Crimps.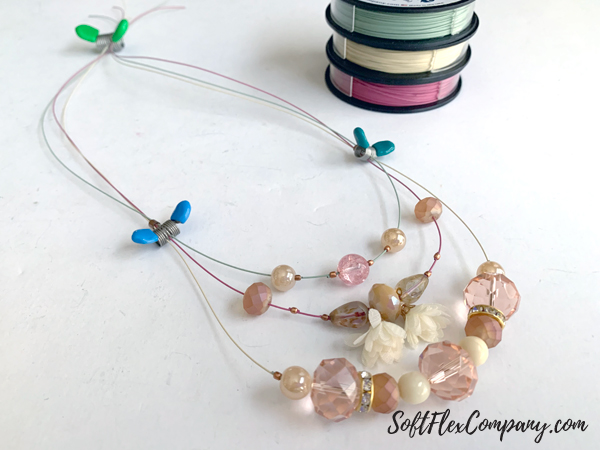 Bead stoppers (especially mini) really come in handy with this project. Using a neck piece while figuring out the lengths desired of each tiered strand is also very helpful.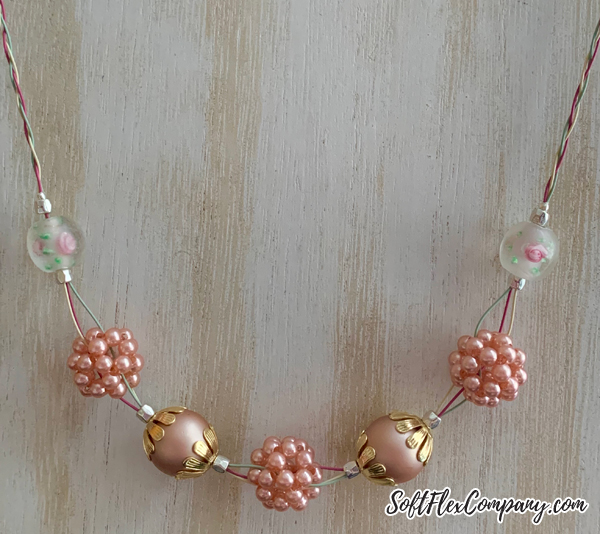 This is the design I showed from the Zoom video last week using the same materials - La Fleur Trios, La Fleur Bead Mix and JJB bead strand. Want to watch the Jewelry Making Zoom Party with Soft Flex, SilverSilk and Jesse James Beads I mentioned? You can find the replay on Jesse James Beads Facebook page, click here.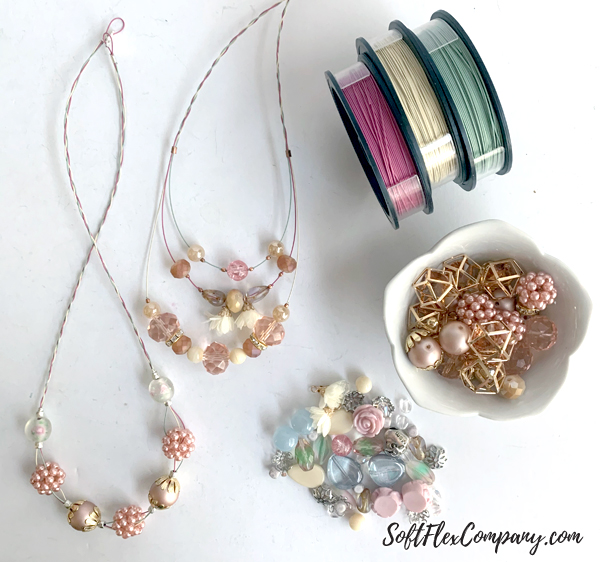 If you like this idea, you may like these other multi-strand jewelry project ideas:
Learn How To Turn a Single Strand Necklace Into a Multi-Strand Design
Multi-Strand Necklace With Crystal Squaredelle Beads
Illusion Style Necklaces Done Three Ways With Beading Wire And Crimps
Join the Fun in our Facebook Group Today! Stay in the know. Stay up to date. From our bead shows to our video shows and sales, you can stay in touch with us. The community is full of artistic and helpful beaders and crafty people. Inspire and be inspired. Share your pictures and get the beading bug from others!
Visit the Soft Flex Company YouTube Channel!

---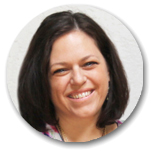 Kristen Fagan is the Website Graphic Designer and a Jewelry Making Educator for Soft Flex® Company. She is the co-author of Seed Bead Revolution, an artist and creativity guide. She currently lives in Arizona with her husband, their two sons and two dogs. When she's not painting, drawing or beading, she enjoys reading, yoga, exploring the outdoors and traveling. Her favorite stones are Opal, Turquoise, and Quartz and she can't bead without Bead Stoppers. You can email her at Kristen@softflexcompany.com or visit her Website | Facebook | Instagram