Let's learn how to make a quick and easy pair of earrings with Sara! Buying earrings is fun. But why buy when you can create your own signature earrings for every occasion? These lovely earrings take only minutes to make. You can add your own variations, beads, and colors. The possibilities are limitless. This is a very short video, but it will equip you with the know how to make your very own earrings.

Sara is an avid jewelry designer and Soft Flex employee. She is a published author and artist. You can catch her on our YouTube channel. You will also find her doing live beading challenges and sales on Facebook. She has been featured on radio, internet, and television. She has a quick mind and it shows in her broadcasting and jewelry designing.
Today, Sara is going to create a pair of quick and easy earrings with Soft Touch Beading Wire. She is going to use our Fine (.014) diameter. She will explain why she chose that particular diameter and brand. She is going to use Cornflake Pearls and CZ beads from our Gallery. You can also find these on our website.
Sara shows us a pair of earrings she has already made. They have an eye-catching silver finding. They have Smoky Plum CZ beads in different briolette and rondelle shapes and sizes. They have a Cornflake Pearl as the focal point of the earring.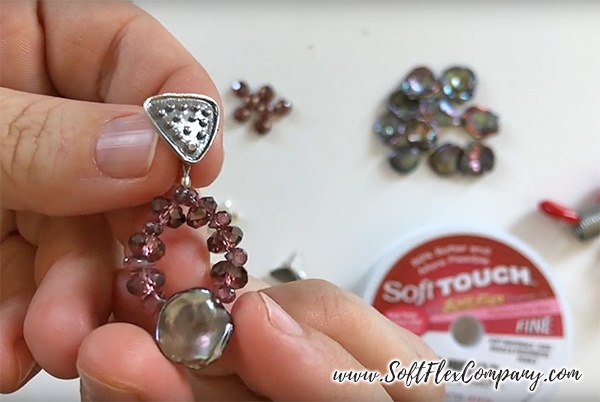 Sara says costs have risen on Pearls but we still have some fantastic sales and prices. She shows us a tray full of pearls. There are so many color combinations to choose from. A big color palette means you can create jewelry for any time of the year.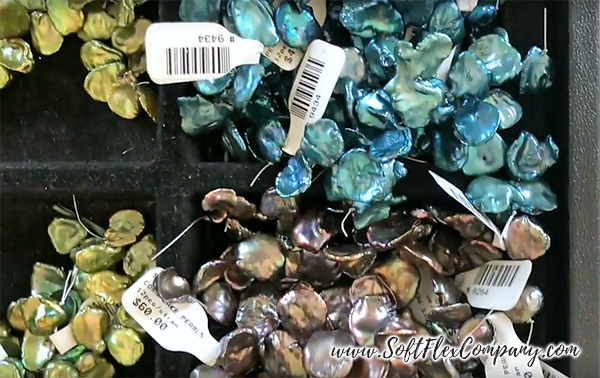 Sara is going to be using Soft Touch in Fine diameter. 2x2mm crimps to finish the earrings. She is using 3mm crimp covers to conceal the finished crimps. The tools she is using for this project are Soft Flex Professional Flush Cutters and Magical Crimping Pliers. If you do not have these tools on hand, you can find them on our website. You can also use a pair of bead nippers if the cutters are not in your budget and a regular pair of crimping pliers.
She is also using a pair of Bead Stoppers. Bead Stoppers are fantastic. They secure the ends of your wire. They are an invaluable tool to have when you need to stop a project before you have a chance to finish it. They are also great for securing one end of the wire while you focus on the other. If you have ever had to pick beads out of the carpet – you will love this tool.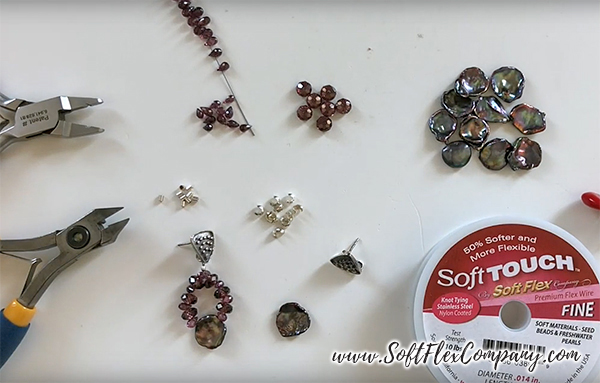 Sara says you should use Soft Touch Beading Wire for these earrings. Soft Touch is 50% softer than Soft Flex. That is, they have the same strength and same durability – but Soft Touch is 50% softer in its drape. Soft Flex has a bolder wire-like shape. Soft Touch has the drape of silk, even though it is marine quality stainless steel. Soft Touch is the most flexible beading wire on the market today. The drape is soft and very elegant.
Sara chose our Fine diameter for this project. We create our wire diameters to withstand abrasion. If you use a Heavy wire, for instance, you will be stringing some chunky abrasive beads like Turquoise, glass, and coral. These earrings will be strung with pearls and CZs, Fine is the perfect choice. Fine is excellent for seed beads and freshwater pearls. It is a great diameter choice if you are working with smaller beads with smooth channels. If you work with more abrasive beads, consider a heavier wire. If you would like to learn how all of our diameters and brands work, check out this blog post.
Sara cuts a healthy strand of wire off of the spool. She usually cuts a little more than necessary when filming videos. It will be easy to determine how much wire to cut off the spool for a project once you have strung a necklace or earrings a couple of times. You can measure it beforehand if you are concerned with the length. Make sure to give yourself some room to add the crimp on each side.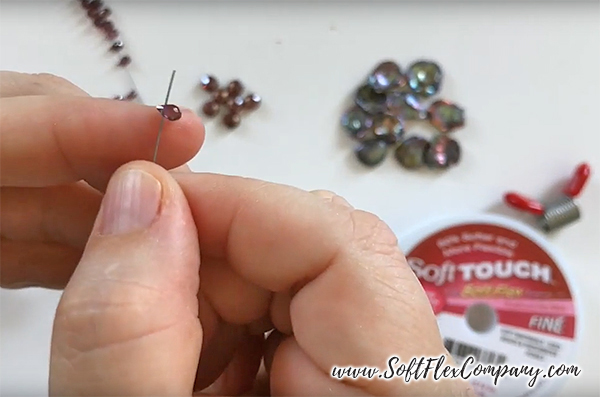 Sara places a Bead Stopper on one end of the strand she cut. She starts stringing her design. She begins with a briolette. Next she strings a rondelle. Then she strings another briolette. She follows this pattern. She adds her Cornflake Pearl to the center. She returns to her pattern.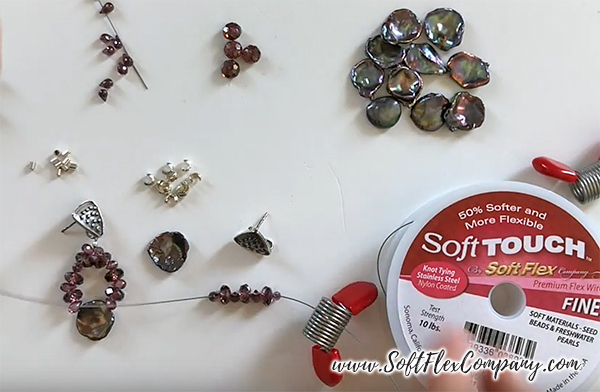 Sara says that the Fine diameter is a great choice for this project. All of the beads she has chosen have very tiny bead channels. A larger diameter may not have fit through the tiny holes. She says it is important to have a good beading wire for a project like this. Beads are very abrasive as they rock back and forth. They are like little knives on the strung design. If you use thread, your designs will not last very long. Soft Touch is a stainless steel. It is designed to be very durable and strong. When using Soft Touch, you will not only have the strength of steel, but you will have the flexibility and drape of silk or thread.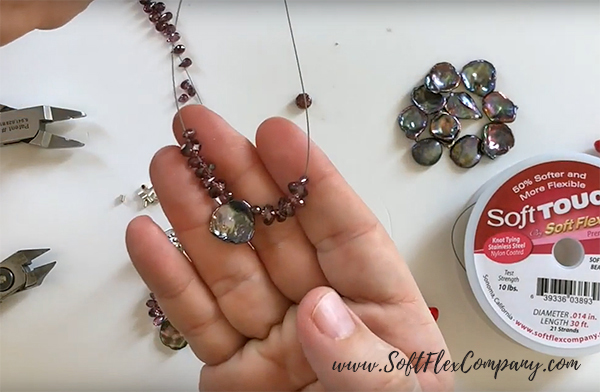 Sara pinches the two ends of her earring together and drops a 2x2mm crimp down to the beads. Choosing a crimp tube is important. There are a lot of poorly made crimps on the market. Some crimps have seams where they are finished. This weakens the crimp. Some have very thin walls. This also weakens the crimp. Soft Flex carries crimps that are seamless and double wall thick.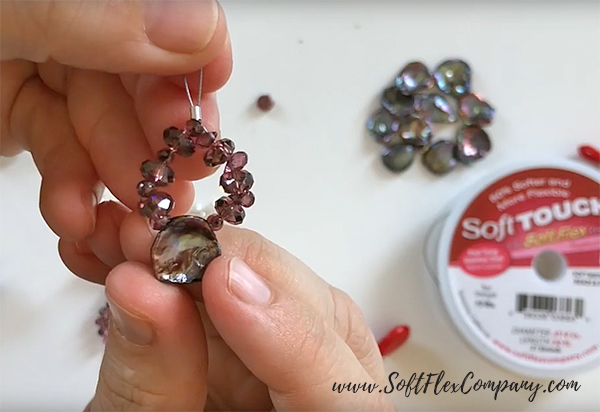 Now that she has the shape of her earring, Sara passes one end of the wire through her ear wire. She loops that back and goes through the crimp with that wire. Before crimping the tube to finish it, make sure you have enough room on the earring so your beads slide back and forth a little. You do not want the beads right up against a crimp as it will make the design taut. You want the wire to drape and have room to breathe.
Before crimping, your second earring in a pair of earrings, always make sure the two designs are similar in bead patterns, drape, and length. You can always adjust the earring before it is crimped. Once you have crimped it, you will basically need to restring it if you are not happy.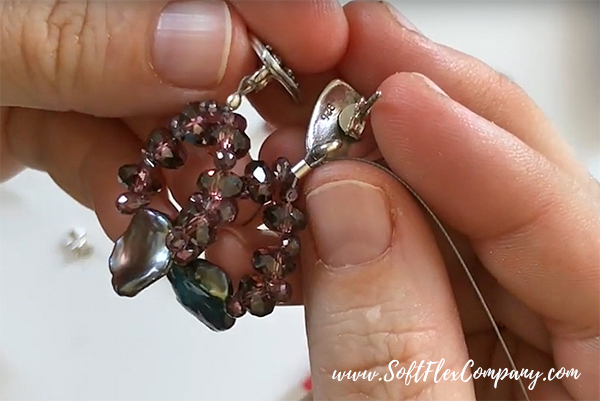 Sara crimps her design with her Magical Crimping Pliers. Check out this Video if you would like to learn how to use Magical Crimping Pliers.
Sara makes sure there are no tiny beads in the crimping area before crimping down. She crimps with a firm pressure. This turns the crimp tube into a pillow shape. Then turns the crimp tube and crimps down again, this rounds the tube into a bead. She turns the crimp and crimps down a couple more time. Turning the bead each time she crimps. This will give you a nice round finish and be a very secure end to your design.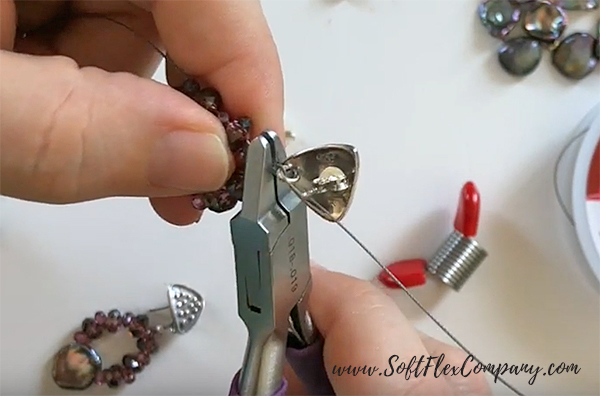 Sara cuts the excess wire at the crimp. She cuts flush up against the crimp. If you follow her steps in crimping, the finish will be secure enough that you can always cut the wire at the crimp. You do not need to double back through the beads with your wire.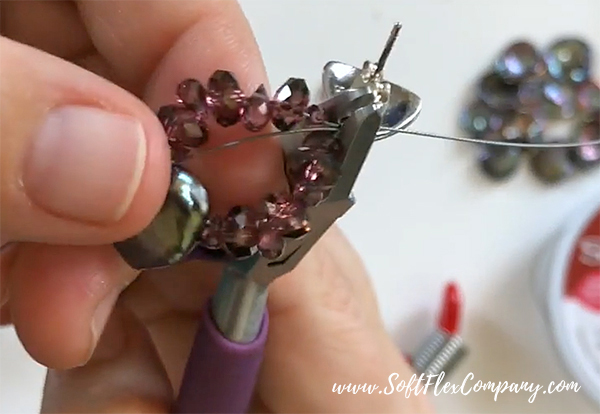 The design is now finished. You can add a 3mm crimp cover if you would like to give the crimp bead a more pronounced look on your design. You can also add a crimp cover if you are using regular crimping pliers and do not like the look of the finished crimp with regular pliers.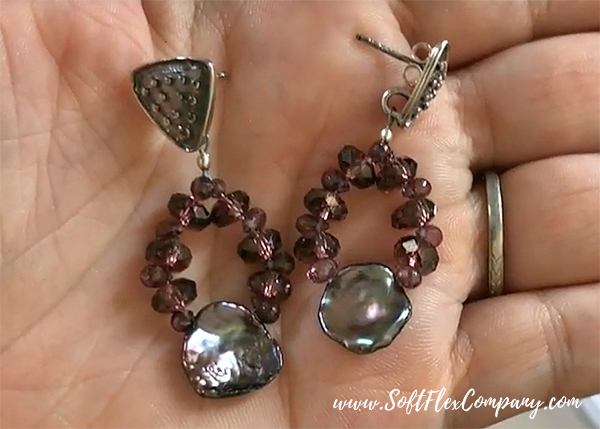 If you enjoyed this video, check out Sara's recent book - Seed Bead Revolution. Seed Bead Revolution is a great book for beginners and seasoned jewelry professionals alike. It has 32 beading projects plus an in depth look at the materials and tools a jewelry designer uses to create their lovely pieces.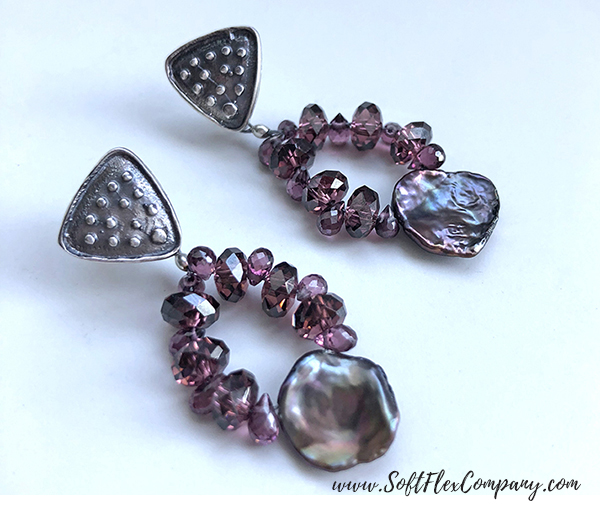 Subscribe to our YouTube channel for more tips. Visit our Facebook page if you want to catch our live shows and sales. And join our Facebook group – VIB, if you want to join a friendly community or jewelry designers and all around creative people.
Visit the Soft Flex Company YouTube Channel!
---
Blog contributor Thomas Soles is the Trade Show Coordinator for Soft Flex Company. His favorite stones are Lapis and Pietersite. His favorite hobby is day dreaming. And his favorite mustache is Tom Selleck's. As you can see, he has a healthy (or possibly unhealthy) sense of humor. You can write to him at Thomas@SoftFlexCompany.com