This week on Free Spirit Beading with Kristen Fagan, I show how to make a woven bracelet using rainbow colored crystal beads, Soft Touch™ and Soft Flex® beading wire on a Mini Macrame Board. This wrap knot technique can be adjusted for larger beads and thicker diameter beading wire if desired. I share a few similar tutorials with different materials at the bottom of this post!

How to Make a Rainbow Wrap Around Knot Bracelet with Crystals
Learn how to make this beaded wrap around knot bracelet with rainbow colored crystal beads, Soft Flex and Soft Touch beading wire and a button clasp closure. During the video, I also talk a bit about the two different wire brands and some recommended uses for Soft Touch beading wire. You don't need much in the way of supplies, just some basic jewelry tools such as a pair of cutters, crimping pliers, beads, beading wire, a clasp and of course a mini macrame board!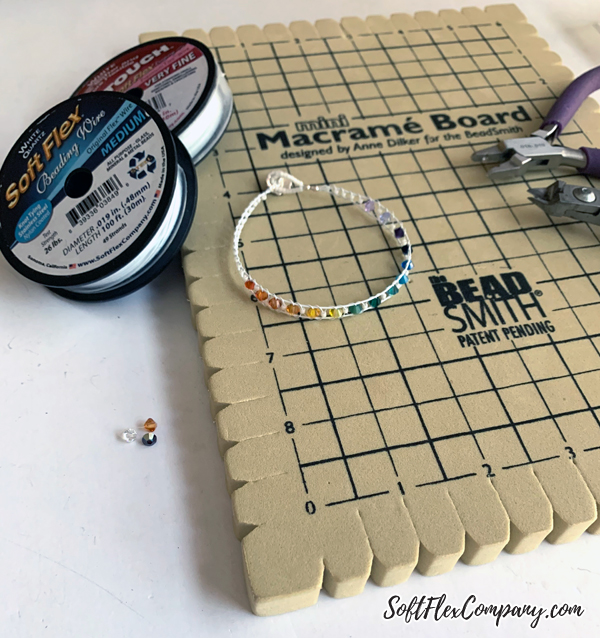 Supplies:
Soft Flex Beading Wire .019/Medium in White
Soft Touch Beading Wire .010/Very Fine in White
4mm Crystal Bicone Beads in Rainbow Colors
Clasp or Button for Closure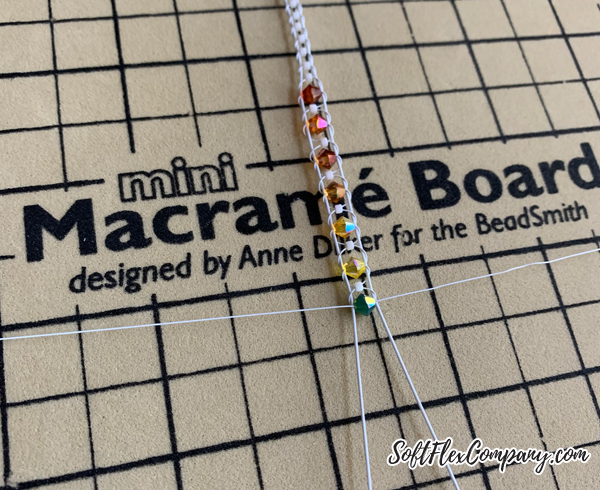 Check out the mini macrame board in action and learn how to crimp with the magical crimping pliers to create your own rainbow woven bracelet.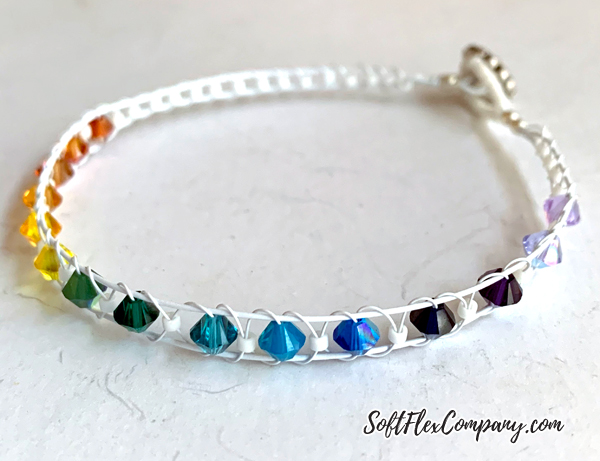 The result is a very fine and dainty bracelet style. I love this rainbow design! You can also create this with black beading wires instead of white. I bet it would look great that way too. You can also choose to try it with one color bead throughout.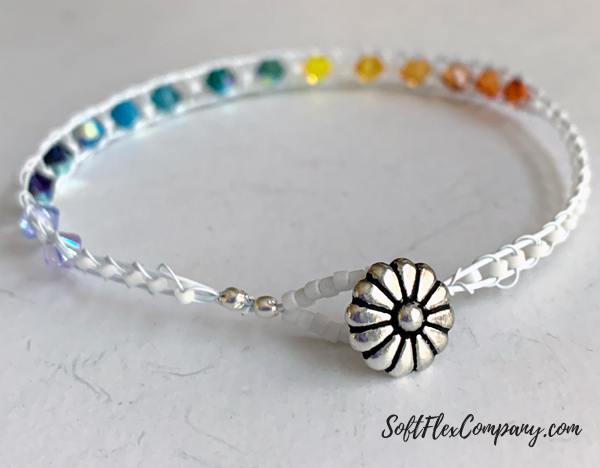 I even made a sweet little beaded button clasp closure! I don't do these often, I think they intimidate me a little but, it turned out to be surprisingly easy. You can leave the wire as is or use the tiny delica beads to finish it off like I did here.
If you like this idea, you may like these other jewelry making video tutorials:
Rainbow Drop Earrings With Soft Flex Beading Wire
Wrap Around Knot Bracelet Tutorial with 6mm Round Beads
Make A Wrap Bracelet Using Soft Flex Wire On A Macramé Board

Join the Fun in our Facebook Group Today! Stay in the know. Stay up to date. From our bead shows to our video shows and sales, you can stay in touch with us. The community is full of artistic and helpful beaders and crafty people. Inspire and be inspired. Share your pictures and get the beading bug from others!Visit the Soft Flex Company YouTube Channel!

---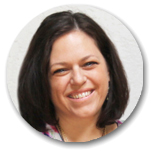 Kristen Fagan is a Website Graphic Designer and Jewelry Making Educator for Soft Flex® Company. She is the co-author of Seed Bead Revolution, an artist and creativity guide. She lives in Arizona with her husband, their two sons and two dogs. When she's not painting, drawing or beading, she enjoys reading, yoga, exploring the outdoors and traveling. Her favorite stones are Turquoise, and Quartz and she can't bead without Bead Stoppers. Contact her at [email protected] or visit her Website | Facebook | Instagram