Let's Bead! This week on Free Spirit Beading with Kristen Fagan, I shared how to make a simple knotted bead bracelet with seed beads and beading wire. Seed beads add a dainty vibe to this simple knotted bead bracelet tutorial. Also known as infinity knot bracelet or love knot bracelet. It works great alone or stacked with other bracelets on the wrist.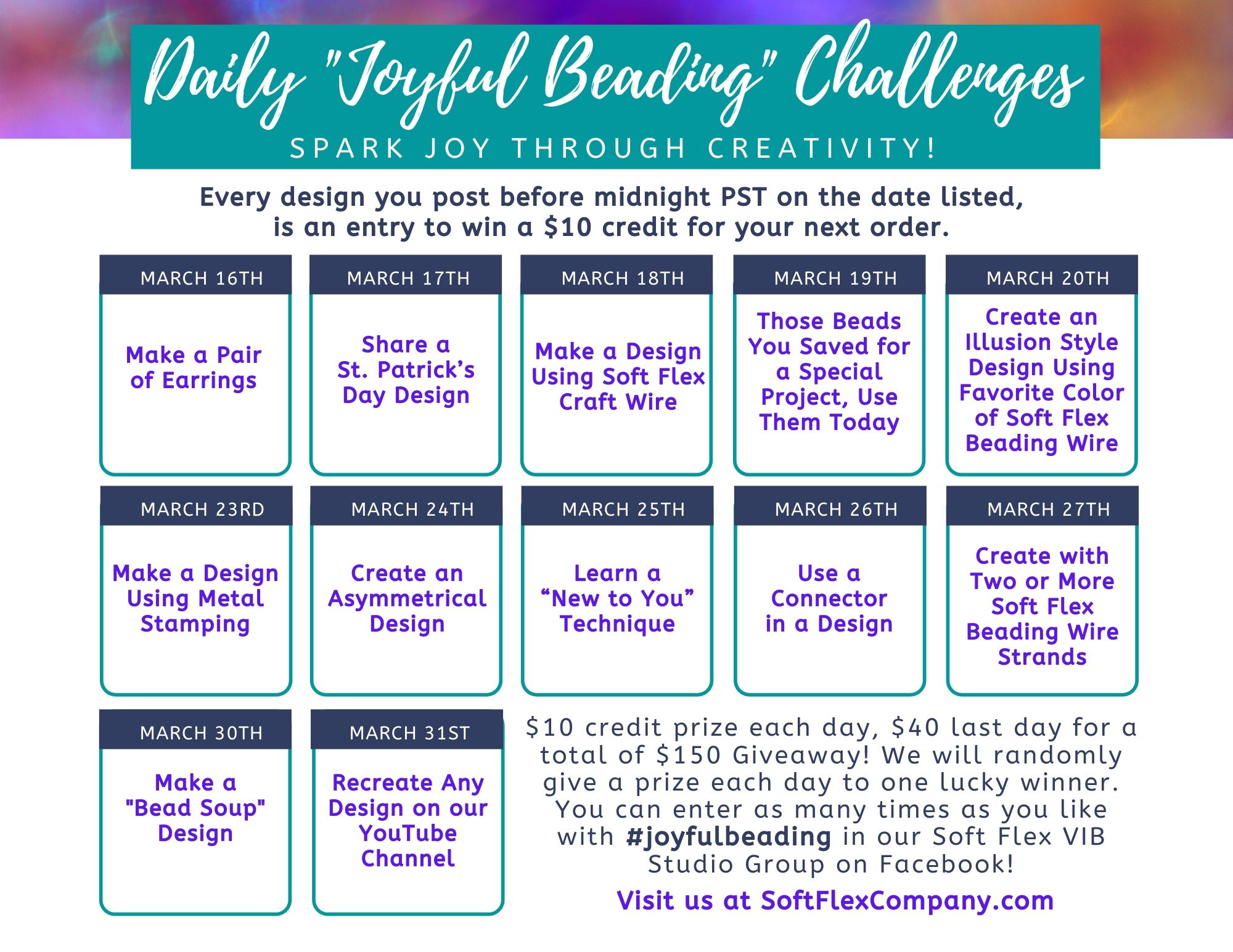 Join the Fun in our Facebook Group Today!
Daily "Beading Joy" Challenges to Spark Joy through Creativity continues in our Soft Flex VIB Studio Facebook Group. Share your designs with the hashtag #joyfulbeading in our Facebook group to be entered to win $10 off your next order. We will randomly choose one lucky winner. You can enter as many times as you like. Want to Download and Print this Calendar? Click here.

How to Make an Infinity Love Knot Beaded Bracelet
In this video tutorial, you will learn how to make a seed bead bracelet with the infinity knot or love knot. This design is so versatile since you can combine so many colors and sizes to make your own design!
This design was inspired by a tutorial shared by @beadworldinc on Instagram.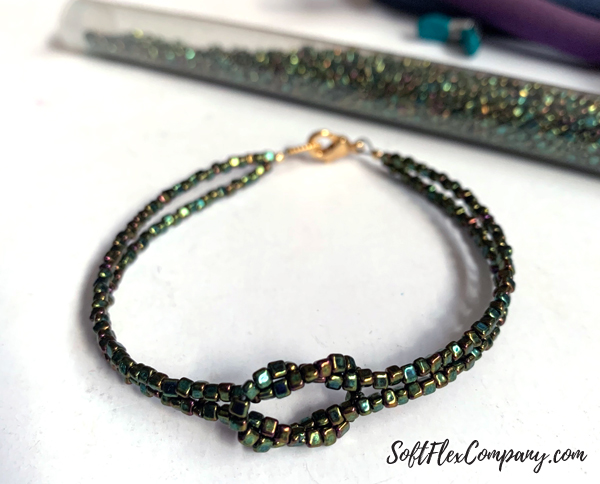 Supplies:
Soft Touch .019/Medium Diameter
Extreme Flex .019/Medium Diameter in Champagne
Size 11/0 Seed Beads or Delica Beads

Size 15/0 Seed Beads or Delica Beads
Split Rings or Closed Jump Rings
2x2mm Crimp Tubes in Gold Filled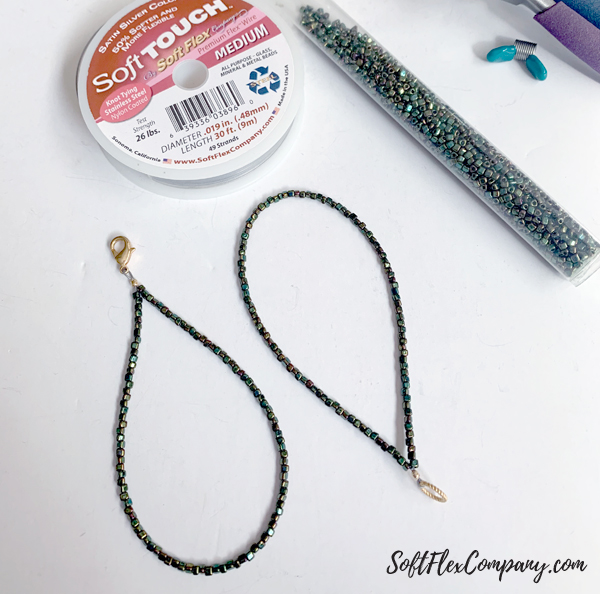 You can use Soft Flex original beading wire, Extreme Flex beading wire or Soft Touch premium beading wire for this design. Soft Touch beading wire will be softer and have more of a thread like feel so, I opted to use that for my first design.
On my second and third design, I opted for Extreme Flex beading wire in Champagne color. This creates a nice finishing touch with the gold findings.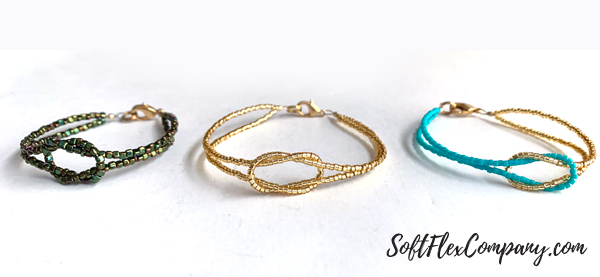 You can use all one color or design a two color look. A two tone color idea would be great for a school colors bracelet, fundraising bracelet or sport team bracelet. Also, a nice idea for a BFF best friends bracelet where you bead each side of the design in a friends favorite color!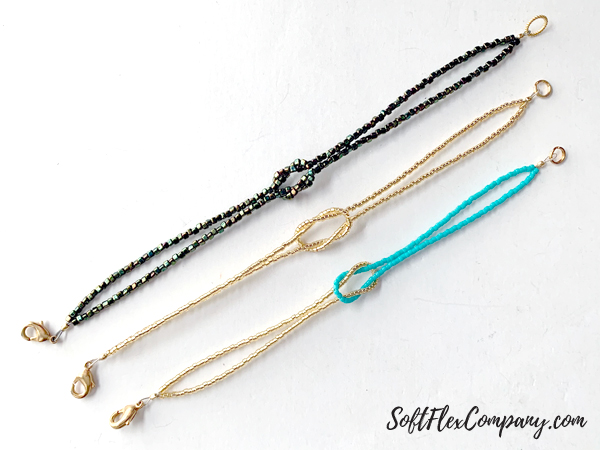 Once finished, attach a crimp and lobster claw clasp on one end and a crimp and loop on the other. Crimp with Magical Crimping Pliers.
If you like this idea, you may like these other project ideas that use seed beads:
Knot Soft Flex Beading Wire To Create A Beaded Bracelet With A Button Clasp
As Seen On Beads Baubles And Jewels: "By the Sea", Episode 2701
Adding Soft Flex Beading Wire In A Russian Spiral Bangle Bracelet By Knotting
Join our Facebook group – VIB. Stay in the know. Stay up to date. From our bead shows to our video shows and sales, you can stay in touch with us. The community is full of artistic and helpful beaders and crafty people. Inspire and be inspired. Share your pictures and get the beading bug from others!
Visit the Soft Flex Company YouTube Channel!

---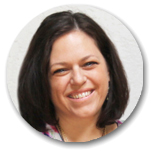 Kristen Fagan is the Website Graphic Designer and a Jewelry Making Educator for Soft Flex® Company. She is the co-author of Seed Bead Revolution, an artist and creativity guide. She currently lives in Arizona with her husband, their two sons and two dogs. When she's not painting, drawing or beading, she enjoys reading, yoga, exploring the outdoors and traveling. Her favorite stones are Opal, Turquoise, and Quartz and she can't bead without Bead Stoppers. You can email her at Kristen@softflexcompany.com or visit her Website | Facebook | Instagram