Do you love beaded jewelry as much as we do? We love stringing beads. So many colors. So many shapes and textures. Beaded jewelry enriches us in ways beyond the aesthetic beauty. Beaded jewelry has been part of the human experience for thousands of years. Beads have denoted social status. Beads have been used as currency. Beads are transcendent and show us beauty. Let's take a look at how beading started and where modern jewelry design is today.

We have a magnificent collection of beads and gemstones in our gallery. If you live in or plan to visit Northern California, we welcome you to come visit us and check out our inventory. If you cannot make an appearance, visit our big selection online. We have thousands of beads and gemstones. All of our beads are hand selected by the owners of Soft Flex Company. They have traveled the world to find the most unique and most lovely beads. We also have live sales on Facebook, we sell one of a kind, rare, and special items from Mike Sherman's personal collection.
Do you love beaded jewelry as much as we do? Let's explore the history of this beautiful art!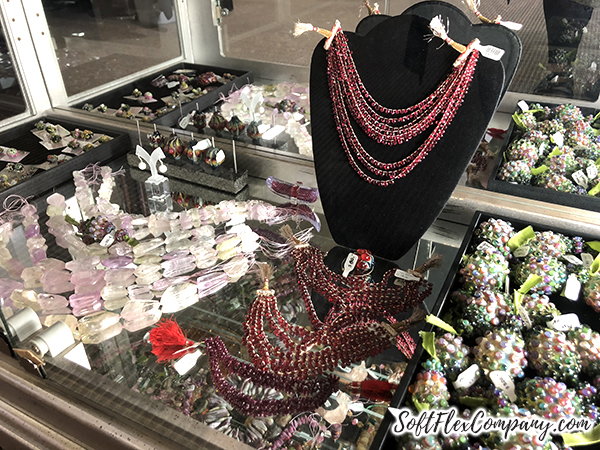 Check out our current live sale on Facebook: Mike Sherman Private Collection Sale! Beads, jewelry making components, tassels, finished jewelry and more! Great prices and terrific quality! To purchase, comment with item number, sold and quantity desired. Sale open through Sunday, November 17th.
Inside the Beautiful Art and History of Beaded Jewelry
Soft Flex Company has, for decades now, enabled the creation of beautiful beaded jewelry through the provision of sturdy, flexible beading wire. As such, we are one small part of a proud tradition that goes back millennia. Beaded jewelry is almost as old as humanity itself, and is certainly one of the oldest and most enduring creative outlets our species has devised. For this article, we decided to take a moment to look back and explore the long history of this craft, and to place ourselves and our customers in the context of this unbelievably long story. Come with us as we take a glance at the history of beaded jewelry.
Origins
The exact start of beaded jewelry is difficult to place. Neither the era nor the location of these origins can be definitively stated, especially since the creation of wearable beaded artwork seems to pervade human culture across all continents and ethnicity.
Some have estimated that it began somewhere between 40,000 and 70,000 years ago. Archeological finds in places as diverse as France and southern Africa seem to back this up. Who knows what first prompted our ancestors to string together the beautiful gems they found, or to start creating and decorating beads to adorn themselves? It seems that the appreciation of beauty is an innate characteristic of humanity.
Having said that, the original purpose for wearable beaded items may have been more practical than aesthetic. It seems that, at some point, beads and gems began to be used as a kind of money, in other words, tradable 'currencies' that could be exchanged for goods. It, therefore, became necessary for people to carry these items with them. Since bags, boxes, and other containers were not yet in use in those ancient times, it became customary for people to create chains of beads and simply wear them on their persons; around their necks, waists, wrists or ankles. Since these beads essentially represented the buying power held by a particular person, they quite naturally evolved into status symbols. The richer you are, the longer, more elaborate, and more eye-catching your wearable 'bank balance.'
As beads and gemstones gradually lost their status as a means of exchange, bead work became an art in its own right, serving no purpose other than beautification. By the time the first urban civilizations came into being, beads had long since come to be used purely as status symbols and adornments. The ancient Egyptians mastered the art of faience bead work (about which, more later). Egyptians used these beads as accessories for thousands of years.
The Cherokee Indians, on the other hand, had a different, 'richer' use for bead work. They used it to tell stories, creating visual patterns on their beads that related either mythical tales or histories of clans and heroes.
Materials and Methods
Through the ages, beads have been made out of a wide variety of materials. Glass, bone, porcelain, seashells, clay, gemstones, ivory, as well as wood and other plant based substances, have all been used in the creation of stunning jewelry. One of the oldest methods of bead making was faience. This was invented in ancient Mesopotamia and mastered in ancient Egypt. It involved the molding of mixes of clay, soda, lime, and silica into beads, which were then heated. The heat caused the soda, lime, and silica to melt, thus glazing the bead. A hard bead, with a bluish glass-like appearance, formed as a result.
In many cultures, such as in Central and South America, the arts, methods, and raw materials of bead-making were closely guarded secrets, handed down by word of mouth and long apprenticeships from one generation to the next. It was only with the advent of the industrial revolution that beads began to be made cheaply, simply, and in large quantities. Even today, with plastic beads available in all kinds of varieties at almost negligible prices, there are still elite bead makers who keep their methods as carefully-protected trade secrets. Look at Swarovski, for example, whose beads are highly prized and still quite mysterious in terms of their production processes.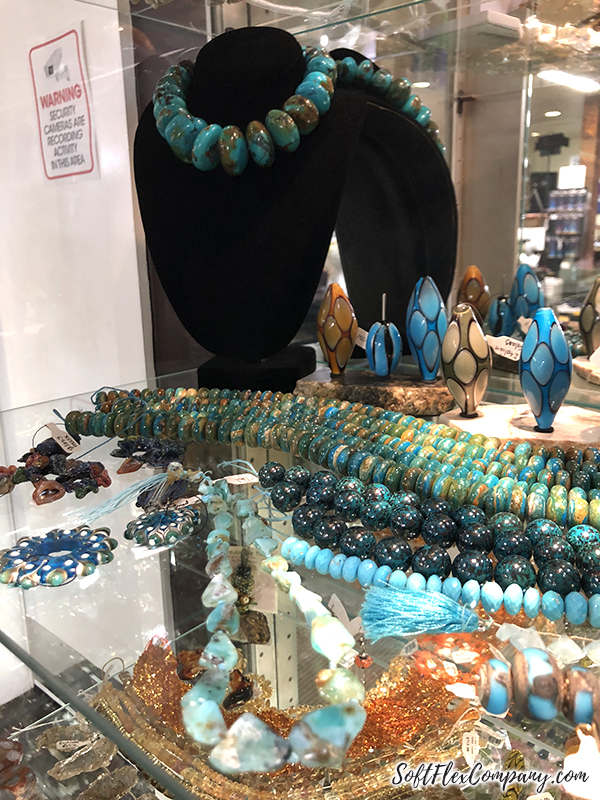 Each ancient culture had a specific method of bead making that was specific to them, based on their available sources and cultural values. Craftspeople in the Greek city states mastered the production of decorated ceramic beads and the ancient Romans inherited and copied their methods. Later, the Italians set themselves apart with their Murano glass beads, which became popular in about the 14th Century. Central and South America were known for their quills and wampum, while the natives of North America devised intricate pieces made from turquoise, topaz, silver, and later, gold.
Do you ask what about string or beading wire? What did they use back then? That's obviously an important question for us too, as this is our particular area of interest. The most common choice appears to have been to make string from tough, fibrous plants, which would hold together even with continuous wear. The ancient Egyptians used papyrus, for example.
Into the Modern Age
With the advent of mass production, bead work essentially split into two 'streams', so to speak, and this remains the case today:
1. There are now millions of inexpensive and freely available beads and beaded products that can be purchased at every store and roadside market from New York to Timbuktu to Beijing.
2. Then, there is the handmade market. This specialized market itself is divided down the middle:
2.1. There are master craftspeople across the globe who still make jewelry by hand and sell it to members of their own community, tourist markets, and the jewelry industry. These stunning beads can be exceptionally beautiful, but sometimes woefully undervalued.
2.2. The other half of the handmade market is the elite sector, which includes brands such as Swarovski. Because these producers use expensive materials, as well as proprietary production methods, their products are often only for the higher-income markets, and tend to increase in value with time.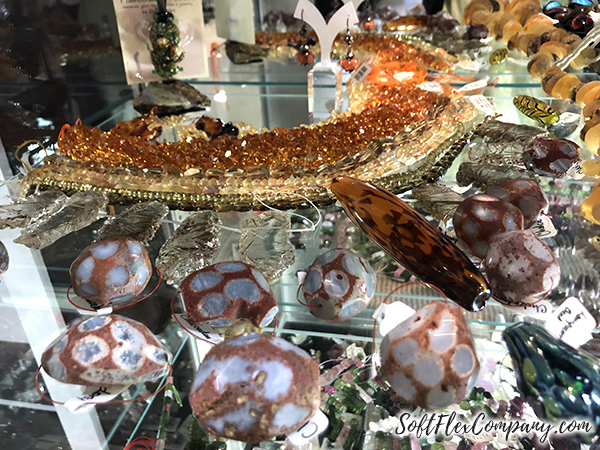 Today's beads take all shapes and forms and are made of any of a wide variety of materials from the natural to the entirely synthetic. Today, a bead isn't even necessarily bead-shaped. Round beads may be the norm, but you can get beads in an assortment of shapes, sizes, and textures. What makes a bead a bead is its ability to be threaded. Whether it is round, triangular or shaped like your favorite cartoon character, so long as it has a hole through it, it's a bead!
The creation of bead work is also increasingly popular as a hobby for professional and retired people and people that need a creative outlet outside the drudgery of their careers. Some of them take their pastime more seriously than others, purchasing the best possible materials and going out of their way to create a work of great craft and beauty. These hobbyists mostly use hand selected beads and beading wire that is designed for stringing jewelry.
Tools of the Trade
Obviously, as time has passed, the tools needed for making beaded jewelry have changed considerably. There was a time when master bead makers would have gathered all their own parts and tools themselves, made their beads from scratch, possibly even made their own string. In ancient Egypt, it became the norm to divide the various parts of the job, with master jewelers overseeing workshops in which one team or individual would make the beads, another would make the string, and yet another would arrange the beads on the string in the appropriate order.

Nowadays, it's usually one individual with a kit of beads, beading wire, and a variety of tools, including cutters, crimpers, pliers, bead mats, glue, polish, and more. The art of creating beads was a focus for our ancestors. They would scour the forests and beaches or dig through hard soil to find the most attractive stones and shells. The modern approach is similar but now we have greater access to the most beautiful beads. Modern jewelry designers scour trade shows, local bead stores, and search the web. The world of beads is at our fingers and we just need a discerning eye. Modern beaders need to understand color and texture and how to construct a thing of beauty with a box full of beads. Knowledge needed for modern jewelry design is acquired through practice, play, and experimentation.
At Soft Flex Company, we can happily provide you with the tools and materials as well as a few tips. Then it's up to you to take the baton that has been passed to you from thousands of generations of bead jewelers to create something wonderful that adds to this long history of one of humankind's oldest arts. Soft Flex is happy to assist you in the creation of your latter-day masterpieces. Have a look at our blogs, browse through our range of beading wire, beads, tools, and findings, and check our Facebook page and website regularly for our updated library of video tips.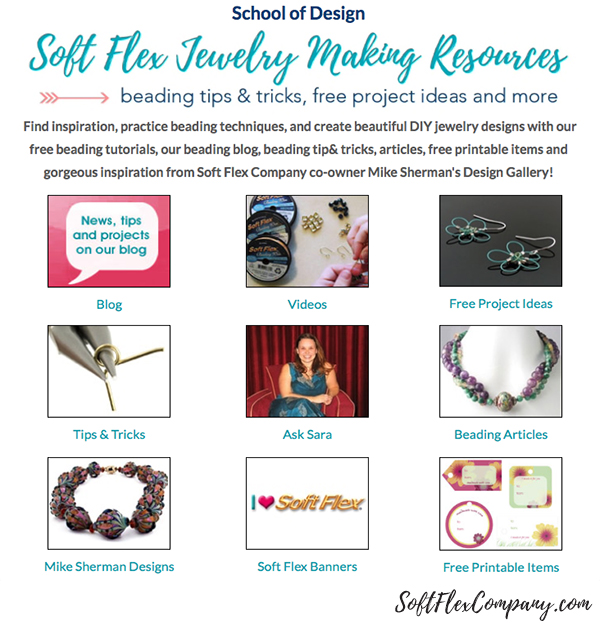 Visit our School of Design! School of Design is our exhaustive guide on all things bead stringing and jewelry making. You can find our blog there. We have a library of videos from Facebook and YouTube. We have dozens of free jewelry making project ideas. You can talk to our jewelry guru at Ask Sara! You can read through our beading articles. We have banners and printable holiday and recipe items. There is an amazing collection of jewelry design literature, you can really gain an education!
Make sure you visit our Tips & Tricks in our School of Design. This is an extensive gateway to beading help. We have absolutely everything you need to know about our favorite craft. Learn how to wire wrap, design jewelry, crimp, and kumihimo. We also have tons of reference material for sizing, crimp diameters needed to finish a design, tool descriptions, and so much more. If you are a beginner, this page is a godsend!
Join our Facebook group – VIB. Stay in the know. Stay up to date. From our bead shows to our video shows and sales, you can stay in touch with us. The community is full of artistic and helpful beaders and crafty people. Inspire and be inspired. Share your pictures and get the beading bug from others!
Visit the Soft Flex Company YouTube Channel!
---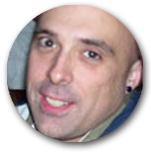 Blog contributor Thomas Soles loves Jazz Age writers and crunchy french fries. His favorite gemstones are Lapis and Pietersite. His favorite hobby is day dreaming. And his favorite mustache is Freddie Mercury's. As you can see, he has a healthy (or possibly unhealthy) sense of humor. You can write to him at Thomas@SoftFlexCompany.com