Today we have an article from Lisa Kan. Lisa is a published author, glass artist, and jewelry designer. She left a career as an engineer to pursue her love of jewelry making and has never looked back. She has some great jewelry design tips and tricks. She has advice on how to choose color, interesting textures, glitz, and how not to overdo a piece. If you do not want to get stuck creating simple and convenient jewelry, read on.

Soft Flex Beading Wire is the designer's choice in bead stringing wire.
Soft Flex Beading Wire is a lead-free beading wire for designers that demand strength and durability. Soft Flex Beading Wire is a superior beading wire, created by beaders for beaders. Soft Flex Beading Wire is constructed of either 21 or 49 micro woven stainless steel wires. It is supple enough that it can be knotted and comes in a wide variety of colors. It is available in 3 diameters: .014, .019, and .024. We recommend Soft Flex Beading Wire for designers that want their pieces to last and eliminate the frustration of restringing.

I've had a love affair with color and texture for as long as I could remember, even before I became a glass beadmaker and jewelry designer. One of questions I get most often about designing is how to select colors. Many beaders are more comfortable in following a pattern in a magazine or a book where all the colors and materials have been itemized. But when it comes to selecting their own colors, the thought of leaving their comfort zones is almost like pulling teeth. I think that we sometimes make things more difficult than they really are. I always want to challenge my fellow beaders to select their own colorways when attempting one of my patterns. This is one of the reasons why beading kits do so well. Not only is everything compact in one package, but all the colors have already been chosen for us, making things convenient and simple.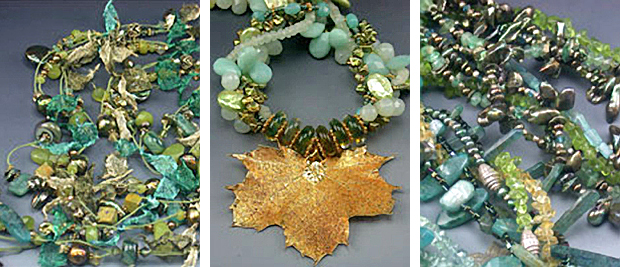 Although I think a cursory knowledge of color concepts is important, I personally have never taken a color theory course or studied the subject in depth. I don't even own a color wheel unless you count my Color Harmony books from Rockport Publishers. I thumb through those books periodically for a color pick me up and highly recommend them. If you are confused with analogous, tetradic, triadic, and split complimentary colors I say there must be an easier way to design and be FUN in the process! There are so many books out there for every artistic medium that cover the gamut of color theories suggesting you buy a color wheel to help along the way. Frankly, I have seen beaders who use a color wheel and their color selections do not always blend well or are pleasing mixes. So owning a color wheel and knowing how it works, is not totally fail safe. Most color choices are dependent on our intuition and what is pleasing to our individual eyes. It may be somewhat dependent on our wardrobe or evoke a mood we wish to convey. Mother Nature is the best guide and I say to just trust yourself! You know more about color than you may think.

Perhaps I am lucky and have a personal color goddess that follows me around when I buy beads or design. I grew up around beautiful textiles with both parents deeply immersed in the fashion industry. As a child, I used to touch the fabrics at my parents' shop to feel the texture and look at color all day. To this day, I still love touching fabrics when I go shopping and look to fashion as a color guide. Closing my eyes, it is always a fun game and challenge for me to guess the fabric makeup by its texture.
Tips and tricks you need to know when purchasing your beads
So what's the secret to choosing the right colors that blend well for excellent visual appeal and texture? Here are some tricks and ideas that I use in my work which I hope will help you in selecting beads the next time you go bead shopping:
Pick beads for their shape and color
When shopping for beads, I don't always have a project in mind. I pick beads for their shape and color first, to build my bead stash. The more beads you have in your stash, the more variety of designs you can execute later. If budget is on your mind, I suggest focusing on special stones, shapes and colors that are harder to find because the more common components will be easily accessible later. A design will surface on its own when the right time approaches and then you'll have all the key components ready-set-go.
Select a main color and up to three accent colors
No matter what the final design will be I first select a main color I want to design around and then no more than three accent colors. I think any more than three accent colors will make a piece look too busy. Of course this is just my personal choice and not THE rule. Within each accent color, there are varying hues that one can use for blending. The following are just some fail safe color combinations I like to work with: Green and aqua, green and cranberry, purples and greens, purples and teals, purple and cranberry, purple and blues, topaz and purple, green and topaz, cranberry and topaz, turquoise and topaz, etc. The list goes on and on. You will discover your favorite color combinations over time. Don't look too far or try too hard, your closet is the first stop for color hints. Even if you are designing for resale, I think if you work with colors you like, your final design will "speak of you." Isn't that why people are buying your work, because they love your style? Always, make what you like first and foremost.
Create visual texture with bead shape and finish
When selecting accent colors, I twist strands together to see how they blend. What I am looking for is texture. I try not to find beads of the same shape for one piece because by varying the cut and size of the beads, wonderful texture can be achieved. You can add volume and dimension to your work by utilizing this concept. My favorite shapes, which I find very versatile, are rondelles and briolettes.

There is a concept that I will refer to as "visual texture". To create visual texture besides using different shaped and sized beads, I select beads of varying hues in the same color family often. For instance, if you are working with purple as the main color: look into using lavender, lilac, amethyst, plum, magenta, maroon, etc. colors as well.

The bead finish and cut are also both quite important in creating visual texture. Don't select all faceted beads unless you want maximum glitz. I like to use faceted and unfaceted, shiny and matte, polish and unpolished beads in the same design. The matte, unpolished and unfaceted beads balance the highlights.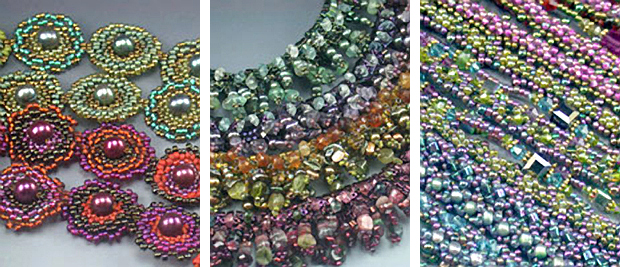 Accent with inexpensive beads
Don't always feel that you have to buy the most expensive stone strand as some accent beads can be inexpensive strands found in bargain bins. Slight imperfections and blemishes to the beads can add to your overall design just don't make these beads the main focus but accents. The main highlight should be quality beads, which will bring additional value to the finished design, so remember to don't skimp!

Seed beads in strung designs can add an inexpensive punch of color when you just need a little more. I like a mix of the metallic colors, aurora borealis, luster, and shimmering of Japanese seed beads. My favorite accent colors are 457, 378 series and 460 series that gives a punch without the expense of semi-precious stones or precious metals. I also love to use matte metallic seed beads. Keep in stock colors you like in both size 11/o and 15/o and in shiny as well as matte versions. Matte color beads generally begin with an "F" prefix of the same color number. BE CAREFUL not to select galvanize or dyed beads because overtime, the color may fade or rub off. Although the technology is improving to make the colors colorfast, it is still something to keep in mind. Metallic and matte seed beads are generally more expensive due to additional processing at the factory, but the color will last.

There are also lovely small seed pearls, faceted silver beads, Swarovski crystals, and Czech beads that can add small hints of textures. Stay within 2-4mm in size. Just a small amount sprinkled throughout the design will do. A little goes a long way.
Know what you are buying
If you want a natural look to your work, be wary of dyed stones. Some of the synthetic stones are actually GLASS. The colors are beautiful but if you want to add value to your piece make sure you shop at a reputable and knowledgeable vendor. If the price is too good, more than likely they are good "fakes". If you don't mind, then by all means purchase the bargain. Arm yourself with knowledge and get a good gemstone reference guide to educate yourself. The more you know, the less likely an unscrupulous vendor will try to rip you off. I like natural colors and avoid dyed beads as much as possible. Heat treated beads are generally safe and add more vibrancy to a natural stone color. For instance, the Ametrine stone is half amethyst and half citrine. Part of the amethyst stone is heat treated to achieve the citrine color. This is permanent and the added labor accounts for the cost of this stone but is it oh so beautiful! Carnelian is another common stone that is heat treated to achieve the vibrant orange colors!
Create a color sample
Make a sample swatch or string a mix of beads you want to use in a design. Look at the visual appeal. This is more of an exercise than a complete project. If you like the colors and mix, proceed forward. If it's not what you envision, go back to the drawing board and start over. Why invest in further time if you don't like the bead selection from the start? Many beads look different once blended with other beads. The more you design with similar color blends, the easier it will be to execute each subsequent design. Soon choosing colors will be second nature.
Your clasp is a design element
The next design idea I want you to keep in mind is the finishing. No matter how pretty your piece is in the front, it has to look equally pleasing in the back. The clasp is just as important as a design element. I usually pick a main accent color I want to feature. If I am purchasing a pre-made clasp, I love clasps with inlaid faceted semi-precious gemstones, buttons or vintage crystal/glass stones. This feature adds a sense of richness and character to the overall look. Some clasps are so beautiful you may want to make it the pendant and move it forward as the focal point. I collect turn of the century vintage buttons and often use them in my more intricate beadwork. Beads can also be transformed into innovative clasps. If you do beadweaving, a beaded button is a nice touch to add a seamless flow to the design. If you do PMC or silversmithing, many clasps can be made to add a one of a kind feel. Basically anything goes with clasps and the skies the limit as long as you maintain a good flow to the design concept.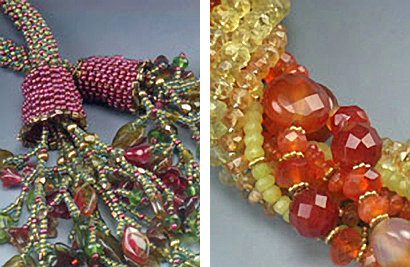 Less is more
Lastly, I would like to say that "less is ALWAYS more". I have seen designs that are really pretty but are over embellished and just go over the top. Sometimes we can get carried away and don't know when to stop adding to a design. Unless you are making a showpiece for an exhibit or submission to a contest, think about wear ability, practicality and balance of design. A lot of the show pieces are too heavy to wear and only meant for display. Of course beauty is in the eye of the beholder. What is pleasing to some may not be to another and vice versa.
Join our Facebook group – VIB. Stay in the know. Stay up to date. From our bead shows to our video shows and sales, you can stay in touch with us. The community is full of artistic and helpful beaders and crafty people. Inspire and be inspired. Share your pictures and get the beading bug from others!
Visit the Soft Flex Company YouTube Channel!
---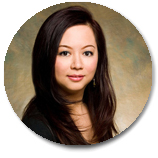 Lisa Kan is a glass bead artist, jewelry designer and author. As an avid researcher and bead purveyor, she hopes to share her knowledge about beads through her writings. She has written articles for Australian Beading, Beadwork, Stringing, Step by Step Beads, Bead Unique, Bead Trends, BeadStyle, Bead&Button and Simply Beads magazines. Her first book, Bead Romantique, is available on Amazon and Interweave Press.
Website: www.LisaKan.com
Blog: http://LisaKan.blogspot.com
Email: LisaKanDesigns@yahoo.com