Jewelry Making Kits For Beginner And Advanced Designers - How To Find Your Passion For Beading
Last week, I revealed the Serenity Shore Design Kit (Sold Out) on Facebook and YouTube. In each video, I made unique designs using the kit. On Facebook Live, I made a beautiful pair of earrings and bracelet. On YouTube, I created a necklace.
About our kits:
If you'd like to join us in the design challenge next month, buy the next kit and stimulate yourself to try something new and unexpected. If you are new to beading, every kit comes with findings, beads, wire, and surprises.
Our kits are great for skill building. We want our kits to feel challenging. We want them to be accessible for beginners and advanced designers alike, but we love to throw in elements that may seem difficult to test our beaders skills and make them think out of the box. We think jewelry is great when it is easy. But when you really have to engage your mind and process your materials and tools, we think that your jewelry has the potential to be life changing.
Supplies are very limited. Don't miss out!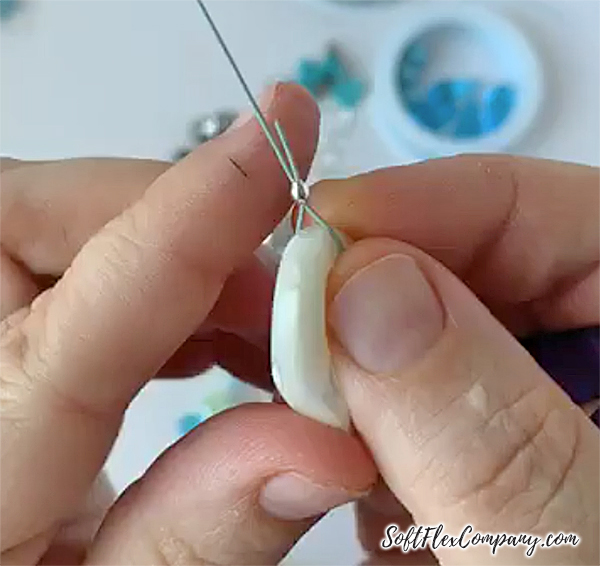 There were these gorgeous mother of pearl beads in the custom bead mix that came in the kit. Although they had holes on both sides, I decided to wrap the wire around the outside to attach to it like a connector. The wire in the kit this month is our amazing Fluorite colored Soft Flex Beading Wire in .019 Medium. So it was a great color to show off as part of the design.
Learn about Soft Flex Beading Wire:
Soft Flex Wire is a lead-free beading wire for designers that demand strength and durability. Soft Flex Wire is a superior beading wire, created by beaders for beaders. Soft Flex Wire is constructed of either 21 or 49 micro woven stainless steel wires. It is supple enough that it can be knotted and comes in a wide variety of colors. It is available in 3 diameters: .014, .019, and .024. We recommend Soft Flex Wire for designers that want their pieces to last and eliminate the frustration of restringing. It comes in lots and lots of different colors.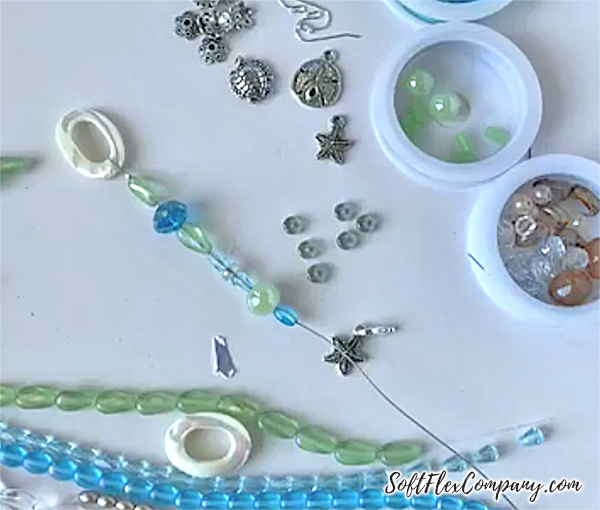 Attaching wire to a connector is easy. You will use the 2x2mm crimp tubes in the kit and a pair of Magical Crimpers. String the wire through a crimp tube, the connector and then pass back into the tube. Crimp the tube using the pliers, making the tube round and securing the wire to the connector. Trim the excess wire.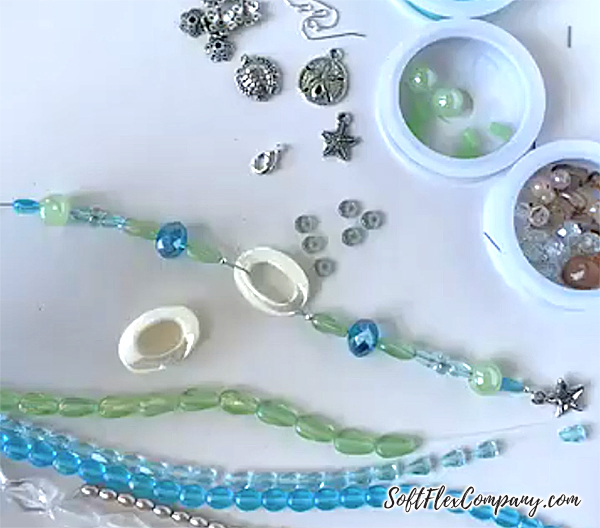 The beach colors in this kit were amazing for this time of year. It was just the color palette that I needed to cool down and relax. Who doesn't need soothing colors right about now?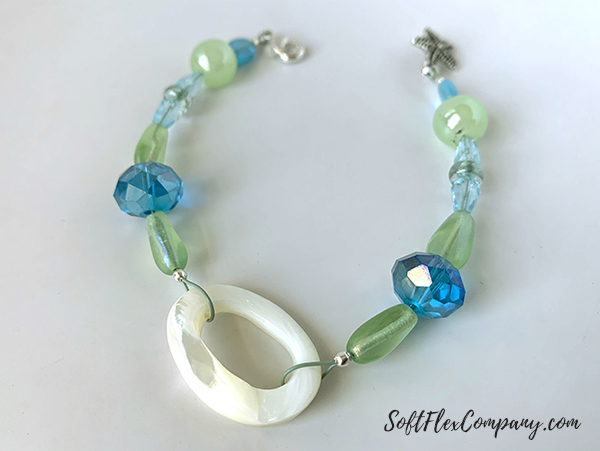 I was able to attach the lobster clasp to the little starfish from the bead mix. Super cute!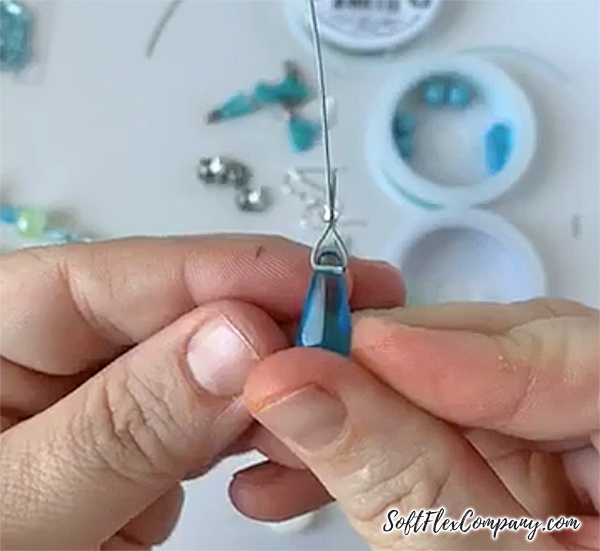 What bracelet is complete without a matching set of earrings. So I grabbed these great, blue drop beads and attached to a fresh piece of Soft Flex beading wire with a 2x2mm crimp tube.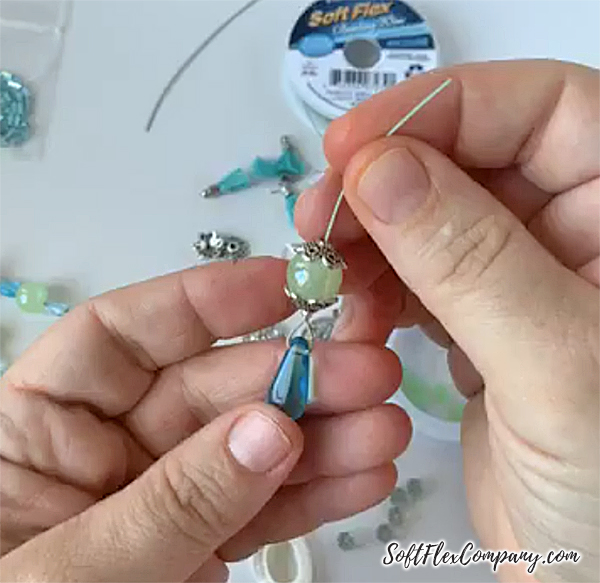 Then, I strung a bead cap, a round bead and a matching bead cap.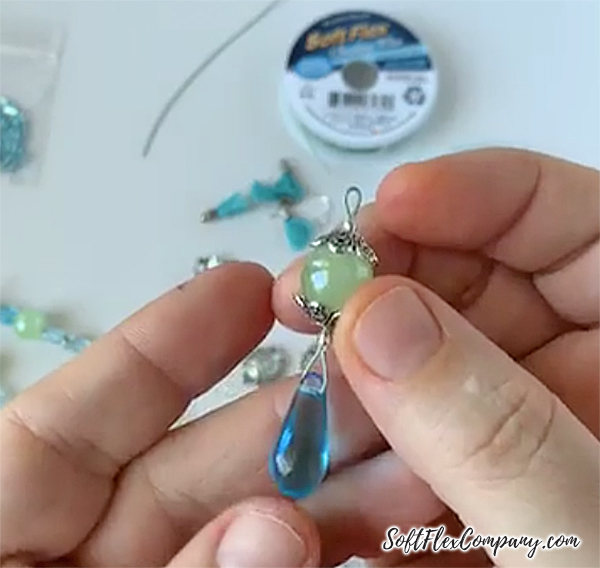 Crimp the top and attach to an ear wire and voila, you have a beautiful earring. Make another one and you have a perfect pair.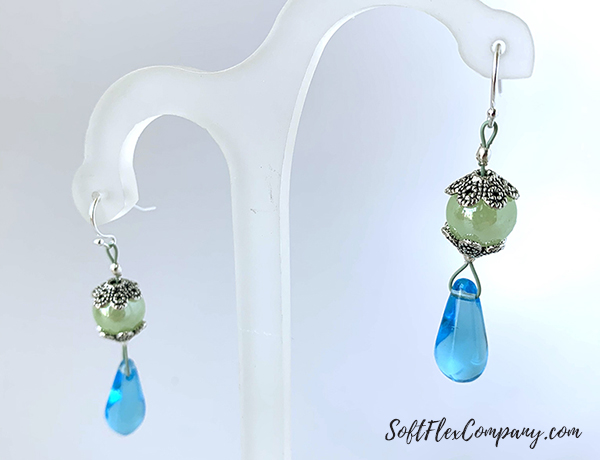 These earrings are nice and light and easy to wear.
I couldn't just stop at a bracelet and earrings, I had to make a necklace too.
So you can find instructions for making the necklace on the Soft Flex Company YouTube channel.
There, I shared the design kit and pulled together this fun necklace using another one of those mother of pearl beads as a focal point. I married the set together by adding a drop from the earrings too.
You can use a donut shaped bead, a round hoop or oval from TierraCast, a big holed lampwork bead or anything with a large hole as a focal for a necklace like this. The piece only needs one big hole in the center.
I hope that you enjoyed our latest design kit and will check out the next design kit that we have available. There is a new kit and a new theme each month. After I reveal the kit on Facebook, you are invited to join our Soft Flex Company VIB Studio Facebook Group and show us what you make with the kit. This is a great way to see what many different designers will make with the same set of beads and is my favorite part!
Join our Facebook group – VIB. Stay in the know. Stay up to date. From our bead shows to our video shows and sales, you can stay in touch with us. The community is full of artistic and helpful beaders and crafty people. Inspire and be inspired. Share your pictures and get the beading bug from others!
Visit the Soft Flex Company YouTube Channel!
---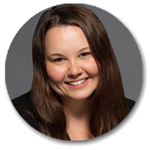 Sara Oehler (pronounced Ay-ler) is a well-known jewelry designer living in the Bay Area. Sara is the author of several beading books, including her latest title, written with Kristen Fagan, Seed Bead Revolution. She has designed and written for numerous publications including: BeadStyle, Bead&Button, Bead Trends, Stringing, Jewelry in Fashion Trends, Simply Beads, The Flow and Today's Creative Home Arts. Currently, Sara is the Sales and Marketing Manager for Soft Flex Company.Ask Sara Bead Expert
Blog: softflexcompany.com/beading-blog
Email: Sara@SoftFlexCompany.com