Would you like to give a handmade necklace to a special fellow in your life? Would you like to learn how to make bracelets for men? Let's take a look at men's jewelry. We will give you some tips on how to select colors for a spiffy grandpa. We will look at what gemstones might appeal to a fashionable father. We will show you macrame swag for your favorite millennial. Men can be a finicky bunch when it comes to adornments. We will show you how to make handcrafted jewelry that he will love!

You should be making men's jewelry. If you are selling your jewelry and you are not making designs for men, you are missing out on a huge and diverse demographic. If you are not selling your handmade jewelry but would like options when it comes to gift giving, we have tips that will make it easy to please even the most discriminating fellows. If you want to learn how to make jewelry for men, you need to understand how we think. Some of us are content with a single chain. Some of us want earthy colors and muted tones. Some of us might surprise you, we want glitzy glam and big gemstones. We will share some secrets. We will explore the hidden world of handcrafted men's jewelry.
Learn How To Make Men's Jewelry For Loved Ones Or Clients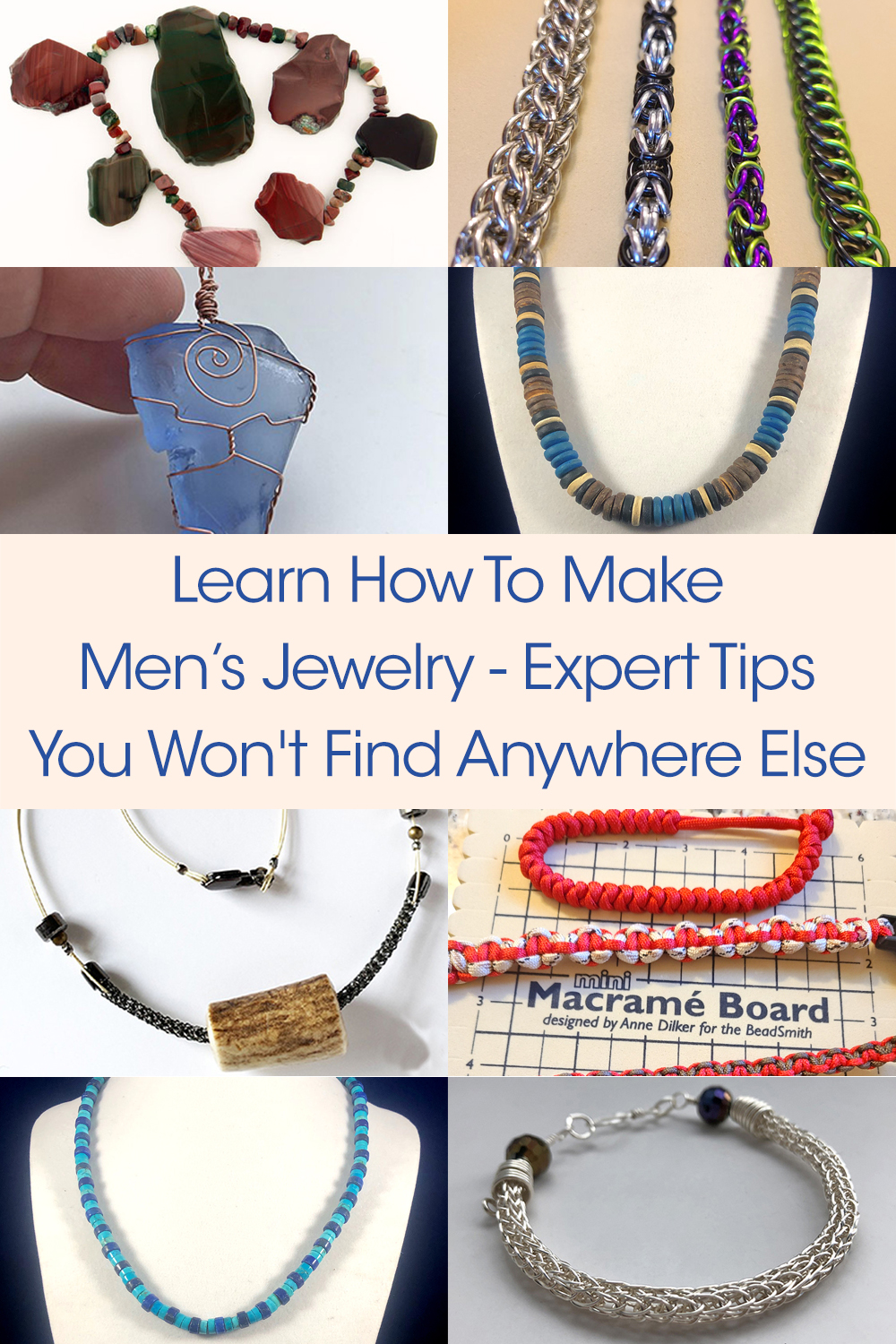 Want to know a secret? Men love jewelry. It may not be something we wear everyday. It may be an afterthought. But a good deal of us would welcome a well made and tailor made accessory. Some of us are stubborn. Some might only wear men's rings. But a good deal of us would appreciate a nice necklace or bracelet.
Beaded jewelry has been a constant companion since the time of primitive man. Hunters might distinguish themselves with an adornment that indicated their proficiency and skill. Beads were often a display of status and privilege. Echoes of this behavior have continued to this day. We may be working at desks or driving an Uber. But we are still happy to show adorn ourselves with an indication of our station in the world.
Six Viewpoints From Men That Make Jewelry
Want to know what kind of thoughts men have regarding jewelry? Some of us wear jewelry daily. For some, it is an afterthought. Some of us have been in the business for years and never considered designing a personal necklace or bracelet. Here are some thoughts from a random group of fellows:
Nealay Patel - SilverSilk and More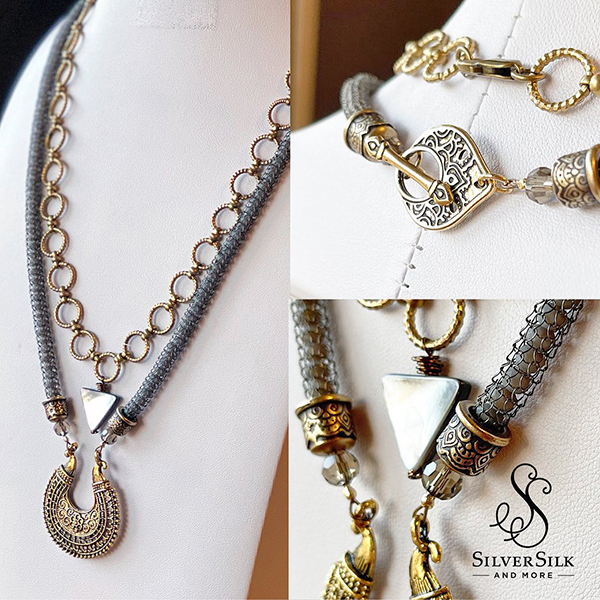 From Nealay:
I like to wear statement pieces when I wear jewelry. This includes designs with strong, bold lines and interesting materials. My style usually gravitates toward an earthy color palette and rustic materials, like metal, wood, stone, and matte materials. I don't really wear day-to-day jewelry but really if I'm going out and what I select to wear depends on my outfit. For example, If I wear a short-sleeve button-up, I like to stack bracelets. If I wear a formal button up shirt with no print, I'll drape SilverSilk chains to complete the look.
From Sam:
I've been running a bead shop for almost a decade now and made a piece for myself for the first time just this week. How wild is that? My good friend was asking me about the shop, and with it being what I do full time now, why they've never seen me wearing any of my beads! And I didn't have a good answer.
That conversation felt like an "oh duh!" moment for me, so I sat down and made myself a simple bracelet. I used items from this month's Sam's Bead Box which have a rich color palette that I thought could work great for a piece of men's jewelry. I've been enjoying wearing it, though the bracelet gets in the way when I type on my laptop! But beauty is pain, right?
From Jesse:
When I think about the process I use to create jewelry, I find it similar to dancing or improv performance art. Each piece is unique in its own way, even though the beads and materials are similar or even exactly the same. Every commissioned piece I do begins with spending time with the pendant, beads or stones that the individual would like me to use, in a way exploring and discovering the essence and soul of the items. Oftentimes I only have a very small idea of what the finished product will look like because what I really focus on is the first 10%. For me, getting started can often be the hardest part. Once I complete the first two dozen or so knots, I start to get a feel for what I'm working on and trust in the piece to guide me on what is to come next. As more knots get added, it becomes almost meditative or trance-like; the moment that the piece and I have figured each other out, we can just dance and flow until the last knot is placed.
James Browning - Soft Flex Company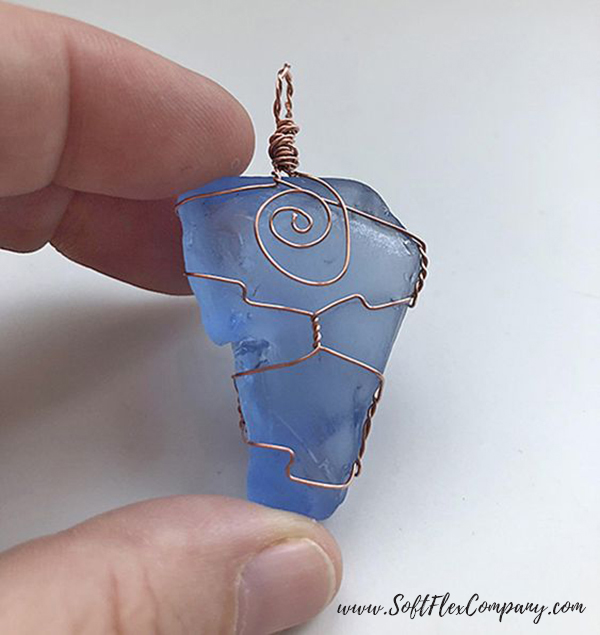 From James:
When I look for jewelry for myself or any of my male friends, I look for strong lines and darker colors. I myself prefer simple bracelets made from round natural stone beads or a complex chain maille design or a stacked mix with some leather thrown in. Necklaces for me are always longer pendant style, usually a cool wrapped stone on a leather cord or a simple silver chain. I also like the feel of small round beads, always stone, as the feel of cool stone feels nice against the skin.
Thomas Soles - Soft Flex Company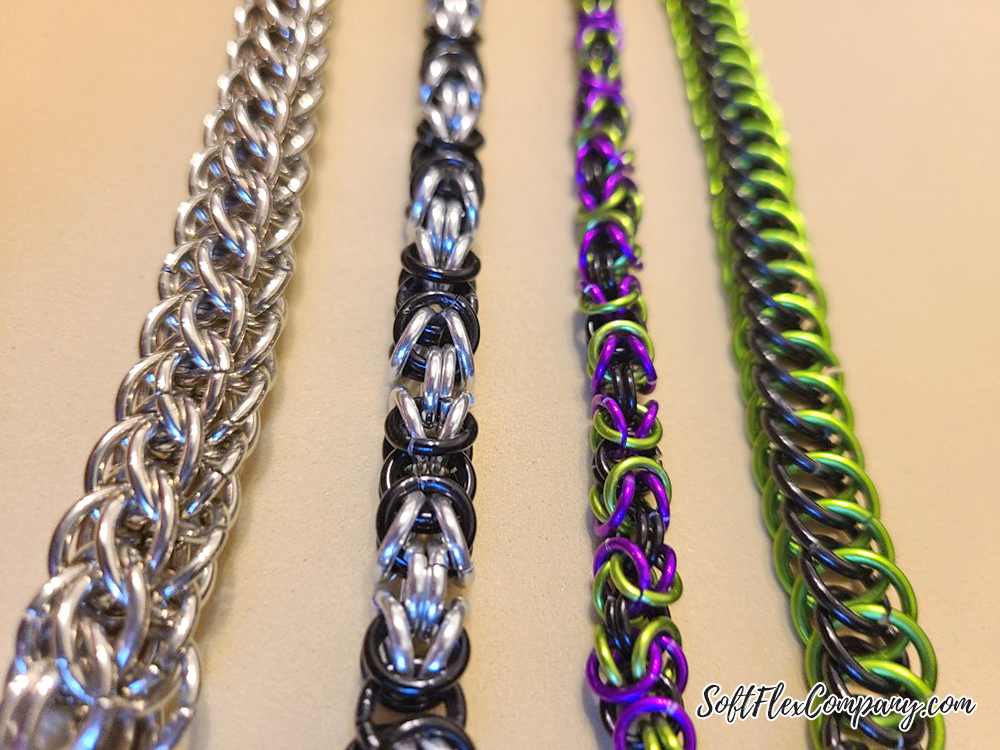 From Thomas:
I prefer something simple that I can wear during heavy activity or just dinner with my wife. I can go big or small with beads and stones as long as I do not feel like it is a chore to wear. I love anything with a backstory. Kumihimo, chainmail, and macrame are incredible for masculine designs and have a storied history. Samurai used braided kumihimo designs to adorn armor. Chainmail has a place in fantasy and medieval lore. Macrame has been associated with the Navy and this former sailor finds the aesthetic very appealing. I gravitate towards dark and earthy colors. Peitersite and Lapis are the apex of my stone choices. But wood, bone, shell, and even the odd stuff like spent bullet casings and bicycle chain links are all going to be design choices if I have them on hand.
Damien Shay - Soft Flex Company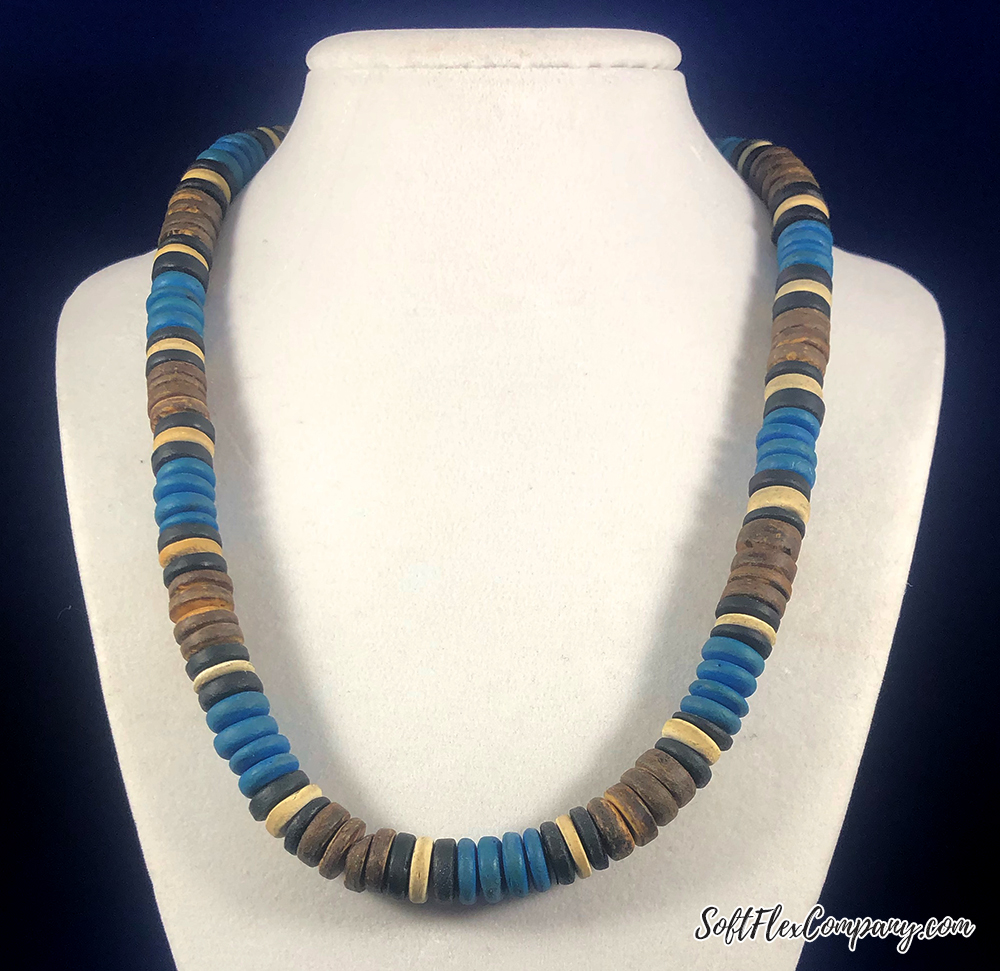 From Damien:
For men's jewelry I love simple designs mainly with smaller beads. I'm also a big fan of beach wear jewelry, so I make a lot of jewelry for myself using an assortment of shell beads. I do not like my jewelry to be heavy, so I use a lot of bamboo beads along with small turquoise and lapis beads to make them light weight. I usually stay away from faceted beads because of how shiny they are. I think I've only used faceted beads once when I designed a Winter necklace using faceted red garnet beads. Wearing something that shines for Christmas feels like a good fit.
Why Should You Make Men's Jewelry?
Selling:
Men's jewelry is unnecessarily expensive. Check out websites that offer masculine jewelry. The prices can range from three hundred dollars to three thousand dollars. Men's jewelry tends to be simpler and less ornate than something more feminine. If you are considering selling handcrafted jewelry for men, you can make a much more competitive offer with your designs, especially if you are a proficient jewelry maker.
You are missing out on market that is overlooked. There are lots of men checking out jewelry accessories. We look at Etsy too. If you are not including us in your demographic, you are missing out on a potentially big paycheck.
On the creative end, designing outside of your comfort zone is sure to inspire innovation and techniques that you have not used before. You might not succeed the first couple of times, but embrace the new possibilities. You are sure to find some imaginative ideas.
Gifting:
Any time you give a handmade gift, you are giving something made with love. A handcrafted piece of jewelry is going to be much more thoughtful that a store bought bracelet. Homemade crafts also have the potential to turn into heirlooms. The necklace you make for him might be worn by his grandchildren in the future.
Boys of all ages wear jewelry. You just have to figure out what you want to design. If you want to make something for a child, you might consider a stretchy bracelet. If you are making jewelry for a teen, the world is your oyster, they are much more likely to be adventurous. Consider macrame, consider braided silk or paracord, any single strand necklace or bracelet is going to be fun too. Just make sure they like the colors you select. If you are designing for an adult and you know what they want, you can make a sophisticated design they will love.
Supplies for male jewelry tend to be very forgiving on the pocketbook. You can make a beach necklace with wood and shell. You can use as many or as few beads as you like. A simple necklace with an interesting pendant is going to be easy to make and easy to wear. You will not need to spend a lot to make an affordable necklace that looks like a million bucks.
What Kind Of Man Wears Jewelry?
We are a varied bunch. You will find us in 31 flavors. Some of us are buttoned down and all business. Some of us a free spirits that let the day lead the way. Some of us are explorers that want to try something new. What are some common traits among us fellows regarding jewelry? Well, let's take a look.
First, there is, of course, the man that does not and will not wear jewelry. You might put a ring on their finger, but there is nothing else they are going to care to wear. You are going to have a hard time convincing this guy to wear anything but a wedding band. Let's not dwell on this fellow. He will smile when you gift him jewelry, but it is going to hide in a drawer until the dresser falls apart.
There are men that enjoy the classics. Beach necklaces, a simple beaded bracelet, a knotted leather design or chain. If you stick with simple colors and stones, this is an easy audience to target. Make it simple and keep the tones muted and earthy. Make your jewelry easy to conceal. These guys might hide a necklace under a business suit and then show it off during a day at the lake.
There are men that love chains. A simple chain with a pendant is going to be all they want to wear. You can appease this crowd by staying simple again. If you are a metal worker that loves to make more in depth designs, you can probably appeal to a clientele that wants the big bling pieces. But for most of us, a simple chain is going to be the ticket.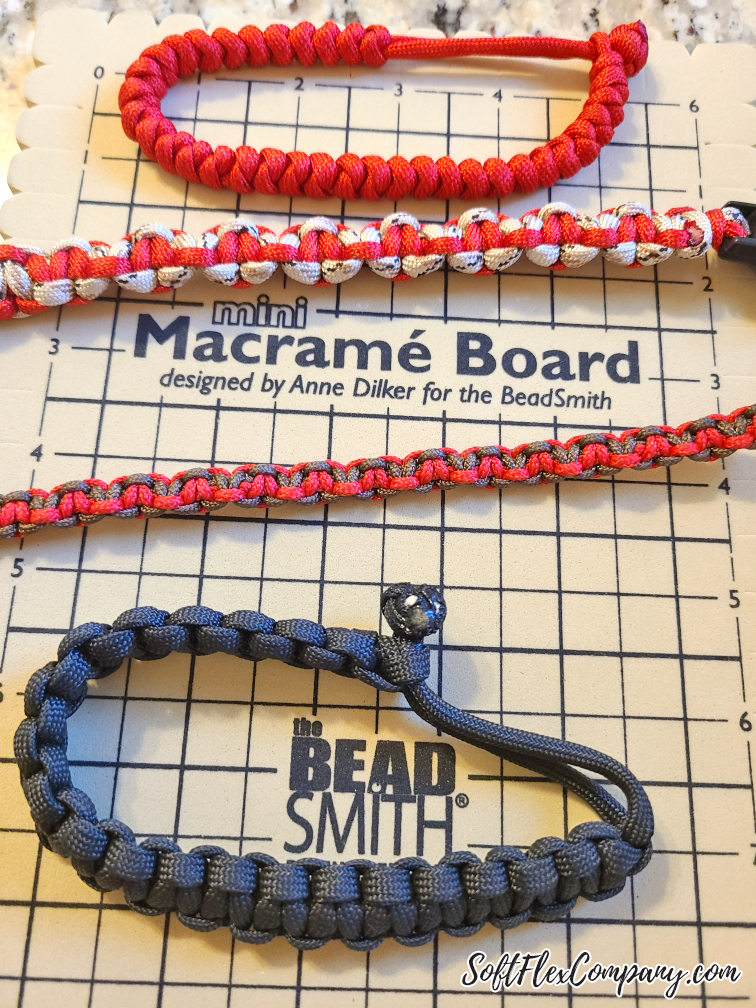 There is the utility crowd. Their jewelry is going to be aesthetic and functional. Paracord is a great supply to pick up to make this jewelry. This is a real manly man's jewelry. The idea of designing with paracord is that this jewelry can be unknotted during an emergency. Paracord can be used to secure camping equipment. It can be used to make a tourniquet, a rescue line, a very strong rope, a sling, a fishing string, and more. Lighter applications might include a fancy dog leash or decorative handle. This is going to appeal to outdoorsman, first responders, soldiers, and men that crave action. The black bracelet above was a bracelet design featured in the latest Mad Max movie, featuring Tom Hardy. Tom often wears layered macrame and beaded bracelets. This jewelry is rugged and functional.
There are those of us that want to carry something sentimental with us. A simple beaded design with a significant pendant is what we are looking for. For this design, you can create a basic beaded necklace and include the element they want. If you are creating a piece of jewelry for somebody that is an avid bicyclist, consider adding bicycle chain links into a bracelet. A man that loves his guns might appreciate a bullet casing used as a pendant (casings are legal to wear since the cartridge has been broken down and the primer is gone, but it might not be advisable to bring along if traveling by air). Dog lovers might want a pendant created from a piece of a beloved pet's collar. This is likely something you will be gifting, unless you have a client that asks for a specific design, so make sure to get an idea of what might appeal to the recipient.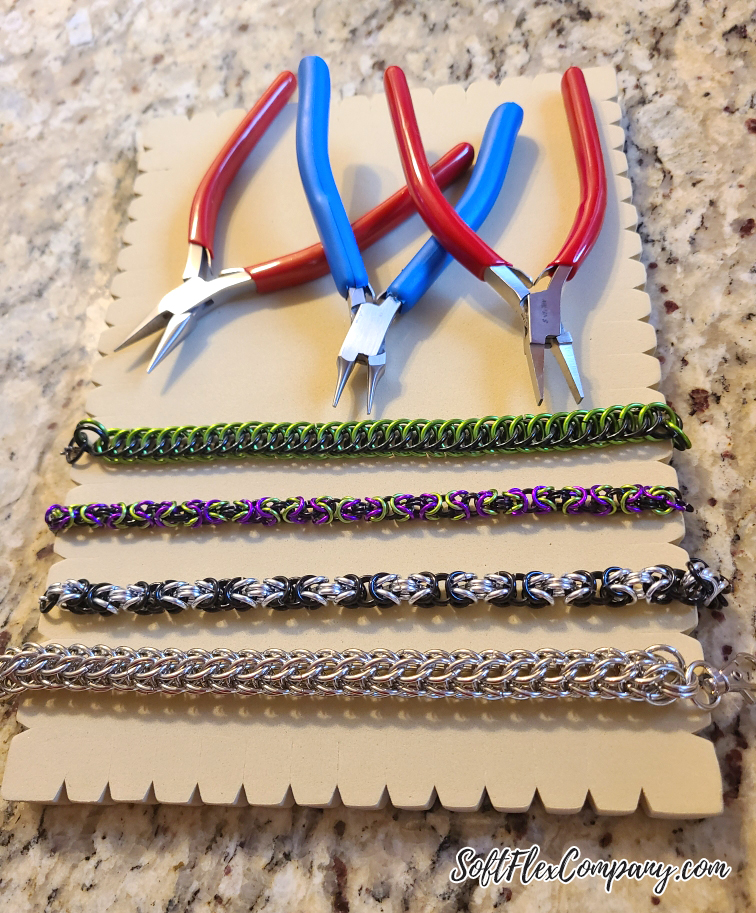 There are those of us that geek out over chainmail. This is a fun look. Consider a chainmail bracelet for the man that enjoys Game of Thrones, The Witcher or Dungeons and Dragons inspired fiction (there is an 'A list' Dungeons and Dragons movie in production, act now and you can gift your design in time for all of the hype). This look will also appeal to those of us fellows that are gamers. Do you have a World of Warcraft fan in your family? They would love a chainmail design!
There are fashion forward men. Jared Leto is a current celebrity that fits this bill. This guy is going to want experimental jewelry designs. He is going to want something fresh and new that demands attention. This guy wants to be noticed and his wardrobe and adornments are going to have to be cutting edge. This is probably going to be the most difficult to appease. Men's jewelry for this fellow does not have to be big, it just has to grab eyes. Unusual beads and unique pendants are a must for any design.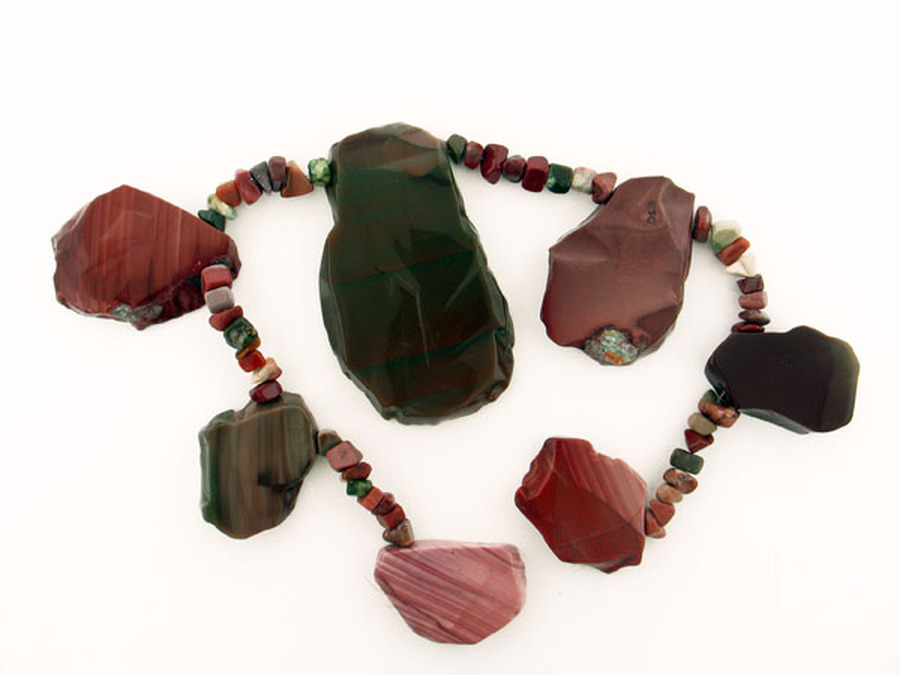 There are guys that love big chunky jewelry. Soft Flex Company founder and owner Michael Sherman is one of these guys. We often joke about his taste in jewelry when we see very large focal beads and slabs of Jasper. This is a fun person to make jewelry for. You get to use the most delicious big stones you can find. Add a unique spacer stone or bead between the big guys and you have a stunning necklace that is made for a man that is not afraid to broadcast.
Mike is a great source for inspiration, check out his designs in the video above. He has a great eye for what works in a male or female jewelry piece. His jewelry is gallery quality and would be great for guys that want chunky jewelry or the guys that are fashion followers.
There are lots of different types of men out there. These are guidelines. But you can always break the rules. Use your imagination and see where it takes you.
How Do You Make Your Jewelry Appeal To Him?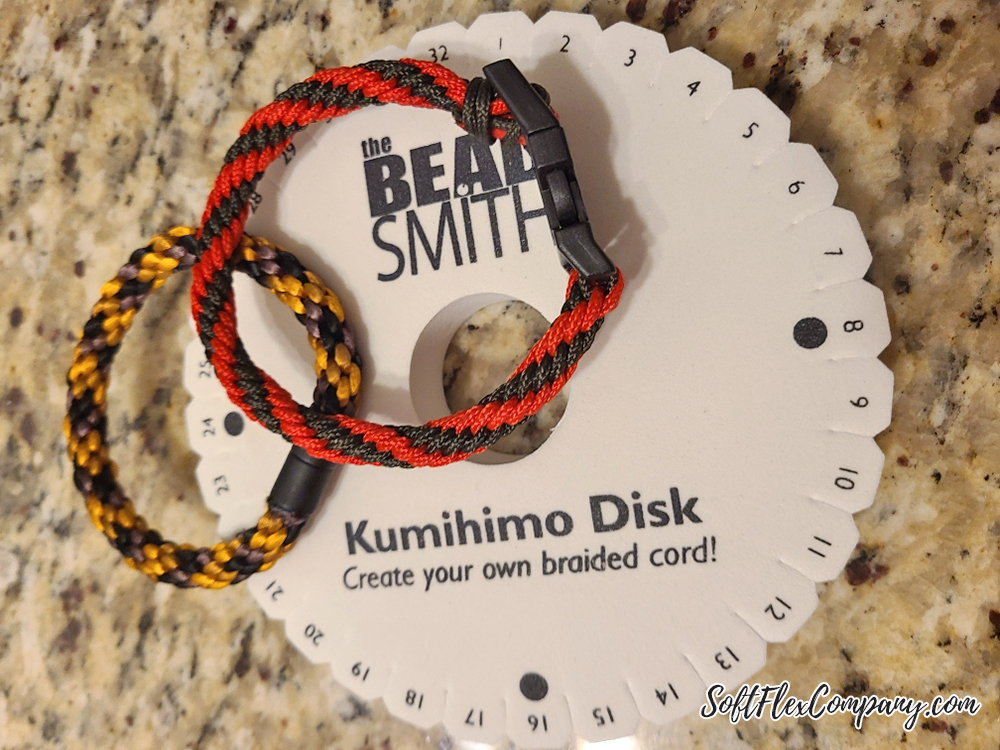 Stretchy Jewelry. No muss no fuss. Easy to wear. Easy to take on and off.
Unobtrusive jewelry. We don't want a bracelet getting in our way if we work construction or are active.
Colors. We love muted colors. A little flash is fine, but we prefer earthy colors for the most part.
Unique jewelry. Braided kumihimo was part of samurai adornment - if it was good enough for them...
Simple jewelry. We love a string of interesting beads. You do not need to overcomplicate things.
What Colors Make The Most Appealing Men's Jewelry?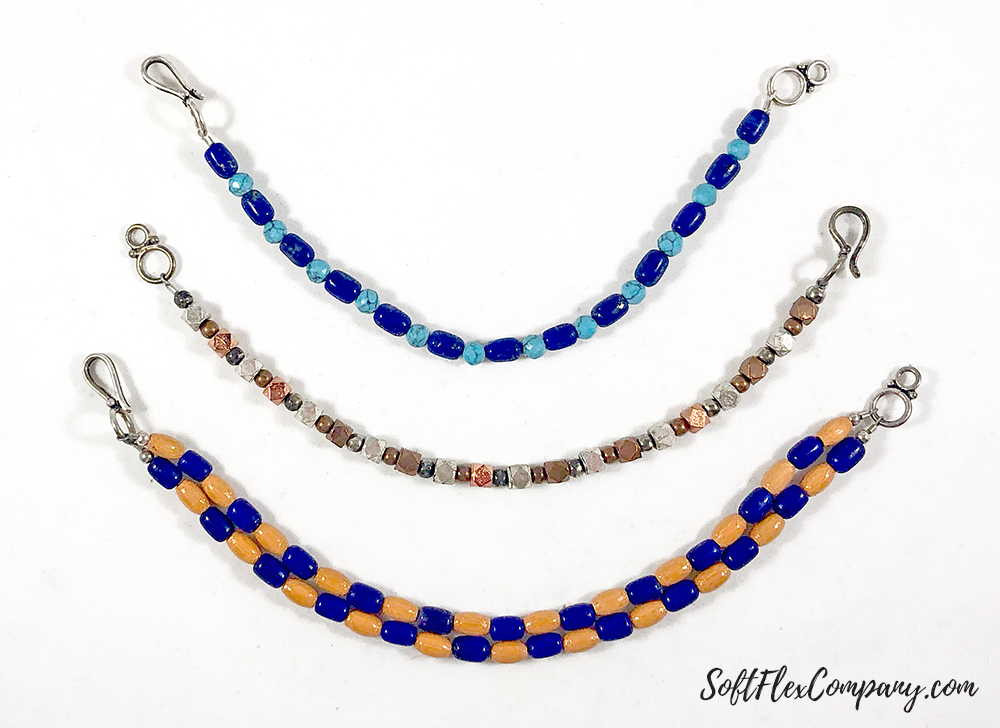 Selling:
We love all colors. But you are not going to have a lot of luck selling men's jewelry if you go big flashy. Start small. Use earthy tones. We like blues and reds. Black is always in fashion. We think metal is awesome. Build a clientele using subtle stuff. Once you network and work into a larger crowd, you can always experiment. There are men that love flashy colors and eye catching purples. But start small. Test the waters and do not be afraid to restring jewelry if it doesn't sell. That is the beautiful part of beaded jewelry, you can make mistakes and move on.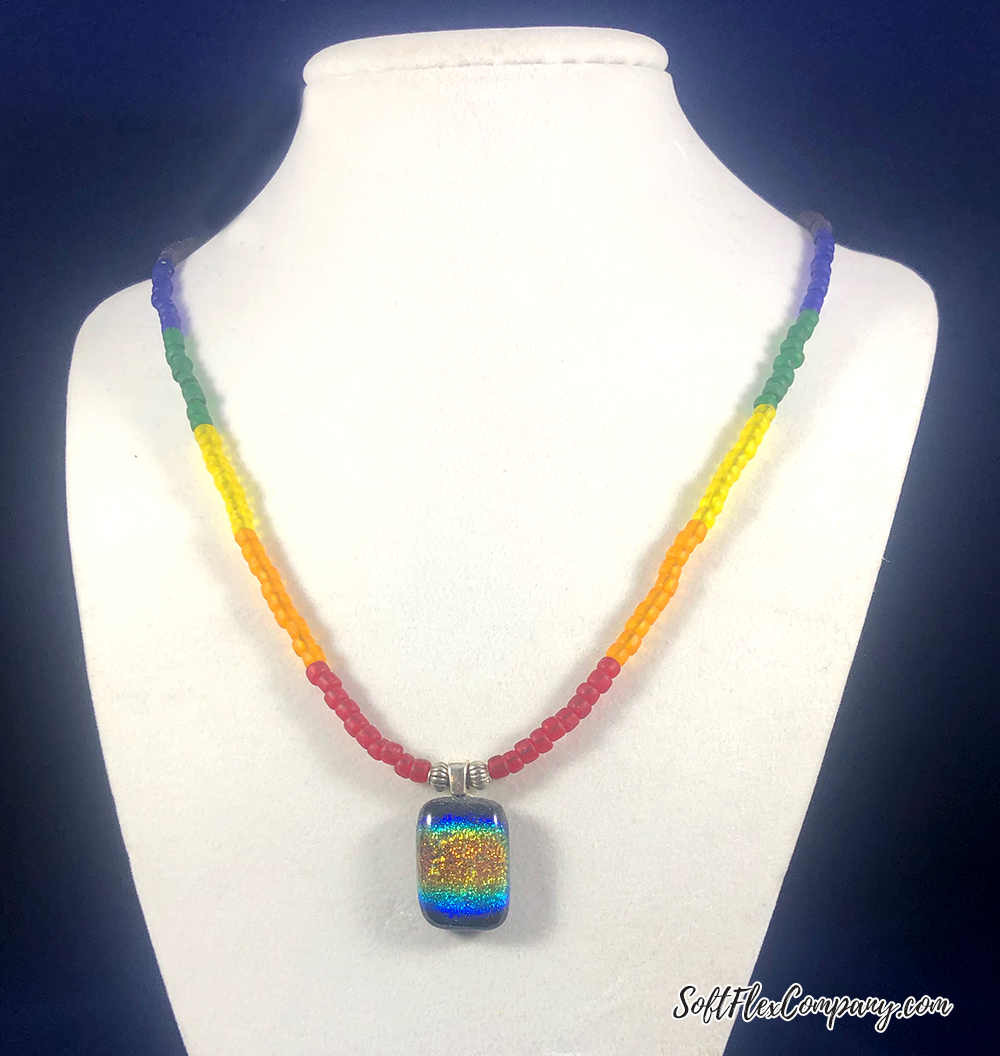 Gifting:
It is easy making something for someone you love. Keep an eye on the clothing they wear the most often. That is sure to tell you about their color preferences. No man is going to wear a shirt if it is a color he detests or does not appreciate. We want to show our colors. You can take your cue from their outfits.
You can also make occasion jewelry or celebratory jewelry - pride jewelry is a great gift. So is jewelry that celebrates a holiday. Men are more apt to wear something out of their comfort zone if it is for a special occasion. Flashy red and green bracelets are fun for the holidays. The colors of their favorite team is a wonderful idea for a winning streak or big game.
If your loved ones do not wear a lot of color, go with the muted earthy browns and whites. That is sure to be a hit. Go with a quiet selection of stones and beads unless you know they want to wear a colorful piece of jewelry.
What Gemstones And Beads Appeal To Men?
We love gemstones and beads as much as we love color. As a male that grew up in the American Southwest, I have a bunch manly men electricians and miners in my family. I am, in fact, the first male on my father's side in decades that did not follow my family into the mines. Despite being hardened workers, all of my family loved the stones from the desert. Rich copper and Turquoise histories are all over the places of my youth. You might not wow the males in my family with amethyst or diamonds. But you show them a copper band and they are oohing and ahhing in appreciation.
Here are my curated picks for gemstones and beads that I would enjoy wearing:
Lapis - As a boy that was fascinated by all things ancient Egypt, this stone stirs so many feelings. It is wonderfully androgynous and mysterious.
Pietersite - This stone looks like it came right from the Earth's crust. Very powerful and easy to mix with other beads. This stone and Lapis are at the apex of my list.
Antler - Wonderful and organic. Our antler is harvested from the ground after it has been shed. No animals are harmed or killed to recover the antler.
Lava Rock - I love this stone. But beware, not everybody enjoys lava. If you sell this in Hawai'i you might get some disapproving looks.
Wood - Great for a day at the beach or an accessory for a favorite t-shirt. Wood will never go out of style.
Metal - Metal is classic. This goes great with nearly any masculine design. Add a little rock and roll to your next bracelet.
Bronzite - Earthy and magnificent. A sophisticated addition to a necklace.
Chrysocolla - Everybody is going to be green with envy when they see this stone on a design.
Emerald - This popular stone looks great on a man when it is in a nugget form. Smaller rondelles would be good for spacer beads. This is for a client and loved one that has a deep pocket. Skip this if you are on a budget.
Jasper -This fun stone is great for adding a splash of masculine color.
Tektite - This otherworldly stone fell from the sky. Great as an unusual pendant. Wire wrap the stone to give it real character.
Shell - Pair this with wood or great creative. Great for spacer beads or pendants.
Tsavorite - For the big spenders. This radiant stone takes its name from Tsavo. Once home to a pair of man-eating male lions, famously seen in cinema in The Ghost and The Darkness. Rawr!
Turquoise - As a native Arizonan, this stone runs deep in my family bloodlines. We are copper and turquoise people. This stone is stunning for any male or female design. The ghost of the Southwest haunts this beautiful stone.
Vary Your Jewelry Making Techniques, Don't Stick To Single Strand Jewelry Designs
You do not need to learn any new techniques to make a bracelet for men. If you know how to string a necklace and crimp the ends to secure it, you know how to make masculine jewelry. Don't forget to pair your jewelry with exciting components. Regular clasps are boring, look for something he might like - try Star's Beads for higher end and unique findings. If you cannot find a clasp, he would like, I would suggest a lobster claw. I do not want my jewelry coming undone and I know if I wearing closing a lobster claw that my jewelry is going to be secure for the day - regardless of how active I am.
Don't stick with simple single stranded beaded jewelry. A single strand necklace that is appealing is a sure sale. But we enjoy other looks too. Add some macrame designs to your arsenal. Add braided kumihimo designs for him. You can use paracord for kumihimo work or silk. One fun thing about braided jewelry is that you can mix and match cords. If you use a thin cord and a thicker cord on the same braid, you will get an interesting textured look.
You can even work some magic with Soft Flex Craft Wire, check out some of James' designs.
Viking Knit With Craft Wire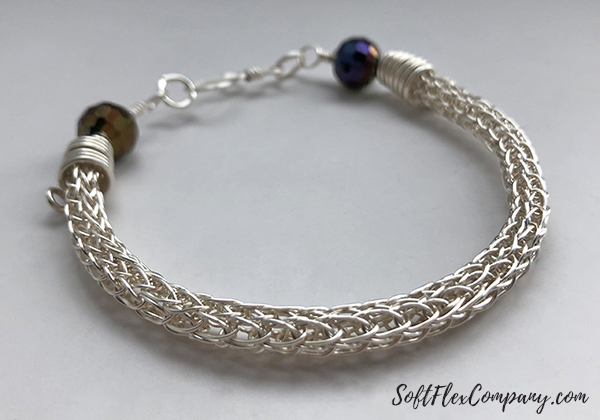 James Browning shows how to Viking Knit using the Lazee Daizee Viking Knit Wire Weaving Tool along with Soft Flex Craft Wire in 24ga. After he finishes the knit, he shows how to use the Draw Plate to tighten the links.

Click here to view this video.
Learn How To Make A Captured Bead Chain Using Soft Flex Craft Wire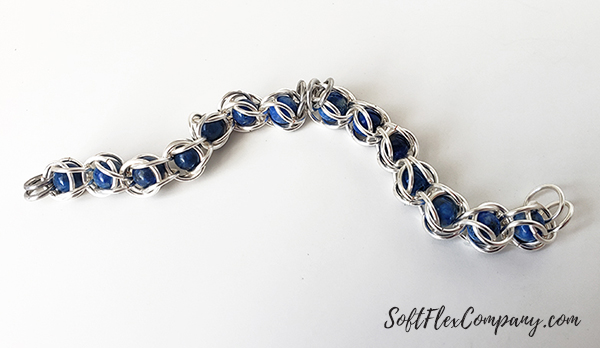 From James:
Today I am going to show you how to make capture chain. It is technically a chainmail weave. We are going to be using jump rings. It is actually a really simple technique.

Click here to view this video.
Go Make A Men's Necklace. You've Got This!
See. We are not so different. You like gemstones. We like gemstones. You like to mix and match wonderful colors. We like to mix and match. There are no real rules here. We tend to shy away from faceted stones. We usually skip the polished stuff. Give us nuggets and textures. Give us rugged beads that won't break if we are working a hard day. Making jewelry for men is especially easy if you have a critic. Ask your fellow for gentle advice. He can tell you why or why not he would wear a necklace. If he does not like you gift, restring it. That is part of the fun of a great jewelry design. You can make edits. If you string something you are unsure he will like, don't crimp it until he gives his thumbs up.
Good luck! We would love to see your masculine jewelry designs on our VIB group!
Join our Facebook group – VIB. Stay in the know. Stay up to date. From our bead shows to our video shows and sales, you can stay in touch with us. The community is full of artistic and helpful beaders and crafty people. Inspire and be inspired. Share your pictures and get the beading bug from others!
Visit the Soft Flex Company YouTube Channel!
---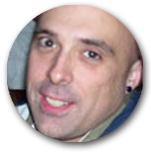 Blog contributor Thomas Soles loves Jazz Age writers and crunchy french fries. His favorite gemstones are Lapis and Pietersite. His favorite hobby is day dreaming. And his favorite mustache is Freddie Mercury's. As you can see, he has a healthy (or possibly unhealthy) sense of humor. You can write to him at Thomas@SoftFlexCompany.com