We had a lively holiday party. We invited our friends to join us for a gift trade and make some DIY Christmas gifts. If you love homemade Christmas decorations and jewelry, you will love this merry beading party. Make something along with us! We are using kits and beads that can be found on every participant's website. You can also use the beads and findings you have at home. Learn a new technique or just bask in the glow of creative holiday energy! Join us for a beading Christmas party!

Do you love meeting exciting jewelry designers? We think it is so much fun to get inside their heads and see what makes them tick. Especially when you can apply some of their knowledge to your own jewelry projects. There is no better way to excel than to stand on the shoulders of giants. We have been holding live jewelry making parties on Zoom. You can find these fun beading shows on the video section of the Soft Flex Company Facebook page and our YouTube Channel.
Christmas Crafts Featuring Soft Flex, Jesse James Beads, And SilverSilk
We love a Beading party! This time, we invited some of our favorite beading folk to join us for a creative Christmas party. We wanted to trade gifts and make some holiday inspired jewelry. Jewelry is such a fun way to change up a boring holiday party. Instead of gathering a bunch of people together and spending the night drinking spiked eggnog, why not make some memories? Introducing your friends and family to bead stringing is a great way to inspire them to make some real handmade art. That is truly a gift that keeps on giving!
This beading party was a blast. We shared beads. We talked Christmas trees. We all felt the warm glow of the holidays. We talked about how important it was to make our homes cozy and festive and be positive in the face of all of the adversity we witnessed during this hectic year. We need a little Christmas, right this very minute! We hope you are decorating for the holidays and enjoying the festivities. Have a party with us!
This was a holiday party full of familiar faces. If you have been reading our blog or watching our videos this year, you are probably familiar with everybody. Sarah James joined us, from Jesse James Beads, she brought her buoyant spirit and wonderful energy. Nealay Patel, from SilverSilk, showed up to bring some happy holiday cheer. Kristen and Sara brought some Soft Flex magic and inspirational creativity. It was a fun group of friends and we broadcast live to Facebook to share the moment with all of you!
Some holiday parties end with a gift giving celebration. Our started with one! We traded kits and beads before the show began. We unboxed when the cameras rolled. New beads are just the best. And Christmas beads are so full of fun and love. Opening new beading kits and palming a handful of new beads is definitely one of the happiest things we get to enjoy. Loose beads are a delight. They are an enigmatic mix of unrealized potential. Just staring at a hand full of unstrung beads stirs our minds and we are already start plotting our next necklace.
Kristen Fagan's Christmas Jewelry Designs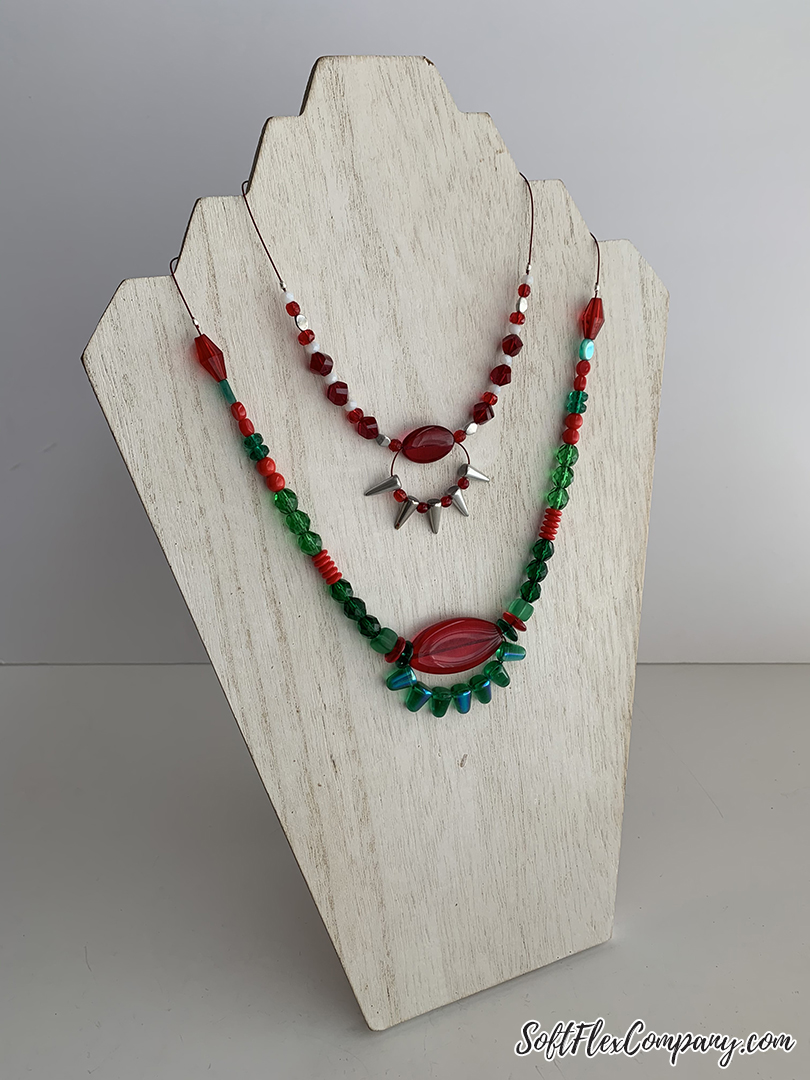 Kristen was unstoppable during this meet up. While everybody was busy unboxing their goodies, Kristen had already started two necklaces. Her gifted beads must have really resonated with her. Green is her favorite color. And the seasonal green and red combination is always a hit. For anybody that celebrates the holidays, this combination is pure nostalgia to kids from one to ninety-two. The red of a warm hearth. The lush green of a friendly tree in the softly lit living room. There is so much love, hope, and happiness in this colorway
Kristen really did a terrific job with her Christmas necklaces. They have the candied and jubilant look of traditional Christmas crafts. But they have a rebellious spirit with the daggers on the focals. It is a great reimagining of holiday fashion.
Make sure you follow Kristen. She is a Soft Flex Employee, but you can also shop at her personal website.
Visit Kristen's Links:
Sara Oehler's Christmas Jewelry Designs
Sara knew she wanted to make some new necklaces for her girls. She made a darling little matching set of necklaces for her sweet family. Mama bear is already showing her pack how to craft and be creative. Sara has given her kiddos beading kits and has instructed them how to make handmade crafts and jewelry for their teachers and loved ones. There is nothing more enriching than giving a young person the desire to create. Life is wonderful when you can appreciate beauty and convey it in art.
Sara's necklaces are so easy to make. And they look so amazing. You can make these wonderful pieces of jewelry for your children or grandchildren. Best of all, you can teach them how to make a necklace themselves. The learning curve is not difficult. If you can instruct your loved one on how to crimp a design to finish it, they will have conquered the hardest part of bead stringing. If they cannot crimp yet, they can learn how to string their beads and let you finish the crimps.
Make sure you follow Sara. She is a Soft Flex Employee, but you can also check out her personal website.
Visit Sara's Links:
Nealay Patel's Christmas Jewelry Design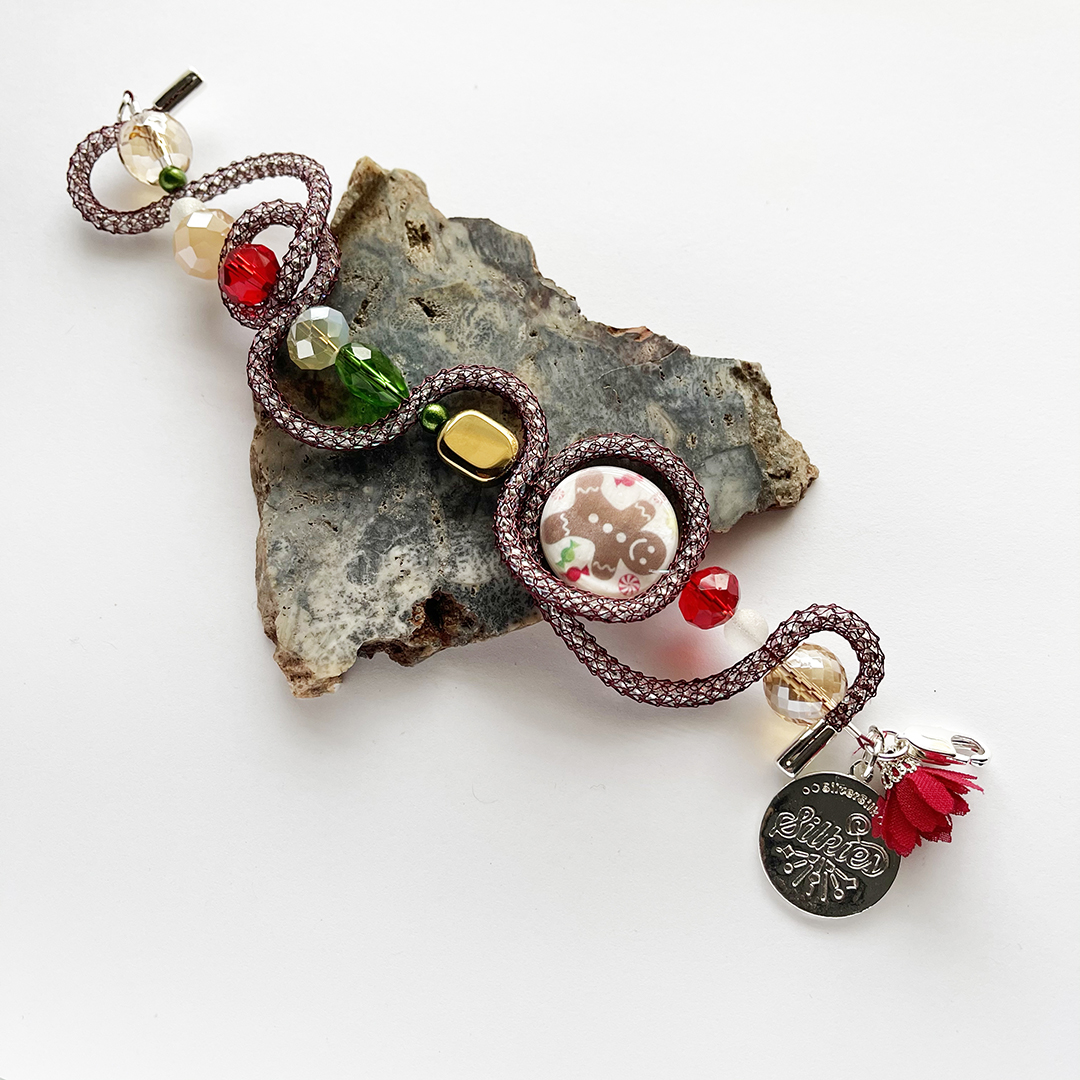 Nealay is incredibly creative and is a gifted designer. He is a playful artist. He likes to design adventurous jewelry. His necklaces are dense with details - knitted chain, wire wrapped stones and findings, and beading wire interacting with SilverSilk chain. You can learn a lot from a short Nealay video. Make sure you support his social media and get inspired!
Nealay blow us away with his delicious bracelet. This candied cutie looks good enough to eat. And, at the same time, it looks incredibly elegant. The playful gingerbread man looks perfect, surrounded by a rich coil of Shimmering Rose Pearlesque Chain. The beads look so tasty. This jewelry piece is a sugar rush on the wrist!
Visit Nealay's Links:
Sarah James' Christmas Jewelry Design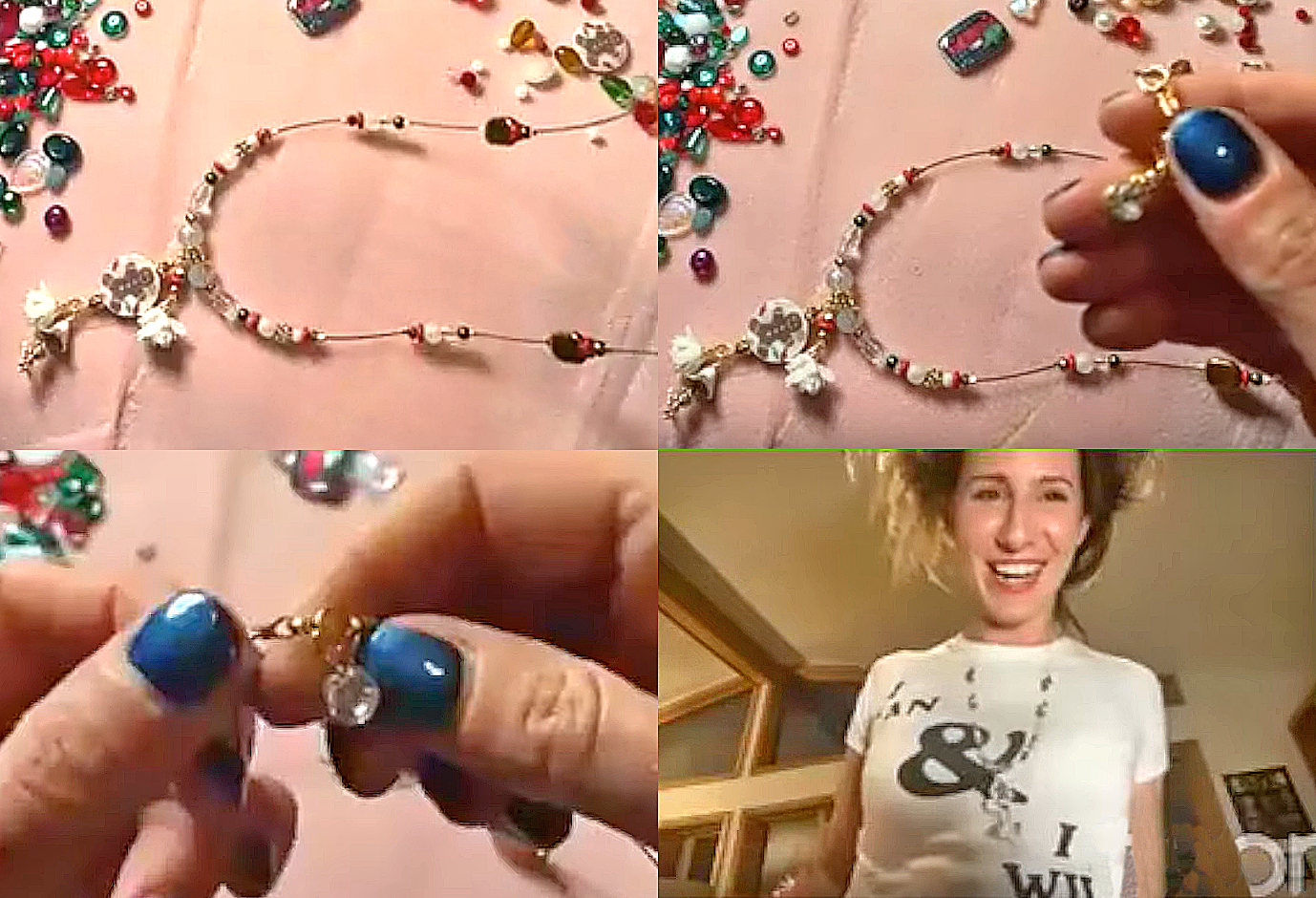 Poor Sarah. She is a tireless worker. Every time we catch up with her, she is on the road, on business. Or she is managing a bunch of new projects and work. A recent knee injury has sidelined her. Her ACL was torn completely in half and she tore her meniscus. She was in surgery this week to repair the damage. She will need to be off her feet for four to six weeks. Thankfully, she has a great caretaker and is in high spirits.
Our live viewers were excited to see Sarah's design. There were some viewers that have been long time Jesse James Beads customers, but have never seen any of her finished work. She did an amazing job. We absolutely adore Jesse James Beads selection of bead mixes and kits. Their tassels are always so elegant and fun. Sarah included lots of eye candy in her finished work.
Make sure you follow Sarah's social media. Wish her well. Give her some recovery love!
Visit Sarah's Links:
Jesse James Beads Facebook Group
Shop For Christmas - Beading Supplies
Soft Flex Company Jewelry Making Design Kits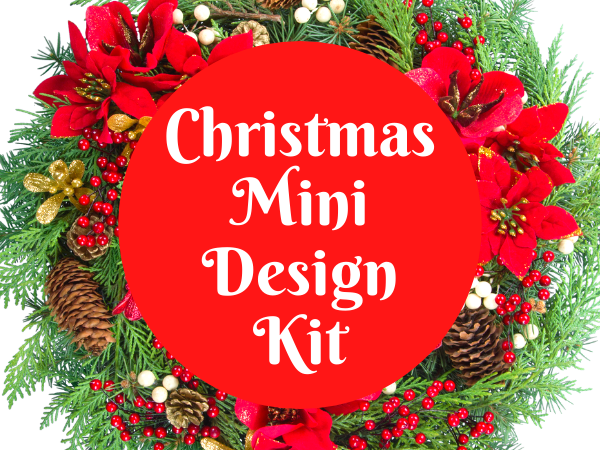 Shop for your favorite crafty person. If they are already a jewelry designer, they will love any beading supplies that they can add to their beading toolkits. If they are a beginner, you can find Design Kits on Soft Flex Company's catalog. Design Kits make it easy to make jewelry. We have a ton of instructive videos and guides. If you need to learn a new jewelry technique, our YouTube channel has hundreds of hours of jewelry instruction. We carry all of the tools and beading supplies you need to make DIY jewelry.
Themed Jewelry Making Design Kits are a great gift for your favorite crafter. They are the perfect introduction into beading for an adult that wants to make their own handcrafted jewelry. They are a great way to give a creative mind the chance at exceling at a new hobby. And they are a wonderful gift for a child. Bead stringing is part of STEAM learning! Stage your own beading party make along. Invite your friends and family to create something wonderful with a kit of their own.
If you are new to beading, this kit comes with findings, beads, wire, and surprises. If you have crimping pliers and cutters, you have everything you need to make some fun jewelry.
Supplies are very limited. Don't miss out!
Jesse James Beads Holiday Collection

Jesse James Beads is a magical bead store. There have a ton of stunning bead mixes. You can find fun for the whole family. Elegant beads for the sophisticated. Jazzy beads for the funky. And they are licensed to sell Disney beads. How great is that? If you really want to treat the little ones, grab a Nightmare Before Christmas Bead Bundle! There is so much to love - caged beads, tassels, tote bags and so much more. They even have a monthly bead box subscription. Treat your friends to the gift of beads!
From Jesse James Beads:
Christmas beads, charms, and pendants from Jesse James make Christmas jewelry designs sparkle! Get festive holiday jewelry supplies and easy to make holiday jewelry ideas from the Winter Wonderland Collection at JJB. We love beading all year 'round, but there is something special about holiday crafting.
SilverSilk Pearlesque Chain
SilverSilk and More is a feast for the eyes. You can find adventurous kits. Want to master metal stamping? There is a kit for that. Want to design a necklace that feels like a rainy day in Paris? There is a kit for that. This site was founded on Knitted Wire Chain: Capture Chain, Pearlesque Chain, and Hollow Mesh. This chain is a perfect pairing for Soft Flex Craft Wire or beading wire. It is also amazing by itself. SilverSilk is a great jewelry making medium for women's and men's jewelry. We think Nealay's catalog is absolutely gorgeous. Make sure you check out his Tuesday Tuts series on Facebook. This live show will instruct you how to use SilverSilk.
From SilverSilk and More:
Elegant, strong and supple, SilverSilk is a jewelry ­­revolution. Knitted from wires of 99.9% pure enameled copper that are nearly as thin as a human hair, SilverSilk is lightweight, incredibly durable, can be cut without fraying and is supple to the touch. The unique elasticity of the knit lends a luxurious free-flowing feel to SilverSilk, while the permanently enameled non-tarnish copper ensures a long-lasting beautiful finish - joining the strength and beauty of metal with the intricacy of finely woven knit.
Learn How To Make Christmas Ornaments
Make A Swirl Ornament Hanger & Icicle Ornament with Craft Wire
Holiday Crafts and Ornaments - How to Make a DIY Beaded Icicle Earrings with Craft Wire
Snowflake Ornament Using Soft Flex Craft Wire On A WijJig
Join our Facebook group – VIB. Stay in the know. Stay up to date. From our bead shows to our video shows and sales, you can stay in touch with us. The community is full of artistic and helpful beaders and crafty people. Inspire and be inspired. Share your pictures and get the beading bug from others!
Visit the Soft Flex Company YouTube Channel!
---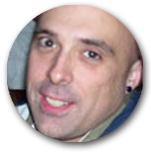 Blog contributor Thomas Soles loves Jazz Age writers and crunchy french fries. His favorite gemstones are Lapis and Pietersite. His favorite hobby is day dreaming. And his favorite mustache is Freddie Mercury's. As you can see, he has a healthy (or possibly unhealthy) sense of humor. You can write to him at Thomas@SoftFlexCompany.com