With just a few colors of Soft Flex Beading Wire, an assortment of beads and crimp tubes you can make a delicate multi circle necklace and earrings set! This modern and handmade geometric jewelry design is sure to please.

One way to ensure the wire colors you choose blend together beautifully is to purchase a beading wire color variety pack! We have over 20 gorgeous color combinations in our Trios Multi-Color Beading Wire Variety Packs that take the guesswork out of choosing a pleasing color palette. And this week, we just released our first ever Quad Beading Wire Variety Pack with four unique colors chosen from the 2019 Fall / Winter Pantone color trend report!

New trending Fall/Winter Pantone colors have arrived! We put together a striking Soft Flex Pantone Quad Beading Wire Pack and teamed up with our friends at Jesse James Beads for a Soft Flex Exclusive Pantone Bead Mix to match Pantone's Creme de Peche, Biking Red, Sugar Almond and Blue Stone colors.
Delicate Multi Circle Necklace & Earrings Set
See how I use all four Pantone beading wire colors in this modern, delicate and geometric multi circle necklace design and hoop earrings! What color are you most excited to use in your designs this season?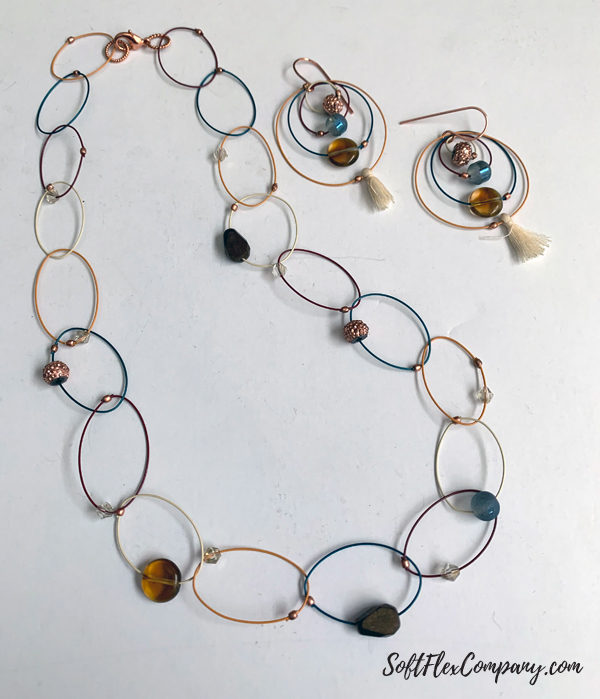 Supplies:
2019 Fall/Winter Pantone Quad of Beading Wire
Golden Gate Bead Mix - Limited Supply
Soft Flex 2x2mm Copper Crimp Tubes
Magical Crimping Pliers
Soft Flex Professional Flush Cutters
Ear Wires
Lobster Claw Clasp
Jump Rings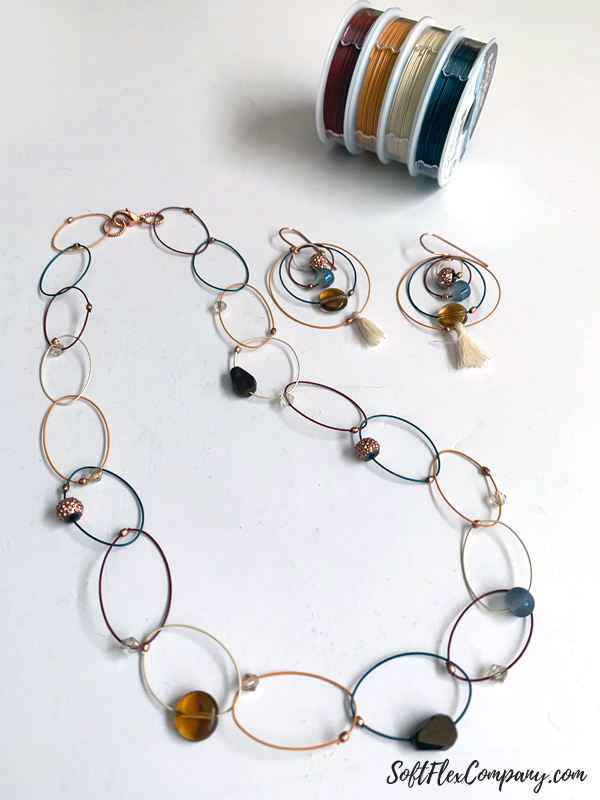 The beaded necklace and hoop earrings really lets our new 2019 Fall/Winter Pantone Quad Beading Wire colors shine! I pair that with our Golden Gate Bead Mix made exclusively for Soft Flex Company by Jesse James Beads. The pop of blue in both the wire and bead mix is a sophisticated accent to other three Fall colors.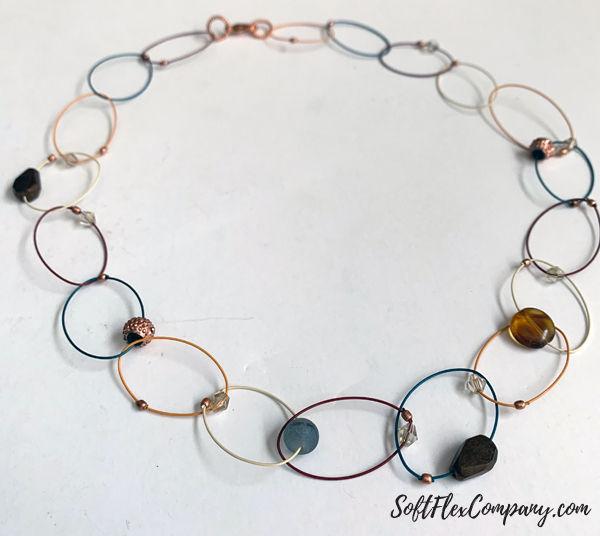 This design focuses on a lot of crimping! It's a great design to try if you are practicing your crimping skills. In the video I was asked what the difference is between the regular crimping pliers you will find in our Beading Starter Kit and the Magical Crimping Pliers used in this design. I go over how to use each tool and what the two finished crimps differ. Click here for regular crimping instructions and Click here for magical crimping instructions.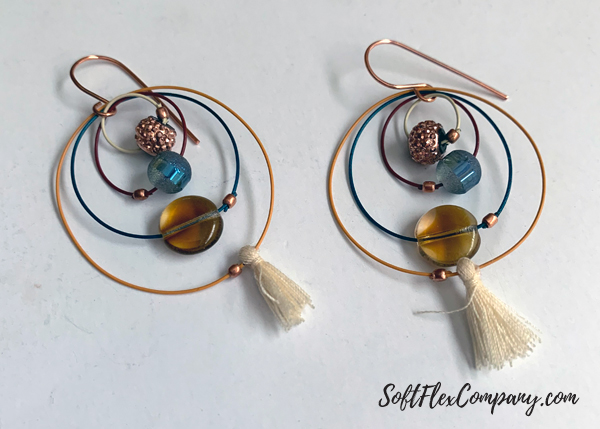 When making the hoop earrings shown above, double check that each bead wire circle and bead has space between the previous circle before crimping. Use the your crimps as part of the design by moving them to the bottom next to the bead. This also allows you to easily fit all four strands inside the ear wire loop.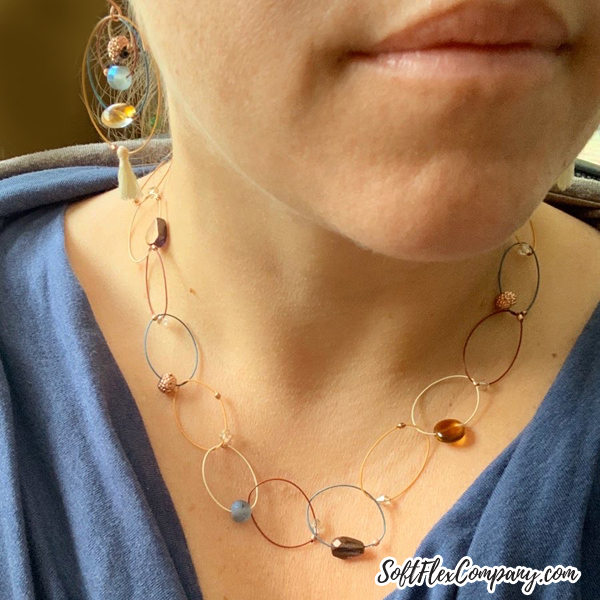 Note: After the video, I wore the designs for the day. I found that the toggle clasp I used kept coming undone. It's probably due to how light this necklace design is. For that reason, I decided to change the clasp and swapped the toggle out for a lobster claw clasp and jump rings for more security. You may decide to make this necklace design longer and forgo the need for a clasp at all!
Join our Facebook group – VIB. Stay in the know. Stay up to date. From our bead shows to our video shows and sales, you can stay in touch with us. The community is full of artistic and helpful beaders and crafty people. Inspire and be inspired. Share your pictures and get the beading bug from others!
Visit the Soft Flex Company YouTube Channel!

---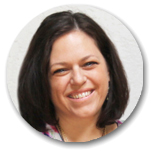 Kristen Fagan is the Website Graphic Designer and a Jewelry Making Educator for Soft Flex® Company. She is the co-author of Seed Bead Revolution, an artist and creativity guide. She currently lives in Arizona with her husband, their two sons and two dogs. When she's not painting, drawing or beading, she enjoys reading, yoga, exploring the outdoors and traveling. Her favorite stones are Opal, Turquoise, and Quartz and she can't bead without Bead Stoppers. You can email her at Kristen@softflexcompany.com or visit her Website | Facebook | Instagram